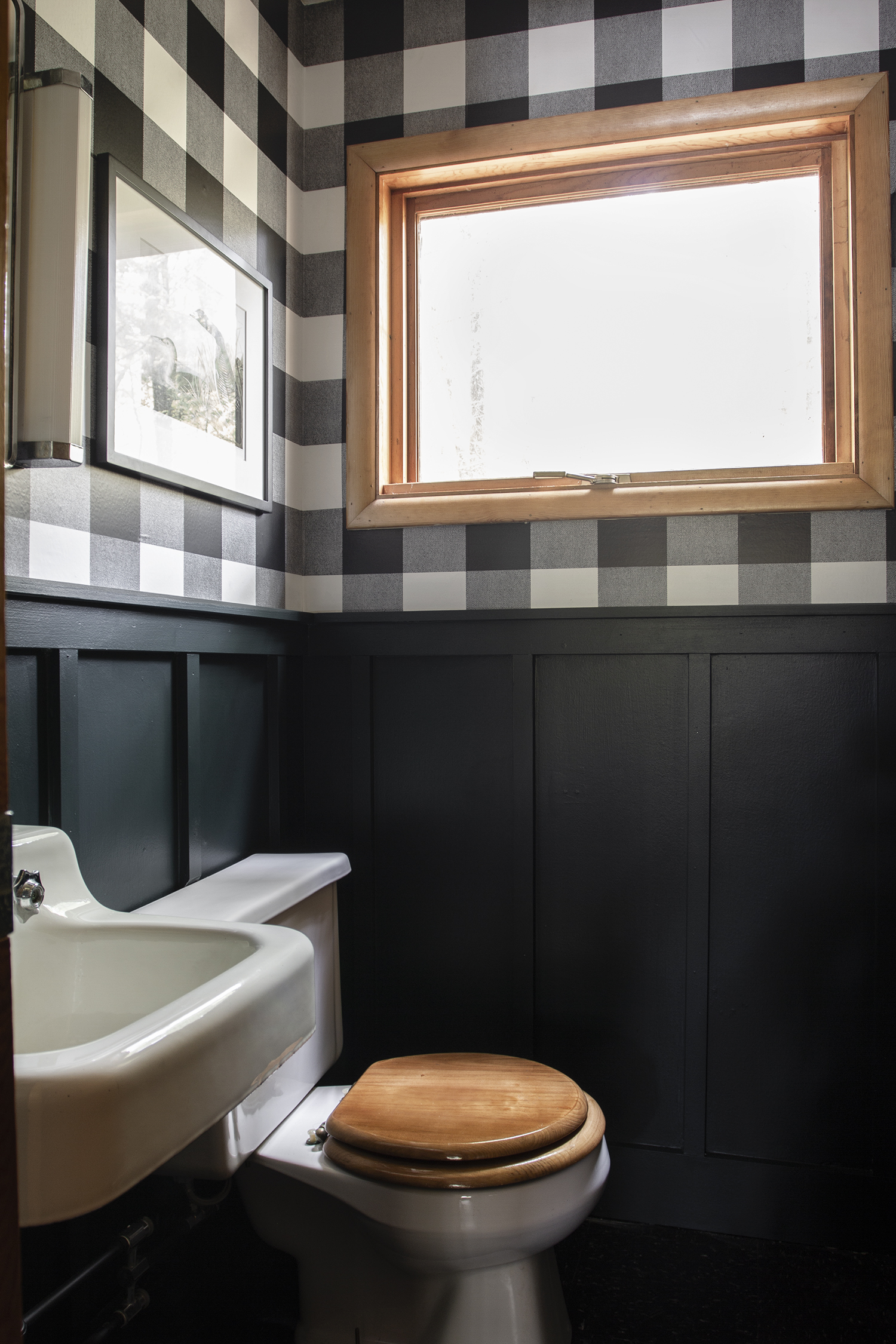 Hey guys! Just wanted to pop on in and share a little progress report in the bathroom. I was hoping to be able to share a more finished look sooner, but working on a project remotely means that project come together very slowly. Take a look down below to see what it was looking like a few months ago before I started its facelift.
Before & After-ish
This tiny bathroom functions as our second story guest bath for each of the guest bedrooms. The full bath is on the main floor, this half bath is perfect for a quick swimsuit change, or late night run to pee. I wanted to get after this bathroom because it's in far worse shape than the main floor bath. The biggest offender was the flooring which was stained from rust and mold and needed to be replaced, the moose themed decor and pine forest wallpaper border had to go too, and the exposed plumbing needed some TLC. I'd like to think for a tiny, gross bathroom, I've done a lot of impactful updates while keeping costs pretty low. My intentions were to give it a little charm and character without diving into a full on bathroom remodel.
*This bathroom is so, so small, which in turn makes it really hard to photograph – bare with me.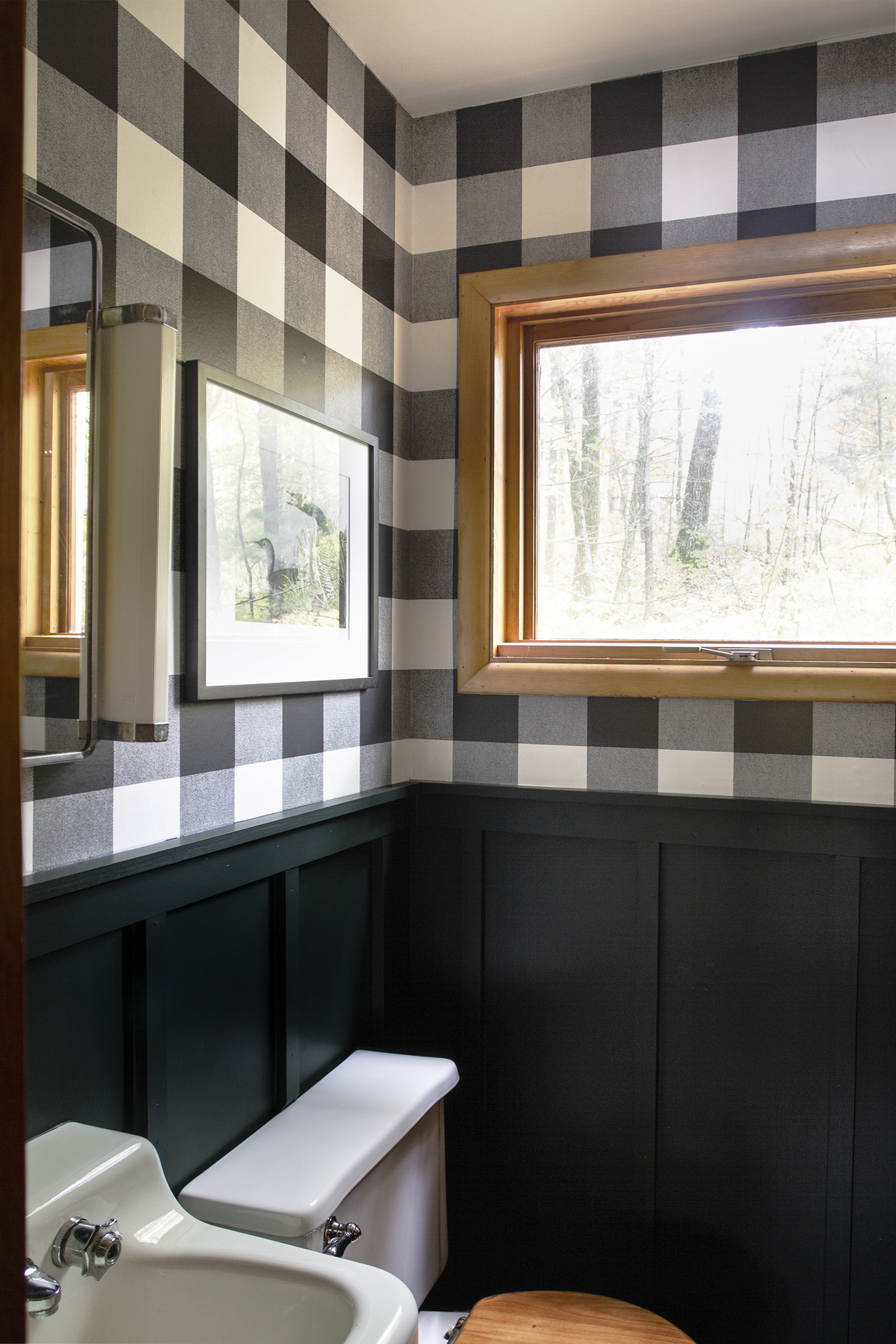 THE PLAN
So how do you pump a bit of charm and character into a tiny bathroom? In a nut shell, I took elements from the rest of the cabin and put them on blast in the half bath. I wanted it to be a bite sized version of cabin. The exterior of the cab is clad in board & batten, so I thought it would be cool to repeat the look in the bathroom, the wallpaper in buffalo check is a pattern found repeatedly (maybe even too much, but who cares!) throughout the cabin, and the flooring was used in our kitchen and main floor bath.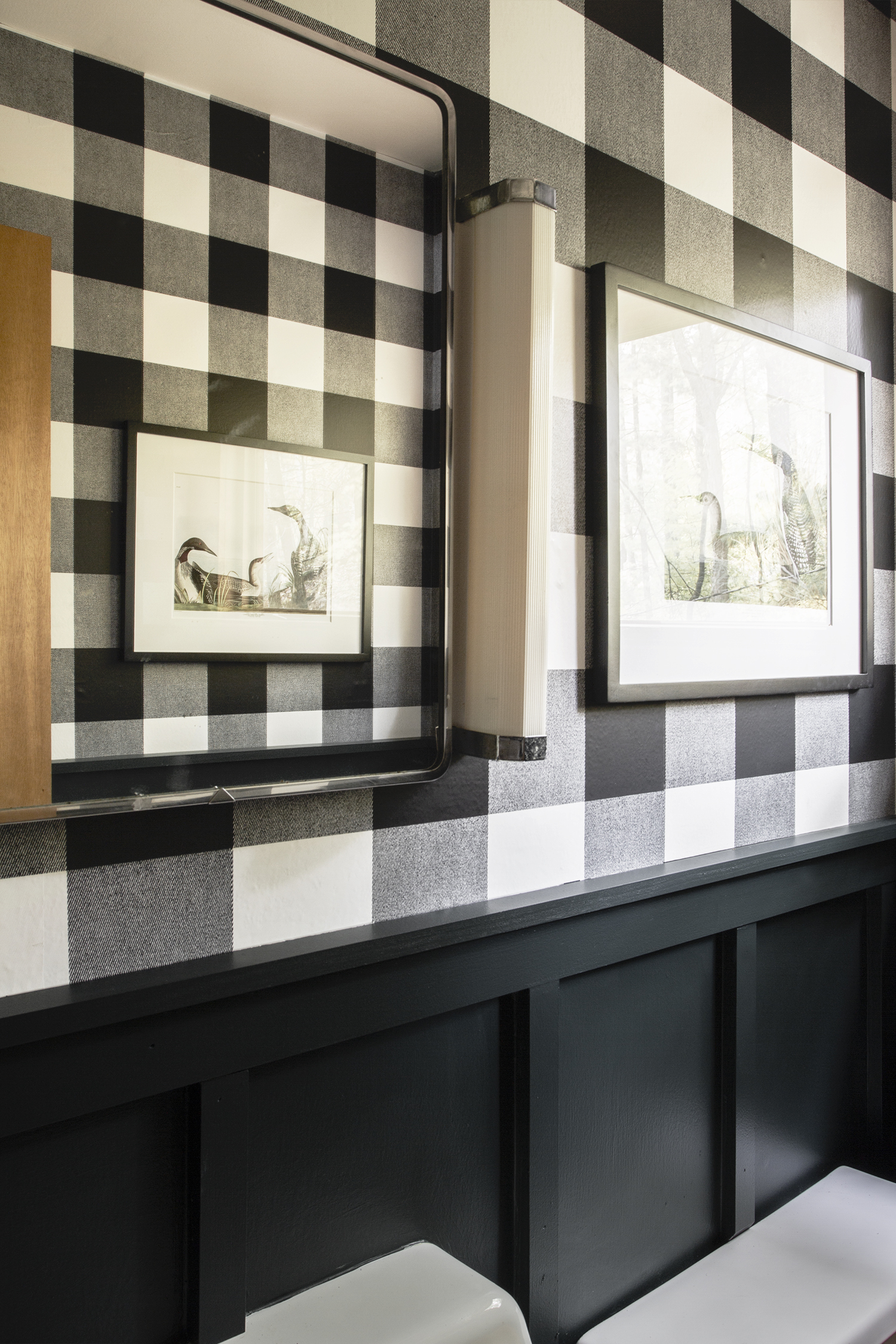 Board & Batten
Board & batten is a classic look seen in a lot of rustic lodges and cabins, for me it was a no brainer and I plan on re-using the look in the main floor bath as well. It adds a lot of impact, and because it only goes half way up the wall, it makes a statement without overwhelming the tiny space. I installed the board & batten (or just batten as it were) using standard lumber sizes. The baseboard is made up of 1×6, the boards and top ledge are 1x2s, and the crown is 1×3 all select pine lumber. Before installing, I primed and painted each piece of wood with my new paint sprayer! I knew that this would save me drips in the long run. I can be a hasty painter, and I wanted to ensure that this bathroom had a nice finish because I didn't trust myself to be patient with the brush. I installed the boards right onto the drywall using my fav cordless nail gun. Once everything was in place I caulked and painted one final coat.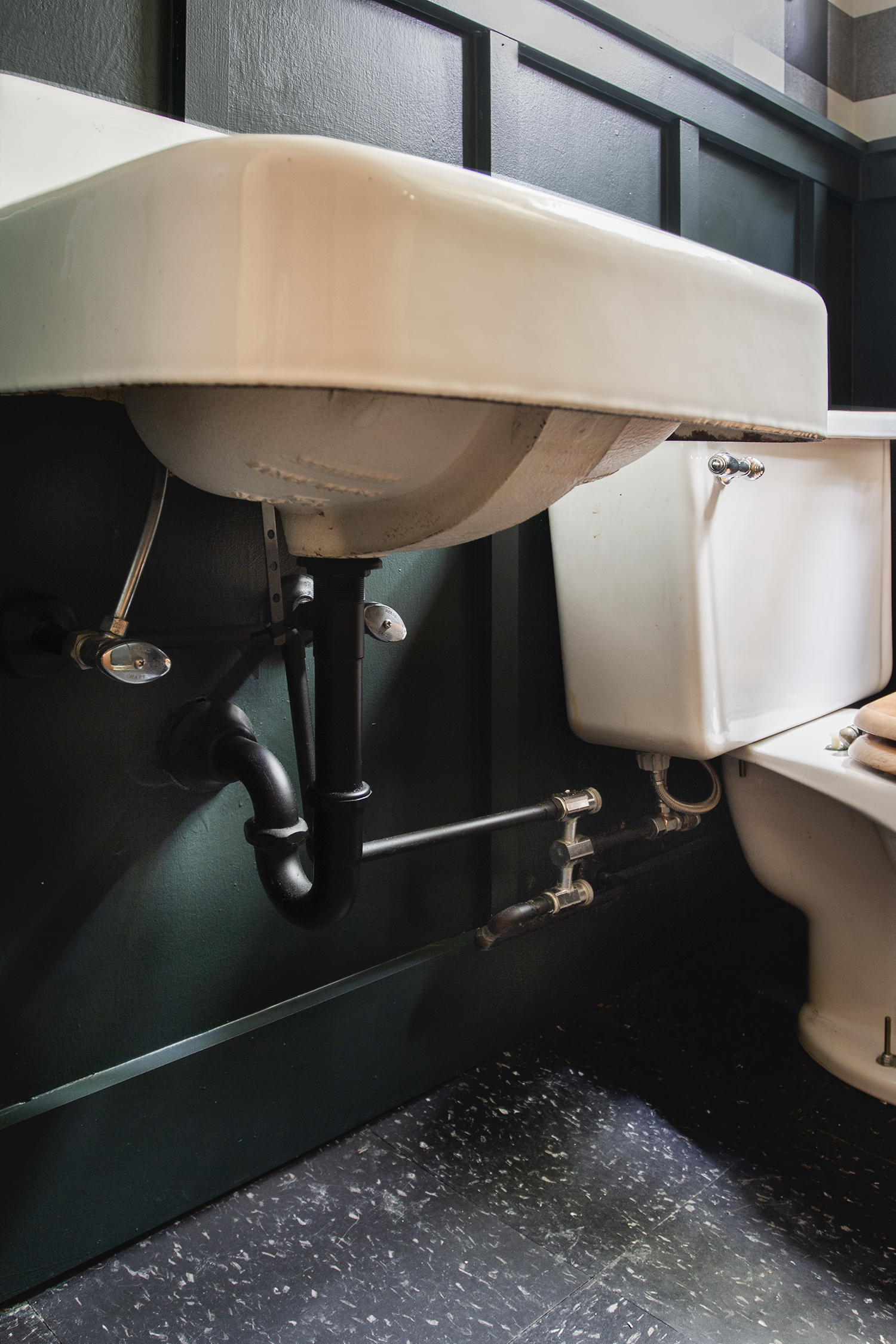 Flooring & Plumbing
The floor was in really bad shape. There were rust stains around the toilet on the floor caused by our rusty-no-more well water. As you can imagine, it gave off a really disgusting vibe – wrong place for a rust stain. To remedy the problem on a budget, I used the same VCT tile that I had installed in the kitchen. I decided to just go solid black, I didn't want to call attention to the floor, and this was a no brainer. The tile is durable and cheap, and for a quick fix it goes a long way. Someday I'd love to take the time to tear out and replace the subfloor and then tiling agin with a long term, much prettier solution. Installing the VCT tile is pretty straight forward and can be done in an afternoon. Lay down a thing coat of adhesive, wait for it to become tacky, install tiles, and have a utility knife handy to cut for the perfect fit.
I got to know that old toilet really well, I ended up gutting the insides and replacing them. The flange that connects the toilet to the drain was in need of some TLC, I removed the rust and "debris" that had collected and created a tight seal with a new wax ring. AND I HAD TO KEEP THE SEAT. Are you kidding me? That wood toilet seat rules. I wasn't a fan of the exposed plumbing, it wasn't pretty. I decided to go ahead and spray paint it all black, leaving only the mechanical parts in chrome. Its not perfect but it goes a long way. I really wanted to keep the chrome p-trap under the sink chrome, but it was too rusted and pitted. I made the most of it and painted that black too, but I'm afraid it looks like plastic now. When I'm feeling adventurous in the plumbing department, I'll probably swap it out, but I wasn't interested in opening that can of worms with so many little things still waiting to be done.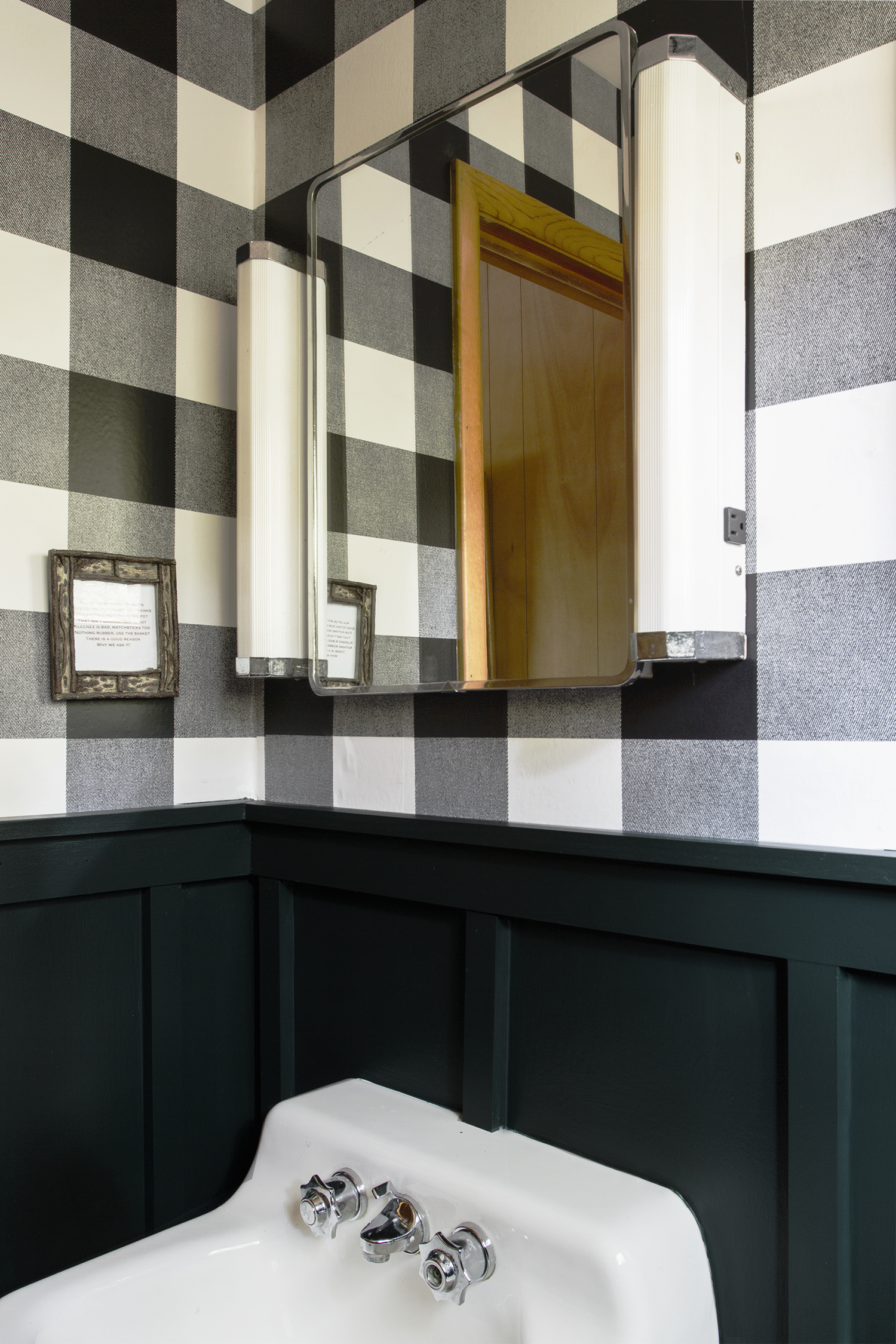 Wallpaper
You know I love some wallpaper, and I was on the hunt for the perfect buffalo check. I looked everywhere, and options were surprisingly limited given how trendy the pattern has been over the last few years. I had my heart set on a pattern from good old Targ, there were a few others out there, one was too illustrative, and the other too modern. This one was just right, except for the fact that it was removable wallpaper. Did cha know? Removable wallpaper is not actually paper, it's VINYL and comes with a sticky back – think extra large contact paper. As you may have deduced by the name, it's only benefit is that it's removable, so when you tire of it you don't have to worry about scraping for days – other than that, it's the world's biggest pain in the ass. Maybe if you had one small wall to paper without any of those fancy corners, windows, or doors, then and only then would I recommend it. Don't even thinking about it if your working with corners, angles and cuts. Did cha know? Your standard wallpaper is actually made of paper and has some give and flexibility. Of course it's sticky, but when installed the right way is manageable. Now think the opposite of that, that ma friends is removable wallpaper. It tears easily, sticks to itself, and has no give or forgiveness. The one positive was that I could leave this project when I got too frustrated with it and come back to it at my leisure without having to worry about cleaning up adhesives or glue.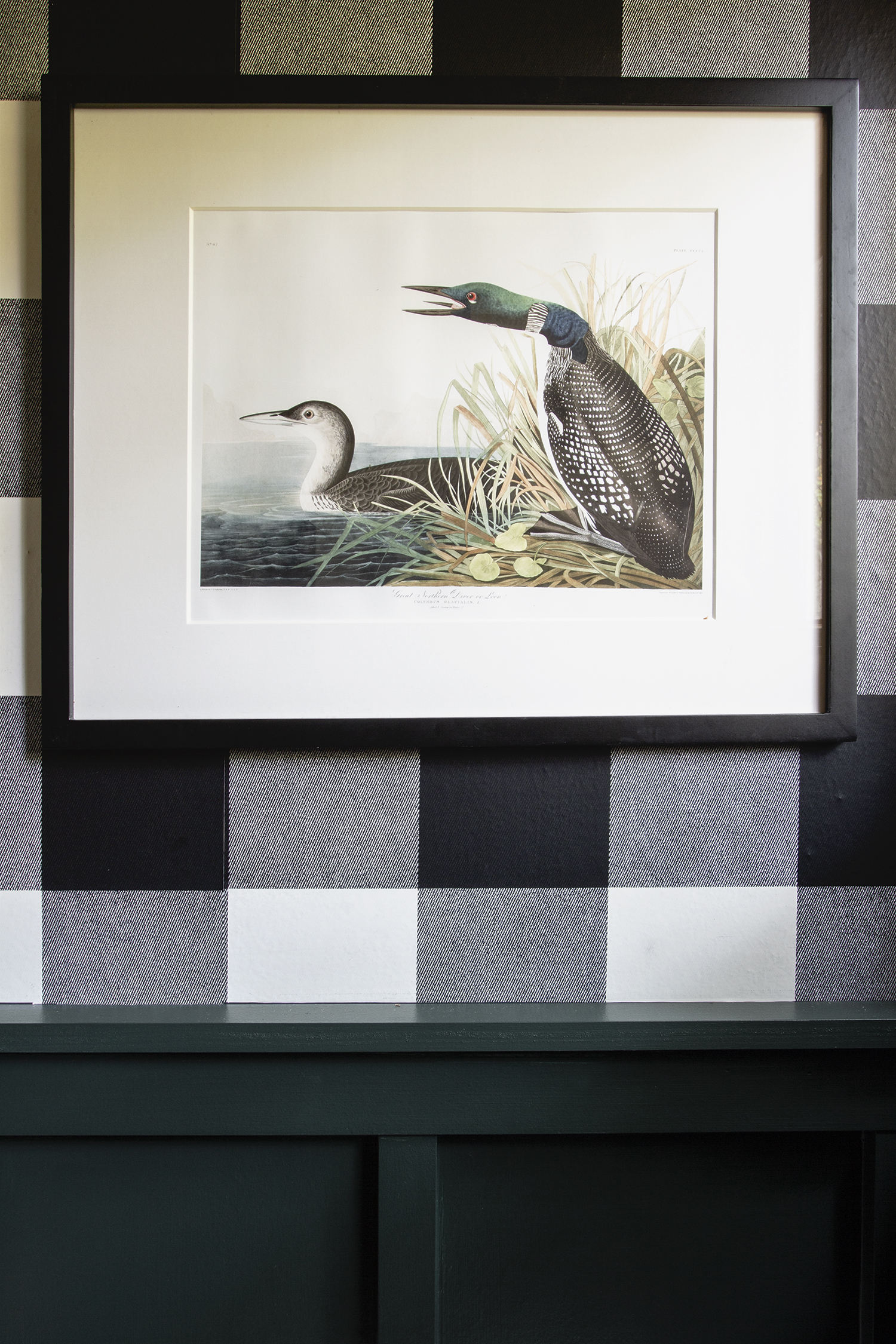 Lighting & Artwork
When I saw Yellow Brick Home install Audubon prints in their Tree House guest bedroom, I knew I had to get my own ASAP. I don't know if you guys have heard, but Minnesotan and Wisconseners are loony about loons, so it made perfect sense to us that we would hang a few loons in the upstairs bath. Check out YBHs post for all the details on how to download a Audubon plate fir free and then how to have it printed and framed fer yerself.
After posting my plans for the bathroom, so many of you insisted that I keep the vintage late 40s/early50s medicine cabinet and fluorescent vanity lights. I too loved the look of the shades but hated how much they had yellowed. I tried a ton of tricks for lightening aged faded plastics including bleach, peroxide, sunlight, and oxiclean. Nothing lightened these shades, and I came up empty when I went on a search for reproduction shades. The final solution was to carefully spray paint the plastic white again. You don't really notice that they are painted, and since no one actually uses the off-putting bulbs as a lightsource anyways, I figured it wouldn't hurt to paint the shades. Form over function wins this time around. Not sure if it is the perfect answer and I don't know if I'd repeat it in the downstairs bath – which has the same medicine cabinet/light sitchy.
Now we're down to the finishing touches, which is the fun part, right? Who doesn't love shopping? Cabin vibes, here we come. The TP holder and hand towel ring will continue the black accents from the pluming. I want to add a leather basket under the sink for extra toilet paper – and because this is turning into a english hunting lodge, you know it better be leather. I need some cute stuff to rest on the edge on the top of the b&b – maybe I can find some vintage brass water fowl, or tiny bud vases. The ceiling light still needs to be replaced – but I don't know with what. I am really torn between a more modern flush mount light fixture or something that plays off the 40's era of the sink and medicine cabinet, like the light shown in my shopping list above. There is nothing modern about this room, and I think the light fixture could be the perfect place to add it. I'd love to find a cool small rug rug, and have been looking at vintage Navajo rugs on ebay, still haven't found the perfect fit. I like the idea of adding an enamel first aid box in the corner – them kids are always getting splinters because there is wood everywhere 'round here, and I think it'd be kinda cute for them to have a splinter kit on hand. Although there is no shower or bath in this bathroom, I'd still like there to be hooks for towels and wet bathing suits to be hung. Anyhow, it's all slowly coming together, and I'll be excited to share more photos with all the new final touches once I decide and take pics. Let's hope that's real soon!