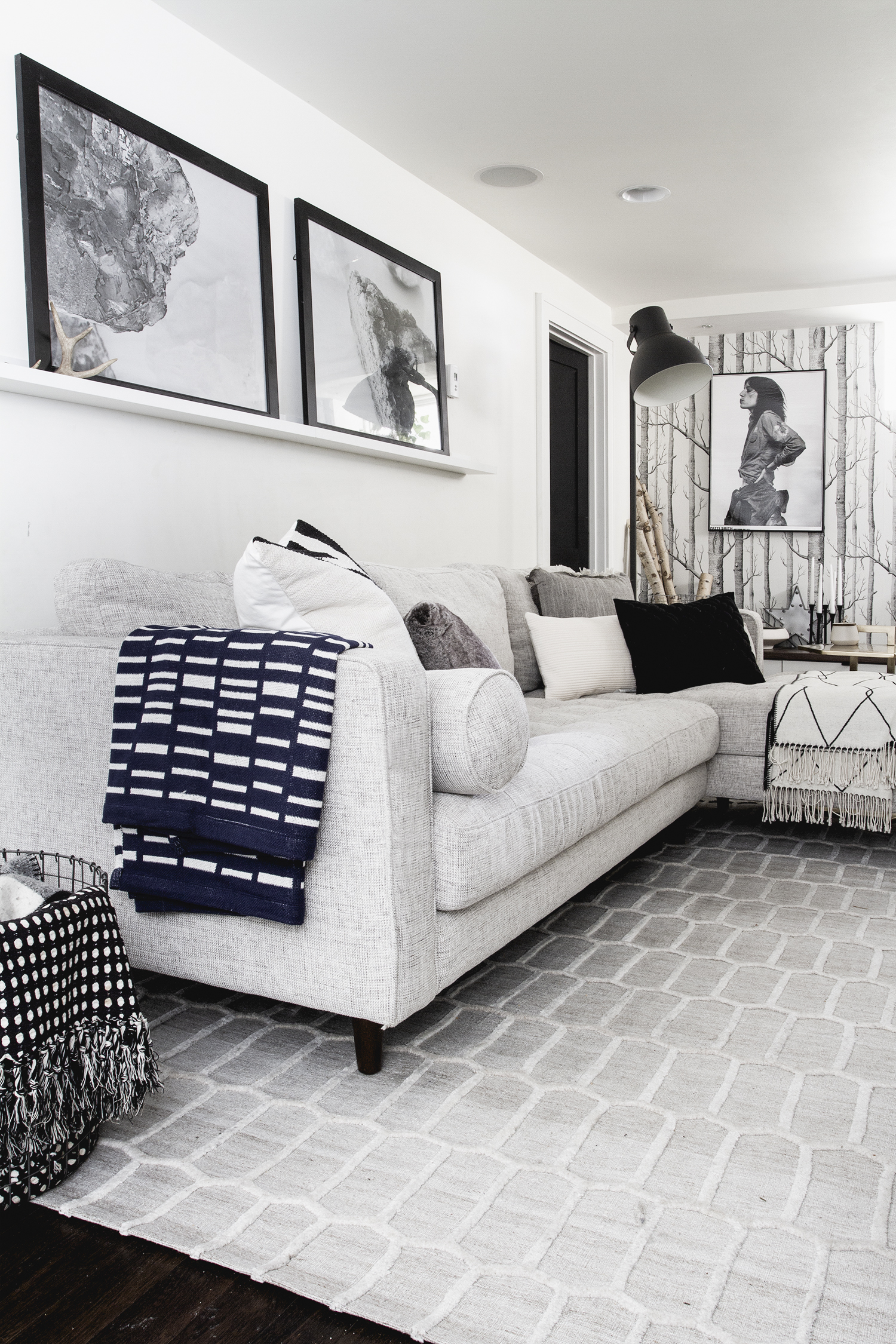 Guys! I am so excited to share this post with you. Remember way back when we remodeled the basement? Gutting and rebuilding the basement and making it into a family living space for us has been such a game changer for how we live in our house, especially in the wintertime when we're hibernating (whether we like it or not).
However, I kind of dropped the ball when it came to really putting the finishing touches on the basement decor. It was such a massive project, and I had done so much of the hard work myself that by the time the paint was up and the wallpaper was hung, I just didn't have it in me to really decorate. I wanted to take a physical and mental break.
I guess that break lasted 2.5 years, because I'm just coming around to giving the basement the TLC it deserves. Plus decorating and making spaces pretty is fun, duh.
Right around the time I began scheming and making list for what sorts of things I'd like to change and update in the basement, Article reached out to me asking if I'd be interested in reviewing their Sven Sofa. First of all, I didn't even have to google the Sven sofa, I knew exactly the sofa they were speaking of. The clean lines, tufted seat, and mid-century stylings have made this sofa a modern day classic. I'm sure you've seen it too – the Tan leather sofa is a really charmer, and the leather wears so well, it's an IG and Pinterest favorite.

I was so excited to try out the Sven sofa. Our older sofa had seen way better days, even though the slipcover was washable, it just wasn't holding up to my boys. They were constantly throwing pillows on the floor and making a mess of it. My Bestie has a Sven, and I know how durable it is. She's had it for a few years and the leather still looks (and smells) great, and although hers is leather, not fabric like mine, I knew that it would be durable and comfy for years to come.
I was really torn between choosing a fabric or leather sofa. Both are beautiful, but it came down to the coziness factor for us. I knew we'd be watching endless TV in the basement, cuddled under blankets all winter long, and Jeff and I decided we loved the texture and color of the Birch Ivory color way.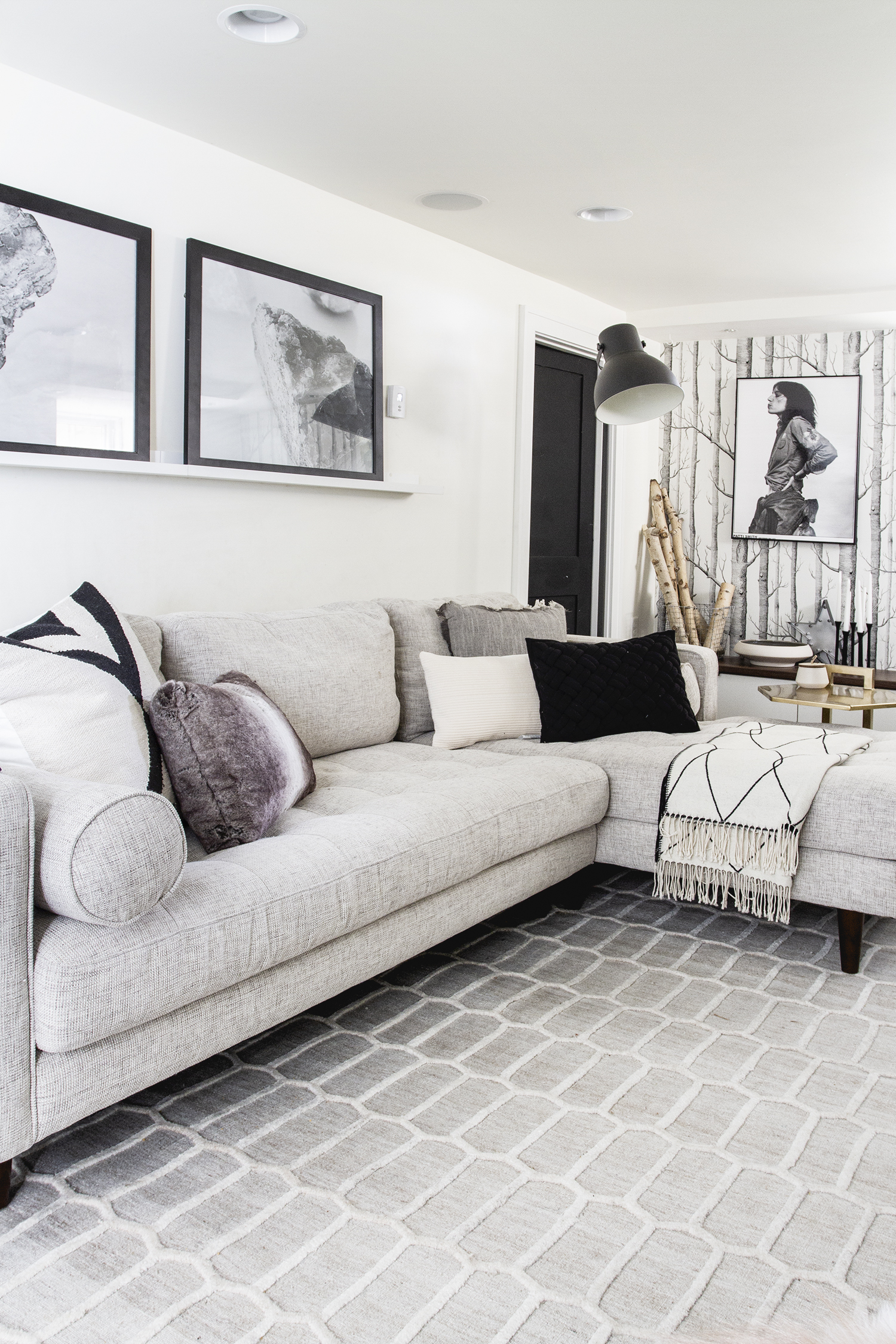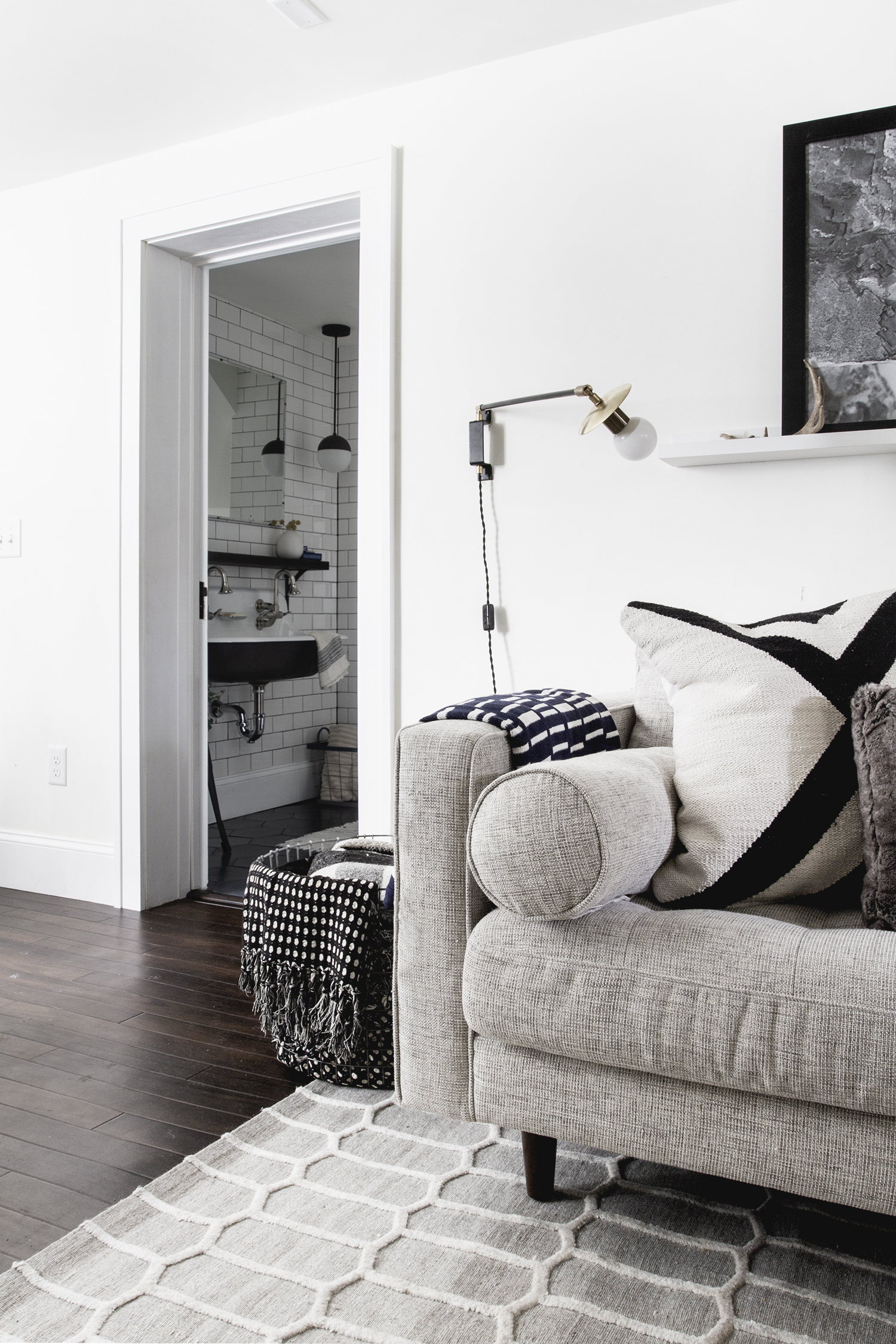 Now that I had the sofa locked in, I needed to work on my list of other things I wanted to update in the basement.
We needed a new rug badly, our cheap-y faux moroccan rug had lasted six years (about 3 years past its expiration date), it needed to mozy on over to greener pastures. After scouring the internet for the perfect rug, I found myself back at Article looking for rugs to go with our soon-to-be-new-sofa. Article really does a good job of curating furniture and accessories and pairing them down into manageable bites. So much of what they offer easily coordinates with other pieces. Plus most things can be delivered relatively quickly, they are upfront about when to expect an item – which is something you can't say about other retail furniture stores. I landed on the Hexic Stone rug in an 8×10, I loved the tone-on-tone look it would create with the sofa. Full disclosure, Article sent me the sofa free of cost, and I purchased the rug at a small discount.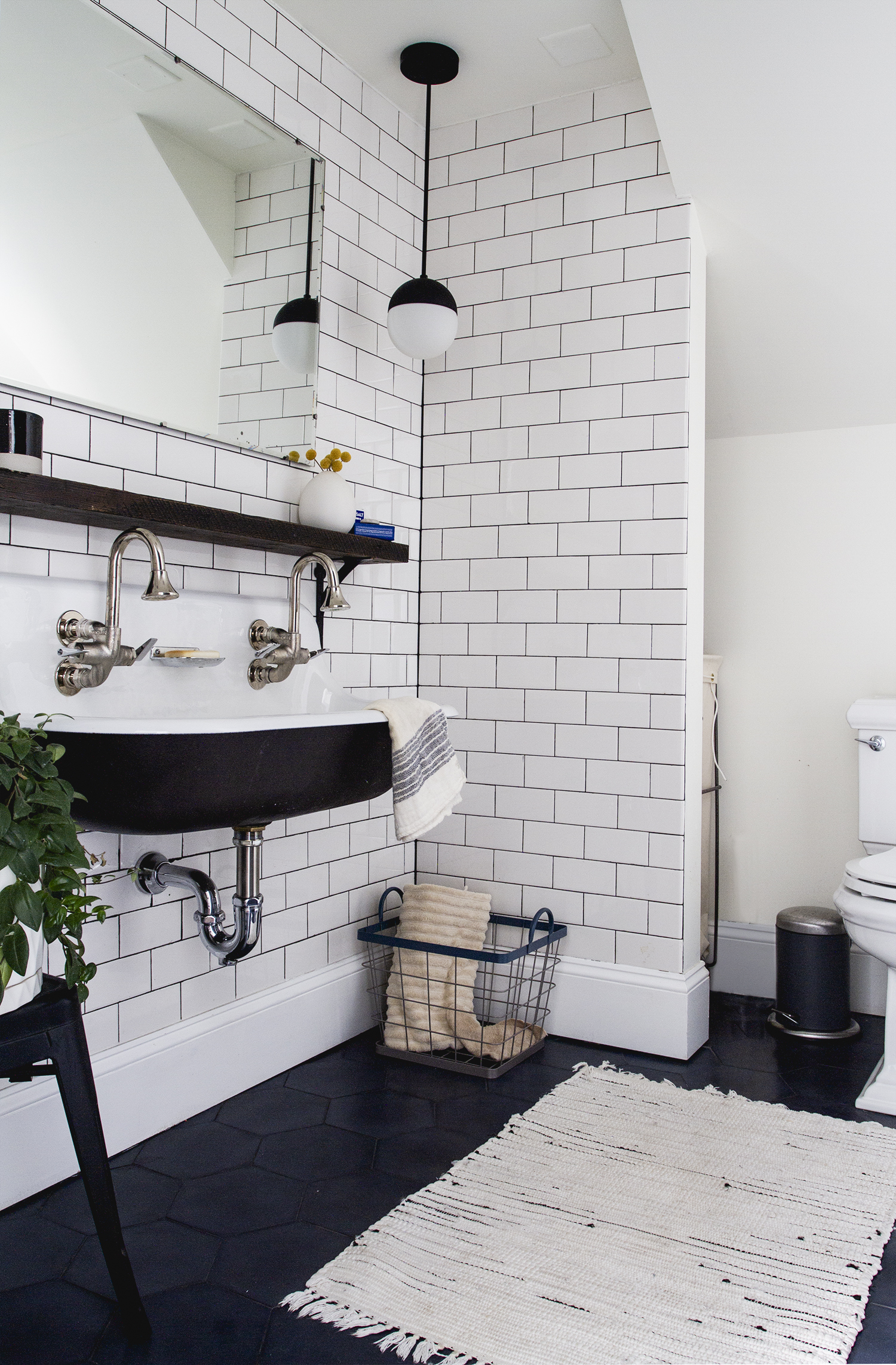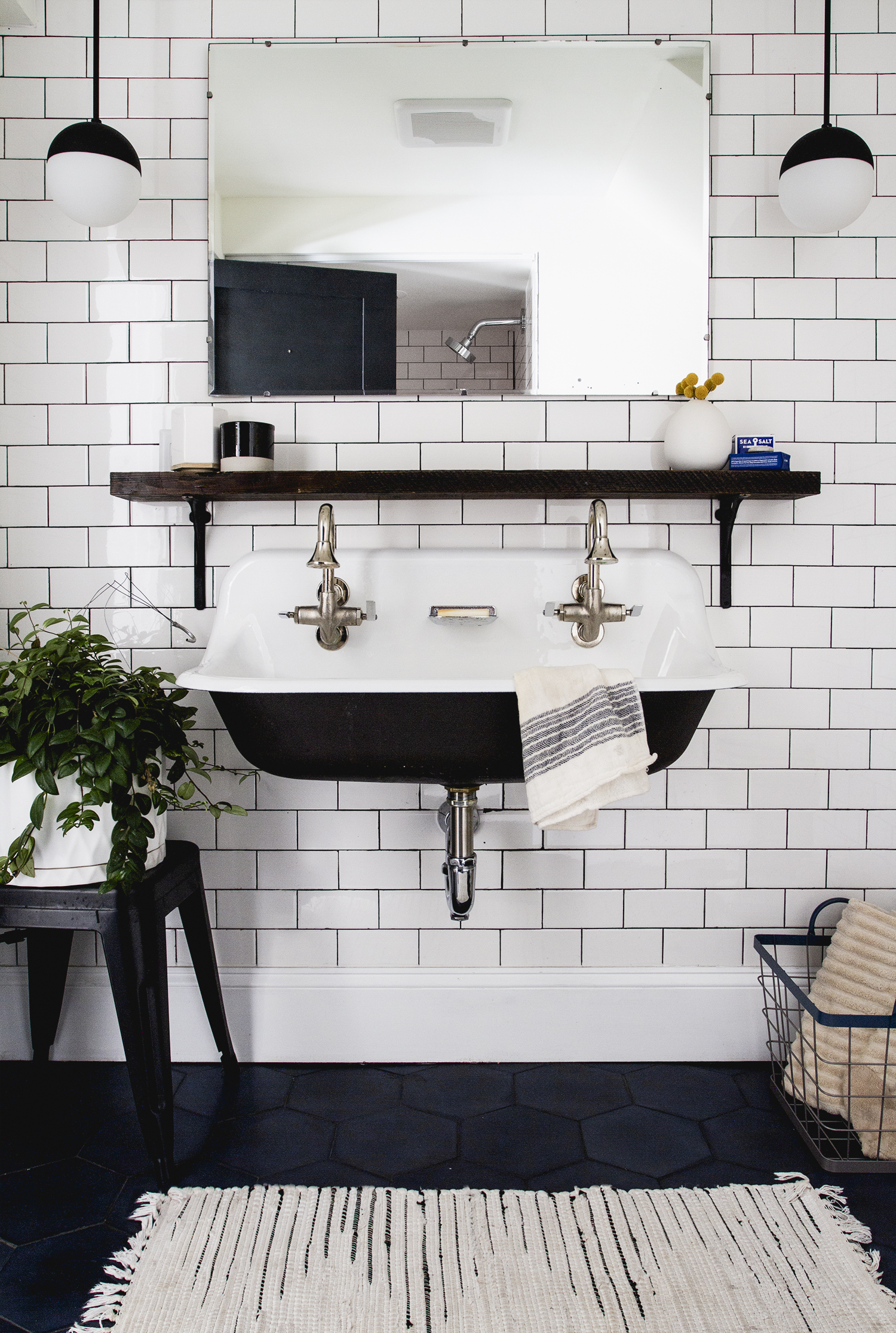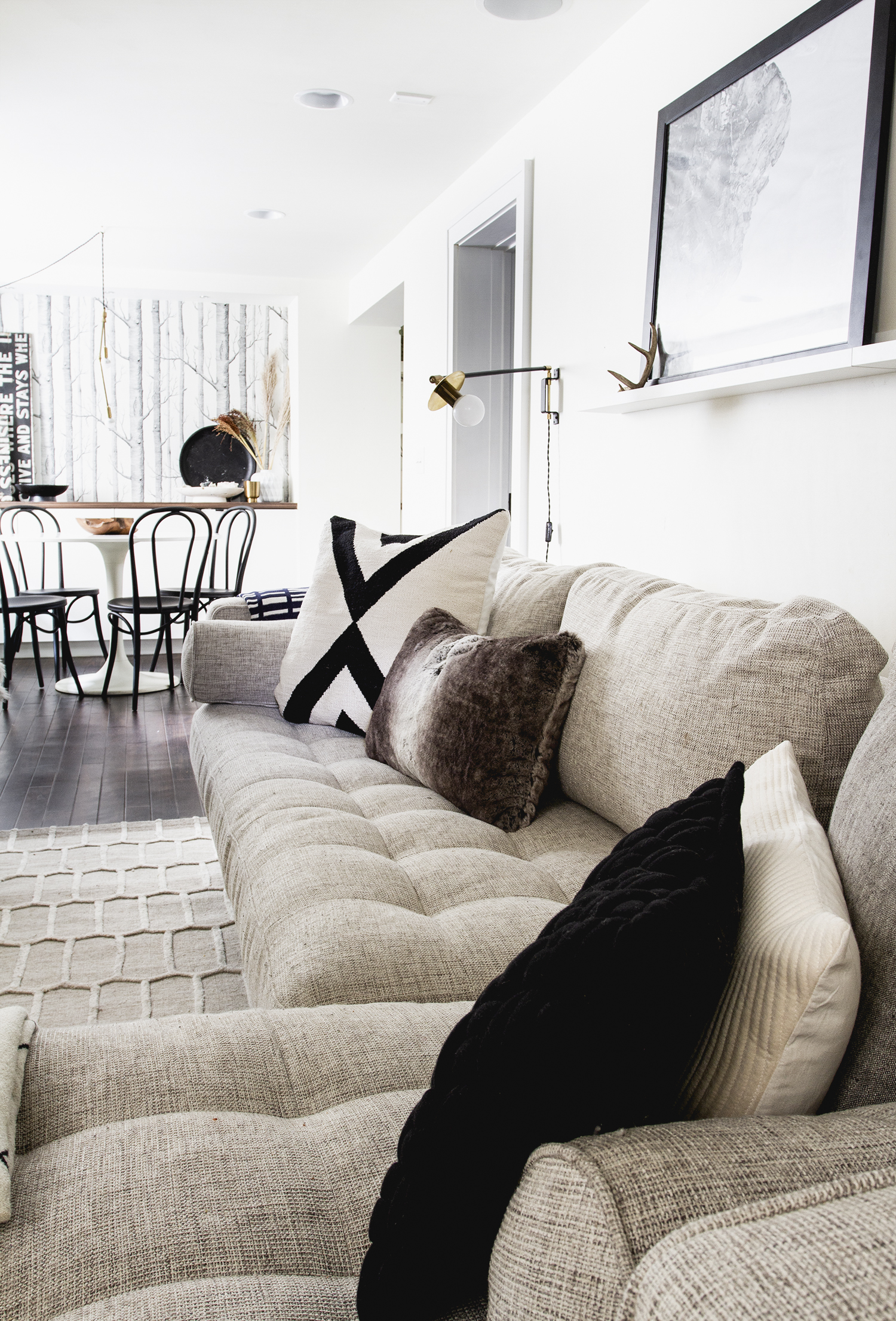 With the sofa and rug accounted for, my list became much more manageable. Besides giving the major furniture pieces a face lift I also wanted to style the built-in shelving I built. Honestly, the shelves have been mostly bare, and they were screaming at me for help. I also wanted to pin down the artwork, I had been collecting pieces, but was having a lot of trouble with how to hang and display them. Hanging artwork is something I usually struggle with, for whatever reason it's so hard for me to choose artwork and just as difficult to find a way to hang it. Lastly I wanted to add more ambient lighting, change out lightbulbs, and find the perfect coffee table (which I'm still working on).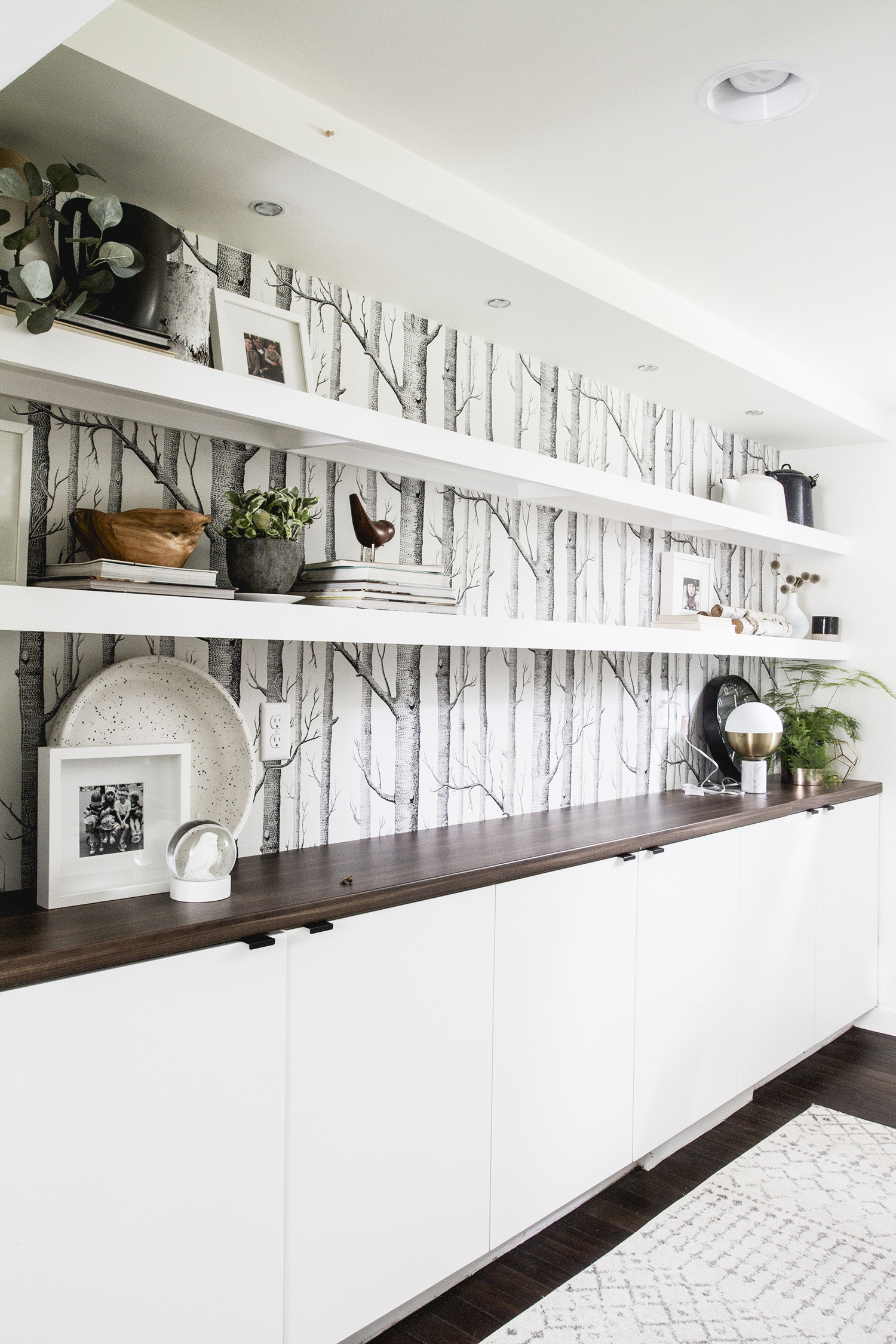 I got to work right away on hacking away at my list while I waited for the sofa to be delivered. I went on a small shopping spree, I shopped my house for books and items to style the shelves, and I shopped Targ for a few items to fill in the space and find lighting. I wrestled with the artwork and I still don't know if I have it right. I took everything down and started pairing it with different pieces trying to focus on proportion, scale, and symmetry. I stuck with the two crystal black and white prints above the sofa, but I readjusted the corner artwork. Bruce & The Killers hold it down on one wall, while Bob leans on a wall in front of a limited run-piece from Ikea.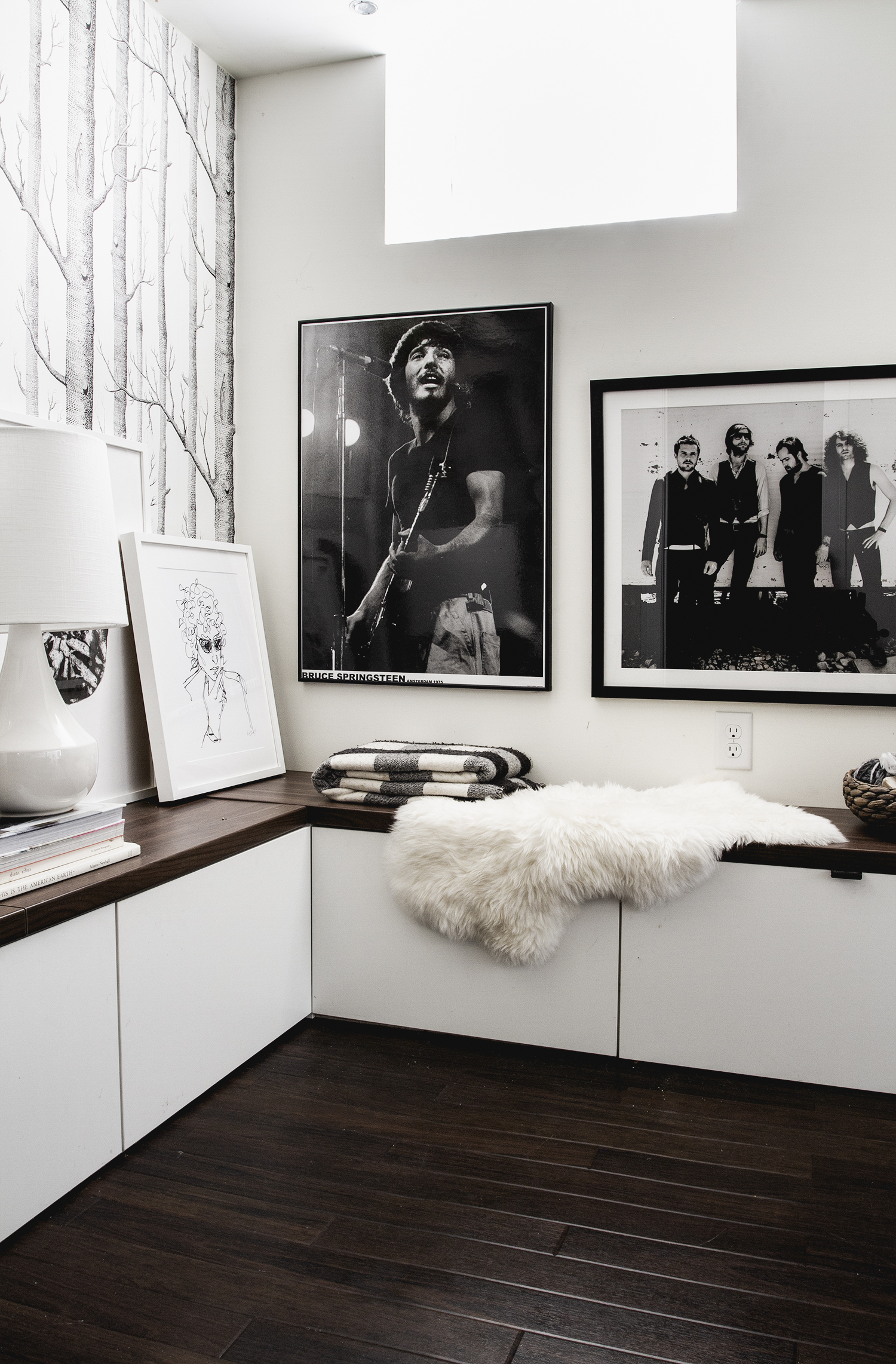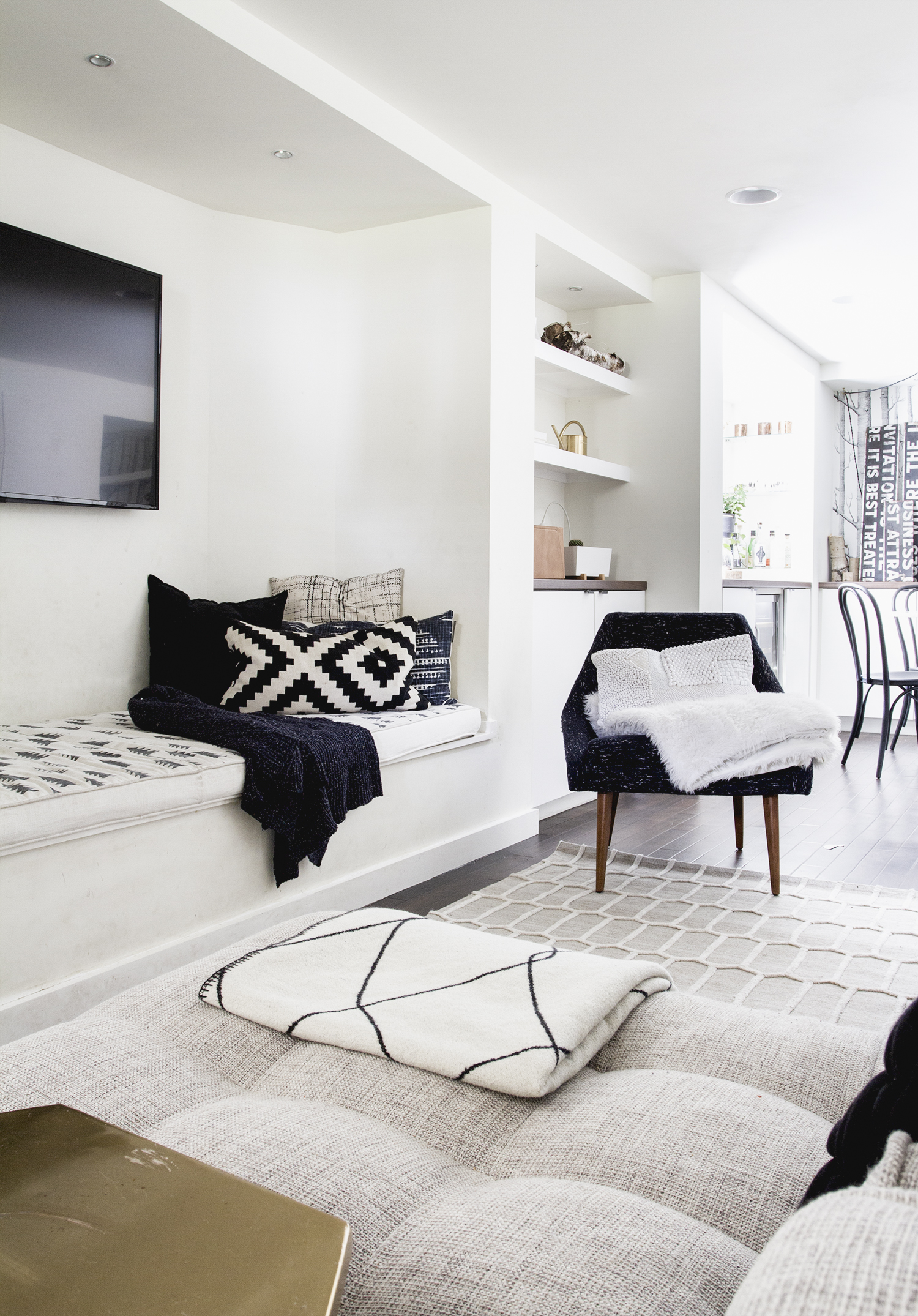 Just as I was putting the finishing touches on the shelves and lighting, my sofa showed up. I should mention that Article has a flat rate delivery fee – everything ships for $49 or less for smaller items. My sofa was delivered in the evening by two nice guys who did everything they could to get that sofa in my basement. I'm not gonna lie, it was a tight fit, (even though I measured!). I choose the Sven sectional partly for the reason that I knew a full sized sofa would be impossible to fit in the basement, but mostly because I love lounging on a sectional. The furniture delivery guys were happy to help cram as delicately as they could the two pieces of the sectional in the basement. Even as the light faded, those delivery guys remained committed. In order to get the piece downstairs, they took the sofa out of the box taking care to keep the box in tact in case I decided that the sofa wasn't for me. Article accepts returns up to 30 days!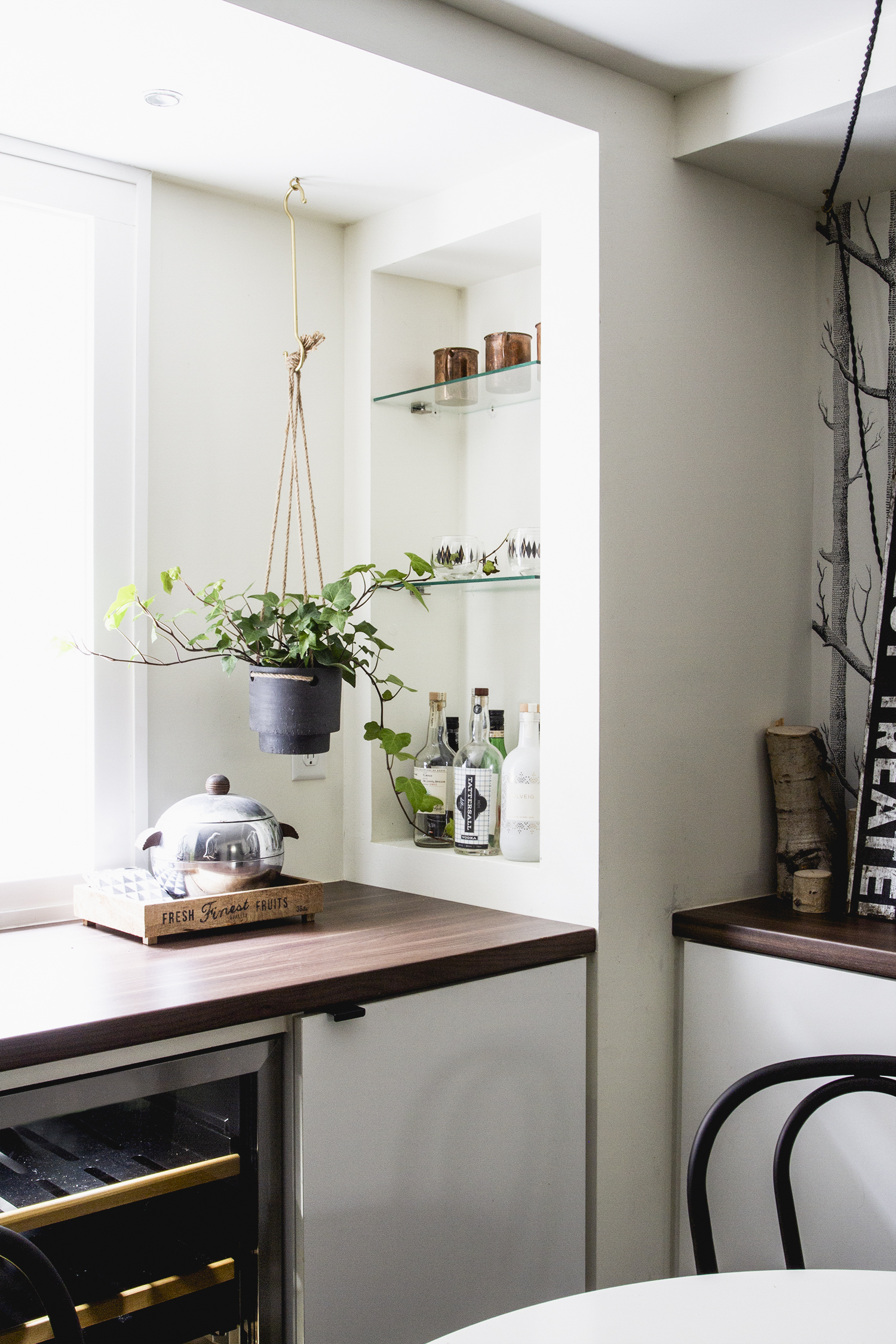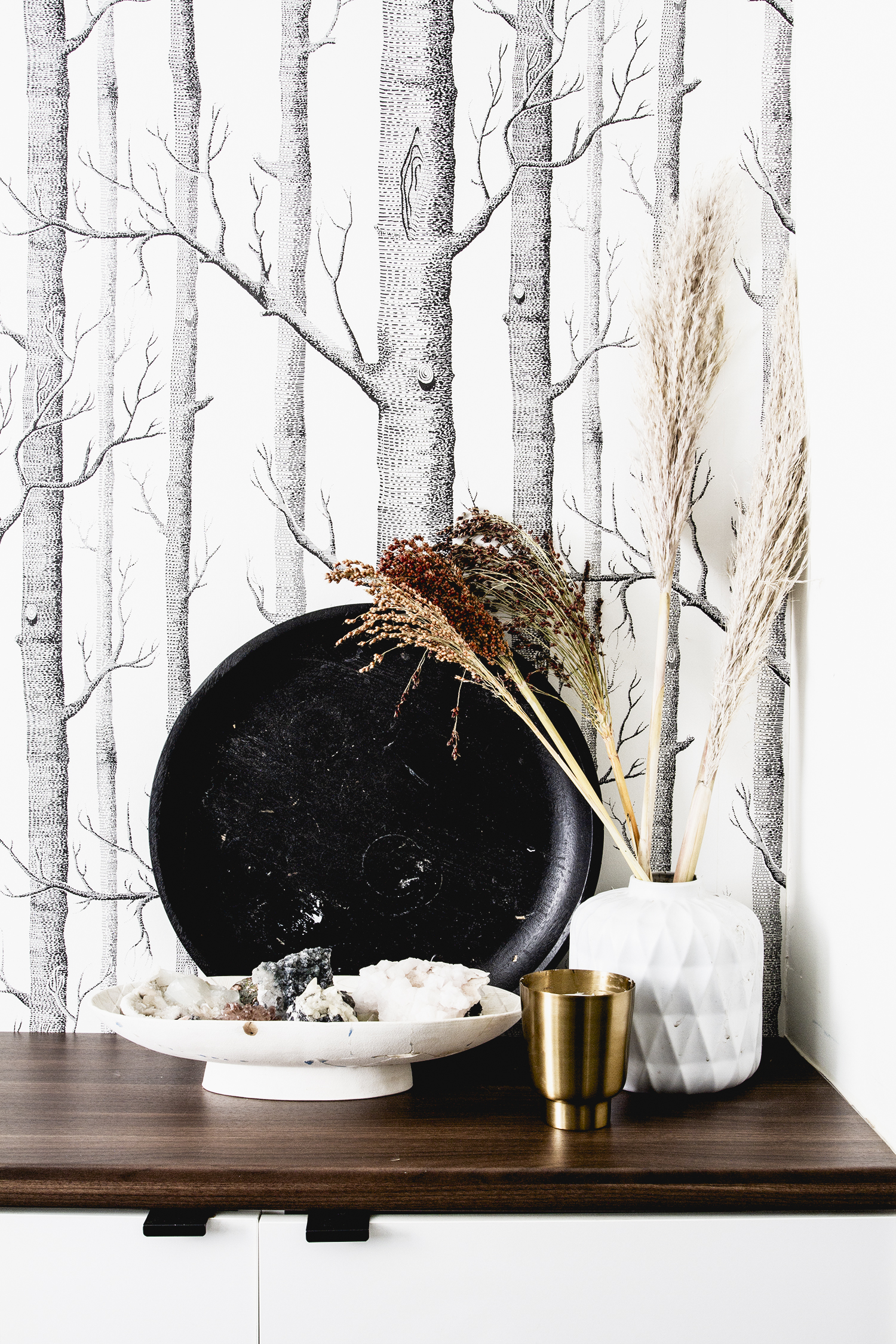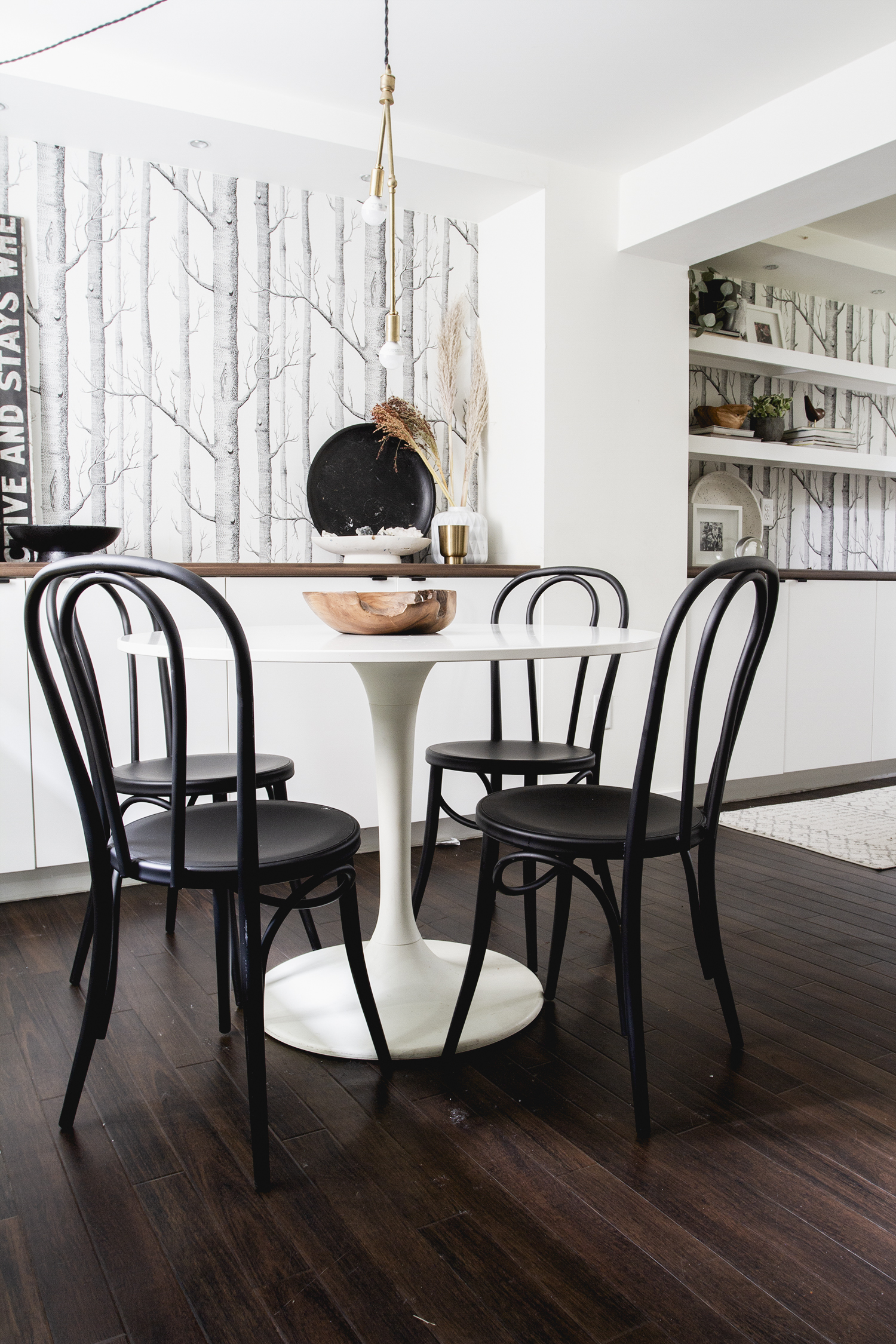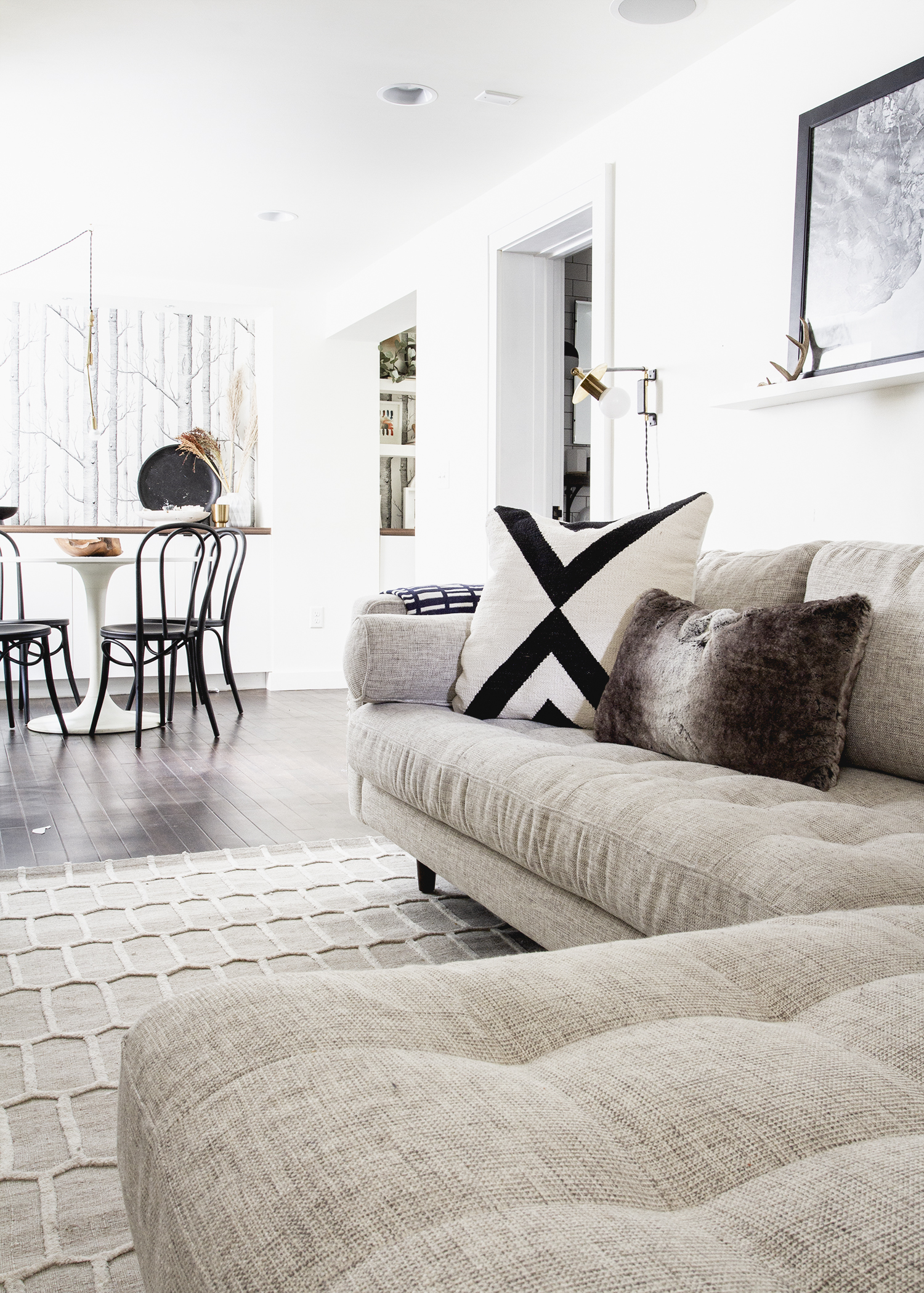 Glory be. We got that sucker in the basement! The Sven is perfect for us, and we love the new sofa so much. Let me tell you why. It looks great, and fits the Scandinavian / urban-cabin vibes I've already established in the basement. The textured fabric is the best, I love that it is lighter than our old sofa, it fits the feel of our space, I especially love it with the the gray pattern in our Hexic rug. The actual color of the fabric has the slightest bit of warm undertones, and I think our basement was missing a bit of warmth. I adore the tufted seat, I am a sucker for a good tuft. There are only three cushions that can be thrown on the floor! What is it about kids and throwing stuff on the floor? It's comfy! Holy crap it's comfy. The seat is deep and the back cushions do a nice job of making you feel like you could just lounge all day. It's way more sink-into-able than any of the sofa's we've had in the house, plus the bolsters aren't just a pretty face, they do a good job of making headrests too. We've only had it a month, and it's definitely not going anywhere.
Regarding dem kids, We had a discussion with the boys explaining that they were older now, and we expected them to respect the furniture a little bit more. We'll see if that sticks. Please pray for us.