Happy Holidays, Team! So glad I was able to click "Publish" on this. I have at least three different posts in the works and I haven't been able to pull the trigger on a single one of 'em. I think part of the reason for my "writer's block" is that my brain is overwhelmed with ideas, I've found it hard to focus. Thankfully (aren't you just soooo thankful?), I was able to sit down and write this post about the bunkroom at the cabin. Here's what I've got:
To refresh yer memories, the cabin is an A-frame style building. I'm calling it an elevated A-frame since the 'A' doesn't come into play at the base of the cabin, but after the second story. Anyways, elevated A-frame sounds like an official sort of name. Titles aside, it does have a typical A-frame layout on the interior. The upstairs lofted area consists of two identical bedrooms. Although the rooms are small, we have designated them for the way-cool-(and funny)-adults and stuck a queen bed in each. The main floor is where the larger third bedroom is. That bedroom is tucked in the back of the house right off the kitchen. And because it's the largest bedroom, we've decided to make it into a bunkroom for the youths.
After we closed on the place in late July, it was a top priority to get the bunks built asap. We wanted to make our kids feel welcome and comfortable in their new second home so we moved quick to get them setup and put them in the corner of the room. In some ways, I failed at being overly eager to make them comfortable. Somehow this hasty layout has enabled the bunkroom to turn into into a dark and frightening kid den harboring strewn bed linens, discarded snacks, and pre-pre-teens addicted to video games and YouTube. We are ashamed of the current state, I promise you, and hope to have a reckonin' soon. We needed a good thoughtful design to bridge the gap between 60's-cabin-paneling-vibes and Dorito crumbs.
Who am I kidding though.
What I'd really like as a mom, is to have a place that has at least one (1!) GD light someone might consider turning on, and maybe beds that could be made some of the time, AND please just eat the Doritos on the rug so I can vacuum up your disgusting crumbs! Is this too much to ask?
My very funny jokes aside, I'd really like to make the space a welcome spot for the kids. Right now it feels like a bunch of bunkbeds rammed in the corner, and to be fair, this layout doesn't leave the kids with a ton of space to play (see below). I'd love to really make this room cool, cozy and for lack of a better word, magical for dem doodz, even if the space is cramped.
So, what I'm thinking is to split the bunk beds up to make an "aisle" down the middle of the room. The bunkbeds are the simple unstained, hard-to-assemble, Mydal Ikea beds. I'd like to stain the bunks a dark muted green, and replace all the bedding with god's gift to parents, Beddy's! Have you heard of these things? Here's the story: A handsome set of bed linens had a fling with super hot sleeping bag, and poof, they had a very cute baby called Beddy's. Beddy's fits over the mattress like a fitted sheet would, and then the top is a comforter/sheet-set combo and it all zips together.
Do you hear what I am saying? All you have to do to make a bed is ZIP IT UP.
Seriously, why has it taken so long for this to be invented?!?
Plus, doze things come in a nice little buffalo check pattern. Duh, guys. Bless you, dear Beddy's inventors.
Part of the reason the bunkroom is so dark is because none of the lamps are plugged in. The kids have unplugged them all so they can run their devices instead. Just, hmmm. Obvs, I need to do some electrical problem solving and I think I have come up with a solution. One of the outlets is connected to a wall switch, I will dedicate this to a green industrial Westinghouse barn light that I picked up on a trip to the local salvage shop. Now turning an overhead light will be as easy as a flip of the switch – see what I did there (lolz!). I'll rewire the fixture, and hang it from the ceiling in the center of the room in between the bunks. Although it won't be hardwired, it will mimic the look of a hardwired fixture and I'll be wiring it with a vintage inspired twisted cloth cord so that it won't look out of place.
We'll be leaving the wood paneling natural (for now). Besides actually painting the paneling and stripping it of all its 60s paneling goodness, the second best way to brighten the space is to add as many light elements as we can – the largest of these being the rug. I've never felt that inspired by or drawn to braided rugs before, just because I can remember them being a staple of the early 90's country decor of my youth. When I saw this rug though, I felt something stir inside me. I loved the light color and the peppered dark flecks (which could easily camouflage crumbs and dirt). Plus, I waited and nabbed it for less than a hundo during black Friday. Bringing back a little country to this cabin, but in a much cooler twenty-teens sort of way.
I don't think we can force the kids to give up vid games while at the cabin, but I can help to make them be somewhat civilized and not just play from inside their bunks. I stumbled upon these pretty cool bean-bag chairs from Land of Nod. I like them because bean bags chairs are generally ugly, and these ones give a good campy-outdoorsy-modern/rustic vibe with their canvas straps and brass grommets. Sold. I'm easy like that.
And for a finishing touch, and to help incorporate the 60s era paneling, I'm going all in with vintage crocheted throws to lay across the foot of every bed. Each throw will be unique, and I think it'll be really awesome, ya guys.
So that's it, I'm excited to get moving on this proj. Hope all you guys have a happy and safe holiday! I always appreciate you folks stopping by, and am thankful this internet blog exists!
Current Shopping Wish List

Bunkroom As it is Now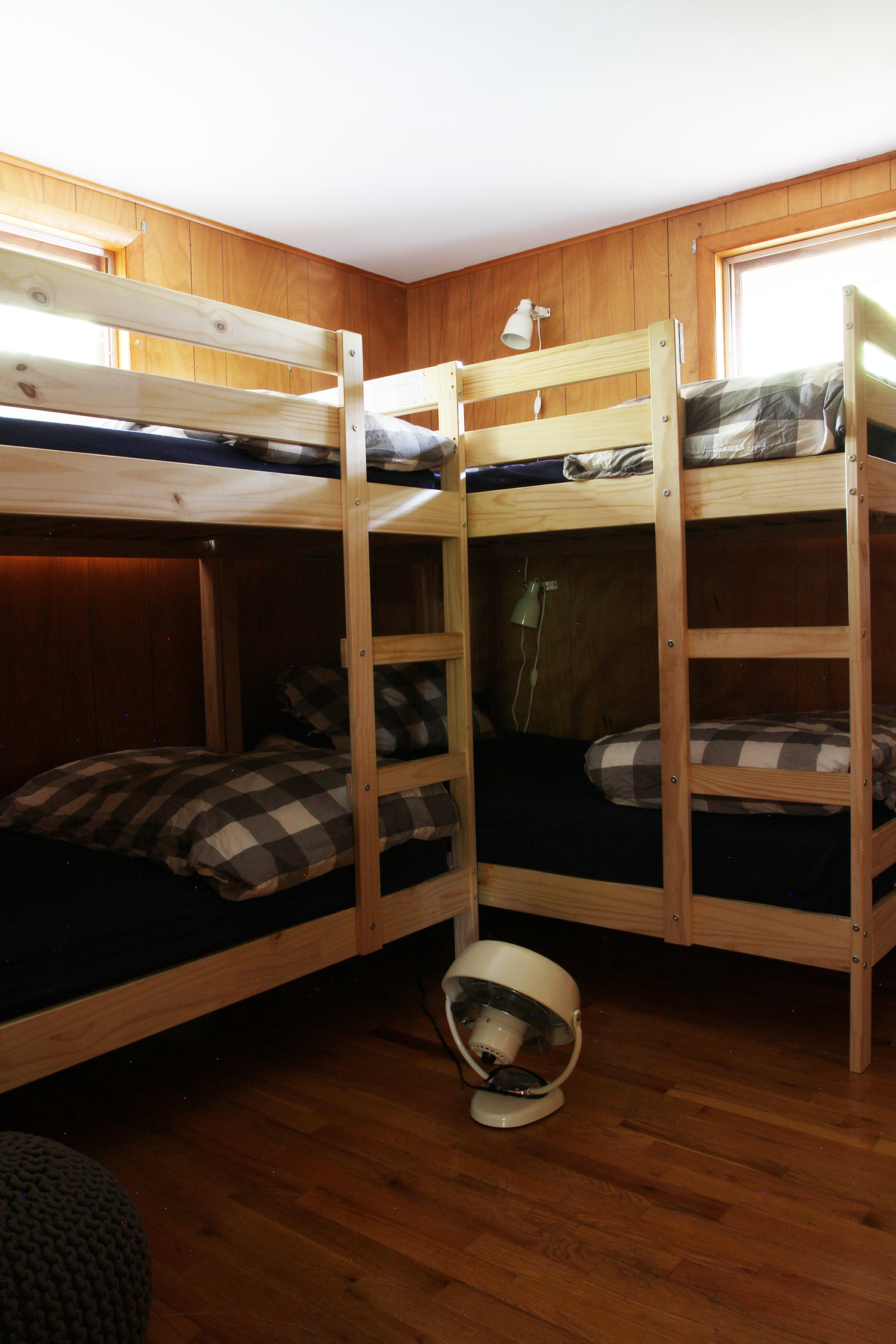 This is the room as it sits now, we originally purchased inexpensive Ikea bedding for the beds, but as we try and figure out ways to wittle down our clean up time at the end of the weekend, one of the biggest time sucks is making bunkbeds. These Beddy's are gonna be a game changer.
Bunkroom Way Before