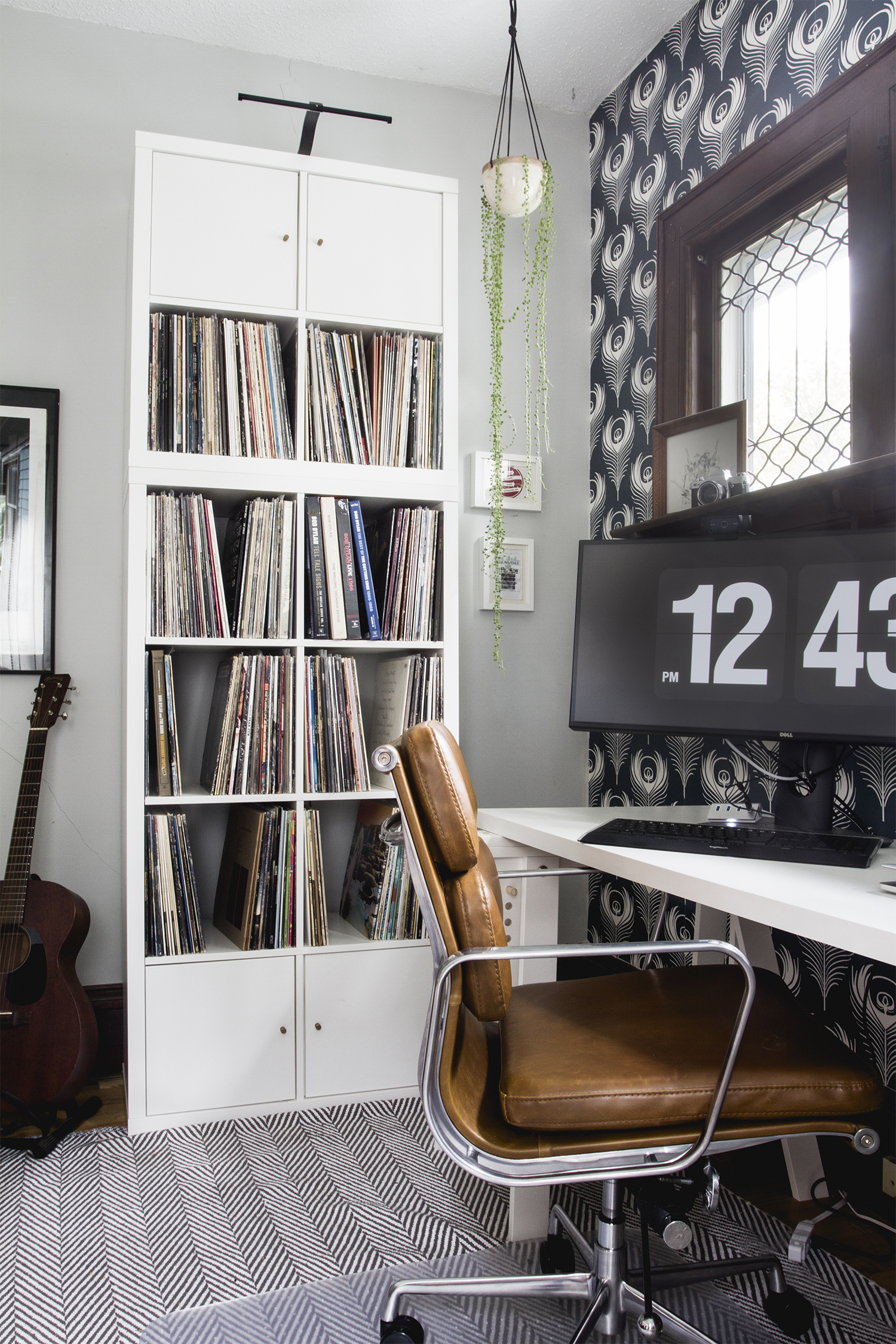 Hey-O! How's everybody doing out there? Things are pretty good here! The kids are getting really good at playing Minecraft and eating junk, I really couldn't be prouder. Meanwhile, The husband and I are figuring out our groove now that he's working from home. He's been very busy, and it makes me feel like a big slacker – like I'd give up my afternoon nap just cuz he's around. Anywho, we are succeeding at being people who are at home all day.
I've been meaning to get this blog post out for weeks, and have been sitting on these photos for just as long. I was just waiting for the right moment to dive in and share this office/music space with you. If you've been reading for awhile, you'll remember that we have a small "extra" room on our main floor tucked behind our dining room. I would imagine that it was probably some sort of room for the help back in the olden days. There is no closet, so it's technically not a bedroom, and like I said it's tiny, and located right near the dining room and kitchen. I'd lock up the maid in there.
For the last six or so years, the room has been functioning as a dedicated space for our record and musical instrument collections, we flexed our brain muscles and have been calling it (wait for it)… "the music room". Flash forward to early this fall when the husband landed a new job in which he has to work from home. Now the music room needs to also function as an office. In a way this is a not a bad thing, besides the record collection, (which Jeff and I both maintain), the rest of the stuff is all his music gear – so making this space a dedicated office for HIM and HIS stuff, isn't the dumbest idea. Our house is decent sized, but it's not ginormous with tons of room. We had two options were to set up his work space, in the middle bedroom on the second floor, or squeeze him into the music room in the quiet corner of our main floor. I still think that one of these days, one of our kids will want to live in that middle bedroom, so music room it is.
Figuring out how to incorporate a rather larger vinyl collection, finding a space for the turntable and piano, and fitting a desk in the space was a struggle. After lots of planning, I landed on a symmetrical approach to the floor plan. Records on the left and right, piano on the opposite wall, and a large desk nestled right in between it all. You can check this post for details on the design plan.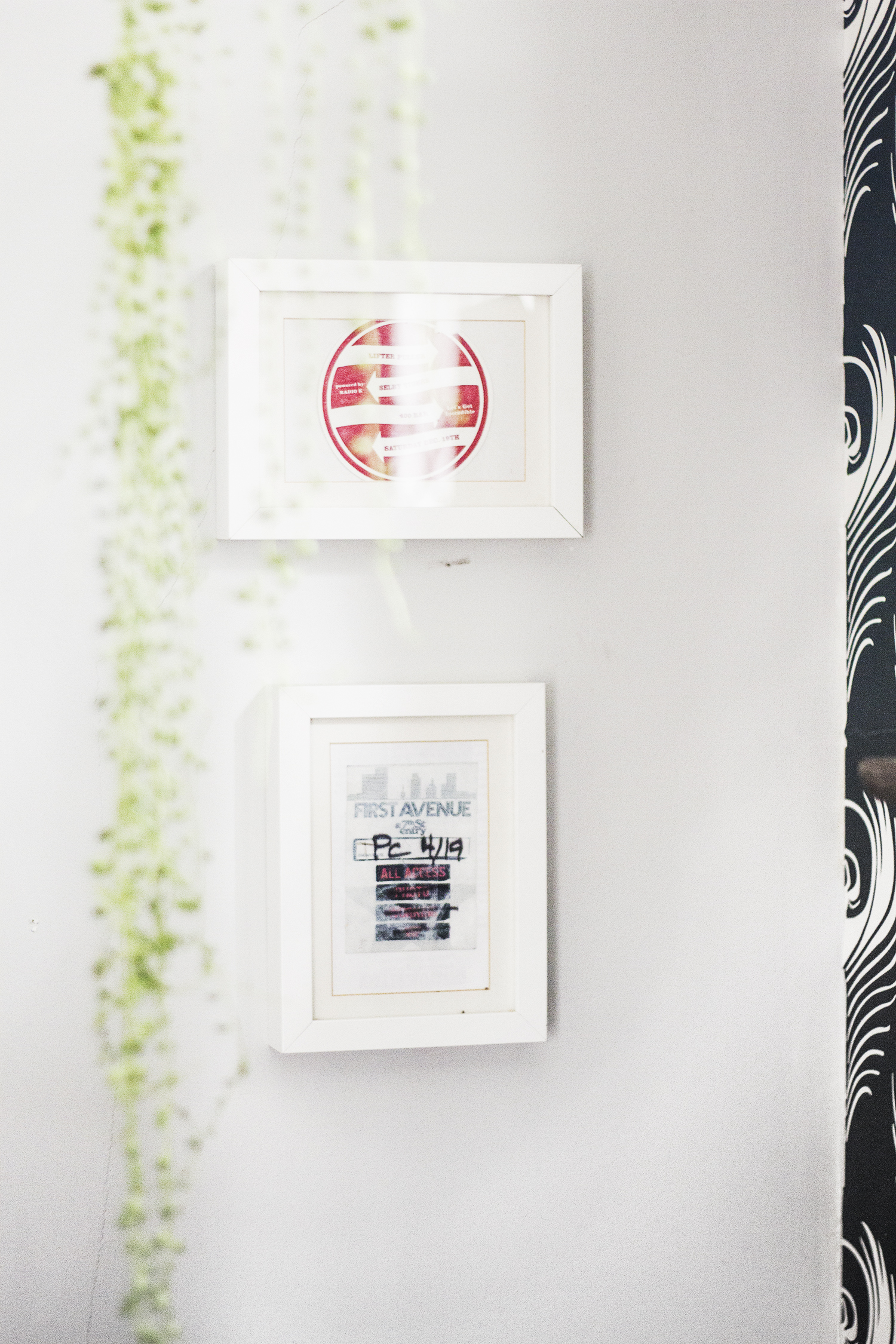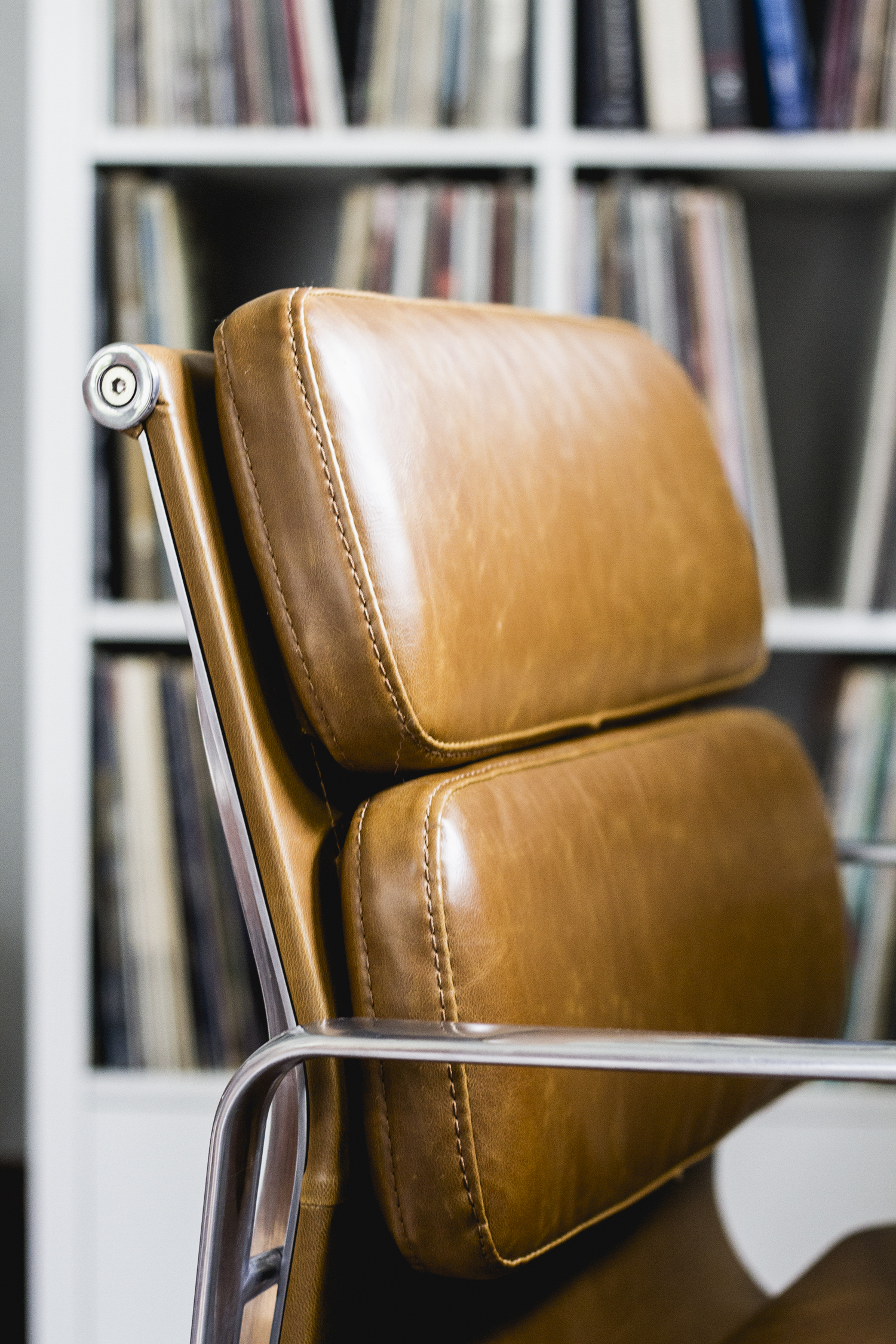 As per uewsj, we furnished a lot of the space with goods from the flat packing gods at Ikea. Kallax shelves hold the records, door fronts on the top and bottom help to make it seem a little more custom and not as Ikea-y. I found this really good fairly inexpensive office chair at houzz. The only problem is that the "lean back spring" snapped right away, and it has yet to be replaced by houzz – we are talking months now, which is a bummer. However, it sits up straight and has a slight recumbent lean. All-in-all, not a bad little chair, and the leather looks nice and vintage, which is awesome considering it's brand new. I nabbed a chevron woven rug from rugsusa during "a sale" and picked it up a 5×7 for $99 buckaroos.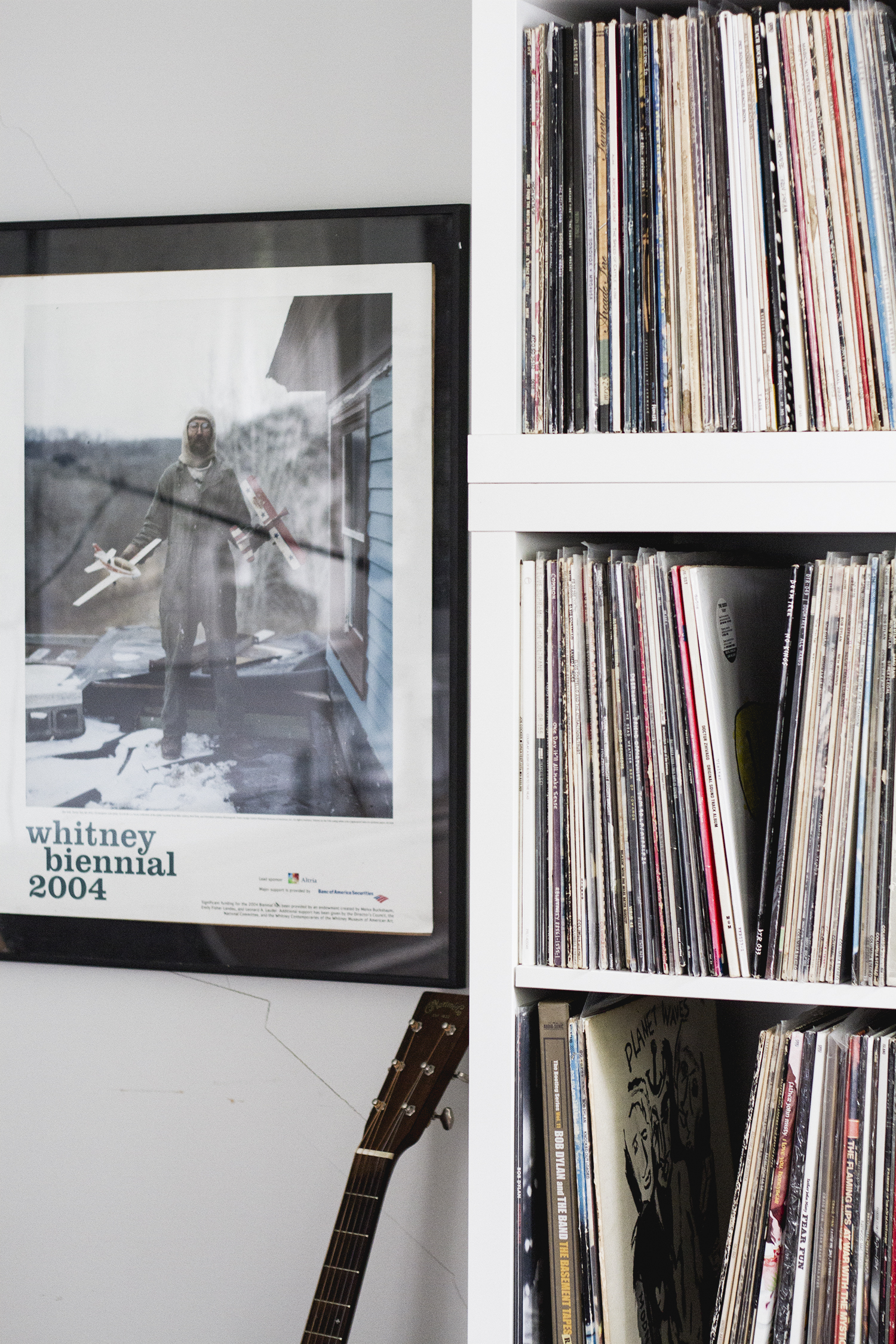 Check it out, dudes! One of the trickiest parts of this whole room was dealing with cords and outlets. This room only has two outlets and one of them functions on a light switch. I hooked up all the lights in the room to the outlet that was controlled with the switch, and all of the other stuff on the other outlet. Sometimes this involved running cords around the perimeter of the room – as you can imagine, this looked gross and dumb. During a trip to my neighborhood Ace Hardware I came across this super sweet D-Line product that is meant to look like quarter round for base trim, it opens up and inside is a small channel to run 2-3 cords. The kit comes with inside corners, outside corners, and connectors – best of all, it is stainable! Check out that pic below! You can barely tell that the quarter round is a cord keeper.
You might also notice the custom built-in shelves I installed in the nook over the radiator. This was the only place I could think of to house that all-important stereo equipment and turntable. The trouble with this idea was figuring out how to get wiring up the wall without having it look like a crazy mess. After shopping the audio video aisle at the H.Dep, I found a solution. My work around involves this product that is meant for flat screen tv installation. It's basically an extension cord with a fancy facade that fits inside your wall. You plug it in at a discreet location at one end, and a power outlet comes out of the wall on another. There is also a port for stereo cables and the like. Pretty sweet, huh?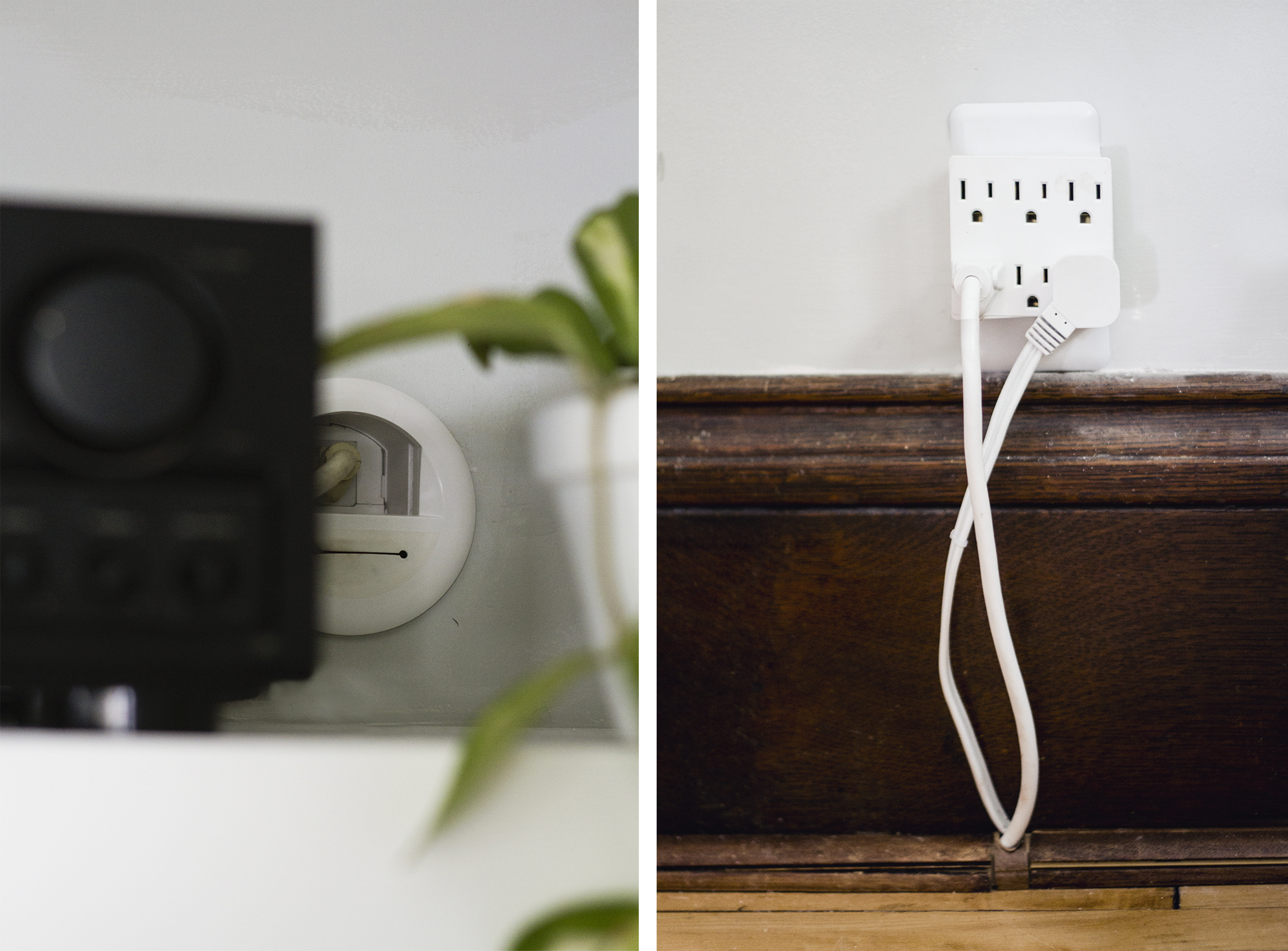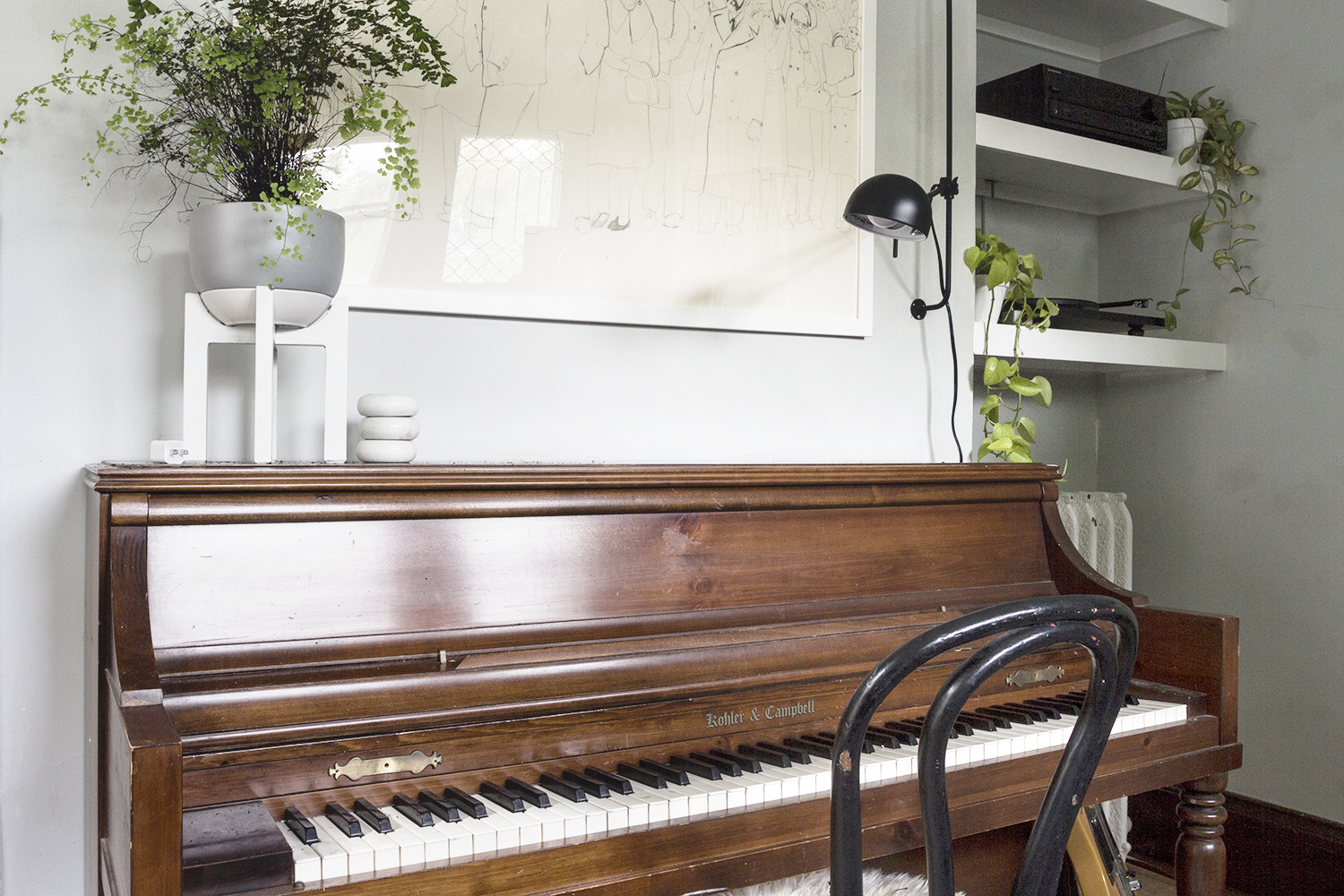 Oh god, this piano. It's great, but it's ugly. Finn plays it, Jeff plays it, the cats play it – it gets used. But Jesus, is it hard to find a place to fit a piano in any space – big or small, especially a kind-a-ugly-one. It was necessary that it stayed, so I tried to my best to make it part of a scene. Think interior camouflage. I added some artwork that a friend had made back in art school days, and I had it framed here for a v affordable price at Frame It Easy, basically, a mom and pop version of Framebridge. The white shelves in the nook line up perfectly with the top and bottom of the artwork frame, this helps to balance the wall. As of late, I have been really obsessed with swing arm lamps that slide on rails, and I found this one at Urban Outfitters for cheap on sale. It's good looking and very functional in the space, notes can be read! The plant stand is from target but only came in a dark-stained wood. Five minutes and some spray paint, and it was white to match the base of the ceramic planter, obviously because I thought of it, it looks way cooler.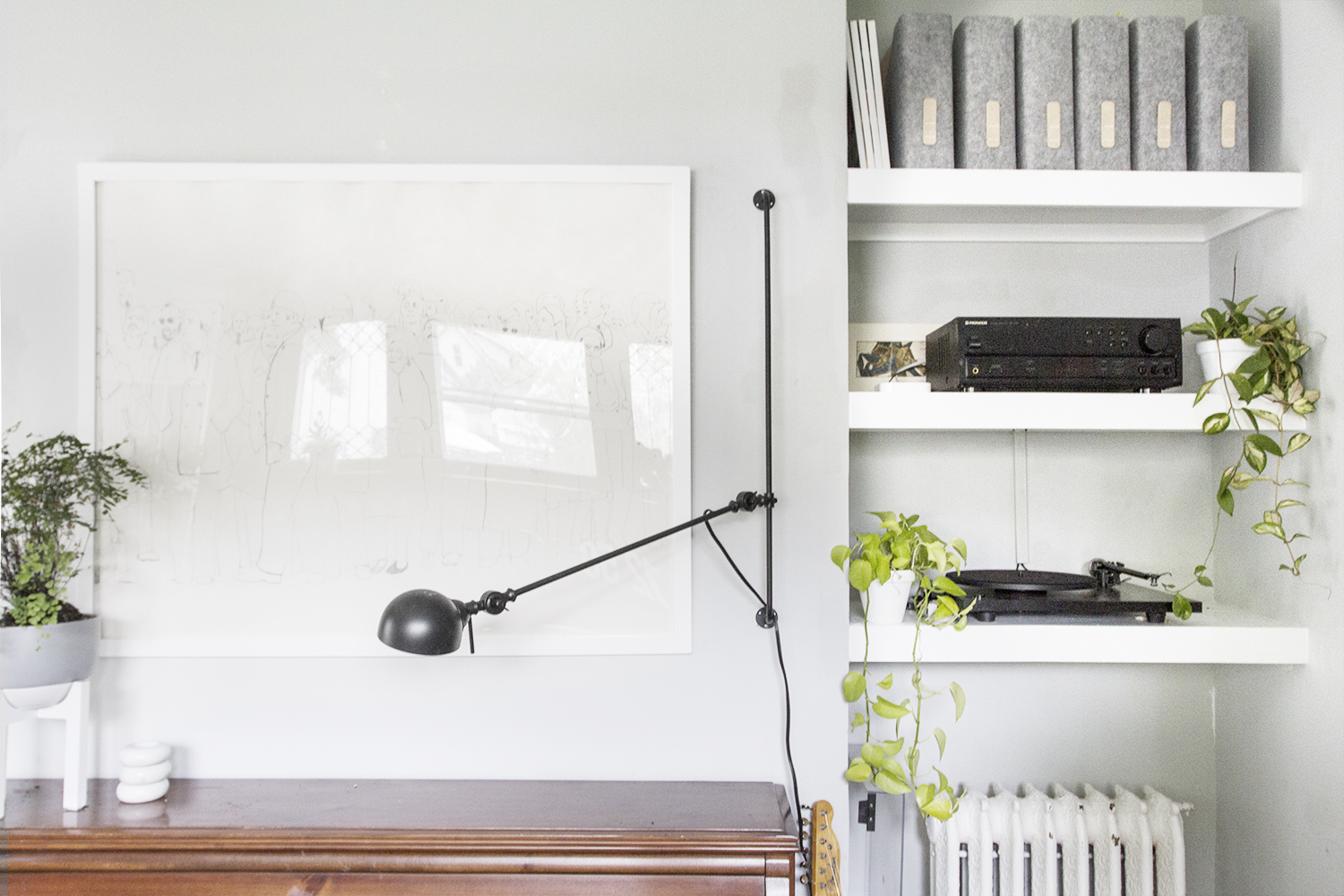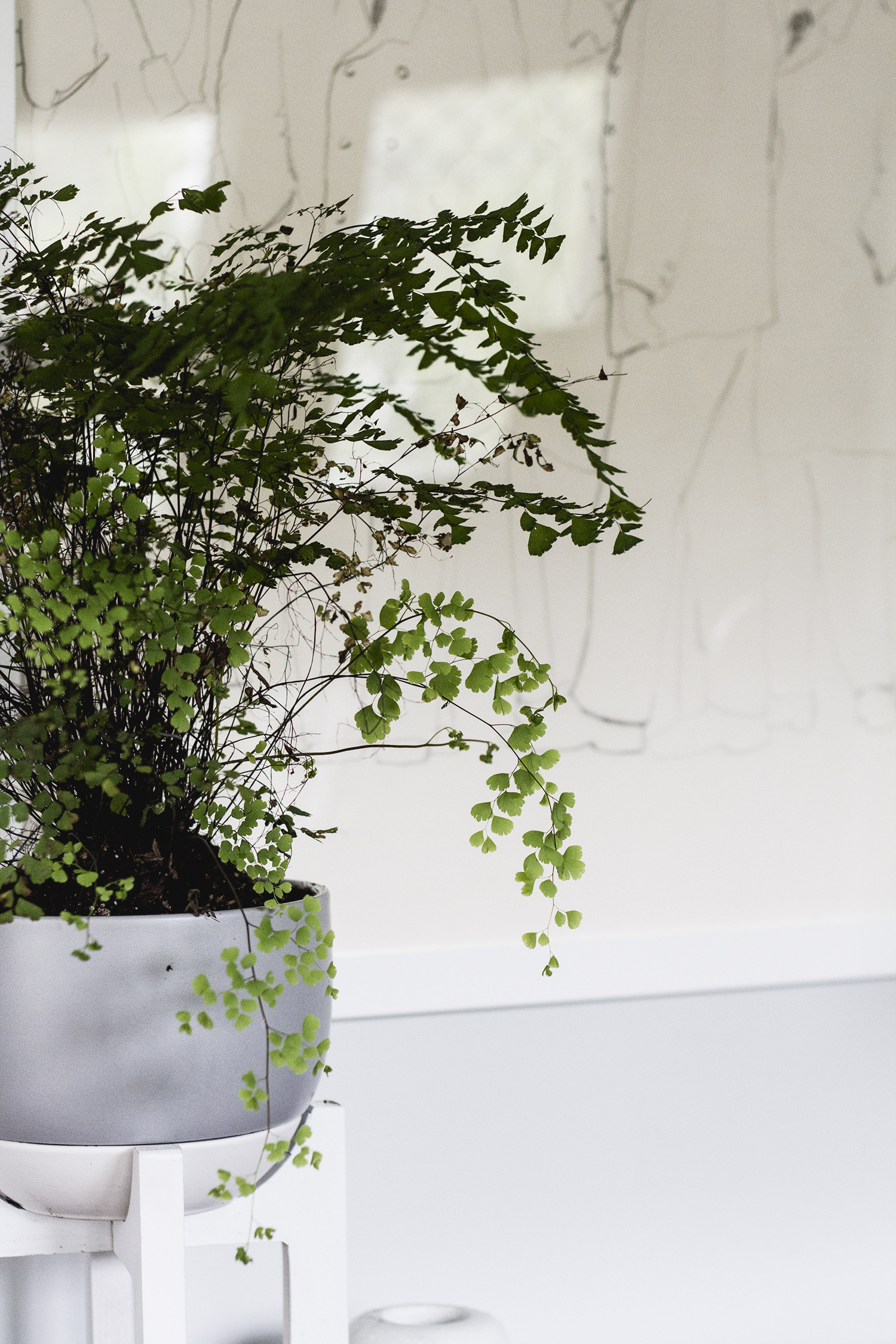 SHOP THE LOOK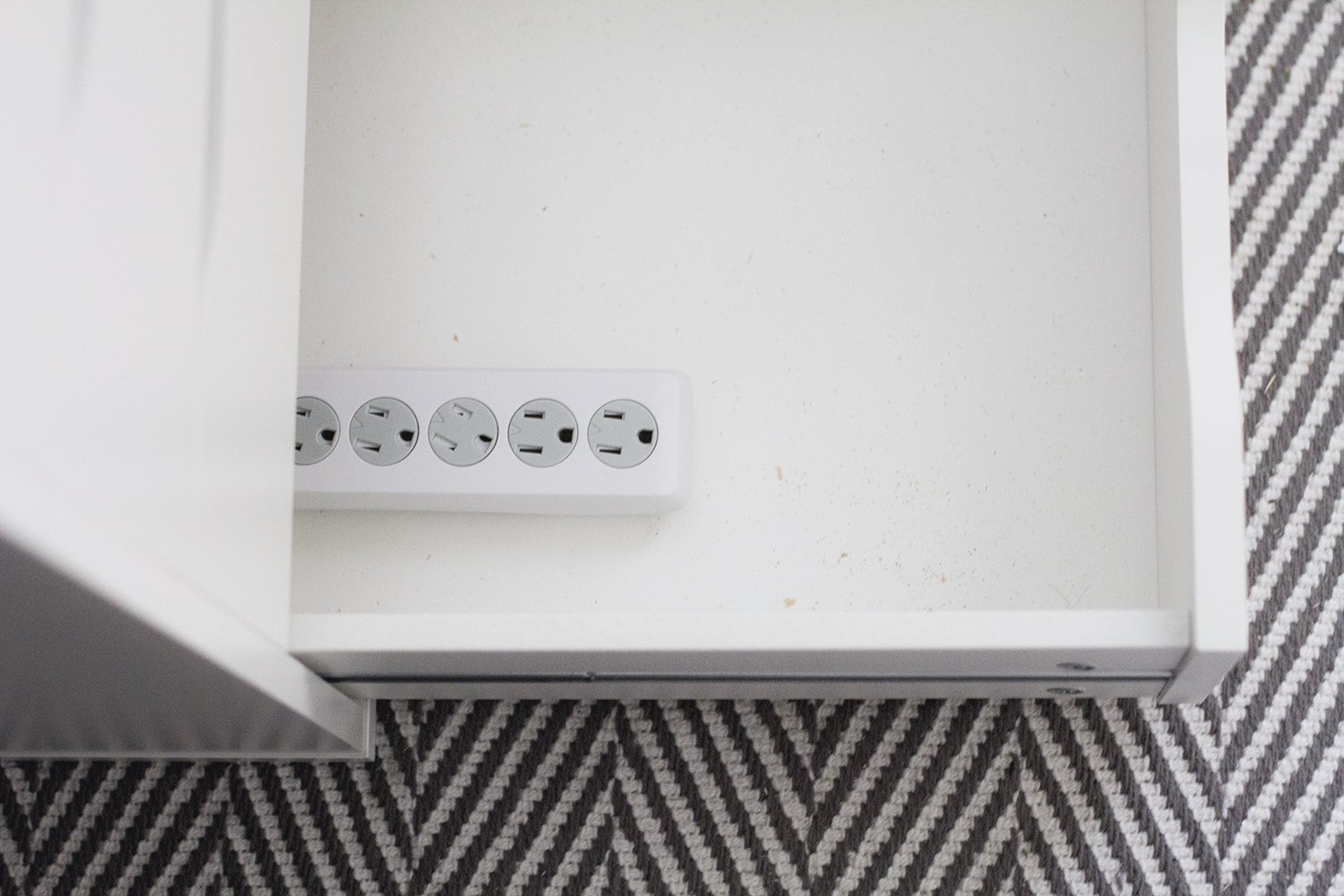 The cord keeping doesn't stop at the molding. I bore out a 1″ hole in the back of the filing drawers and stuck a surge protector inside, for when Jeff is computing during lighting storms, and also just because. It's plugged into an outlet on the wall.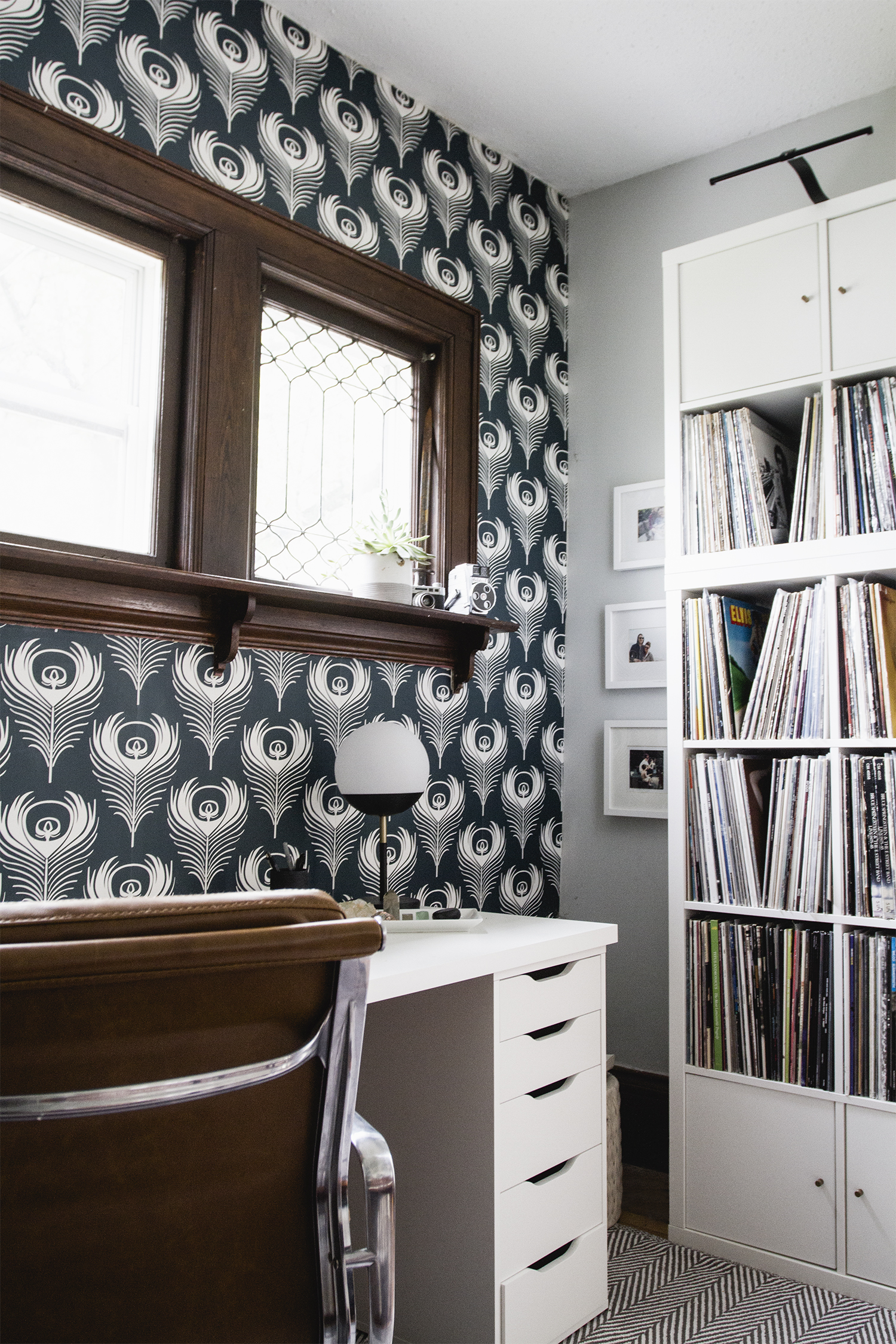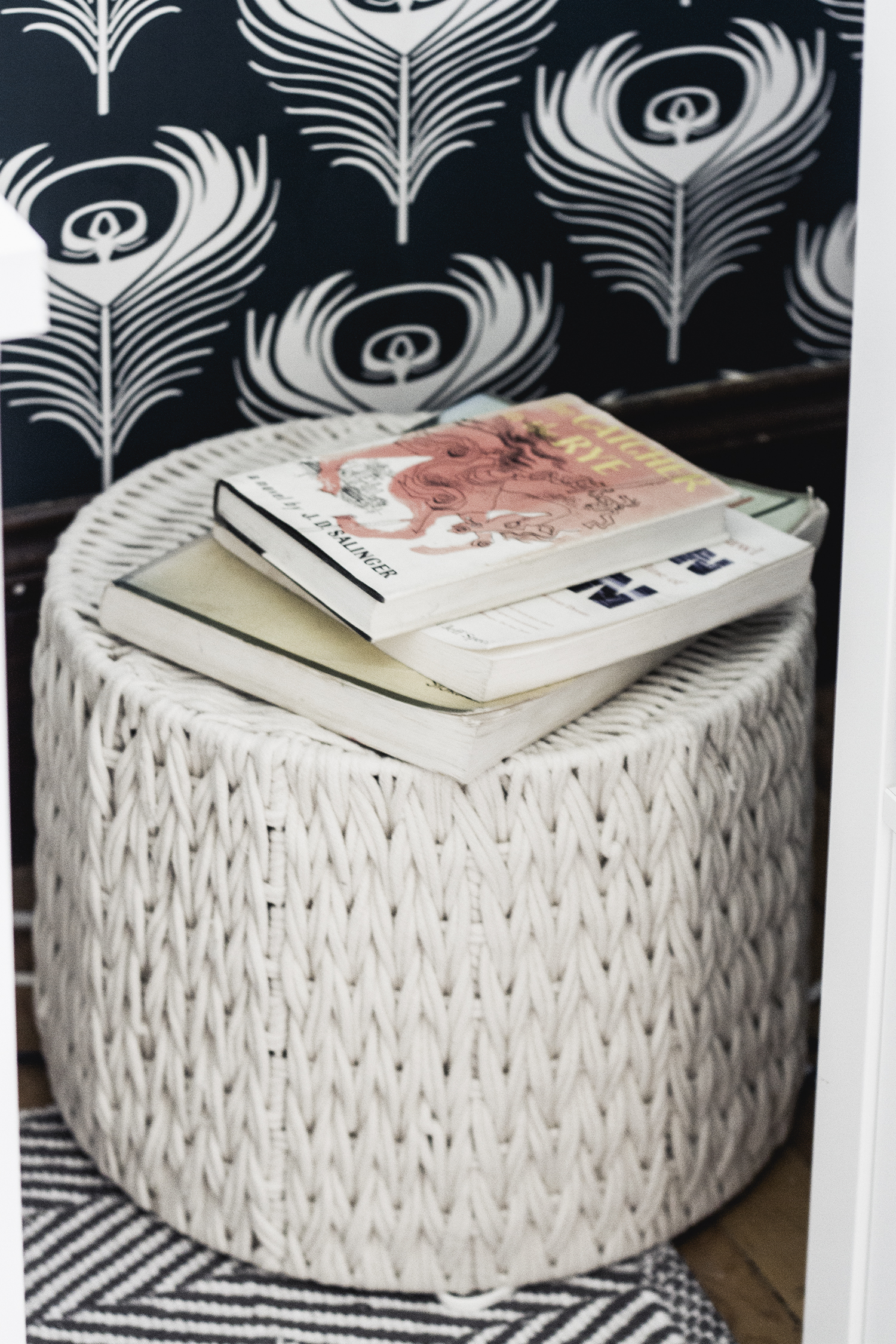 Are you bored with all my ways of hiding cords yet? Guess what's in here? I dare you to guess. People of the internet, I took a basket, flipped it upside down, and hid our router in it. Can you even believe such things?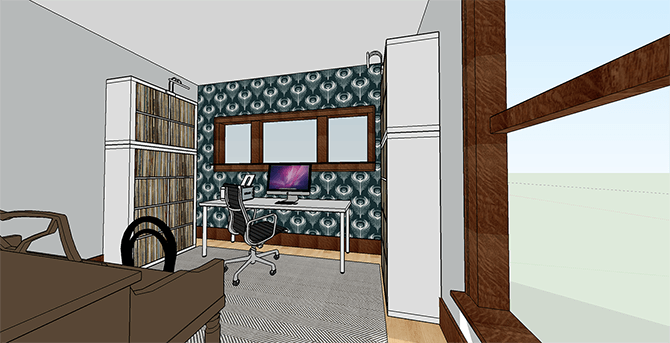 Dudez, I never intended for it to be such a long absence here on the blog. I'll start by saying that this has probably been the craziest few months of our lives. We were finally settling in with the West Wisco cabin, when Jeff was offered his dream position at ...
Read More
Hey Guys! How's it going? As promised, I'm sharing a bit more with you guys about my mission to tidy up this house. By tidy I don't mean "clean." I mean go through everything, determine what can stay and what goes, and finding a permanent spot for every item/object/thing. My ...
Read More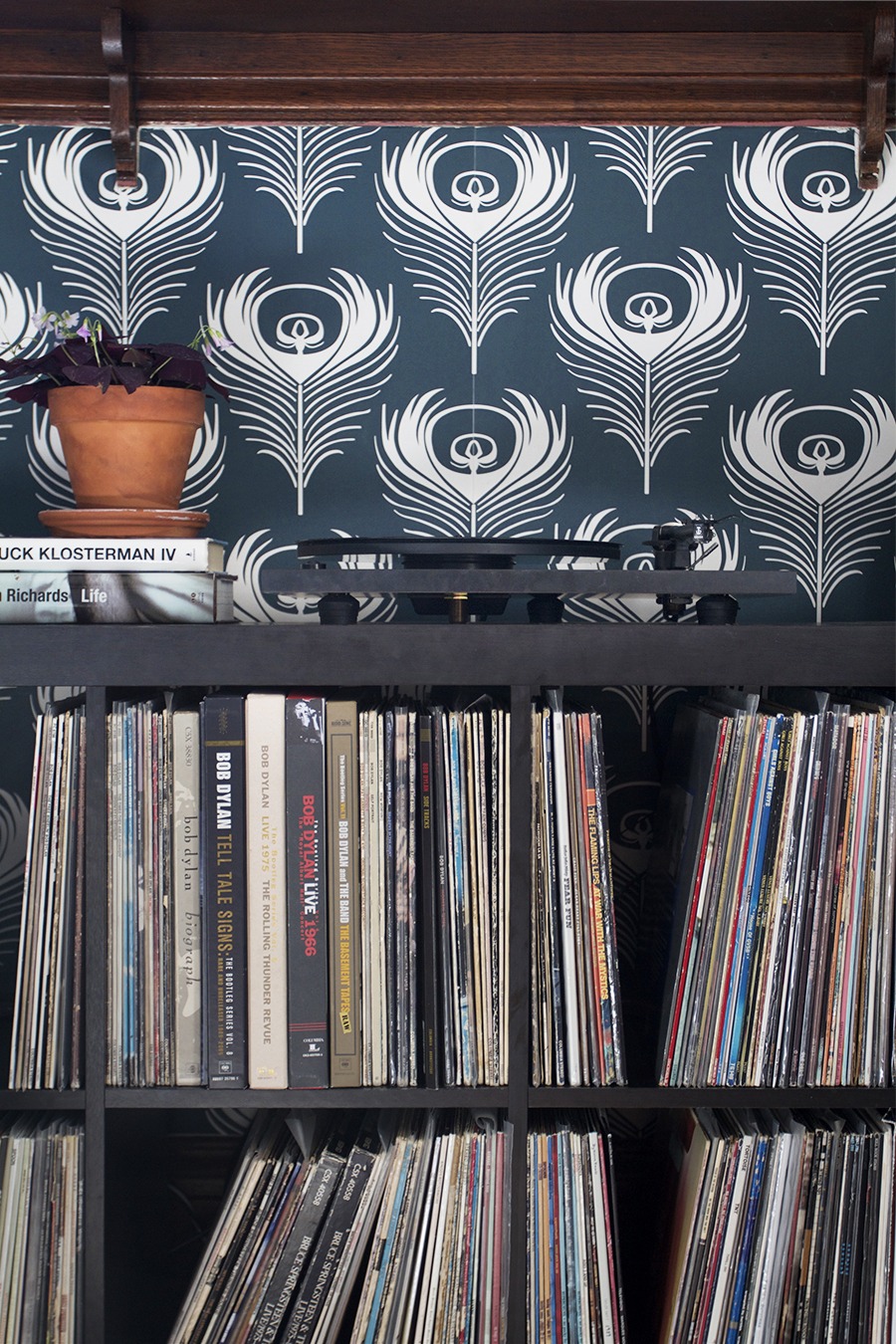 I'm dedicating this post to all the folks out there who use Expedit (or the newer Kallax) Ikea shelves to store their record collection. For us, these bookshelves have been terrific for our records, they fit the height of a record nearly perfectly and are able to hold a lot ...
Read More
Hey Guys! Hope you are all doing awesome today. It is snowing hard here, but it's so much warmer than earlier this week, all is okay by me. I've gotten two walks in over the last 12 hours because I just need to get fresh air, and am desperate to ...
Read More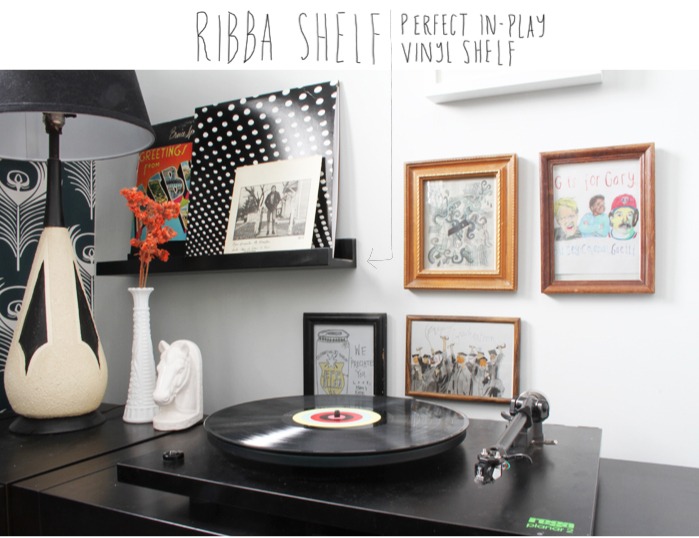 A few weekends ago I finally got around to actually finishing up the music room, I mean it only took a year, but whatever. It's always the final details that I just can't seem to get done. I mean, it's really hard to hang up some artwork and a small ...
Read More
Guys, I finally did it! After weeks of procrastinating I finally set time aside to paint the music room radiator white. I knew this wasn't going to take me long, but it was just one of this projects that I didn't want to do, for fear that something would go ...
Read More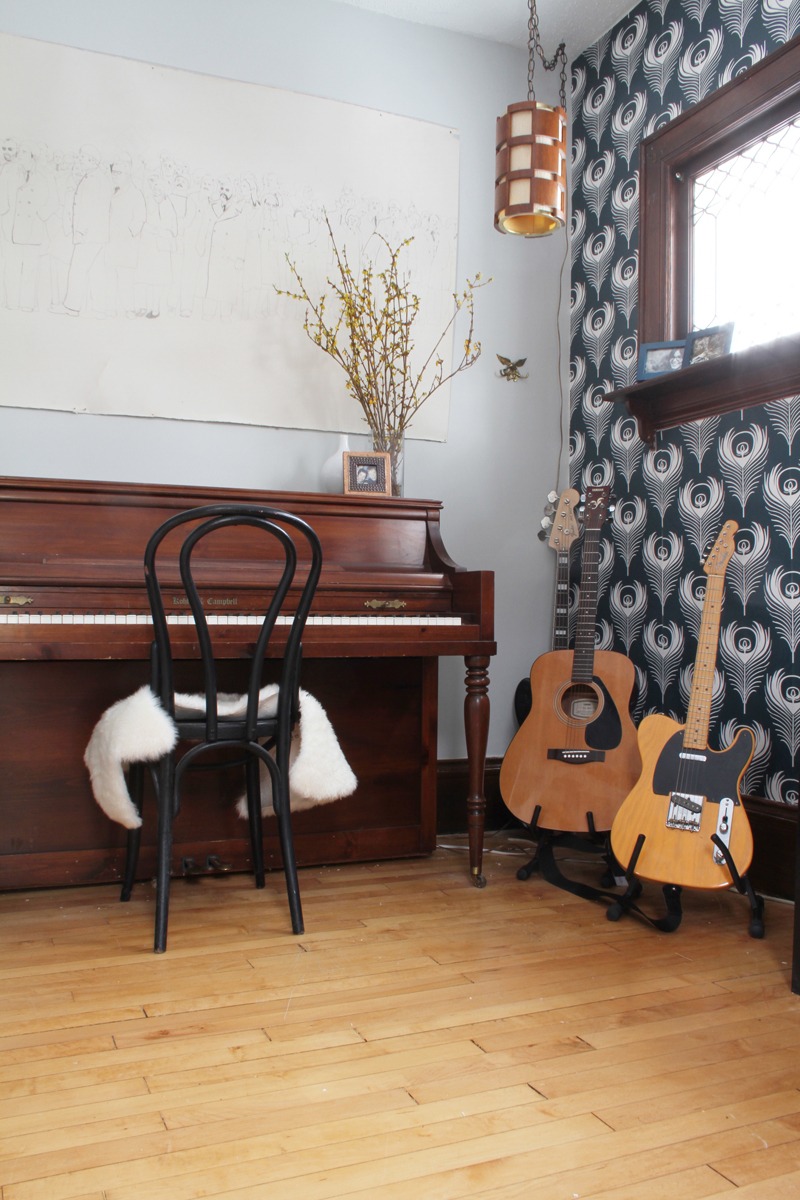 I'm so proud to show off the completed music room!!!! It's been a big project that I started planning way back in September. It was my hope to finish by the end of the year, and I came close, but still had a hand full of small projects to get ...
Read More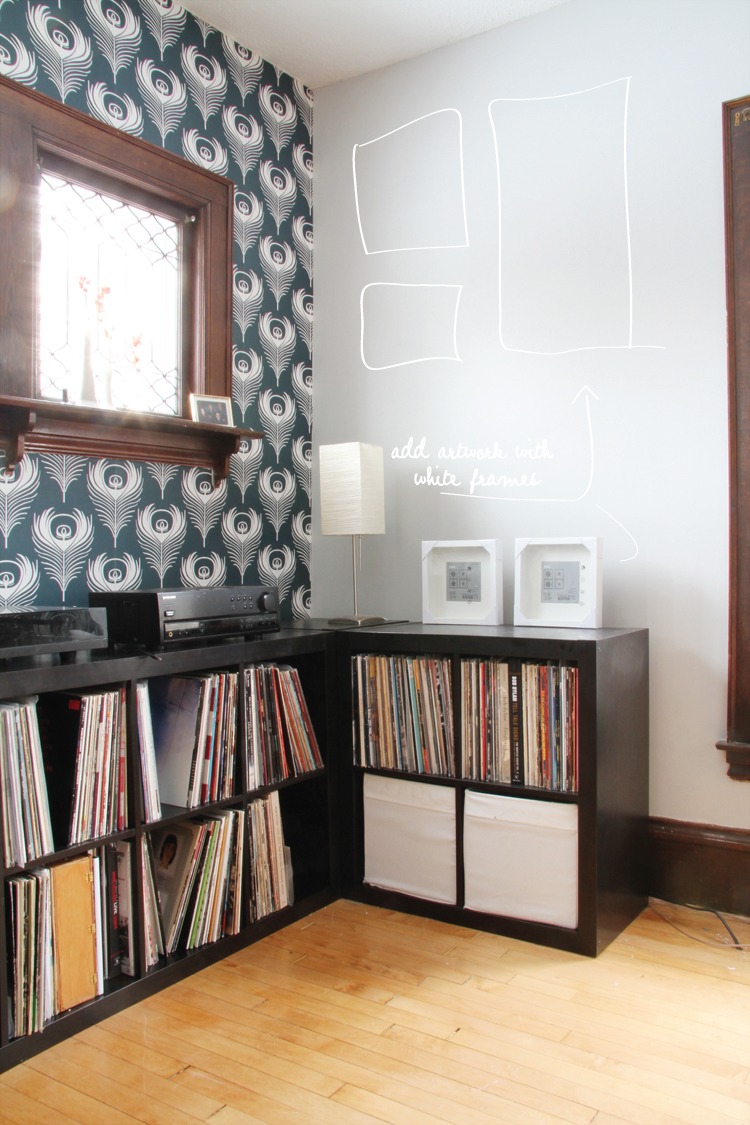 One of my big projects to finish by the end of the year was the "music room" aka the odd extra room on the back of our house that we've made home to our piano and record collection. It was a mess before, and I have plenty of pictures to ...
Read More
Okay, I had to share cause I am so proud of all the work we've done and because I love this wallpaper to death. We are partaking in our annual Christmas break wallpaper tradition, so after the kids were in bed last night we marathoned it and got this feather ...
Read More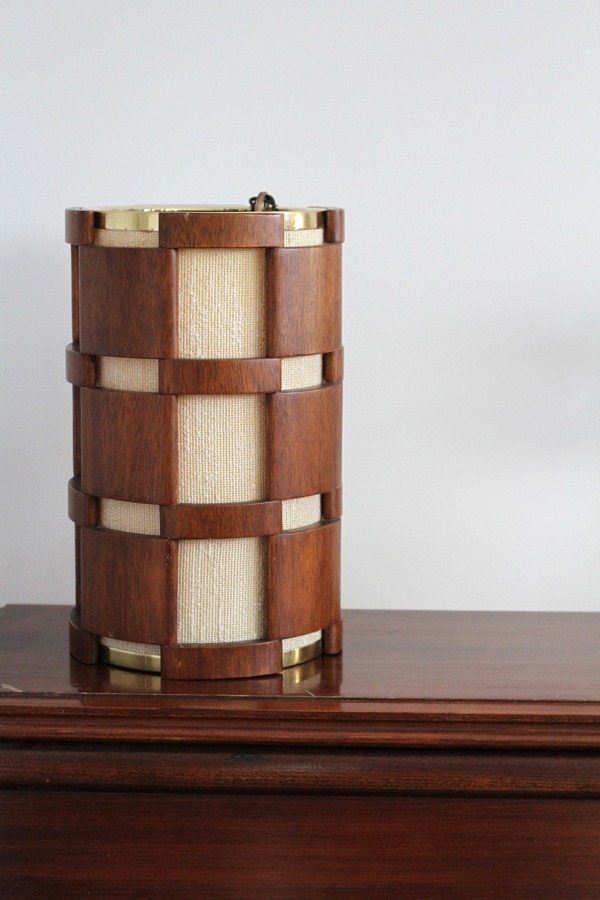 You're going to have to get used to more posts like this, I just can't help myself with this new camera.  Everything looks so beautiful now, I can't even imagine what things are gonna look like once I get my tripod back (50's, you heard me) and get into manual ...
Read More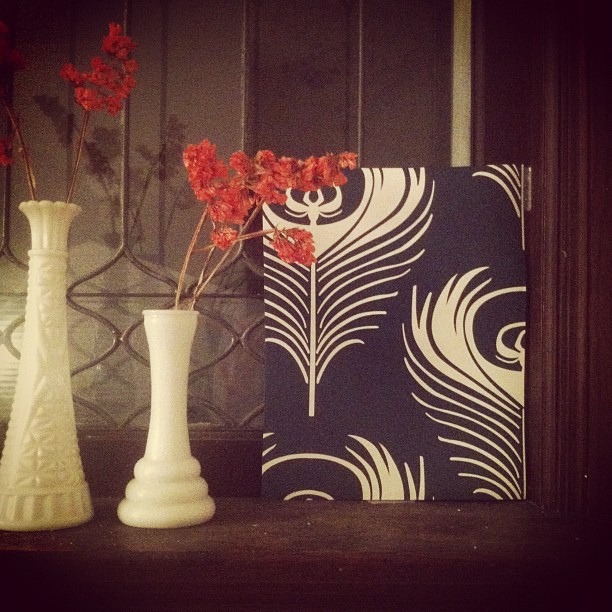 So, I guess this dewallpaper/rewallpaper/paint the music room project was a little bit bigger that I expected it would be, but NO regrets. It's not like I could've lived with the room the way it was forever, that 80's country wallpaper had to go! Things are coming a long though, ...
Read More
Happy Friday Everyone!Today I wanted to share an update on my projects that I need to get done before the end of the year. I am making progress!! I am a nap time warrior!!! Over the last two weeks I have removed all the wallpaper in the future "music room" ...
Read More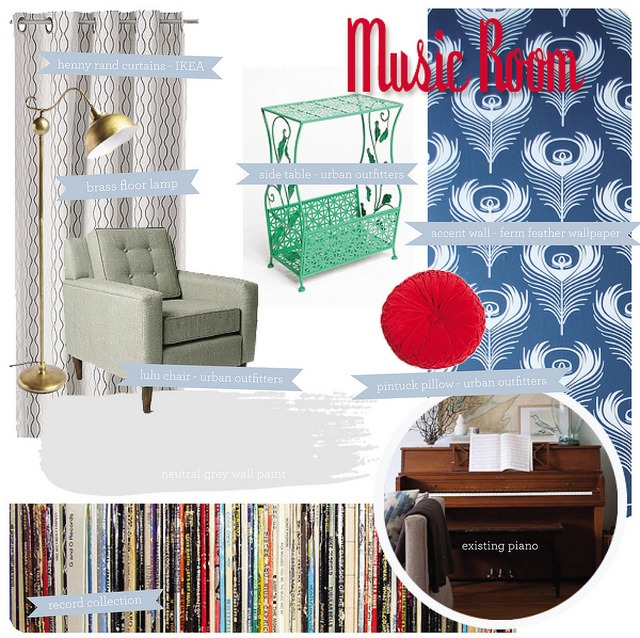 Have I told you that I am spending my days at home now, I am officially a stay at home mom AND taking on watching Colz' Elsa 5 days a week too. It is a crazy party here every day and for the most part I am enjoying it. I ...
Read More