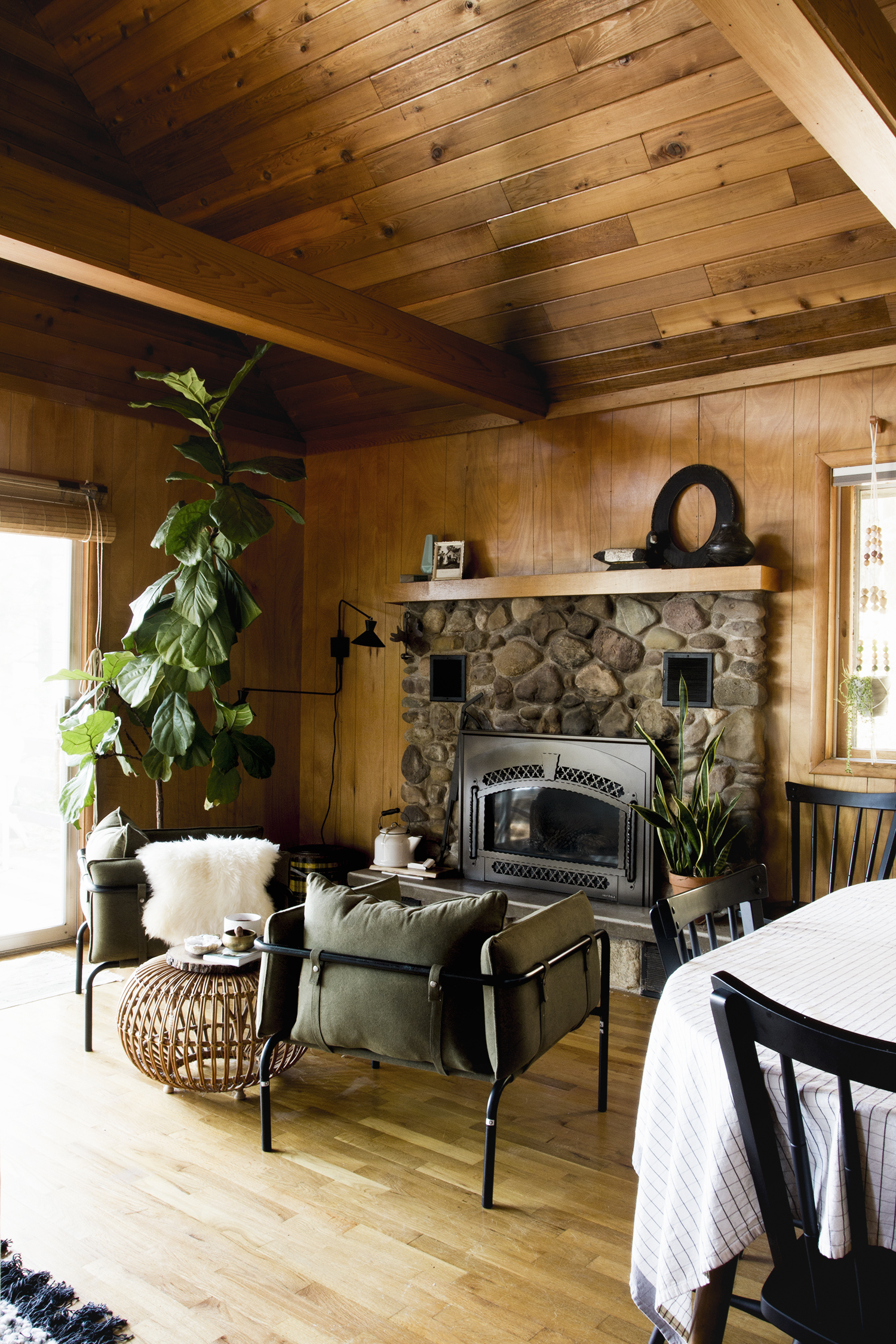 Hey Team! I've been meaning to blog so many times lately, but I just couldn't get it together to do it. Earlier this year I decided to only write and work on the blog when I really truly felt inspired to, and I didn't like the stress I was putting on myself to share a certain amount of times a week. I wanted to be more present in the day-to-day, which made me realize that blogging is only really satisfying when I really want to do it, I hope that makes sense. I've enjoyed the distance between the blog and real life, but I still really get excited when I actually do feel like putting a post together.
Like I've shared before, we are going through the craziest time lately, Jeff has been in CA for 90% of the time the last six weeks for a new job, Finn and Gus have been busy with school, and I have been just trying to balance it all and stave off the old de-pres-shon feelings that like to show up in times just like these. Last weekend, the fam and I were able to spend the weekend up at the cabin together – it felt really great. It also felt super sad when it was all over. Luckily, the end of this crazy ride is in sight.
Being back at the cab, I realized that we've done so many little things to the space since purchasing it ALL the way back in August. There have been so many tiny changes along the way that it felt weird to dedicate a whole post to any one thing.
I am a firm believer in taking things slow and living in a space, taking the time to figure out the best way to make the space work for you. This is the most I've ever rushed to put a space together, and there's something about it that feels out of my comfort zone. Don't forget; I basically can't go to the bathroom without planning for it, so committing myself to so many big decisions all at once was a little crazy fer me. Mostly, we will try and settle in from here on out. And by mostly, I mean that I am going to try and chill except for the one kinda big project that I've started in the kitchen. Besides that, I'm hoping that I continue to thoughtfully design the space as we go, so that it functions best for us, and so that my head doesn't explode.
That being said, there are still a lot of ideas that we are slowly processing. Two of the big ones are the vertical wood paneling (not the ceiling) and the fireplace. For now, I think we have decided that we like the paneling. It's kitschy-ness has become kinda charming AF. Howevs, we are considering painting the paneling white in the bunkroom, as well as upstairs bedrooms, mainly because these are all located on the back side of the house and receive less sunlight throughout the day. Having some white to bounce the light around in the rooms would brighten things up a bit. Also people, we have lots of ideas about what to do with the fireplace too, but nothing seems just right, so why force it? Like I said, we're taking it SLOW. Eventually I'd probably start with changing out the mantle and gas insert surround. The mantle needs to be larger to balance out the size of the stone fireplace, and a fresh insert surround could help with the style-clash between the insert's very stove-like arch-y-ness and the new more minimal and chill (and obviously super cool) vibe happening in the rest of the space.
We've painted the dining room chairs black, as you can see in the previous pic. I love the shape of the chairs – they're like a mid-century windsor, and therefore we need a way more modern table to go with them. Eventually I'd want to change out the table for something more long and rectangular and way better looking. For now we pretend that those legs are not that bad, and just throw a table cloth over 'em.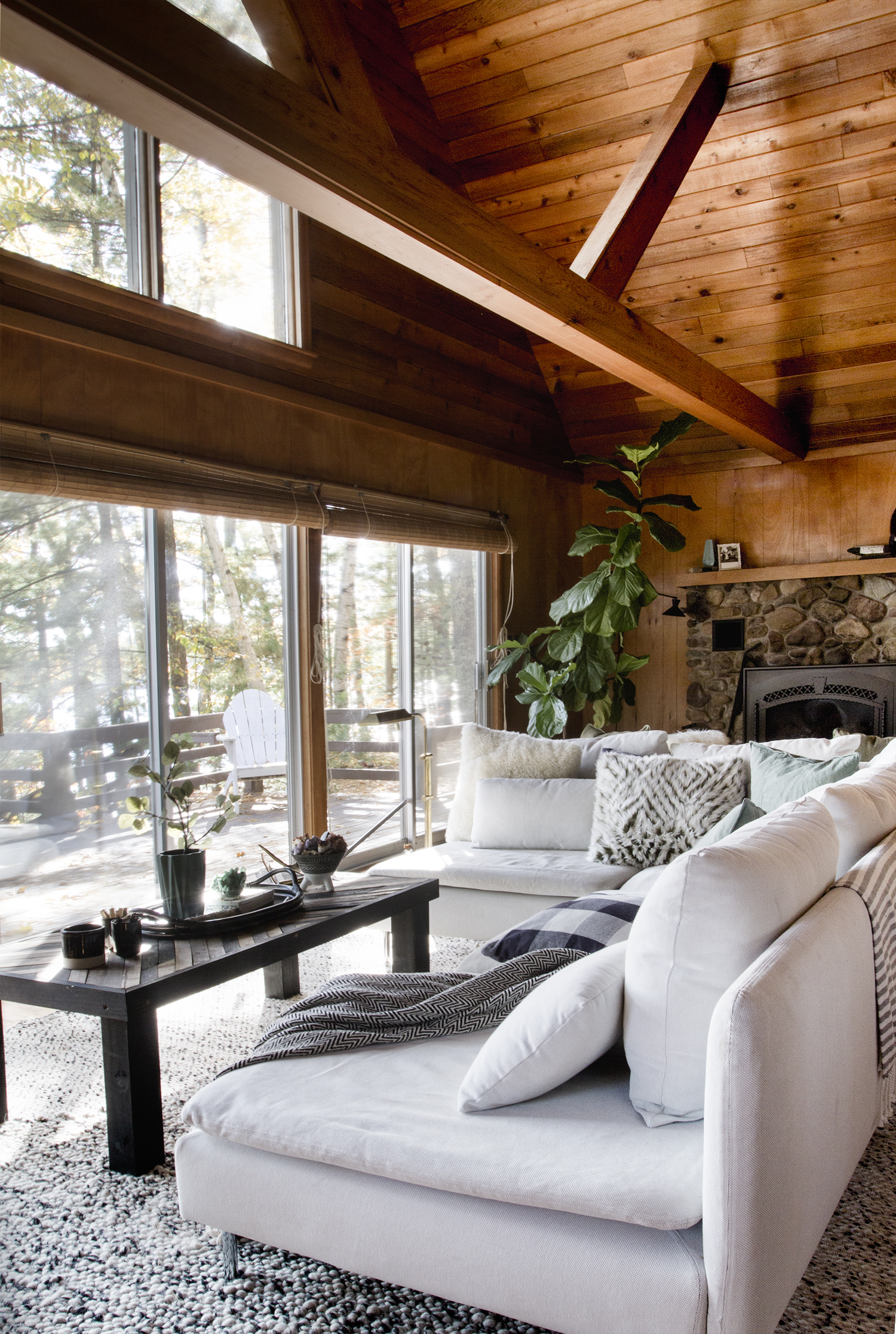 Jeff bought me a new rug during a big sale at West Elm. You don't even want to know what I had to trade him for it (j/k). Its a 9 x 12, the biggest rug I've ever had the space for! It's also nubby, wool, feels great on yer feet and looks incred.
BEFORE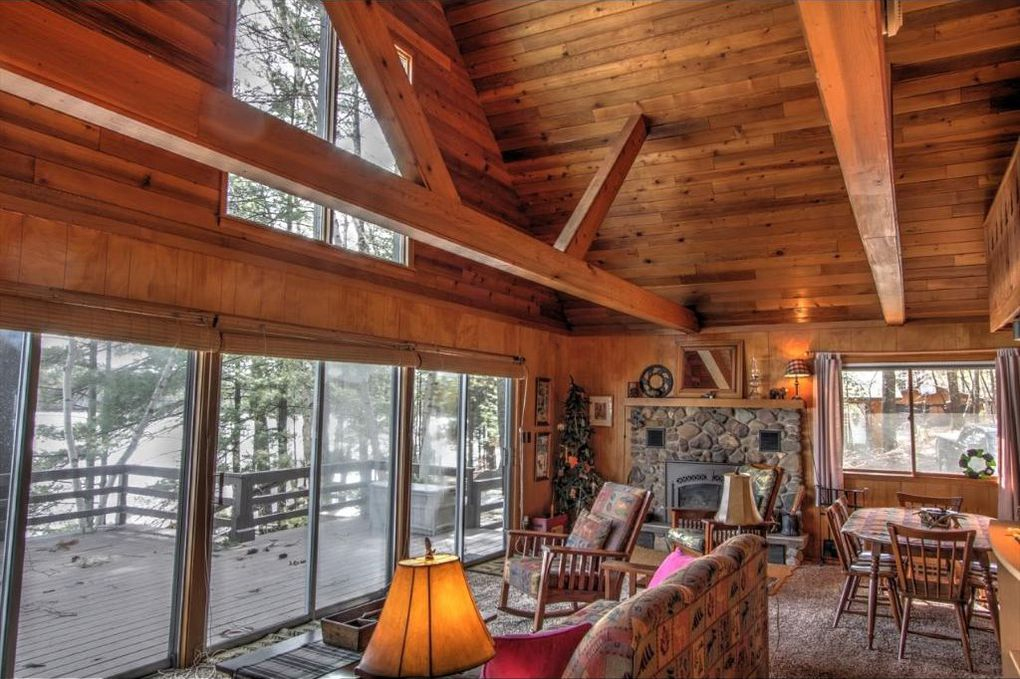 I suppose I can also mention the obvious that we took up the carpet the first weekend we had ownership of the cabin. Wood floors abound. We are stoked, thankful and feel truly blessed for those nice hardwoods under there. We also had a few panes of glass replaced in the sliding glass windows. The sliders are original and are actually very cool and beautiful and someday I will get around to taking a detail pic of the 60's hardware. I imagine we will have more sliding-door-pane-repairing in the coming years as the original 50-year-old seals begin to break (I guess that's a thing that happens). These sliders are so cool though, I can't imagine replacing them. I also fixed up a few of the sliders' screen doors, replacing some screws and cleaning out their tracks so they slide nice and smooth. It's the little things, plus I love the smell of WD-40.

I have a hard time taking photos to describe how killer the lake views are at this place. The lake is small and we are elevated and not set-back far from the water's edge. We can see water out of every front facing and side window in the cabin. We have nearly a 180º view of the lake, it's incredible, I still can't believe that it's ours. Feeling very lucky about that.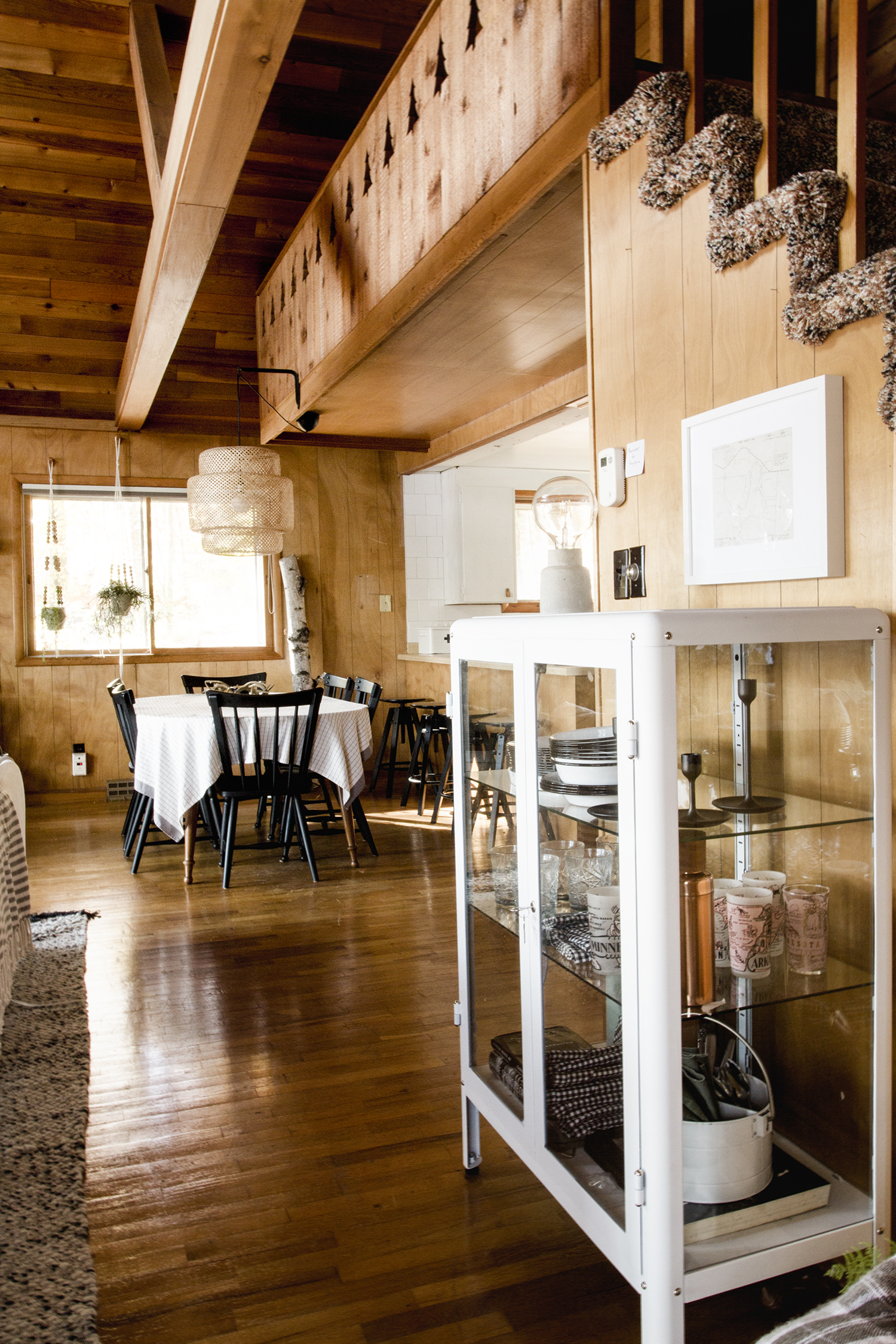 We wanted a hutch to store dining essentials, and the staircase wall needed some sort of furniture on it. It just felt lonely. I honestly spent hours trying to figure out what the best piece of furniture would be for my budget, while taking into consideration the size and function of the space. Brain cells were killed in an effort to find the right piece of furniture. After sending way too many annoying text to my girlfriends about cabinets, I finally landed on a piece from Ikea, and decided I'd paint it white since it wasn't offered in that option (it's beyond me why Ikea wouldn't offer everything in white, I thought that's what they do). I was on the hunt for either an antique medical cabinet or something that looked like one, I think this little cabinet was the right move, and I love having a place to show off our growing collection of enamelware and cocktail glasses.
Also guys, I wish it could be seen in every picture, but it's so hard to get into the frame. One of the things that sold me on this place was those pine tree cut outs on the upper balcony. Pretty great, huh?
Also, that carpet on the stairs is very well stapled down, I swear. There are pine treads underneath the carp, but I just can't bring myself to invest my muscles into that the tug of war just yet. Plus the kids love bouncing down these babies on their buttz.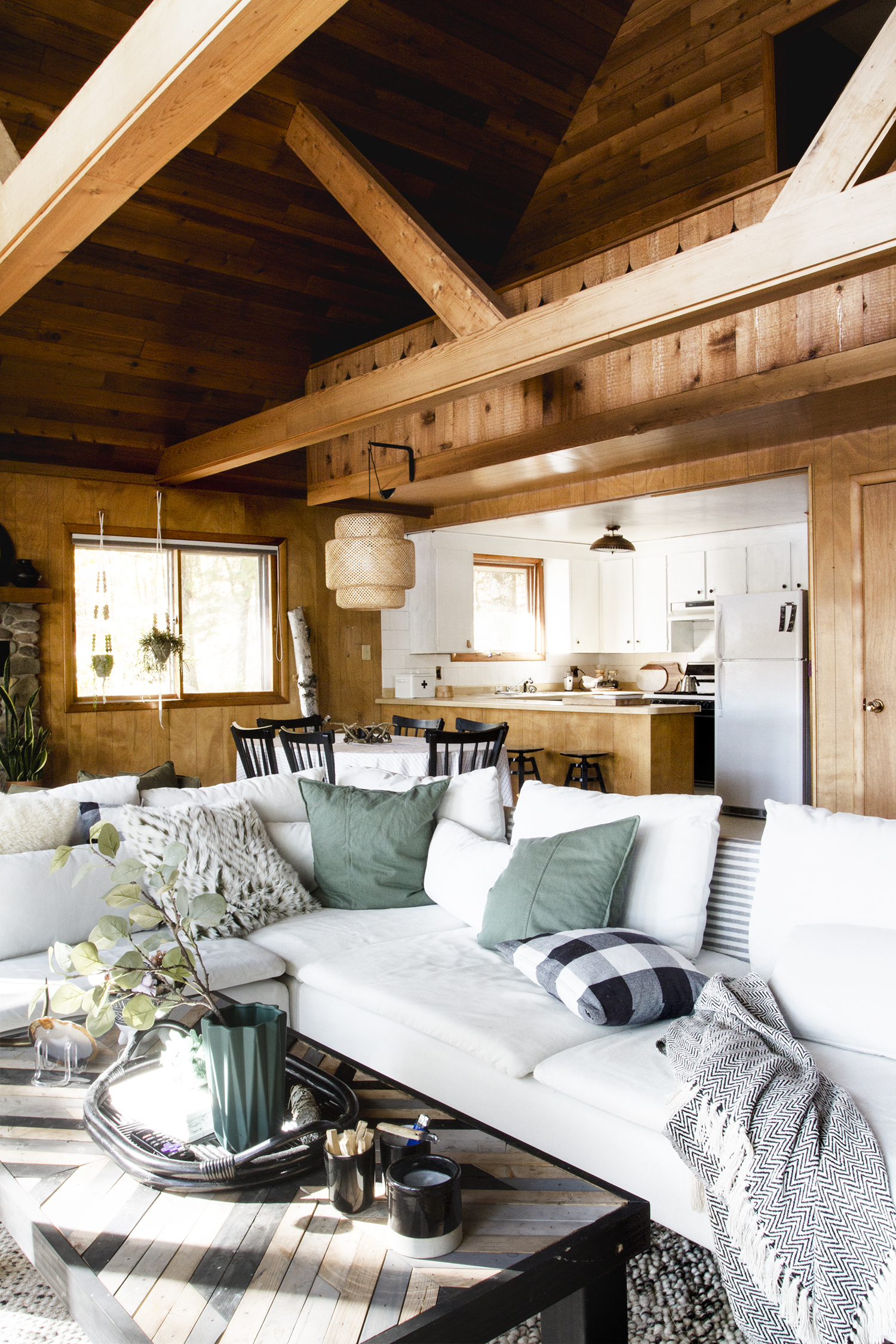 BEFORE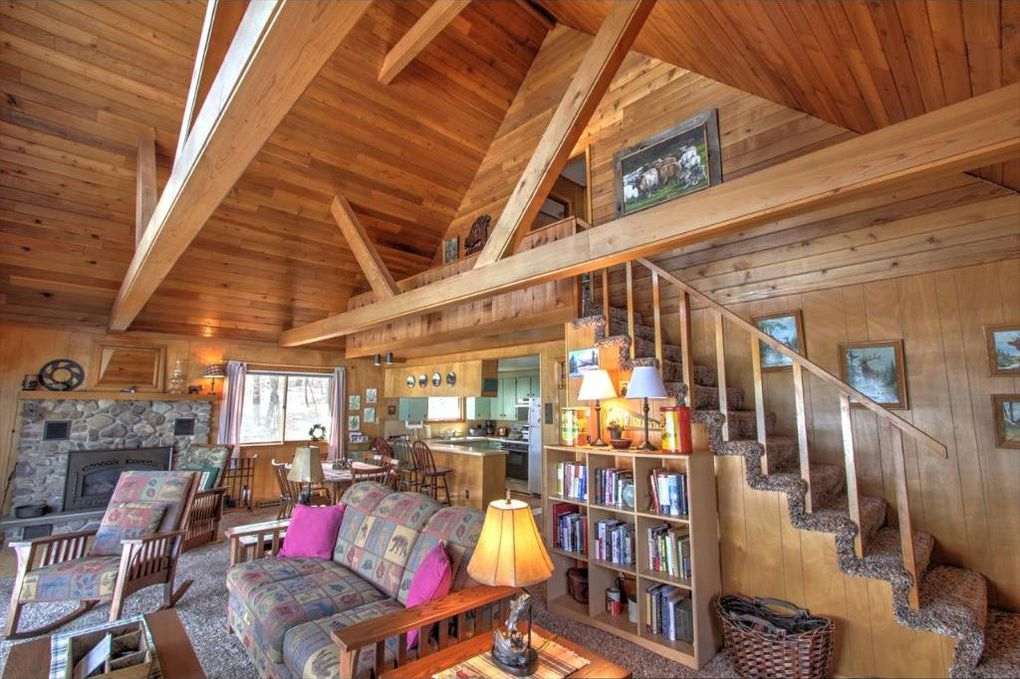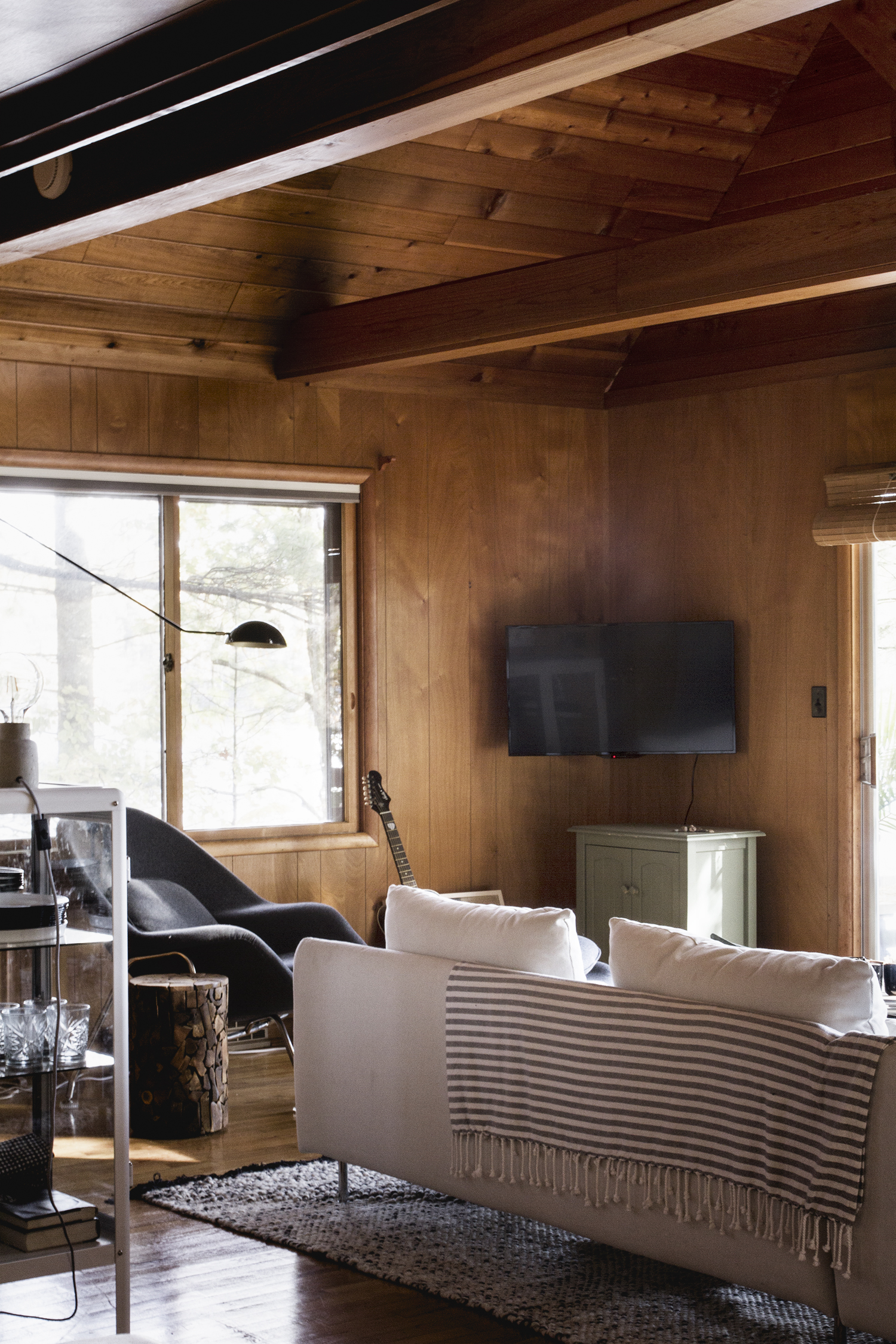 When I'm bored, I like to think about how I am going to tackle the corner tv conundrum. Corner tv's are ugly and look dumb. Anyways, still haven't figured it out, but am convinced that it will come to me one of these days.
That womb chair is the shit (aka IT ROCKS (lol)). I love it. Also, that swing arm lamp rocks.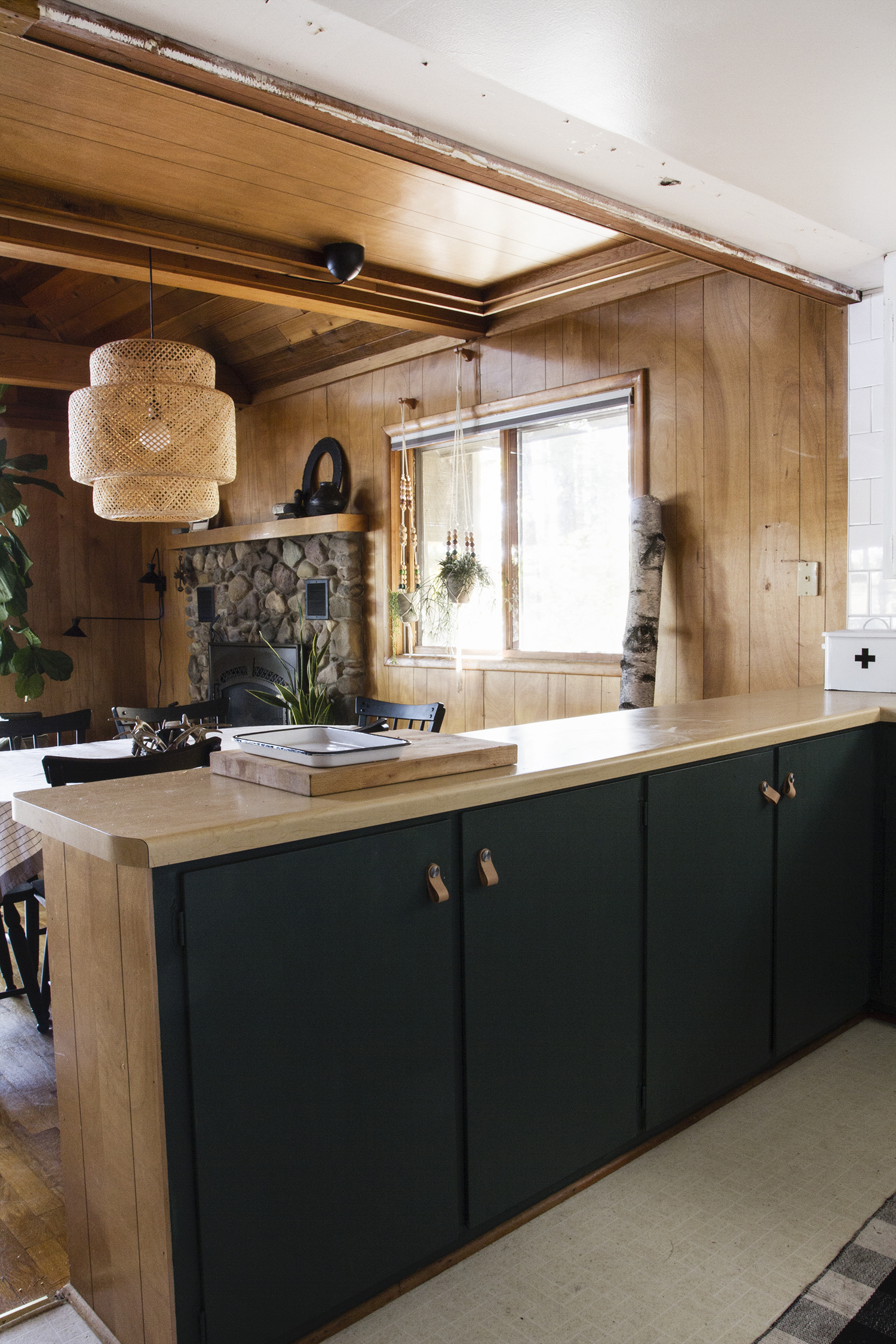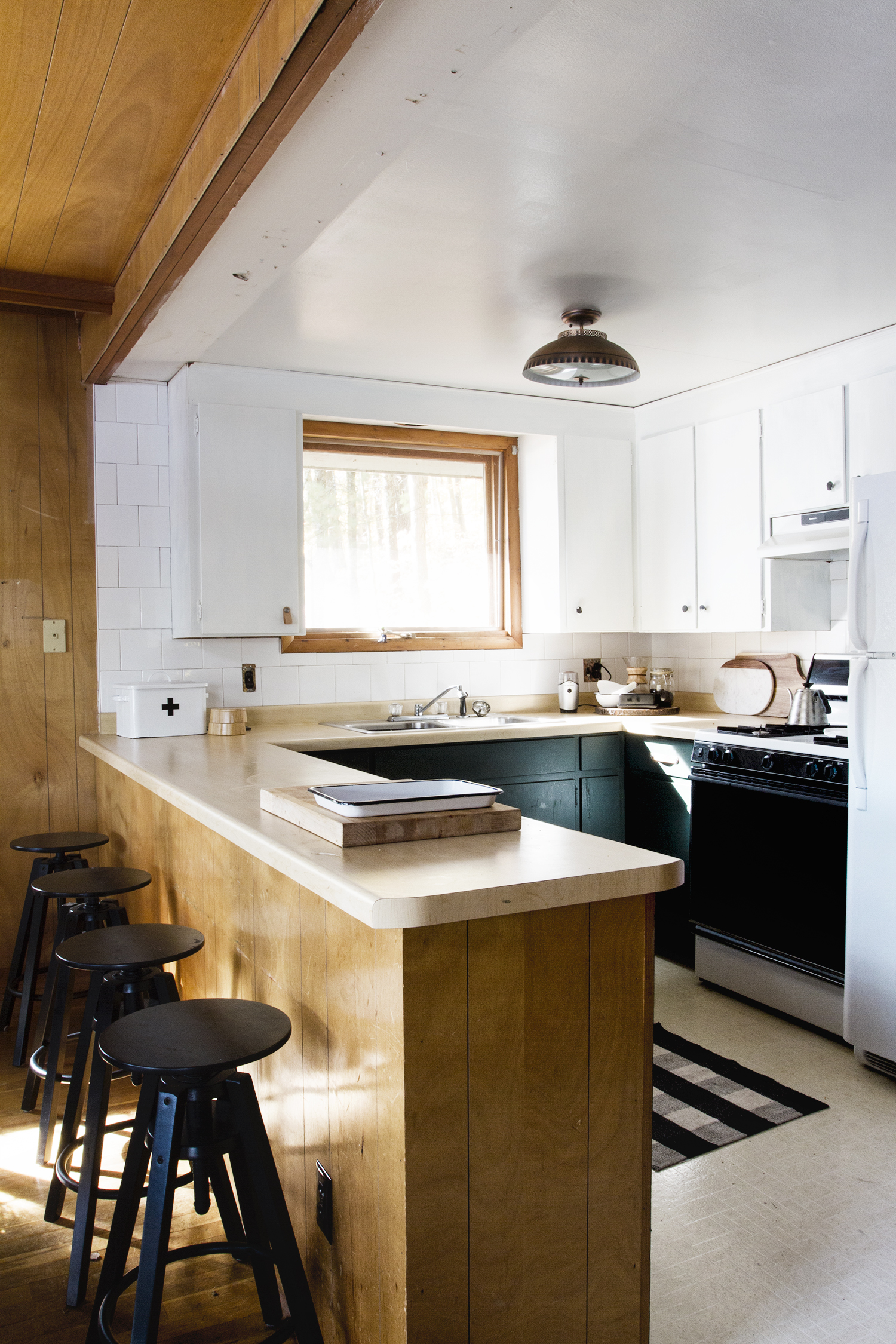 BEFORE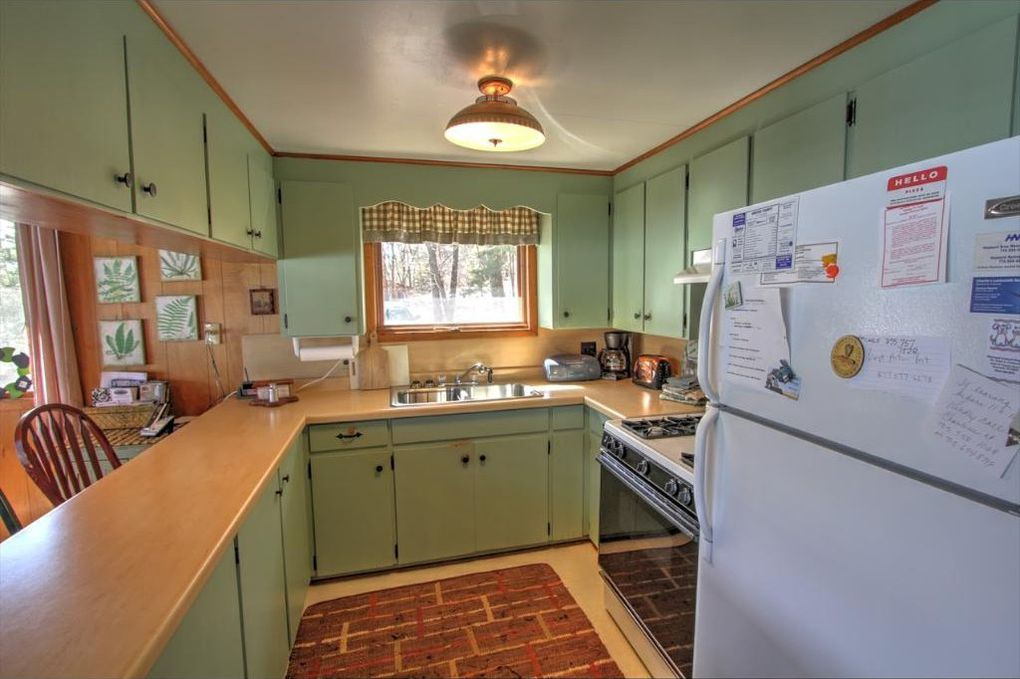 I mentioned the kitchen plans in the last post. It will be a two part process that will probs take years to finish, I'm sure. For the first phase of this project I wanted to remove a section of upper cabinets, repaint the remaining cabinets a two-tone dark green and white combo, tile the backsplash, and lay new vinyl tile flooring in a large buffalo check pattern. We're getting there. While Jeff was out in the woods with the boys for a few hours this weekend, I cranked out the backsplash. It's not anything to precious or fancy, but it will work perfectly for the time being. I love seeing all the white, it makes the space feel so much different and awesome and relatable to the rest of the main living space.
Learning how to tile has been one of the best things I've ever done. Please, if there is something in your life that you would prefer to be tiled, please watch a youtube vid or two and just do it! (Nike®). Game changer.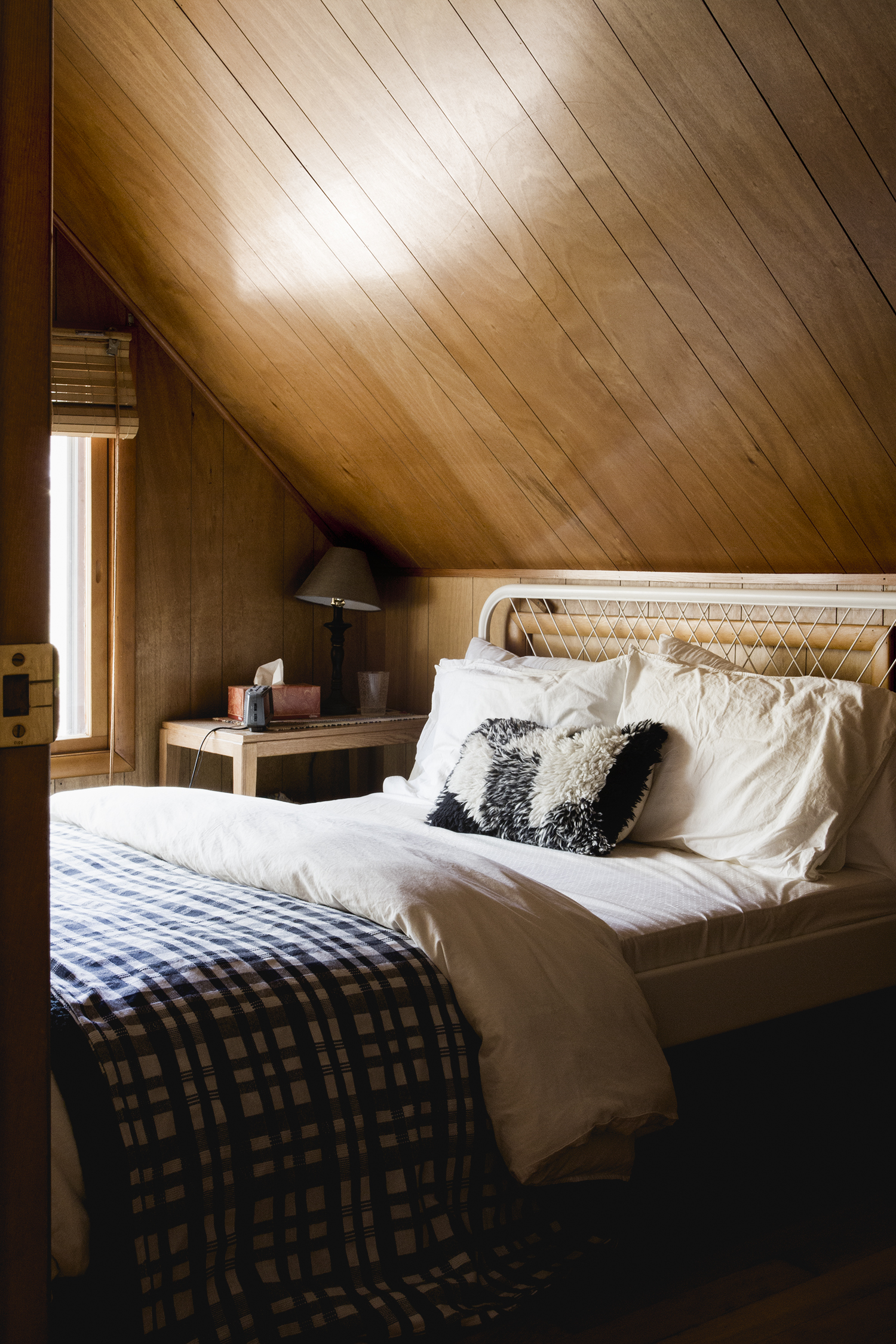 BEFORE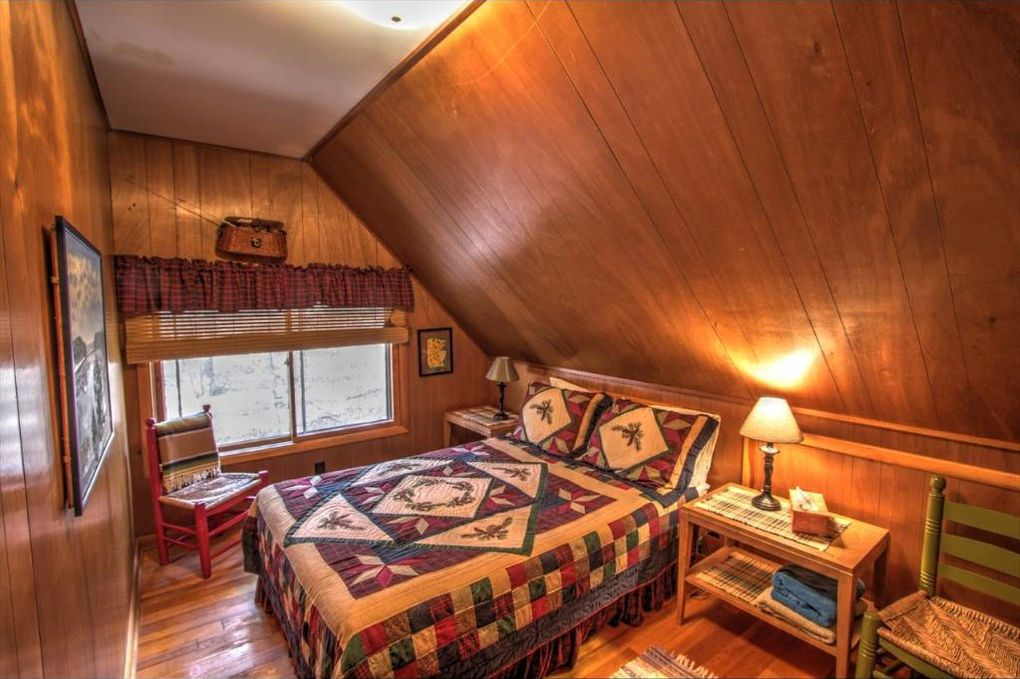 The bedrooms have been a space that we just wanted to be useable and not full of other peoples mattresses and bed linens. So as you do, we replaced the mattresses and bedding right away. Thank god for Ikea bedding and beds. We were able to furnish both bedrooms with queen beds, and it didn't cost as much as it would have anywhere else AND I love the linens, mattresses and pillows. I need a matching set for home, that's how good they are. Anyways, maybe we'll make a little progress in the lofted bedrooms over the winter, but nothing major too soon.

WWe purchased a grip of the Threshold Bryant chairs when they were on end-of-season sale at Target. This was always the designated firepit area, but without seating it looked pretty lame. I think it looks pretty cool now.