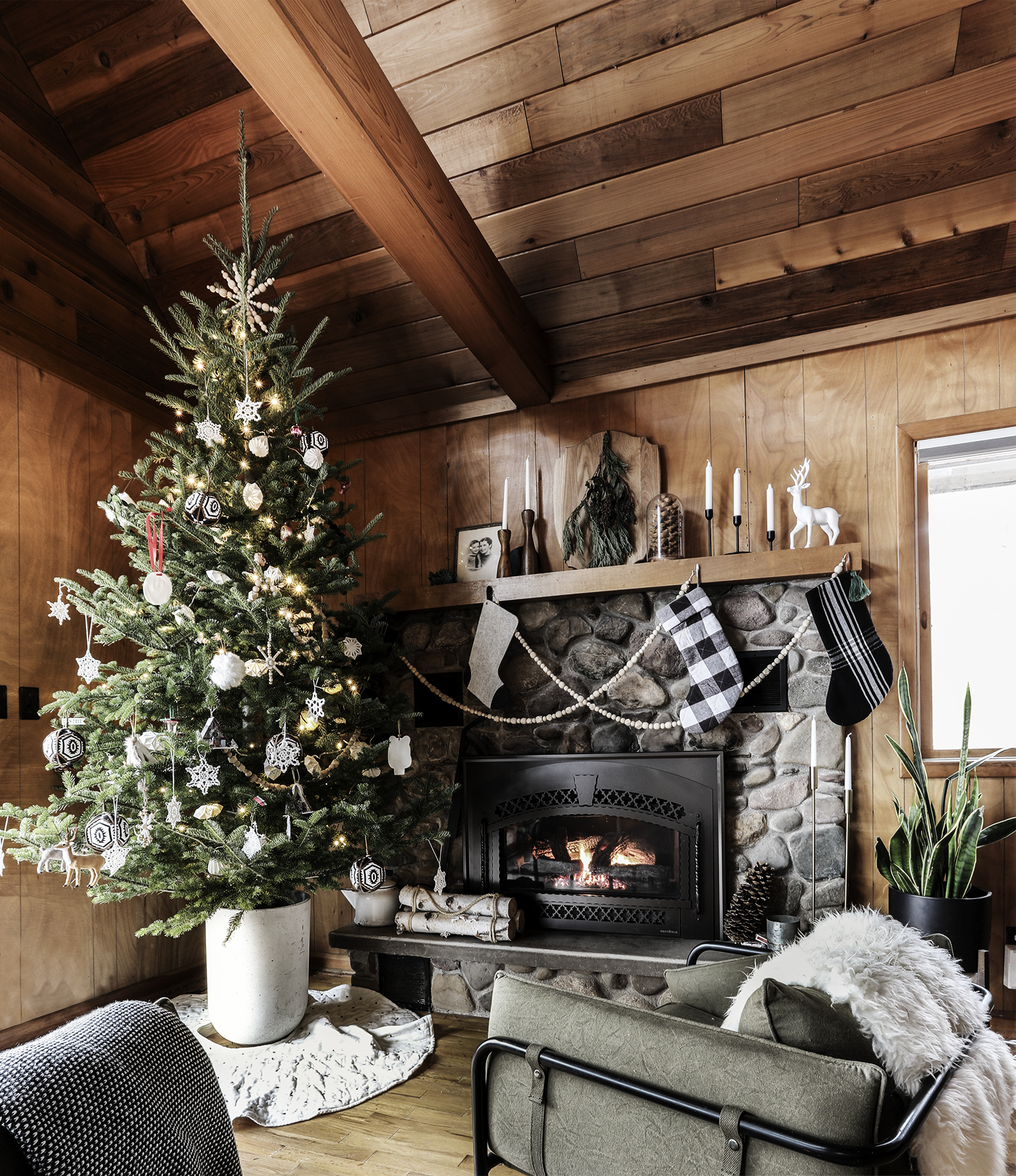 Budz! Big news on the blog today! Did you happen to see the December issue of
Better Homes & Garden's
, cause if not, you should! Last year BHG asked us Allen's to share with the world how we celebrate Christmas at our new-to-us cabin. I was a bit skeptical because I've participated in a magazine shoot of our home before, and I would have to say the end result wasn't a true representation of us. Howevs, this was Better Homes & Garden's the magazine I flipped through as a kid, and have subscribed to as an adult. This is the big enchilada, so yes, of course. Come to our cabin!
Thankfully BHG Allen Christmas at the cabin looks exactly like Allen Christmas at the cabin in real life! I teased it a little on IG last week, but today I'm sharing pictures just to prove it. I think that was the biggest compliment of them all, they really played up the Scandinavian influenced style we already subscribe to, and made it look like a more picture-perfect version of our true selves.
So one balmy March day we trekked up to the cabin with countless family members in tow, got cozy with a crew for 5 days, and produced this really pretty representation of how we very casually celebrate the holidays. We crossed our fingers that the snow wouldn't completely melt before the shoot was over. Spending 5 days in an already small cabin with 7 strangers turned us into our own little family unit. By the end we were all friends and I'm thankful that I still keep in touch with my local squad . It was such an incred experience, and I am so excited about it. So please go grab an issue the next time you're in the grocery store check-out line.
That being said, I wanted to give you a peak into some holiday decorating we did last weekend at the cabin.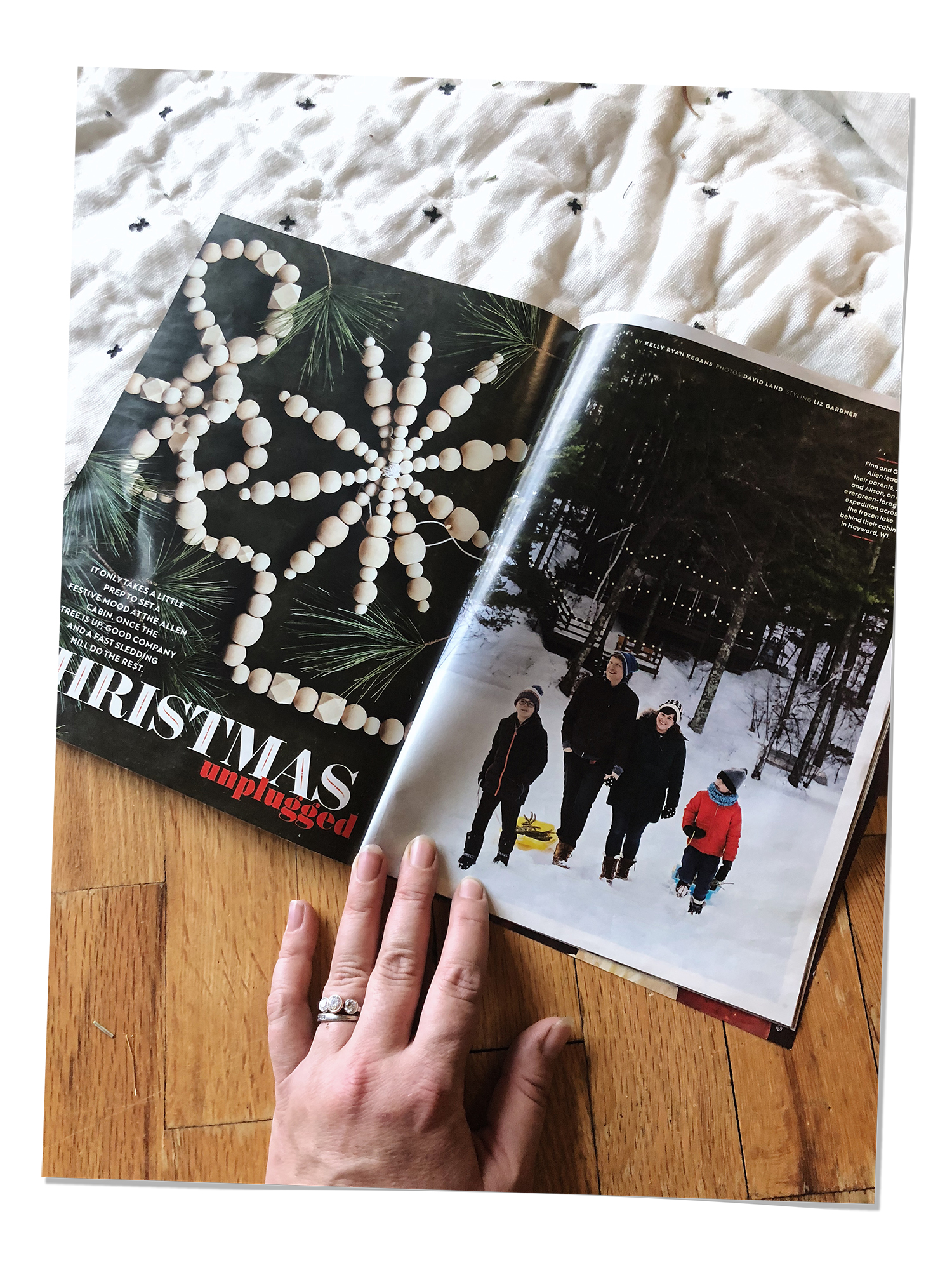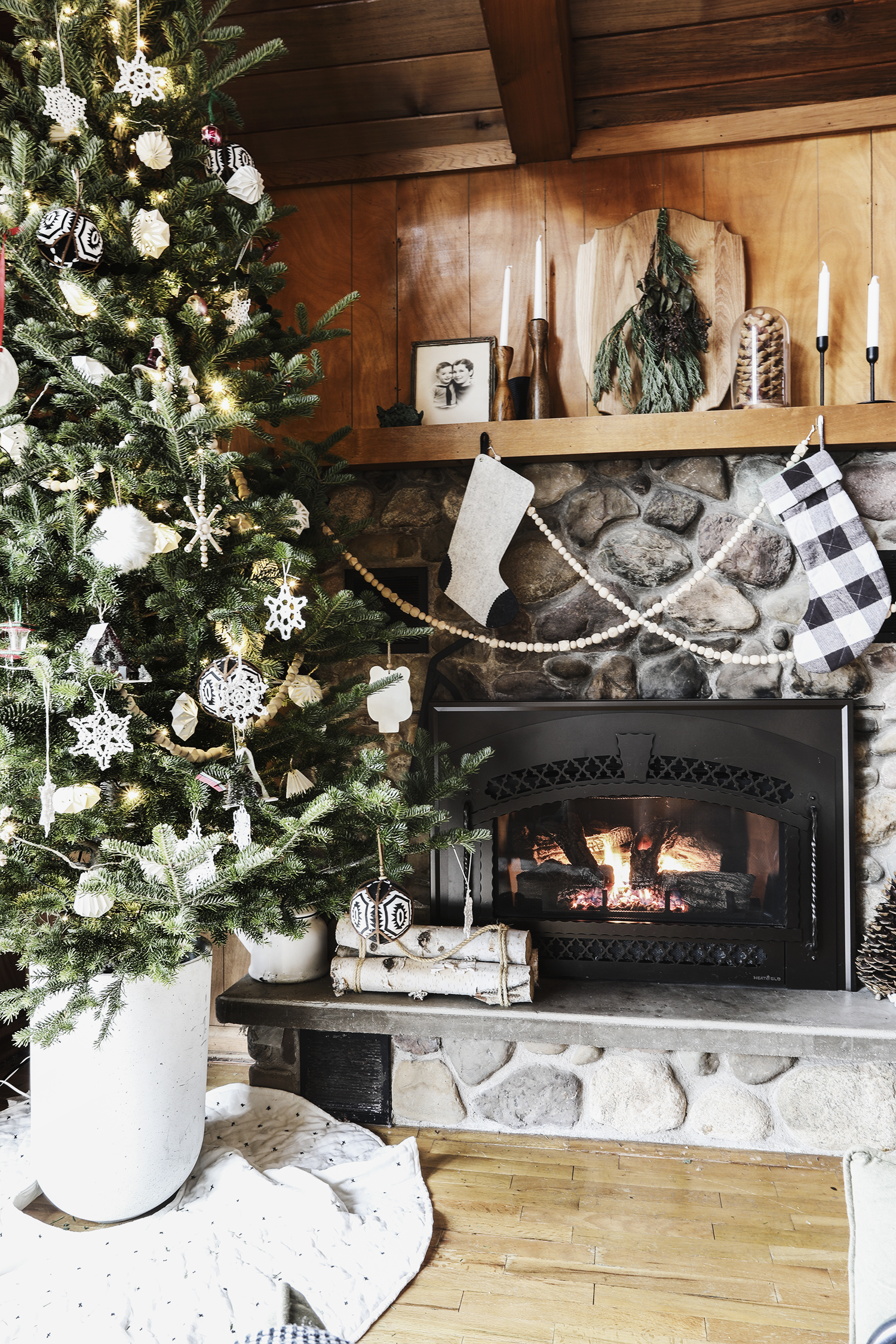 I'm not really big on tons and tons of decorating, sometimes too much can feel claustrophobic. I try and add a little bit to my collection every year and to make sure it grows together as a thoughtful, curated unit. I follow a few simple rules. My color palette is white, green and black and I like to bring in a lot of natural elements and textures such as natural greenery, fur, wood, birch bark, antlers, and branches (cuz y not?). Having a "recipe" for Christmas decor shopping makes it easy when you are just adding a little bit at a time, year after year.
It never hurts to add a few extra sheepskins on furniture or dining room chairs is a really simple way to bring a cozy element without over "Christmasing" it. You can't go wrong with light wooden objects either, on the tree we have a wooden garland and we repeat the wood elements in our candlestick holders on the mantle. BHG added a string of origami snowflake and lantern lights, and I loved them. I found my own version on clearance and nabbed them up, and after searching today I found some over here for steal! I also like to add a few vintage elements, and I am overly sentimental about ornaments. The white crocheted snowflake ornaments are some of my favorites. I started with one that I received as a baby for my first Christmas and a few years ago I purchased a whole lot of vintage crocheted snowflakes on ebay. I like to scatter in our family ornaments with the snowflakes because the charm of family ornaments is that they are haphazard, oddly shaped, colorful and they don't match – and I like that a lot too! I think that having a constant repeated element on blast (like the snowflakes) helps to balance the chaos of the more sentimental ornaments. I always let the kids do 90% of the decorating on the tree. I love to see how they group ornaments together. Gus was making sure all the deer were on one branch and Finn was putting together a group of houses to make a village – obvs. Jeff is always the voice of reason, and is at-the-ready to take advantage of his 6'4″ frame and get a few up towards the top so we have a little bit of order.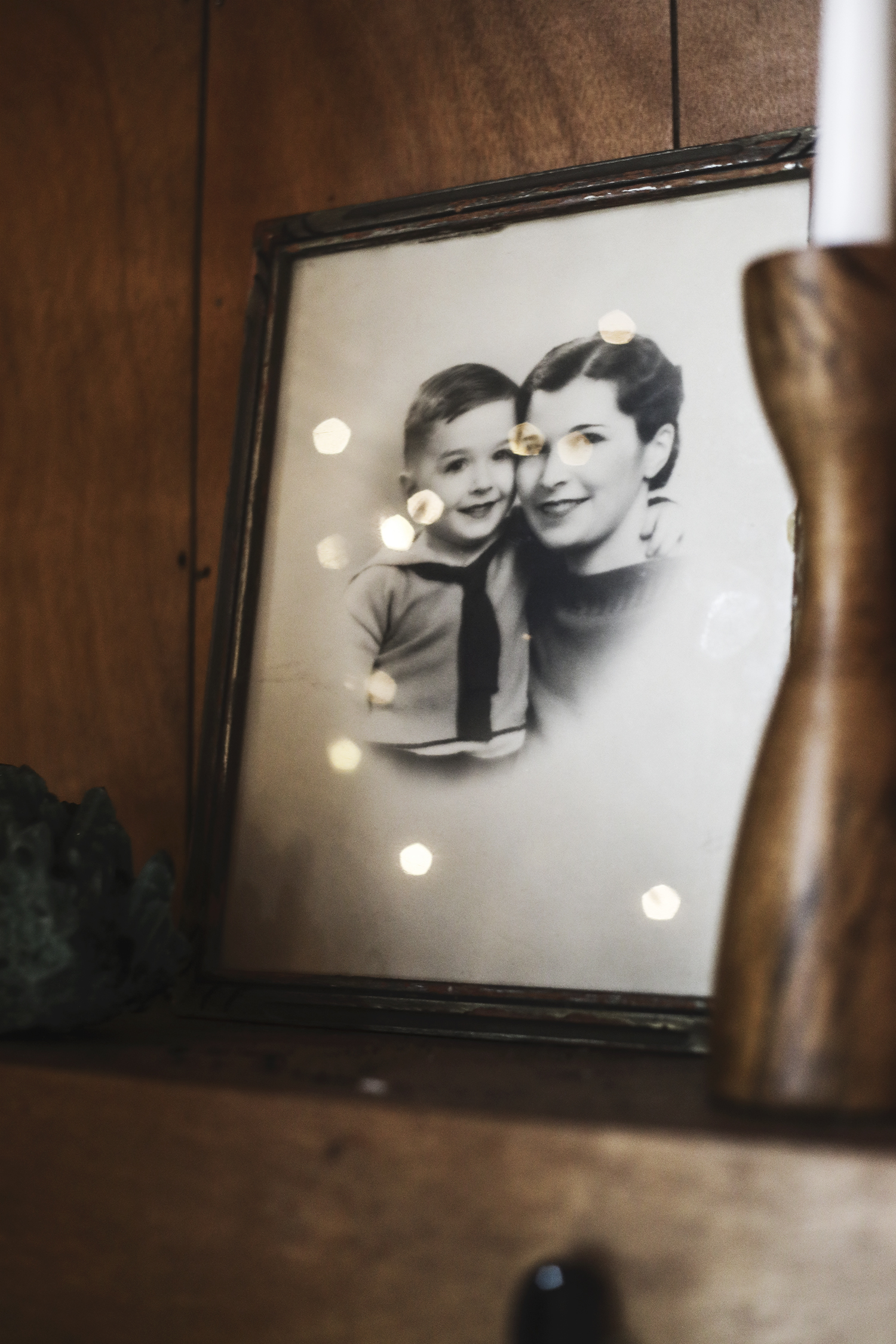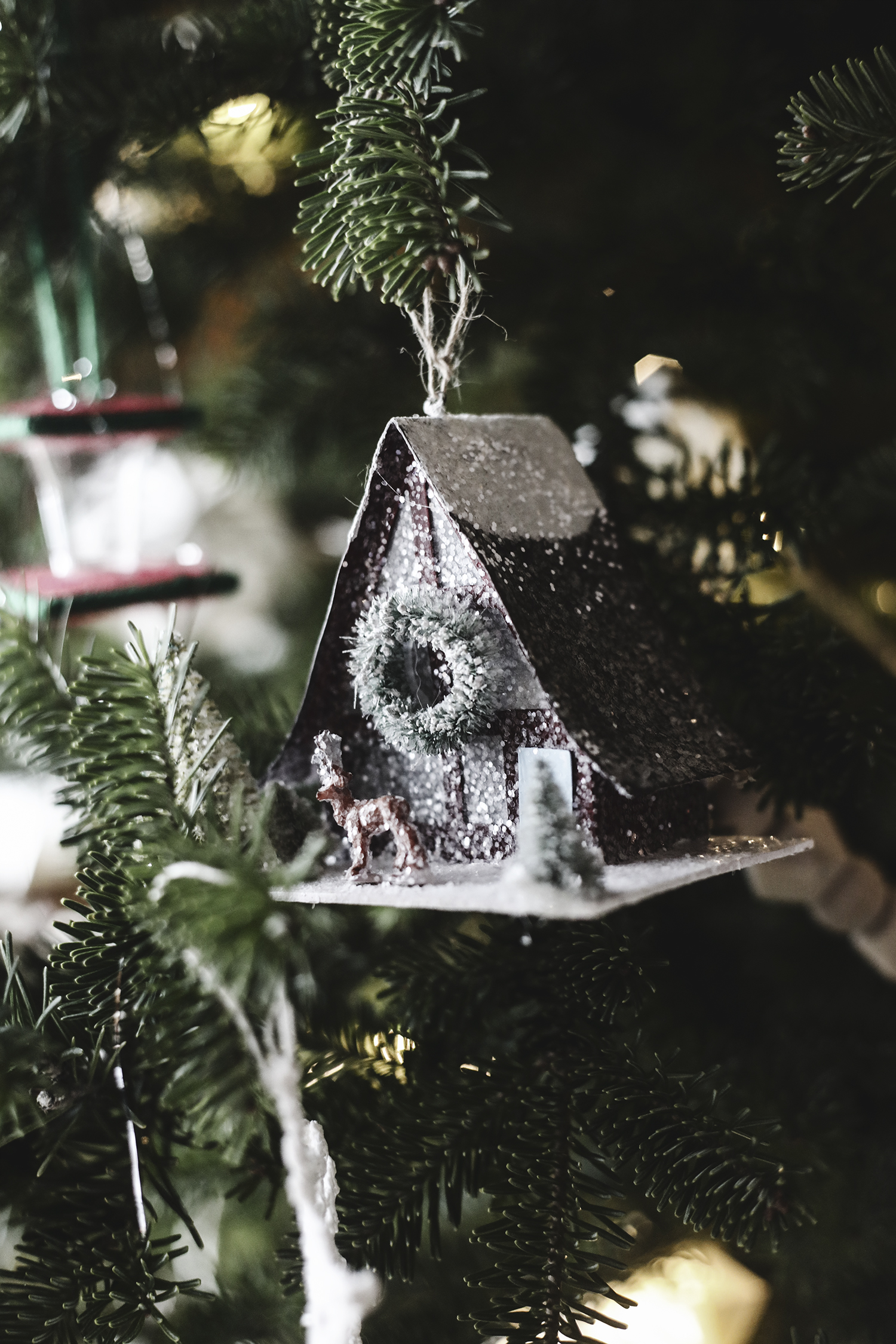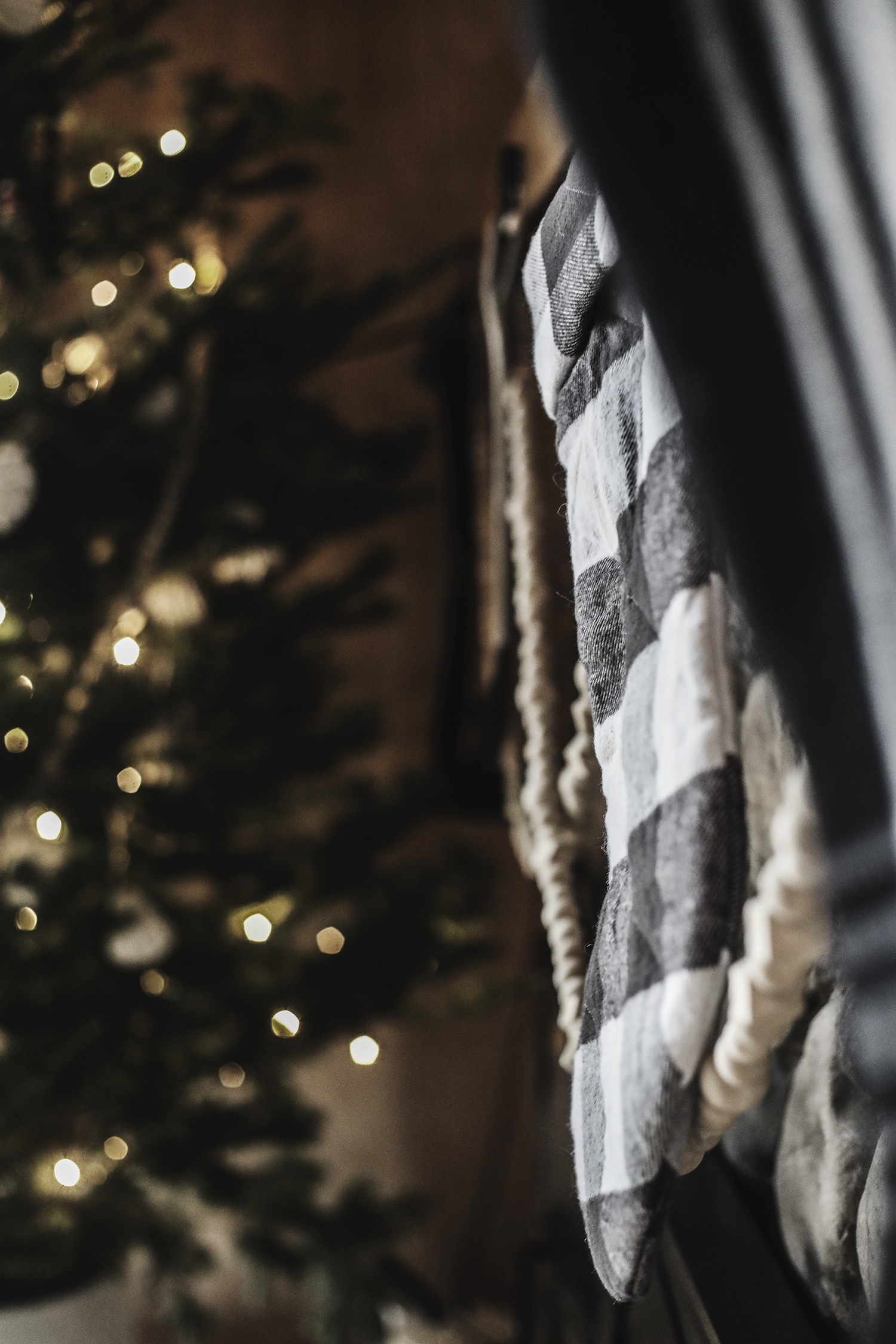 This year we cut down our first tree ever. Being city folk we usually make our way to the local tree lot. FYI, if you're in Minneapolis Tangletown Garden's has some real beauts this year. Being that we are celebrating Christmas at the cabin this year, we decided that we would venture out into rural Wisco to find our perfect tree. We survived.
To keep this fresh cut tree alive I brought up a large planter to the cabin. The planter has a plug in the bottom and I figured if I filled the planter with water, I'd have a good chance of keeping that tree happy, green and alive. To keep the tree supported within the pot I tucked some floral foam into along the top basically shimming the tree into place.
I'm very excited to have our family up this year over the holidays. I imagine it will be cozy and casual. We'll get outside as much as we can, have fires and sit around the fire pit, clear off the ice on the lake and try our best attempt at skating (we are actually decent skaters), play card games and probably drink too much. It'll be great.