Whaddup? Long time no see, huh? I've been SO incredibly busy realizing this basement plan. The last two weeks have been nuts. I have basically abandoned my family and live in the basement surviving only on food people bring me and beers. Sorry in advance if my writing skills are not up to par, this body is still tired and the lack of social interaction is taking its toll.
Minus the sore back, it's actually been really fun and satisfying to work on the basement. The worker dudes left me with a drywalled basement about 2 weeks ago. It is my responsibility to get it painted, wallpapered and decked out with new cabinetry before the guys come back to do the finishing touches.
There has been so much that has changed over the last two weeks. In week 7 it was a mad rush to get all the walls and ceiling primed and painted before the flooring guys came to install our new amazing floor – its vinyl, crazy, huh? Why vinyl, well it looks like wood, it's waterproof, it can have cabinetry installed on top of it (unlike floating floor systems), and it can easily be replaced if damaged. It comes in 3″x 36″ strips so it doesn't look like vinyl tiles, it really looks like wood – there is texture on the surface and an edge to it, just like a real wood floor. I love it.
Once the floor was installed it was time for cabinetry, and that my friends, is what I have been doing for 10 hours a day for the last 4 days. It looks great! We are only shy a few cabinet fronts – they should be in at Ikea later this week. I have a little more tweaking to do after the guys get done installing all the baseboard and trim, but I'm not expecting that to be too much work.
Anyway, it's all coming together really quickly now, and I have my fingers and toes crossed that the fam and I will be having movie night in our new basement this weekend!
So here's a few pretty pics of the progress: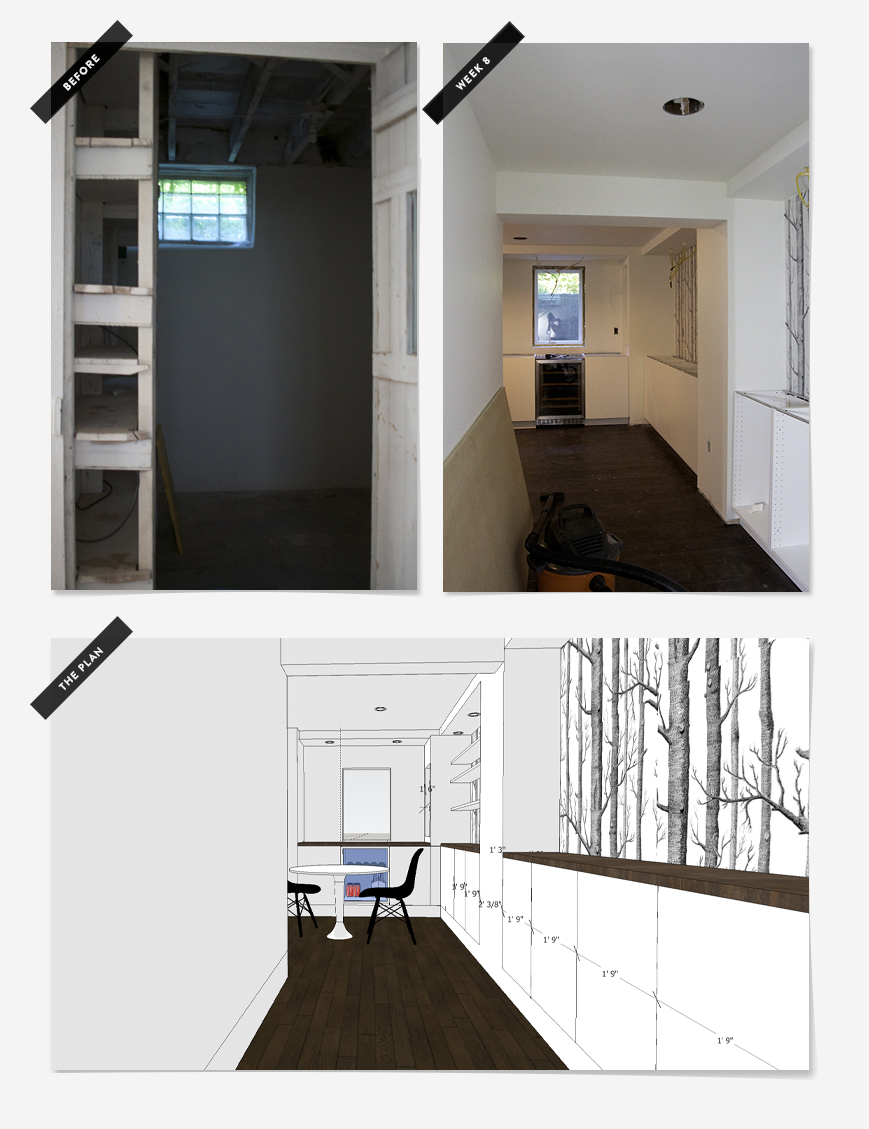 The wallpaper was hung the same week I was painting. I really love having the woods wallpaper up, I knew from the jump that this is what we would use. Jeff loves it too. I ran out of paper one strip short of finishing the project. I am working with the wallpaper distributor trying to find another roll of a similar looking batch (the inks are hand mixed so every batch is different). So stressful. Next time I will order more paper than I think I will need, and return what I don't use.
Also, I installed the fridge under the window, now we just need electricity to get it up and running, oh yeah, there is no power yet :(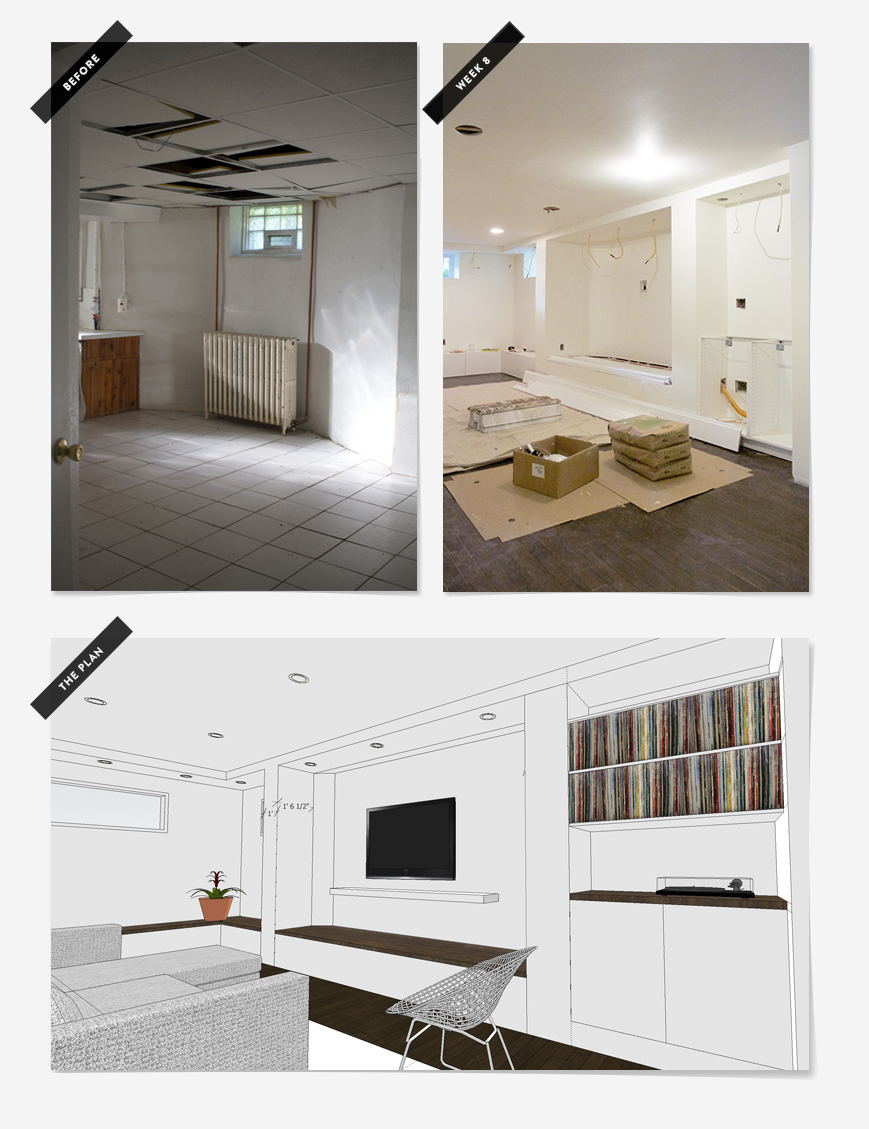 There is something so insanely satisfying about seeing a plan come together. All the hard work that went into pre-planning in sketchup has paid off. The cabinets all fit like a glove, every measurement is spot on, and it all looks so thoughtful and intentional. I'm really happy that we took the time to plan and revise the basement before we even contacted a builder. Speaking of our builder, its been a pleasure to work with them and they've been great at helping me problem solve along the way.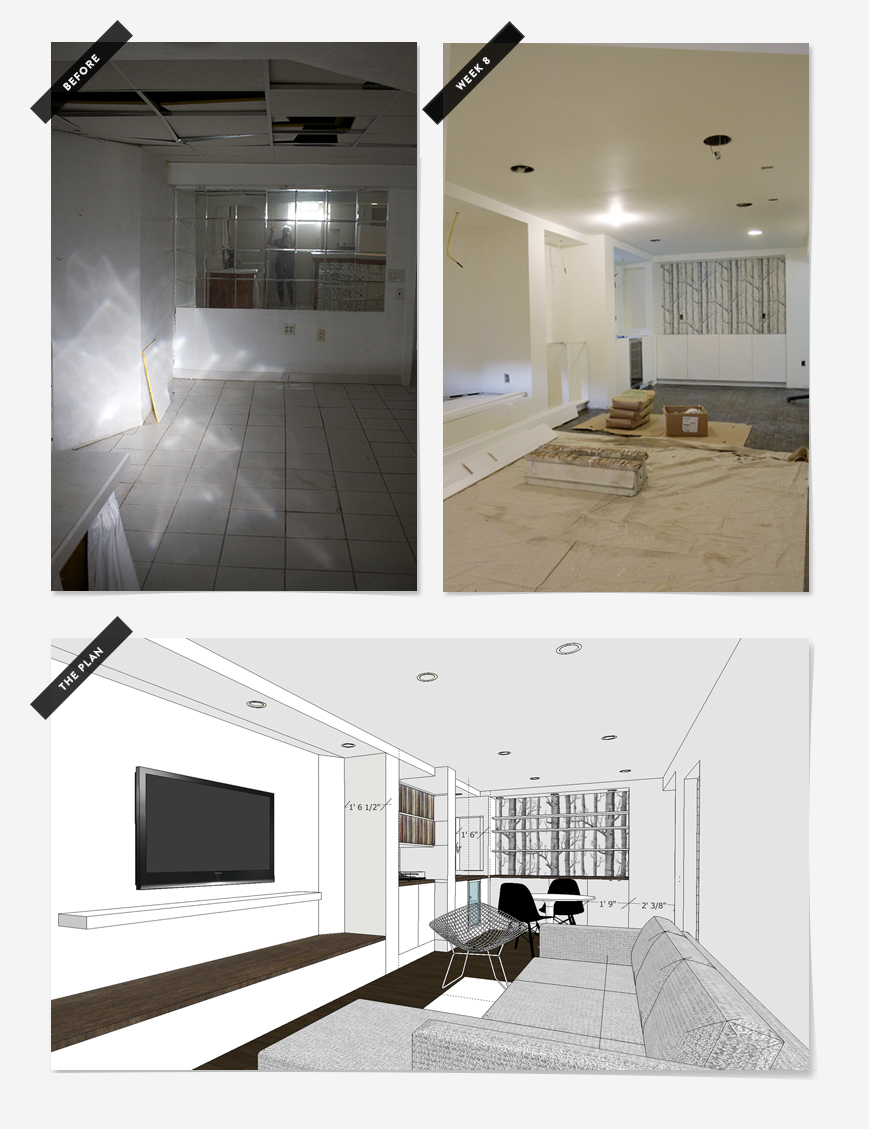 Well guys, I think I am going to have this be the final update until I'm able to share how it all comes together – cross your fingers for us, and lets hope it's sooner than later.