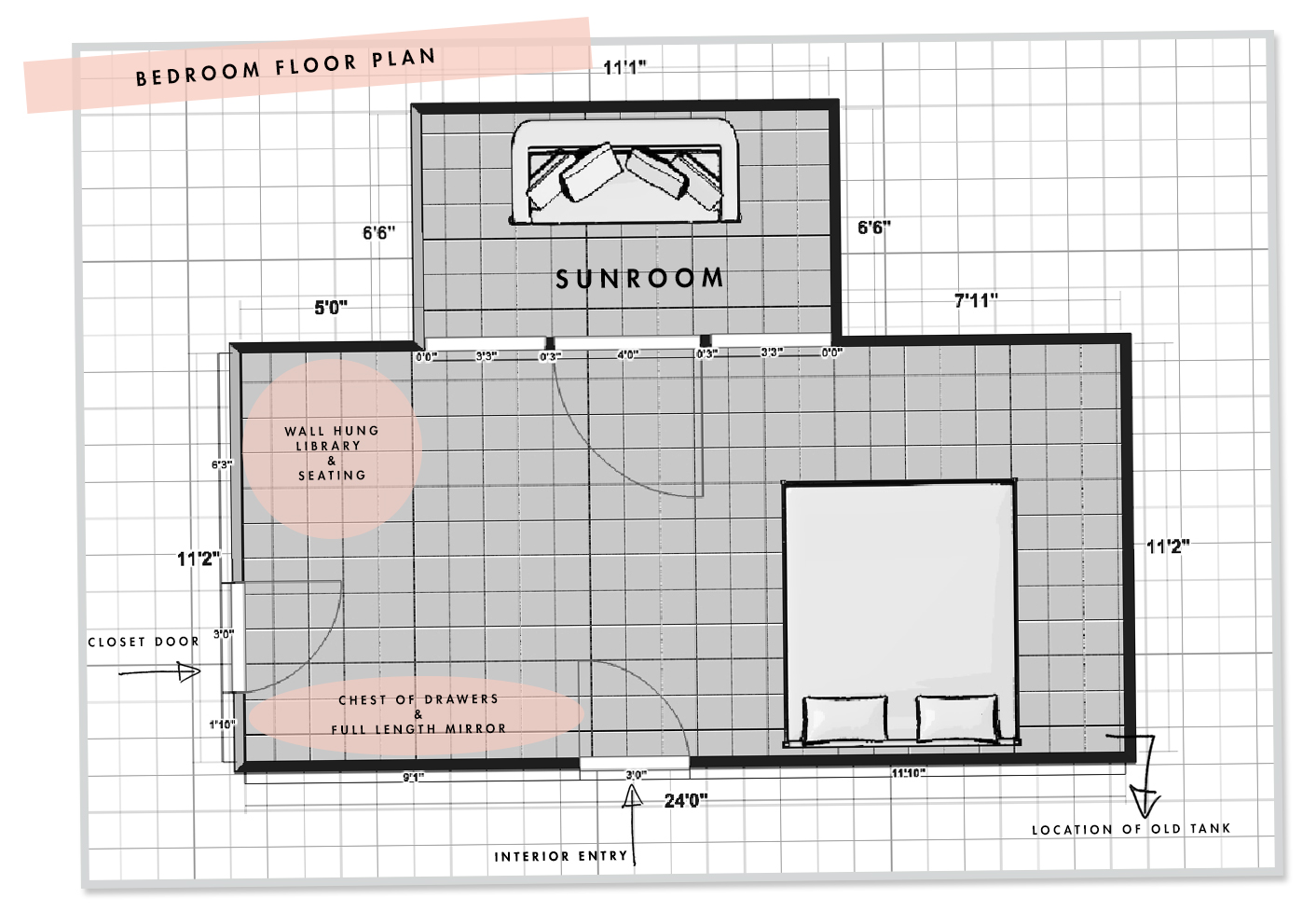 Whut Up? I bet you guys really want to know about the floor plan of my bedroom, right? Well for those of you who care, you might find it a little interesting as it has a bit of history and some tricky design obstacles. It dawned on me after reading some of your comments, that I never have really taken the time to explain our semi-unconventional bedroom. It's not really that crazy, it's just that it is in an old house, and obviously people used to do things a bit differently back then. What I'm trying to say is that it's not your typical modern bedroom. The room isn't nice and square, there is no dedicated wall to put the bed on, it's long and narrow and layout has always been tricky for us. Things make a lot more sense design wise after getting rid of the hidden tank and squaring off the corner, but it's still tricky.
We have a sunroom off of our bedroom which is awesome but not typical. The entrance of it consists of one large door with a large glass window pane with two full sized double hung windows flanking it. The sunroom has windows on all three walls, and it is our only source of natural light in the bedroom. Depending on the time of day we get a lot of natural light but there are still some dark spots in our bedroom and it can become very cave like on dark cloudy days. The newly wallpapered wall adds a lot of life to the room and helps offset the darkness.
The sunroom most likely used to be an open air porch or a sleeping porch. Now that I have learned more about these old houses I believe it was probably a sleeping porch used during hot muggy summers nights. It's been enclosed and insulated and although there is no heat source (only the radiator in our bedroom) it stays relatively warm in the winter and we use it all year round. Since updating it last spring we now use it all the time, the kids lounge there to watch TV, and we hang there at nights enjoying a cocktail while devouring the latest spy show starring cool 90's teen babes.
We don't have an en-suite bathroom or a walk in closet or anything like that. The interior entry door splits the room almost in half and acts as an invisible hallway directing traffic straight into the sunroom. It's not a path I really feel like interrupting with furniture. Since there is an invisible barrier between the "bed side" of the room and the other, I thought it would be best to define the "other" space as a functional area in our bedroom and I think I have a plan.
Back in the middle of summer I found a framed full length mirror at Ikea for $30 bucks in the AS IS section. I nabbed it without giving it a second thought. We had been living without a full length mirror for years, and I was over it. Anyway, that basic framed mirror began the downward spiral that is now the bedroom redo. The mirror is the most uninspiring piece of furniture ever, but I bought it on a whim and didn't measure. It turns out it totally doesn't fit on the wall I was planning it to rest on. So of course that meant furniture rearrangement, and before I knew it big ideas started coming. It wasn't all just the mirrors fault, I had been planning on a bedroom makeover eventually, especially since we had finished the sunroom, the bedroom was begging to be changed up. Then mirror just pushed me over the edge. Before you know it I was tearing down the walls and uncovering old mechanics.
Wow, I really get off track quickly, guys, sorry. Back to the far side of the room (aka the "other" side). I was thinking since we don't have a big closet it would be nice to make it a dressing area. Of course it would include the full length mirror and a tall chest of drawers. Directly across from that I'd like to incorporate a new chair for sitting on (duh) as part of the dressing area. A babe needs a spot to put her shoes on. Behind the chair I'm toying with the idea of adding a mini library, because there are chairs in libraries, so obviously. I know it doesn't all make tons of sense yet, but I can see it coming together. I know we'd never actually sit there to read, but I think a corner book shelf mounted on the wall would be kind of cool. It would solve the problem of our homeless library of books and the chair would make it feel libraryish. Get it?
It's all still a big work in progress. I could never be a real designer because I just can't make all of the decisions in advance. I really need to spend time in a space and witness it slowly coming together, while bothering my husband with hypothetical design questions. I gotta have time to simmer bros. Since I first started stewing I've come up with even more specific design ideas for the space and I'm hoping to share those with you next week. This is the long game, my friends. Hang in there.