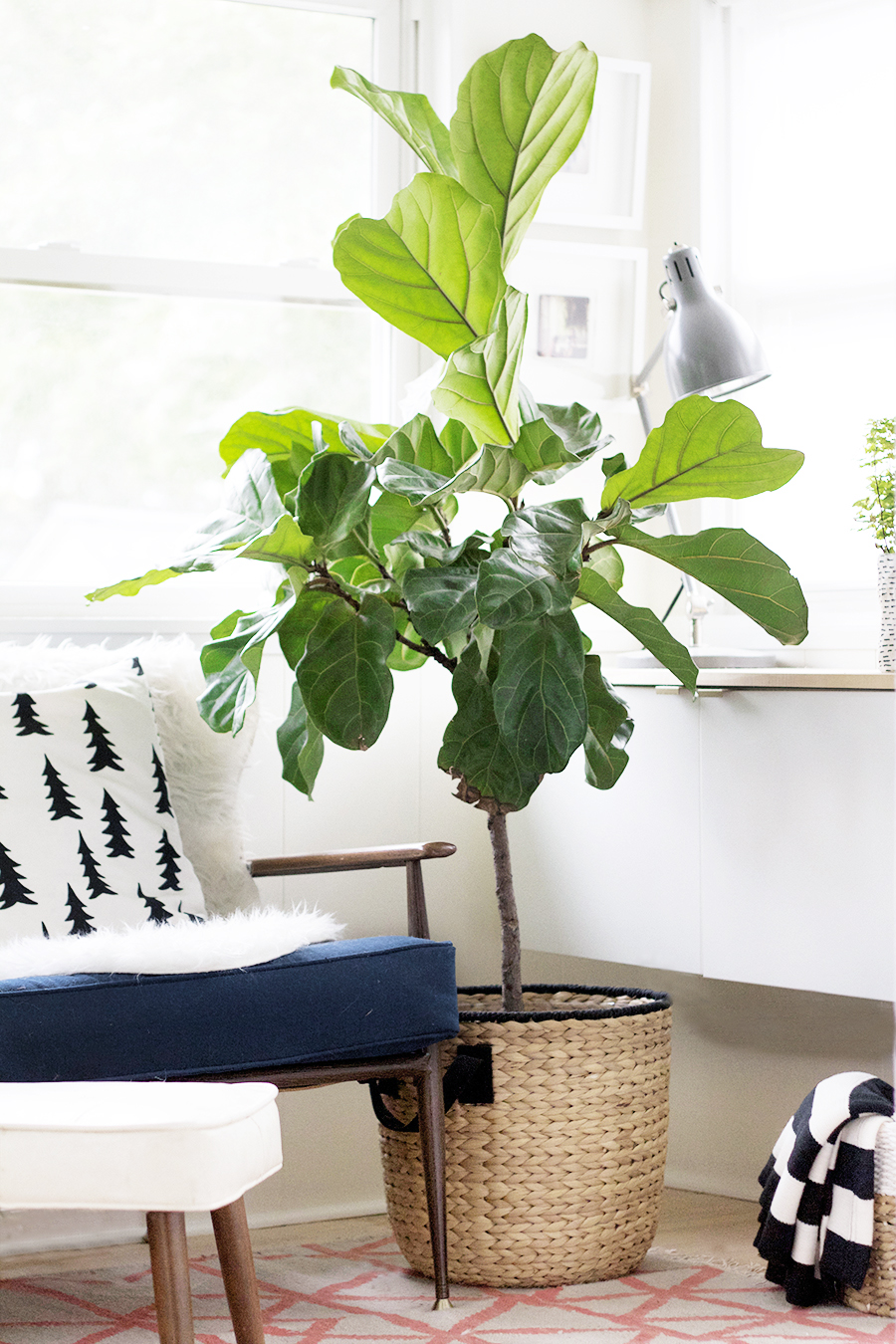 Friends! Just wanted to give you a little fiddle leaf fig (aka ficus lyrata) update. Both my fiddle leaf figs (1 and 2) have grown tons this summer, it's is really exciting watching new leafs appear all the time. One of my figs (the younger one) really began growing rapidly from the center stalk. It was actually starting to look a bit funny, like an awkward gangly teen (as you can see in the above photo). I really want to encourage my tree to take on a more rounded shape so I decided to do something drastic. After scouring the internet on fiddle leaf fig pruning advice I decided to go ahead and chop off the top of my fig. Now I've got to let you know that I didn't find a lot of solid info out there on the old net, so after some careful observations I came to the conclusion that I'd have a decent chance of creating new branch growth if I lopped off the top of my fig tree, so I did it.

Minutes after carefully chopping off the top of my tree with a pair of sharp pruning shears I was filled with regret and worry. I wasn't confident that this was really going to work. That was nearly 7 weeks ago. I was expecting to see a new branch after about two weeks. This totally didn't happen, then the days passed and there was still no sign of growth. I was sure that I had ruined my tree. I could've cried about it, fer real. After four weeks passed, something amazing happened, I spotted the smallest little bud beginning to be formed! My plan worked!
Now mind you, the whole intent of this was to create two new branches in hopes of creating a more rounded vibe for my tree, but when I saw that new growth, I could care less, I was so happy and relieved to see something growing from the main stalk. I was sure I had screwed up my tree for lyfe. I also can see what appears to be the very beginning of a new branch bulge (whatever, my words aren't technical) so I still am keeping my fingers crossed that it will produce more than the single branch. I'll let you know what happens over the next few weeks.
If you're gonna take on pruning your tree, make sure to do so in the months when it is growing – this is super, super important. I read somewhere that August was best, but I bet it would almost be better in the late July months. I am no expert, so don't take my word for it, just consider what I have to say. If you're gonna try this it is best to prune your tree immediately after a leaf, you can see in the photo below where I did this. I also paid careful attention to where my fig had been pruned prior (before it was mine). I even examined all the fiddle leaf figs and their pruning scars when I visited the garden center. I'm totally a tree detective.
I imagine my tree has another leaf or two to grow before it ends this growing season. I'm hopeful that next spring it will really take off and the new branches will begin to actually look like branches. I am really, really hoping.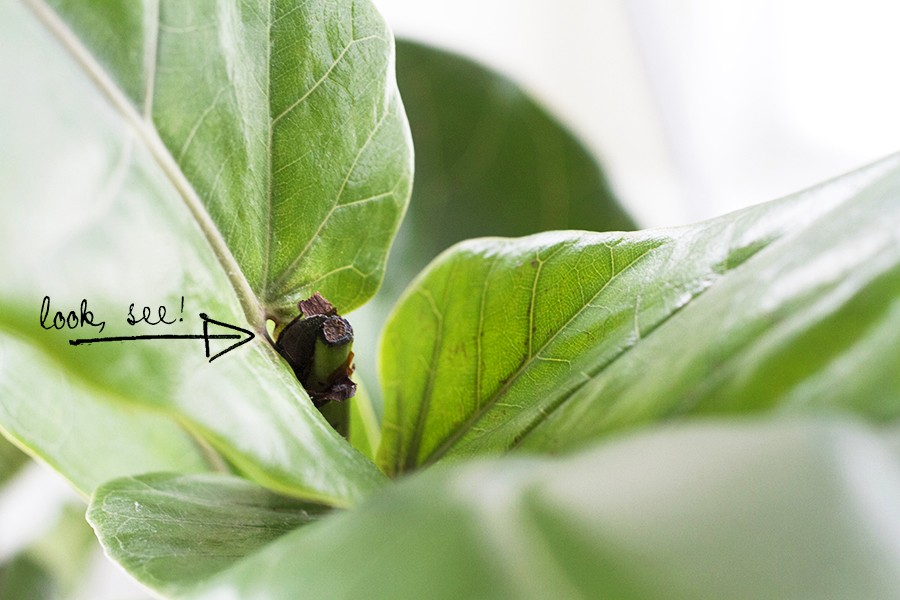 So, have any of you ever tried doing this before with your Ficus? How did it turn out. Let's start a discussion about pruning our super fast growing Fiddle Leaf Figs!
Update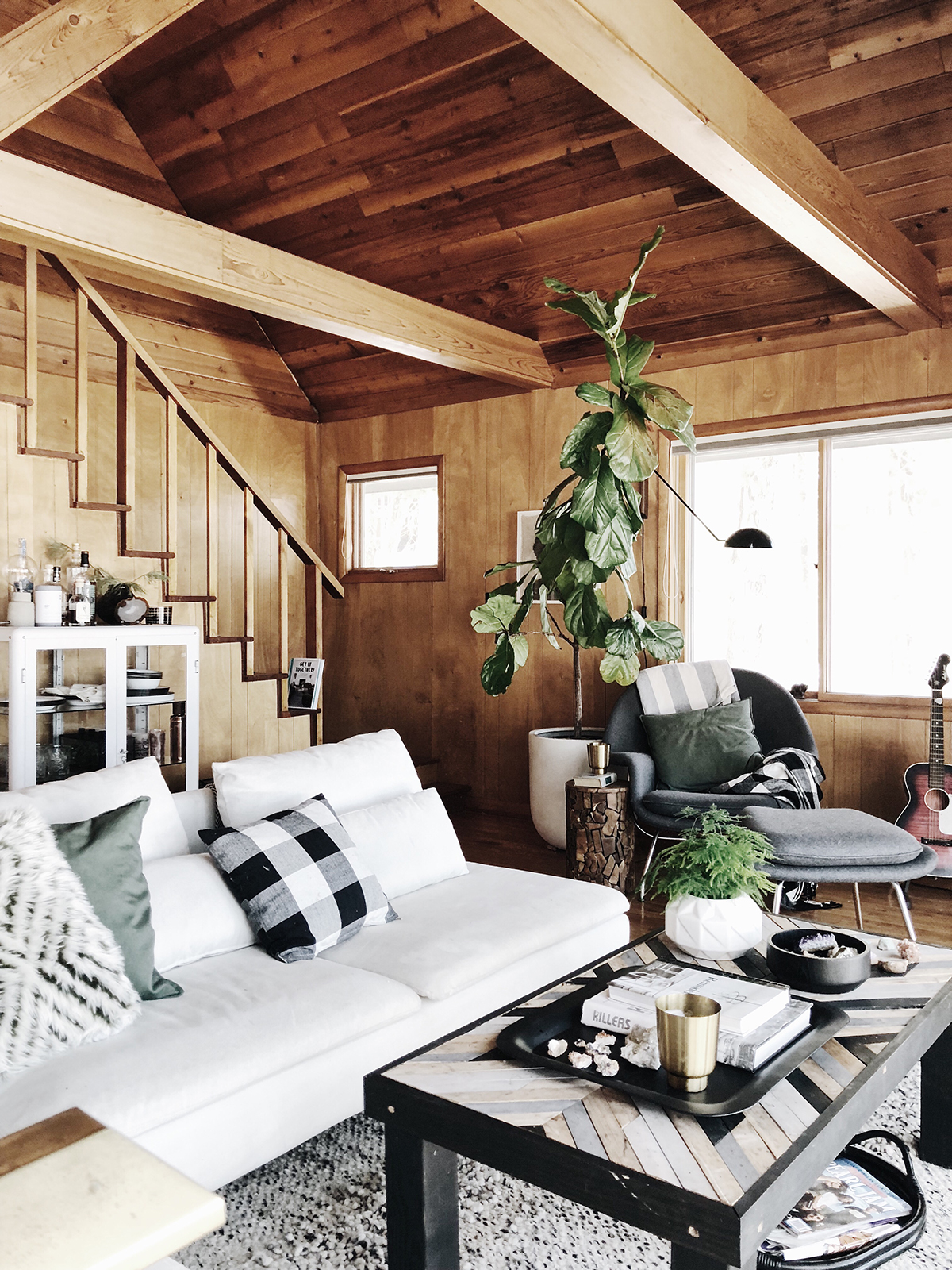 Edited May 25, 2018
Well, it's been a minute since first writing this post, and by a minute I mean 4 years give or take. I wrote this at a time when so many of us were trying our hands at FLF parenting. Since those early days, I'm sure we've all learned a lot. Awesomely enough, this comment section has been a great place to share information, and I say we revive it!
There's been a lot of questions about "why isn't my fiddle leaf fig tree shaped". The simple answer is, a Fiddle Leaf Fig needs to be pruned and nurtured to achieve tree like status. Here are some recent photos of mine. My tree loves growing out of it's main stalk, and it's time for a hair cut to try and promote growth in the other branches. Last year I accidentally lopped the top off of it when we were transporting it from our home to the cabin (in a uHaul). Happily, I can report that there are two new branches jutting out of the top of it.
I'm very much thinking that I will cut of the top off. It's important when pruning the tree to make a new cut with clean pruning shears right above the location of two leaves. Its likely that your fig will begin a new branches (buds) will begin at the base of the leaves. My fig is doing that right now! I'll take a picture when I visit it at the cabin next and share below so that you get a sense of what I'm talking about.
This fig is super happy at the cabin. I was worried at first that it would not get enough sunlight, but after putting it directly in the front window I burnt a few of it's leaves. It now lives away from the main windows, it still gets enough light without getting so much that its leaves get burnt. It has made the perfect vacation home plant because it likes one large watering and then wants to dry out before its watered again, giving us the freedom to water it every week to two weeks.
What else? Have any questions about my fig(s). I have 3 btw. Shoot me a comment below, and me or someone from the FLF squad will reply!
Here are a few other links documenting my FLFs.
Links