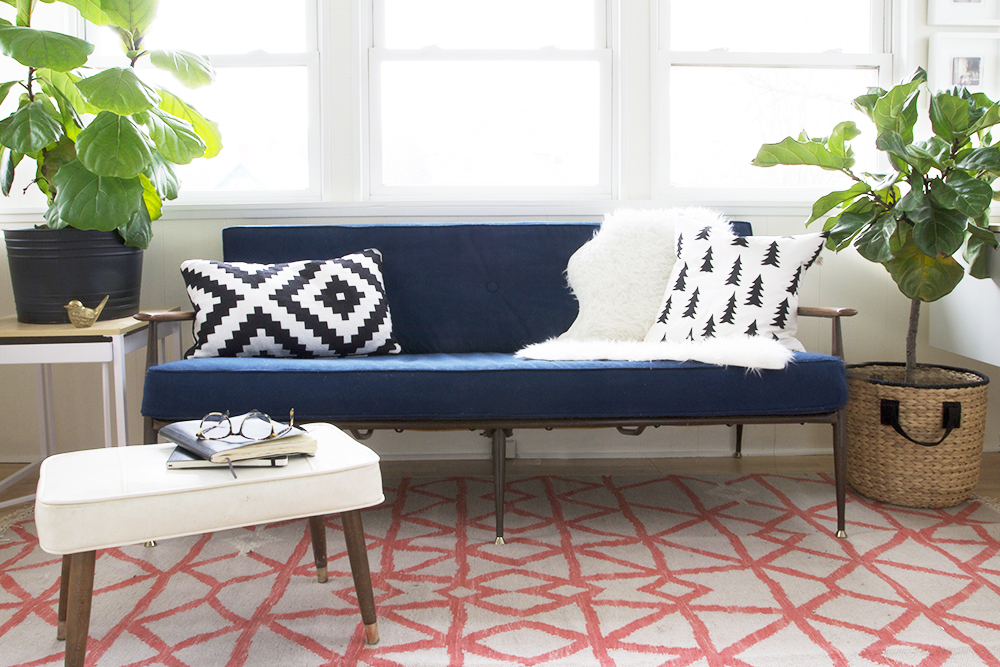 Guys! I did it! I finally pulled the sunroom together, and I think it looks pretty awesome! After living in our house for four years it finally feels like we are starting to put our stamp on the spaces in our home. The sunroom was the latest such adventure.
Decorating a home is a very slow process, though super rewarding and satisfying. Much of the first four years have been spent putting things together and giving the home a vibe that read 'us'. We've spent a little money, but overall have been pretty frugal when it comes to decorating. The bulk of our money has been spent on projects that had a big pay off, like painting the house.
Now it feels like we are entering the next stage of living in a home (the second layer, if you will) where we can start to dig into the details of each space to make sure it truly represents us aesthetically, consistently and cohesively. We've been able to really get used to our spaces over the years. We know how they currently function and how we would like them to actually function. Some spaces still need improving and tweaking. Our bedroom for example, still consists of college furniture and a mattress on a bed frame – it looks 'pretty' but still needs a lot of work. We are now ready to dive in a little deeper and begin to make rooms functional and decorate them with purpose. I'm excited to be able to start focusing our decor dollars, and I think the sunroom makeover are the beginnings steps of addressing that second layer – four years deep.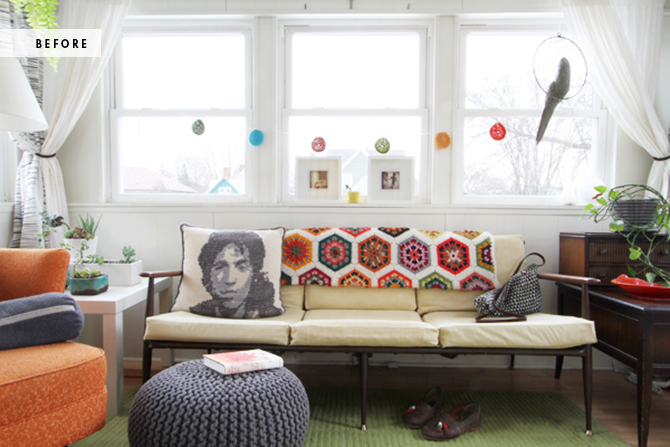 Our porch wasn't bad before, it really wasn't. I thought it was cute and cozy, but it still didn't function very well and because of that we barely used it. It's a really good example of that first layer of decorating — pulling random furniture together with a few repeating design elements to try and make a cohesive look. Although it photographs nicely, it didn't feel as comfortable in real life and because of that we rarely used this potentially super cool room. These are the limitations a lot of people encounter when trying to furnish and pull together a home; most of us are not made of money and these compromises have to be made.
The sofa was re-covered in an old curtain that I attached using pins. I know, that is a dumb idea, but I was grasping for a solution that didn't cost an arm and a leg. As a result of this pinned approach, the kids wouldn't go anywhere near the sofa for fear of getting poked. The cushions were constantly slipping off it as well. The rug had been floating around with us for the last eight years or so and was a green dusty mess on the verge of falling apart. The vintage end table/turntable was cool, but was constantly shorting out and shocking us. We tied the room together with vintage crocheted items which, although cute,  didn't really reflect us or our style.
That's another thing. I think my tastes are changing a bit. I used to be so dedicated to mid-century furniture pieces, kitschy vintage stuff, and bright pops of saturated color. After experimenting with my interior style for years I think I can finally begin to define it with a few simple elements. Neutral backgrounds, black and white graphic accents, a combination of mid-century and modern furniture pieces accented by a few well-curated vintage favorites. Also, I love almost any shade of blue (even though green is my favorite color), brass is always good, and coral and yellow accents get me every time. Oh, and please don't forget the plants.
It's weird how these transitions happen. I feel like all of the apartments and rental houses that I have lived in and decorated have just been practice for this house, and somehow even this house is still practice for this house. I guess I am realizing that my design sensibilities are always changing, as they should, I suppose – I guess that means endless makeovers, right?
I think between the kitchen makeover earlier this fall and the new sunroom look, I have finally found a style that really just feels like us, and I am excited to see where this new awareness takes me throughout the rest of the house.
Enough with me blabbing, let me show you guys the rest of this room.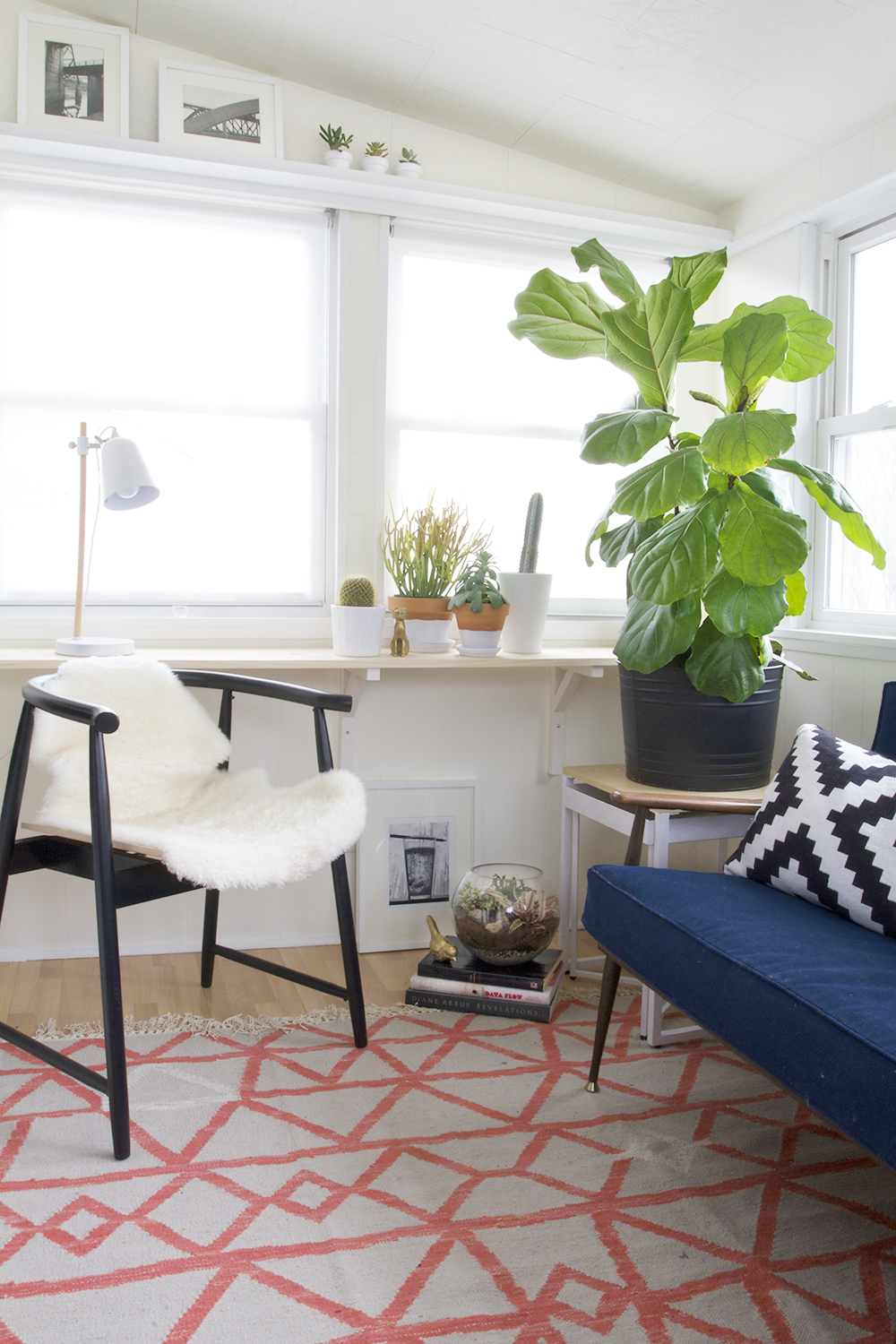 I've mentioned to you before that the room is pretty small, approximately 7 x 11 feet. The floor slopes down, as sometime over the last 100 years this space was an open air porch. Trying to lay out furniture in a room with a sloping floor is really tough, especially when the windows are all square. I mean, I'm glad the windows are square and level but it just gives the eye something to compare the sloping floor to constantly. It could drive an obsessive person like myself almost crazy. My solution was to position the sofa on the level side of the porch, and then add shallow shelves and a "fauxdenza" on the perpendicular sloping walls under the windows to create a level space for my eye  (and my cocktails) to rest. Functionality is key in a small space, and the shelves and fauxdenza allow us space to set our plants, a television and a couple of lamps. Plus it lets us store stuff in the cabinets. Adding these shelves was the solution. There was no other way to do this and I'm glad after four years I finally figured it out.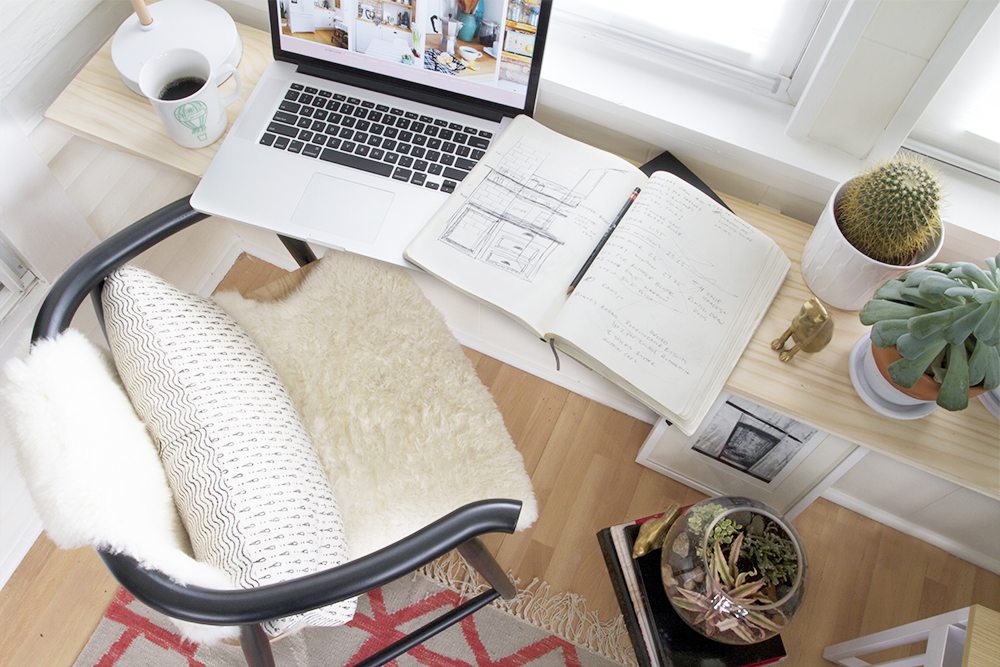 The shallow shelving is just deep enough to use as a workspace. I have fallen so in love with this room, I plan on working and blogging from here in the future. It's peaceful, bright and inspiring and my new favorite place in the house. I would be crazy not to hang out in this porch all of the time, see ya later kids.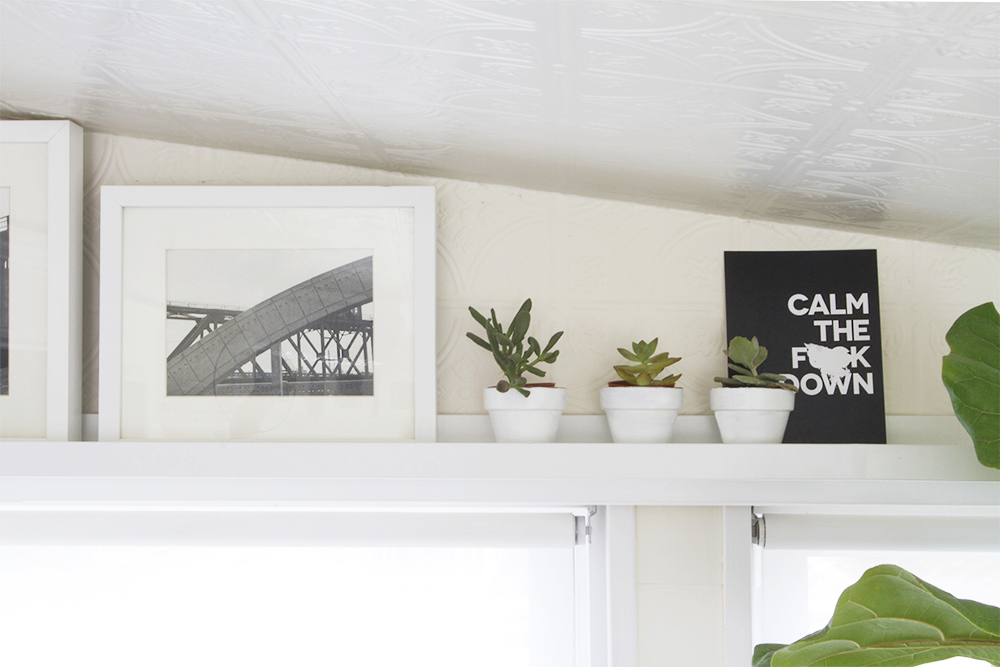 My friend Nicole had the fantastic idea of adding pre-fab ledges above the windows on these sloping walls as well. This was such a great solution because it covered up some damage that had happened to the embossed tiles due to some bad curtain rod installation (not my fault). I caulked the ledges and painting them and they look almost built-in to the space now.
Caulk, you guys (that's what she said). I got comfortable with using it when I was fixing up the kitchen, and now I want to caulk everything. This room was riddled with gaps between the windows and trim, the clap boards, and the panelling. What would this room be without caulk?  Caulk is just another dimension of the second layer of homeownership. I must caulk all things, trim, windows, bathrooms, everything!  It will be caulked, oh yes, it will be caulked. Ha.
On both the ends of the porch I installed simple Enje roller shades from Ikea. I love the way they diffuse the light and block out the neighbors. You might have noticed my new bit of motivational artwork with the eff bomb in it too. After all the stress and anxiety over the last weeks, this highly inspirational phrase has become my new motto. Very crucial to the vibe of sunroom.

Awh, there it is! That pretty little fauxdenza that I love so much. If you aren't familiar with the concept of the fauxdenza, it's basically taking a set of Ikea kitchen cabinets, floating them 6 – 12 inches off the ground and adding some sort of top to make it feel like a floating credenza. Genius. What bettter solution for furniture in a sloping room then a fauxdenza? I love it so GD much. I didn't get fancy with a top, just a simple piece of pine board. The pulls are standard Ikea pulls spray painted gold to compliment the other brass bits spread throughout the room. The pulls weren't a big investment, so if I fall out of love with brass or faux brass (as it were) down the road it will be easy to swap out.
In planning the space I did something that I don't normally do. I began brainstorming what I wanted this room to be and even created a word cloud. Yes that's right, a mother effing word cloud. Wow, me, you are so old and boring! It had been on my to-do list forever to be brave and reupholster the sofa by myself. I knew I had to do that. I couldn't let myself down. It was a goal, dammit. What I didn't know was how the rest of the room would fall into place, thus the need for the word cloud to bring some clarity to the planning process.  No matter how totally nerdy it is,  I do think the motivational brainstorming helped me focus on a vision. After paging through my notebooks the other day I came across said list, which is below. At least it doesn't include lame emotional words like "luxuriating" or something. It's more practical than that, which is cool and not lame…right?
– Light – Bright – Black – White – Vintage – Brass – Plants – Soft Texture – Graphic Pattern – Modern – Navy Sofa –

I replaced the flush-mounted ceiling fixture with this beauty from Ikea. I wasn't convinced at first, but the price was right and it grew on me over time. Sometimes it seems like compromises have to be made when spiffing up old homes. No one makes beautiful low profile, inexpensive, flush mounted ceiling fixtures for not-so-tall spaces. Ikea had something that seemed like it would work, but I wasn't sure of the look. I took a chance, installed it, and now I kinda love it a little bit.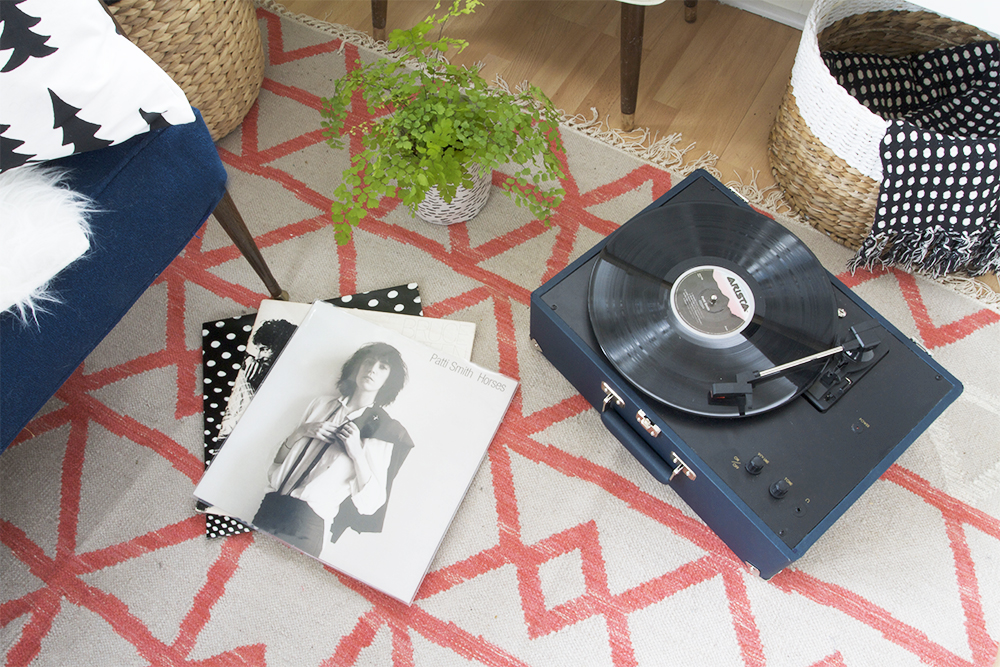 The rug is, by far, the thing that I didn't expect from this room. It is definitely not mentioned in the cool word cloud. As I began my decor journey (yes, it was a journey) I spent a lot of time in the space, listening to the room, and getting a vibe for what it wanted to be, man. It was coming together but it needed something. I had been crushing on navy and coral for awhile and thought that might just be the thing, but I didn't know how to incorporate it. Adding a coral pillow to the navy sofa seemed obvious, but felt like it would be too much of one color in one specific place. A pretty coral pillow on the side chair may have worked, but I couldn't find anything that I loved. Then by chance I saw this rug. Maybe it is a little crazy to put an intensely patterned coral pink rug on the floor in my porch, but I really like it. And that's just the way it is, guys.
Also, we got a new portable turntable! Okay, so maybe my audiophile dad might not approve of this overly expensive, cheaply-made little guy, but it suits us just fine and we can move it easily between the front porch and the sunroom. The turntable comes in navy, duh, you guys, just duh.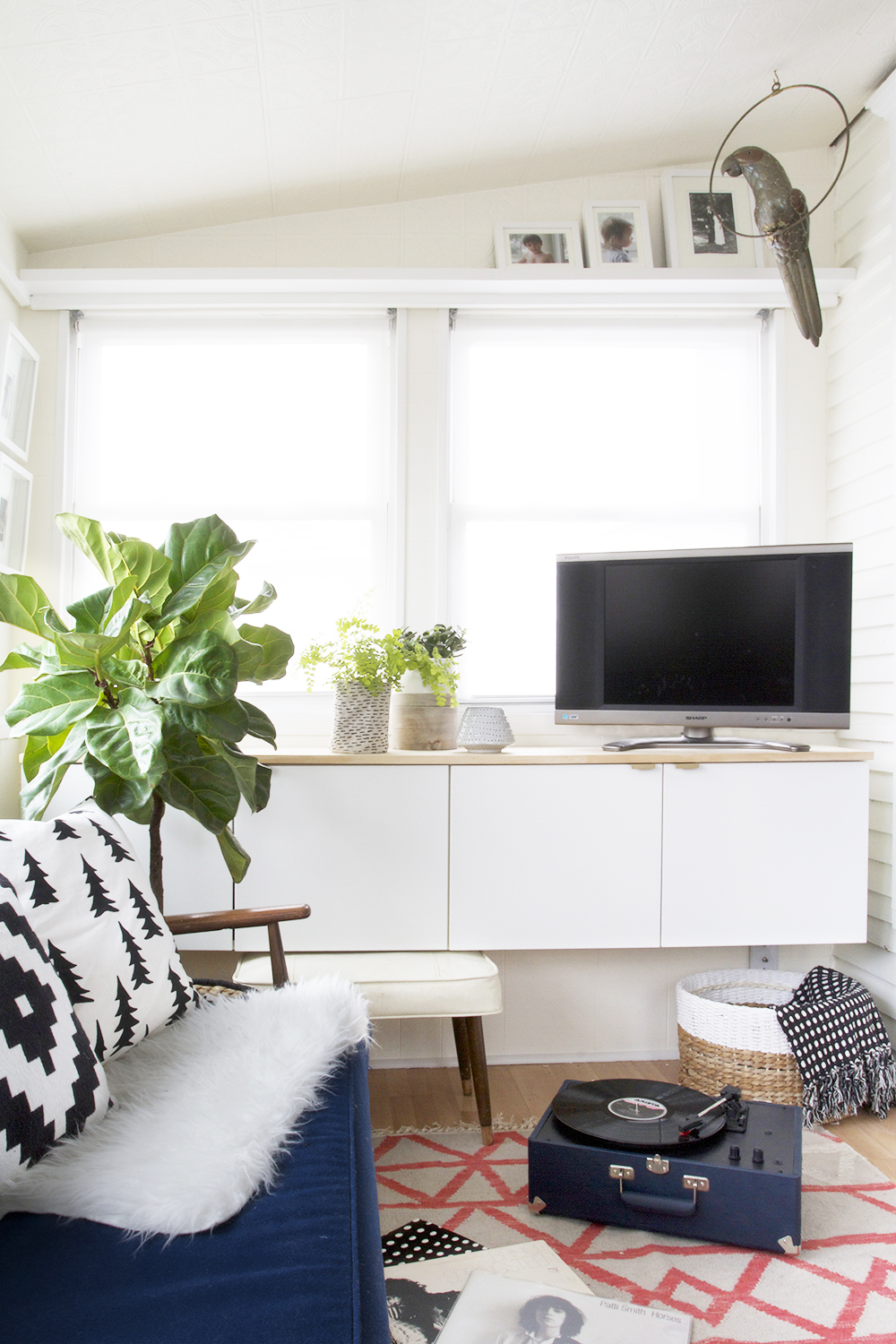 This whole room started with a sofa that needed badly to be reupholstered. I don't know why I was so timid about rising to the reupholstery challenge, but I was. Sewing machines irrationally scare me, but I got a bit of courage, had a few of you friends give me some sage advice and I went ahead and took on sewing two long box cushions in thick navy upholstery fabric. Now look at where this little adventure has taken me – I have a whole new room that I love so much because I took a risk. When did I get so sappy, you guys? Anyway, it's just another thing that will make me love this house more and more. I can't mention it enough, (because then I would sound so uncool) but this has been such a rewarding trip for me.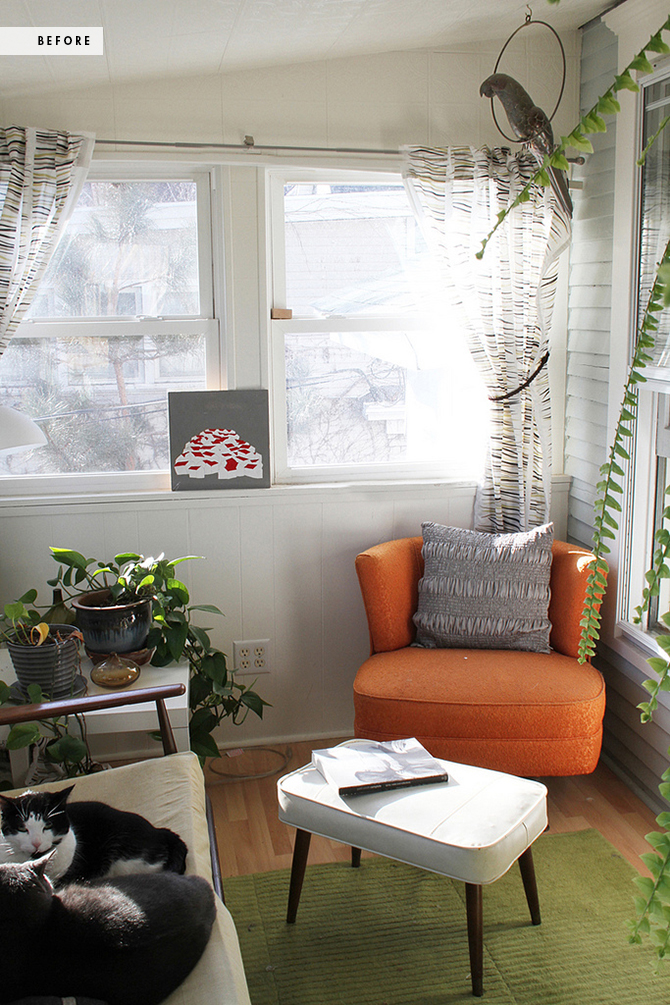 In preparing for this post I became curious about the brass and copper parrot I've been toting around for the last eight years or so. It was given as a somewhat ironic birthday gift (hey it was the early oughts, irony was abound) from a friend. I always liked it, so I kept it around. I started googling brass parrots and quickly learned that this little guy is not an ironic thrift store find given to girls on their 24th birthday, but instead a piece by Mexican artist Sergio Bustamante, and it's valued at a G or two. It's like Antiques Road Show all up in here.  Thanks for the cool gift, old friends, you know who you are.

All photos by Alison Allen, all styling by Nicole Ripplinger of Middle North Creative