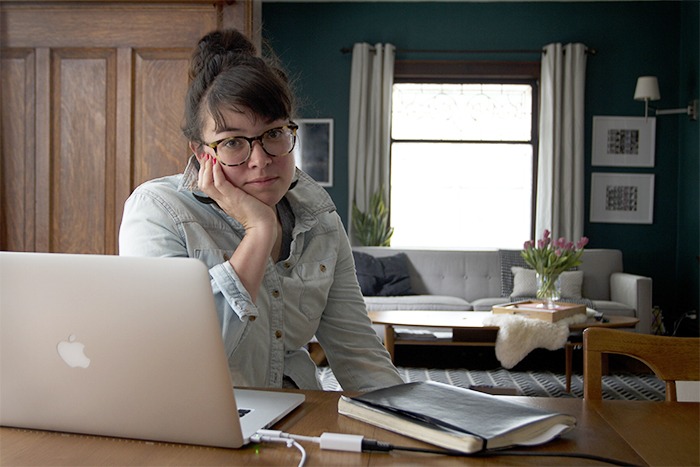 Hey guys. It's been a rough week around here, my nerves are almost totally shot, my hands are shaky, my chest is tight.
I've been on edge ever since my site update three weeks ago. If you remember, I had some technical trouble and I was sick about it for days, physically sick. We went on vacation to Savannah and I was just starting to feel more like myself once we got home.
Then the shit really hit the fan this last week. We were dog sitting my parents small dog who goes by two names, Tagg and Rudy, I have no idea why. Our cat Nami is usually pretty cool around other animals, I keep the dog out of her space and she seems to be just fine. I thought she was.
I came home one afternoon after running a few errands and I found that she had peed on the newly reupholstered sofa in the sunroom. Now this is a cat who has never gone out of her box except when patrolling the neighborhood in the summer time. I was shocked. I found out quickly that the new sofa fabric is highly water repellent, in fact all the "liquid" was pooled and not being absorbed into the couch. That's great and all, except that my computer, my external hard drive and my camera were all sitting in said pool.
Yeah.
Apparently she had been holding it.
So I do everything I know I'm supposed to do, I unplug the computer, unplug the hard drive, and dry off the camera. I open the computer to dry off the keyboard – it was in sleep mode, the screen flashes on, then the smell of burning electric parts, and then nothing, just a blank screen.
I come to terms with the severity of the situation pretty quickly. Knowing there is nothing I can do in that moment I move on to cleaning up the rest of the mess. I wipe off the sofa and of course a good amount of 'it' drips onto the new rug, of course.
After careful inspection I was relieved to find that the hard drive and the camera were just fine. I made an appointment at the Apple store and headed over there with my stinky, gross computer to see if there was anything they could do.
The Apple guys were helpful, I was able to grab a few crucial files right before I watched the light flicker out of my computers screen forever. It was beyond hope and there was nothing those guys could do. So I handed over my credit card, cringed and bought a new computer.
I walked out to my car resolving to just be okay with everything only to find a $42 parking tucked under the wiper blade. I had missed the meter by 6 minutes.
I am thankful that I got some of the most important files. I back up my photos regularly so I was only missing the last two months of images. There is still a lot of things that need to be rebuilt. I lost of all of my applications so I have to reinstall them all one by one. All that takes a lot of time, and time is something I don't have a lot of these days.
I wish I could tell you that was it, but it wasn't. I could just tell something else bad was going to happen, I could just feel it. Wouldn't you know that when I was using the bathroom Sunday night that my phone that was tucked safely in my pocked took a giant leap and landed straight in that porcelain swimming pool.
It's a total loss.
Needless to say, I can't take much of this anymore. My stress level is at an all time high, I'm worried that it's effecting my health. I've been trying to decompress, taking long walks, trying to clear my head. Honestly though, I am a nervous wreck and I don't know if I can take anymore. It's like a bad joke, if only it was.
So I just had to share, because it's just so much bad stuff all at once, it's funny, right? Please tell me I'm not the only one who has had a seriously crappy run of bad luck. I'd love to commiserate and hear your stories too, maybe it'll help.