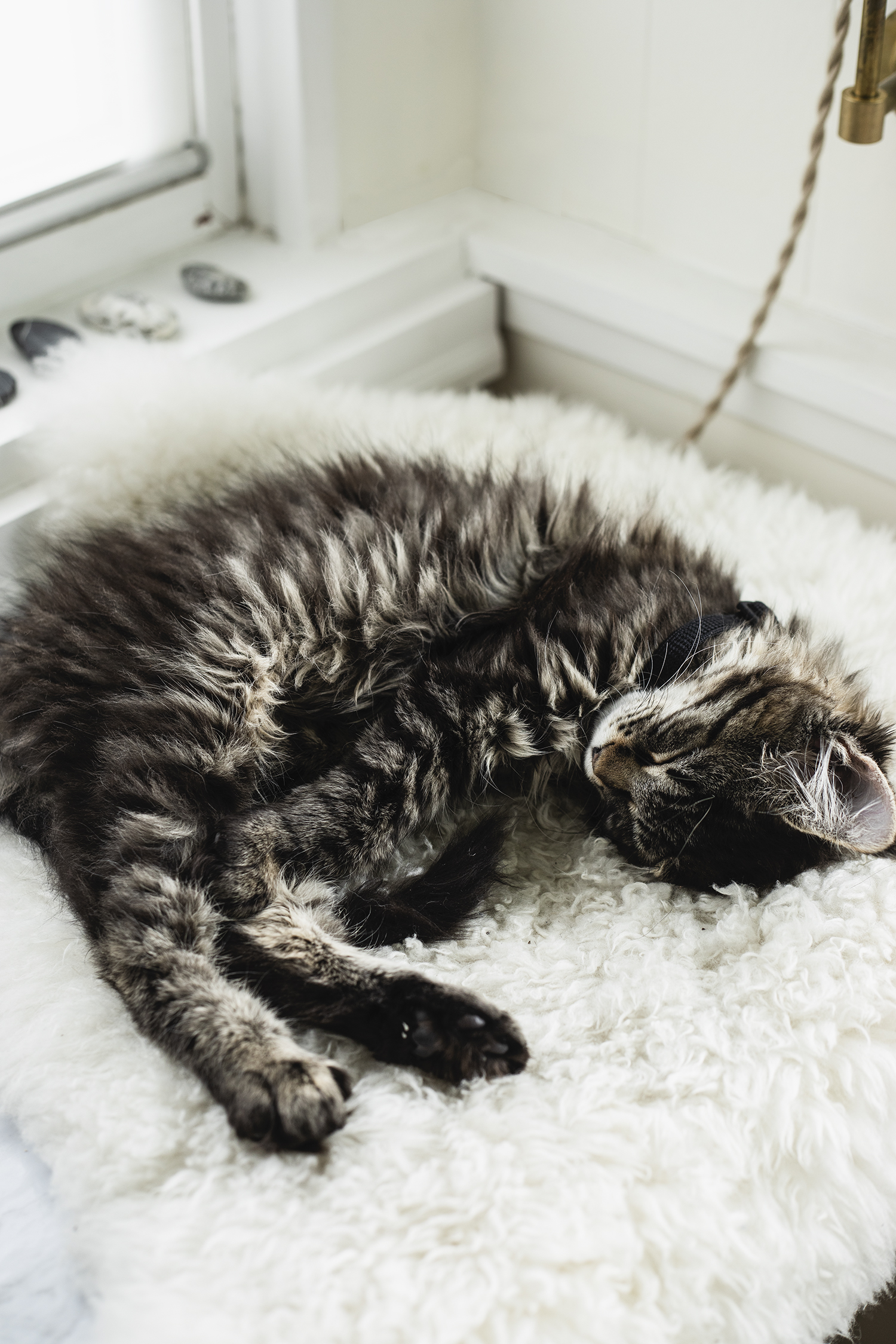 Hey guys! We are crazy and got a third cat! I know, what are we thinking? Totally nuts. It all started when our friends girl cat snuck out of the house for a night and we thought that maybe she would be having kittens this winter. Turns out it was a false alarm (and don't worry that cat was fixed immediately afterwards), but it got us Allen's got all excited about having another cat and a friend for Birdie. Birdie is a three year old cat who loves boat rides, and hates Monday's (we joke that she is basically Garfield) and we wanted to her to have a buddy she could grow old with. Nami, our old grandma cat is going on 15 now, and Birdie likes to wrestle the old gal. We thought it might be nice for Birdie to have a kitten to wrestle instead.
So, we got Loon! She's a crazy kitten about 12 weeks old now. We've had her about three weeks and she's been a great addition to our family. Although it still blows my mind when I see three cats line up for the food bowl. We're trying to get her use to to car rides and wearing a harness so that we can bring her to the cabin and have her out on a leash when she's outside. She plays fetch – and I didn't even have to teach her, she just started bringing me back her toy after I would throw it for her. She loves the kids, but really she loves me. She's a head sleeper, we have never had a cat like that before. Nami occasionally sleeps by our feet, and Birdie has always slept with the boys, so to have a cat that's all up in our business when we sleep is taking some getting used to.
The kids adore her, she adores them. Birdie loves to have a pal around and has actually is very patient and motherly towards her. Nami is a grumpy arthritic grandma, but she is always up for a snuggle nap.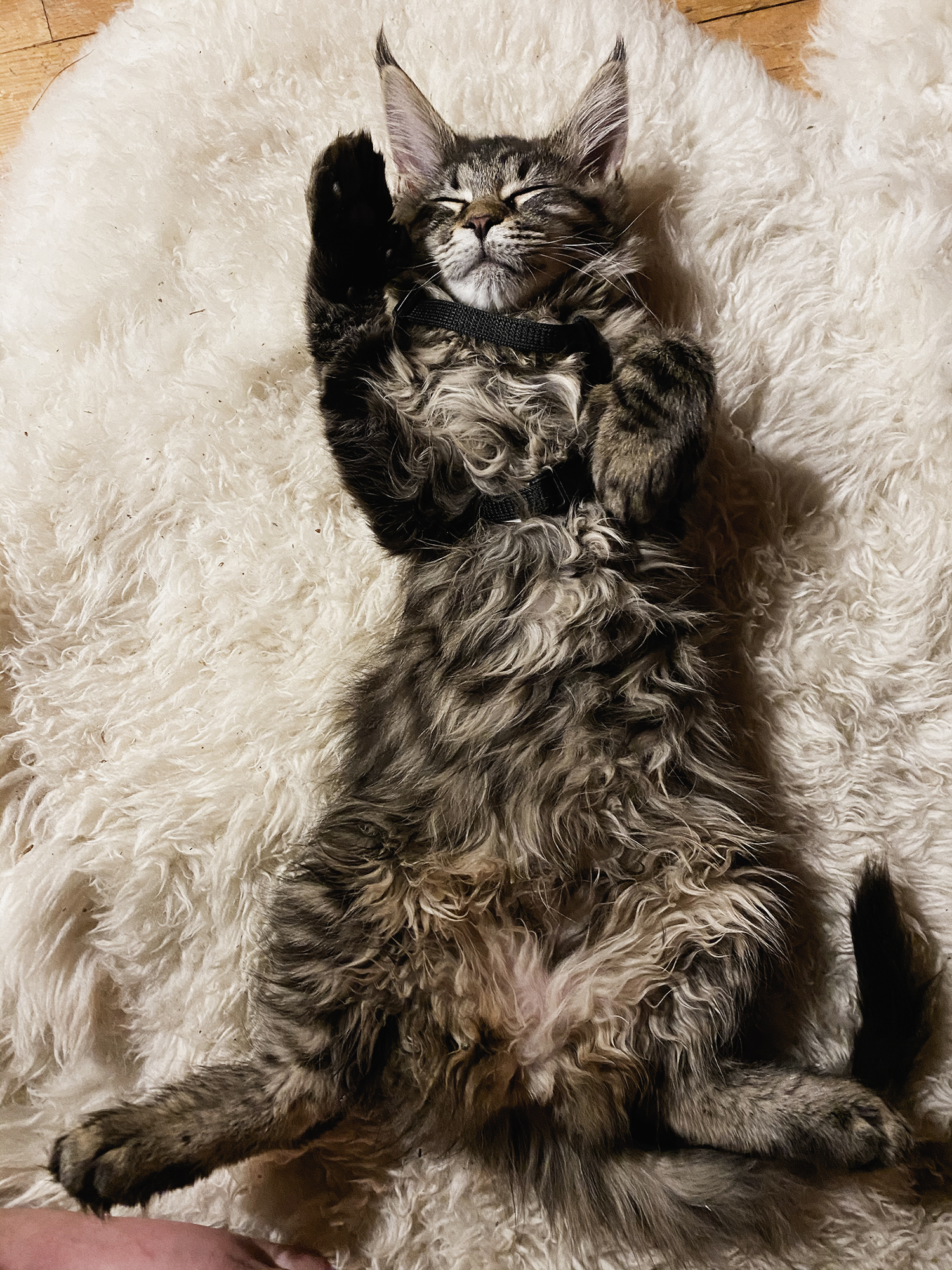 This is Loon's sleeping pose at the cabin in front of the fireplace. Next level cute.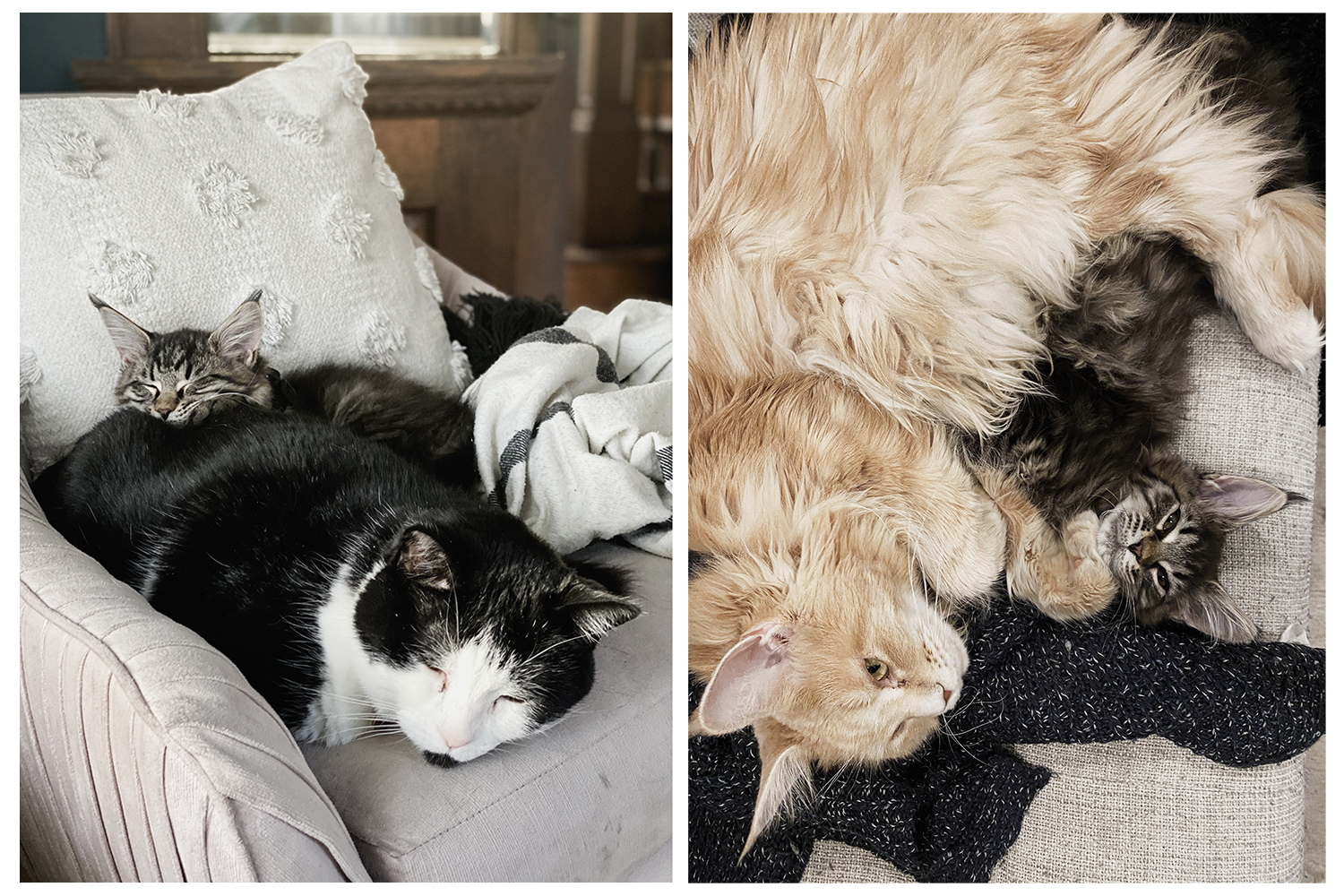 Loon and her new cat friends!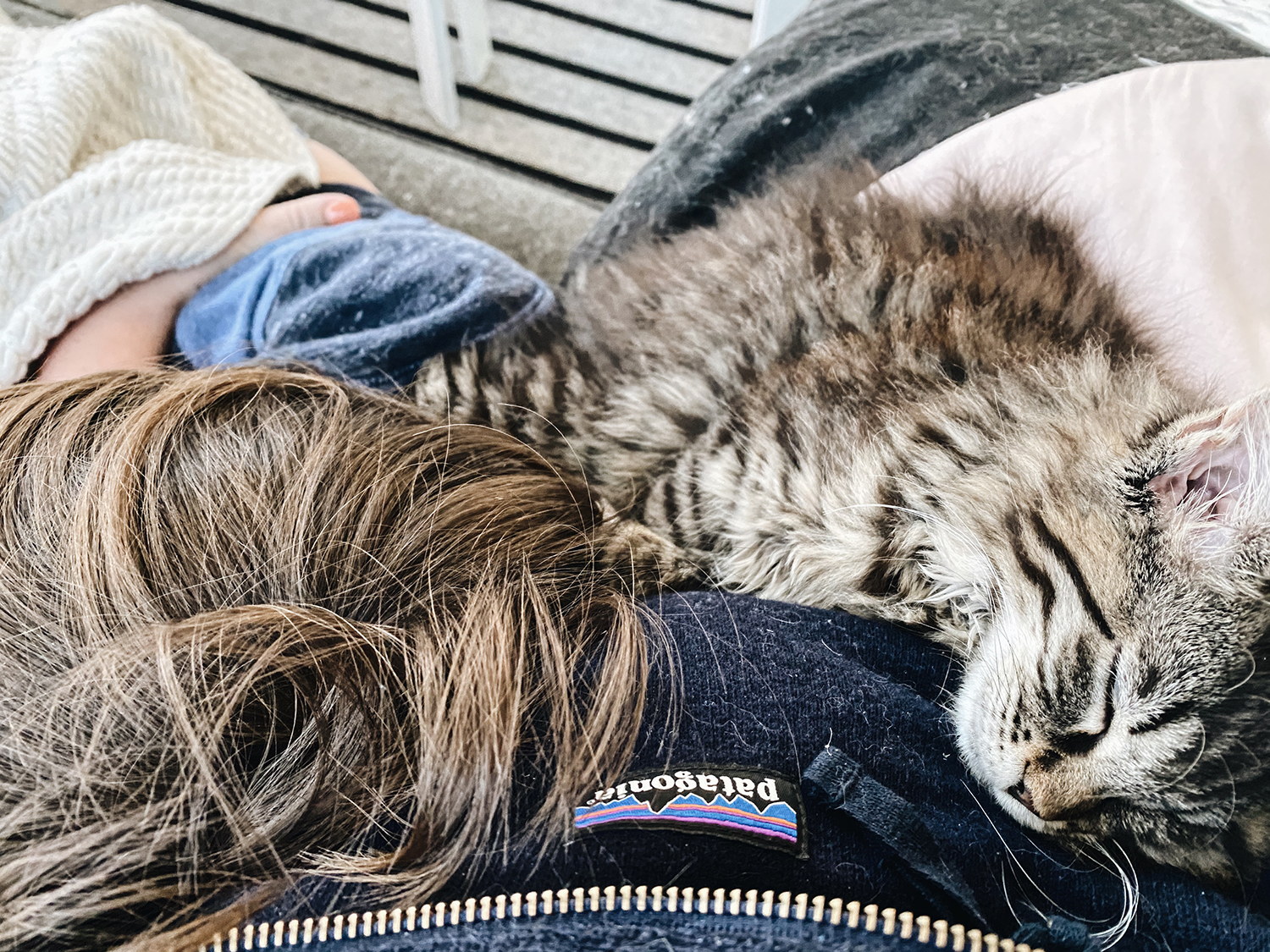 Loon cuddling Gus on the porch when he wasn't feeling well last weekend. She is very sweet to her boys.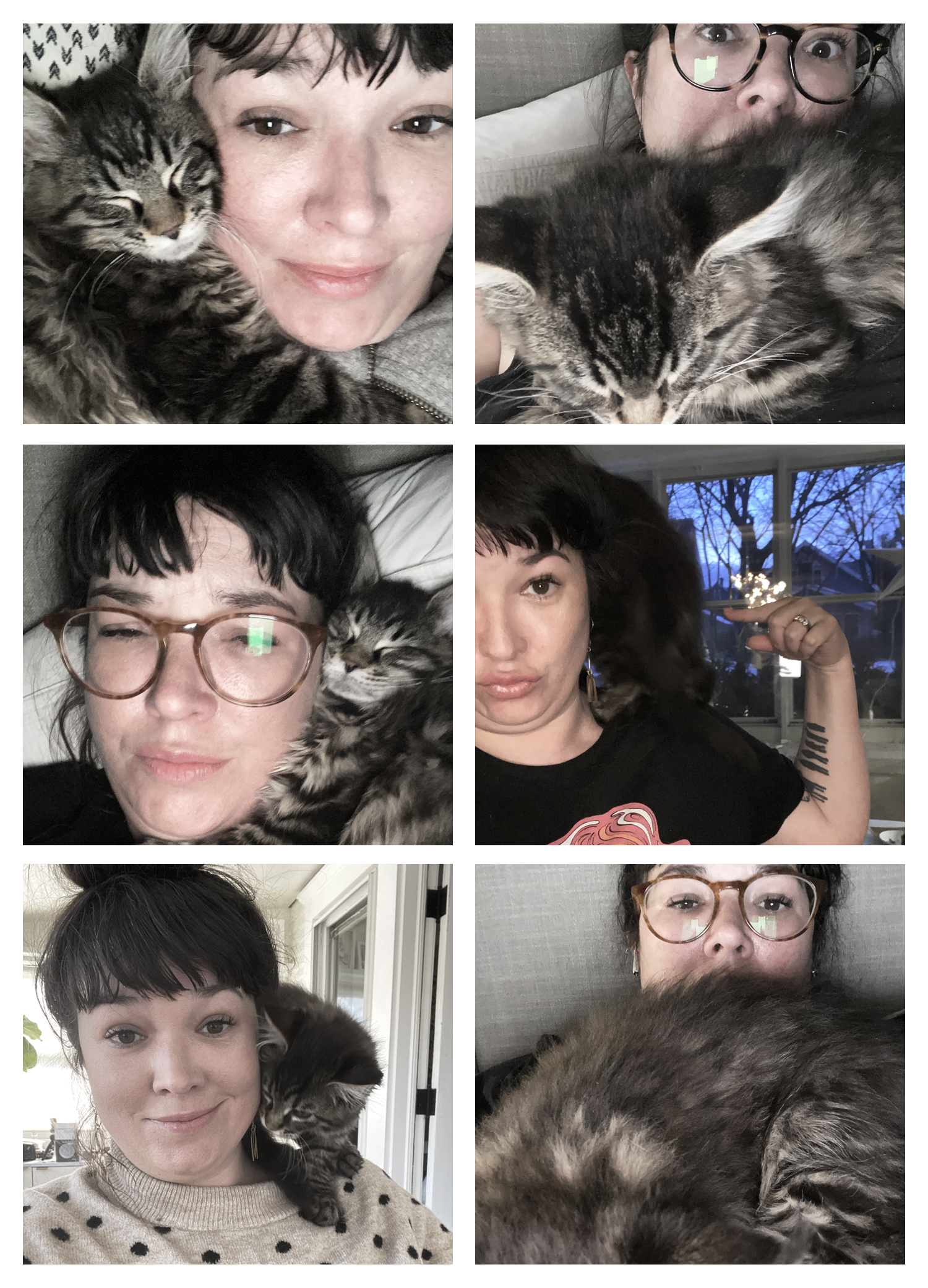 And I leave you with this. I have never had a pet who liked me so much. She basically wishes she could merge into my body and become me. I had to setup a little sheepskin sleeping pad for her next to my computer because she can't leave my side, she's like a loyal dog. It honestly surprised me that she liked me so much! Birdie has always been the kids' cat, so I figured the same would be true for Loon. I'm happy she loves me though.