Friends, budz, guys, dudes, dudettes! I'm sharing a post today about the new year, my plans for it, and how I'm going to crush my 2020 goals. I'm also re-capping on all the cool stuff that got done in 2019. I'm so excited for the new year, I feel like this year it's really a fresh beginning for me. Welp, here goes nothing…
At Home
New Exterior Paint

I love the color of our house, but I hate the paint job. It's really fallen to pieces in the last few years, it's chipping and very sun bleached on the south side. This time we'll find a new painter and invest in quality paint like we did when we had the cabin painted. I'm excited for the refresh.

The Boys' Bedroom

I'm making progress on the boys' bedroom. Everything seems to be a slog these days but I think so much of that is organization. I've made a habit of becoming easily distracted and unfocused. I used to hang my hat on how I had everything under control and for awhile it's felt like the opposite of that – exactly why the boys' room is not done yet. In 2020 I am reclaiming old habits I have seem to have lost. Projects aren't going to take as long as they have in the last year. The last time I updated you on the boys' shared bedroom the kids and I had done a major clean out. Since then we have set up beds, and bedding, but there is still lots of special stuff to do to make the room feel good for them. They do seem to really enjoy sharing a bedroom, and we have no plans to split them up anytime soon (although the spare room is always available if that were to happen). I need to finish up wallpapering, lighting, find good bedside tables, paint the trim and repair the doors – they were some of the most damaged in the house when we moved in. Our organization system we created for them has been working for the most part though. There room is easy to clean and they enjoy hanging out in there even when they are not sleeping!

Continue Sharing Home Maintenance Projects

I'd like to dive into general home maintenance projects with you. We are 10 years in on home ownership the March, and I've been noticing that there are a lot of little things that need to be fixed up. Would you like to see tips and tricks for tiny home projects in the next year? I'm taulking caulk (see what I did there?) around the bathtub, repairing holes in the wall (how else do you get the sofa in the basement?), water damaged ceilings from having a tub too full and all those other things that pile up around the house.

Actually share our future plans for an Addition

Jeff and I have been chatting for over a year about an addition, it was a goal of mine to share something with you last year. I think I was frozen because nothing is set in stone when it comes to this project and I'm afraid that if I post something I will be committed to it. What I have failed to remember is that this blog isn't about The After only, the process has always been part of the journey. Besides a sketchup rendering the ball has not been set in motion. Maybe this year we'll talk to an architect or interview contractors to get a feel for prices compared to our budget. Would you like to hear more about that process?

Our exploration into becoming a vacation rental host

We are seriously exploring the idea of investing in a short-term rental property (aka find a cabin in need of some TLC, fix it up, make some magic happen, and rent it out) in western Wisconsin. This is far off in the future but we have been doing tons of research and running numbers and I don't see why I (or maybe even Jeff) couldn't share some of our findings with you as we begin to explore this option for our future.

Garden Posts

In the last two years I've learned that I am no longer enthused about doing monthly gardening updates. I still want to share though! I'd love it if you guys got involved and asked questions, or shared gardening blog post ideas that you would like me to cover this spring and summer.
The Cabin
Basement Remodel

This was on the list for last year. We have been really analyzing our finances and it has become a priority for us to pay off our student loan debt. This put the basement remodel at the cabin on hold for 2019. I am not expecting to finish this project in 2020 but I am planning on finalizing a design and begin framing it in this summer. That would allow us to begin to use it more often as a bunk room and family/game room for the kids. It's a long-game-strong-game sort of a deal. I do believe that my lofty goals that I set for myself last year gave me some paralysis when I began to realize I couldn't deliver. There is no reason I can't share my ideas and plans as they change without feeling like I ruined everything if the plans do change.

Adding a small deck with new hot tub

Something we dream of is adding a cedar hot tub off our deck at the cabin. We love hot tubs and we have such a great view of our lake from our deck that it seems silly not to put the two together.

Gardening in the Northwoods

Gardening in the northwoods of west wisco (zone 3) is soooo much harder than gardening here in the twin cities. The soil is terrible, sandy, loamy and rocky. I have learned from cabin neighbor, who has grown a beautiful garden in a short time that amending the soil is key. I'd like to share the process and hopefully the successes of it with you players this summer. I've also been creating trails and garden beds on the steep incline along the lake shore. My goal is to minimize any future erosion by adding some roots to the soil, while also creating some pretty landscaping at the cabin. I want to show you guys this year!
On the Blog
2 Blog Posts a Week! *

This was on my goals for last year too and I failed miserably. I am so motivated to be better at sharing this year. I do really think the epicness of other friends and bloggers huge wonderful blog posts got in my head. I felt like if I didn't have something amazing to offer you, that I just shouldn't say anything. When I started blogging I talked the internets ear off about anything that entered my brain, there was a time where I was posting five (5!) times a week, I had no money to make incredible changes to my house, I was watching four kids and I still found time to write about stuff. I want that again, I want to just write without feeling that what I'm writing isn't worthy of reading. I've already started by creating a editorial calendar! Can you believe that? I hope that planning post far into the future will help me see the bigger picture, the story, the journey, the sharing and the community.

*At least 1 post a week during the summer

Updating Sources & Links frequently

I did create more comprehensive archives and sources in last year (House | Cabin). I often try and link to archived posts in the footer of my posts so you can go back and see the process if you are new here or would like to revisit. I have also updated the house tour and all the sources. I gotta stay on top of that in 2020!

Video Tours

I want to share a video tour of our home, garden and cabin this year. I enjoy the process of editing and I'd like to share the entire space with you guys.
In Life
Finding Balance

Once upon a time I walked every day for an entire year. I looked and felt great. Around the same time I also spent some time struggling with anxiety and depression. I started medication in 2015, and for me it made me less anxious and depressed but it caused me to feel really blah. Not excited, or motivated and not down or depressed either, just meh. I knew that taking meds was the best for me, because I had seen the other side. After starting meds, I felt for a long time like I lost a little of something – which I think was probably obsessiveness reinforced by an anxious personality. I think why I was successful at a lot of things, because I was obsessed. I'd like to find a balance between the two. I want to do the things that I was doing before, like exercising and feeling passionate about blogging, design and DIY, but I want to allow myself the room to take a break, or reset my mind. I feel like I'm finally starting to feel like that balance is possible and is a thing in my life!

Have Gus enjoy a School Free Summer

As a kid on the Autism spectrum, our youngest has spent more time in school and therapy than most kids his age. He was diagnosed when he was 3 and since then has always had full-year school years, whether it be therapy five times a week, preschool, school, summer school or tutoring. I want for him to have the summer of his 9th birthday to be carefree. I want him to read books in the hammock, sleep in late, hang out with friends, spend long weekends at the cabin and be a kid without academic restrictions. He has begun reading in the last few months which was huge for us, he is now in his homeroom classroom nearly full time. This journey is not over, it's been hard and happy and joyful and sad. I think a summer off for the kid is well deserved.
Now let's take a second and review what happened in 2019. We had a great year!! As a family we went on a big trip to Europe in October, we spent most of August at the cabin, and we had tons of good and funny times with friends in family. There was tons of stuff that happened around our Wisconsin Cabin and Minneapolis home too. Here are a few of my favorite highlights from 2019!
This was my 10th year of blogging! Can you believe it? It started out as a way to feel creative after having Finn. I had already had what I call a "party blog" before I had Finn where I documented all the parties (I started that blog when I was 23, partying was basically my life). Anyways, I was already familiar with blogging, so it felt right to chat about my more domestic at-home life with nobody listening to me on the internet. Who knew that it would last for so long, create meaningful friendships and become such a big part of my identity? I wonder if I'll blog for ten more years? It's always been there, it's hard for me to imagine it going away.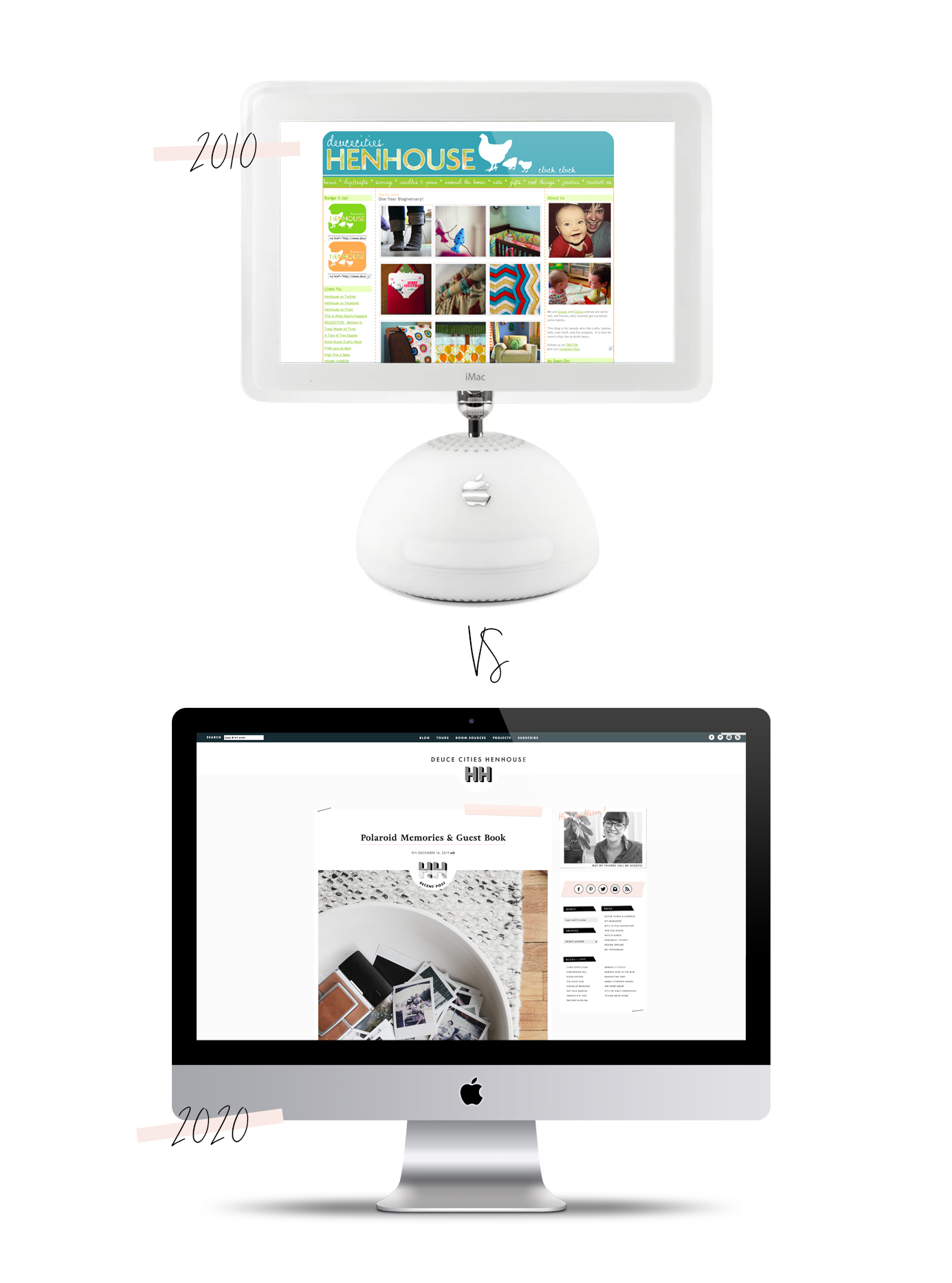 I jumped into the new year by giving our hardworking dining room a refresh. We updated the look with a new table and chairs,
chandelier and ceiling medallion
, and
curtains in the bay window
. It's like a whole new place and we've really enjoyed its Scandi/Modern new look this year.
I can't really take credit for this, except I did
choose a paint color with your help
! It's always amazing what paint can do to a property that is in need of a little TLC. Black (aka very, very dark green) on this cabin looks so striking against the snow and evergreens. We love how it turned out and are so pleased with the way that exterior of the cabin is shaping up. I still have to finish staining the deck, fingers crossed that I'll be wrapping that GIANT project up this summer.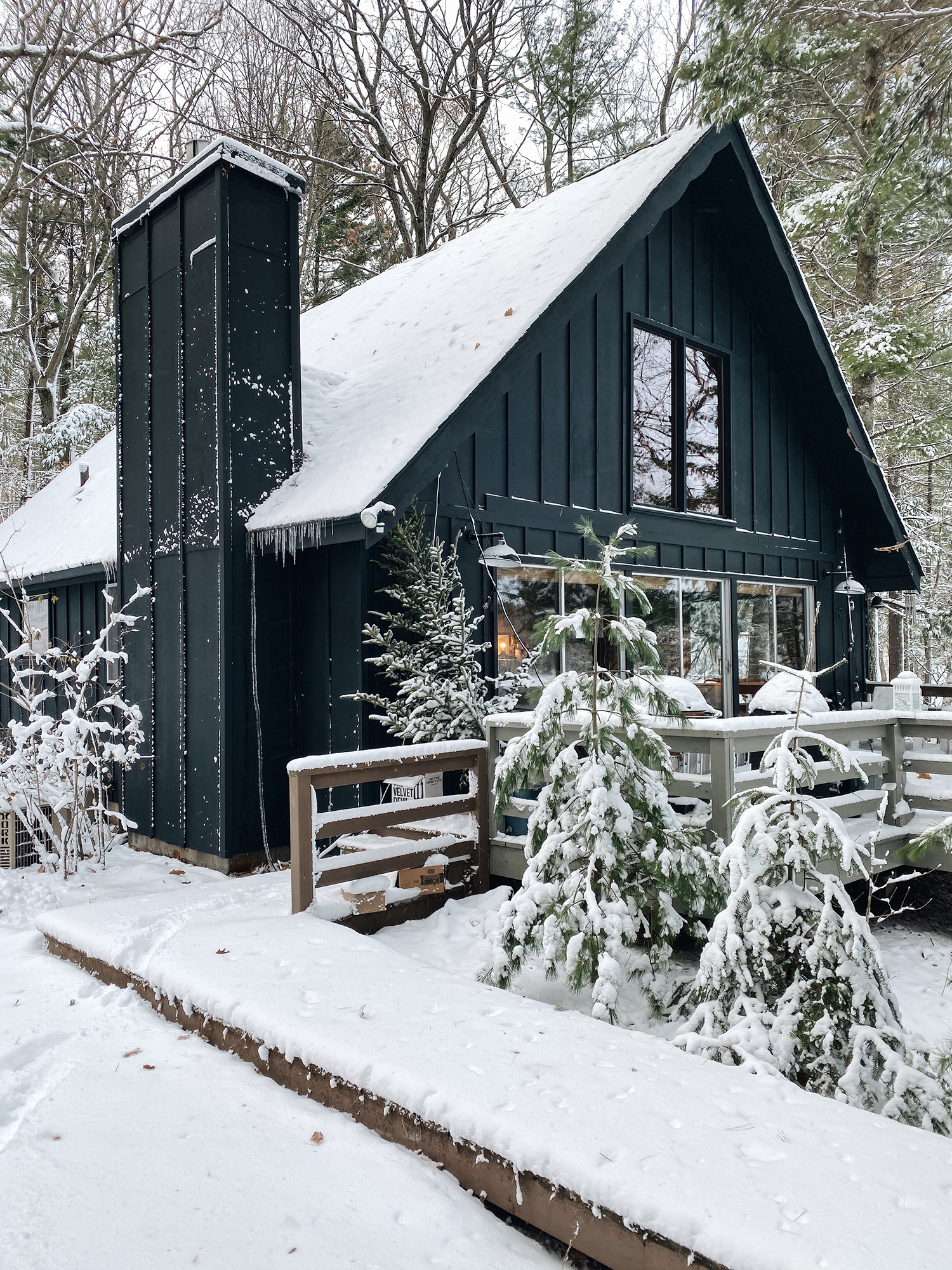 Jeff and I have wanted so badly for our kids to know the adventure of travel. I didn't fly on an airplane until I was 19 and I wanted to make sure that our family got out into the world together before our kids got too old. The kids are already really good travelers, they've been on enough adventures and they know the name of the game. They go with the flow and are good at being responsible and independent. This year we took on our biggest adventure yet and headed to Europe. We spent 2 entire weeks (the longest vacation we've ever been on) and visited the UK, France and Italy. It was an amazing trip! I'm kicking myself for not sharing more of our adventures. Would you guys be into reading a post about our trip? It's not too late, I hope.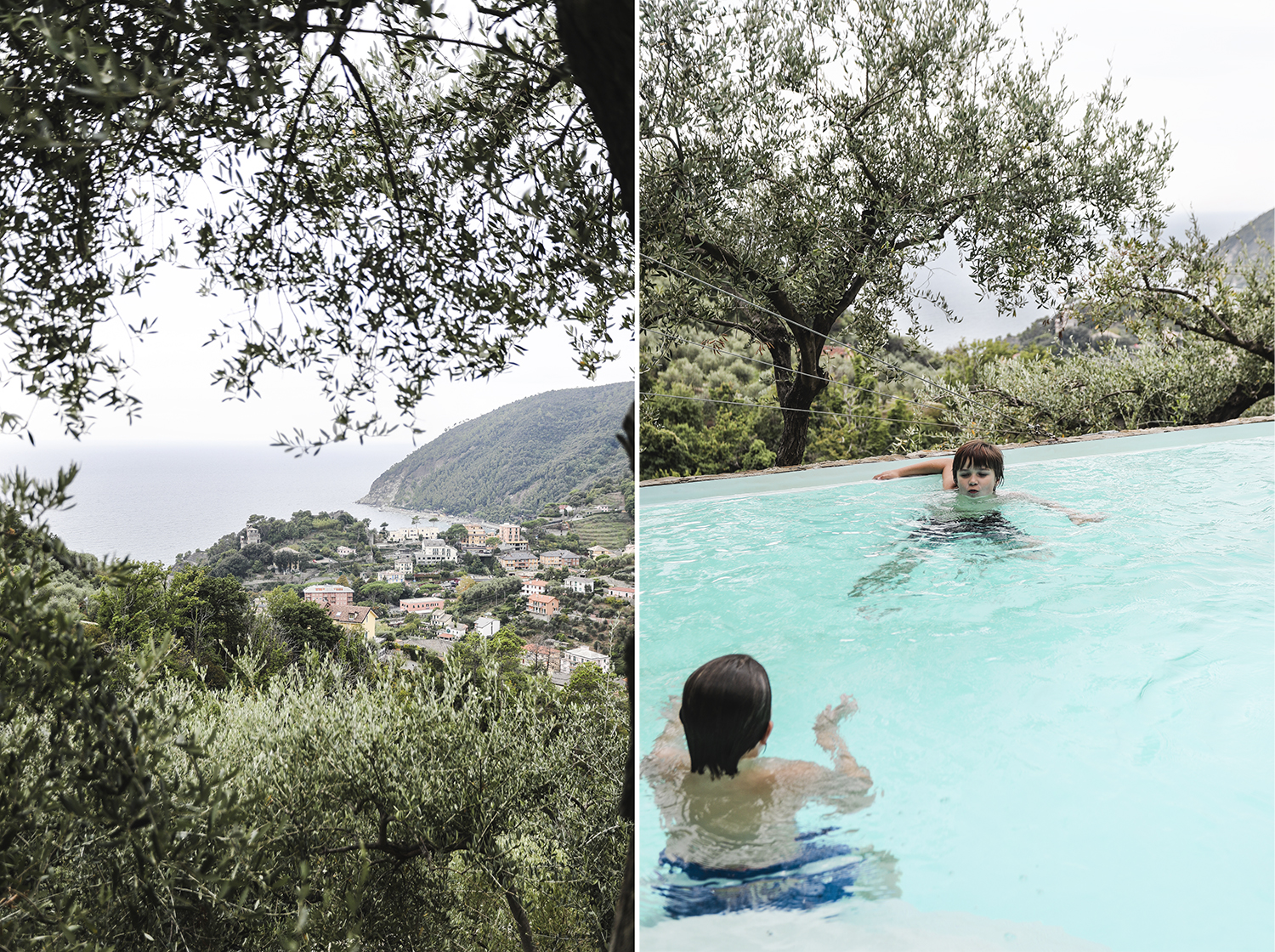 The saga of the stairwell has been going on for years, and I am so glad it's behind me! Who knew that choosing a paint color that carried on into separate spaces would be such a difficult task? It didn't stop at just the paint color, there was also the matter of heights. How does one go about painting something so high up on in the air? With the help of a friend I was able to install a chandelier too which adds so much coolness to this otherwise boring to the space.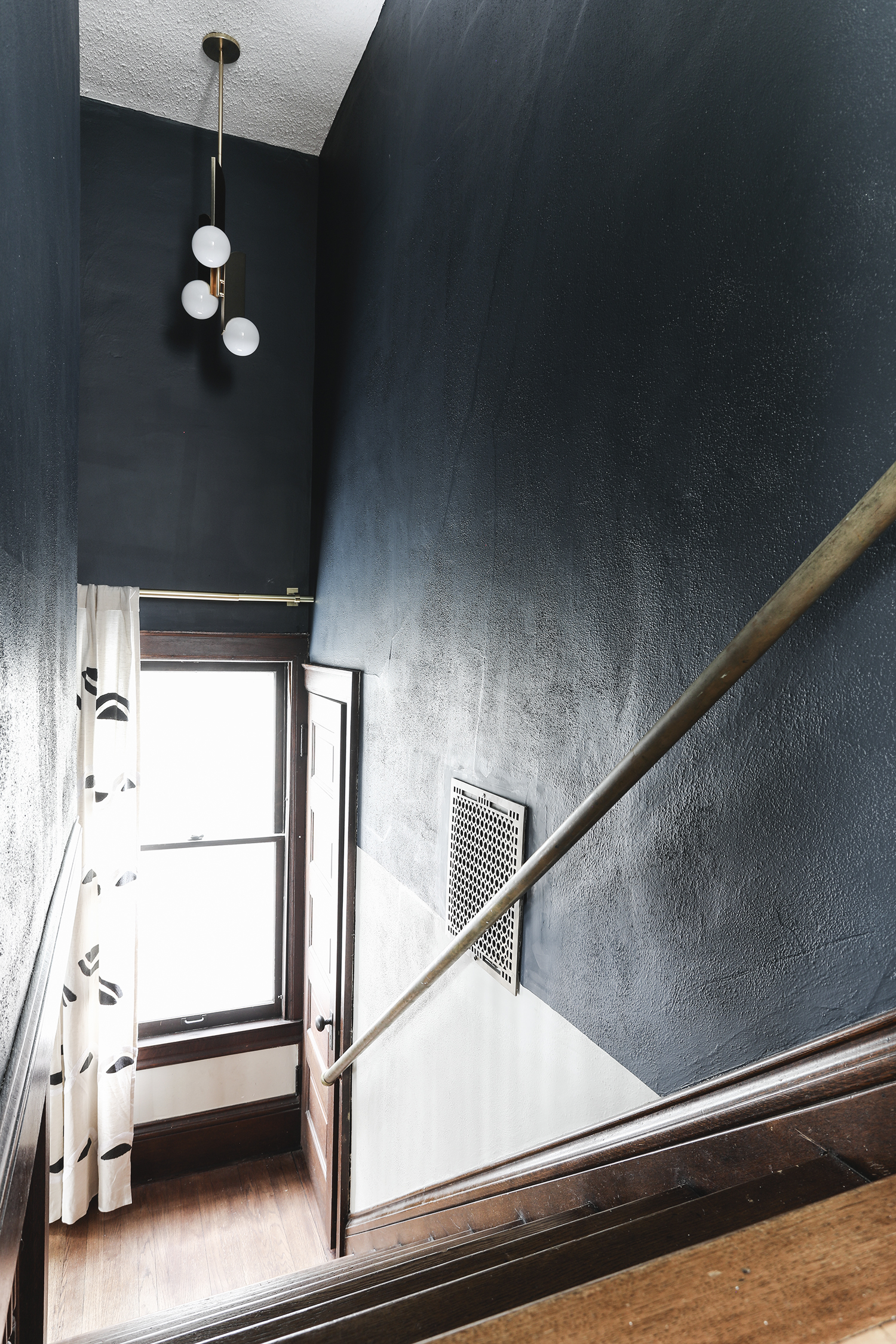 Our cabin is really feeling like ours these days. It really has taken all this time to get it to claim it as ours by putting our stamp on every nook and cranny. The furniture that we purchased when we moved in was great, it did the job and fit the vibe of the space. This year we upgraded nearly all the furniture and it has made such a difference in how the space feels. It's kinda like going from being a college kid living in a dorm to becoming a real deal grown up with a mortgage. It's a small change that has made a big difference for us. The new sofa is so cozy, the kids love laying across the back of it while they play on their ipads. We love snuggling into the pillows while looking at our frozen lake. We also
upgraded our chairs
next to the fireplace with two velvet green bludot field chairs. The old chairs looked cool in the space, but the snaps wouldn't stay snapped and they didn't offer a lot of support so we rarely sat in front of the fireplace. With these new chairs we hang out in front of the fireplace every single day we're there. It's great, I love them!
P.S. We set aside the old sofa and chairs and plan on giving them a new life in the kid zone in the basement of the cabin.
The cabin bathroom is a project that I can technically call done! Mission accomplished. I just need to photograph it and share it with ya, but it's done. I started in mid July and just finished last week working on it over the summer and spending some mid-week alone time with it over the fall. This room has come a long way. The cabin used to be a rental and it wasn't kept up. The lack of regular maintenance really shined through in the bathrooms. There were stains in the flooring and tub, the fiberglass tub surround had been permanently rust stained – this happened before we got a water filtration system. The sink and vanity were old and dated and I hated the plastic around the lower half of the bathroom. Now the bathroom is clean and functional, and although it may be small it's ready to accomodate all of our cabin guests. I can't wait to share the entire project in the new year.
Thanks again to all of you who have followed a long over the years, and welcome to all the new faces around here and IG. I'm so glad you found me. I hope together we all have an amazing 2020 and a great start to the new decade.