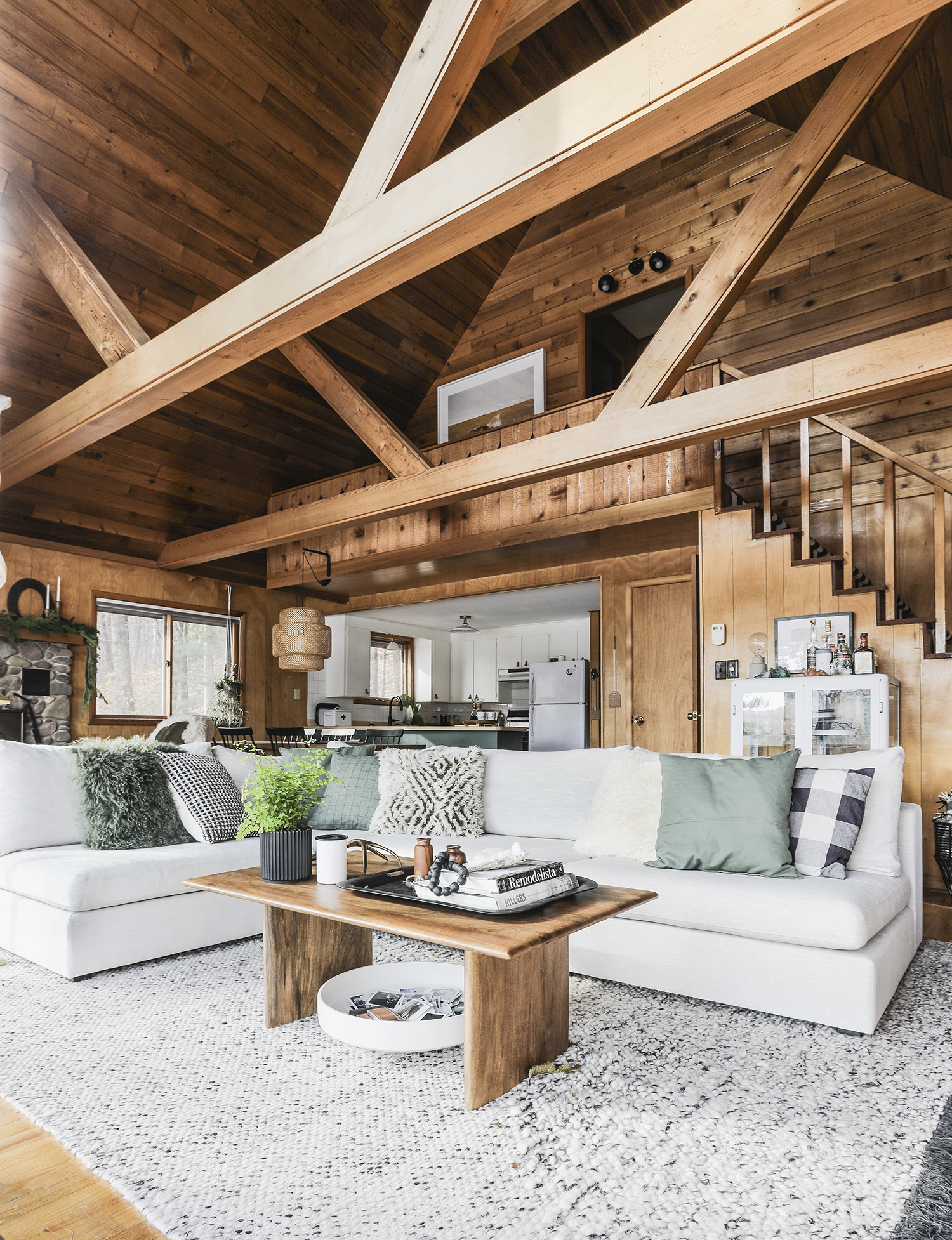 This post is in partnership with Article.
I have always envisioned our cabin furniture being updated in phases, to get us started, we purchased affordable "get-cha-through" furniture and repurposed hand-me-downs from our home. It has always been a work in progress and I had planned on updating some of our cabin furniture pieces with comfier, cozier and more substantial long-term items as we advanced in our cabin ownership. We just recently hit two years of enjoying our cabin, and we had gotten to know our cabin well enough that it was easy to point out what needed improvement, and what we were missing in terms of how we used the space and what we were expecting out of furniture. As you may remember, we updated the chairs in front of our fireplace recently because the short-term chairs weren't very comfortable, and we felt we were missing a great opportunity to enjoy our fireplace by not having more inviting lounge furniture in that space.
We've been thinking about the living room furniture in the same way. We knew that we really loved a light neutral sectional sofa in the space – for us it seems to be the best way to break up all of that wood paneling, and is a necessity no matter how impractical you might think a white sofa may be. We also wanted a sofa that was deep and well made enough that it was easy for older(ish) folks (aka my parents and the like) to get out of, while also adding support for their aging backs and butts. For me, I wanted a sofa with soft back cushions that you could just melt into. The Gaba modular sofa has firm but comfortable seats with cushy poly/down filled back cushions, the perfect mix of both support and comfort.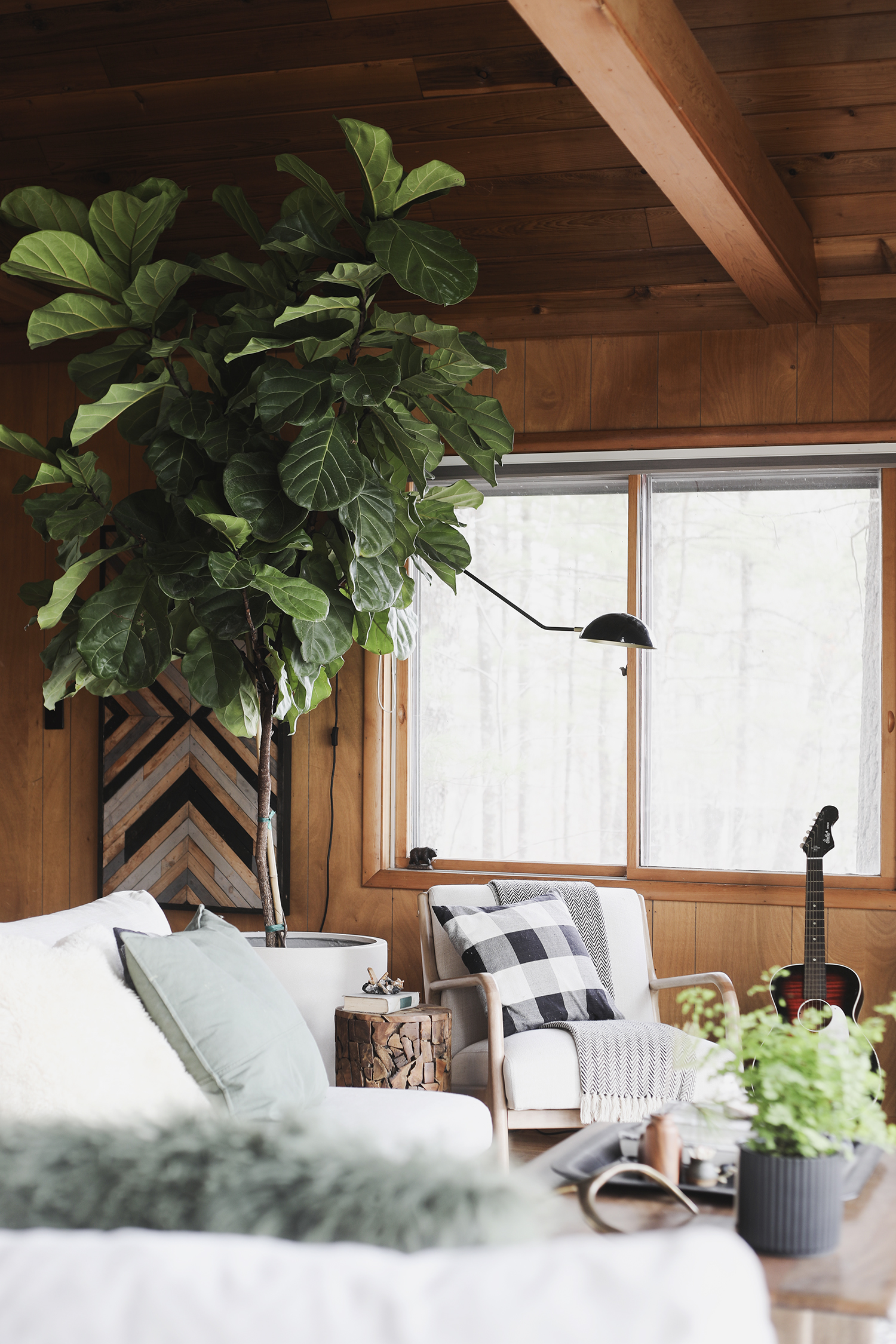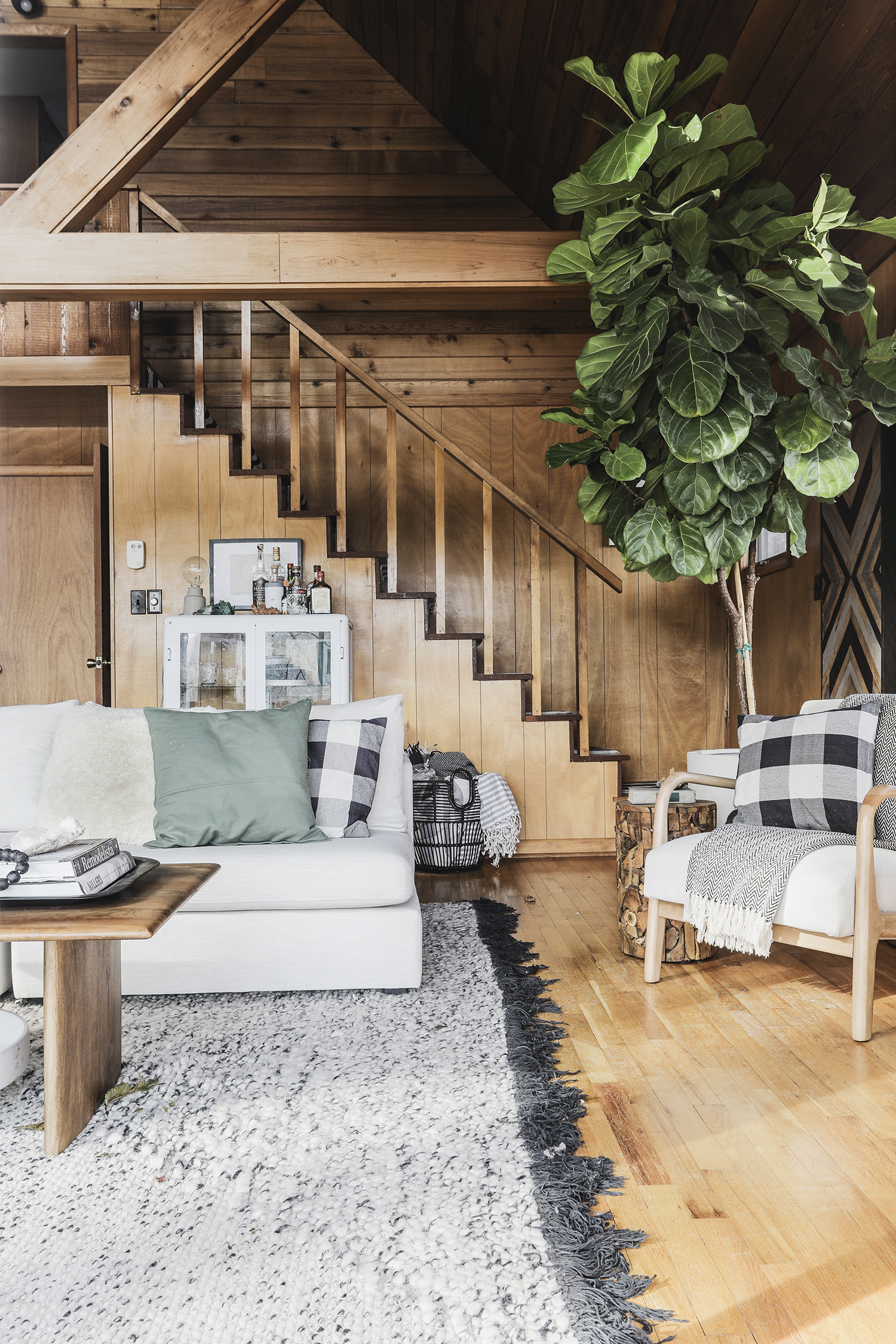 A sofa with a low profile was also very important for us, we don't want to impede the view, and the shared space that makes up the cabin living room dining area isn't that big. I needed a sofa to be a nice place for the eye to rest as well as the body. After pinpointing the must-haves I was able to read reviews online (the Gaba has 5 stars!) and I felt confident that it would tick all of the boxes. If it didn't work out, Article offers a 30-day satisfaction guarantee (minus a $49 delivery and pick up charges). Plus, on orders over $499 through December 1st ($999 regularly) ship for free, and if you feel so inclined opt for the in home assembly – a no brainer I think. I had the furniture assembled for me, but it took minutes for the installers to clip the Gaba pieces together – it would have been very easy to do it myself too.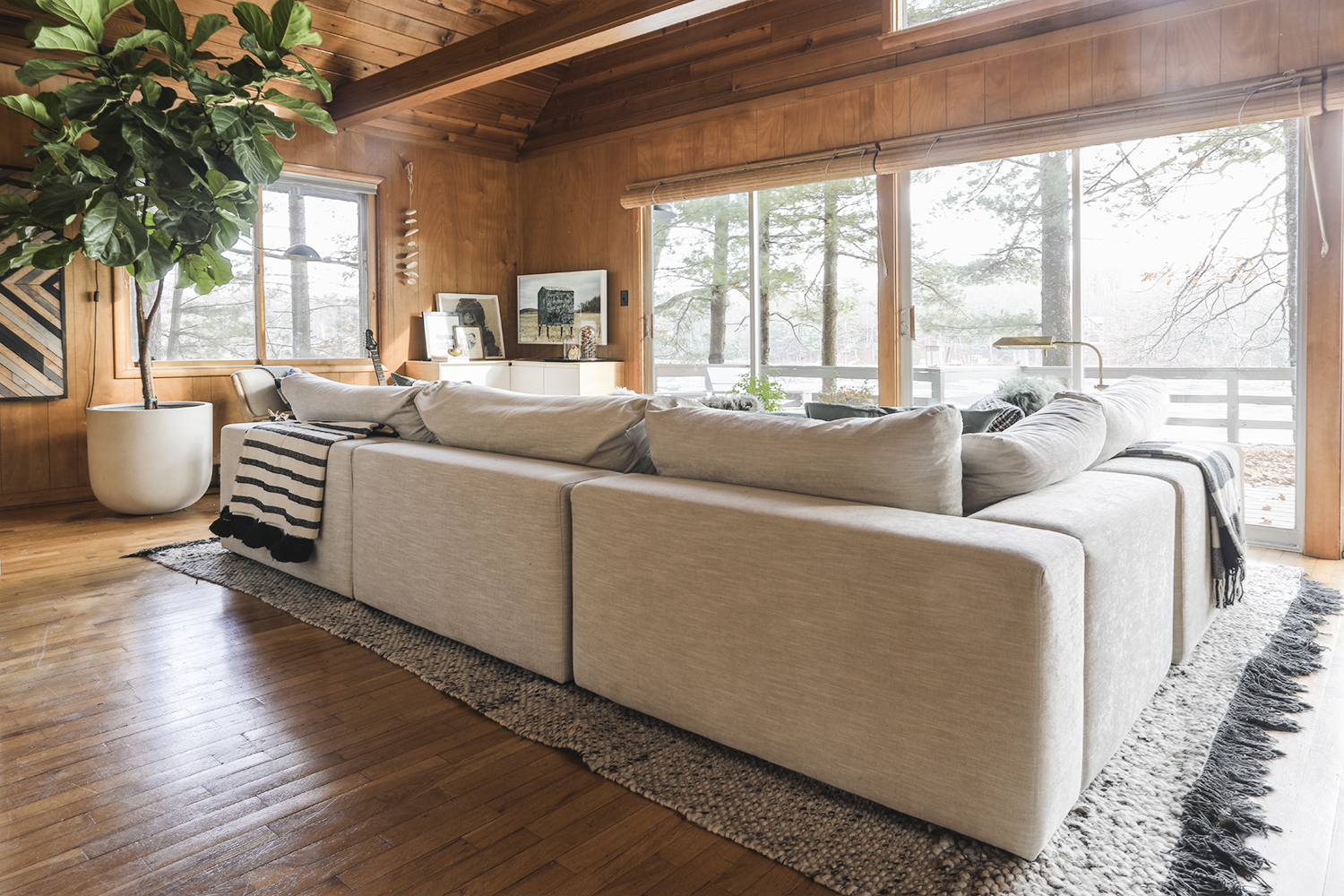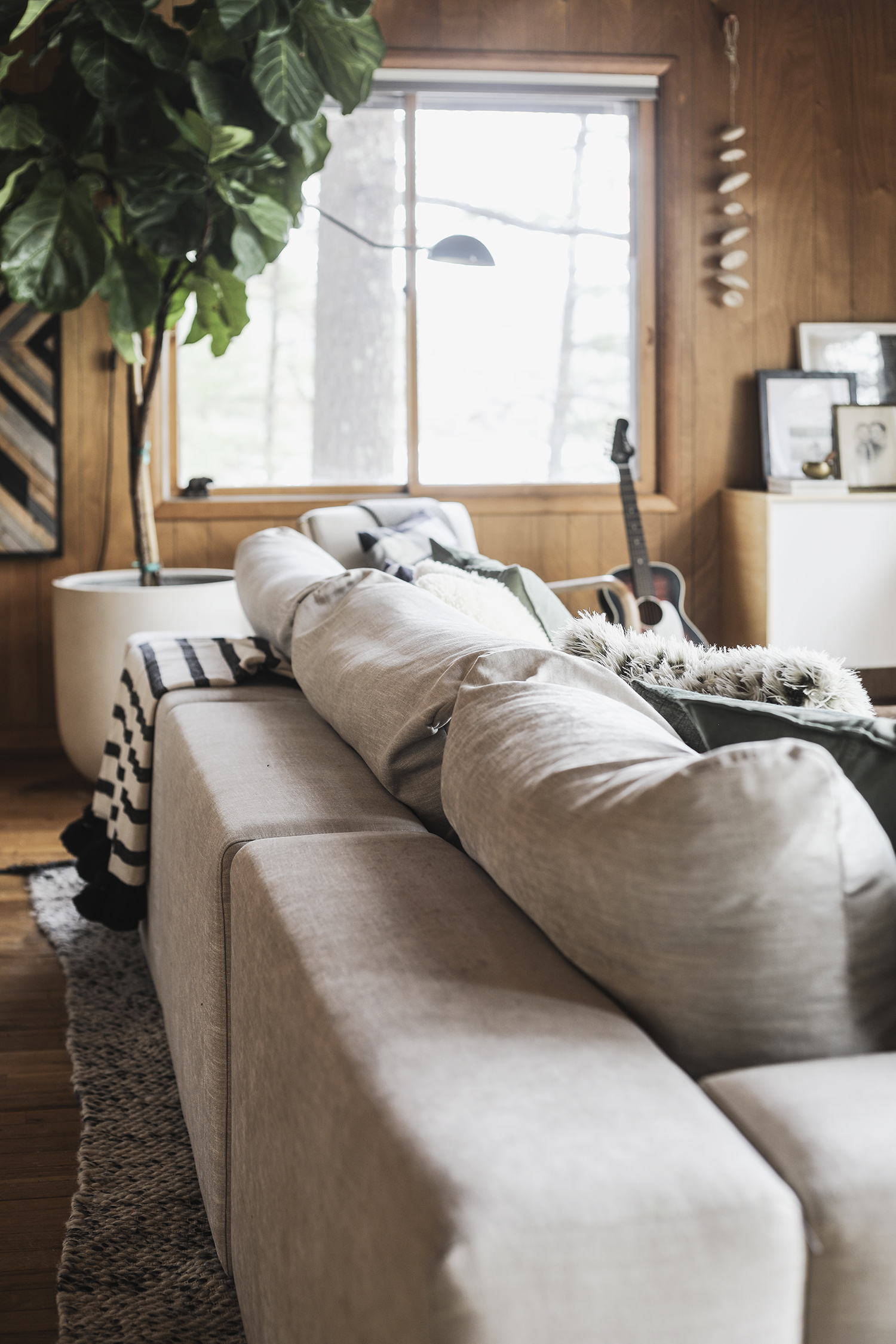 One of the things about the Gaba sofa that I was happily surprised by was its beefy back frame. I thought it had a great look but I didn't realize how having a deep low ledge on the back of the sofa would have the added bonus of creating a really inviting spot for the kids. Normally I'm the type of mom that's squawking, "don't lean on the couch ya filthy animals," but I guess those days are gonna be over now. Their new favorite sofa hang spot has been laying across the back ledge of the sofa and I don't mind one bit because it's so sturdy (they still can't be filthy tho) – plus it means I get more room to myself on the sofa. The wide back combined with the armless style I choose for this configuration, really gives the sofa that conversation pit feel, which I love for looks and the inviting lounge space it creates!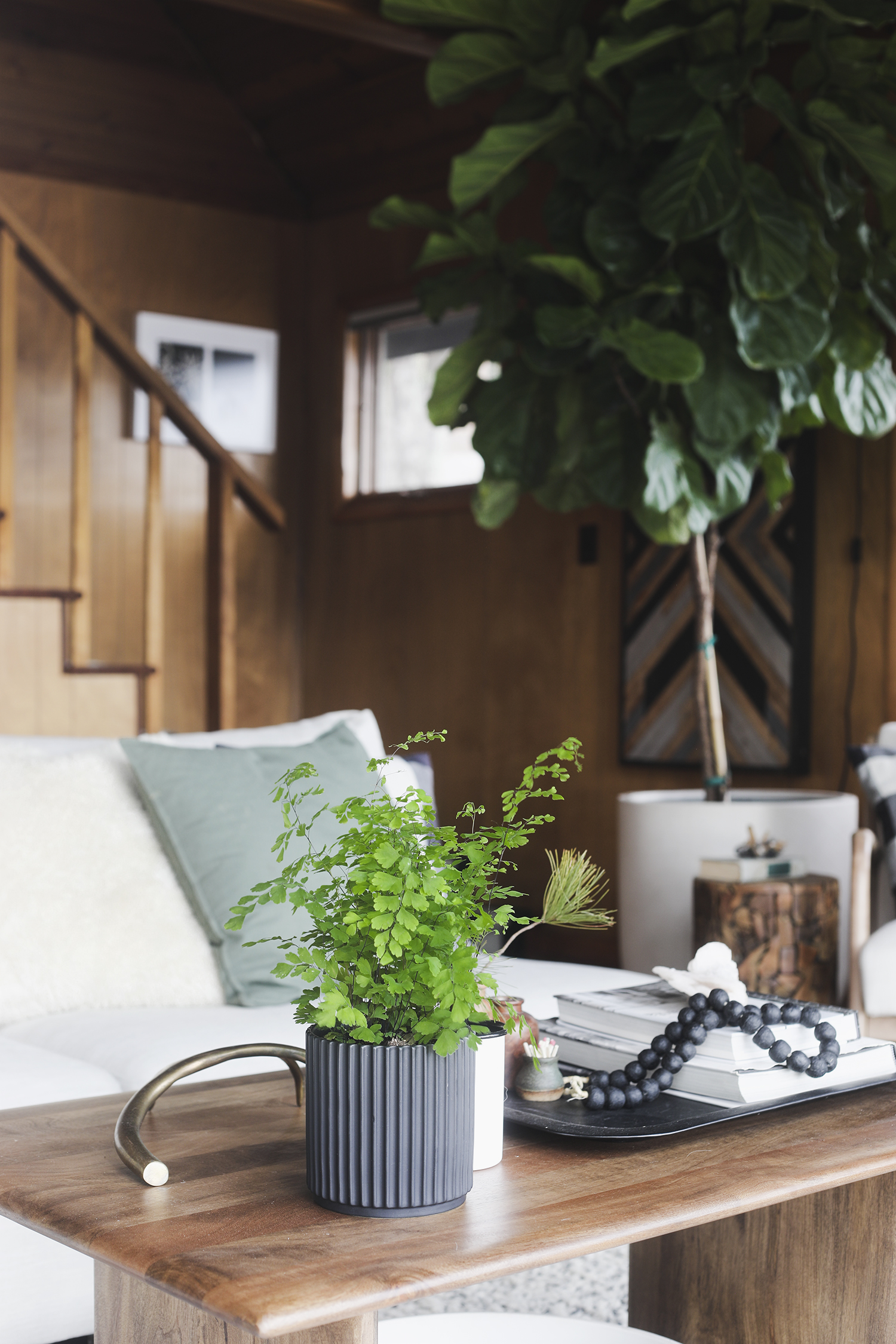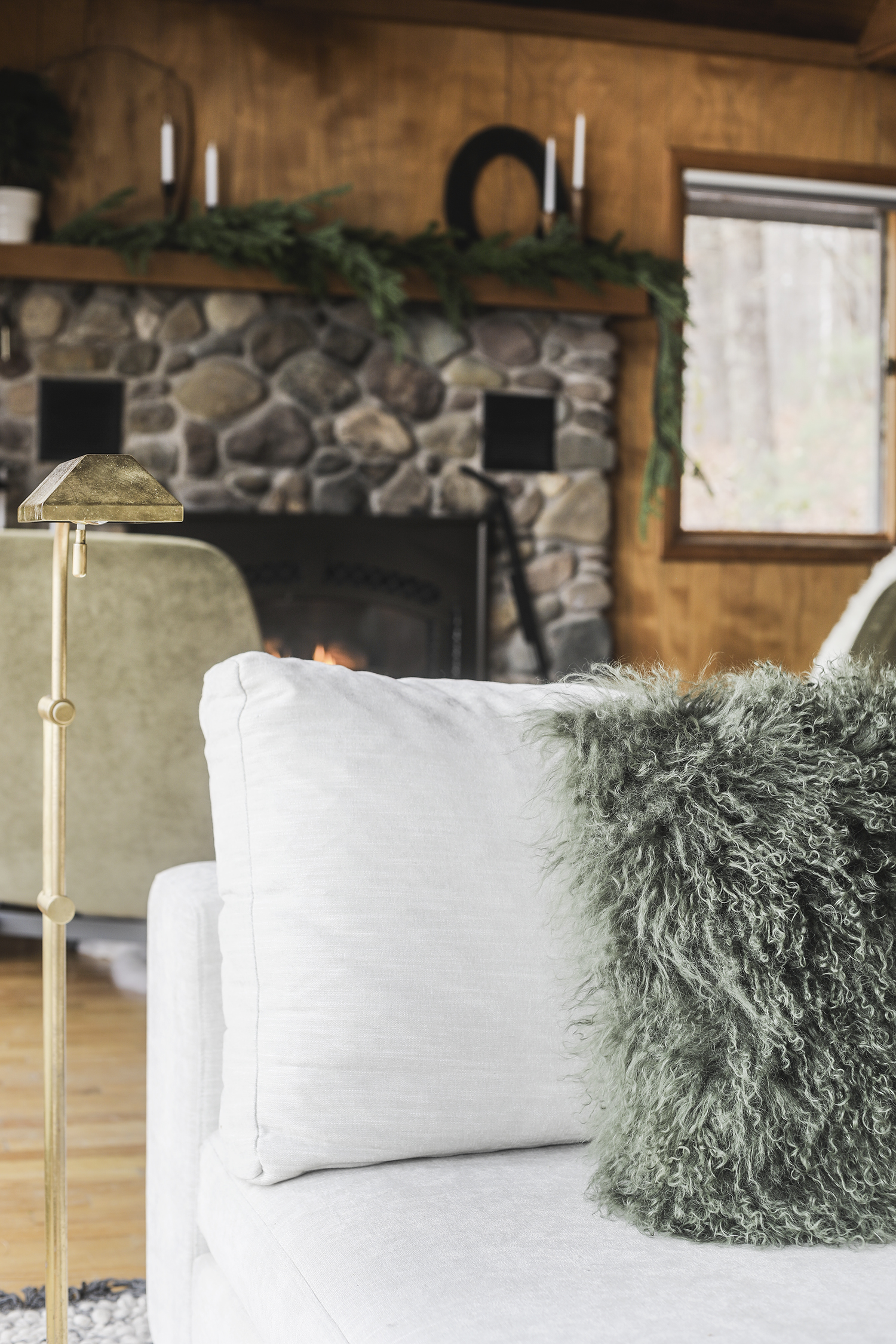 Let's talk about that pearl white fabric, because I'm pretty sure you guys are all asking yourselves about it. To start, I do have rules for the kids (and some adults), like: No wet swimsuits on the furniture, wash your hands after you eat, don't be a dummy and eat your popsicle on the couch, and be careful with that blackcherry Mike's hard lemonade, Uncle Rippy. Still even with my warnings, spills and stains do happen. We had our first run in with some tiny chocolate hands the first weekend we had the new sofa. I started my stain removal journey with dish soap and water (recommended by Kim of Yellow Brick Home who has put samples of the Gaba pearl white fabric through the wringer). The dish soap and water combo brought those chocolate fingerprints nearly all the way out. I had some oxiclean max force on hand. It was intended for a pre-treater for laundry stains, but a light application and water-dab-rinse it did the trick! Even better, after a week away we returned back to the cabin and there were no signs of chocolate and no detergent rings (oooh I hate the rings). I checked back with Kim to see if she had any other cleaning recommendations after a year living with her Gaba sectional (and a cute toddler), and she said she stands by her method of cleaning almost any stain with dish soap, water and a microfiber cloth, but for those really bad stains try Folex. I figure in a worst case situation – the seat covers are removable (and reversible) and I could bring them to a dry cleaner to be treated. What about the cat? The fabric is tight woven, which should defend against my cat's claws (I find nail trimming helps a lot too). And if white's not for you, the Gaba sofa comes in more neutral colorways than just this light Pearl, there is also a medium toned neutral Gull Gray (which is currently experiencing a rare discount due to Article's black friday event through 12/1) and a darker Petrel Gray with blue undertones too.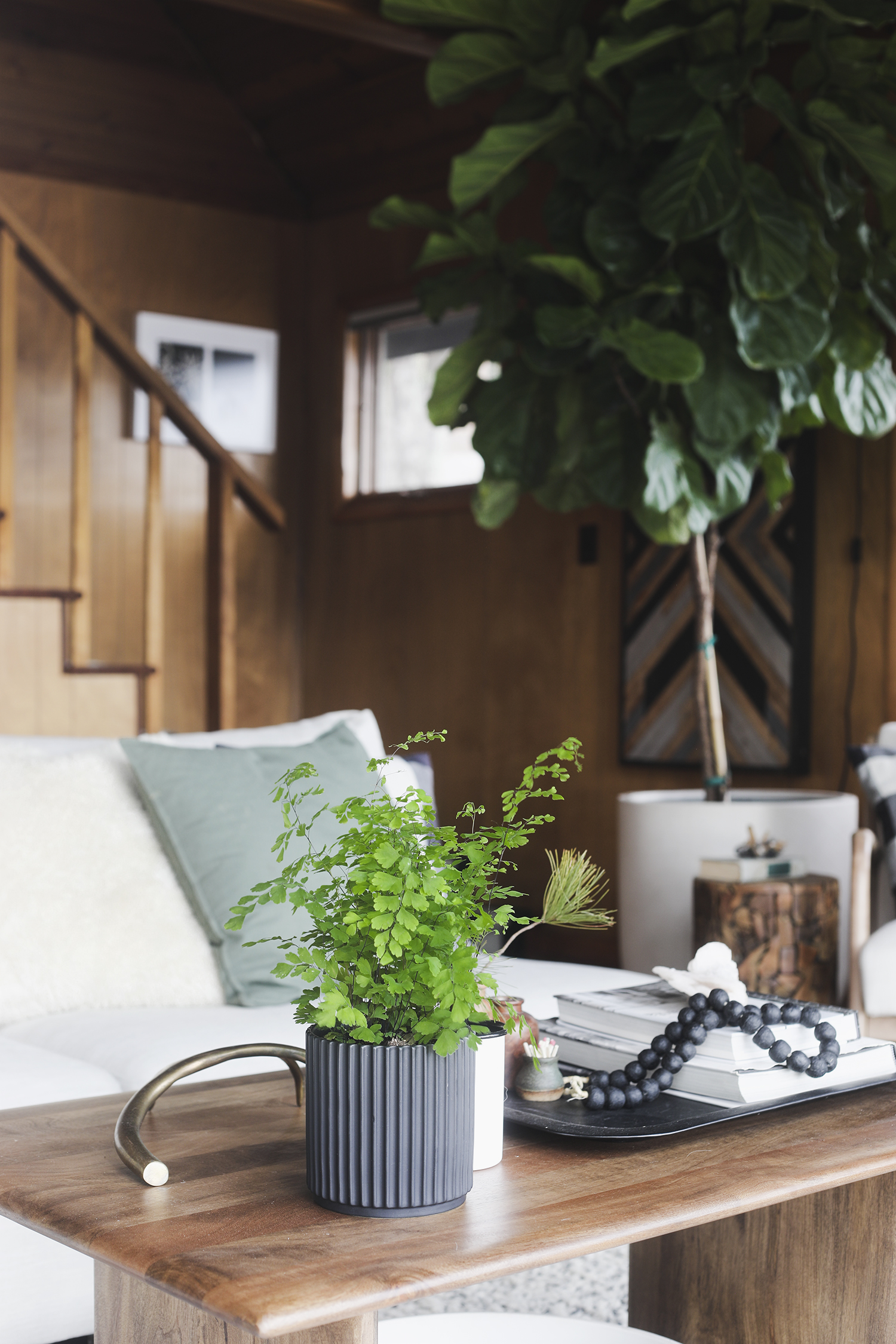 I know how I am about decor, and I especially know that when it comes to furniture I'm always changing stuff around. I've begun to see modular furniture as a furniture investment because of its ability to be repurposed and reimagined in a space. The Gaba sofa comes in a 5 configurations or you can design your own – which is what I did in our space. This sofa is made up of four pieces, a corner section and three chair pieces. All sections easily click together with alligator-clip-hardware located on the bottom of the sofa. This allows for lots of different future arrangements – I could even turn it into a basic sofa or a set of chairs down the road if we choose too. Wanna know why else I love modular furniture? Have you ever had a tight stairway that you wanted to get furniture up or down but large furniture options wouldn't fit? Believe me, I've cut holes in walls trying to get a small sectional into our basement. With modular furniture, more often than not you can have a sectional or large sofa in a basement or upstairs den without having to navigate a giant couch through tight turns and narrow hallways. Modular furniture comes in smaller sections compared to 1-piece sofas or sectionals and therefore, you might be able to make that u-shaped sectional a reality for your basement if you go modular!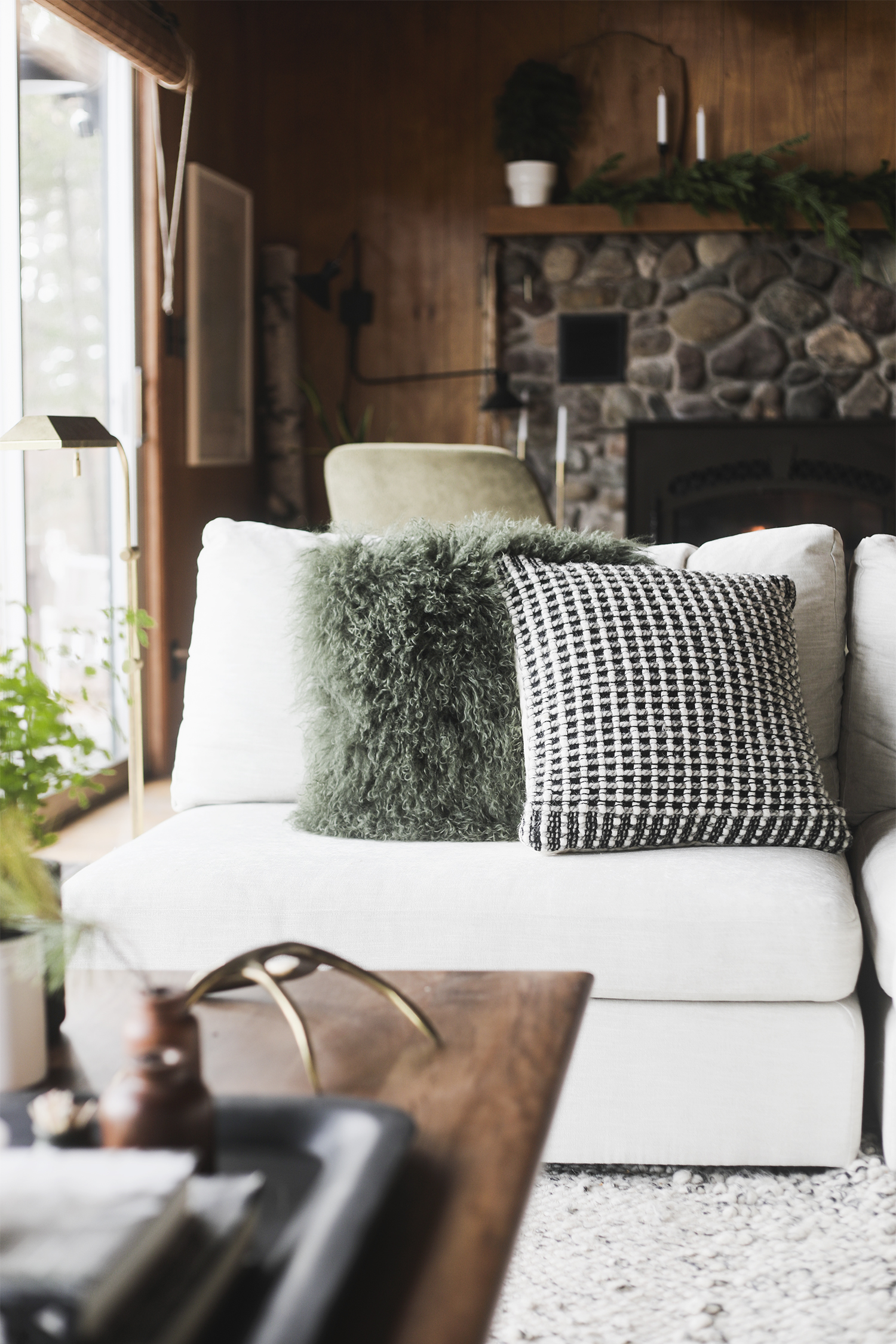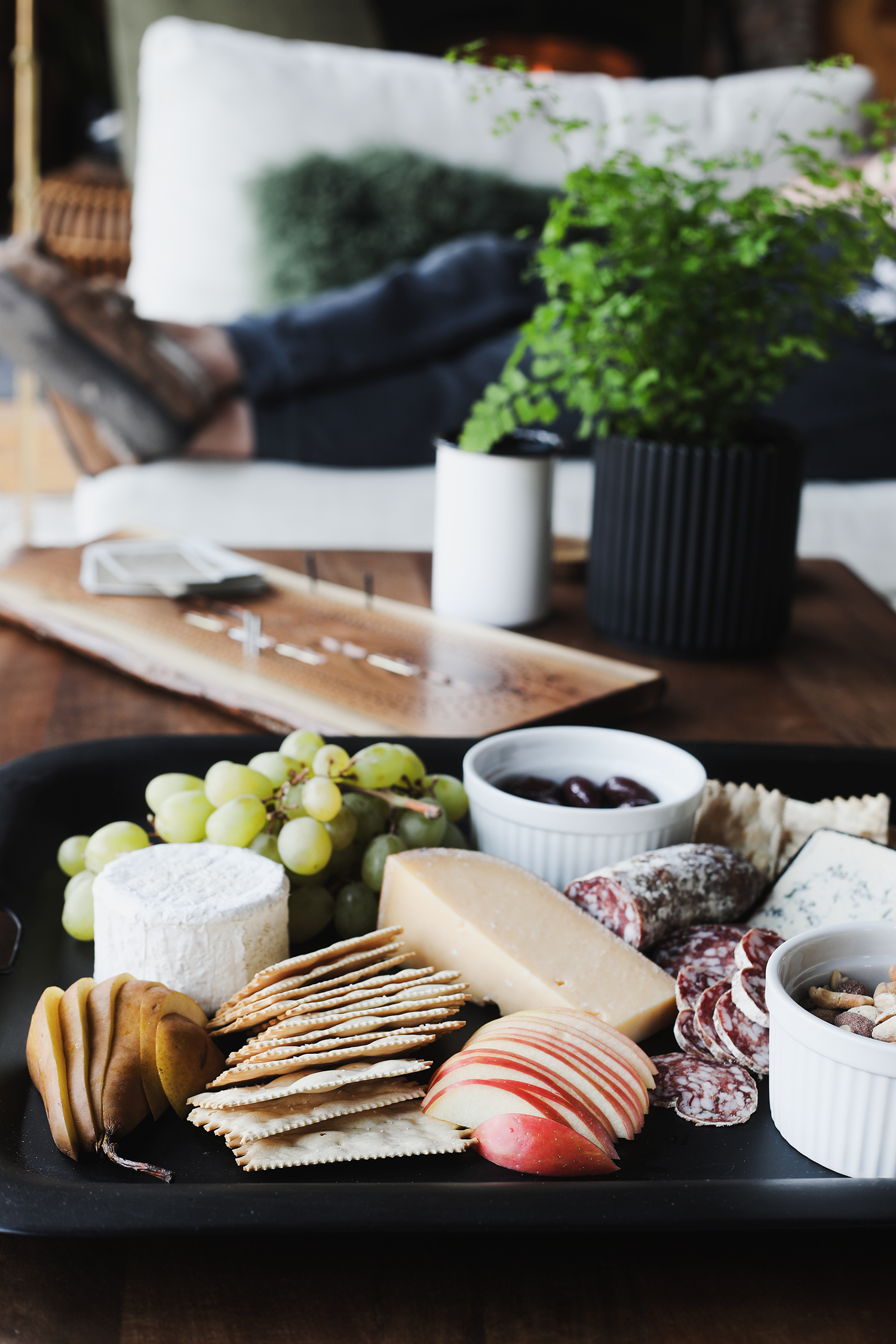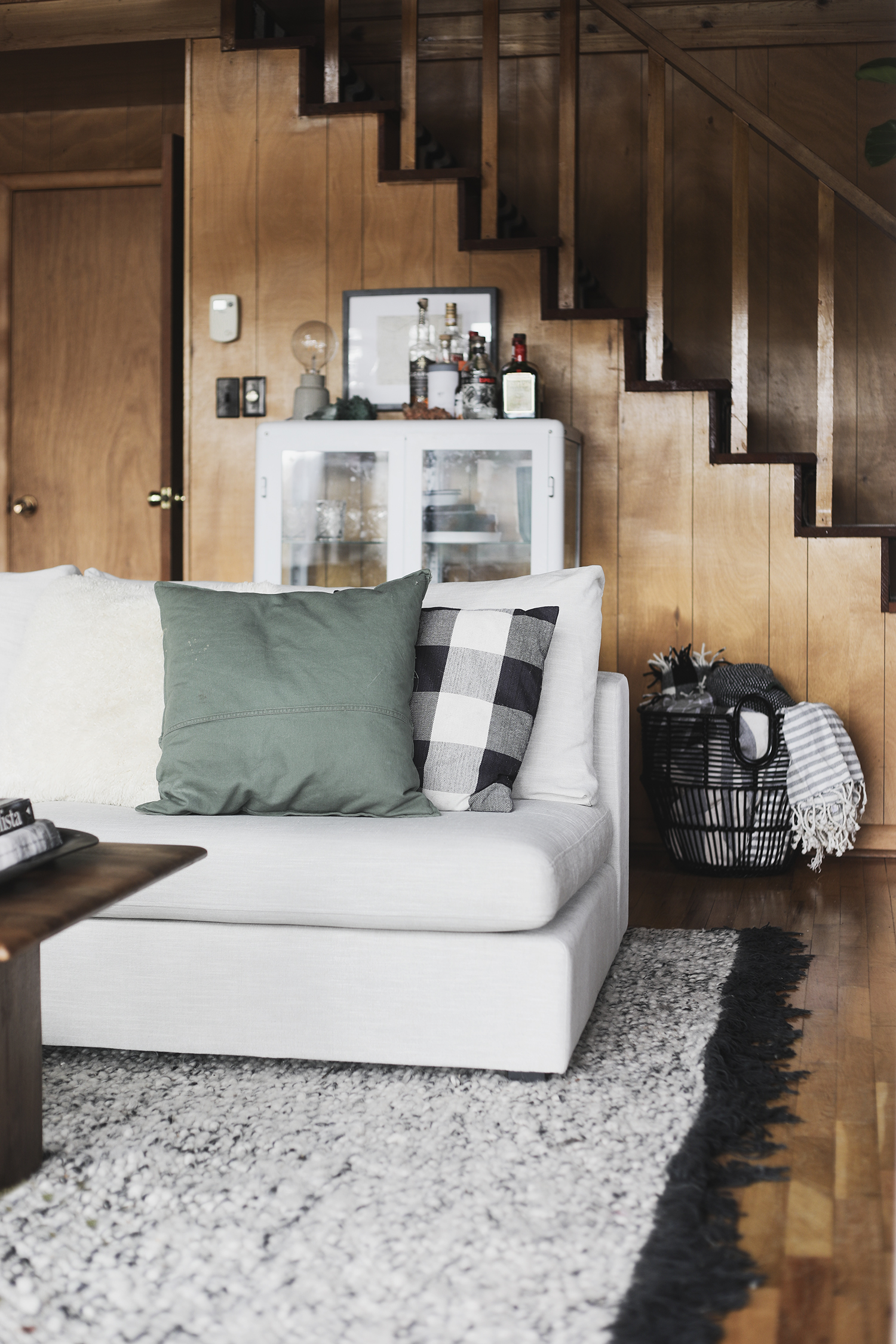 I'm really excited to have this new Gaba sofa at the cabin just in time for holiday entertaining. We find ourselves entertaining quite a lot at the cabin and unlike the summer months which we spend soaking up time in the outdoors, in the winter we all just lounge, eat, play games and enjoy the view of the frozen lake from the couch. Last weekend we had four adults and three kids all splayed out on this couch and it was heaven – we all had the best day doing absolutely nothing and watching the snow fall. I make sure to keep tons of throw blankets on hand for just this type of situation. I always keep a basket of throws within arms reach of the sofa and I love laying throws over the back of the sectional too. Having throws at the ready makes guests feel comfortable and invited to grab a blanket and get their cozy on. I've also learned that everyone loves a cribbage board and a meat and cheese spread and both make entertaining easy. If the couch isn't cutting the mustard through a few warm and soft pillows on the floor for to make extra casual seating. Before checking out at Article I snagged a super soft green sheepskin pillow (100% ethically sourced and made with non-toxic dye) and a cotton top-stitched yarn pillow in black and white. Everyone can snack, play endless hands of cribbage and feel welcomed and comfortable all weekend long.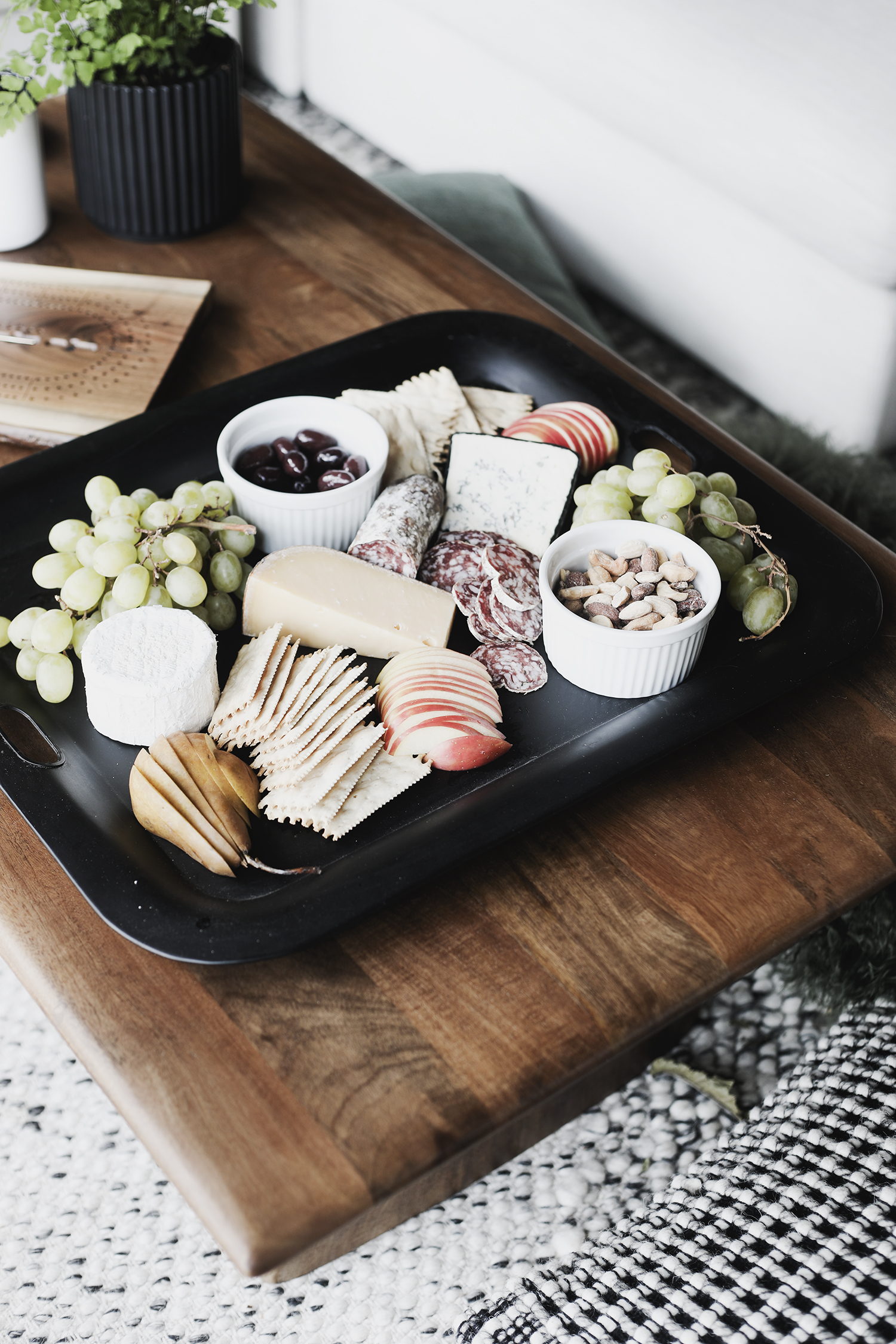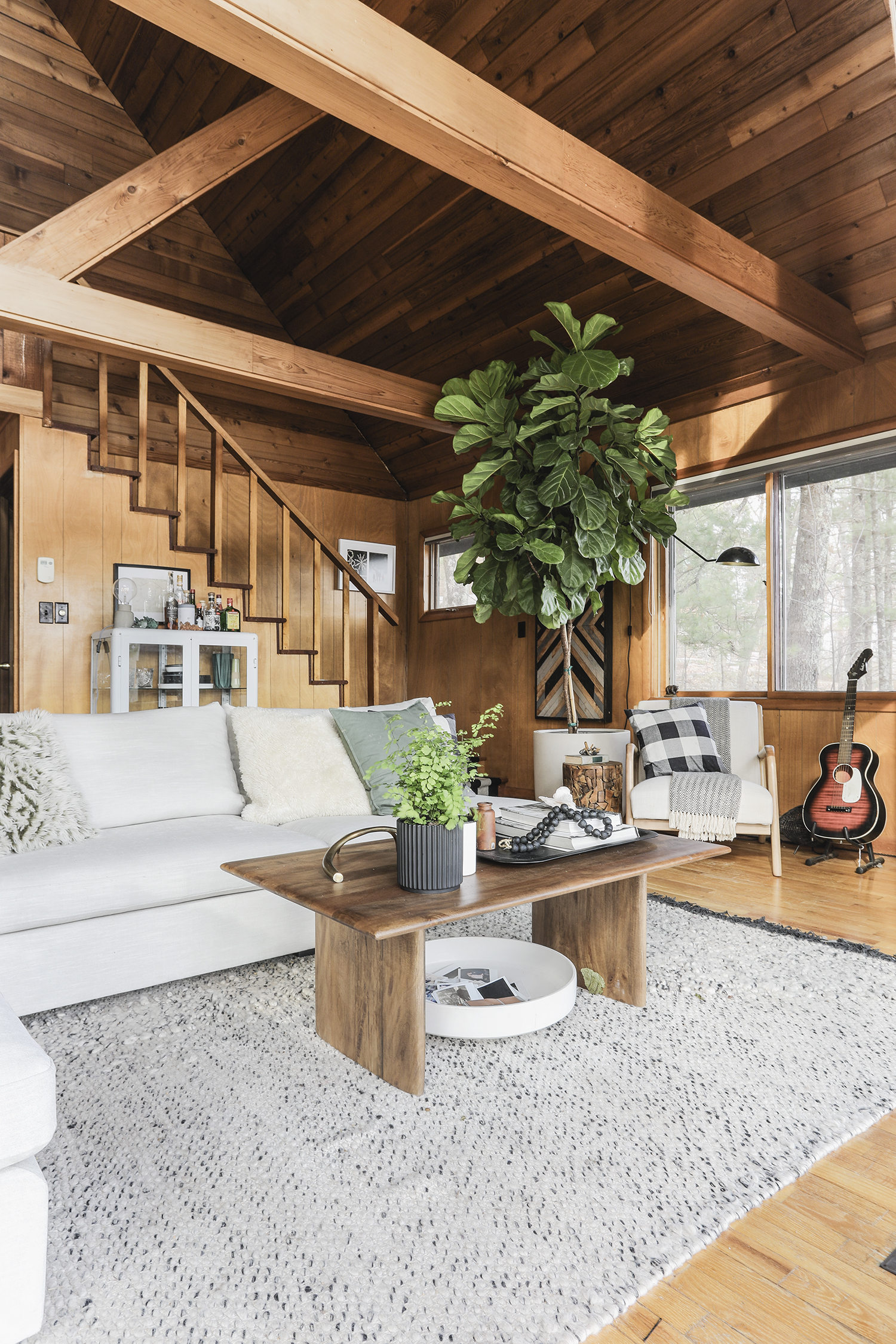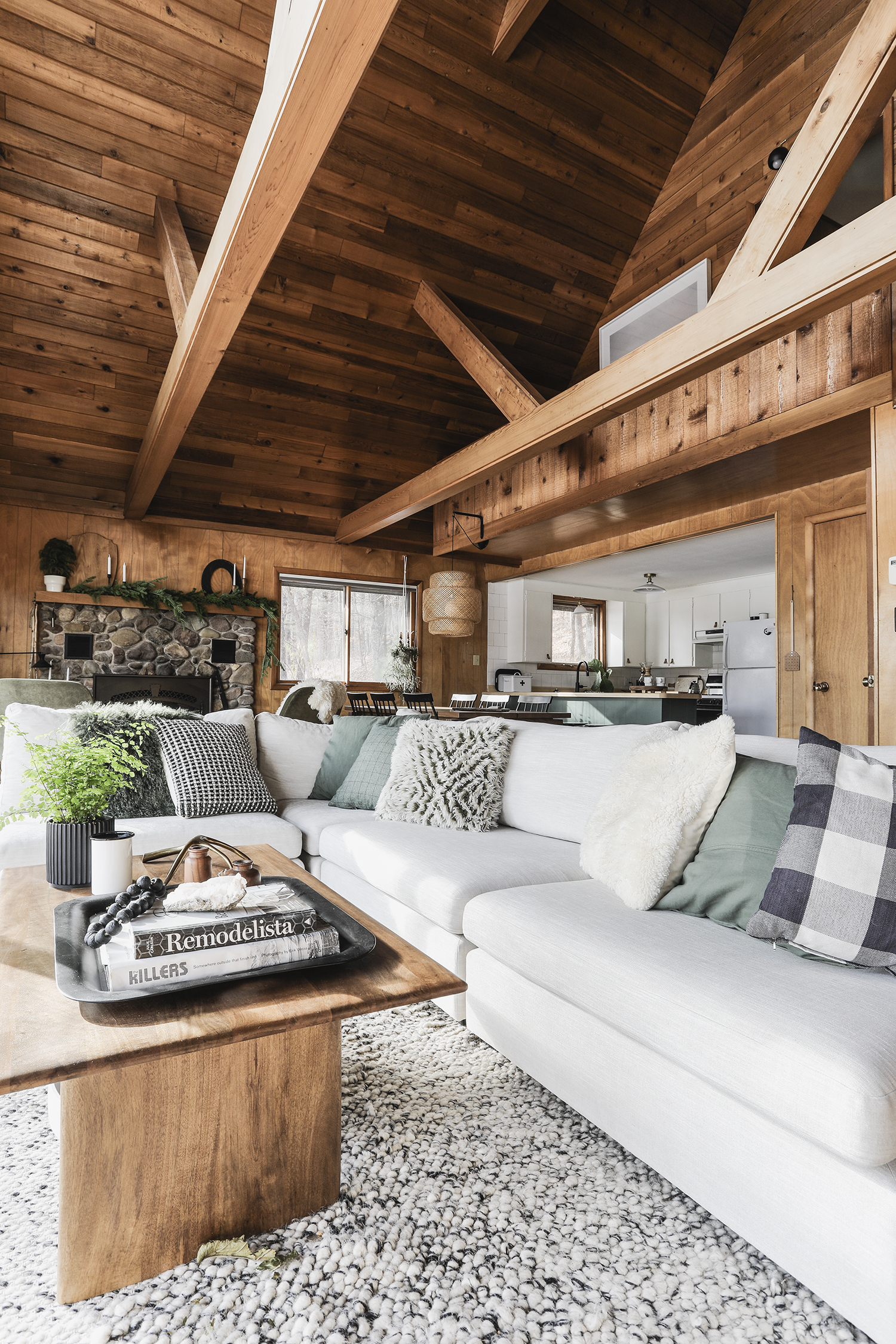 So Listen up! Article has already started their black friday sale and it continues through December 1st at midnight. Article doesn't have sales often, so if you've been eying something, now is the time! The Gaba sectional in gull grey is on sale! I love this Bard bench every time I see it, and you better believe this might be the time for it to come home with me. The Crescent black floorlamp is a great buy for anyone who has a space lacking overhead lighting (like we do at the cabin). Our Caya chairs (see our set here) are also on sale – we love them sooooo much, they are so sturdy, strong and comfortable, especially with a sheepskin pad – they'd look great inside too. Orders over $499 ship free!!!