Hello! Hope you guys are all well! We are doing great over here. I celebrated my birthday on Wednesday and last week we spent five whole days up at the cabin over Thanksgiving break. It has become a tradition to set up the tree the day after Thanksgiving for our fam, and we have really enjoyed having a tree at the cabin. We even discovered a way to keep the tree well watered without having to be there to water it. More on that in a minute. I keep all of our family ornaments at our Minneapolis home for when we decorate there and I've begun to start a small collection of ornaments for the cabin tree. I like to keep these ornaments more natural and minimal and I repeat elements with natural wood tones, soft textures, a black, white and neutral color palette, cotton, and faux fir.
I've had a large stash of handmade vintage cotton (and well starched) crocheted ornaments that I bought on etsy many moons ago. I love how they look on our cabin tree. They make up the bulk of our ornaments, and then we add a few new ones each year. This year, I purchase some cute wooden ornaments to add to the collection. The kids decorate the tree, which I love. My heart is happy seeing heavy branches after Gus places his ornaments on ONLY the lower two branches.
We put our tree in a tall narrow heavy planter. The planter has a plug for the drainage hole so we don't need to worry about leaks. We trim the bottom branches of the tree and then prop the tree up with floral foam. We can put three gallons of water in the pot and the tree can drink up at its leisure. It worked great last year, so fingers crossed for this year too.I also invested in some faux garland. There is no way I can keep garland fresh at the cabin for a month, so although its faux and plastic, I feel like its quality stuff and I'll hold on to it for a long time.
Below I'm sharing a few tips and tricks for creating this Minimal Rustic holiday look.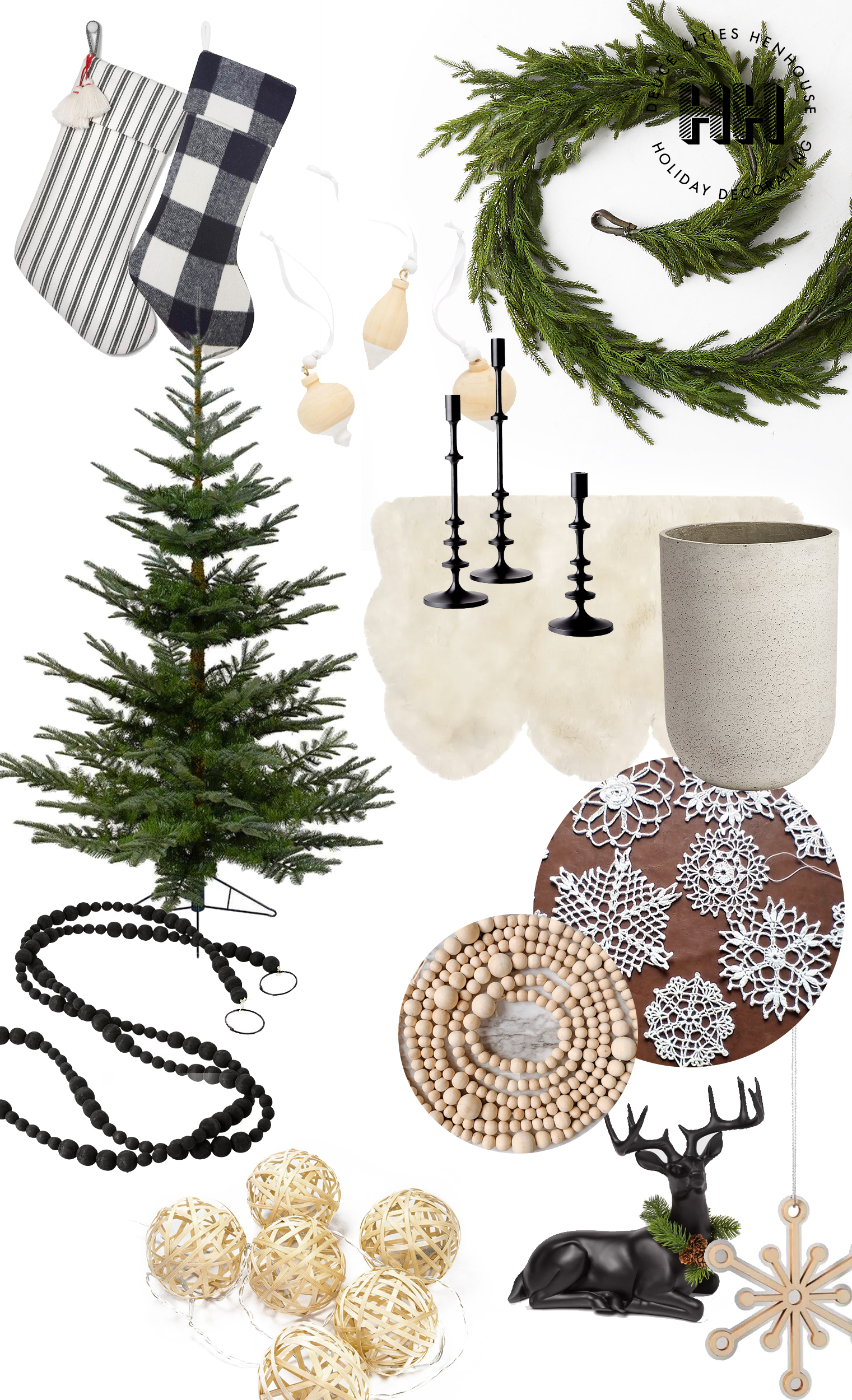 I couldn't find our exact stockings, but the
striped stocking
and
buffalo check stocking
have a similar look.
These are the wooden dipped finial ornaments that I picked up this year, so cute!
I picked up some of this faux garland this year, and I was so impressed by its weight and texture, it moved like real pine boughs. I think I might get some of this longer 25′ length garland to add to the collection, I always like swagging garland on our stairs at the cabin, but it doesn't last long.

For our first cabin Christmas we purchased a
faux tree
(our first ever)! I wanted it to have the look of a real natural tree, and I think we found a pretty good match. The thing was, it wasn't tall enough for the cabin so now we use it at home in our basement. It has a very similar look to this real tree we have at our cabin this year. I found it prelit and without lights. I love the
prelit tree
, I wish we would have gone for that when we had the chance.
I mentioned above that the large planter saves our but when it comes to watering, and it has a cool look. I have this planter in different sizes for my Fiddle Leaf Figs at home and at the cabin, and I love it!
Candle sticks are essential during the holidays. I love the look of these black sticks, but really you can't go wrong. I mix and match too, shapes and texture. On our mantle we have an assortment of wooden and black candlesticks, and brass our white sticks would look great too.
Sheepskin is so good for adding that cozy feel, in this photo we have a sheepskin rug on the floor in front of the fireplace, but I've also used it as a tree skirt in years passed.

I love
wooden bead garland
, and I'm so into it in
black
! I shared two options here because both are good no matter what, you can't go wrong.
Please consider going vintage for some of your ornaments, it's a great way to recycle! I linked to a lot of vintage crocheted snowflakes on etsy, you'd be amazed by how affordable they are. Here's a list of others too!
Lights are another way great way to add texture and dimension. We have paper lantern and snowflake lights on our tree (they don't sell them anymore), but these natural bamboo orbs would look so cool lit up.
Another wooden ornament I snatched up this year.
I love this black matte resin deer, I took the wreath off it it because it just looks better without it! It has a mate too!