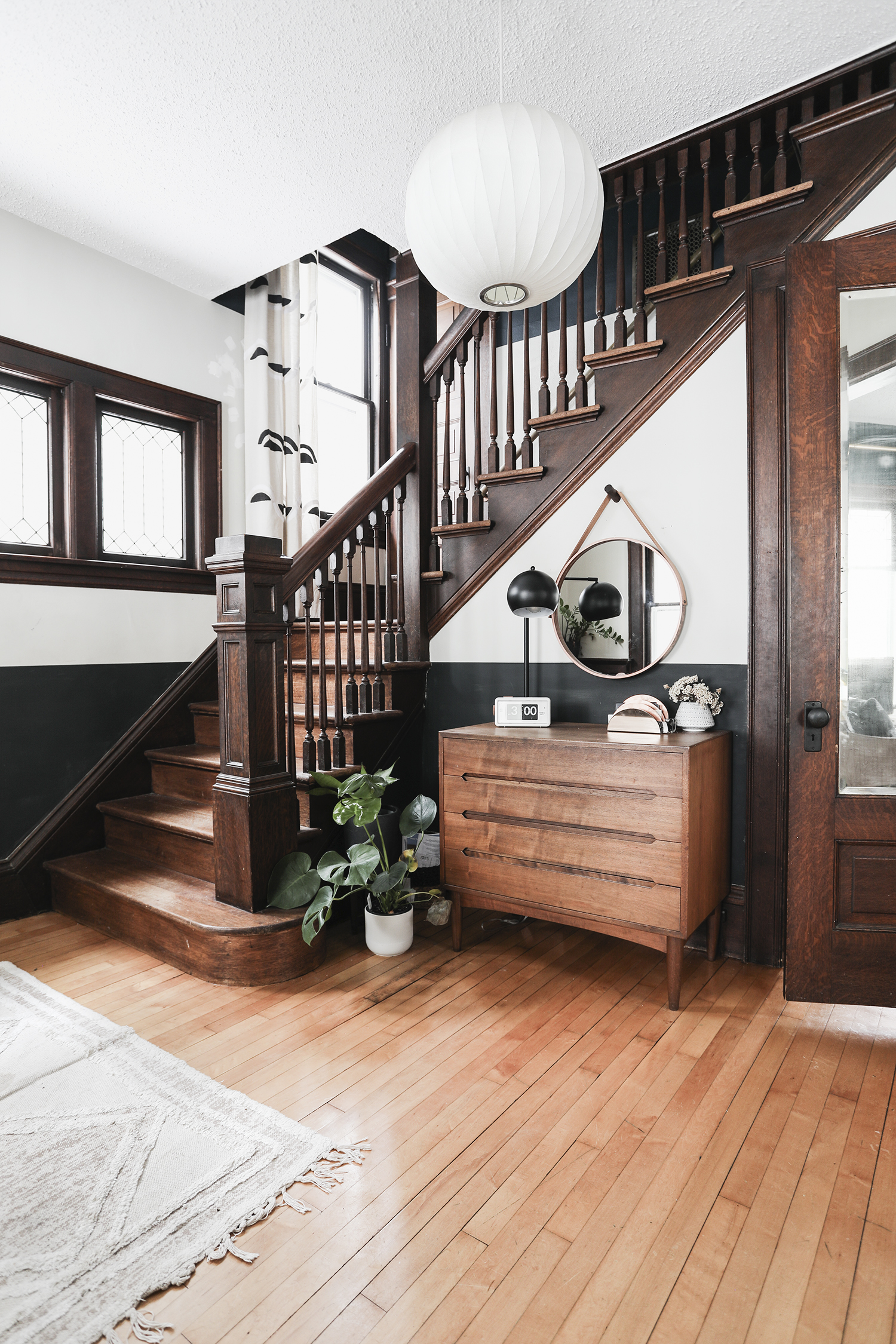 Holy buckets! This post has been a long time in the making, and I'm so glad it's time to finally share with you! If you've been following for awhile you know that I have been wrestling with my stairwell design, but not just wrestling in the winning sort-of-away, but the kind where you're on the losing side and you're pinned down in a choke hold on the verge of blacking out. It was almost a TKO, but I came back with a dropkick pile driver combo and was declared the winner.
Okay, okay, I'll chill with the wrestling metaphor. The problem is that even though the space is split between two floors the area itself is contiguous. If you're not sure what my fancy word means, basically it's all connected. If I start painting in the upstairs hallway, I can't stop until I continue down the stairs and reach the opening to our living room. However I decided to decorate it, it needed to be cohesive with the surrounding spaces. The work around for me was to color block, creating a black band in the lower section of the entryway, a light greige band dividing the upper part of the entry and lower part of the stairwell, and a dark blue band that started in the stairwell and continued to the upstairs hallway.
Decorating wasn't the hard part, creating cohesions with paint was.
Before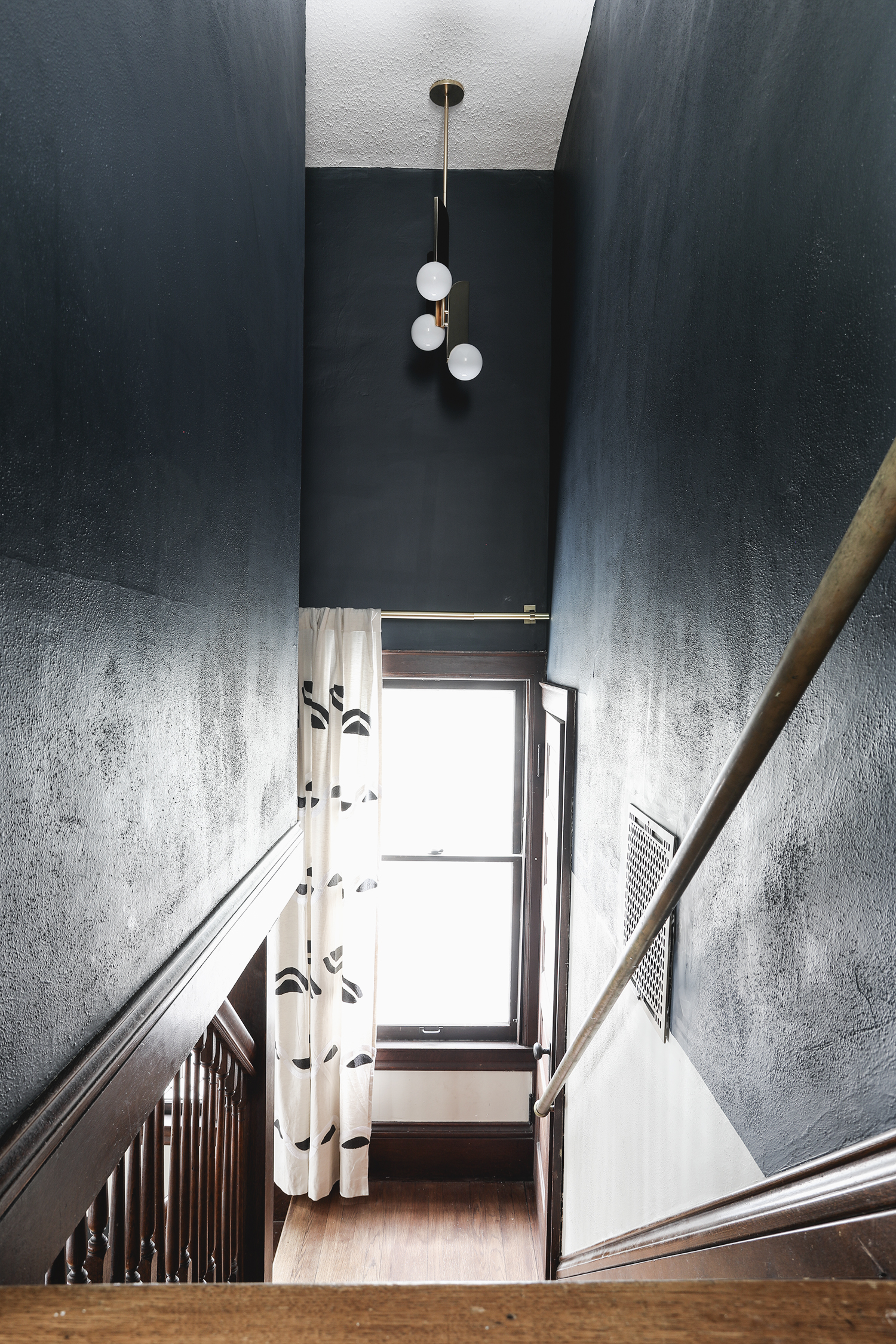 I wanted to play off the really cool brass railing original to the house. How great is it to have a beefy brass railing in your house? Some of the original outlet covers are also raw (aka unlaquered) brass as well. It was a no brainer to continue with brass accents in the hallway and stairwell. Our stairwell is dark, it was lit only by this window and it felt really cavernous. I wanted to have a chandelier installed that helped to balance out the empty upper half of the stairwell, plus it could be functional as well as pretty and light the space at night too, duh.
I had a pal come help me with the install of the ceiling fixture and run new wire for the electric box in the ceiling, there was no way I could have done it myself. I love the look of this chandelier, it's simple, minimal, sculptural and elegant. The bulbs themselves are all preinstalled with LED lights, so I don't need to worry about changing bulbs all the way up there… ever. FYI there were two more extension rods to this chandelier that I opted out, so you can configure the length to fit your space.
Before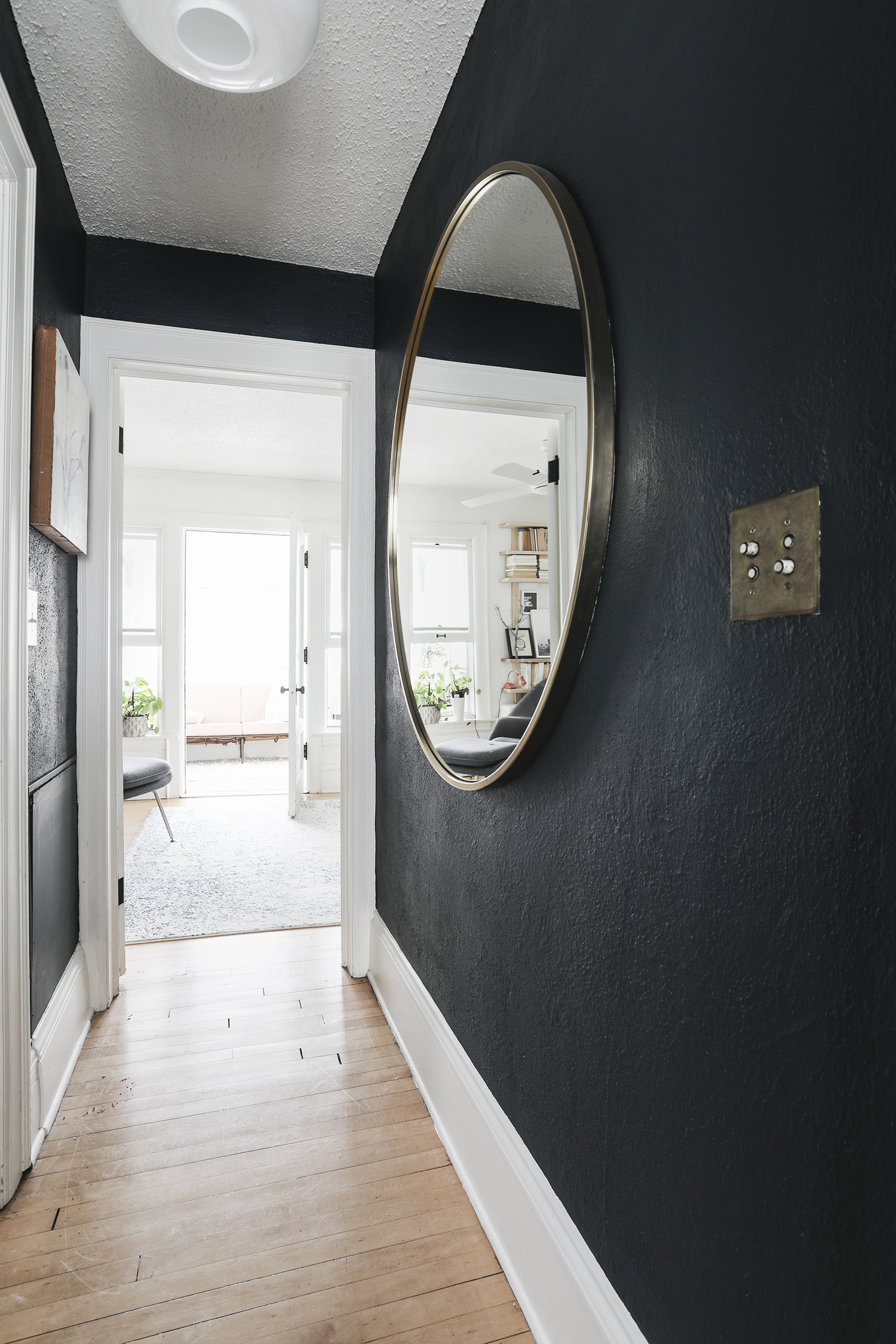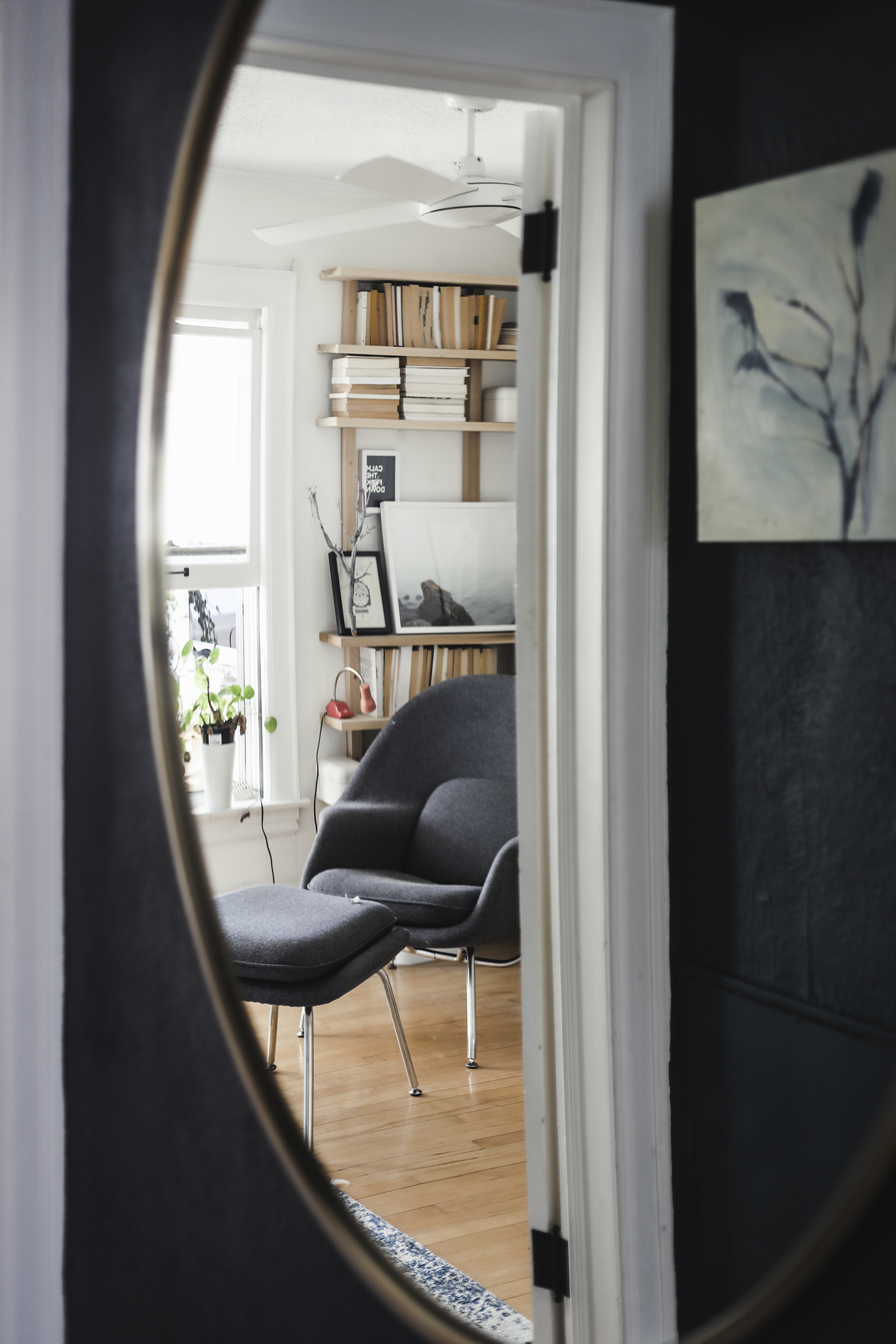 I was stumped for a long time about how to make the upstairs hallway a unique and interesting space. It's pretty narrow 36″, and although I thought about installing a very narrow shelf on the wall with storage below and a ledge for art above, it wouldn't have worked. I also consider wallpapering or adding paneling to add architectural interest, but there didn't seem to be away I could end it. I am not a gallery wall sort of person, so that was not an option. I think a diptych of simple black and white art could have been really cool too, but instead I opted for an oversized 48″ brass framed mirror! I wanted light to be reflected throughout the windowless space, and this was the best way to do it while making a statement because it's a HUGE ROUND MIRROR!
The hallway is painted Hague Blue by Farrow & Ball, a tone of blue that I have admired for years. I love the impact of the dark blue color in the hallway, it plays nice with the brass accents (I think they are BFFs actually) and it repeats a color (dark blue with warm undertones) that can be seen over and over again throughout our home. The hallway now feel likes a nice blanket, it's dark in a good way and each doorway leads to a bright white walled room with blue accents. The mirror helps to reflect the rooms, and the entire space feels like it belongs together.
Also, please note: I'm on a hunt for a runner for this hallway – everything is always a WIP, and no reveal is really final (lol).
Before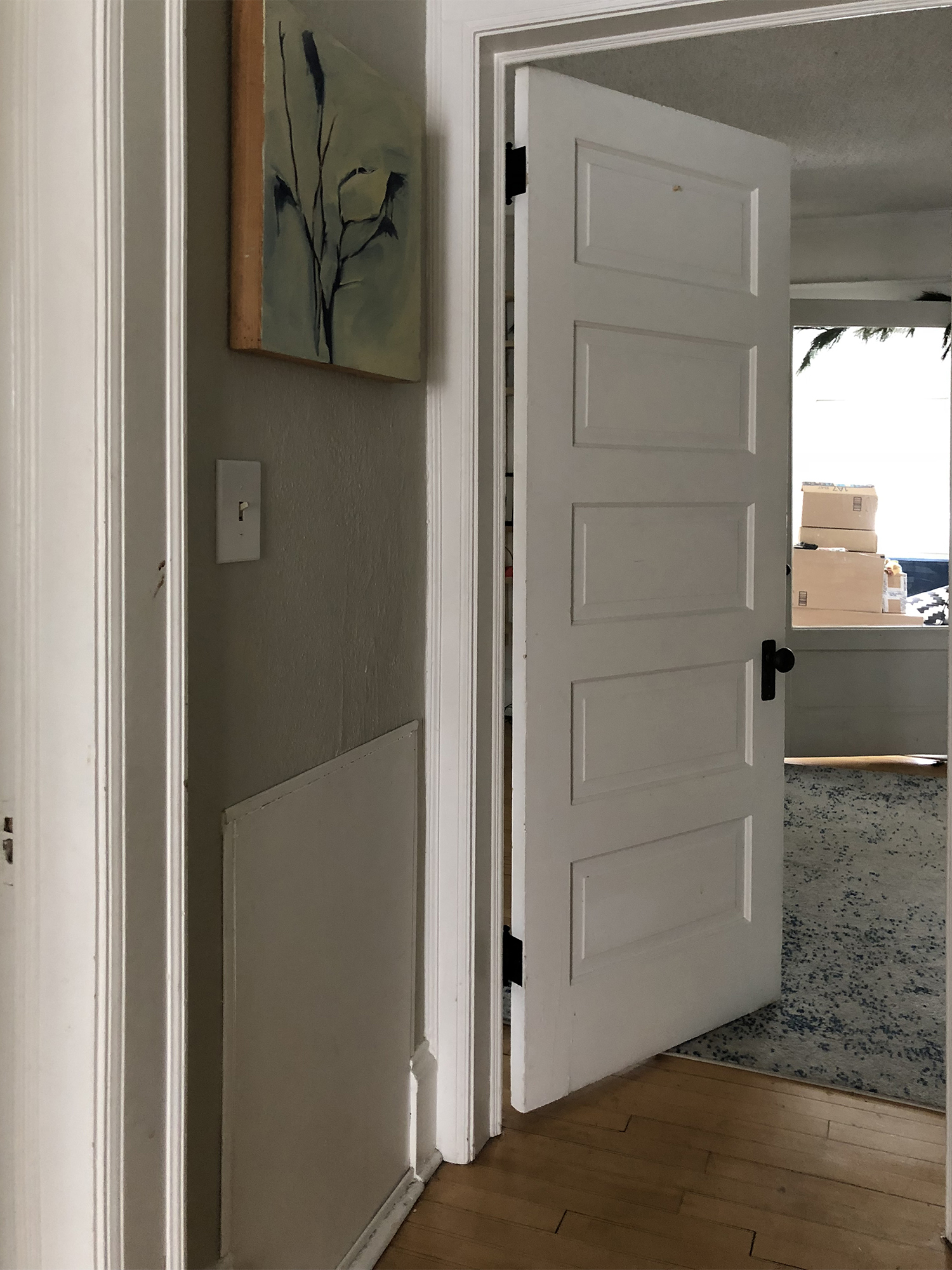 One of the aesthetic problems of the hallway and stairwell I wanted to address was plumbing access panels. This can often be found in old houses and usually is resolved in a less than eye pleasing way. Our bath tub access panel for instance was just a panel of chipboard tacked to the plaster. The baseboard had been removed in that area, and the whole thing was an eyesore. I was hoping to find extra baseboard inside one of the bedroom closets that I could use to patch in the space, but I came up empty handed. I headed to my local architectural salvage (bauer bros, if you're local) and found a piece of baseboard that closely resembled the rest of the 2nd floors. Do you guys know that trims off the turn of the century are like snowflakes, no two are the same and it is very hard to find an exact match. Close-enough is pretty good if you ever find yourself on the hunt. I reused the access panel that was previously there but attached the baseboard to the bottom of it. Now the panel blends in a lot more, dontcha think?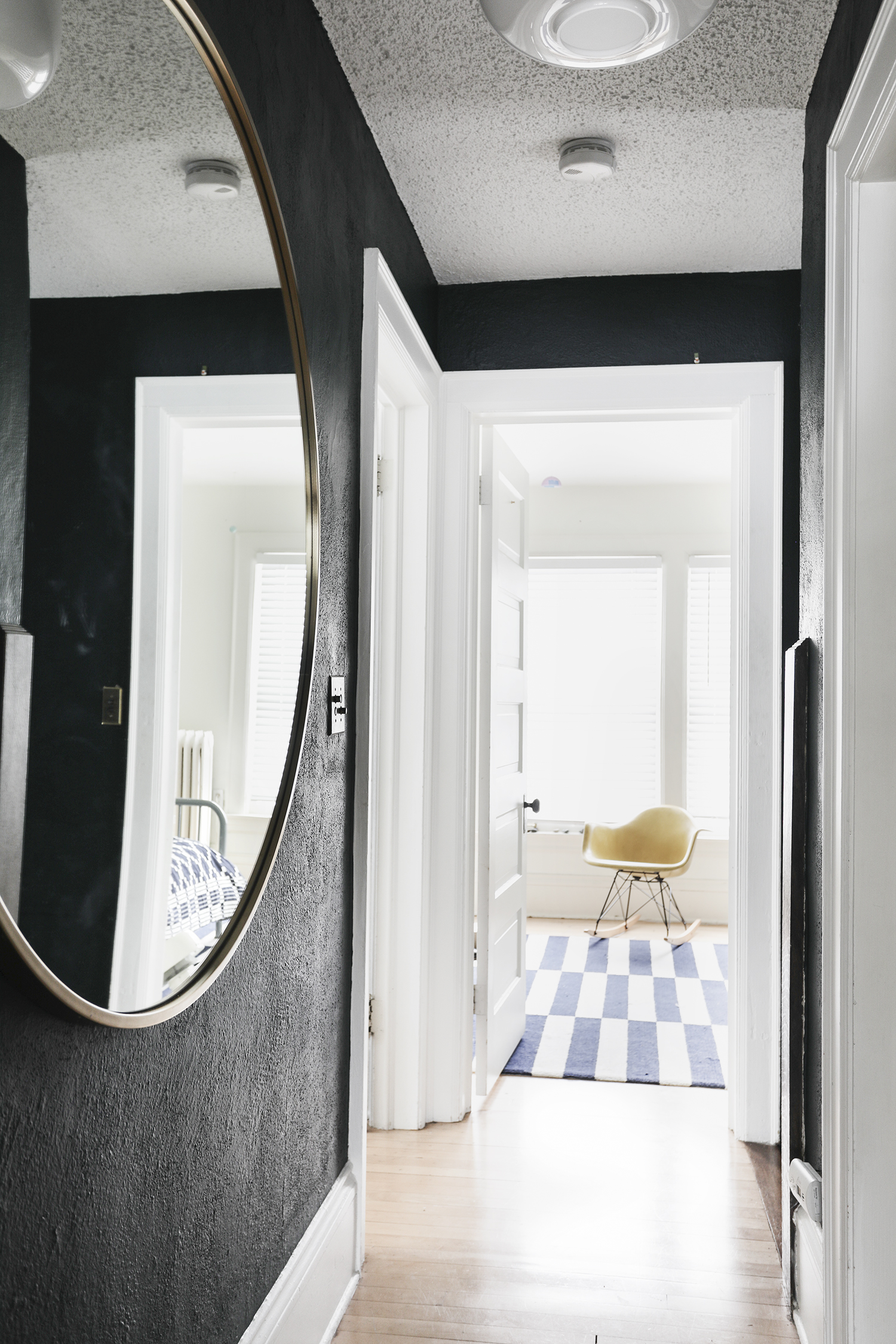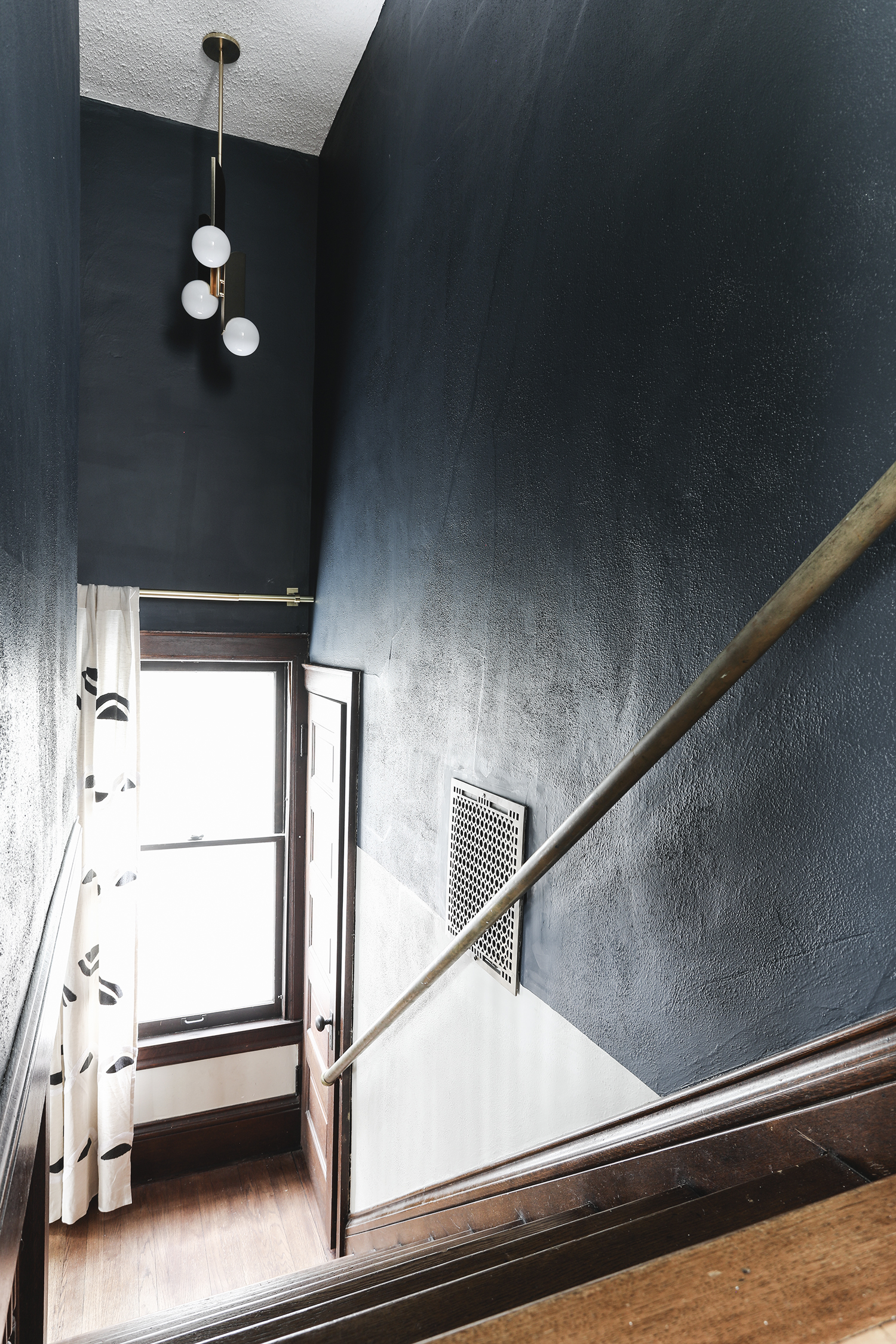 Before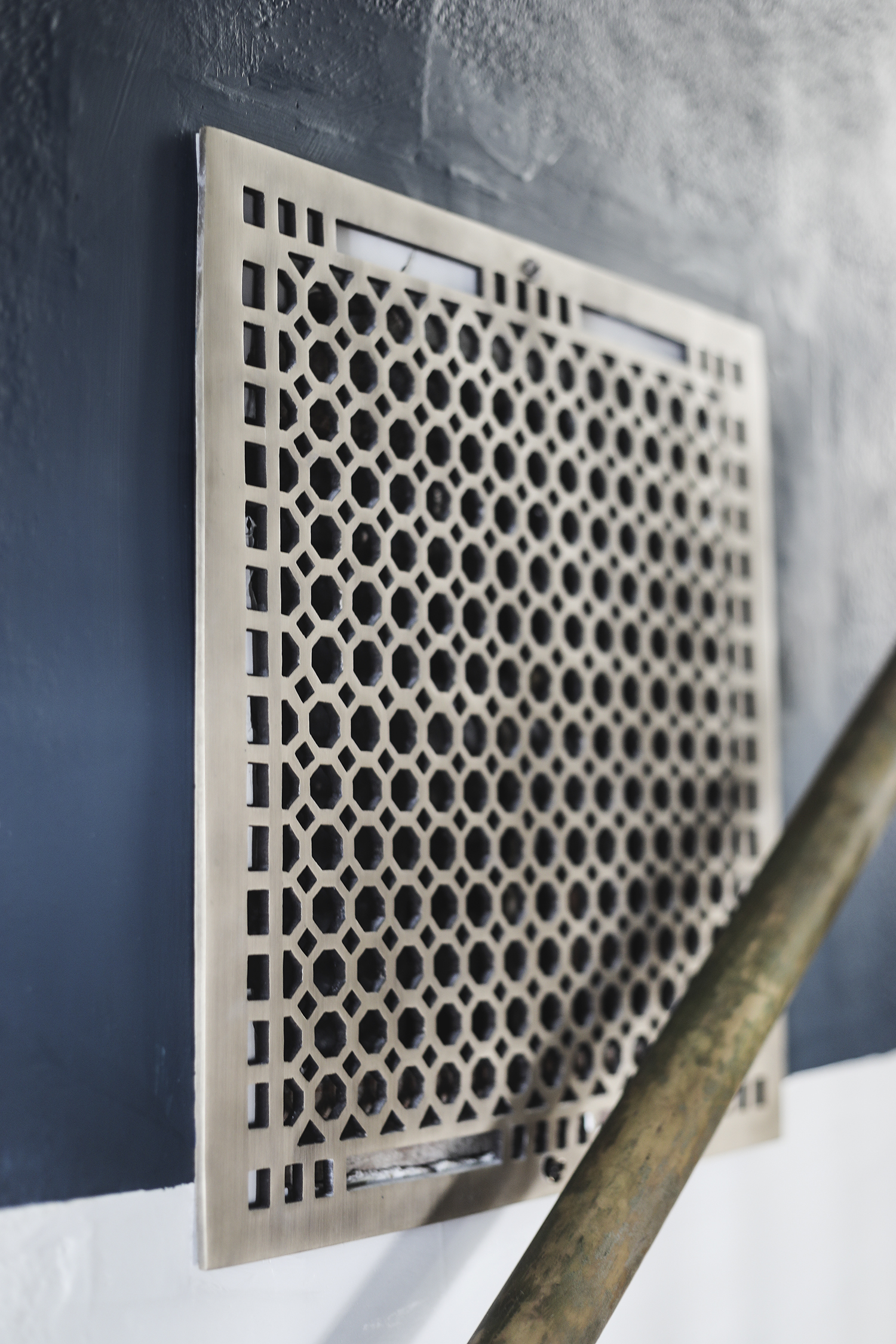 The other access panel was located in the stair well, and was also very ugly and dumb looking. It too was a piece of 1/4″ chipboard framed in with some very basic trim, all finished with a nice coat of slopped on paint. This panel allowed access to the main plumbing stack. Since this panel can be seen from our entryway I decided to class it up. I purchased a oversized bronze vent cover, removed the vent louvers and attached it to the wall creating a much prettier access panel.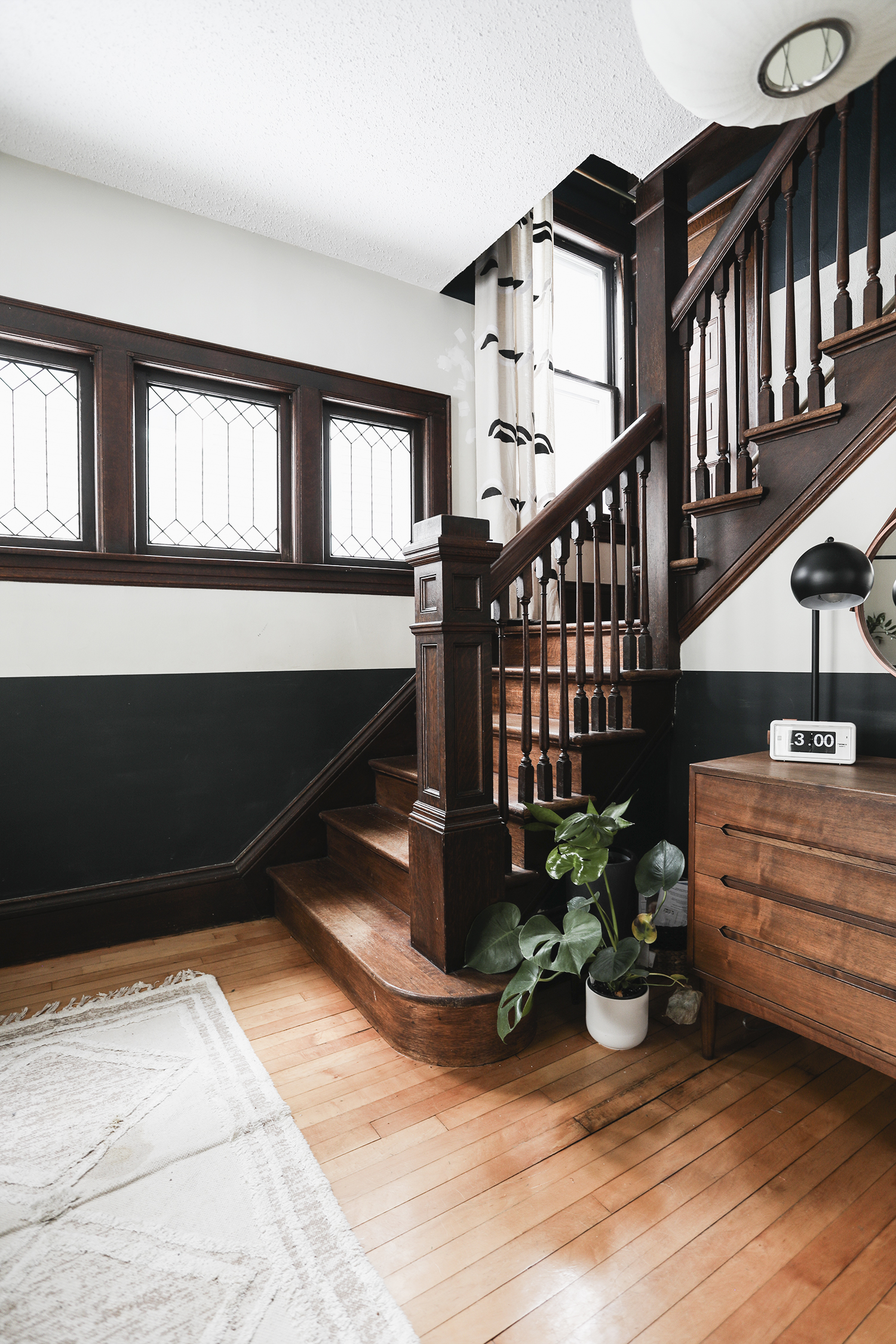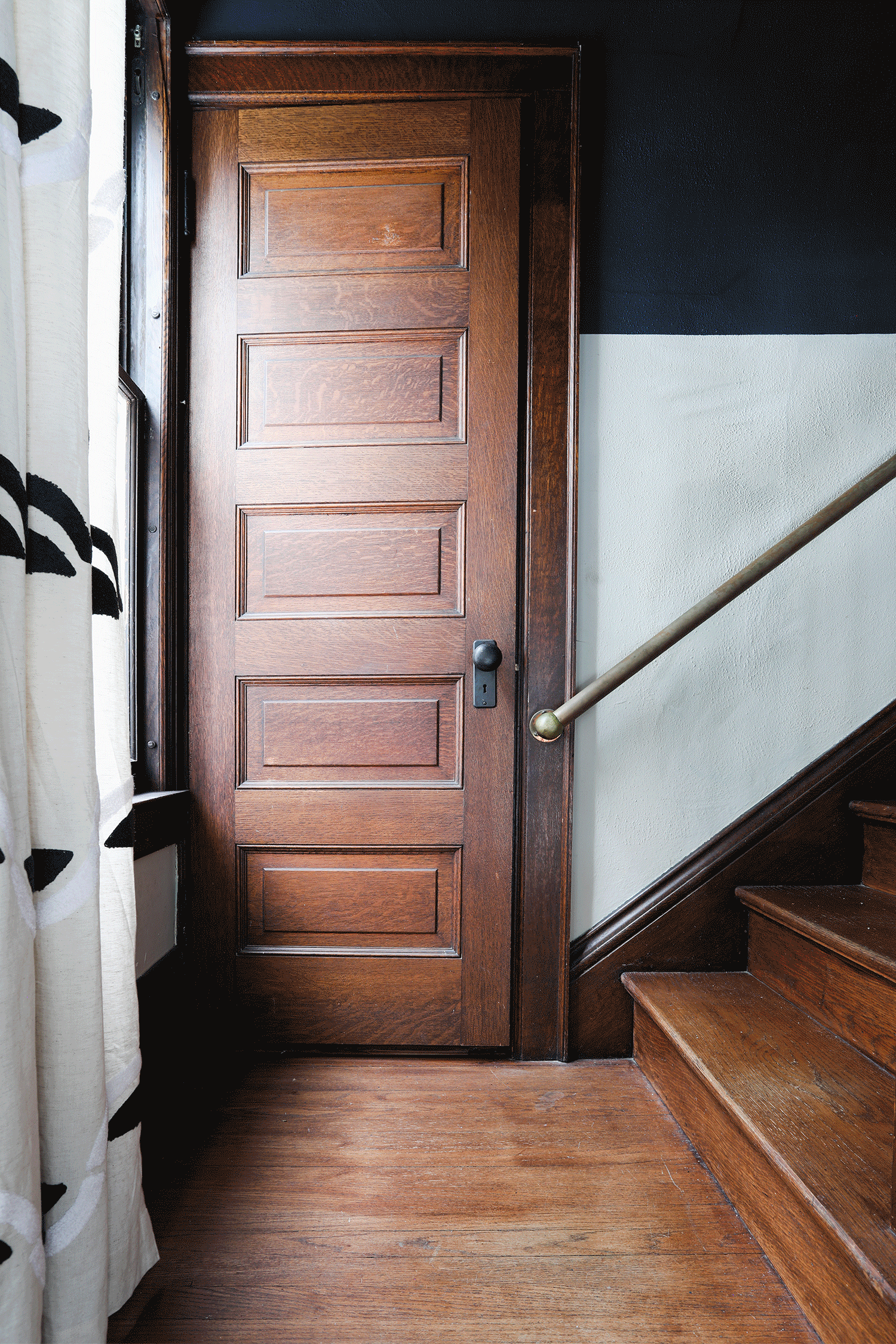 I always get asked about the door on the landing. What is it? Where does it lead to? It used to be a narrow back staircase to the kitchen. This is super common in houses of this generation. Some of my pals in the area still have homes with the back stairs still intact and kids love running up and down them. Prior to our home ownership the back staircase was removed, however they left the door and converted the small amount of space left into a closet. We use it as a game closet ala the Royal Tennenbaums, however no one plays games anymore unless they are on a screen.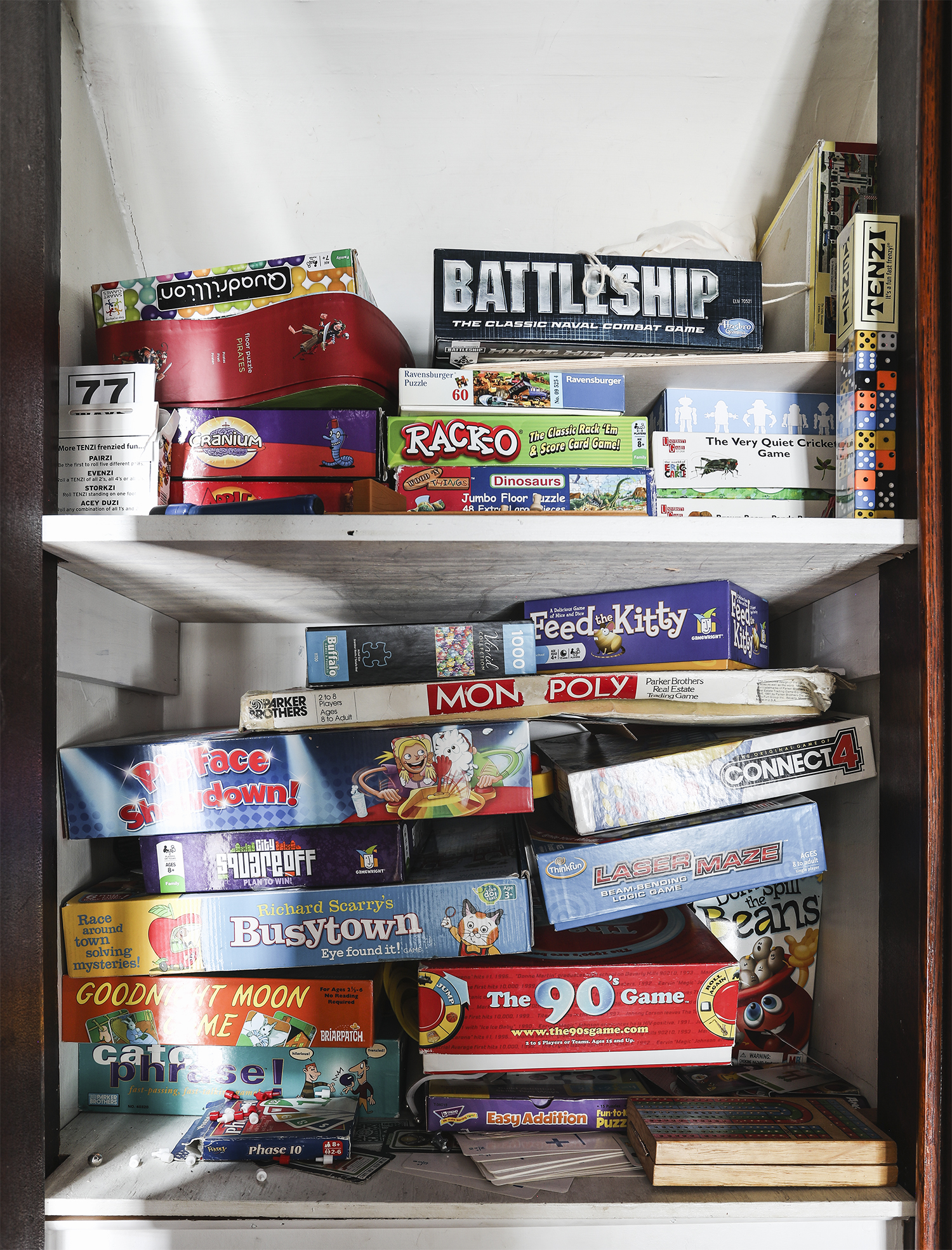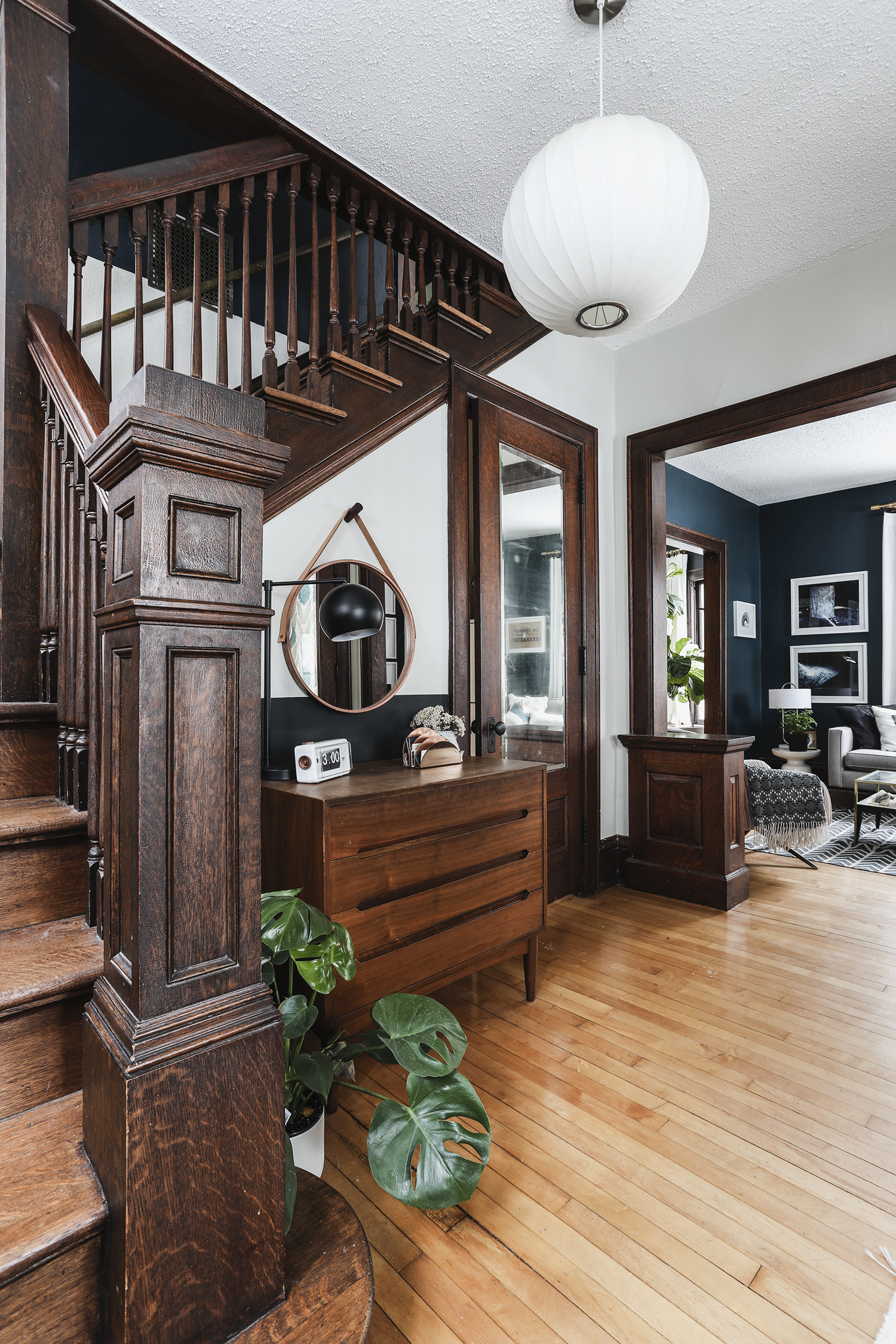 I stuck this photo in here because I wanted to elaborate where the entryway and stairwell fit into the rest of our home. Through the mirrored door is stair access to our basement and side door, as well as our kitchen. Our living room is nearly part of the entry way, except it's not. The entry way is big though, almost the same size as our living room, but way less useable layout because of all the doors, the stairs, and the radiator.
I wanted to make this space a landing spot for ourselves as well as guests. Although for most of our comings and goings we use the mudroom entrance to our home, we often leave through the front door. I wanted to create a place to drop the mail, and check your look before heading out.
That dresser also doubles as our junk drawers. Everyone needs a few.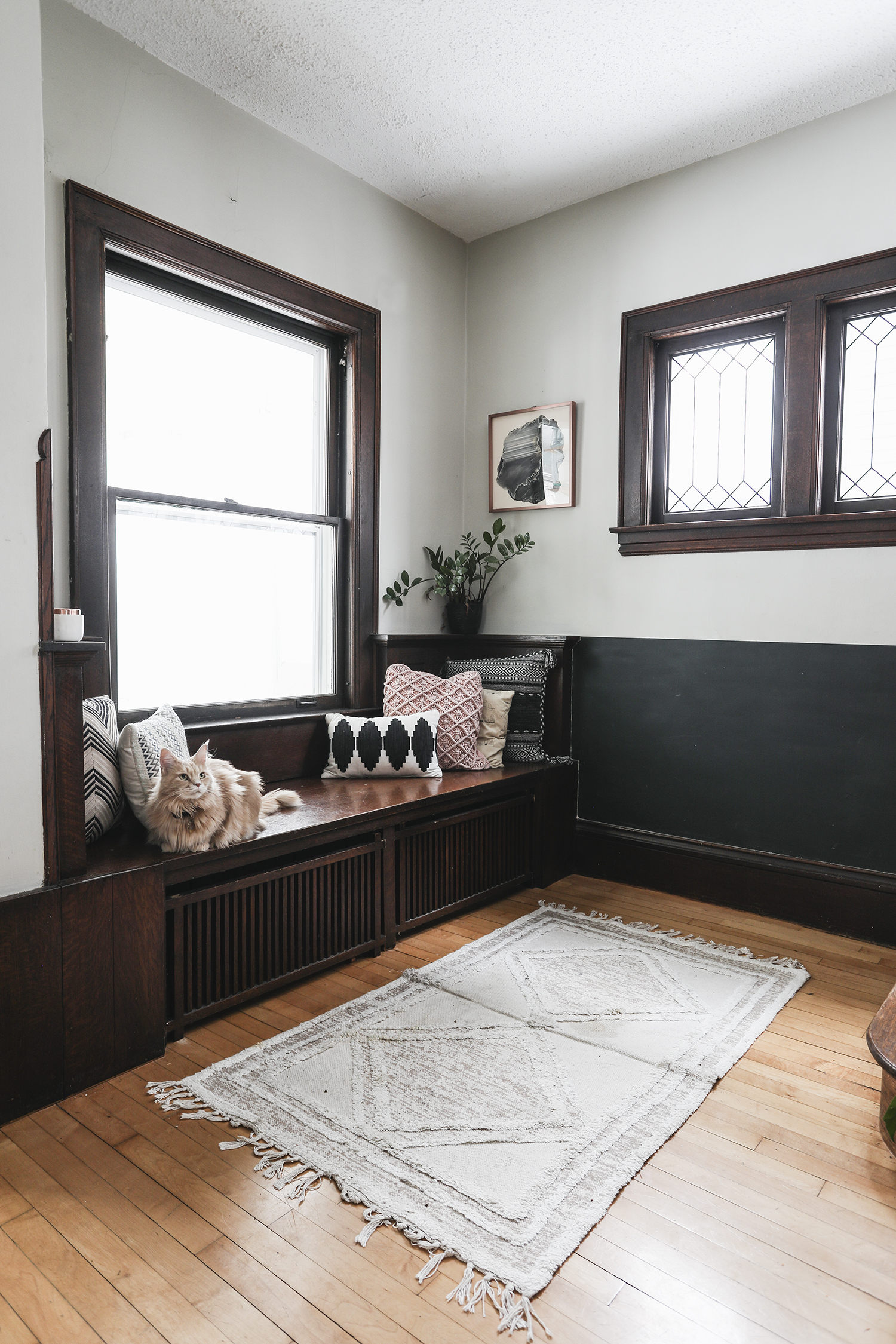 I can not take credit for any radiator benches in our house. They were built the same time as the house was. They are super cool and add a lot of seating to our home. We also have radiator benches in the living and dining room too, but this is the only one with built up panels along the sides and back.
I have considered adding a custom cushion to this space, but I think I need to wait until our old grandma cat takes her final cat nap, as she is a big puker, and this bench is one of her favorite spots to vom. Pictured here is Birdie, our young cat who likes boat rides. I also often consider curtains as we have them in all other windows on our main floor, but I don't know that they would look good with pillows stacked up against them.
There are coat hooks on the inner left wall, so guests can hang there jackets, and this rug cleans up really well and makes a good place for folks to kick of their boots.

I made that mirror very inexpensively a few years back. You can find more of the info on that in this post. I also included links to other strap mirrors you can buy right now in the shop the post section a few paragraphs back.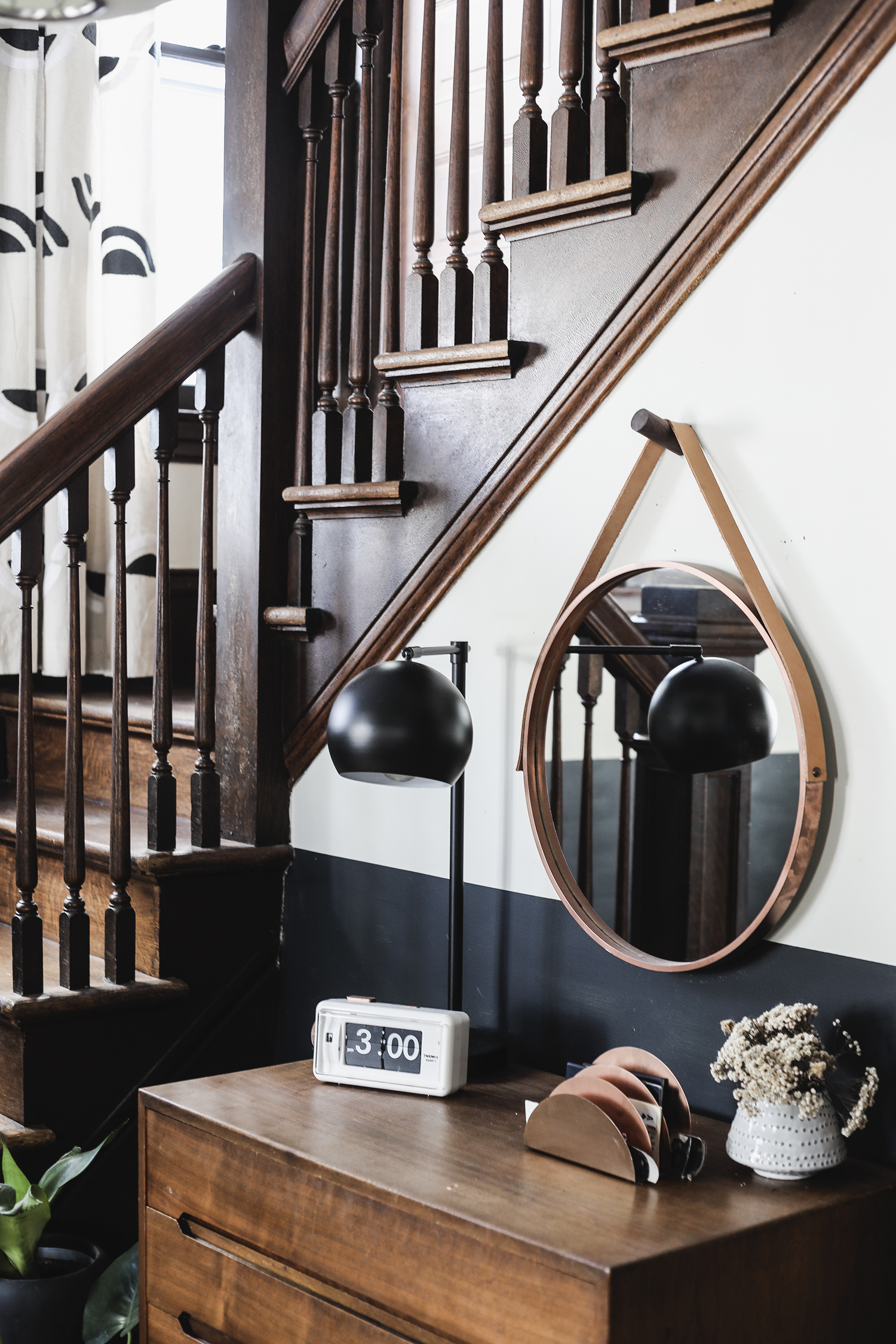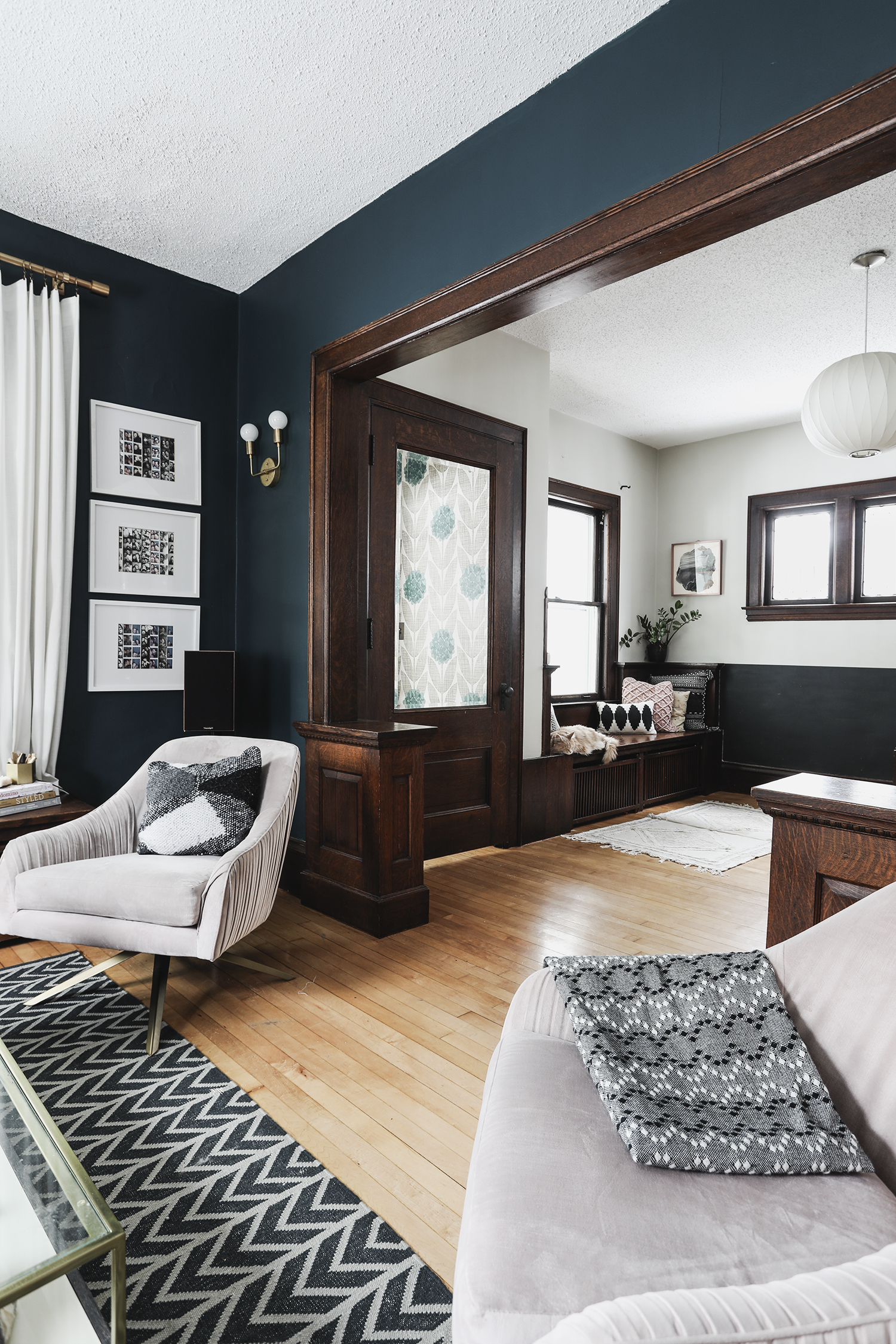 I think this is my favorite view in the whole house. You can see how all the different areas really work together and share repeated design elements, yet they are all different and have their own vibe, function and purpose.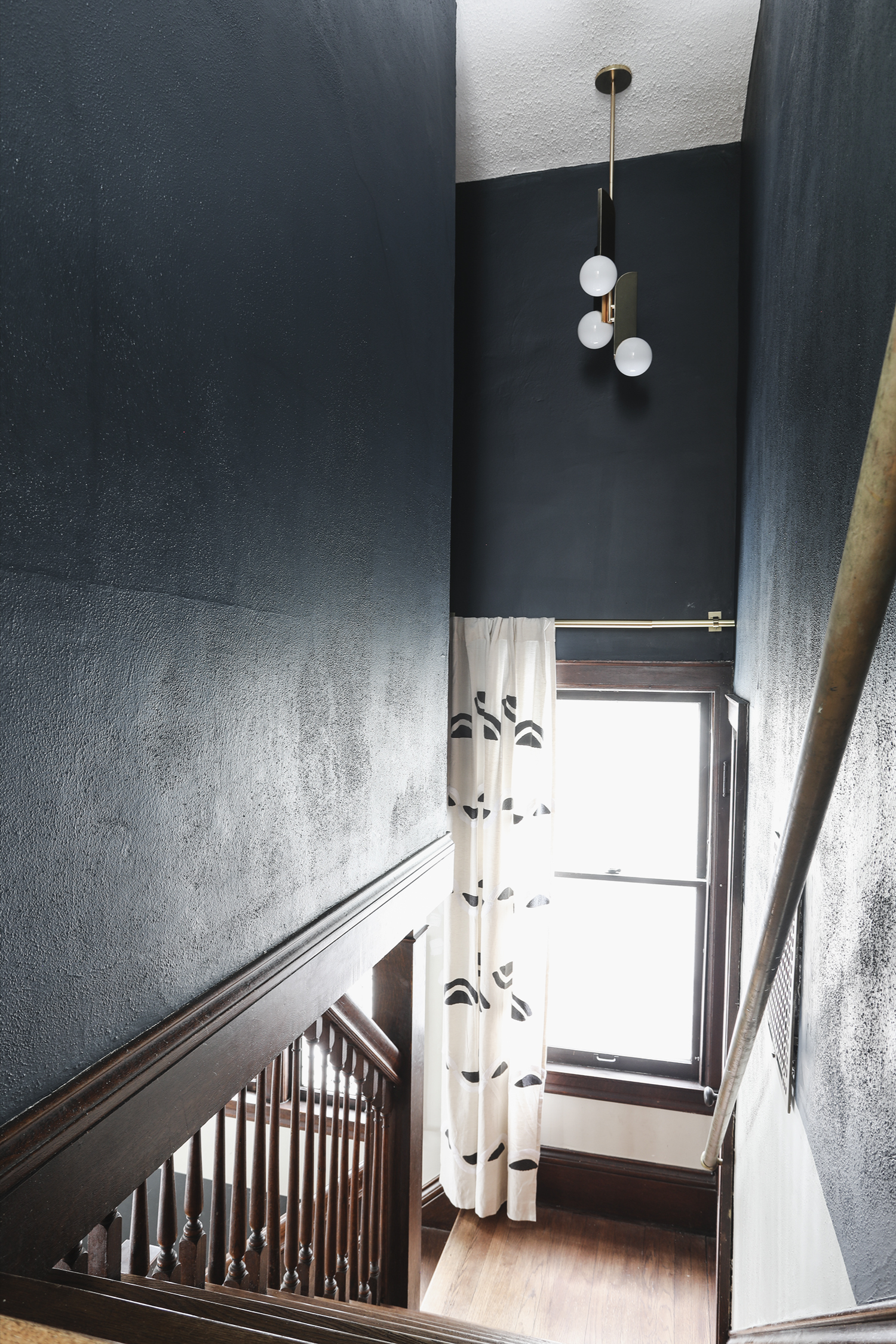 More Entry, Stairs and Hallway Posts