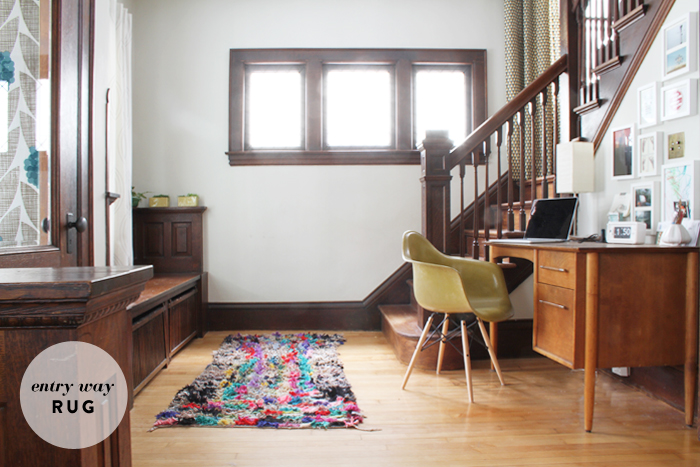 So this "spring thing" isn't happening here in Minnesota, it's sad to say at the very least. Today we are seeing our first sunny day in over a week, and the temp is still hovering around 40º. The weather reports say that maybe by the end of next week we might see 50º, still 10º less than the average temp for this time of year. Oh and everything is still covered in snow, something I don't think I've ever seen happen in MN in April.
I don't doubt the crumby weather is what inspired me to purchase this rug from Marrakech, Morocco about 2 weeks ago. I saw it on ebay during one of my internet window shopping binges (aka pretend shopping). I wasn't looking for it, but once I spotted it I knew it would be perfect for the entry way. I am desperate for color and sunlight and green right now, and there was something about this rug that satisfied a small bit of my insatiable spring yearning.
I had been on the lookout for a long and narrow rug for the entry way for awhile. I considered getting something blue, and then I considered getting something patterned. Nothing was feeling right. I was also waiting to see how the new shag rug looked in the living room and my first priority in entry way rug shopping was to find something to compliment it. Within days of first seeing this Boucherouite rug on ebay, Victoria posted about her new "rag rugs" and that is all it took to push me over the edge. I was sold and in love.
Boucherouite rugs are made by Berbere women with pieces of mostly cotton scrap, but also can include wool and nylon scraps too thus resulting in the tag "rag rug". Each is unique and most are vibrant and colorful. They are created without predetermined patterns resulting in abstract movements and amazingly wonderful patterns.
There are so many beautiful Boucherouite rugs out there, seriously, tons of them. For me, they were on the more expensive side of what I wanted to spend, but I was able to find my rug for a steal (just another reason it felt right). From what I saw during my research online; the price seems to depend on size, color, and pattern. The nicer, more expensive rugs have beautiful patterns and vibrant colors. Mine is probably lacking in the signuature Boucherouite pattern department, but it dosen't lack in color, and the size was perfect for my space.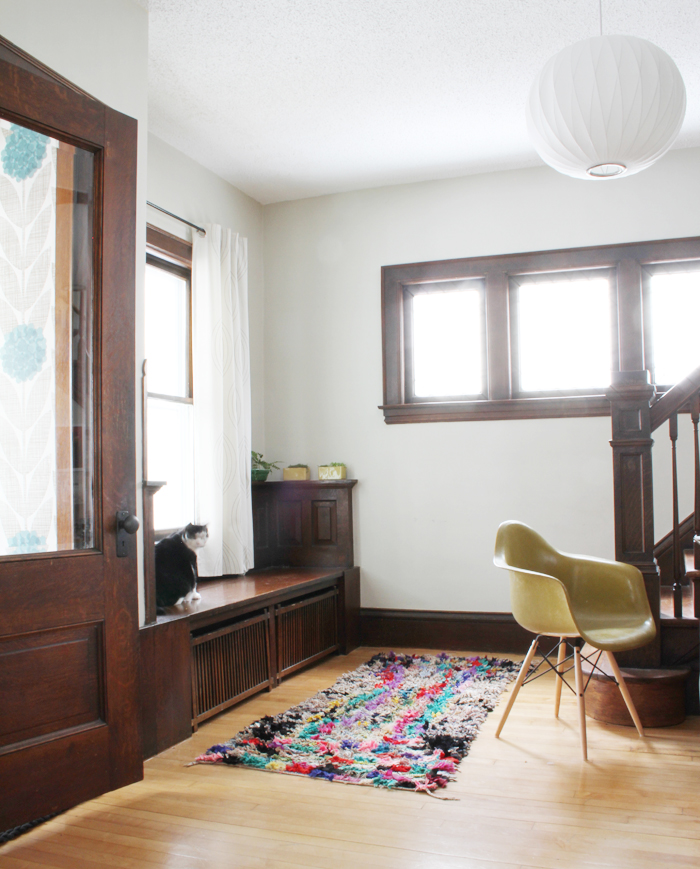 I'm happy that this entry space is coming together a bit. You may have noticed that the Fiddle Leaf Fig is not hangin' in this space anymore. I had to move it to a sunnier local in the porch off our master bedroom. The poor guy was losing it's leaves in a major way, and I'm hoping I can still save it. It's breaking my heart a little bit. I think if I can get it stable I'll move it to the front porch for the summer so that it can soak up rays. Hopefully the entry area will seem like a reasonable space for it to make its home this fall . I would like to think that once it gets a little taller it will be able to absorb more light fromt the two entry way windows.
I still have to make a seat cushion for the window bench and add artwork to the walls in the corner, but with the spring coming (hopefully) those indoor projects might have to wait until later in the year.