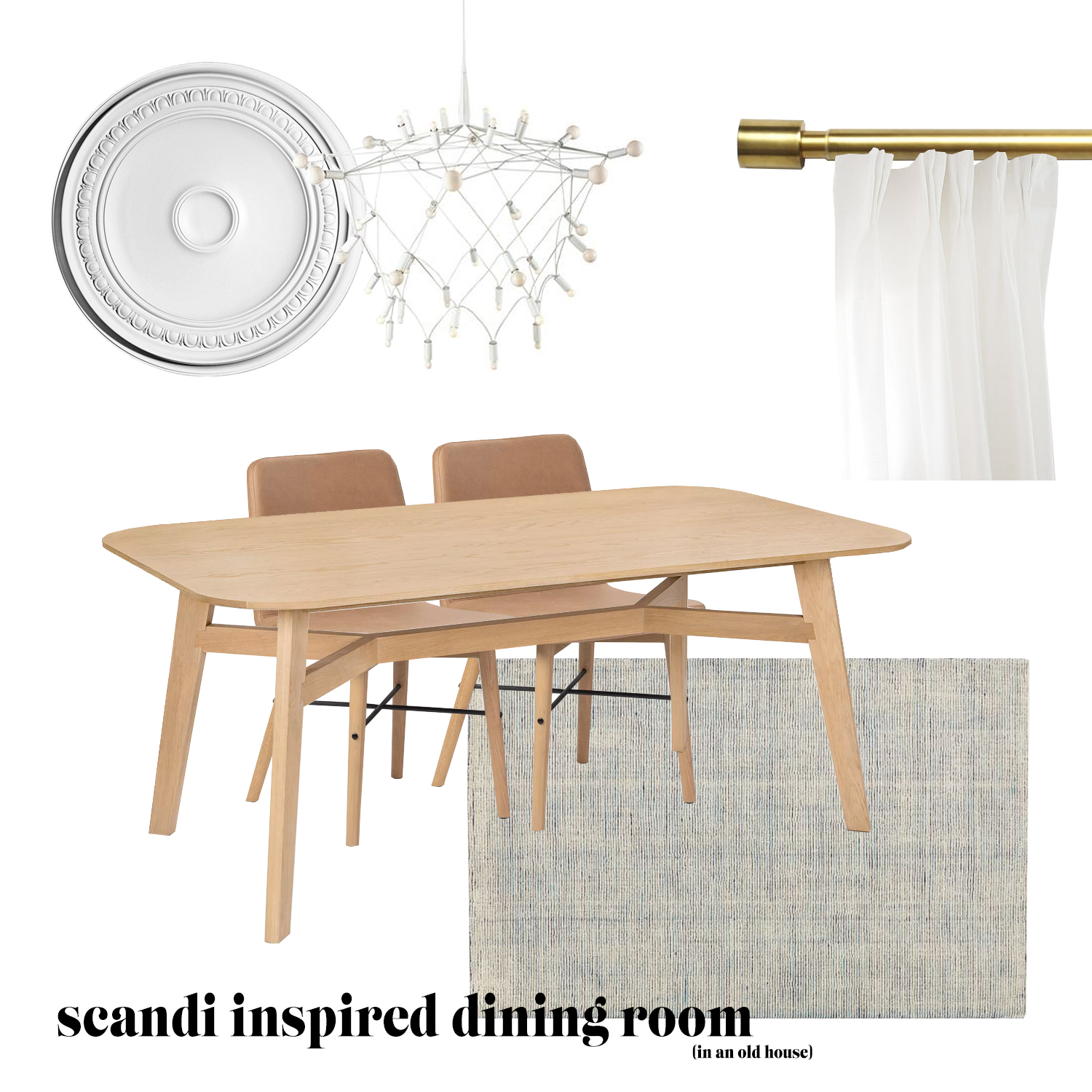 Hi Guys! I'm super ready to dive into my list of 2019 To-Do's. I've spent the better part of the last week getting the house whipped back into shape after the holidays. That involves a lot of sorting through piles, putting away, recycling, and donating. I spent yesterday morning disassembling the kids' bunk bed in anticipation for two new twin beds in their room. More on that in the coming days.
Today I wanted to share with you the plans for a facelift in our dining room. I get antsy with design after awhile. Although I am a big fan of what we have going on in the dining room as of late, it's been that way for a looooong time, and I'm ready for a refresh. Our light fixture is nine years old, and its starting to look dated, or at least I'm getting tired of it. The curtains have never been proper curtains or curtain rods, they are just spray painted $5 rods from target and hand-me-down curtains. Maybe the biggest change will be the table. I love the vintage mid-century Drexel table that we have, and I plan on hoarding it, but I would like to choose a table for the space rather than having a table and putting it in the room as I did with this one.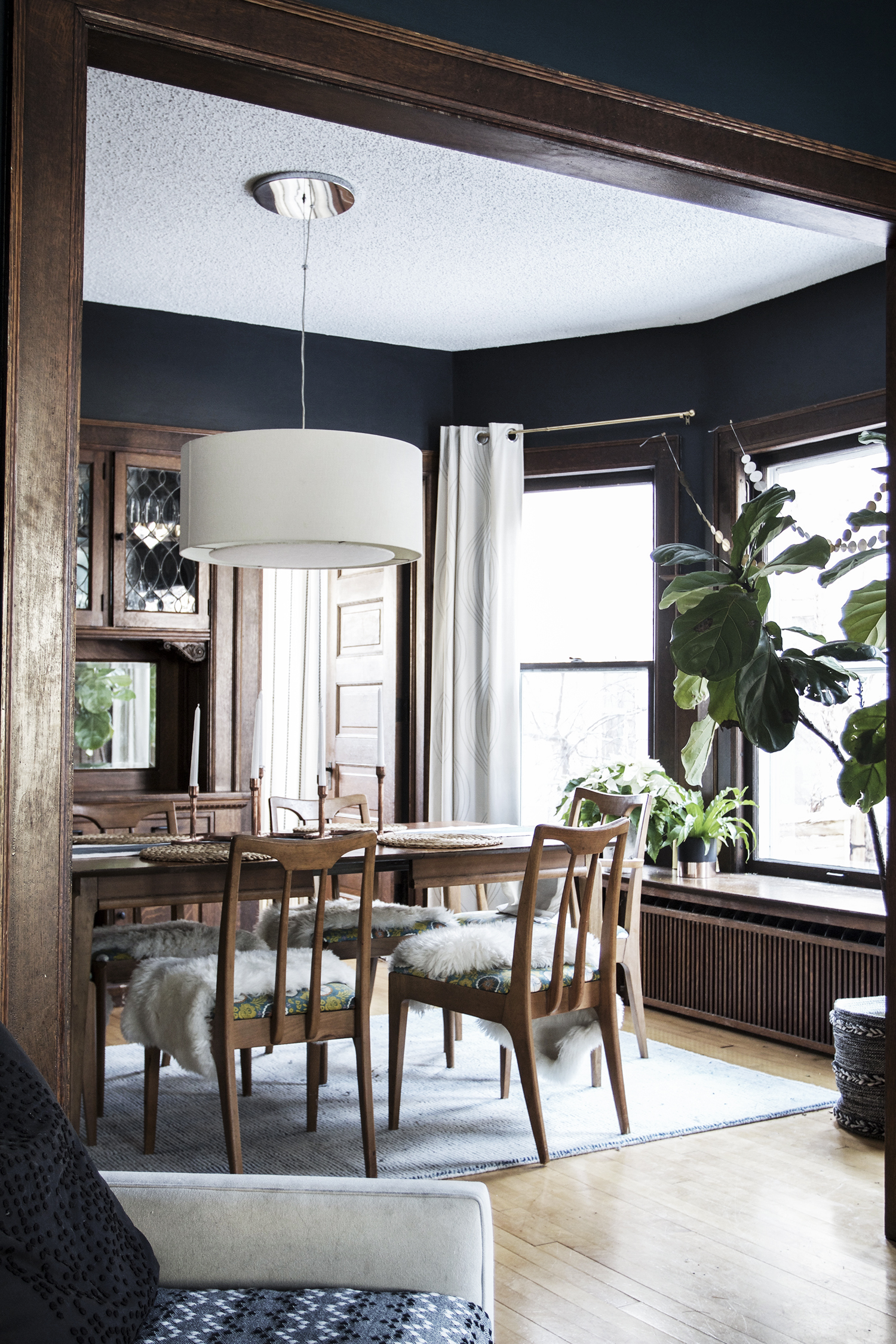 Dining Table & Chairs
Last month, Article reached out to me to see if I was interested in sharing some of their new modern, fresh and Scandi inspired pieces. Uh, yeah. Duh. Of course. It's me, Scoops. I eat Scandi design for breakfast. Our home has old bones, and while I am always working with the 110 year old aesthetic, I really like to shake it up with modern clean lines, light materials, and cozy textures.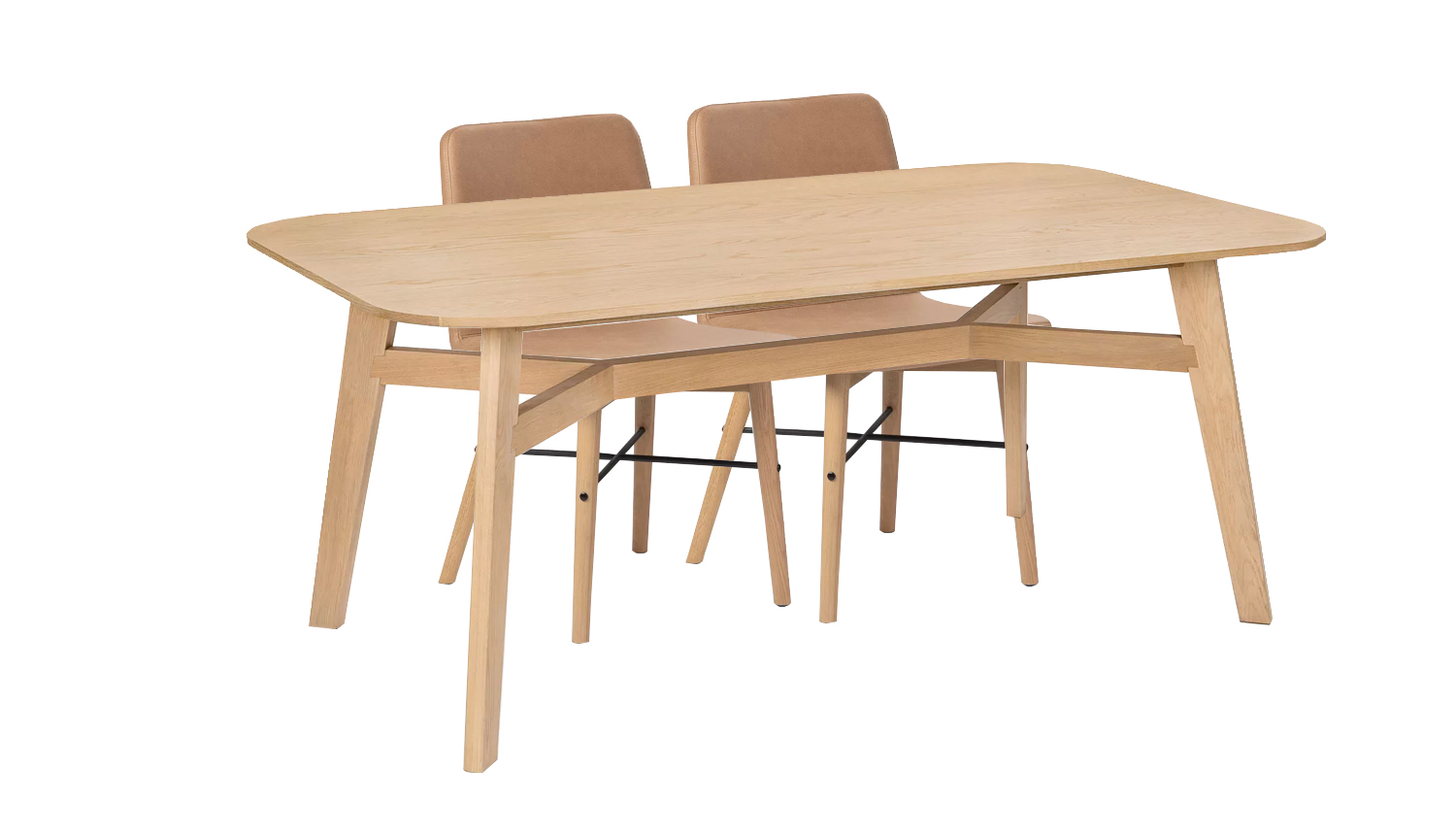 I adore and have a very special place in my heart for our current mid-century dining set. I'm not willing to part with it just yet, but we are ready for something new. I wanted to find a table that played nicely with the modern lines of our living room sofa, the pink hues of our swivel chairs, and the soft textures found repeatedly throughout our home.
The Ventu table from Article is going to be perfect in the space. I love adding light tones to the sometimes overpowering darkness of the wood. I've learned over the years that light accents are the perfect compliment to the dark wood and walls, and in the winter it helps to bounce the light around the space. I love the rounded curved edges, and the architecture and detail of the leg braces. This table will easily be able to go from formal to casual and that is just what this dining room needs.
These Kissa chairs are the best, aren't they? All that soft leather. We need softness around our house like nobodies business, like our Scandinavian brethren we yearn for it, as it helps to take the edge off of these cold winter days. Can you even imagine these babies with a sheepskin throw? Check out those legs. I love that the dowel and black braces give a nod to a modern Eames base. My set of Eames chairs will be the perfect standby for extra seating at this table.
Light Fixture & Medallion
You can't go wrong with a purchase when you've adored it from afar for years and years. I had my first encounter with the Patrick Townsend's Orbit chandelier back in 2012. I was smitten, I was in love, I never forgot. When it came time to really think about updating the dining room I poured over lighting options. I nearly jumped on this brass globe gooseneck beaut from West Elm, but in the end I knew that my heart would be forever happy with the Orbit chandelier. I've spent the last few months saving my pennies, and was finally able to put an order in for my true love. I can't wait for it to arrive.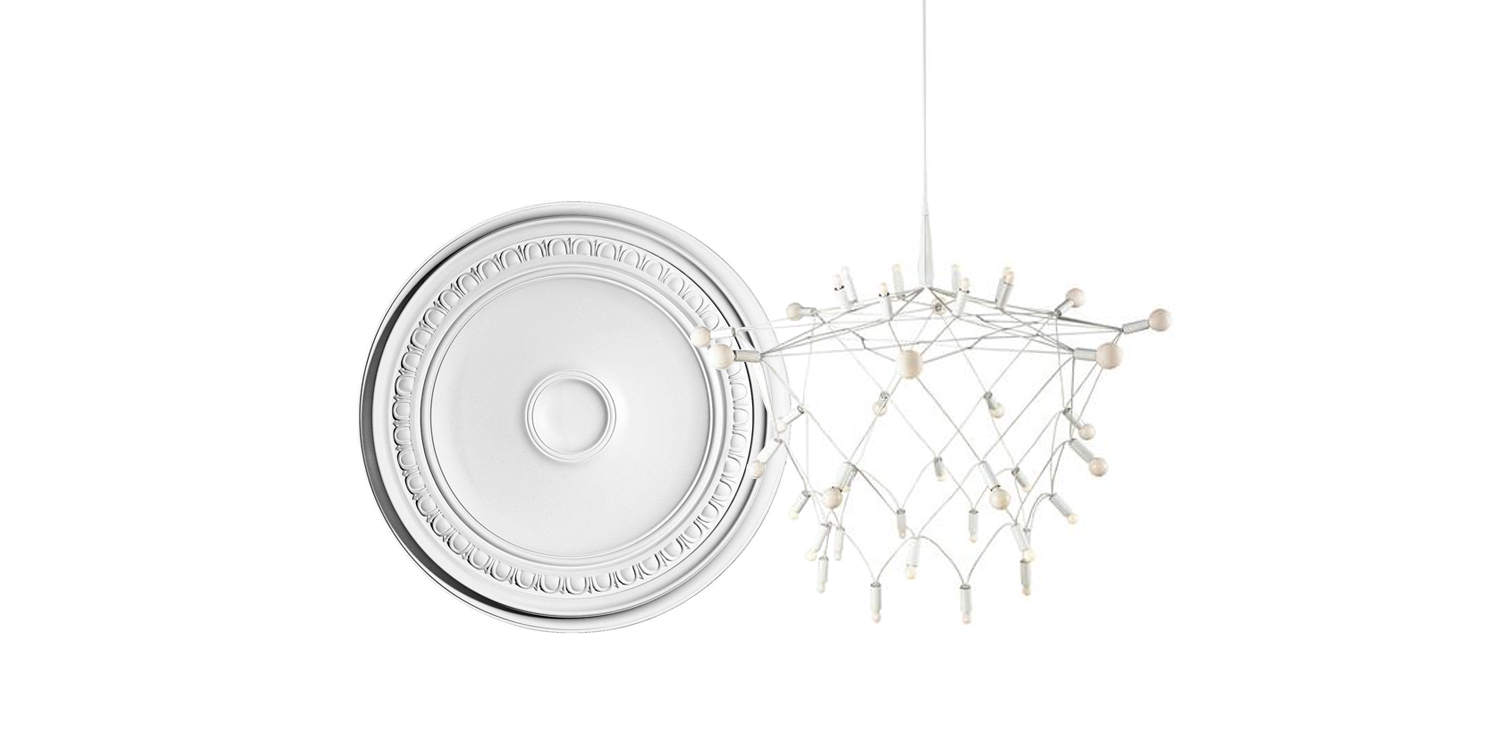 Back in 2010 when I installed the drum shade we encountered some electrical problems. Not only did we have to remove what we could of old gas lamp pipes, but we also installed a proper electrical box and braces for the new light. This all resulted in a fairly large hole in our ceiling. Thankfully our current fixtures' 10″ canopy covers said hole beautifully. Howevs, when we remove the drum pendant, we will need to cover it up that gaping hole. The solution is to add a ceiling medallion. This medallion from Home Depot picks up on the egg and dart pattern found in the built-in-buffet and around the edge of the pony walls in the living room. It'll cover that hole perfectly, and it can't get any better than the juxtaposition of old and new. It'll look incred with the Orbit chandi.
Bay Window Curtains & Rods
Lastly, the space needs softening. The $5 curtain rods and hand-me-down curtains aren't cutting the mustard any longer. I plan on installing new chunky brass curtain rods with brass hooks to match the rods in the living room. I'm going to use these brass corner pieces to fit the rods to the shape of our bay window. I'll be taking a page out of Nicole's (Making It Lovely) book and install custom fit pleated Ikea curtains to hang perfectly over our radiator bench. Not only will this allow us privacy from neighbors, but more importantly will soften the space, counter balance the darkness, and add some much needed formal elements.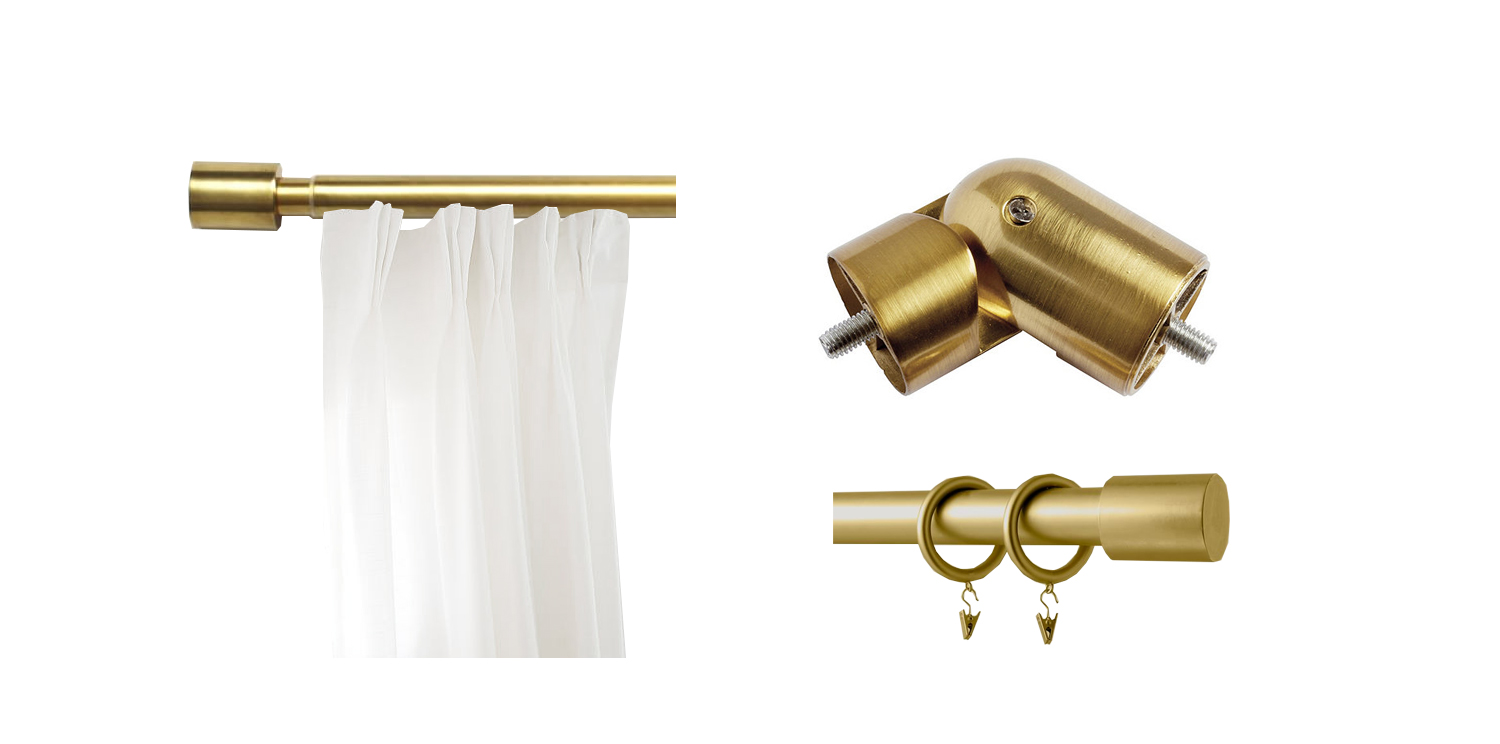 Can't wait to share more! It's gonna be great.