Hey Guys! Phew, it always feels good when the holidays are behind us and we can move on to the New Year. I am finally getting the chance to settle back into the day-to-day, and the mundane and boring is being embraced with open arms. Week after week of activity is too much for this old gal.
I'm not much of a big New Year resolutions type of person, I prefer to think of myself as constantly adding to a list of to-dos and improvements. However I did get a lot out of setting some rules/goals/intentions for the blog and projects in 2018 and I suppose it would be kinda nice to continue with the tradish in 2019 as well. Because it always feels good to look back (or maybe sometimes it doesn't), I went over some of my biggest accomplishments for the year and also made new goals for the year to come.
Let's dive right in!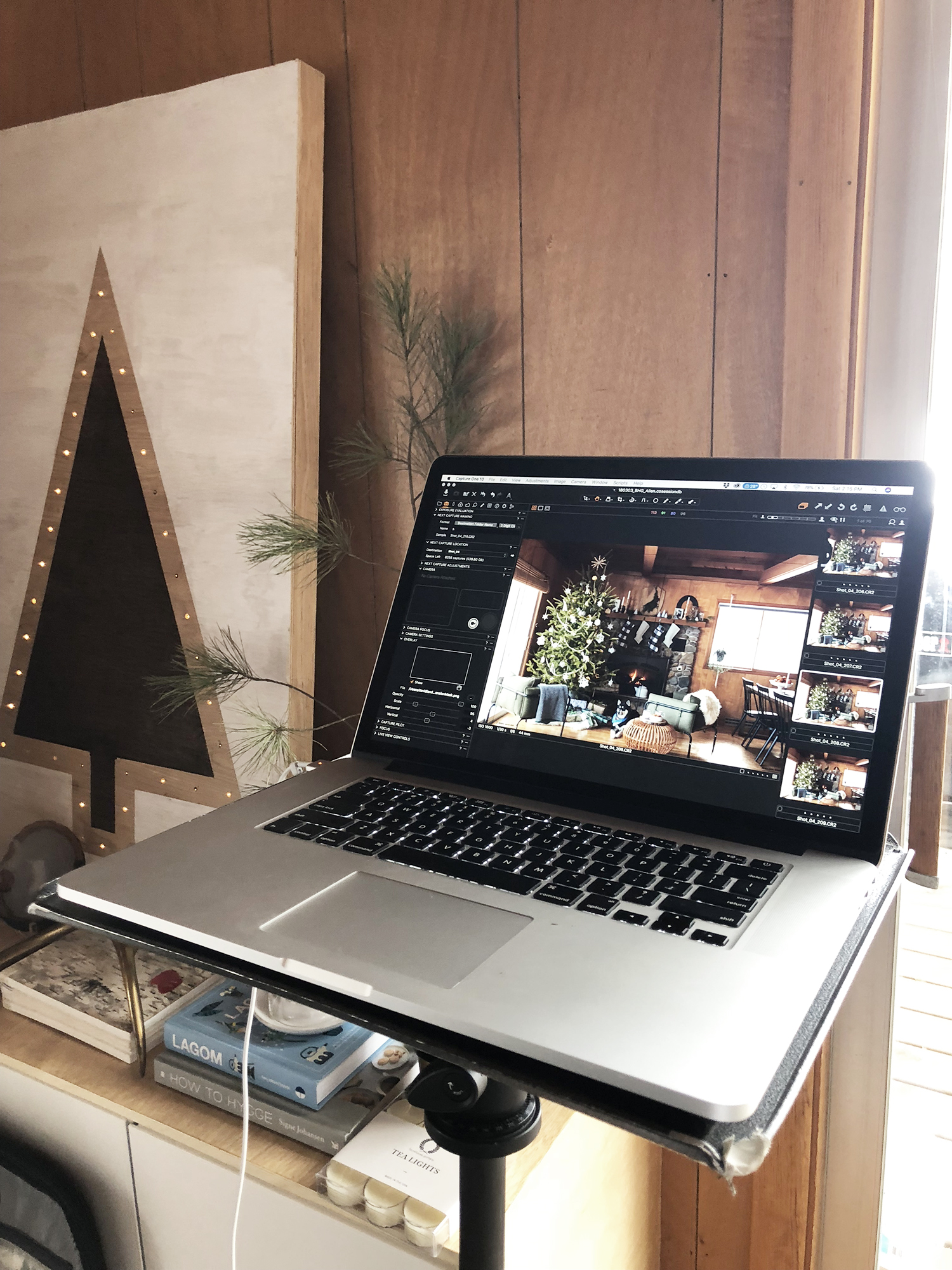 Getting asked to have our cabin photographed for a feature in Better Homes & Garden's was a surreal experience. It has always been a secret dream of mine to have our home highlighted in this magazine. It was a thrill to have it actually happen and to see it in real life just last month in the December issue.
I was in a bit of a rut and really wanted to challenge myself so I decided to go for it an participate in the One Room Challenge. Wow, what a crazy ride that was. Exhausting, dirty, messy, but very satisfying. I was able to restore a set of windows and make an entirely new upholstered bed out of Ikea remnants. I am so happy with how it turned out and it was exactly the thing I needed to get my butt in gear.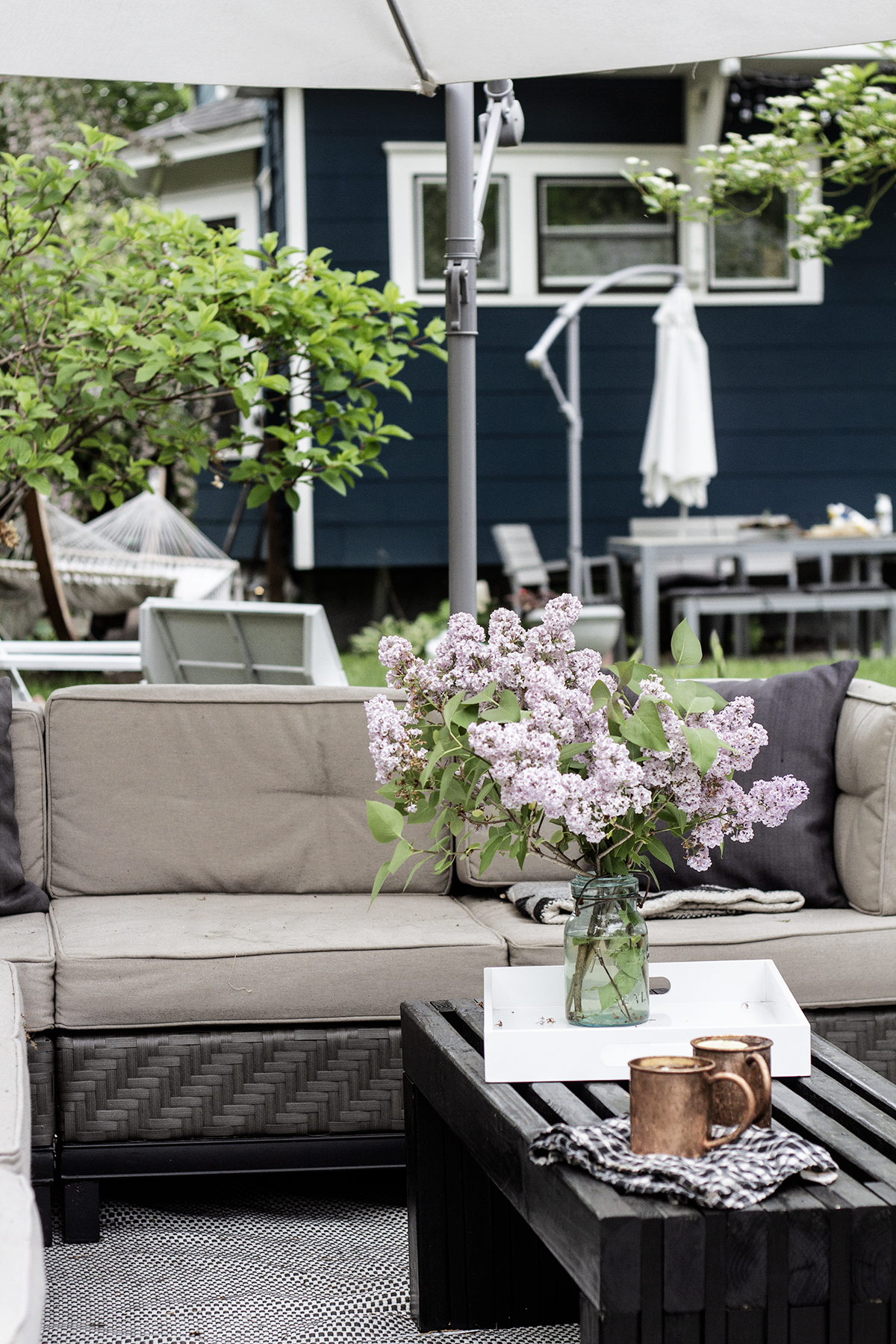 I'll be the first to admit that between travel and going to the cabin, the gardens were not as well tended to as they had been in previous years. I was able to hit the ground running this spring, and I built a new coffee table for our patio and began a new perennial garden on the side of our house.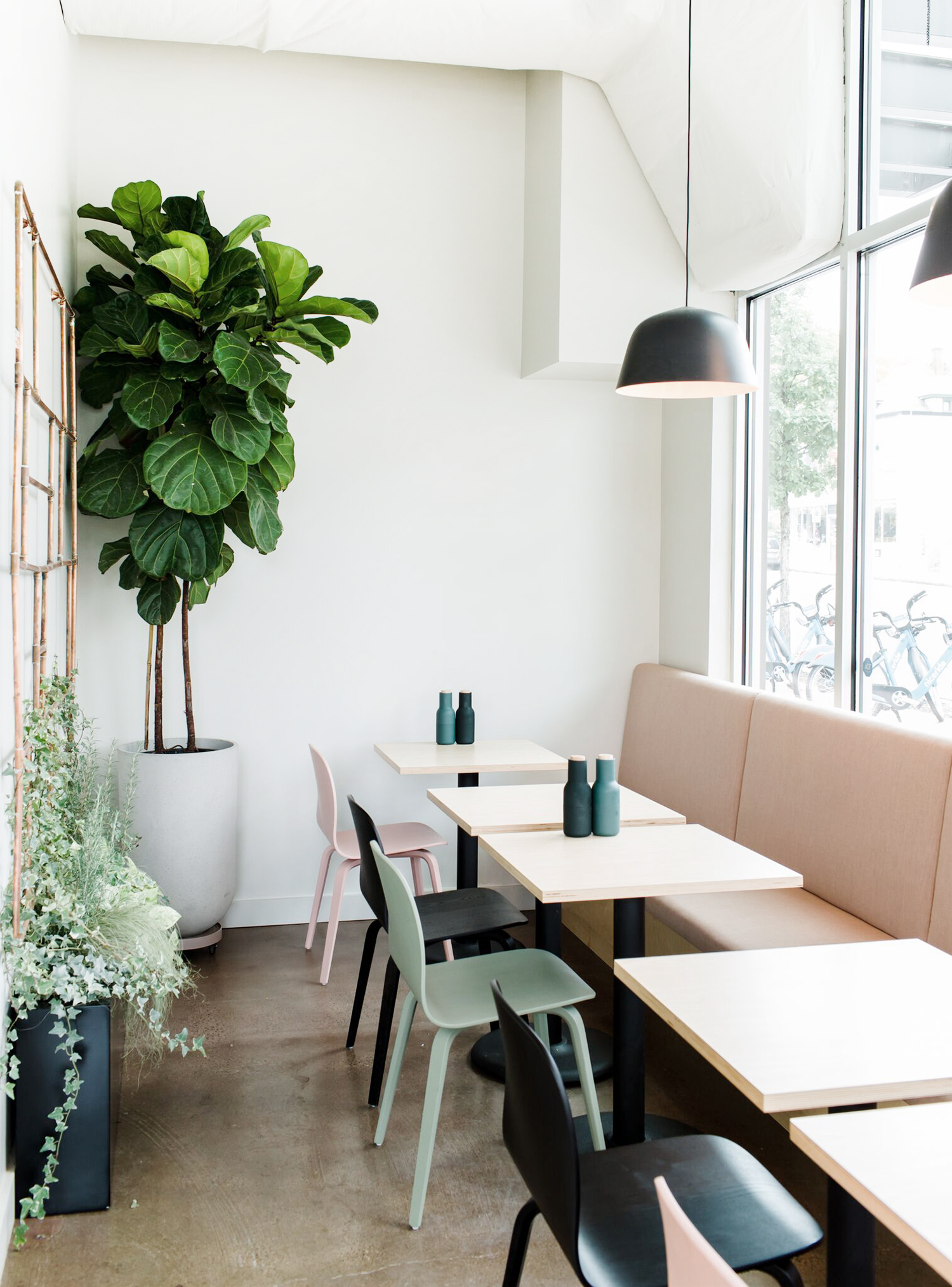 I said "yes" to new opportunities in 2018 and took on the very fulfilling task of designing a restaurant. It was A LOT of work, but I couldn't be more proud of the space. It was so rewarding to see plans on paper become a reality over the course of the summer.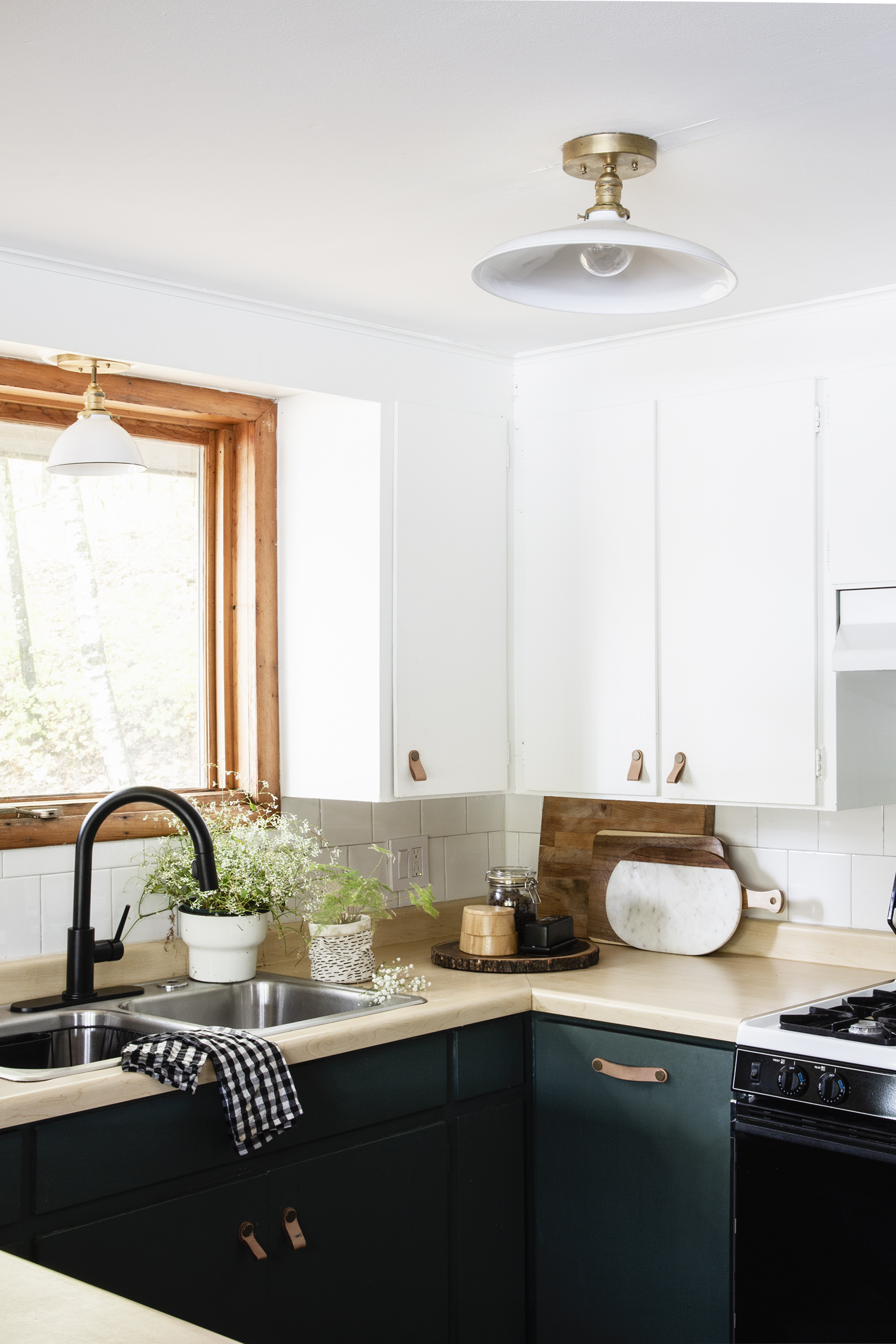 It took nearly a year of squeezing in mini projects on weekend before I was officially able to call our cabin kitchen done. This summer we were able to make the biggest improvements yet, carving our a space for a hidden dishwasher and creating a set of drawers where a cabinet had been. I will never get tired of the challenge of creating something functional and beautiful out of what already exists. New isn't always best, and with a little thought even the dingiest space can feel fresh and new.
Of course a lot of the projects I completed this year took place at the cabin. The cabin needs so much TLC. I wanted to update our little bathroom on the second floor and began this summer by fixing plumbing issues and replacing the floor with new industrial tile. Then I added a board and batten treatment to the wall mimicking the board and batten on the outside of the cabin. It has made such an improvement to the flow of our space, and friends and family who had seen the bathroom before can't believe the transformation a few pieces of wood, wallpaper and paint can make.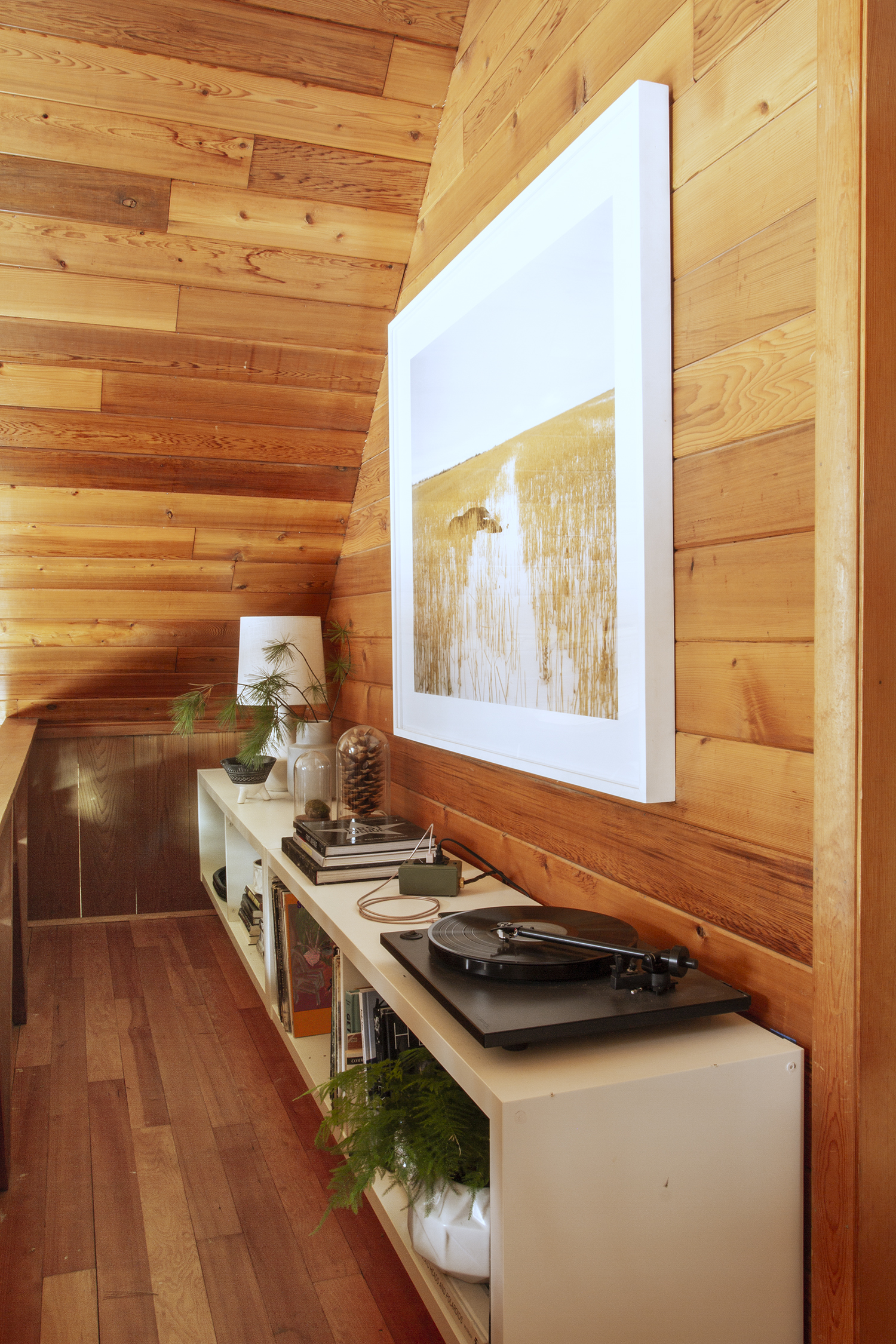 We have always loved the ritual of listening to vinyl. We also had this little loft that wasn't being used. Record ritual meet cabin loft. It took about 9 months to get from the plan to having a functional loft, but it for us it was worth the wait. This loft has become such a cool little space, and it puts our "Allen-music-obsessed" stamp on the cabin.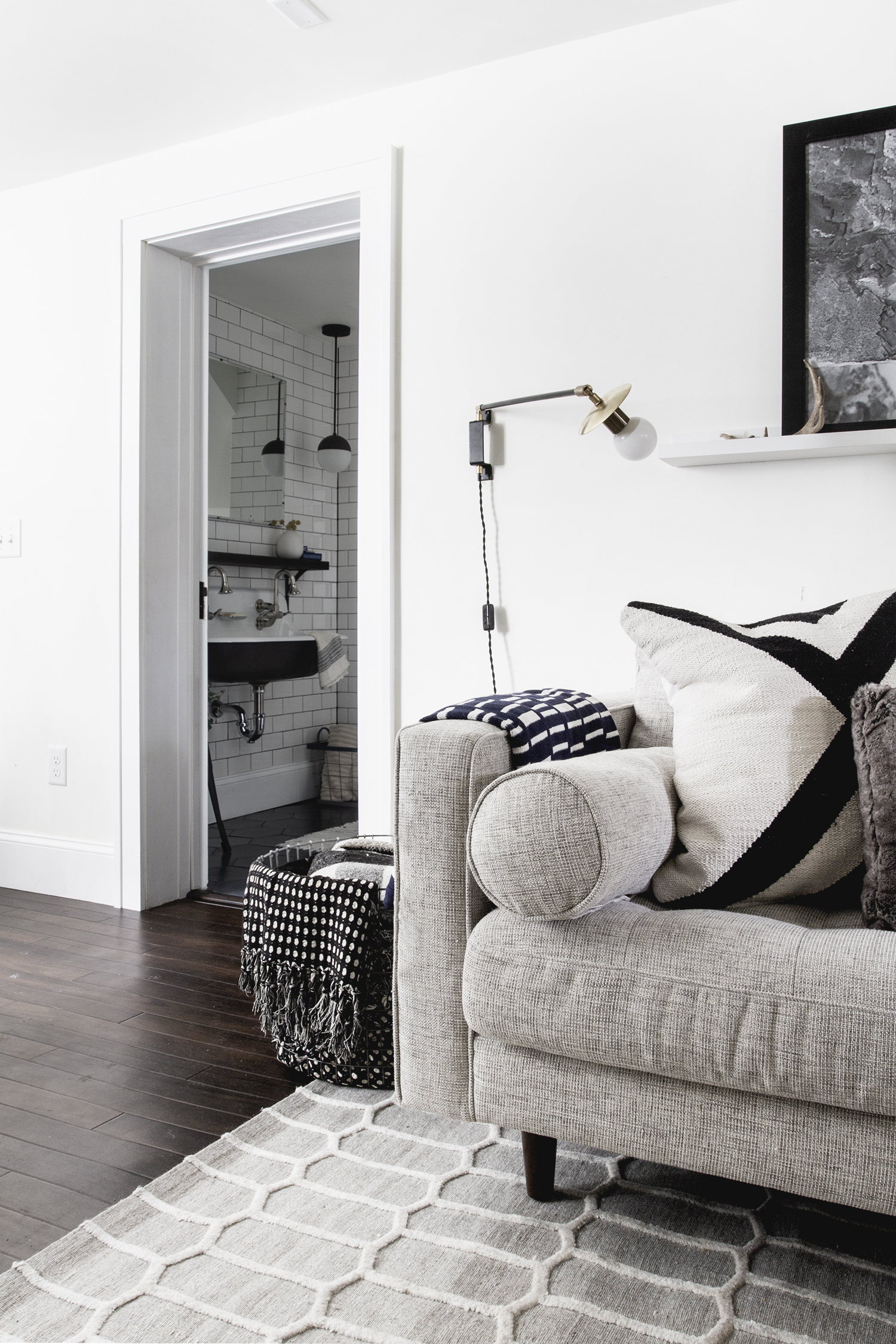 At home our basement had seen a lot of wear and tear. I never felt like I fully finished it after the renovation. This fall we were able to replace the sofa, add a new rug and coffee table and get a matching set of chairs at the game table. The basement really feels much more complete now.
And not to be forgotten, here are a list of projects and creative goals I have set up for myself in the coming year. The list is ambitious, but I hope that when I look back at 2019 I can say we crossed a bunch of them off our list.
At Home
Upstairs Hallway & Staircase

Baah! This was on my list for 2018 too! There is no reason that this project has taken so long. I still have paint samples on the wall and it took me until September to hang the mirror and install the lighting fixture I purchased for the space in December! I need to put this project to the top of the to-do in 2019.

Boys' Bedroom

Another item that was on the list for 2018, but I can claim that I have the hard part behind me for this project. Late this summer the boys and I went through their whole room and got rid of 95% of the toys and other crap that they have accumulated over the years. We completed finding the pieces for most of the sets and were able to re-bag or box most toys with instructions. The boys spent two evenings outside of on the sidewalk and were able to give their toys to other kids in the neighborhood. Parents are much more willing to take a free toy if all its pieces are there, and I was happy to not see items go in the trash. We donated misc legos to a teacher who could use them in her classroom. The next step is to find beds and make their room special again.

Get the Ball Rolling on Major Addition

The time has come to begin planning what happens next in our home. When we moved in there were two things that we had planned on tackling before the 10 year mark, renovating the basement and remodeling the kitchen. We are rounding base on the 9 year mark, with the basement remodel years behind us there is only one thing left to do. We've learned a lot about what works in our kitchen and our home and what doesn't. We've begin to throw around the idea of a first floor (maybe second too) addition. We'd like to expand off the back of the house so that we can include a small bathroom and mudroom into our kitchen renovation plans. And if we're going to push out the kitchen, why not push out Jeff's main floor office too. This would allow us to add a real foundation under the his office as well (right now it is cantilevered out about 2 feet). I have the beginning stages of plans I'd like to share, and we need to start talking with an architect and builder to figure out what is and is not possible. I'd like to take you all along for the ride on that entire process.

Update the Dining Room

I'm getting started on a dining room update today! We have a new dining room table and chairs being delivered this afternoon. I have bigger plans and more to come and I can't wait to share right away in the new year.

Invest in Artwork

Whether it means getting prints made and framed or buying someone else's art, I'd really like to invest in some more artwork for the living and dining room.

Maintain the Garden

If you read the first part of my post, you already know that I was a guilty of being a garden neglector last summer. The cabin has distracted me and I would like to get back on a more zen and meditative schedule with maintaining and caring for my garden. I used to go on a garden walk every morning, weeding and tending as I went. Last summer the weeds took over and I felt so guilty. I must not repeat this sin.
The Cabin
Barrel Sauna

Jeff and I have been talking about a Sauna since the moment we saw this cabin. It has been on our list of things to improve upon since the jump. We crossed our hearts and swore that this summer we would make sure to have a foundation laid and a barrel sauna installed in the woods off our cabin. We love to sauna and look forward to many pre bed-time sauna seshes next winter.

Update to Main Floor Bathroom

Using a similar design aesthetic as the upstairs tiny-bathroom, I plan on renovating the main floor cabin bathroom throughout the year. It's a project that will be done in stages, but I think it's completely possible to finish this doing little bits here and there, slowly over the course of the year.

Basement Remodel

In a fit of inspiration earlier this fall, I was able to draw up precise plans that I truly believe make the most of our cabin basement. The plans transform the space into a cozy bunkroom and den without needing to do any major changes to duct work or plumbing. It's merely a framing and drywall job with a bit of electrical work mixed in. I could finish the carpentry and built-ins myself and I just know it would be so awesome! I think it would be a stretch to have this completed this summer, but with a potential big kitchen project coming in the next two years at home, now would be the time to do that one last big investment at the cabin to get us through for awhile. Stay tuned.

Paint Exterior

This was another one of those items on the list from last summer. It wasn't that I didn't try to get the cabin painted. Those folks up in Hayward Wisco are real slow to return a phone call and before you knew it, fall was upon us and it was way too cold to paint. Hopefully this spring, fingers crossed.

On the Blog and in Design
Comprehensive Sources & Archives

You may have noticed that this has been in the works. I've been slowly slogging though 10 years of content trying to organize it and make it as accessible as possible. Before you know there will be completed sources list and easy to search archives!

More DIY posts

I want to share more of what I like doing most of all on this blog, DIY. I fell off the DIY wagon in 2018, and would like to get back to sharing the nitty gritty of old house maintenance and restoration AND share how I make better design choices by customizing design and doing it ma'self.

2 Blog Posts a Week

This may be the biggest project of them all. I want to blog more! There used to be a time where I was blogging nearly 5 days a week. Granted, those posts were skimpy on content, but I'd like to get back into the routine of putting internet DIY magic into the world a little more often. So here I am, stating my intention.

Continue to provide E-Design Services

I've begun to tip my toe into the design services world. It really started with the designing of the restaurant, but since then I have worked with two different e-design clients. It's been fun, exciting, challenging, and satisfying creatively, and I would like to continue saying yes to more projects in 2019. If you're interest visit my contact page to get in touch.
Is there anything missing from this list? What would you like to see more around DCHH in 2019? Is there something I'm forgetting? I'd love to hear from you, please leave a comment below. Here's to a Happy 2019!