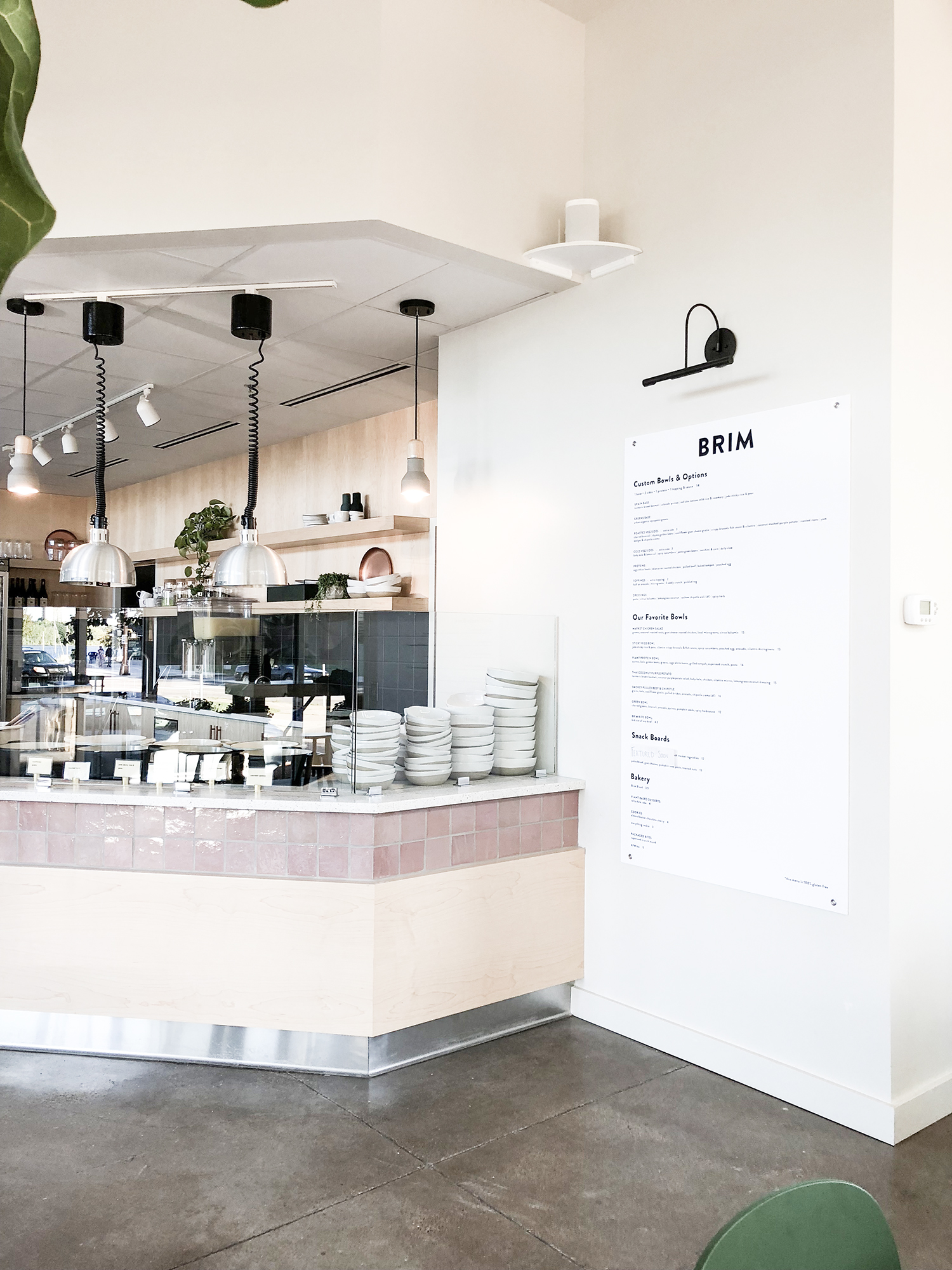 I have to apologize for my absence, I never intended to be gone for so long, and I am happy to be back.
So where the hell was I?
I had decided in January, that 2018 would be my year of saying "Yes" to everything. Trying new things, meeting new people, all that stuff regular confident people do. As a result, in February, my friend Ashley Goldman from The Gold Hive dared me to go to a local Twin Cities book panel event to introduce myself to Melissa Coleman (aka The Faux Martha). I begrudgingly said, "Sure" because Ashley is my Accountability Partner (™). I was terrified. Big social events where I don't know anyone are NOT my thing.
There was a pretty big snow storm the night of the panel, and I tried my hardest to not find a parking spot. It would have been the perfect reason to bail. But Fuck. Wouldn't you know it, there was a parking spot perfectly lit by a street light from heaven, right out front. Like it was queued up just for me.
The panel was taking place in a packed-to-the-gills room. I didn't recognize anyone. I was sweaty. Then in the corner I spotted some great old friends — Kate Sidoti and her mom. I was stoked to be safe in the arms of familiarity and avoid my usual social anxieties (and eye contact with strangers). After a bit of standard small talk, Kate told me she was opening a restaurant here in Minneapolis called BRIM. She said we'd have to get together sometime to talk about design ideas. Adhering to my 2018 credo, I again said, "Sure", but didn't give it another thought. I'd obviously never designed a restaurant and really didn't think anything would come from it.
Fast forward to April and I get a message from Kate asking if we can meet sometime. Shit. I dutifully answered with my 2018-dictated "Yes" or um,"Sure" as it were. We met up at the future space, started chatting, and instantly realized we shared all the same likes and dislikes when it came to design. Similar design tastes be damned though, that afternoon, I tried to tell her over and over again as politely as I could that I was not a restaurant designer, and that I had no idea what I was doing. I deflected, offering to help her interview designers and figure out how to best describe her aesthetic in a language perspective designers would understand. Somehow even with my polite refusals, Kate managed to give me the assignment that day of creating some mood boards for her. She's tricky that way.
About a week later, I meet with Kate again. I was totally prepared for her to realize that I was right all along – I am not a restaurant designer and I have no idea what I am doing! Instead, like some kind of jerk, she loved the mood boards, and had confidence in me. I was scared and nervous that I would screw this up, but eager and excited for a new challenge. Seriously though, Kate really had faith in me, and I can't thank here enough for giving me a shot because I now have *slightly* more faith in myself (I know, so cheesy, but true).
So that's where I've been. Doing probably the most craziest, creatively satisfying, terrifying thing I have ever done. Because, 2018, duh.
It should be noted, I did very awkwardly said, "Hi" to Melissa, and congratulated her on her new cookbook, The Minimalist Kitchen – here's the link incase you've been living under a rock and haven't seen it – it's really beautiful, and our family cook 'round here (Jeff) loves the recipes and concepts, I love the pictures.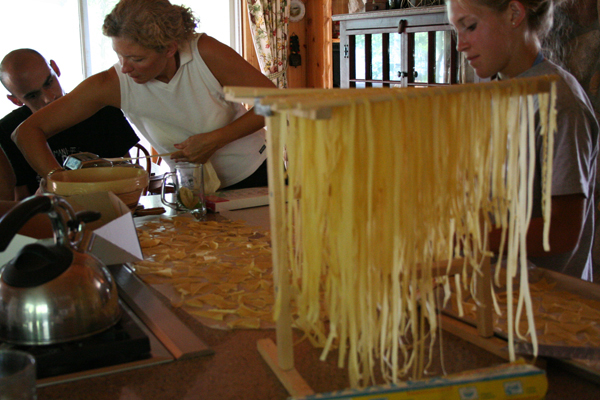 That's kate on the right – circa 2006
So now that you know the story, let me introduce you to BRIM.
As long as I've known Kate, she's been making food. I've been best buds with her older brother since high school. I'm seven years older so we never got the chance to hang out as Youngs. One of my first memories of her was making homemade fresh pasta for a dinner at her family cabin. I think she was probably still a teen and I was very impressed at how such a young person would know how to make fresh pasta for 8 – I could barely manage a box of noodles and some red sauce myself.
Since then she's obtained a culinary degree from the Natural Gourmet Institute in NYC, and from there she went on to work as a private chef in Park City for Utah's elite. On a trip back to MPLS she literally ran into her future husband Patrick, while running around the lakes, and they were married a year later. With Kate now living in the Twin Cities full time, she decided to take a leap of faith and open BRIM to bring her unique culinary approach to life for the community she now calls home.
BRIM specializes in organic bowls of delicious greens, grains, proteins, veggies — all sourced locally and made from scratch in a fast casual setting. It's located in the heart of Uptown, has a killer view of Bde Maka Ska (formerly Lake Calhoun), and an open patio for watching the sunset over the lake with a local beer or wine in hand. Everything is homemade (including baked goods), the menu is entirely gluten free (although Kate wouldn't like me tossing around labels like that) and 100% tasty delish.
Please take a look at the menu, I've tried everything and haven't been disappointed by ANYTHING!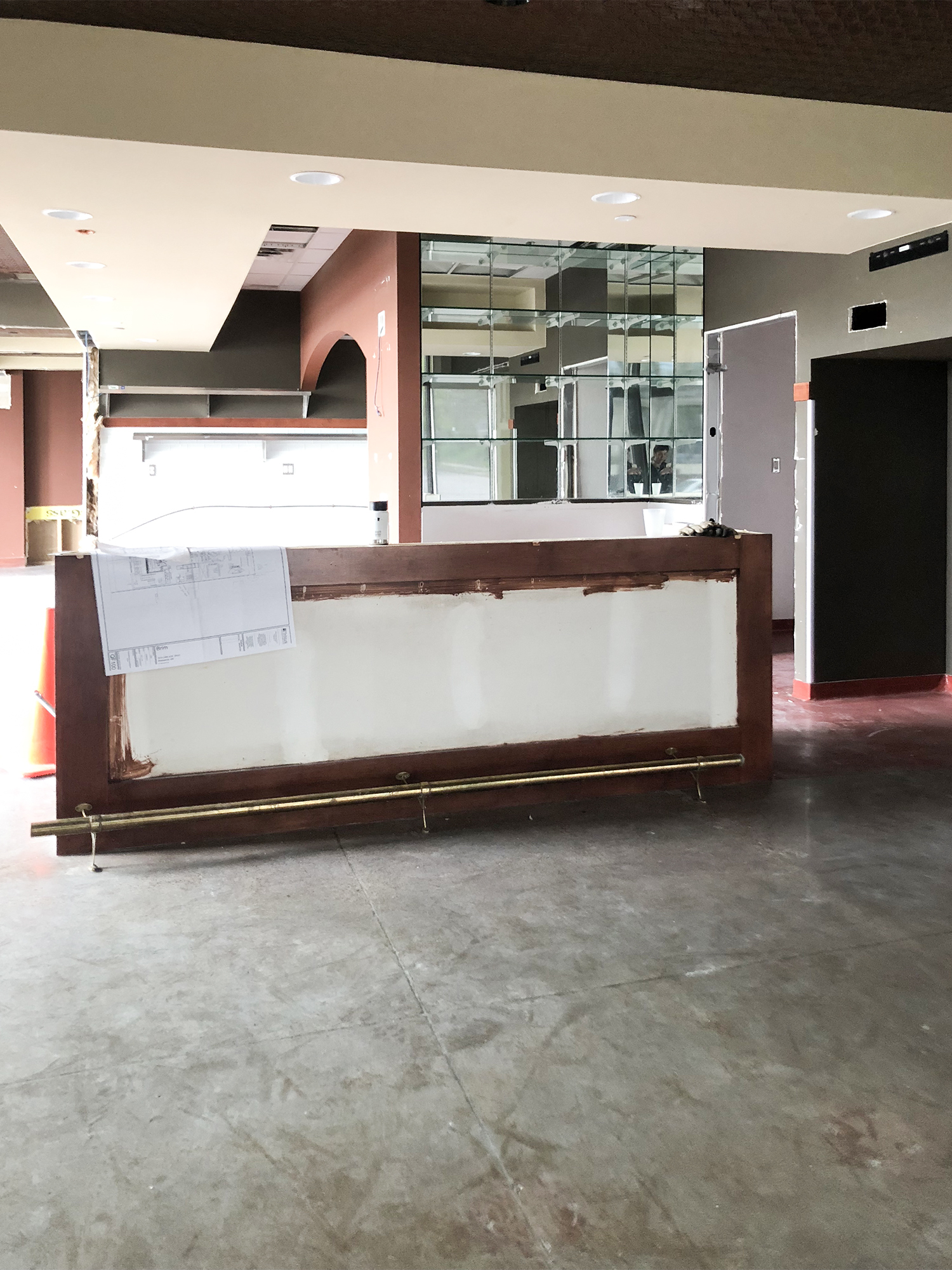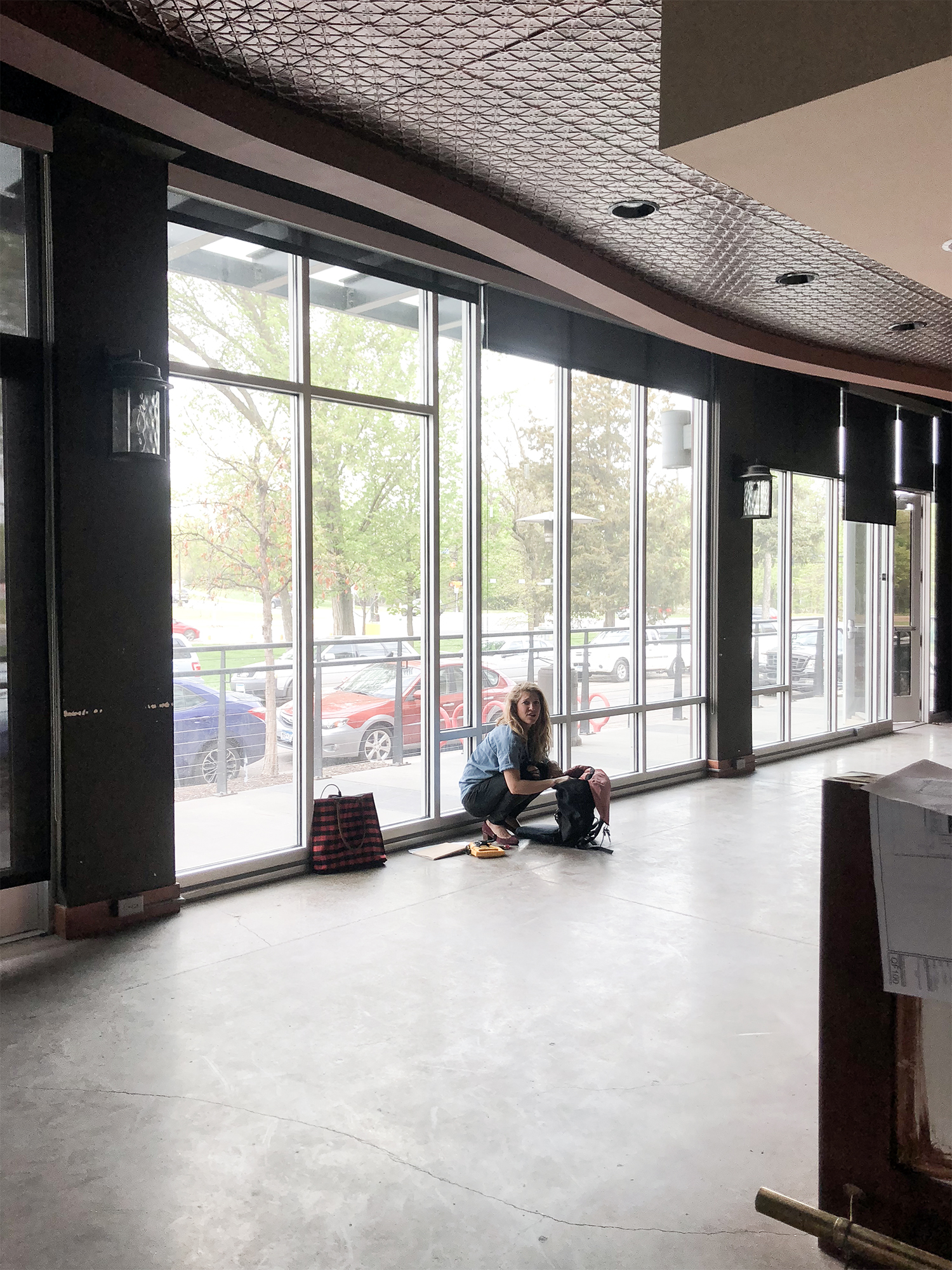 BAAAH! Look at Kate's face! I think we were both equally terrified and confused by the space as we found it.
The previous tenant of the space gave us a very rough starting point. Not only had it never been set up as a full-fledged restaurant (ie there was only a microwave), but it also had a lot of things that were hard to see past — like a gigantic fireplace crowding the room and a maroon and copper ceiling facade that was creating instant claustrophobia.
To showcase Kate's beautiful bowls, we wanted the restaurant to feel fresh, clean and minimally dressed. We wanted the outdoor patio spaces to be inviting for the active lake community (aka people who run), and for the interior space to feel closely connected to the outdoor views.
We choose accents that were very Scandinavian inspired. Lots of raw wood and natural finishes, the absolute perfect shade of light grey walls to bounce winter light around, glazed rose terra-cotta tiles that picked up on the glazing of Kate's bowls, modern matte black tiles, copper accents, playful Danish chairs with refined lines, and simple lighting that echos the texture of the concrete floors. The tables and chairs are meant to be modular – they can be moved around to create different dynamics for seating. Whether you wish to dine solo on the long upholstered banquette, or have a 6 top sit and enjoy drinks after a walk around the lake, all are possible and easily manipulated.
One of the coolest elements of the design is all of the greenery we've incorporated. Kate and I spent a week soldering together two copper trellises to hang on the walls of BRIM. They're half art pieces, half living walls. Two giant fiddle leaf figs that can be rolled in and out through the large accordion doors don't hurt the vibe either. Not only did BRIM need to feel like it was part of the outdoors in the summer, but we wanted the space to feel cozy, warm and inviting even in the winter time.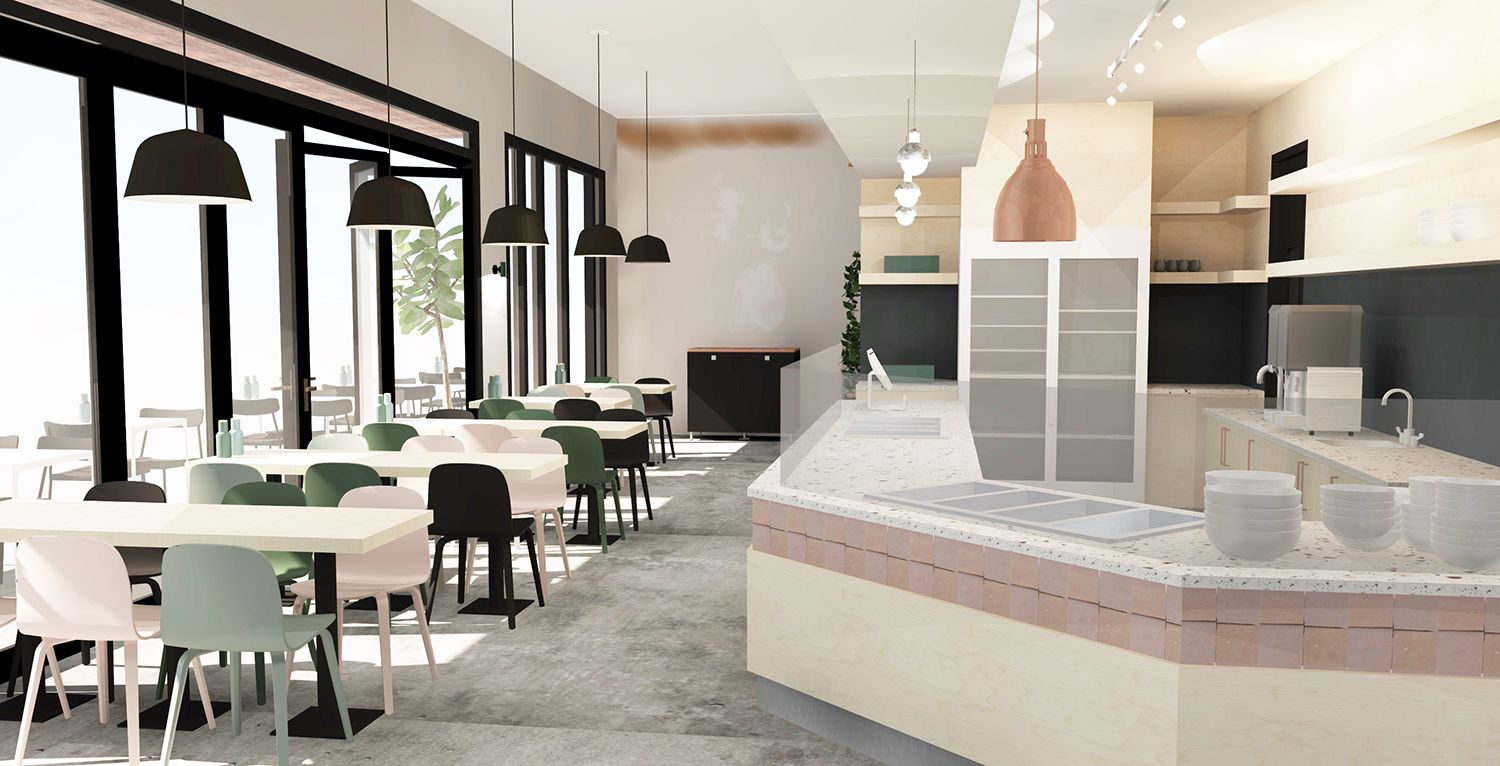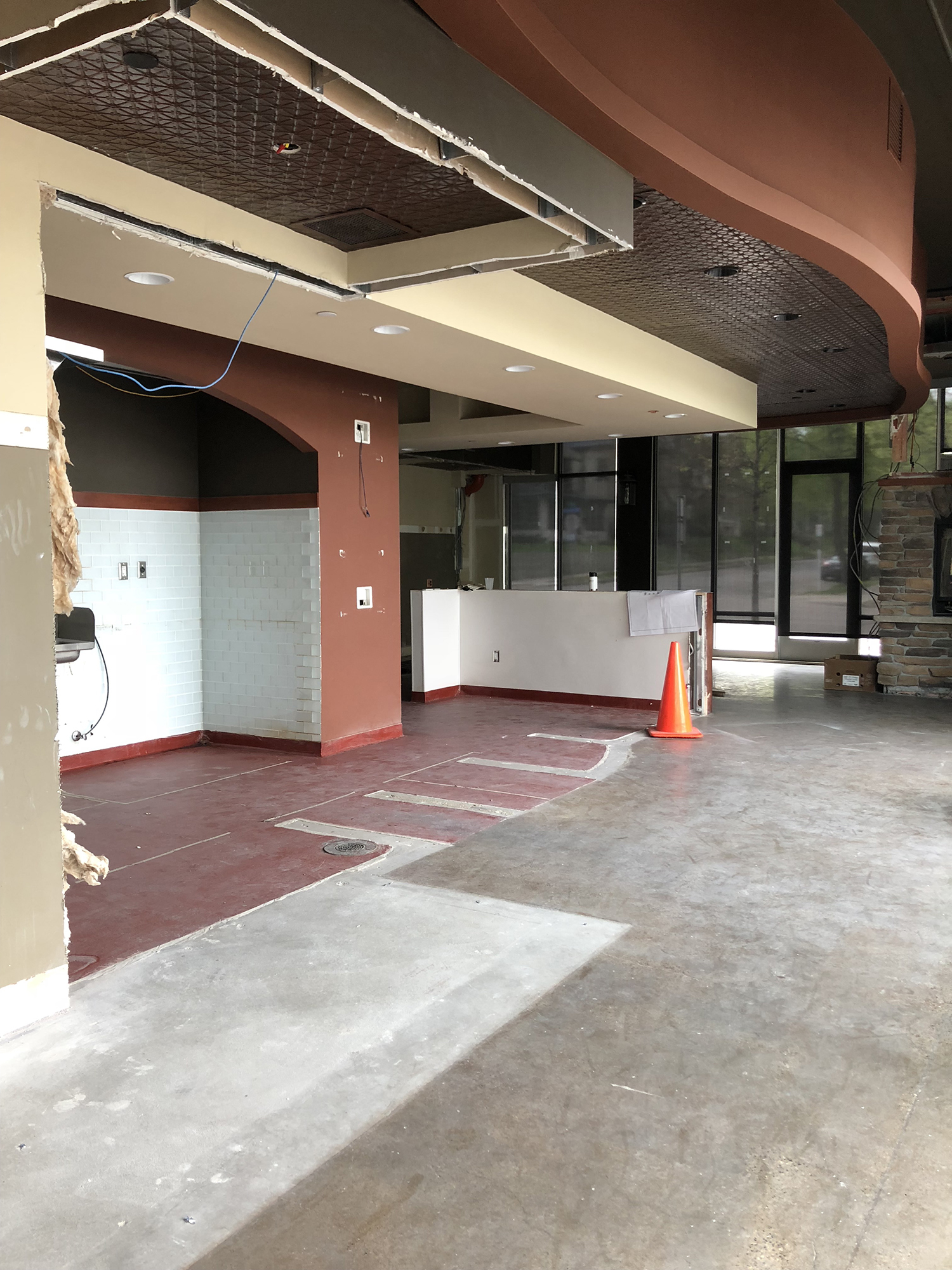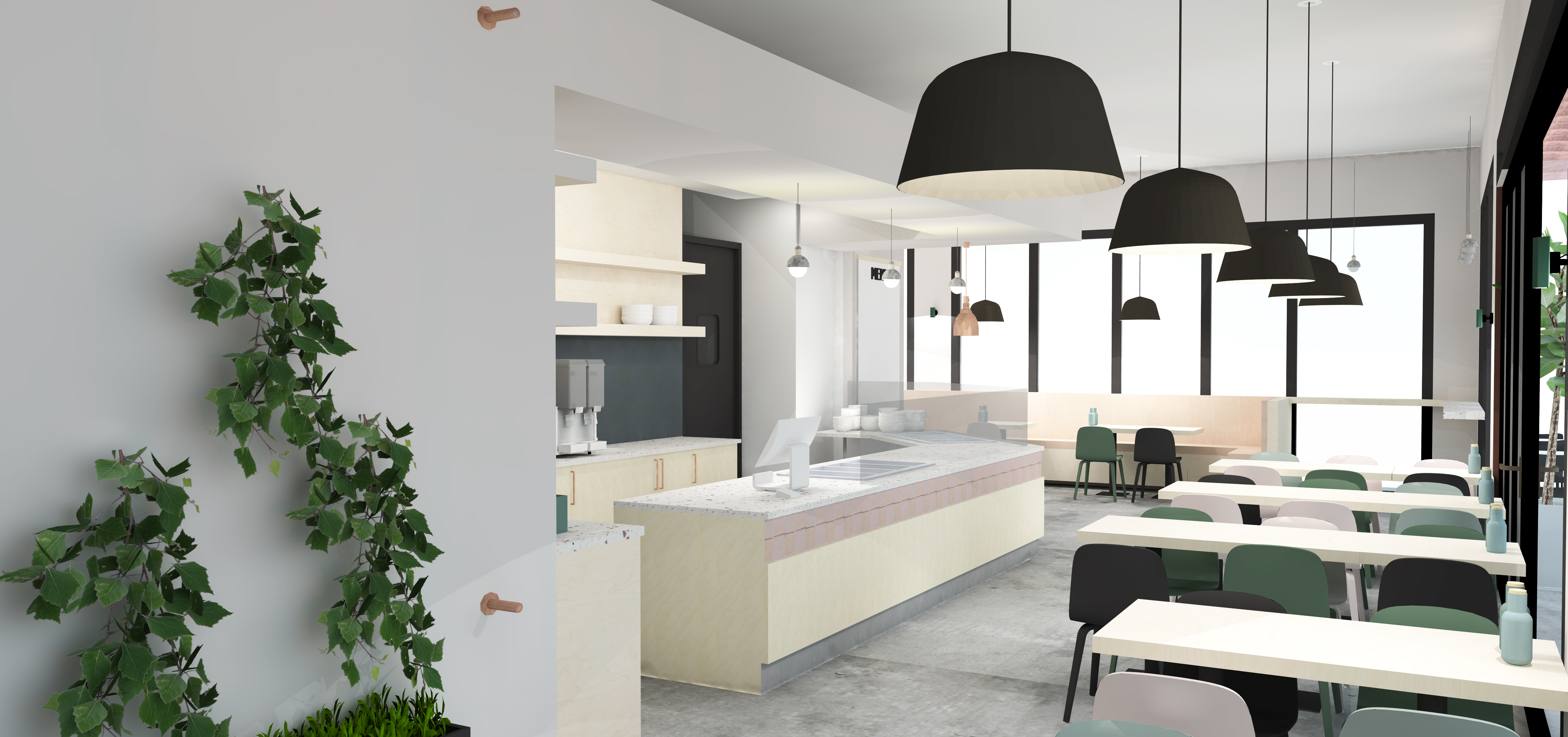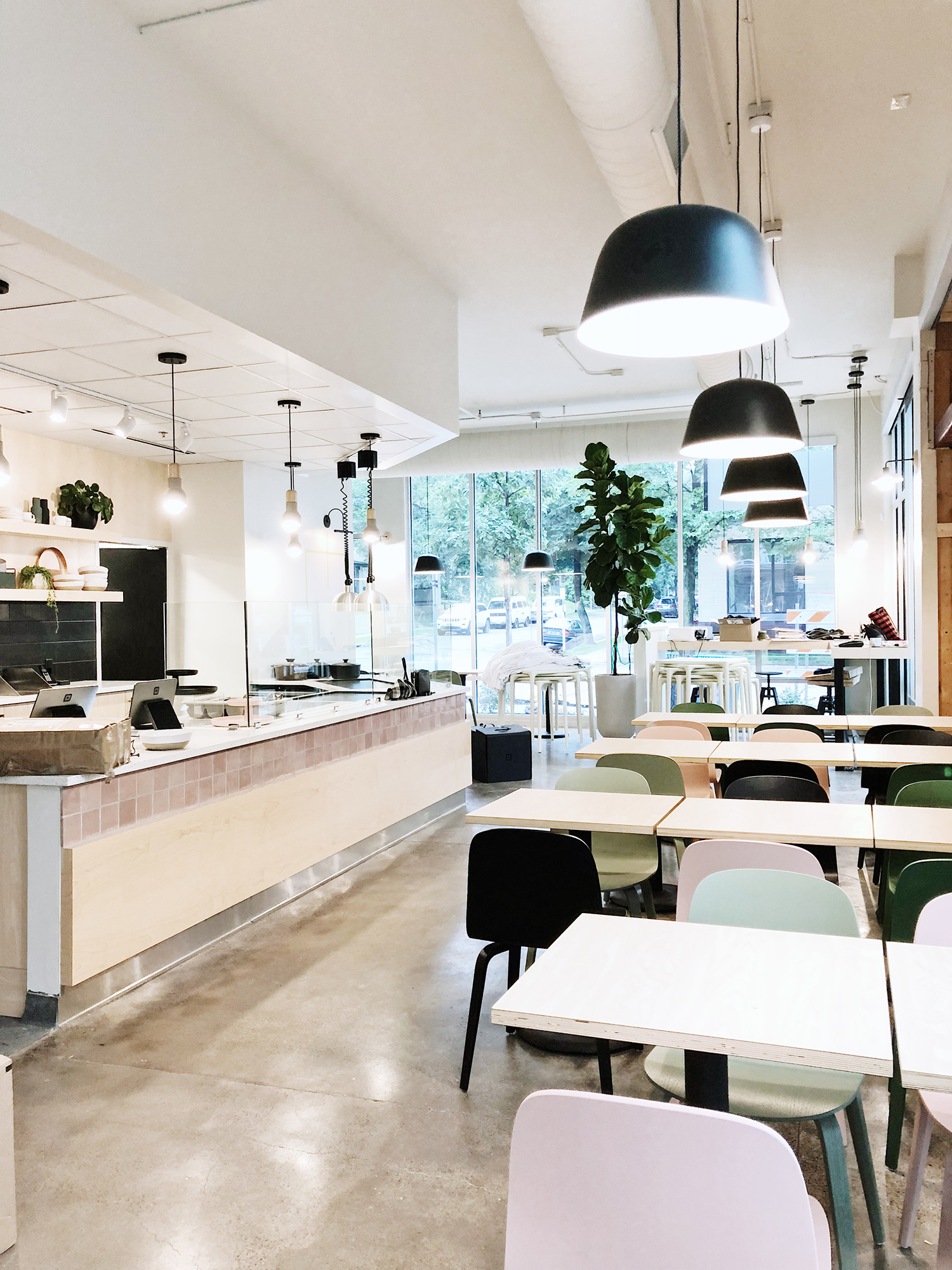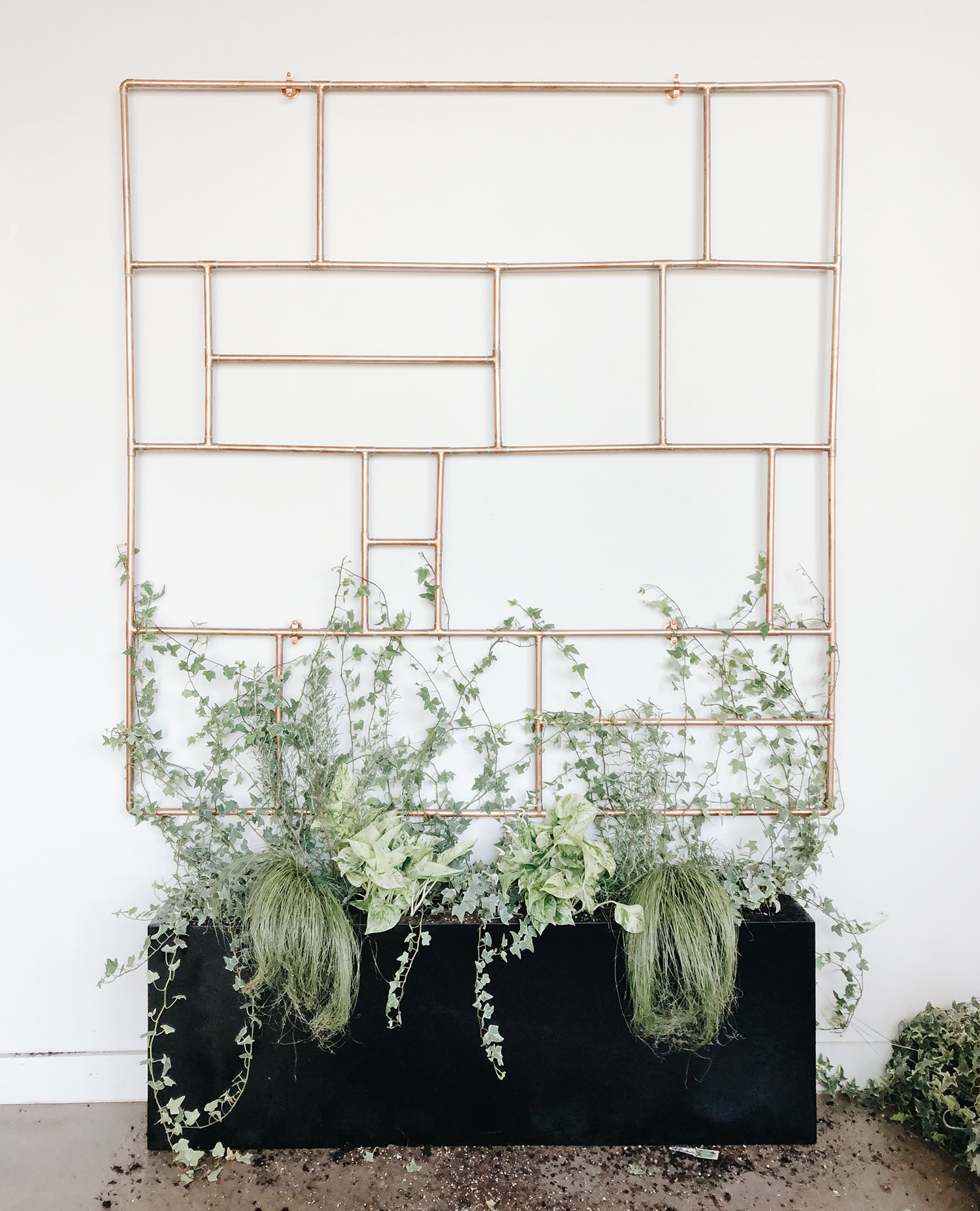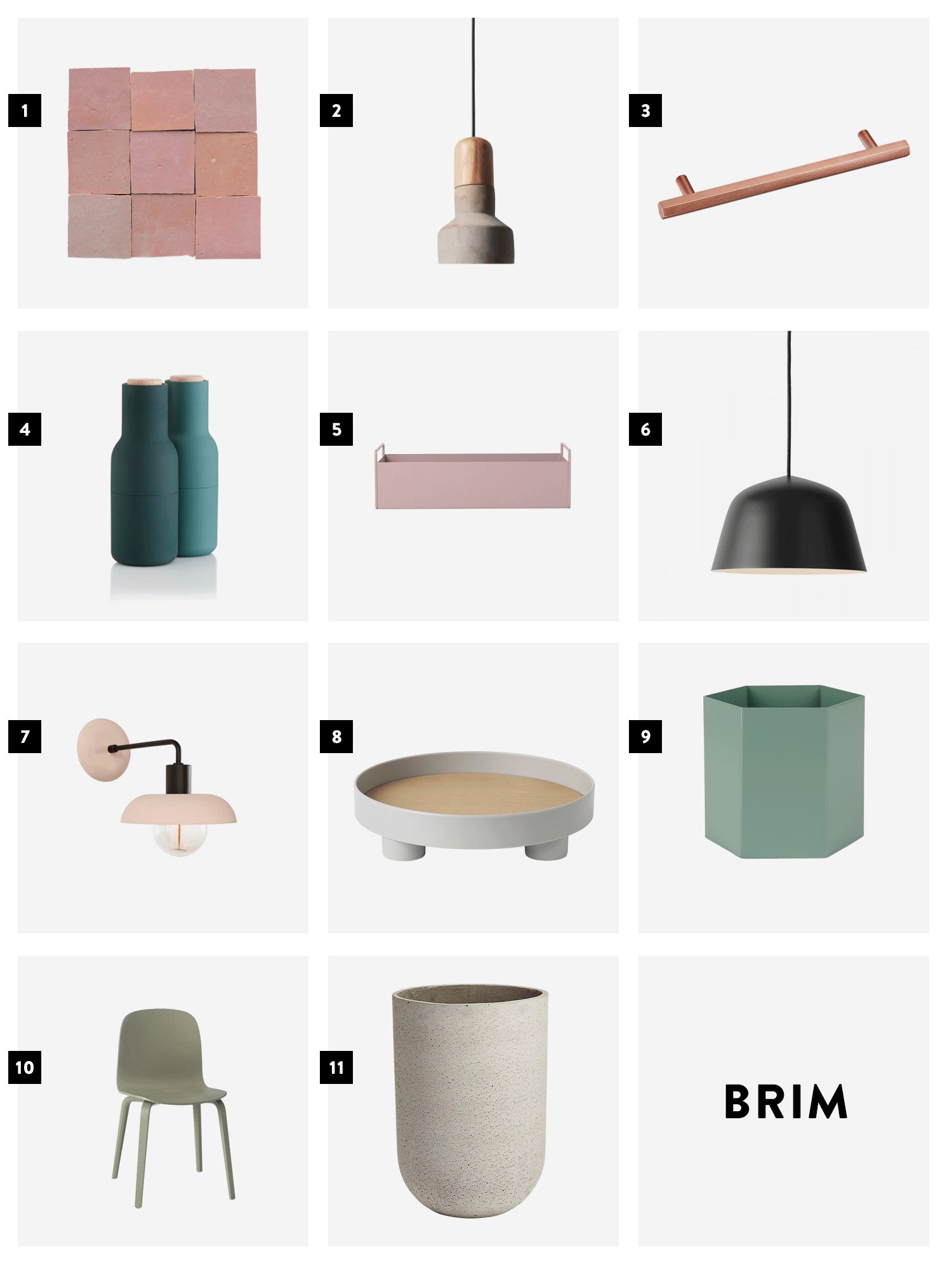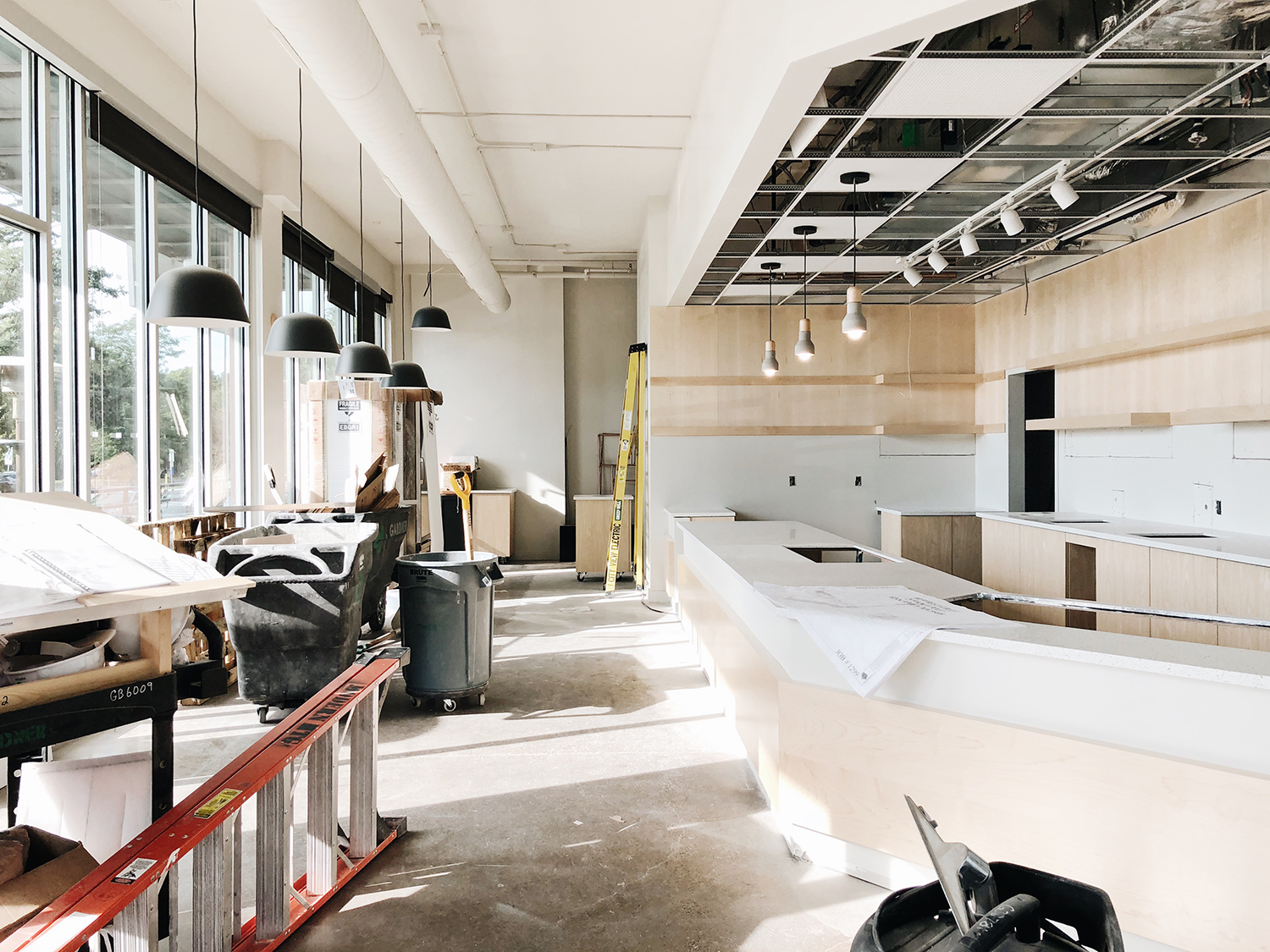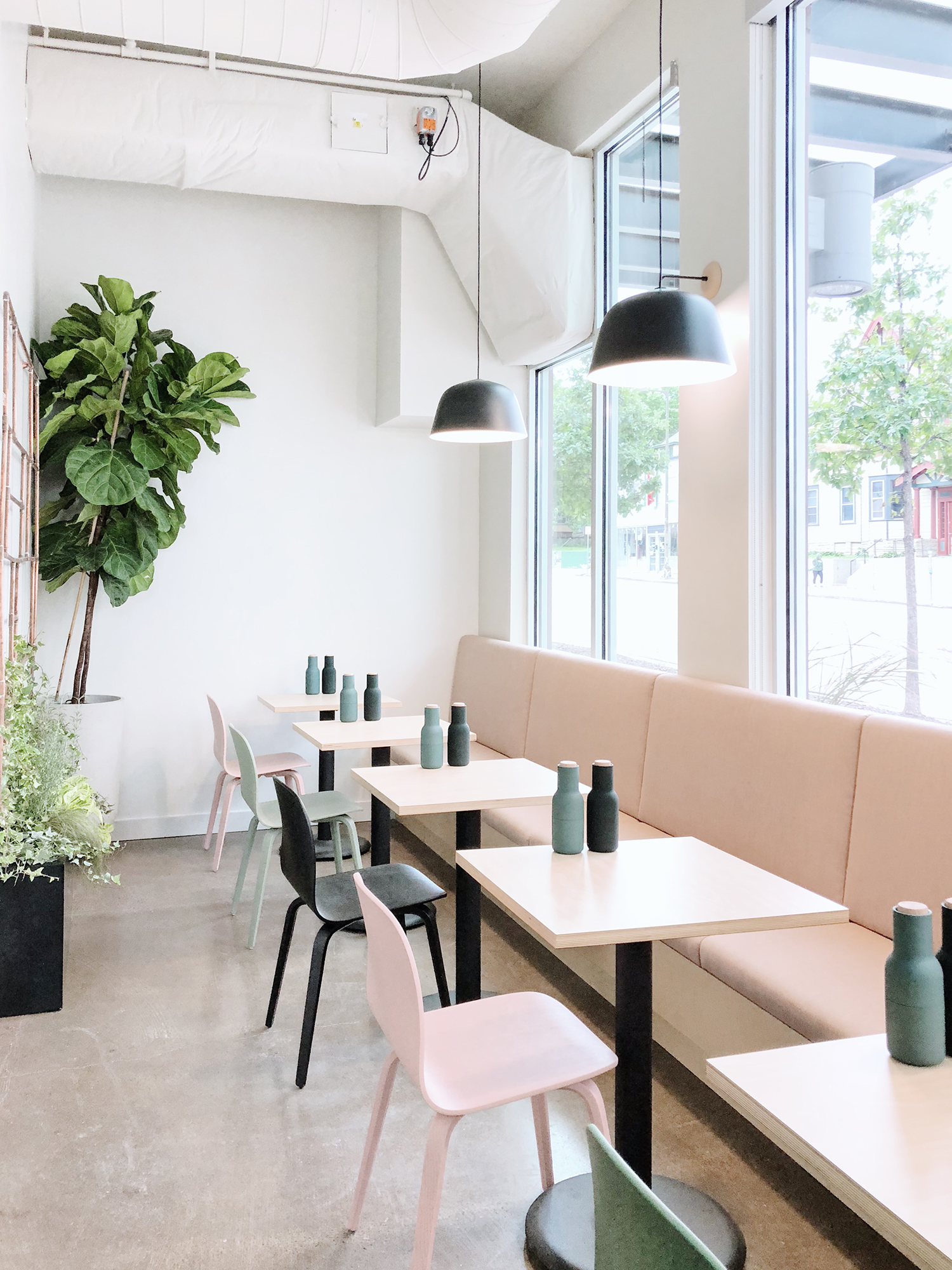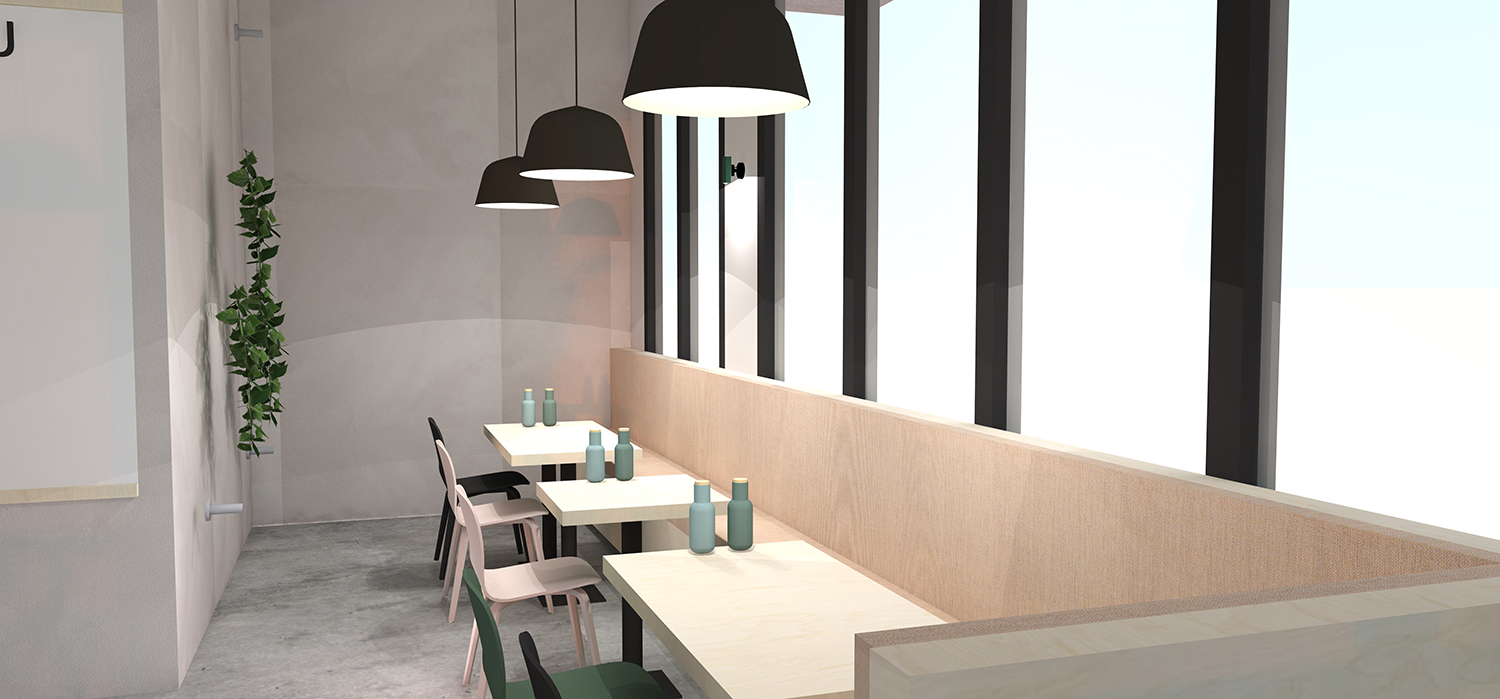 This has been a serious trip over the last several months. There were good times and terrifying times, but we figured it out. I'm so grateful that someone had faith in me to pull this off. It was a dream to see it all come together. Stop in sometime – I've become my own sort of Norm (think Cheers) I'll probably be hanging on a bar stool looking at the lake while I work and eat healthy delish bowls.
Oooh, and I should have more pro pictures to share soon, these were just snaps from my phone.