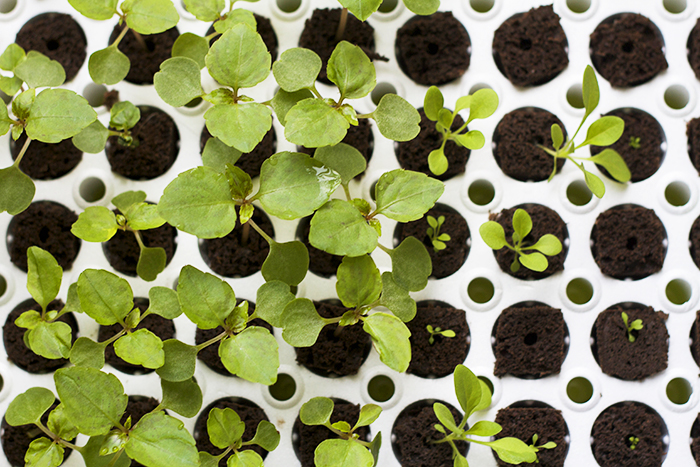 Yes! You, guys! It finally feels like spring around here! I know some of you guys in other parts of the country and world have been experiencing spring for weeks already. Not us, but in Minnesota it could always be worse. We still have a few colder days ahead of us, but it's warmed up enough to melt all the snow and even a few buds are starting to appear on the trees and bushes. I have been scouring my gardens daily for signs of life and am finally starting to see little glimpse. It's all so exciting, I can't even stand it!
Finn and I planted a few seeds in early March, I was going to write a post about it, but you know, my computer died and all that stuff. Now that it's early April we have some tiny little plants in our seed pots. We tried something totally new this year. Instead of sowing veggies or zinnias from seed, which were never able to pull off the transition from seed pot to garden, we are trying to grow impatiens and petunias! This is something that I would typically buy a flat of from the garden center. I figured it was at least worth a try to grow them on my own, especially since impatiens grow quickly and are pretty hardy. I have to say, I'm super impressed with the impatiens. We used a tray system from park seed and the seeds are doing really well. I've had difficulty with other seed domes in the past, but this one is really heavy duty and self-watering (yeah-yer). In another month I would imagine that they will be similar in size of nursery plants and probably ready to go straight into the gardens and containers. The benefit was that I was able to purchase impatiens that were more sun tolerant – this is not always an option you can get at the nursery. The petunias on the other hand are still a little scrawny, but I'm not giving up on them yet. "Hang in there little guys!"

I spent almost the entire day yesterday out in my garden. I'm on a mission to clean up all my gardens, edge borders and get the patio furniture cleaned up for this years backyard season.
Last year I discovered a way to really give life back to my wood patio furniture. I repeated the whole process this year too, with great results. I recommend trying this method if you have patio furniture that has seen better days. I am determined to keep this furniture looking good until some future date when maybe we build a deck.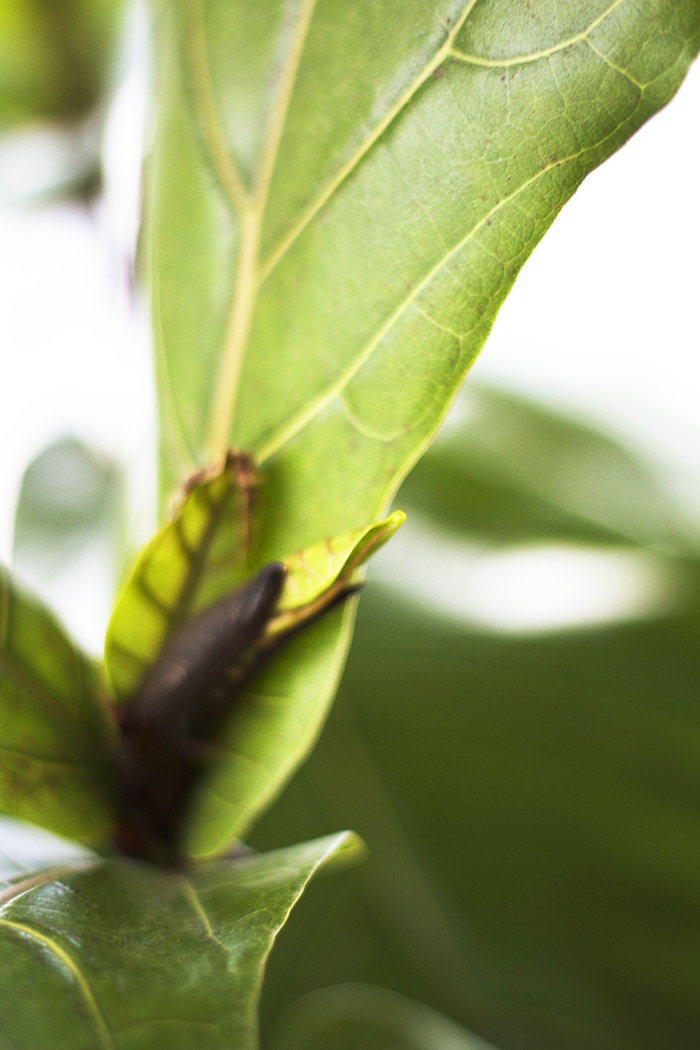 Look! Both of my fiddle leaf figs are starting to get new growth! I am so excited to see how they evolve over the next few months. Last year my first fig grew at least 18″ if not two feet over the course of one summer. This is what it looked like at then end of last February.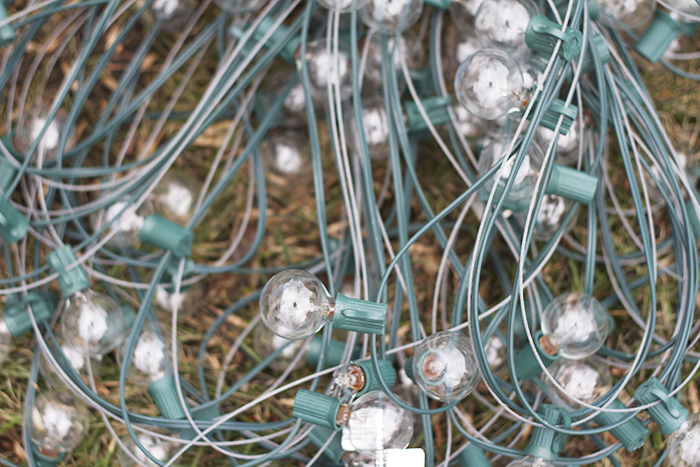 It's party light season! I totally love our party lights in a major way. Last year I strung the lights up using wire for a semi-permanent solution. I say semi permanent because they aren't hard wired, but they are nicely secured over our backyard. Over the winter we had an ice/sleet storm and the weight of the ice took the lights down. Thankfully they landed in a soft bed of snow, it appears that the hook had popped out of the house. This year we will use a bigger hook and will be making sure it's very well anchored.
Party lights transform our backyard during the evening into a really cool space. I'd like to use words like magical and whimsical to describe it, but I that just sounds a little dumb, mostly it is just awesome. I am really looking forward to spending many nights in the backyard – at least until the mosquitos begin to breed.

I'm upping the macrame lawn chair game this year. I've got a few new ones in the works. I am documenting the whole process and will be putting together a new and improved tutorial with photos and videos. I should have that ready to share with you guys later this spring. Until then, you can give this vid a try if you really need to get your macrame on.
I am so excited, I hope you are too. I can't wait to share spring and summer posts with you guys! Everyone, have a great weekend!