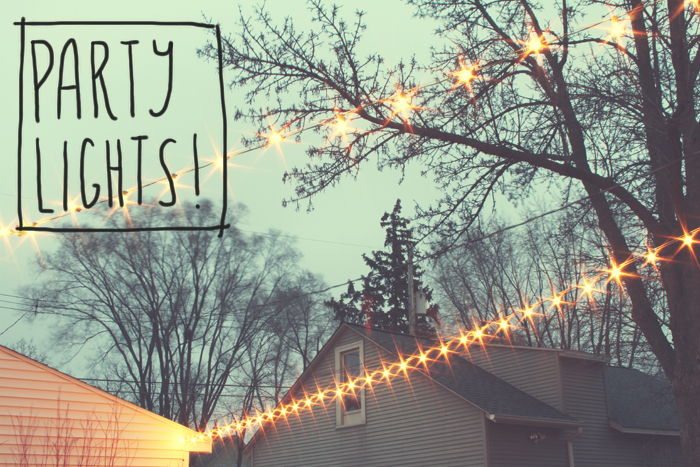 Over the winter, my old man and I did something pretty dumb. Let me start by saying we had really good intentions. We wanted to make a new annual Allen Christmas tradish and burn down our Christmas tree the day after New Year's day, duh. It sounded like a cool and fun idea, and it made for a good excuse to drink some brews and have a winter fire in the backyard. I tried to think responsibly and logically about this; I knew the Christmas tree was dry, so I figured I'd cut it into quarters, and we could burn it in sections to minimize the blaze. That sounds reasonable to me. Unfortunately, even quartered dried-up pine trees like to burn fast and huge no matter what, like in a almost burn your house down sort of way. See below: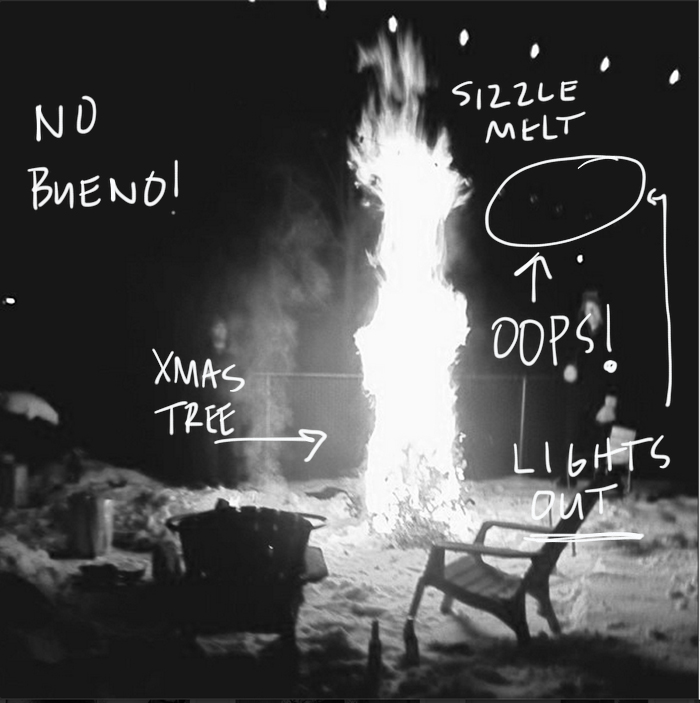 We were lucky that we didn't burn the house down. Jeff was super manly and grabbed the burning tree and threw it out into the middle of the yard before any major damage was done. We did however lose a few strings of our beloved party lights. They were melting the second that tree caught fire. The lights have sat lifeless and out of commission for the rest of the winter :(
Have no fear, spring is here (or whatever the eff you wanna call it). I thought it would be a good time to get those party lights hung back up so we'd be ready for spring time back yard hang seshes.
When I first hung the party lights I never thought that they would become a permanent fixture in the backyard. We were having some buddies over for a BBQ and I thought it would be fun to have some cool lights to illuminate our party. I had only hung them up with twine (thinking it was temporary), a few weeks later I had upgraded to string (big upgrade, I know) and there they sat until I burned them down.
I was no dummy, though. Once we decided the lights were staying we knew that eventually we'd (I) have to figure out a away to give the lights more support and tension. The best solution that I could come up with was to hang a taught wire over the backyard and then clip the G40 clear bulbs onto the wire, thus relieving the string lights from supporting their own weight (plus tension) and leaving me with a taught dependable party light solution.
I thought in case any of you might want to try out some party lights in your backyard these set of instructions might come in handy. I didn't find much on the subject when I was doing research on the interwebz.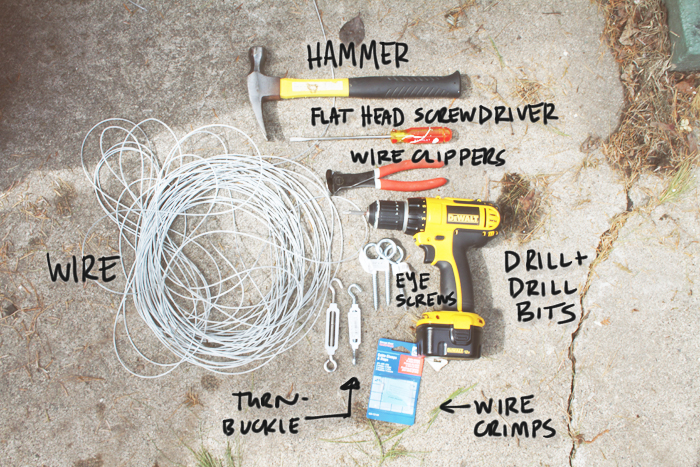 Wire
Screw Hook
Wire Eye Lag (aka eyelet screw)
Turnbucklehammer
Flat Head Screwdriver
Wire Clipper
Drill
Drill Bits
Wire Crimps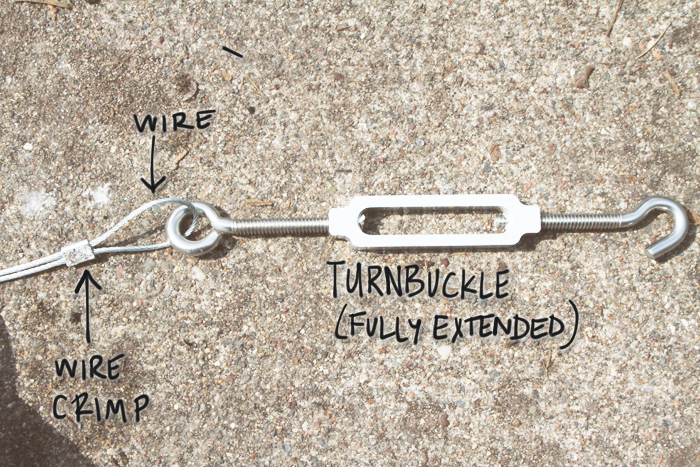 The key to this rig is in the mighty turnbuckle. The turnbuckle I am using is called a "J-hook," meaning that there is the open hook on one end and the eyelet on the other. The hook links into the wire eye lag screw (aka eyelet screws) I have attached to the garage. The wire and crimp get attached to the eyelet end of the turnbuckle and then the wire connects to the hook on the house. Don't worry, there's a handy diagram below so you can get the whole picture here.
The important part that I wanted to share with you here is that you can get these little crimps to attach to the wire. They allow you to turn your wire into a loop. In the instance above, I wrapped the wire around the eyelet of my turnbuckle and then crimped the loop shut. Crimping is easy, once you've got your wire and crimp in place you just smash it shut against a hard surface using a hammer and you are good to go.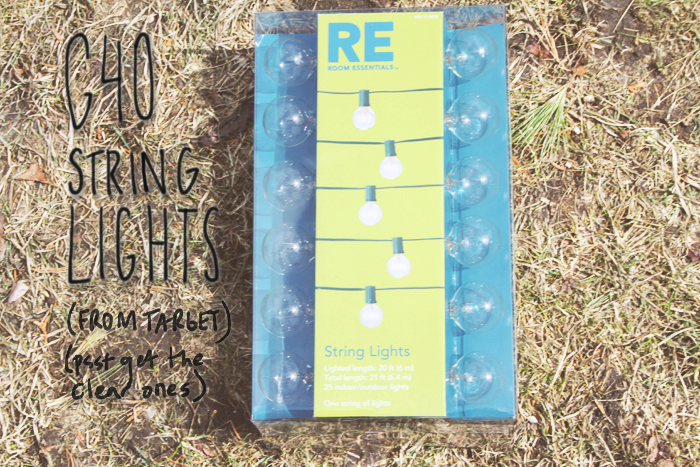 All sorts of places sell clear G40 bulbs these days and they range in price from super expensive to super affordable. I picked my "Room Essentials" set up at target, they were 12.99 for a string of 25. For the backyard I needed 4 strings, 2 extending from each corner of the garage to the house.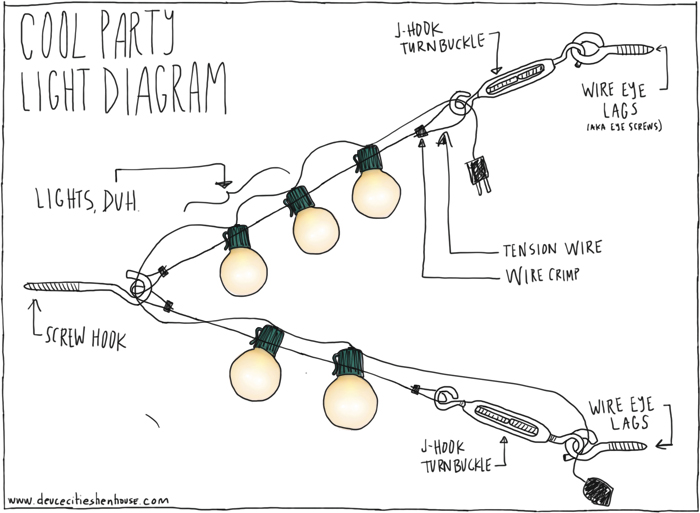 I hope that this helps explain my method. Remember, in my example I strung my lights from a single point where I used the hook screw. Two wires were attached going across my backyard at different angles and are anchored to my garage with two wire eye lags (eyelet screws).
In my example I have two wire eye lags attached to my garage on opposite ends (about 25 feet apart). If you wanted to go crazy you could attach even more wire eye lags and run more wires to give your yard a "canopy of lights" vibe. For the purpose of me explaining this though, imagine we only have two attached to a fixed point (aka my garage). You will also need to attach a screw hook to the location (usually opposite the fixed point) where you want your lights to hang over (in my case it was the house). You will run two wires both with loops and crimps on the end. You will loop one end of both wires over the screw hook (attached to the house). The other end of the wires will attach to a turnbuckle and then to the wire eye lag on the house. Of course both wires won't be attached to the same turnbuckle, they will both be attached to separate turnbuckles and then in turn attached to separate wire eye lags (attached to the garage).
Before attaching the wires to the eyelet end of the turbuckle with a loop and crimp make sure to fully extend the turnbuckle (as pictured in the above photos). Once extended use the hook end of the turnbuckle to hook into the wire eye lag (aka eyelet screw). Tighten up the center of the turnbuckle until you reach the preferred taughtness of your wire. If the turnbuckle gets difficult to twist with your hand, insert a flat head screwdriver for leverage. Lastly clip on the lightbulbs stringing them up and down the length of your wire.
Huzaah! You now have a backyard with super cool party vibes.