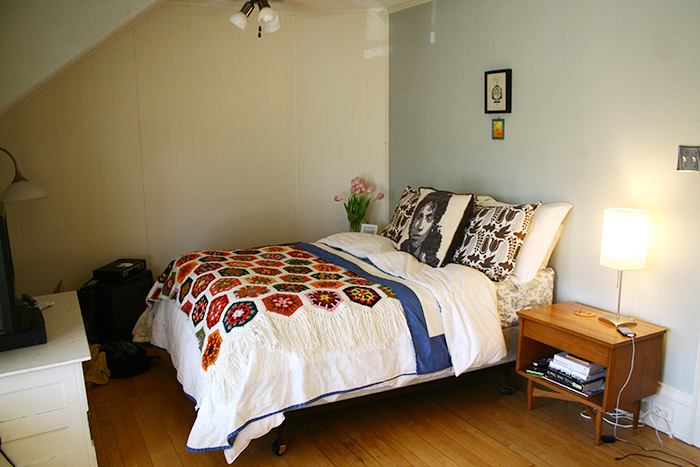 Yo, Buddies! Here I am with the last installment of the four year recap. I hope I'm not driving you guys crazy with this, but it's fun for me to look back at the progress, and I hope it might be for you too. Sorry if I went a little overboard.
Today I am sharing you the progress of our master bedroom, the sunroom and the front porch.
The photo above is our bedroom minutes after we moved in, as you can see not a lot had been done to the space. The honest truth is that it sat like this for quite some time, probably a year. We were so busy trying to get our living areas "put together" that we really couldn't focus on the bedroom. I say "put together" in quotations because really it took years to get a cohesive look in our living areas, and most likely will always be evolving.
The bedroom is large, which is awesome for us and was a definite must when house hunting. However, the doorway that opens into the bedroom divides the bedroom into two parts. On one side we have our bed, nightstands and tv, and on the other, we have a dresser, closet and sitting area. The doorway from the hallway sits directly across from the sunroom (the sunroom is connected to our master bedroom), basically creating an invisible pathway between the two.
What I'm trying to tell you guys, is that the room is big – which is great, and cool, and awesome and all, but it has also been very hard to pull together because it consists of three separate parts all existing in the same space.


Here is the bedroom as it sits now in 2014. Although it's looking okay, it still needs a lot of work and I will be revisiting it sometime in the not so distant future. I'm excited to make this bedroom really feel like an adult bedroom. We have never had an actual grown up bed. For some reason my kids have a cool bed, but we do not. What gives? Would it be asking too much to have some nice furniture? This room has basically been furnished with leftover furniture scraps. I would love to have a bedroom with furniture that was purchased with a bit of thought and intention.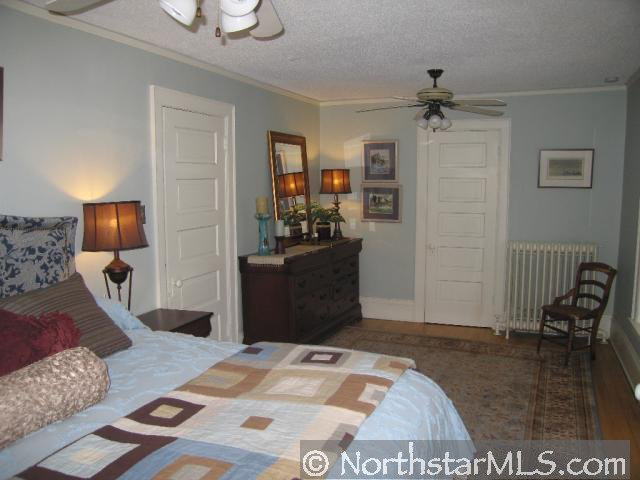 Here's that "other side" of the room. I hope the proceeding photos can kind of give you a feel for how it's changed over the years. This photo is from the real estate listing. The doorway on the left is the one that leads to the hallway, the other is the closet.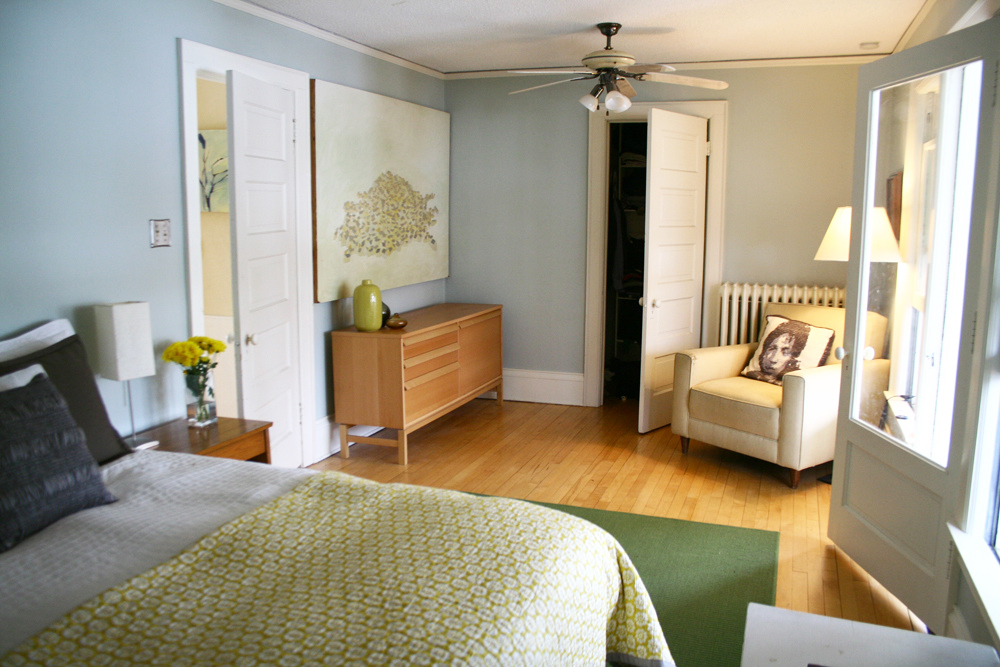 In 2011 I tried to do a no cost update by shopping my home, grabbing what I could, and trying to give this space some sort of "look." The common thread was color, and I tried to incorporate as much green, yellow, grey and white into the mix to compliment the baby blue walls.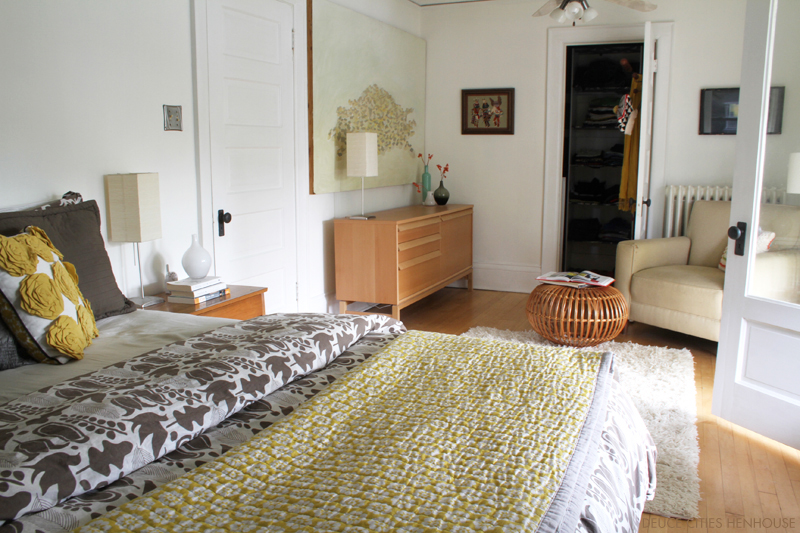 In 2012 I had had it with the blue paint! I painted the trim and walls white, adding a black accent wall (seen in the next photo). We added shelving along the black wall for all of our books, which at the time were still sitting in boxes two years after moving in.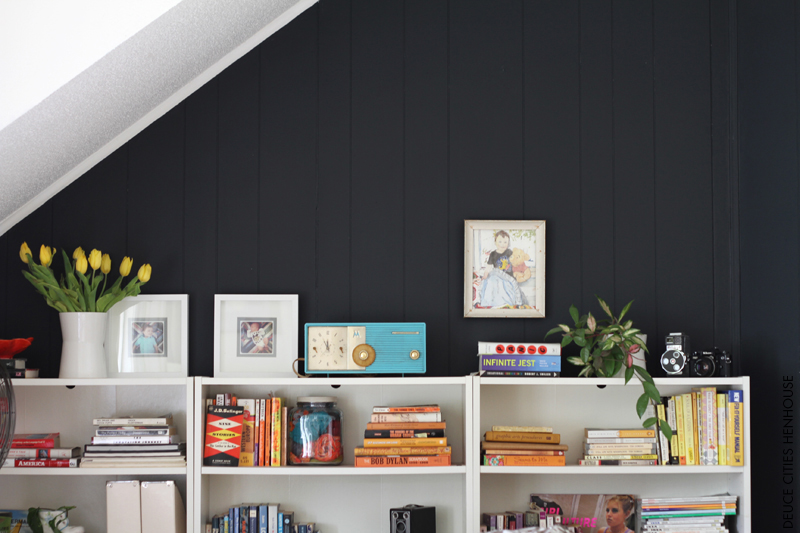 Here's the black bookshelf wall. There are two things I want to highlight about this wall.
First of all, I think I am over the open shelving and would consider adding a fauxdenza on this wall in the future. I love my sunroom Fauxdenza so much, and I think a version of that would looks so great in here.
Secondly, did you notice the cheap 70's panelling? It might be hard to see in this photo because the wall is painted black. I want you to notice it though. Look closely, do you see it? The wall behind the bookshelf is all panelling and there is a werid bump out in the one corner. The question is, "Why?" I have my suspicions.
The weird bump out in the corner is completely hollow, except for the very top, where it sounds like I'm thumping on a metal box — maybe it's a secret time capsule? We have radiators, so it couldn't be duct work, and I've taken a peek in the attic but there is nothing to there to give reference to what this supposed metal box might be.
The wall directly behind the bookshelves has some hollow spaces too, and I am wondering if there might be a hidden window behind there covered up years ago. There is absolutely no windows in our bedroom, only the windows in the sunroom. It seems strange that the home would have been designed with the sunroom windows as the only natural light source. Have any guesses as to what it might be hiding?


Onto the sunroom. If you've been keeping up with the blog, you already know this is my latest work in progress. Here's what it was looking like before we moved in. The previous owners furnished it with some large pieces, but I couldn't help loving it. There was so much potential for it to be an amazing space.


During our first year we made some snap decision furniture purchases. We needed seating and didn't have a budget for anything major. One of the items we bought on craigslist was this petite mid century sofa – it wasn't a beauty, but it had some nice lines. I always figured I'd reupholster it, which I just did recently!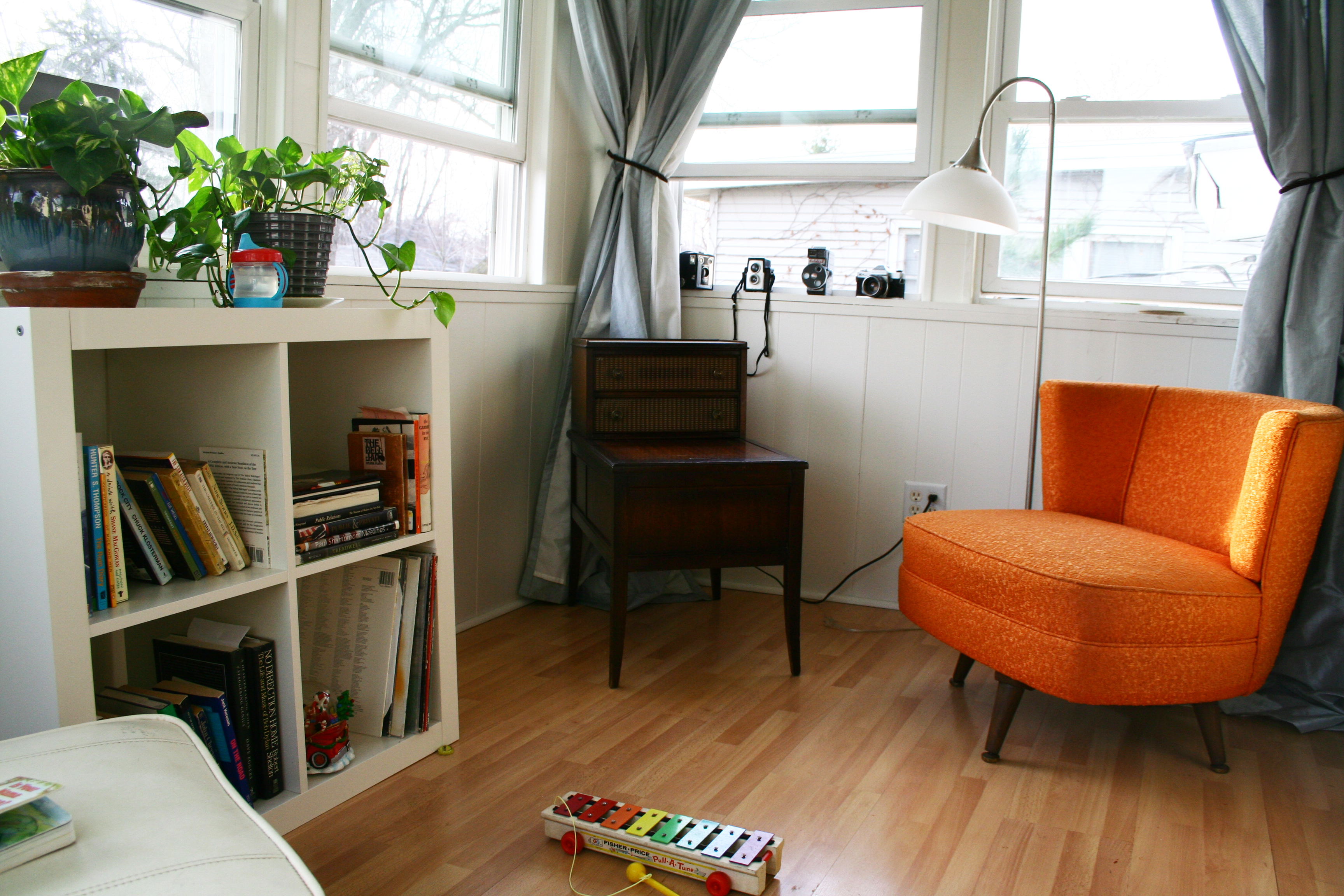 We also picked up this orange swivel chair. For some strange reason I really love this funny chair, but it just doesn't go with anything in our house. I think a future reupholstery job might be in order. We also purchased a small vintage record player which warbled and shocked us often. It was all a good attempt at making our sunroom a cool place to hang out, but sadly it wasn't enough to entice us.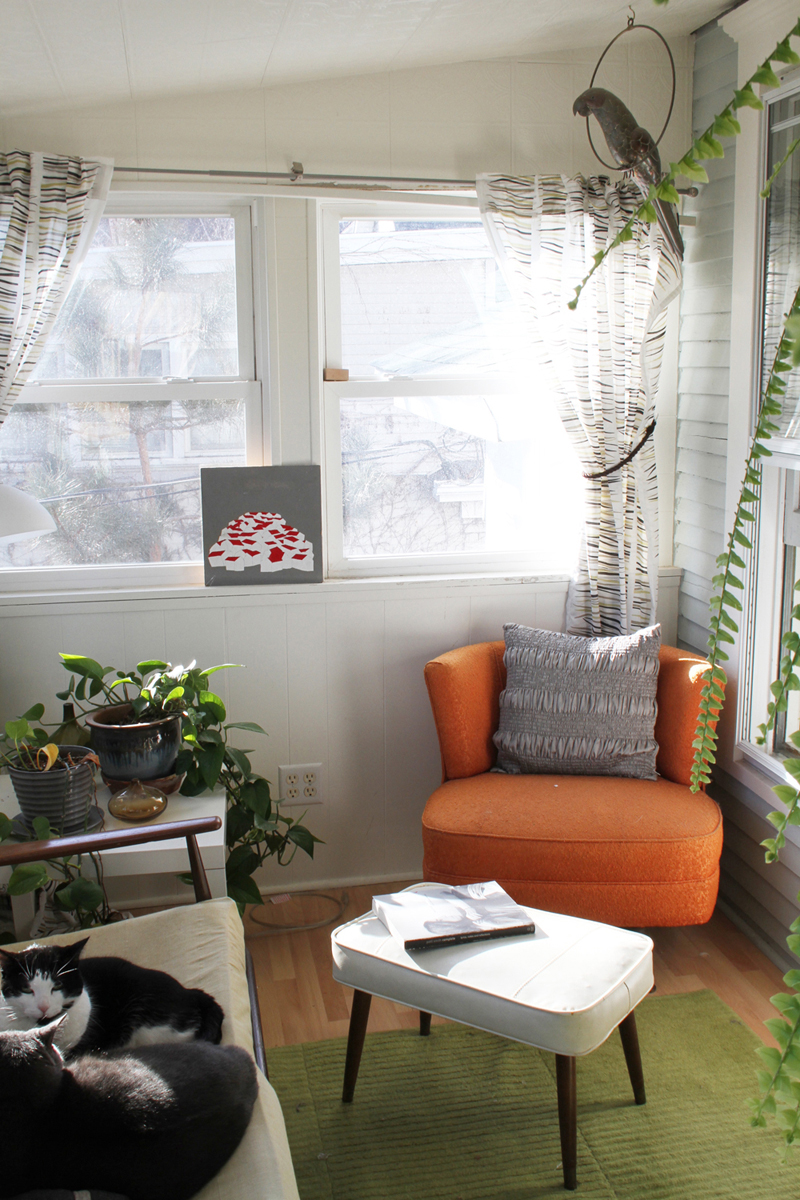 Another year down the road and in a fit of frustration I temporarily covered the sofa in old curtains (you can see it in the corner of the above photo). We also rearranged moving the sofa to the far wall – a very good idea if you ask me. The sunroom was getting slightly better, but was still having a rough time finding it's identity. On top of it all it needed lots of love, the trim and windows had seen better days.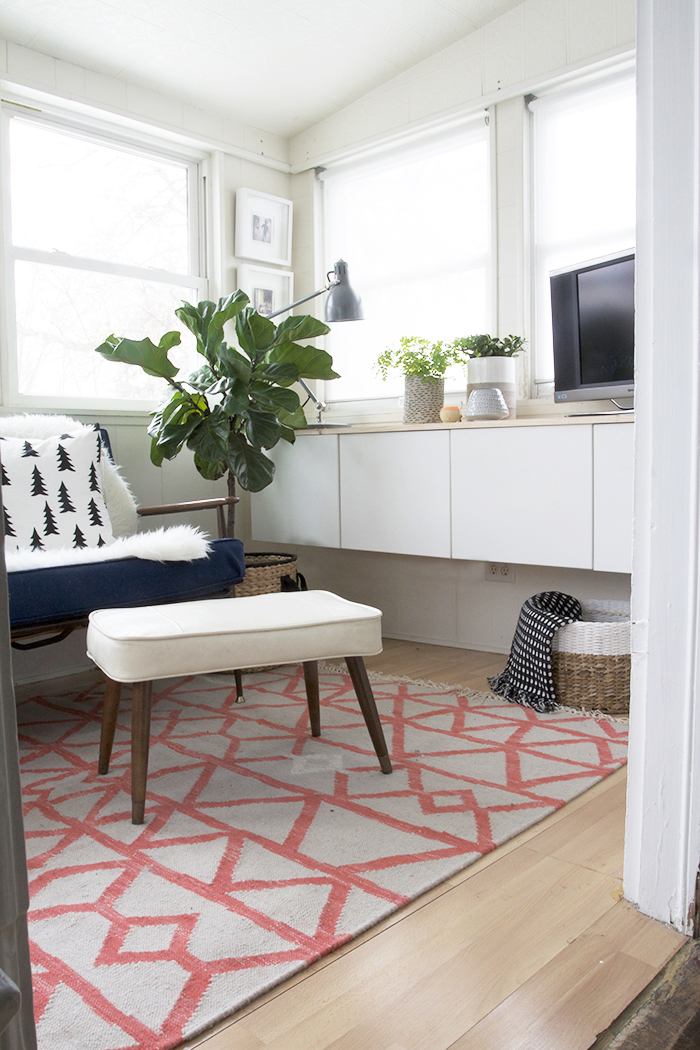 You guys, here is the sunroom as of two weeks ago, and it's even better now! I'm not going to dive into what I did in this room because I'm planning on sharing all the details in a post next week. I can't wait to let you in on it!


We are lucky enough to have a porch on the front of our house. It is without a doubt our favorite spot in the whole house, if not the whole world. We haven't even done that much to it really, it's all about a state of mind, man. For real though, there is seriously nothing better than a spending a sunny Sunday afternoon on the porch, sipping champagne and listening to records while the kids across the street have epic lightsaber battles.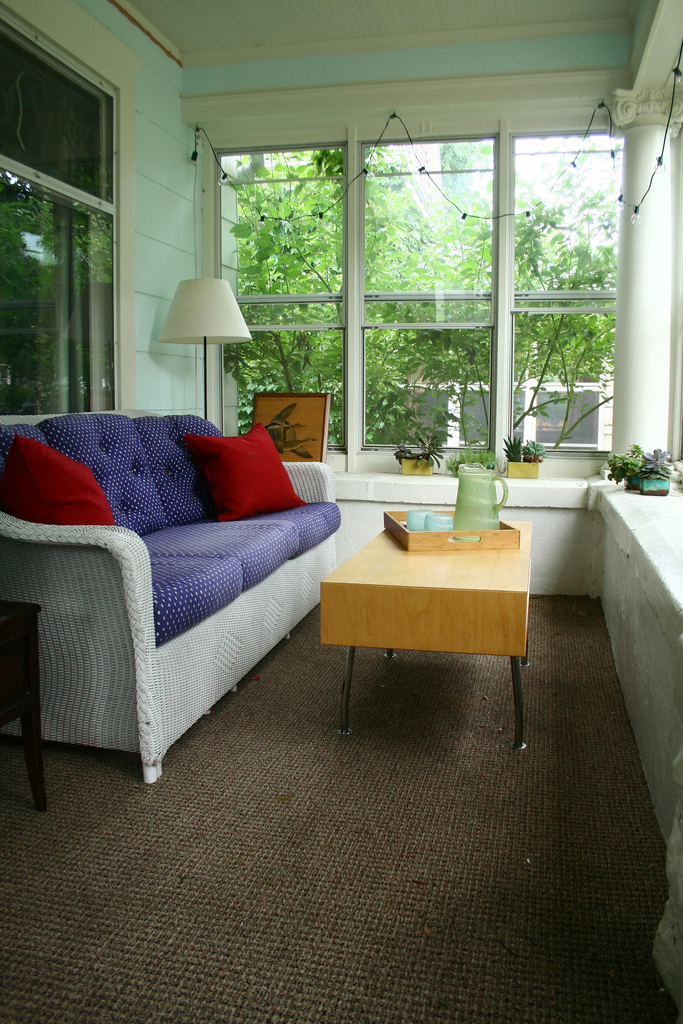 I have no idea why it took so long for us to paint this room, but it did. We debated between a light yellow and a light blue paint color. All we wanted was something light and airy with a bit of color. We went with the blue, and at 8 months pregnant we painted the room trying to get it done in time before the babe arrived.
Furniture placement should be the main theme of the entire recap. It's the consistent problem I've had in nearly every room of the house. I think it takes a lot of living to figure out the best way for a room to function, and a decent amount of cash to furnish them accordingly. It's no surprise that it took us four years to figure this out in so many of our spaces.
The porch has had it's struggles with furniture too. Like the bedroom, the porch is separated by a doorway splitting the room into two parts.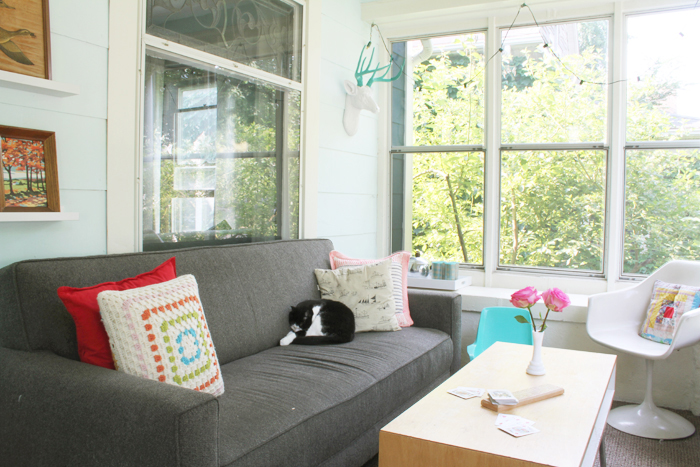 Last year we inherited the old sofa from the living room when we bought our new living room sofa. We banished the white wicker sofa to the garage and made a small budget for ourselves to accessorize the space with. Obsessed with our friends northern Minnesota lake place, we decided to claim Urban Cabin™ as our style in the front porch.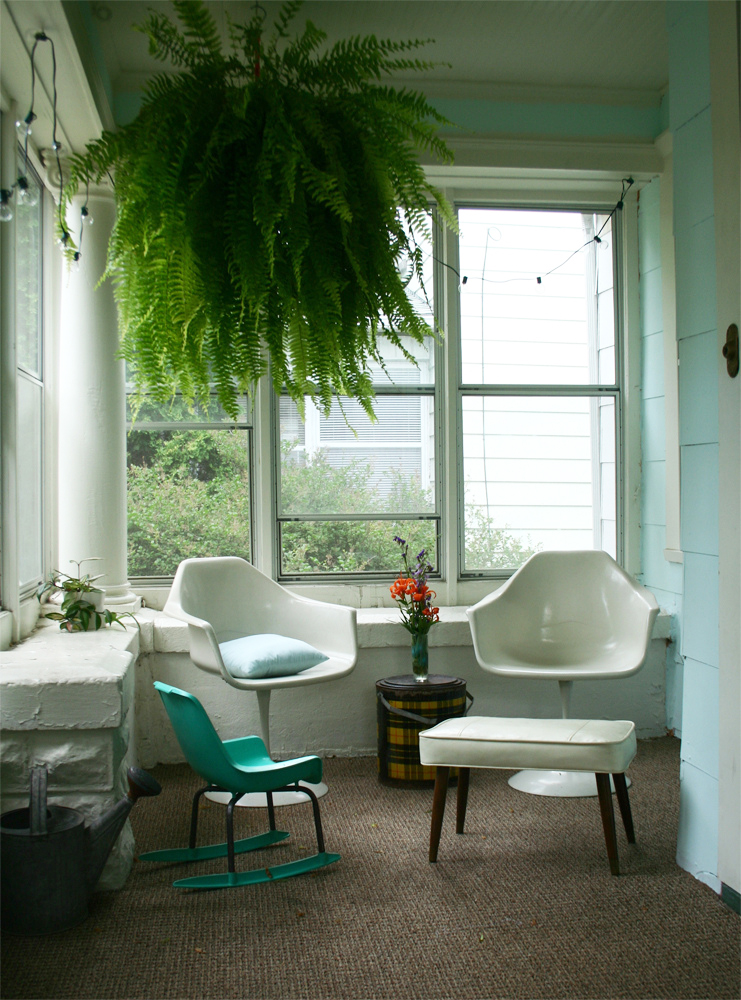 Back to 2011 – here is the other side of the porch. I had four Saarinen style chairs that I had been given, I struggled trying to incorporate them into the space and attempted to make a seating area in this corner.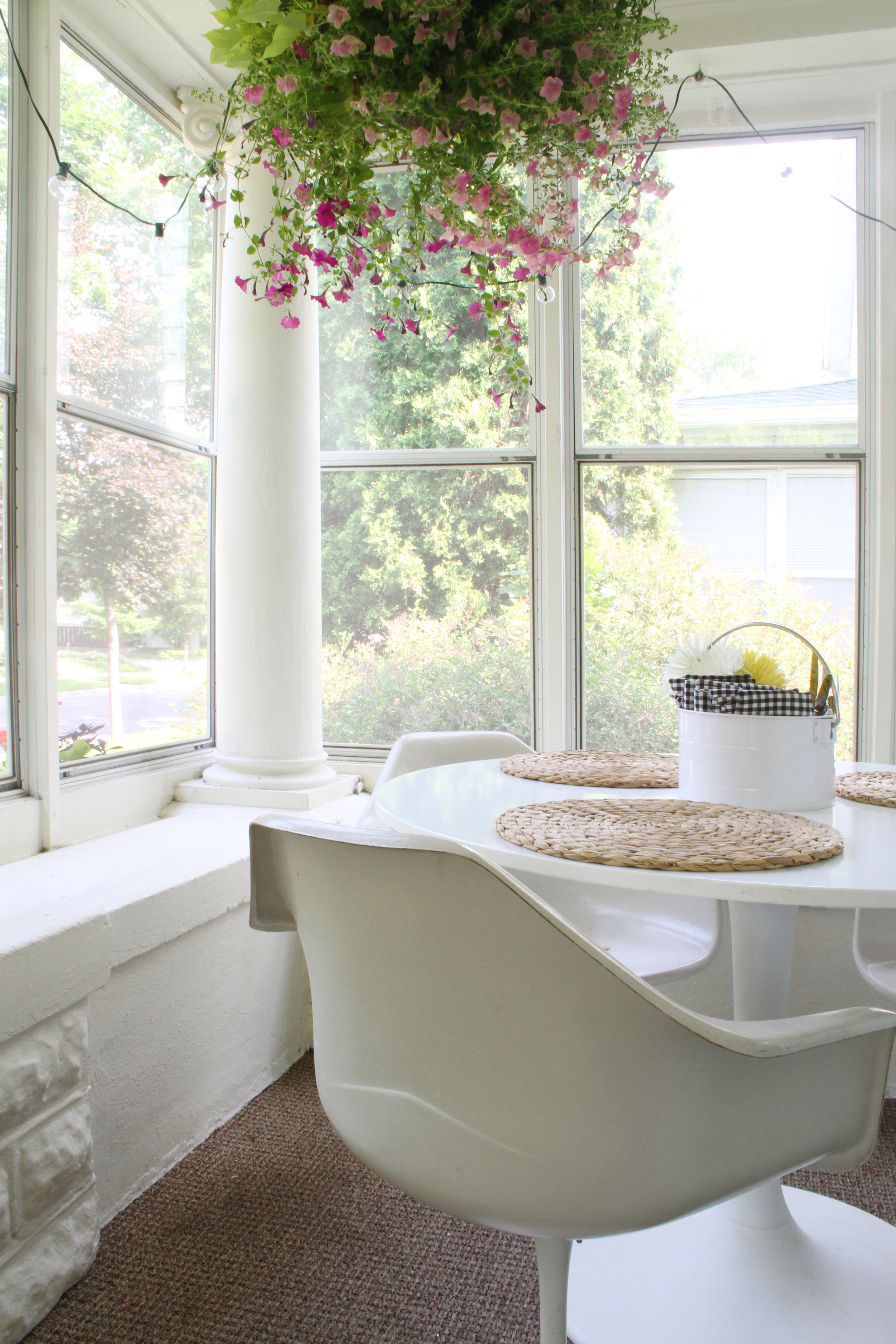 In 2013 I wised up and realized that those chair should be sitting around a table, duh, me! I snatched up round Ikea Docksta table on craigslist for cheap. The table worked! We ate out here almost every day last summer, and I totally love the functionality of this side of the front porch.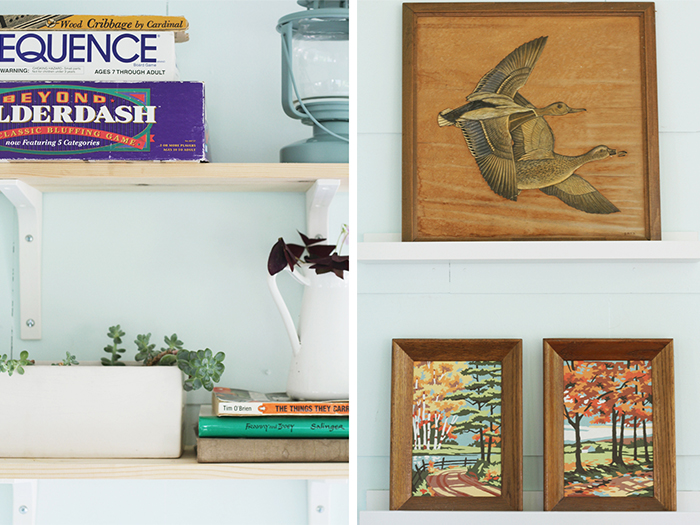 Although the front porch is slowly coming together, I still have big ideas and grand plans. Did you happen to notice the brown carpet? Yeah, that needs to go. The carpet is glued on to concrete, I plan on removing it and tiling someday. The table side of the porch has settled over the last 100 years, the concrete needs to be leveled out before we can think about tiling. I saw a self leveling concrete product used on a recent episode of This Old House and I thought it might work perfectly for this problem. More research is needed. I also have plans to paint all the trim matching it to the trim on the exterior of the house. There's so much trim though! Geez, I know it will take me forever to get to that project, and I will probably avoid it for a very long time.
I love my old home because there is always another project to work on, the house will always need love and maintenance and I am the one who has the honor of doing it. I hope when I'm an old, old lady I can pass this home off to the next set of owners feeling proud of how far its come.
So that's the recap, I hope you guys enjoyed it.
Find Parts 1-4 of the Recap Here:
▼ Part 1
▼ Part 2
▼ Part 3
▼ Part 4