Hey Guys! We just passed the four year milestone of living in our house! That't the longest we've lived anywhere in our entire adult lives. In honor of such a momentous occasion I thought it would be cool to do a four year recap. The blog is pretty linear, and I usually only share improvements with you guys, so I thought it would be fun to take a sec and see where it all started.
The photos aren't an absolute fair comparison, because a lot of them are from before we moved in when the house was full of other peoples furniture. Plus, I wasn't taking photos to be pretty, they were just documents of what it looked like, however I still think you can get a good feel for what we had to look past when were getting ready to buy this house. No matter how much I tried to color correct the "before" photos they are still awful. I'm sharing them in black and white and in color as a color rollover. Hopefully, you will also get a sense for the improvements we've made, even if some are as small as adding a good coat of paint.
So here goes…

The hardest thing for me to get over when we bought the house was the woodwork. I did not want a house with natural woodwork, and this house had woodwork up the wazoo! Not only was there tons of woodwork, it had aged beautifully and I knew it would highly uncool if I were to paint it. So, I compromised, and I worked with.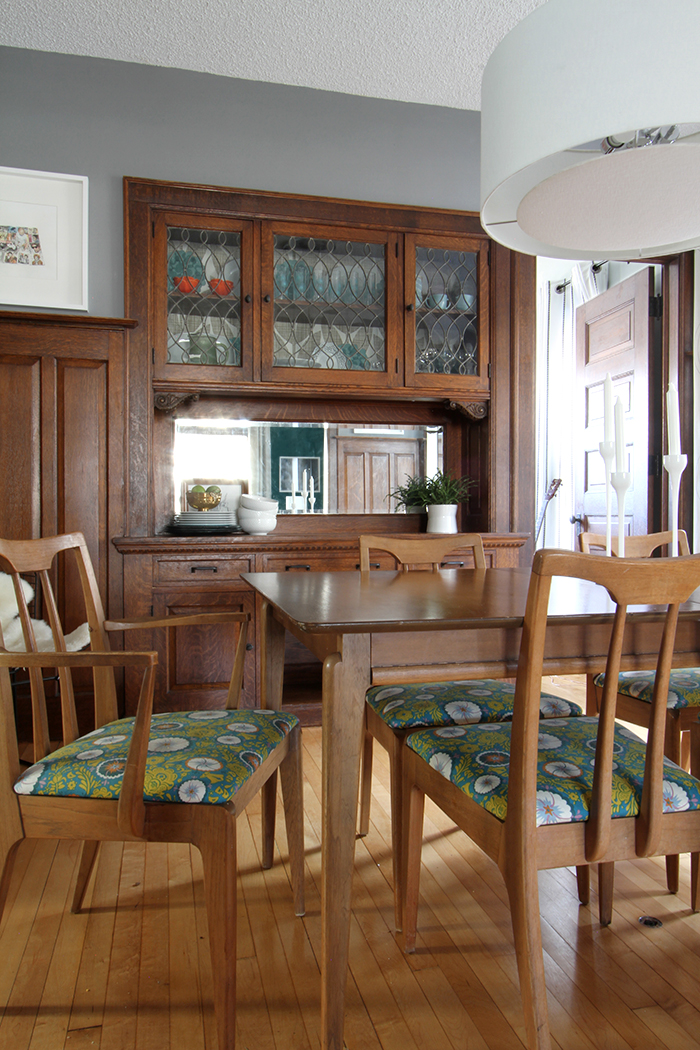 The dining room is the room we've done the least in. We painted it grey, (which took forever to find the right shade that complimented the woodwork), and we added a pendant light fixture. To finish it off I added some leftover wallpaper to the back of the buffet, and hung some artwork. It's always been the most awkward room to decorate – it's hard to hang artwork, furniture placement is funny, oh, and there is all that woodwork!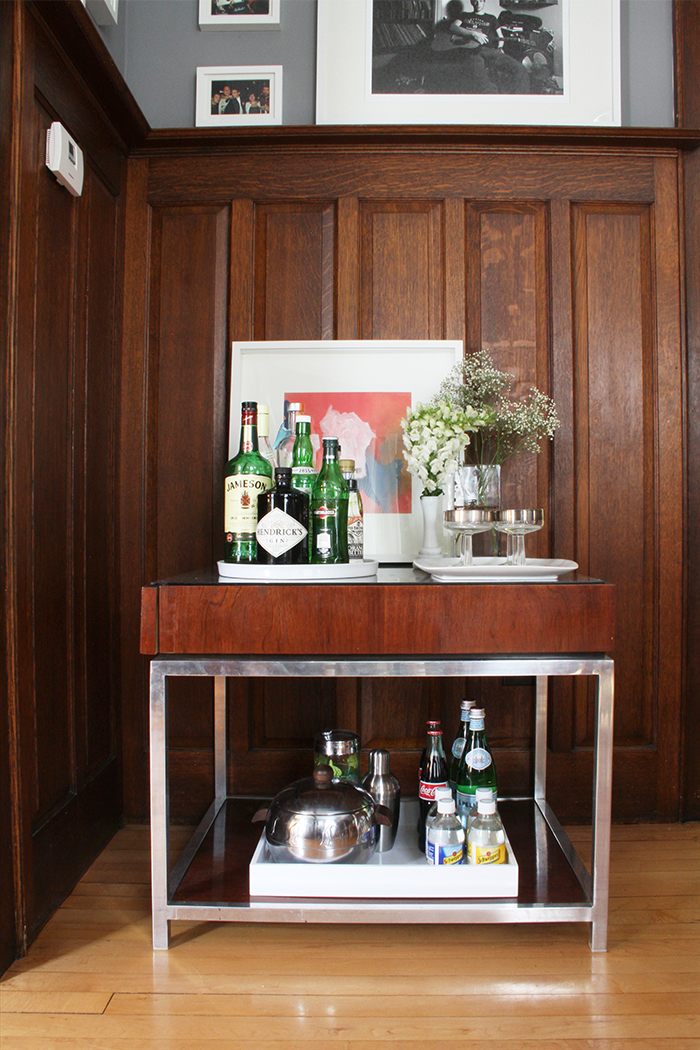 Look at little Finn!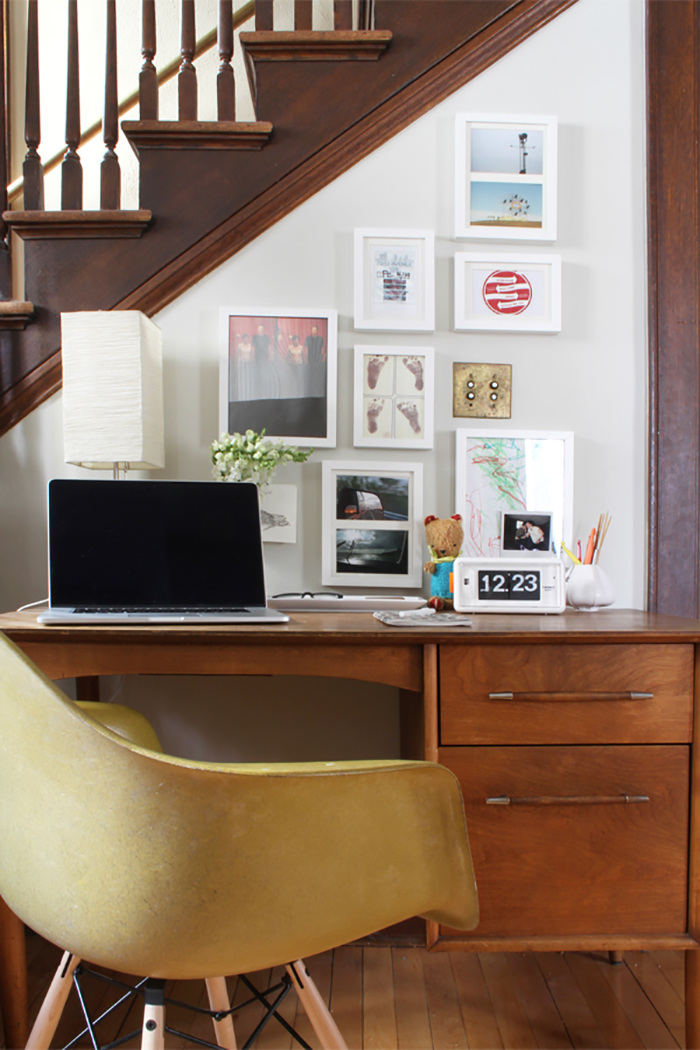 The entry way is a place where I've had a lot of difficulty when it comes to making it pretty. We bought a vintage desk a year after moving in, and it tucks nicely into the space right near the staircase. This is where I work, but I'm beginning to use it less and less. Long story short, the desk isn't a permanent solution, and someday this space will need to be given much more thought and attention.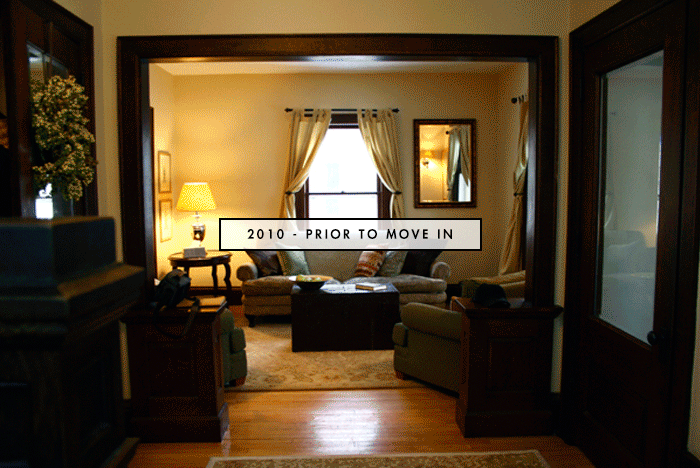 And because I know you all love a cool animated gif – here is a little suggestion of progress in the living room. The dark wall color and furniture placement really does amazing things to the space.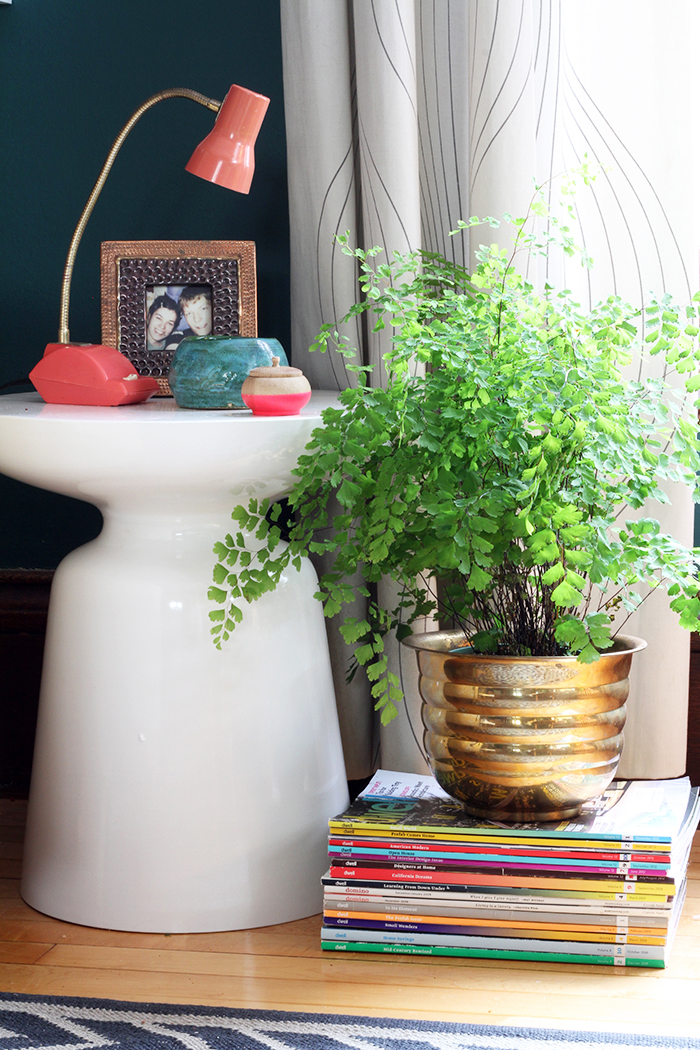 Stay tuned for more of the recap!