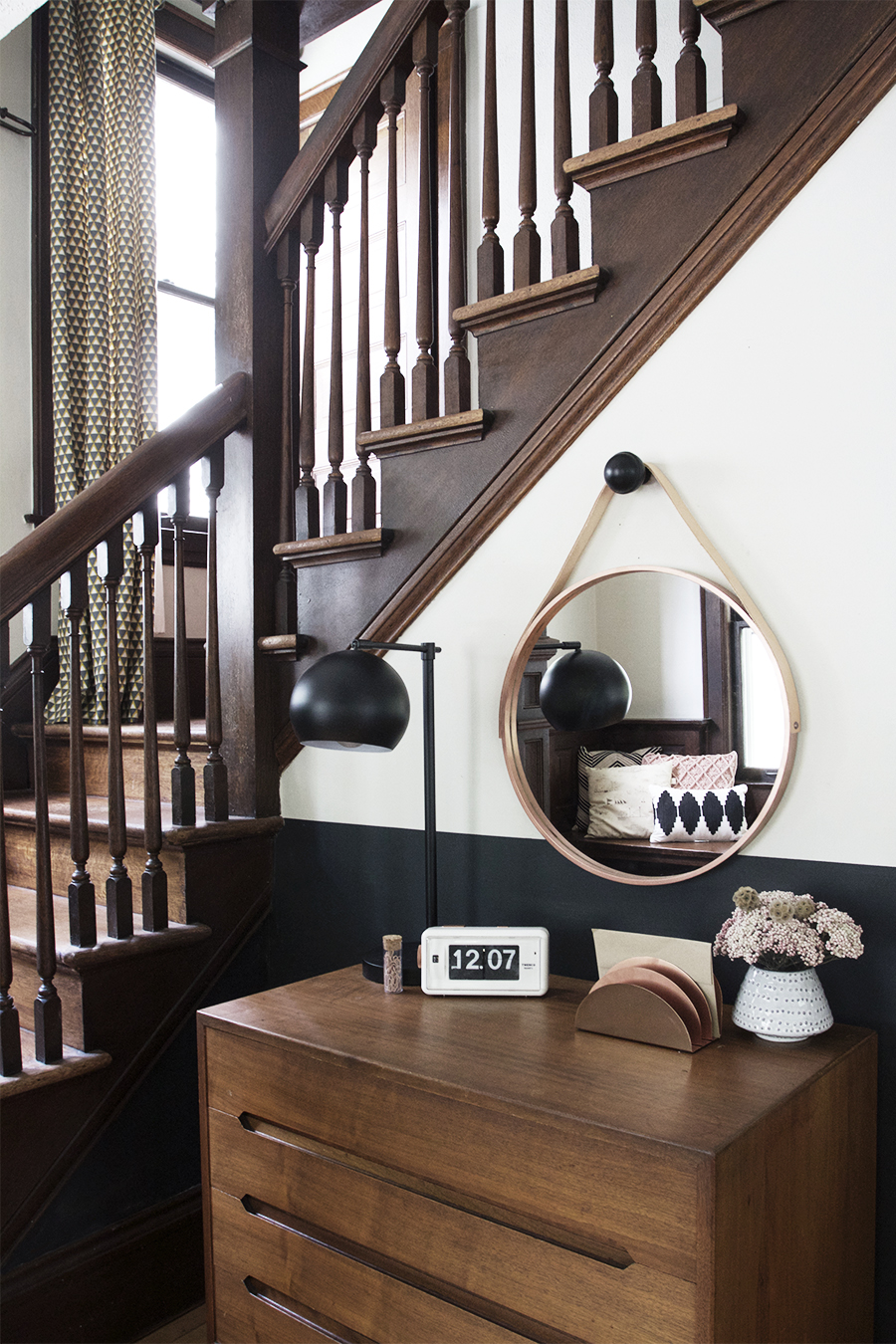 Guys, Who am I? Two posts in one day? FTW!
Like I said, I've been brimming with ideas for the house. The first was to customize this round mirror from Ikea. Unlike so many other mirrors the Skogsvåg mirror from Ikea was the perfect size for my small space. At 18″ wide it fit this odd shape created by our staircase just perfectly. Plus the frame of the mirror is made from wood so it makes it easy to modify, unlike some of it's metal framed counterparts. Also, did I mention the price, $39.99 – a deal as far as mirrors go.
My go-to copper metallic spray paint is from Rustoleum, it does an amazing job of actually looking like copper, and I feel completely confident that when I use it, shit will look cool. I kinda went a little nuts and spray painted the buttons on my twemco flip clock too, oops. I've been pinning and pining for a round mirror for my house for a long time, I just couldn't find one that was exactly what I was looking for, and for the price I wanted to pay. After searching around for a bit I found this pretty natural leather strapping, and bought a bunch of it (I have a few other ideas in mind for this as well). The leather is 1 1/2″ wide and sits perfectly flush against the sides of the mirror. And since the mirror is made of wood, it was easy to tack on using upholstery nails. More details on the mirror assembly below.
I invested in a gaggle of pillows for our entry bench (aka radiator cover / built-in bench). You can see a peak of them in the above pic, and I'll be sure to share more later. They have made the space! Below are the links to the cushions spotted above :)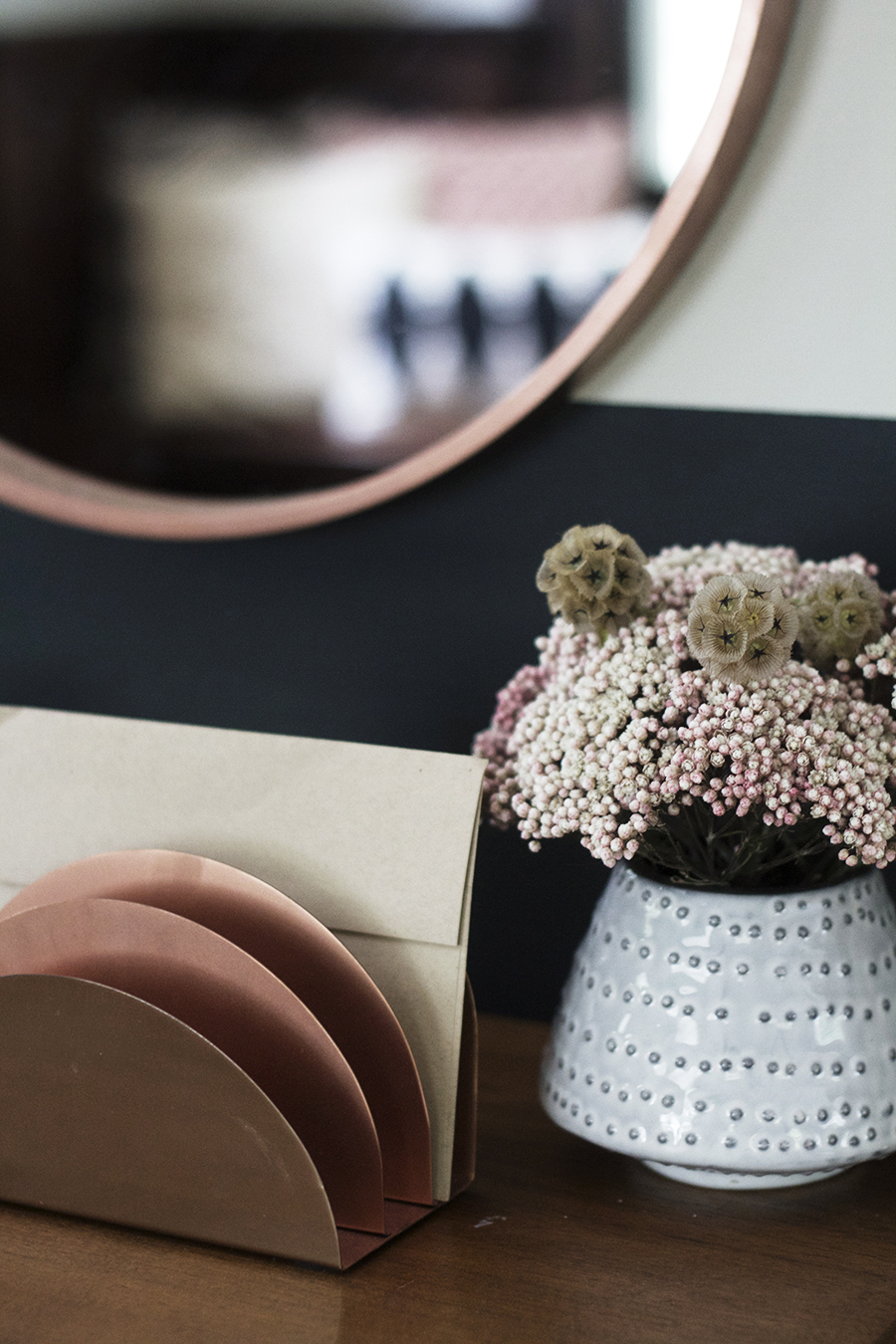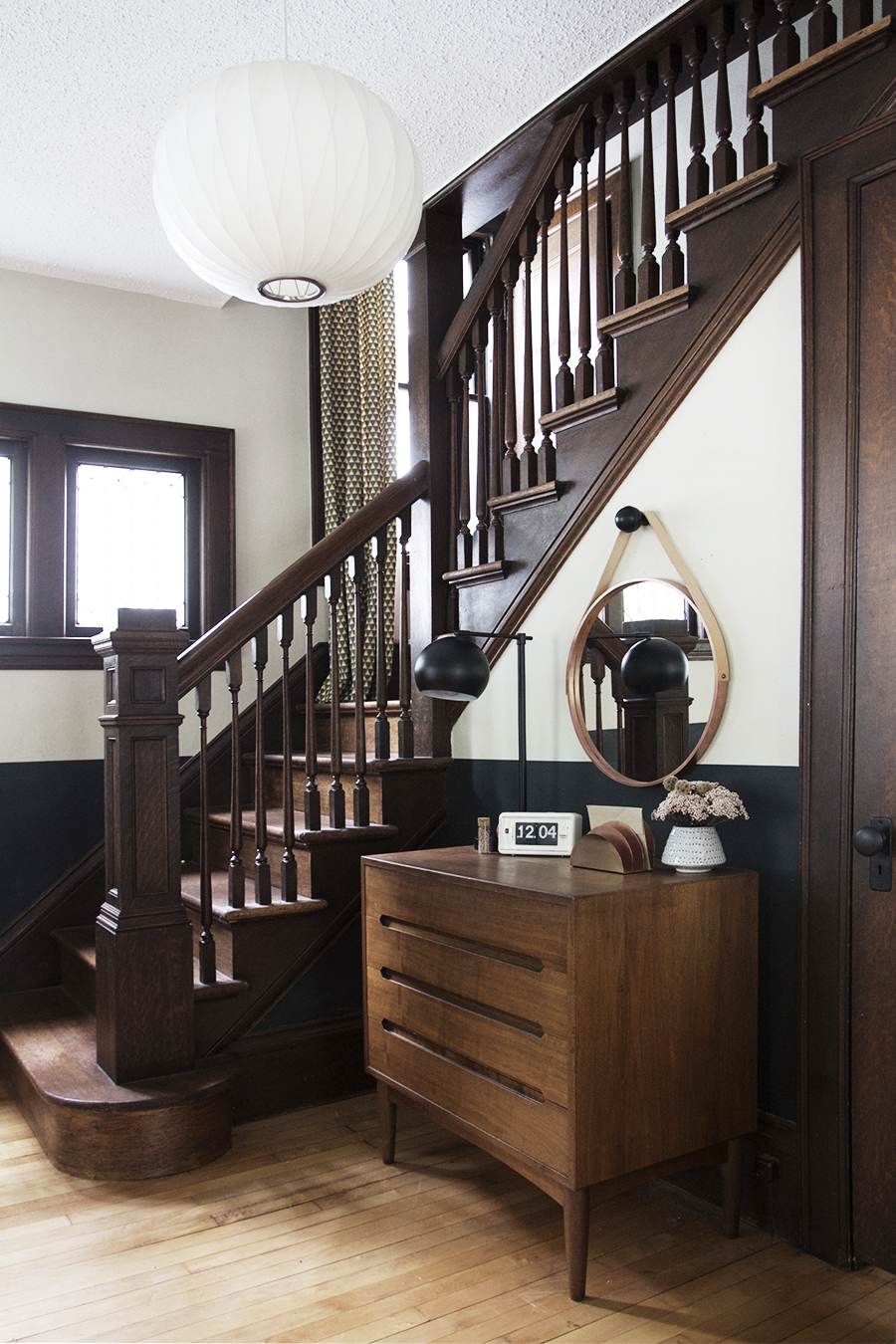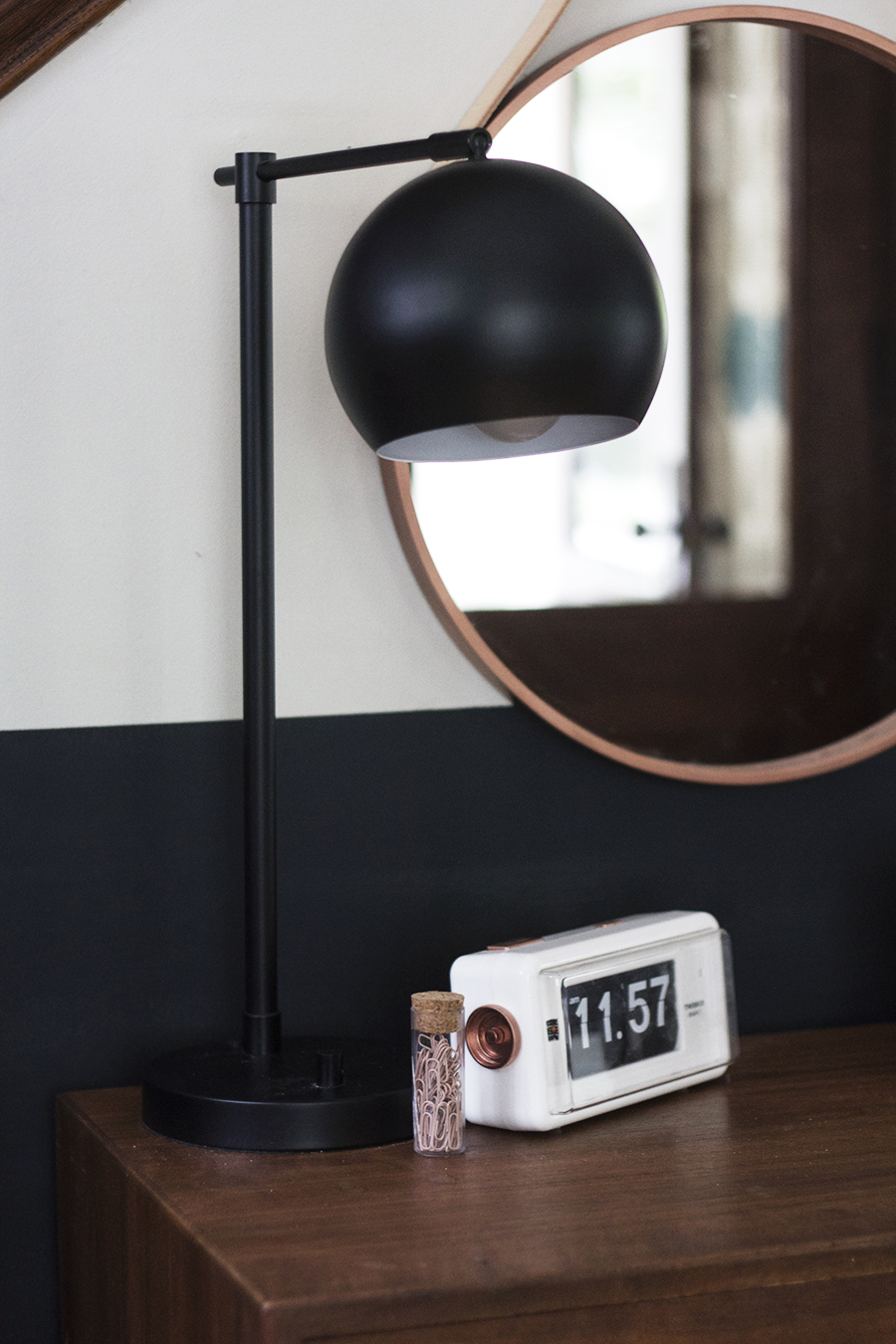 Tape off the mirror with painters tape – I used thin sheets of newsprint from the telephone book to mask as well as the tape. There was a bit of overspray on the mirror and I cleaned it up easily with nail polish remover.
Cut your leather strap with a sharp scissors to the desired length
Attach the leather on each side of mirror centered on the leather. Use a hammer to gently tap the tack into place.
Determine the location of the finial on the wall, drill a pilot hole and use a small anchor to attach it to the wall.
I hung the mirror on both the finial and the support hook on the back of the mirror.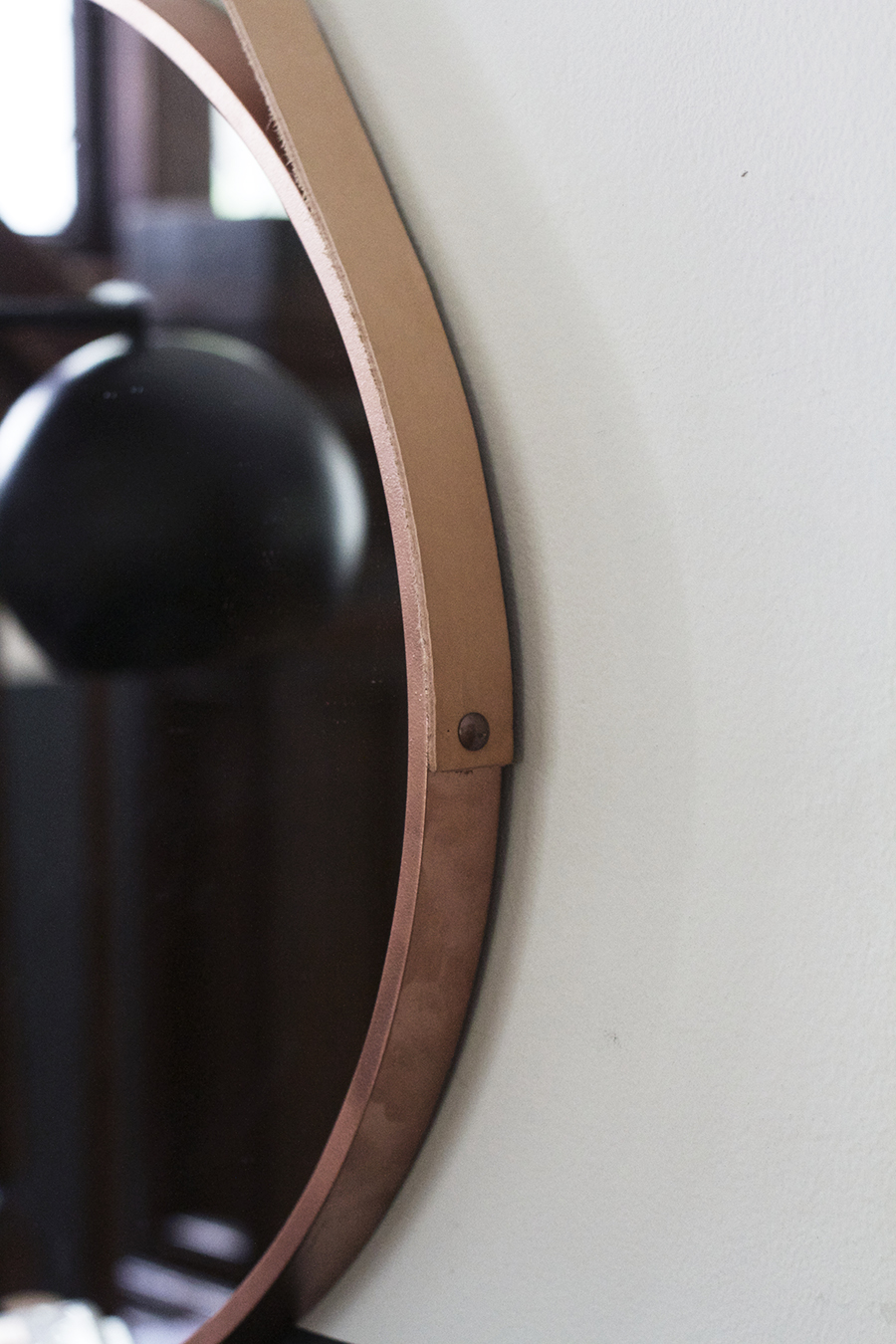 I'm looking forward to getting my hands dirty and sharing a few more tricks and ideas for transforming this space. See ya soon!