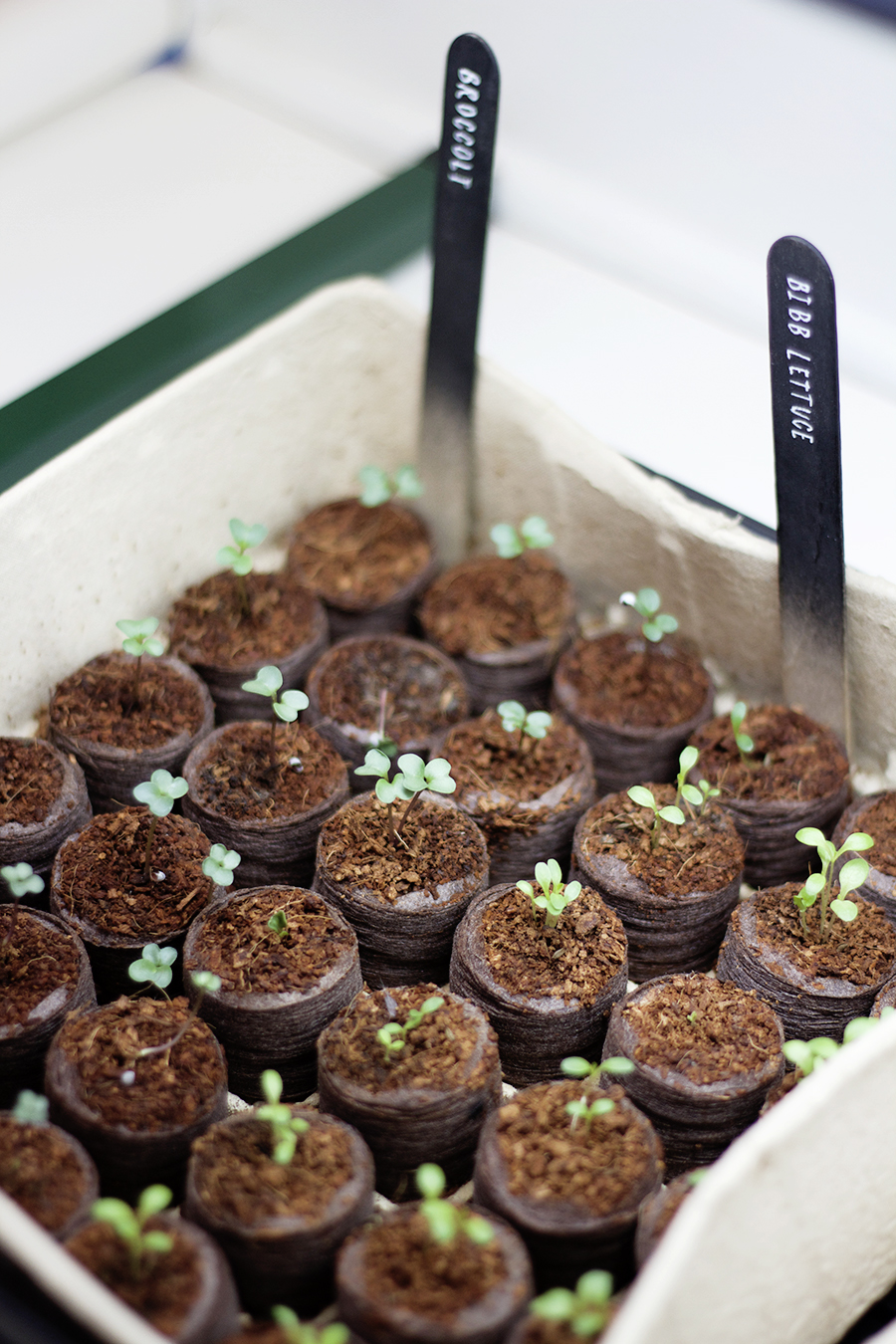 Hey! Guess what? This is going to be my first official post of the year for Ace Hardware! I'm sincerely so, so excited to be working with them – I just love my neighborhood Ace Hardware store, and I feel really fortunate to be teaming up in a brand that I truly adore and use all the time.
I'm madly excited for spring, and I wanted to write a post to share with you guys on indoor seed sowing. Sowing seeds indoors is one of my cures for the winter blues – there's nothing like a little seed sowing to get you amped for spring. In case you're new to this idea, "sowing" is planting seeds in soil with the hopes of having them germinate and sprout. Many seeds can successfully be sowed indoors before the ground thaws – with patience and daily maintenance your seeds will germinate, turn into plants, and grow! Before you know it you'll be ready to plant them in your spring garden. Don't have a veggie garden? That's just fine, consider starting a flat of Impatiens or Petunias indoors and save yourself the cost of paying up for mature plants at the nursery.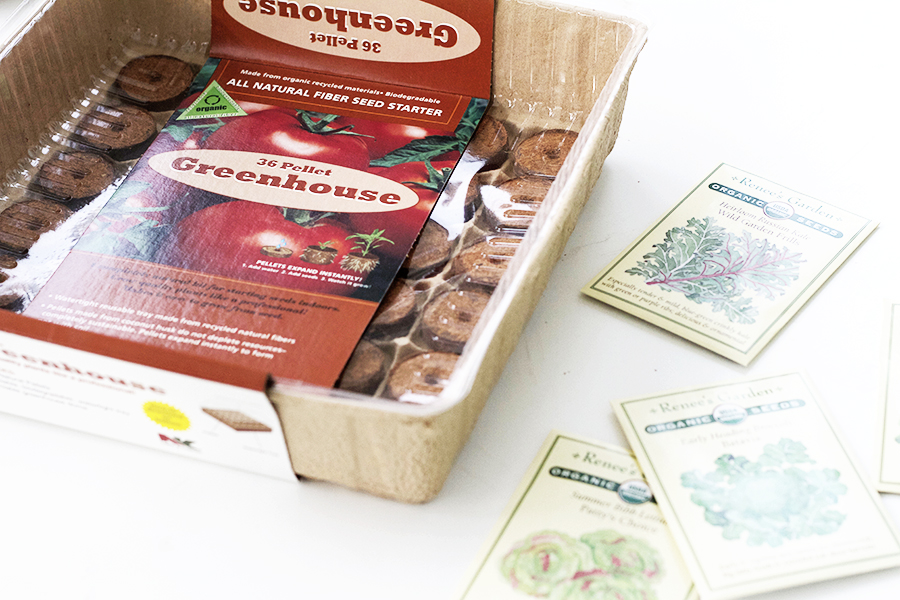 There are many options when it comes to materials to sow your seeds in. You'll find items on the market that range from sterilized seed starting soil to sponges designed for growing seeds. My first few years sowing seeds I used a soil made specifically for seed starting, then last year I started seeds in coconut husks for the first time and was happily surprised at how easy they were to use, and I had more success germinating my seeds. I'm a coconut husk girl now. The coconut husk pellets expand and grow as soon as they are introduced to water, within a few short minutes they'll be ready for seeds.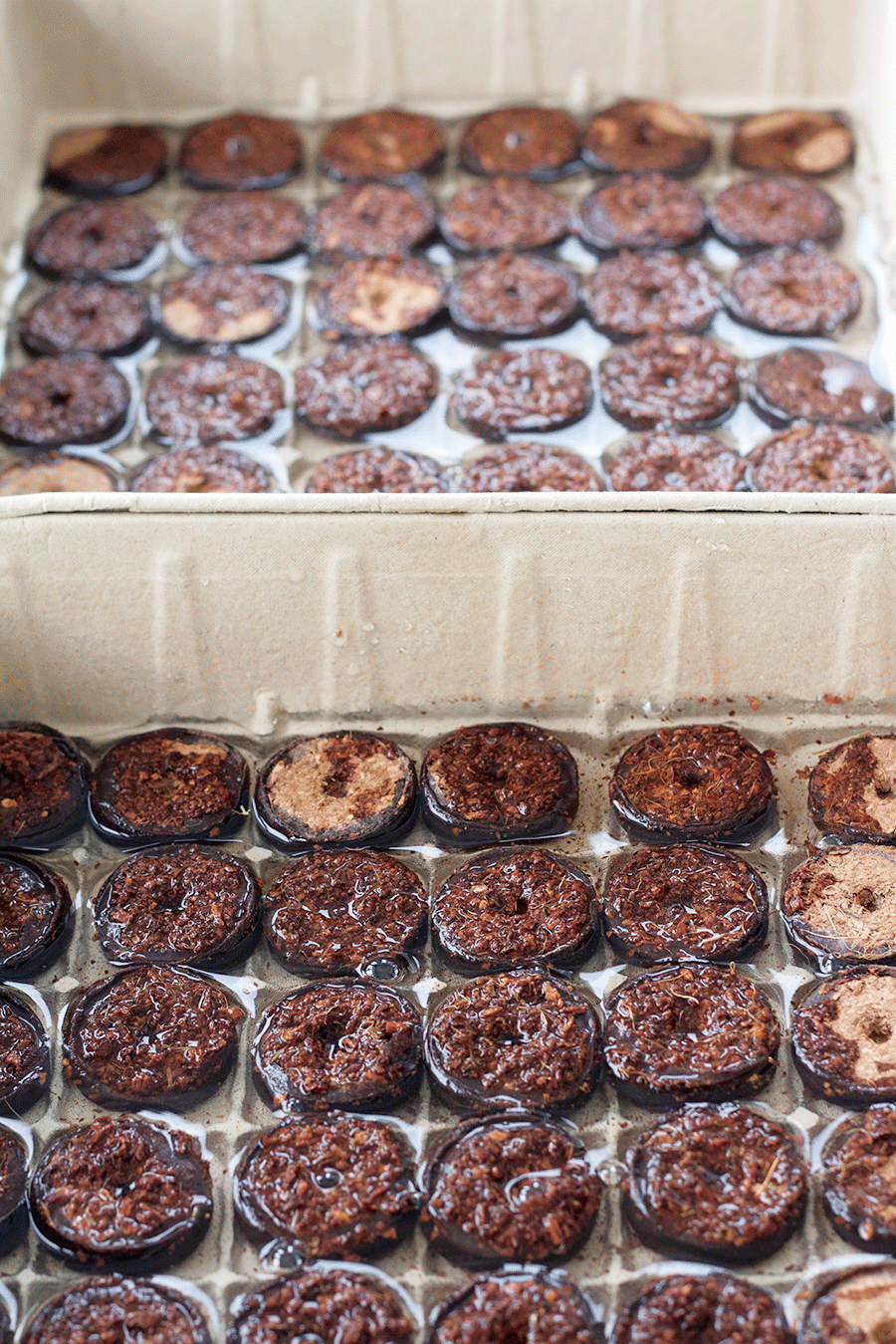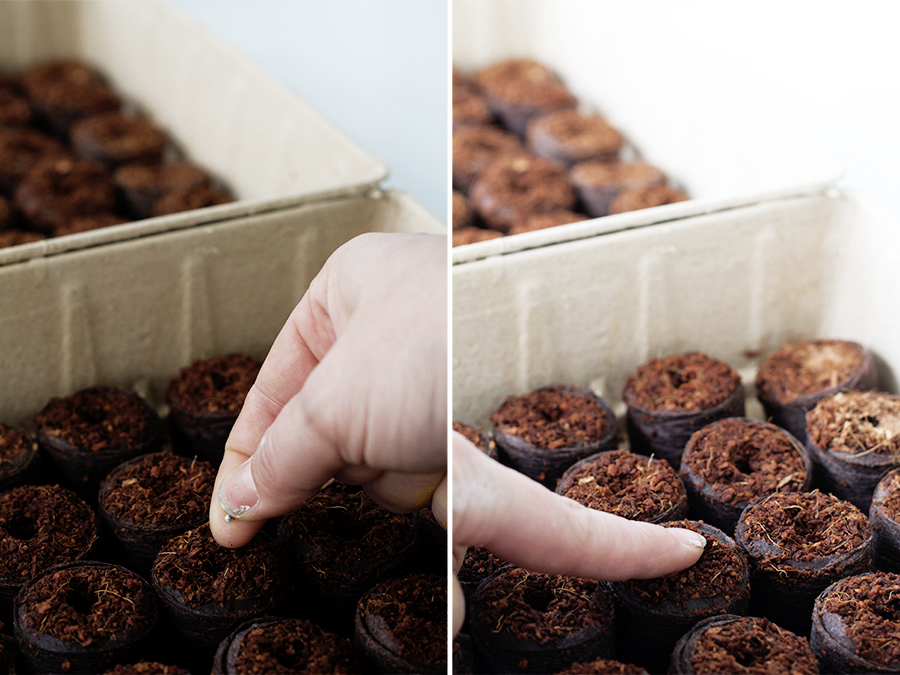 Refer to the instructions on your seed packet for depth of planting. A good rule of thumb is to cover the seed with a fine layer of soil, usually only as thick as the seed.
Taking Care of Your Seeds
Germination
Germination is the stage in which the seed sprouts after you have planted it. Light isn't necessary during germination, you could even start flats of seeds in the basement if it was warm, it is imperative that provide a warm environment for them. There are seed mats available to guarantee a warm spot for your seeds, but it isn't necessary. I put my germinating seeds in the warmest room in our house, and place them about a foot away from the radiator.
Temperature
Keep sprouting seeds at a room temperature 60-70º Fahrenheit
Watering
Sow seed in a moist mix, or in this case husk. During the germinating phase cover the seeds with the plastic cover that comes with the seed starting kit to trap in humidity. Remove the plastic top once you notice the seeds beginning to sprout. During the germination phase keep the seeds moist with a spray bottle, once the seeds begin to grow and sprout water the seedlings by pouring water directly into the bottom of the
tray
.
Light
Once seeds germinate (usually 10-20 days) and sprouts appear they will need a lot of light. These young seedlings need 16-18 hours of light per day! Sun is hard to come by here in the upper-midwest, so I got serious about my seed sowing and invested in a
48″ grow light
. It made a huge difference, within days my seeds had germinated and are now growing fast and furiously. Remember, if you decide to use grow lights you'll want the lights to hang 3 – 4″ over plants as they grow. The
Hyrdofarm system
that I am using is easily adjustable to accommodate growing plants.
Seed Scheduling
It's important to schedule your seeds! You don't want to have plants that are too big and outgrowing their containers, or too small and unable to survive transplanting. Below you'll find a schedule that I like to use – for the Twin Cities area May 15th is generally a good rule of thumb for the last frost.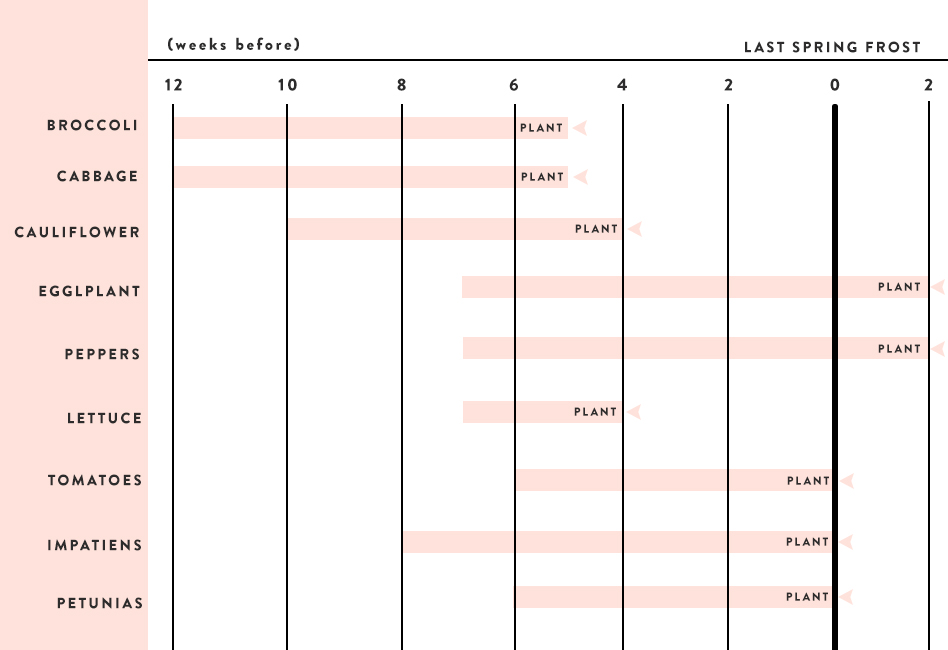 Containers
Around the 6-8 mark, your seedlings will be outgrowing their husk homes. Now is a good time to move them to a larger container until it warms up enough to transplant them outdoors. In reality you can use any container as long as it's sterile and has adequate drainage. Recycled food containers, newspaper and biodegradable pots are a few options for good planting containers. To sterilize, use a mixture of 1 part bleach 9 parts water.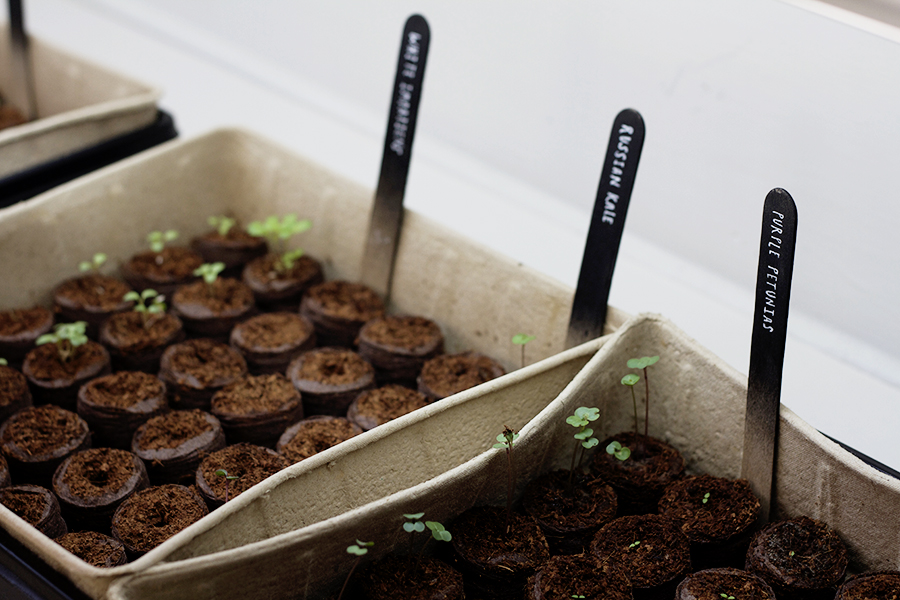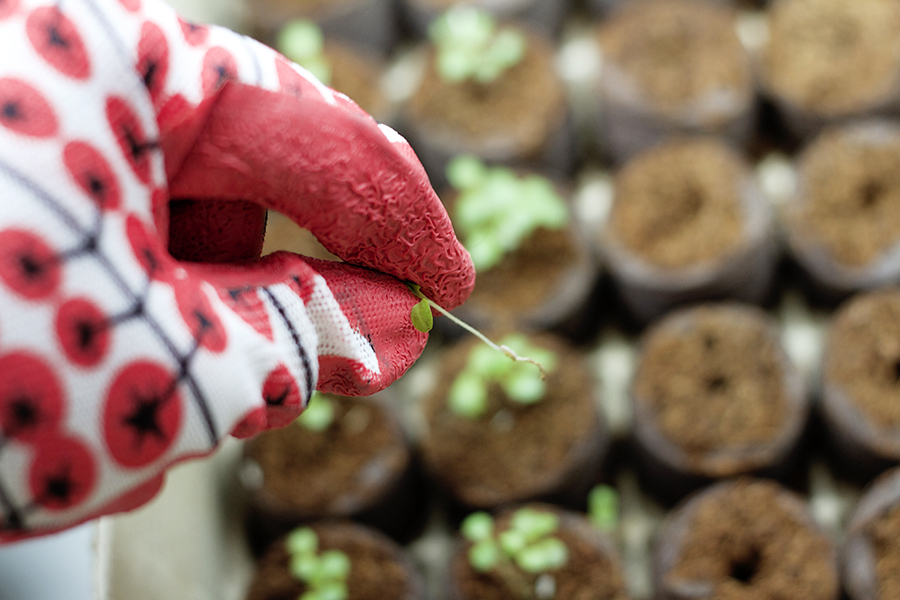 Once your seeds begin to have one to two leave sets, you'll want to thin them out if you have multiple seedlings growing in one husk. Most will be 2-3″ tall by then and easy to grasp. Make sure to water your seedlings before thinning them as they will be much easier to remove in damp soil. If you'd like to keep excess seedlings place them in their own individual husks, do this in the evening as it will give the plants a chance to adjust to their new environment before being exposed to light.
When it comes time to move your plants outdoors you'll have to get them ready. This is called hardening off. To do this, bring them outdoors for a few hours daily, increase the amount of time they are exposed to the outdoors over the course of a week. Then go ahead and plant them in the ground.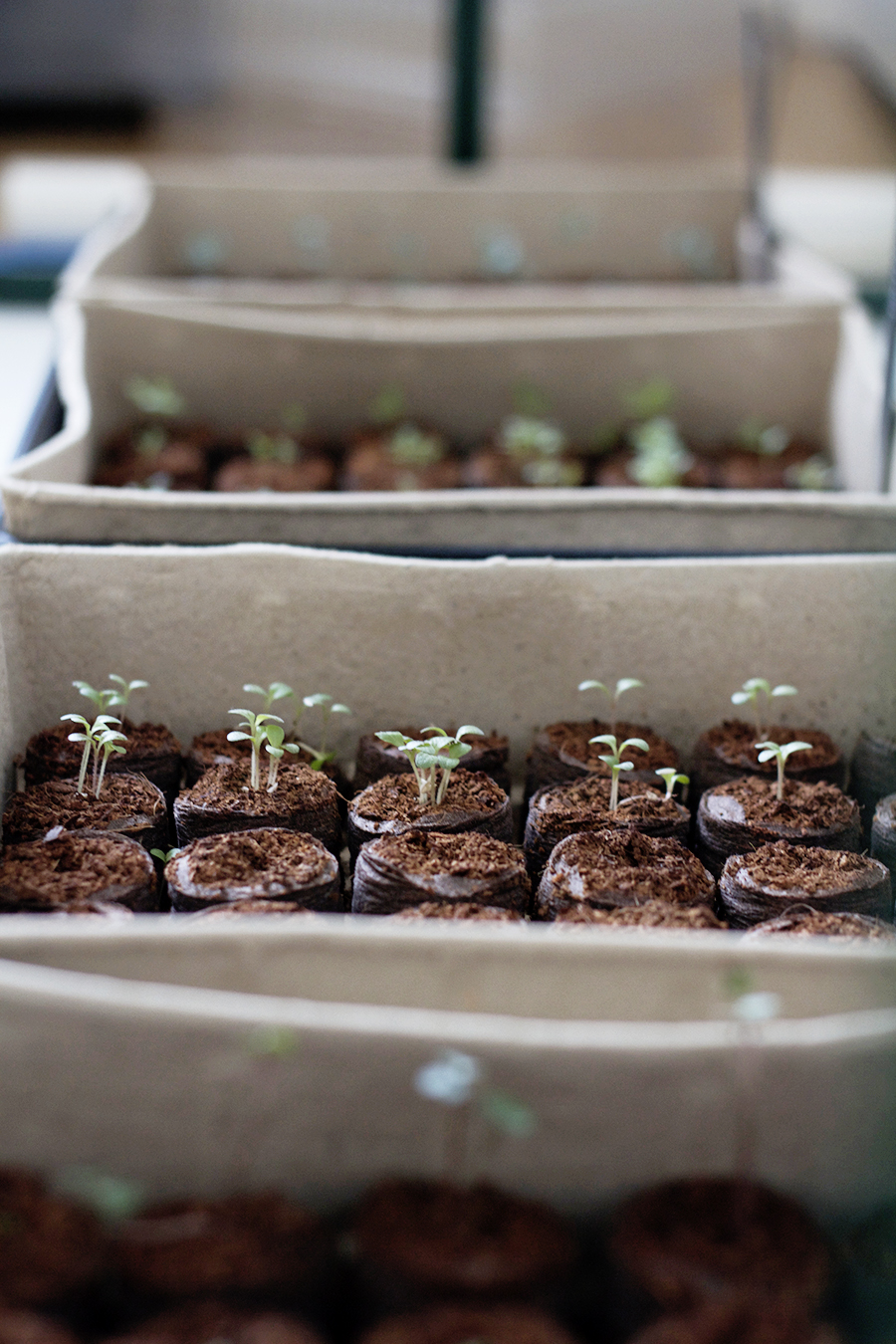 My pals over at Ace Hardware want you to get your green thumb on too. I'll be giving away a $100 Ace Hardware gift card to one of you lucky people. Giveaway runs through Friday, February 27th at midnight, the winner will be announced within this post.
This giveaway has ended, Congrats to Renae!

I'm excited to be collaborating with
Ace Hardware
as a part of their
Ace Blogger Panel
! Ace has provided me with compensation and the materials necessary to complete this project! All opinions are my own. Thanks a biznillion, Ace!