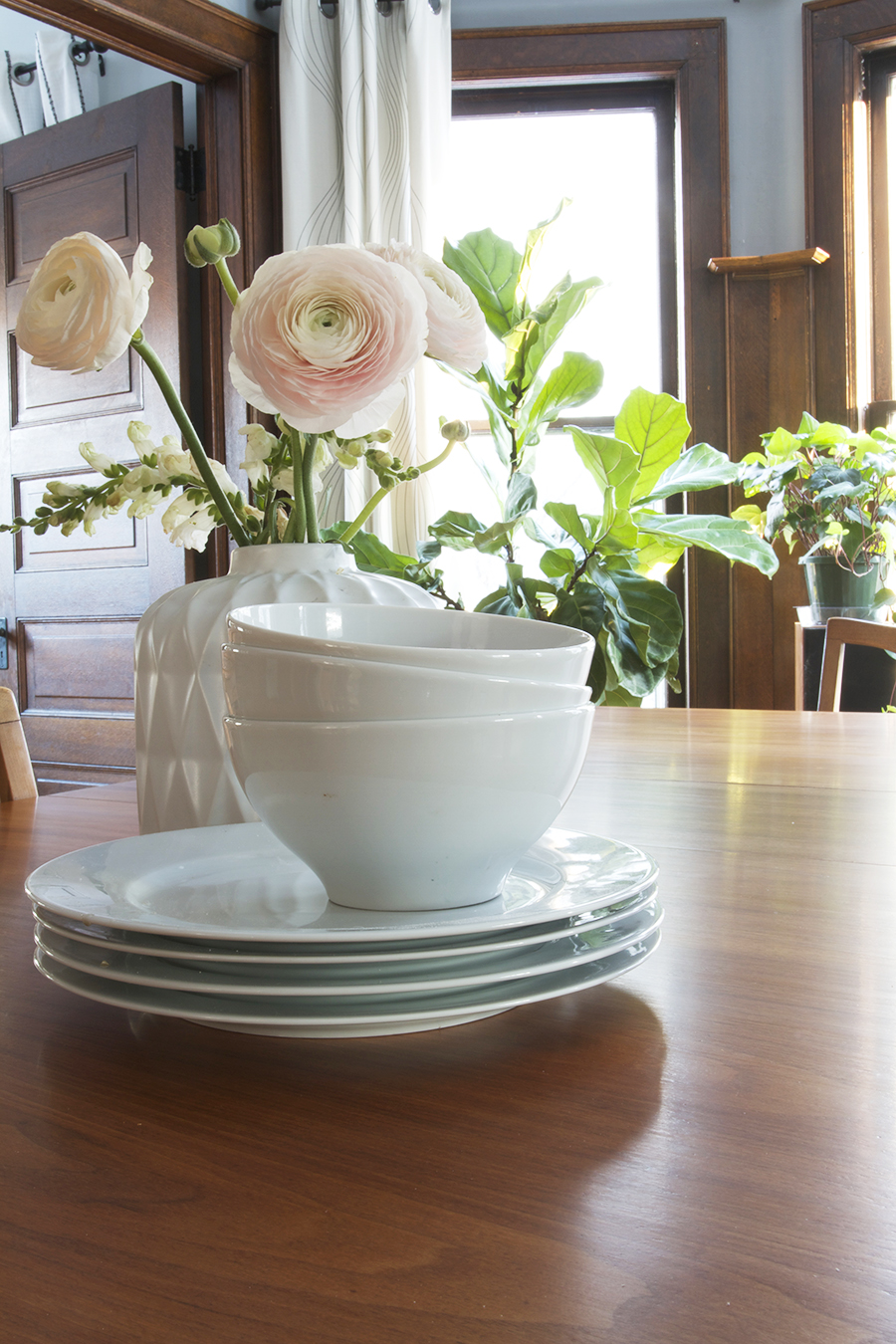 Six years ago we bought a mid century 1958 Drexel dining room table from a seller on craigslist. I didn't know how much I'd grow to love the table when we first purchased it, at the time it just fit the bill. It had good lines, minimal wear and most importantly was in our price range. It cost us a whopping $325 for the table and a set of 6 chairs which included 2 captains chairs. I love this table! It's seen its fair share of battle though: LEGO building, board game playing, puzzle making, Christmas-meal eating, friend feasts partying, and beer & cocktail-drinking sort of battles. The table top has been badly scratched and water marked for over 2 years now – to the point of having to cover it up with a table cloth any time we have anyone over.
We keep saying we need to get that table refinished – who has time and money for that though? Not us. I couldn't imagine taking it apart, packing it up, bringing it to a refinisher and paying mucho bucks to get it refinished. I also couldn't imagine that I had any qualification to refinish it myself.
Somehow over the course of the last few months I've built up a lot of skillz and confidence and started feeling more and more sure that I could do this. My big reservation was the walnut veneer top – I didn't want to do anything that would harm the veneer and make this project into an even bigger can of worms (this happens to me more than I would like to admit). After careful and close inspection I determined that the veneer was about an 1/8 of an inch thick – thick enough for a good sanding.
It just so happened that I was a band widow last weekend – so while the old husband guy was not around, I decided it might be the perfect time to tackle a project like this. I did baby steps, starting with test refinishing one of the leaves. When that seemed like it was turning out well, I jumped right in and started on the table top. I'm so glad I did, I can't stop staring at it now! I actually wish I would've had the guts to tackle this sooner; it's a hard life being ashamed of your dining room table.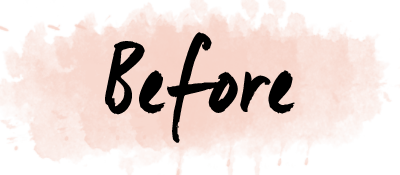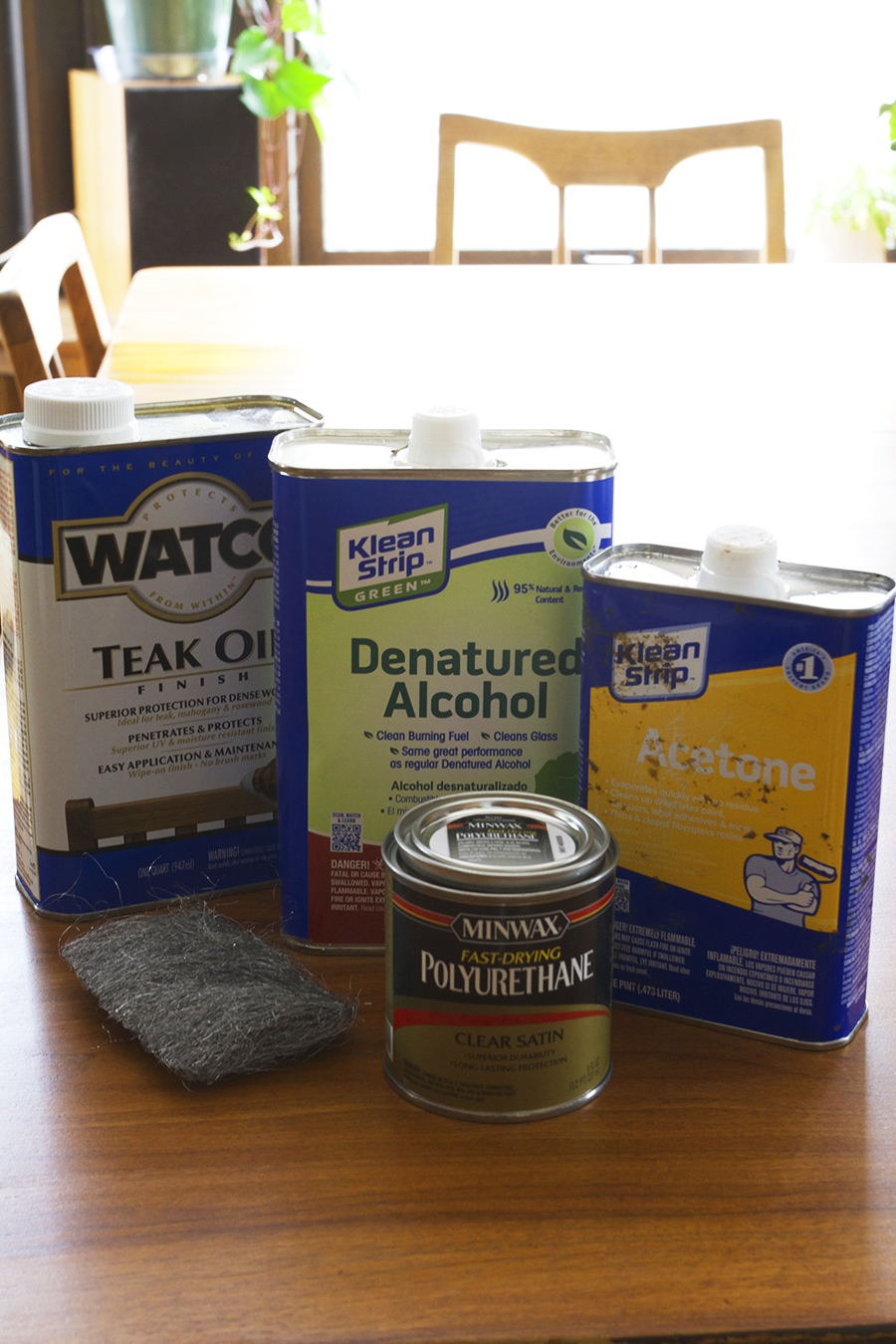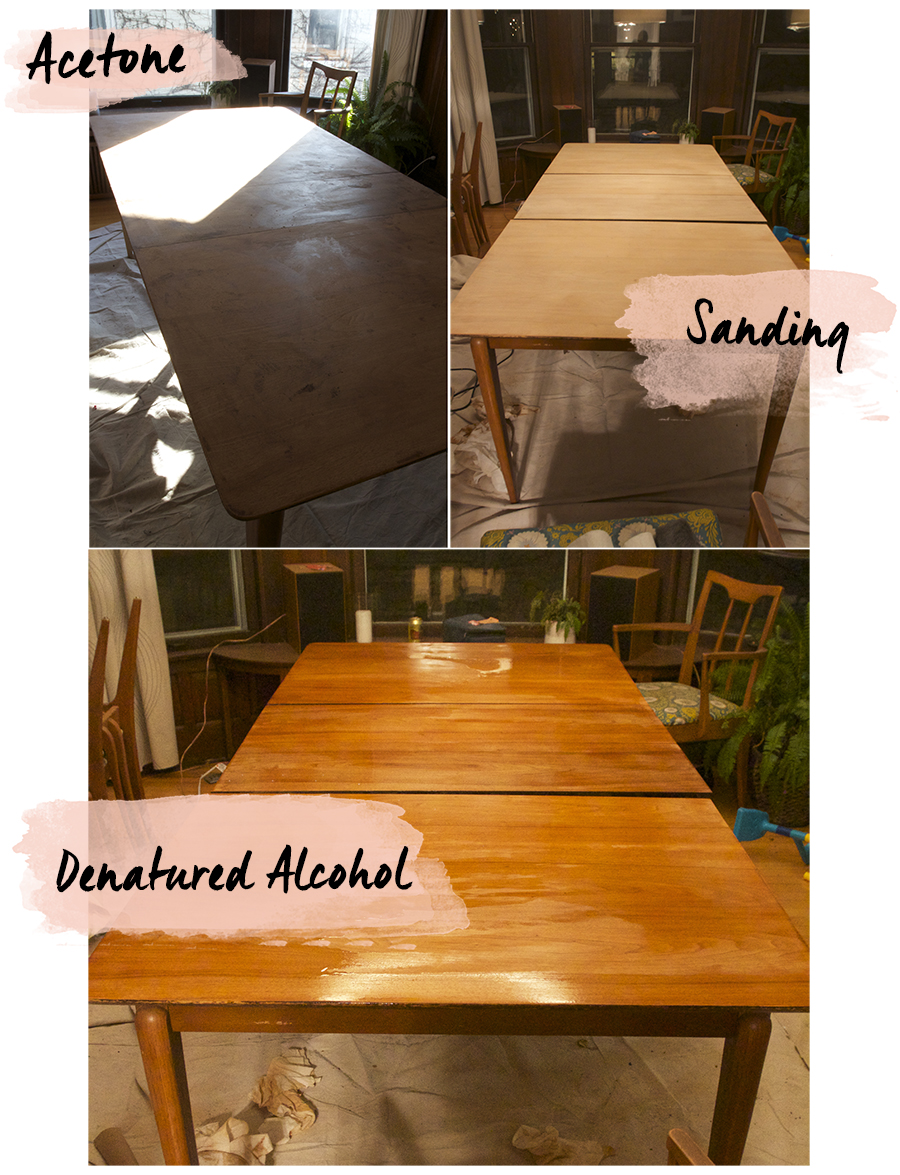 Step 1:
Wash Table
Wash the table with a household cleaner. I used some Mrs. Meyers diluted in water and gave it a good scrub with a heavy duty scouring pad. Let it dry.
Step 2:
Use Acetone to Strip Finish
I had never used Acetone before, but discovered that people on the internetz recommend it for stripping finishes off of things that might have finishes on them such as this table. Never having worked with it before it took me a bit to get the hang of it. Work in small sections pouring the acetone on the table, give it about 30 seconds to soak in and lift the finish, the wipe of with medium grit steel wool. I followed this up by wiping the excess gunk off with a paper towel. Continue doing this as you move around the table. Tip – it stinks, so open up a window.
Step 3:
Sand
Now is when you start to see results. Sand the table starting with a 150 grit sandpaper – if that's not strong enough for ya, step it up a notch and go for the 100, then move to the 150. Follow it up by giving it a once over with a 220 fine grit paper. I started off doing this by hand as I didn't want to sand through the veneer but realized that my mouse sander was gentle enough to do the job.
Step 4:
Use Denatured Alcohol to Find Imperfections
The internet taught me that I could use denatured alcohol to get a preview of the natural finish. Wipe it on your table in the direction of the grain of the wood and then look closely to see if there are any major scratches that still need to be buffed out. The alcohol will evaporate within a minute or so, so look quickly. I found this step very helpful in achieving a perfect finish.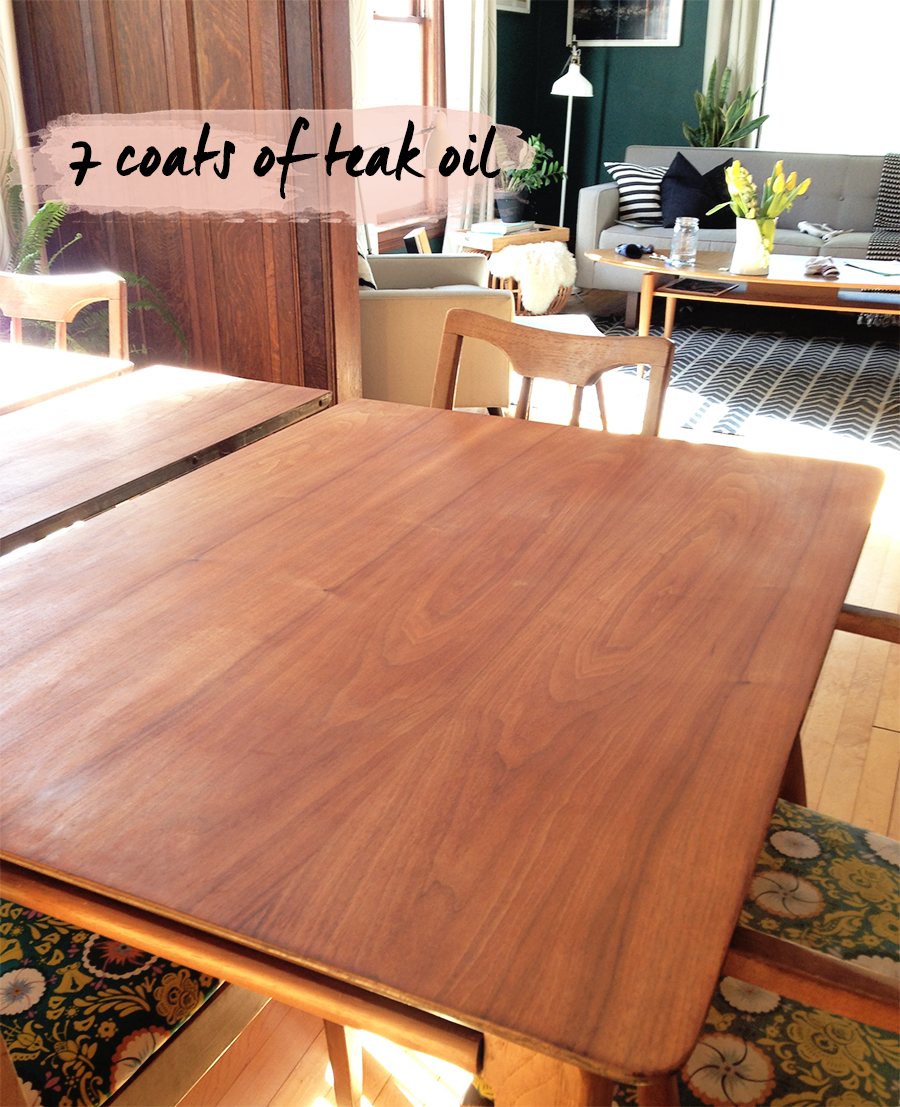 Step 5:
Apply Teak Oil
Now its time for the fun part, the part where you really get to see how beautiful your messed up furniture can be, plus it smells kind of good in a weird sort of way. Apply some teak oil to the surface allowing the wood to soak it up for about a half an hour, then wipe off the excess and repeat letting the oil sit on the surface for about 20 minutes. I did this 7 times because I really wanted a perfect finish.
Step 6:
Polyurethane
The table was looking pretty great after the teak oil, if this was furniture that wasn't going to be used all the time, I'd probably let it go at the teak oil but since this is our dining room table I opted to add a few coats of a satin poly. Here's a few things I learned about poly – you need to mix it well and use a good brush. All polyurethane is natrually glossy, they add flattener to give it that dulled down satin finish and that stuff likes to sink to the bottom of the can. Use a stir stick (not to shake, shaking can cause bubbles) to stir in the flattener and do this often while applying the poly. I accidentally didn't stir my poly enough and ended up with one shiny coat which I had to sand down and start over. Also, lightly hand sand between coats of poly with a 220 grit paper.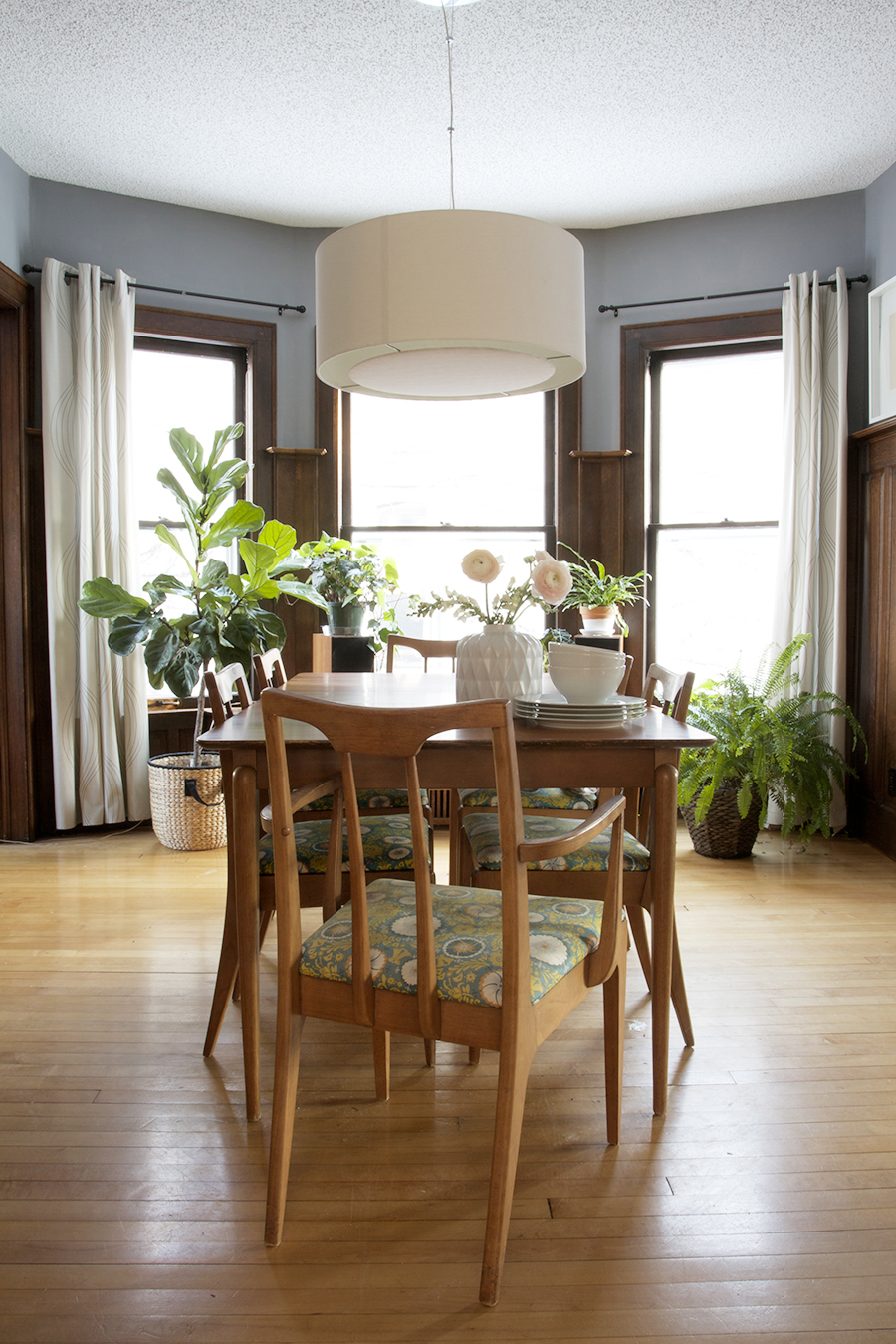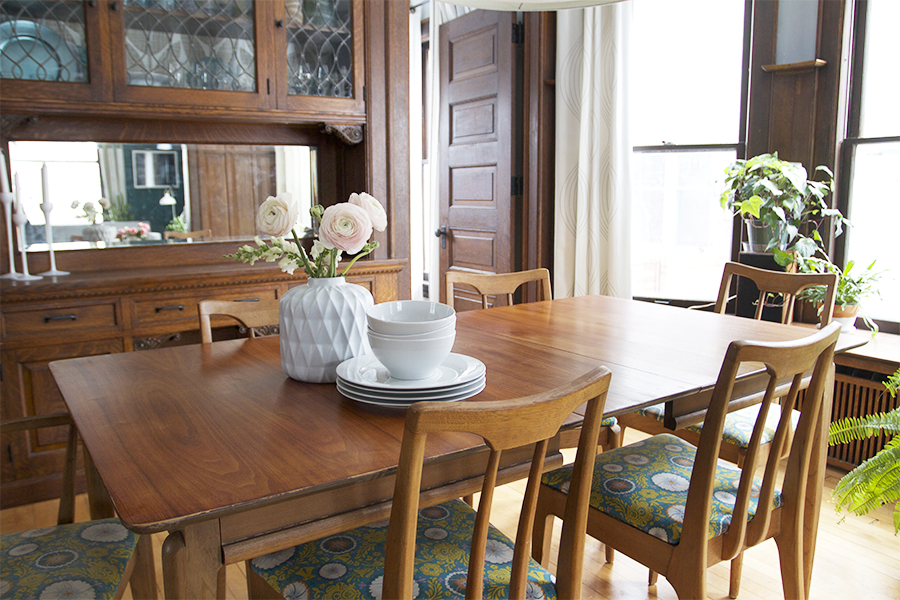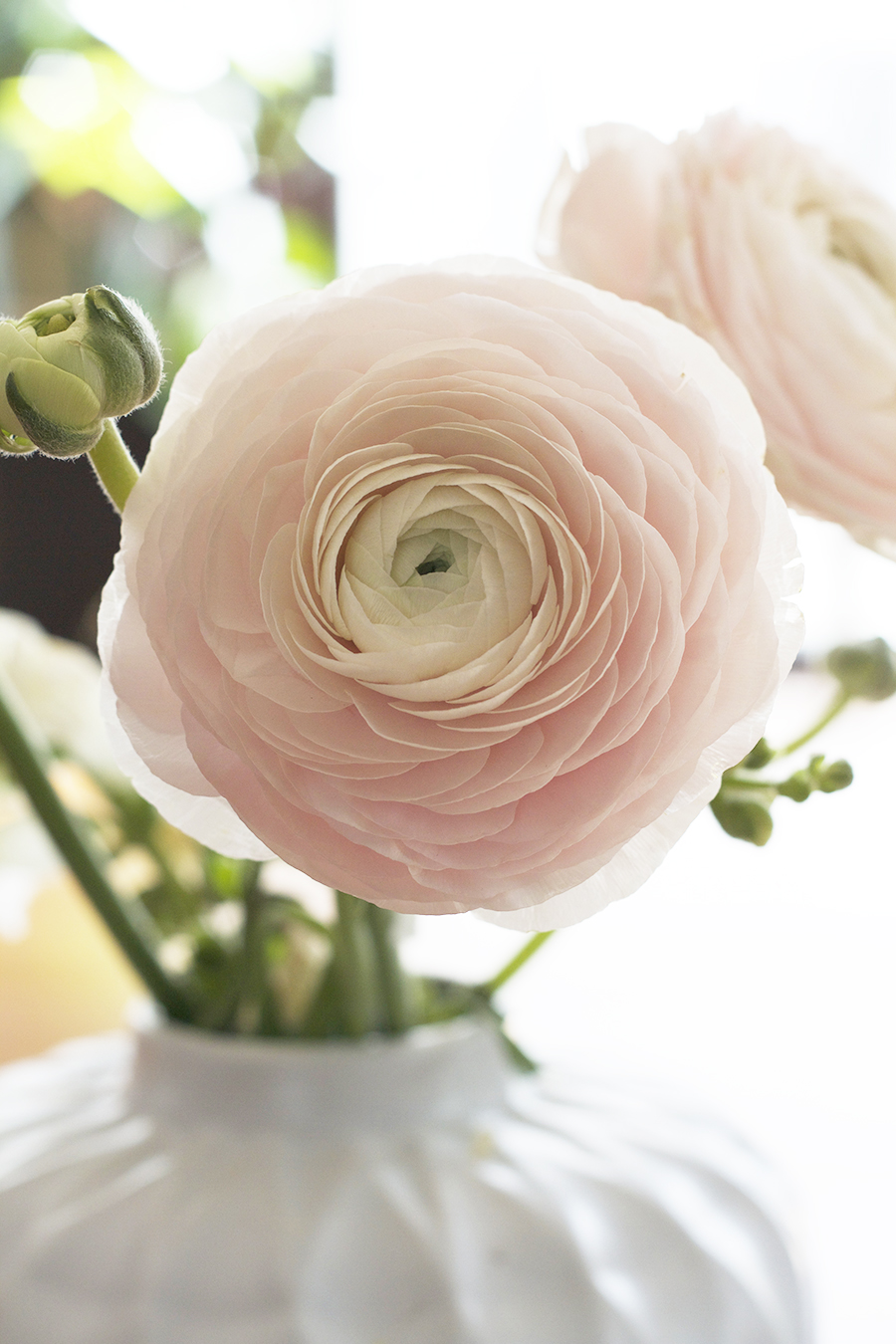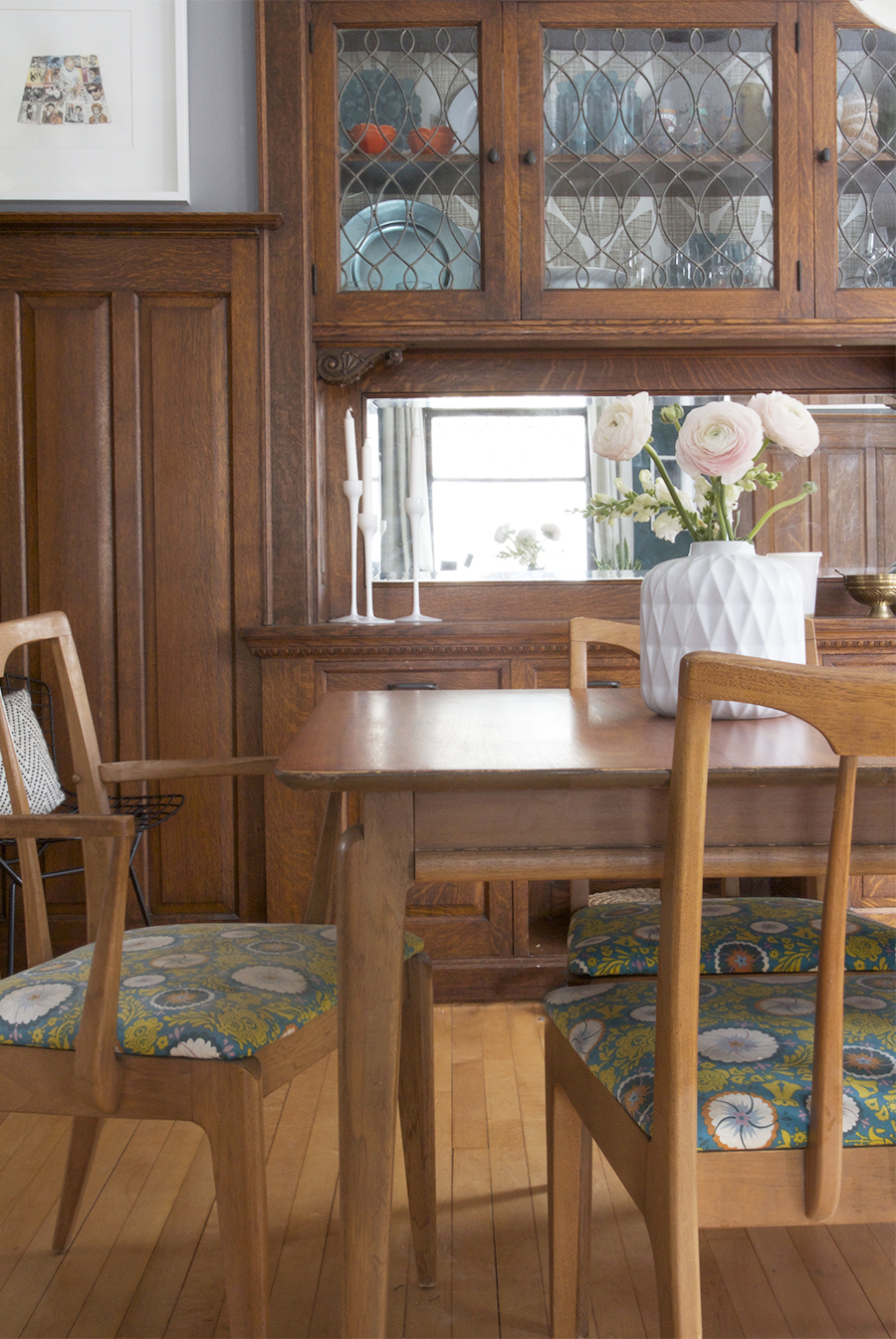 27

comments