Alright pals – as promised here it is, Part 2 of my photography posts. If you missed it, you can find Part 1 right here where I cover tips for setting up and styling the shot.
Okay, onward! Today I'll be sharing my photoshop techniques. This is where the photo really comes to life. Before we dive into that, let's talk about a few quick things.
I thought I should probably share a little about my gear. I use a Canon 7D
camera, and I have an assortment of three go-to lenses. The first two are prime lenses (they have a fixed lens and don't have a zoom), but prime lenses are really affordable. For vignettes I use my Canon EF 50mm f/1.8 Lens
, and for wide shots I've been loving my brand new Canon EF-S 24mm f/2.8
pancake lens. The big dawg, good-for-everything lens is my Canon 17-40mm f/4L wide angle
. I'm always curious about what other people are using, so hopefully that helps.
Let's talk about photoshop. Yes, it's scary if you haven't used it, but there are a ton of great tutorials out there AND there are so many different techniques for using it and applying effects. I love to see how photoshop-fluent-friends use photoshop – everyone does it differently and its easy to learn new tricks from watching others use it. You can learn a lot from youtube vids and books too. If you don't have PS installed on your 'putron, but you're interested in purchasing photoshop you can subscribe via Adobe starting at $9.99 per month or try the free 1-month trial.
What I am sharing with you today are the most common go-to photoshop tools that I use for standard interior image editing. There are always, always exceptions to the rule, and in photoshop there many different ways to achieve similar outcomes. For those of you unfamiliar to photoshop I hope that this guide will be an introduction to useful tools. With exploration of the 'adjustment layers', 'layer masking', and 'image transformation' you will begin to learn more and more about photoshop and the endless possibilities it can provide.
RAW Image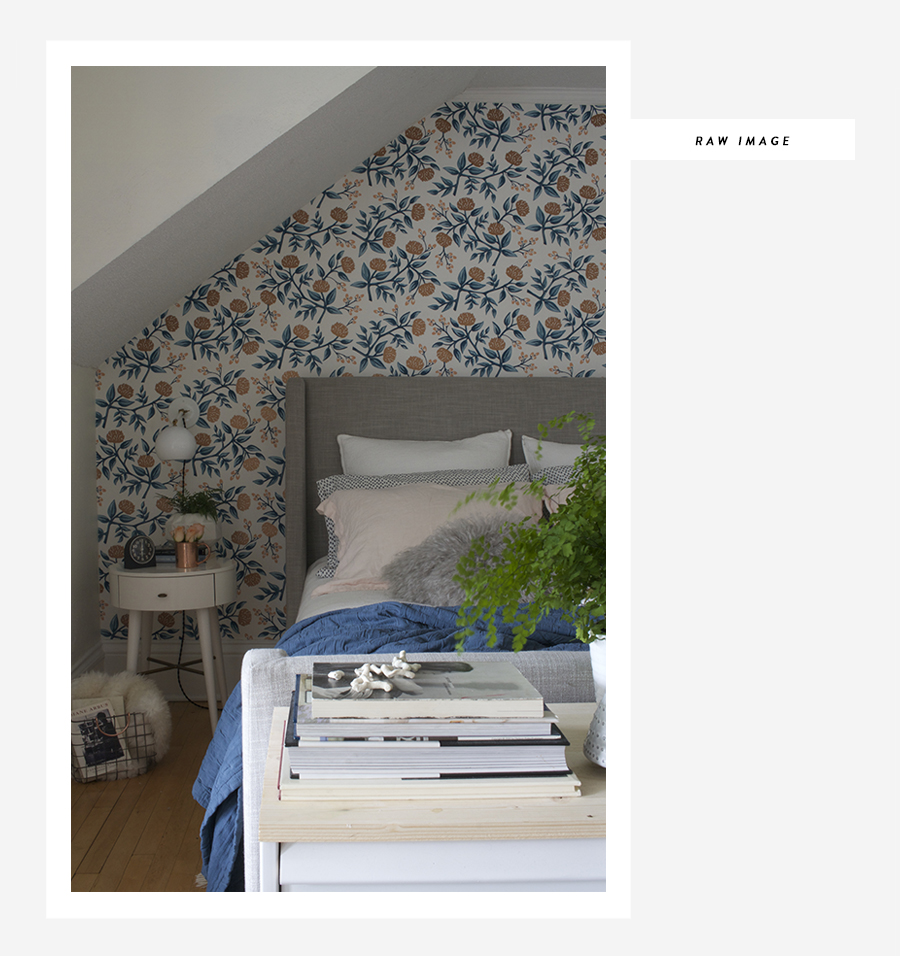 One of the easiest things you can do to produce a better image, is make sure you are shooting RAW. The RAW file format captures all the image data, where as in a jpeg image, information is compressed and the quality is lessened. Shooting RAW allows your camera's light sensor to capture a higher range of color and brightness, which in turn translates to more attainable quality in post-production editing. The downside is that the RAW format takes up more storage space on your camera or computer, and it can slow your camera down – but really when you're just shooting interiors, the good outweigh the bad.
Layers > New Adjustment Layer >
Curves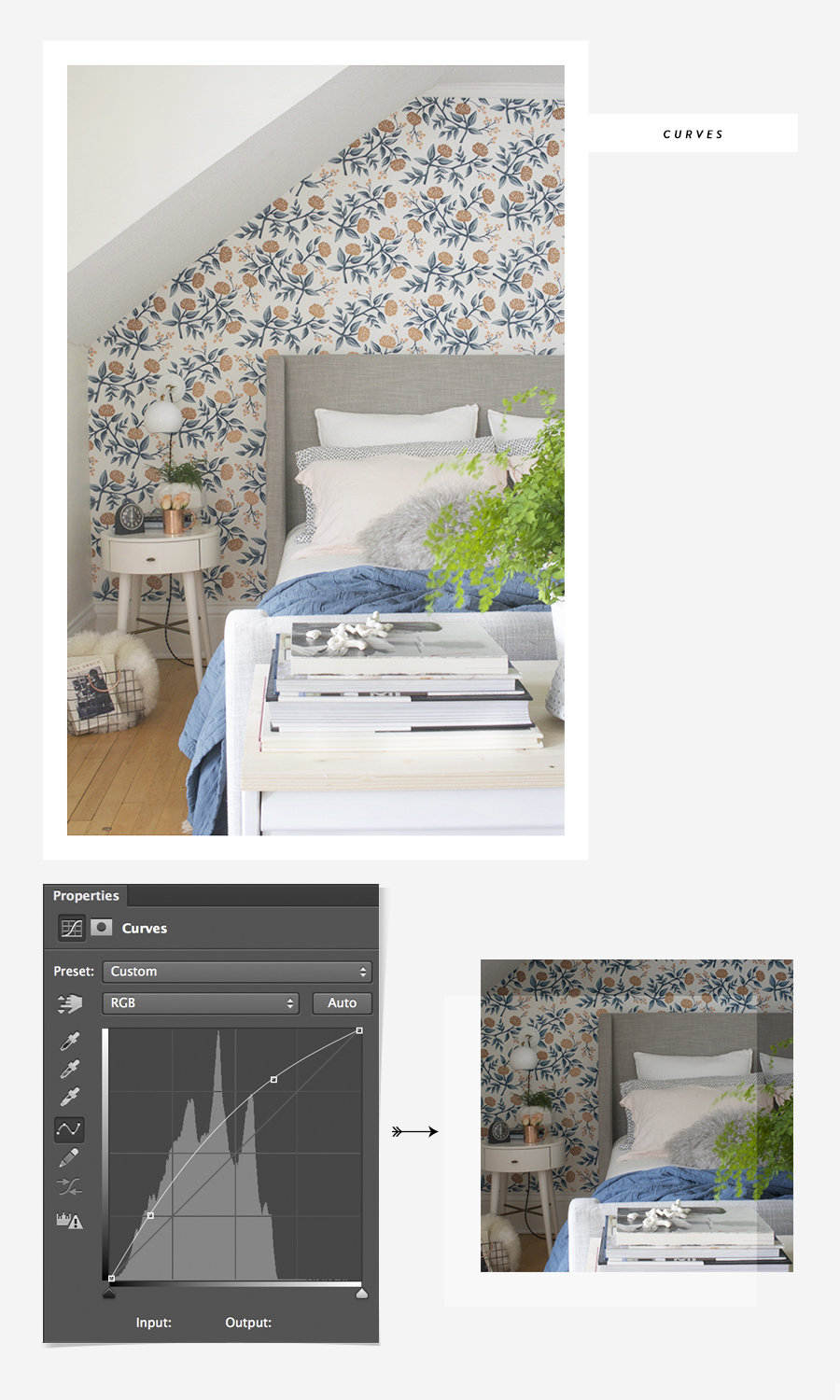 Here we go. Adjustment layers. I love adjustment layers because I can easily build up my images with layers that alter the light, saturation, colors, levels, exposure, and THEN after I put on these rough adjustment layers I can go back and tweak each of them individually – I'll get to that further on in the post. The following four steps you will find in the 'adjustment layers' menu of photoshop. Learn to love them.
First, and probably one of the most crucial layer is 'curves'. With this layer you can really pull out the brightness, saturation and blacks of an image. I'm a creature of habit and I always start by pulling the control point slightly up on the shadows (the little dot you see on the lower left hand side) then I follow that by pulling on the highlights (upper right side). I slowly tweak this until I find a sweet spot I'm happy with. Because you've created a layer for this adjustment you can always come back and adjust these positions as you continue on with your editing.
I'll be using these two words about a millions times in this post "Tweak" & "Adjust(ment)(s)" I already feel like I'm stuck in a word groove, don't hate me.
Layers > New Adjustment Layer >
Brightness / Contrast

The next equally important layer is 'brightness and contrast'. I love this layer. I'm always pushing the brightness factor with my images, but I really love the look. When I get to a point where I think the brightness looks good and accurate I always go for it, and just push the brightness up a smidge more. I typically only adjust the contrast on images about 25% of the time. It all depends on the lighting situation at the time the photo was taken.
Layers > New Adjustment Layer >
Hue / Saturation

It's easy to overdue with the 'hue/saturation' layer, but sometimes it can be just what an image needs to really stand out. Try it out and see what you think. I would also recommend using the 'master' drop down menu in the 'hue/saturation' tool to target specific colors. For instance, the blue blanket on the bed never photographs true to color. In real life, the blanket is a dark teal blue, but it always photographs very blue and less teal and for some reason reflects light. It's a mystery, I don't get it. I am constantly having to target the blue blanket and tweak the colors making it look more true to life.
Layers > New Adjustment Layer >
Selective Color

Okay, 'selective color' time! This is my secret weapon. This is how I really make a photo beautiful. Remember that blanket I was just talking about – if I wasn't able to get it to a point that looked correct with the 'hue/saturation' layer, I'd target it with the 'selective color layer'. I almost always alter the blacks, greys, yellows and blues using the 'selective color' too. If you have an image with plants in it, this tool is especially helpful in making those indoor plants look really lush and green. Play around with it, you'll get what I'm talking about.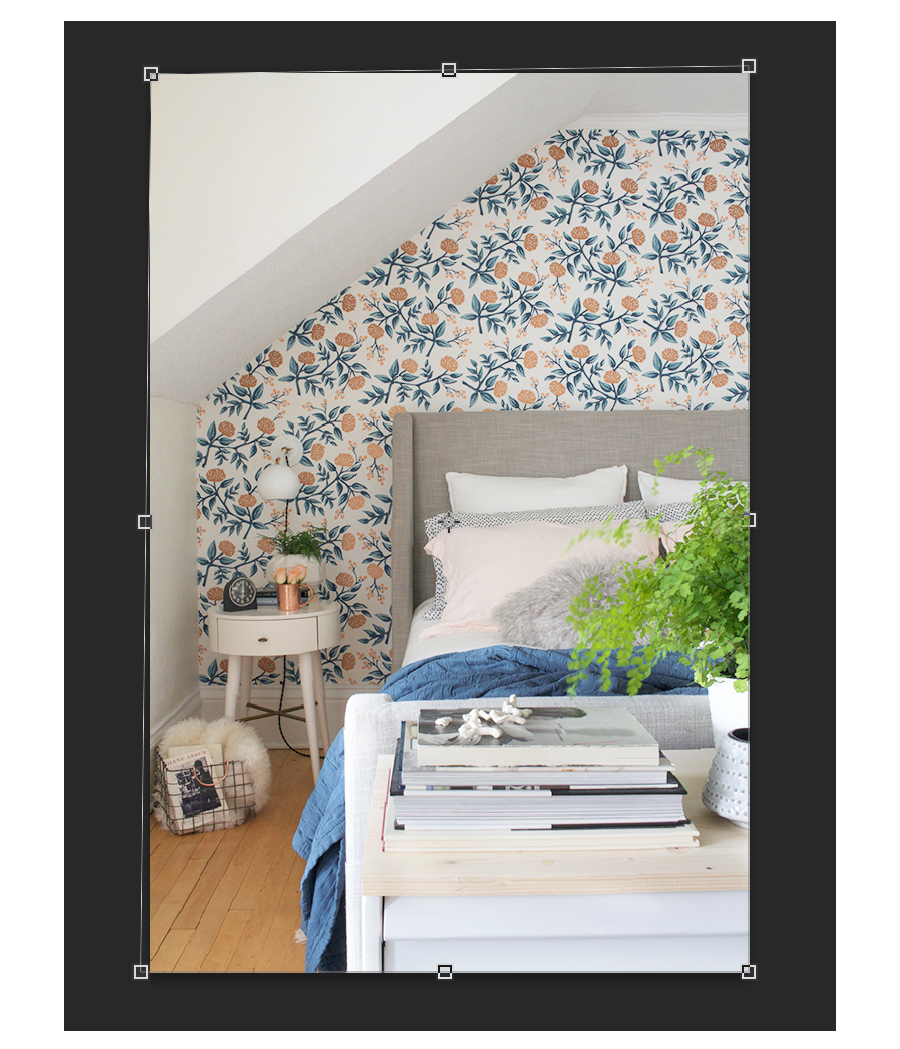 Hey Guys, do you know that it is impossible to take a photo with a wide angle lens without having the image begin to curve inward at the corners? This happens because a lens is conical and the curve or distortion of the lens can be seen the wider (the shorter the focal length) the lens gets. It's always gonna happen, so don't fight it. Do your best to line up an image in the frame before snapping the pic and then when you bring the image back to photoshop, use the skew or warp tool. Pull on the control points to straighten out your image. Yay! Better, right?
Masking Layers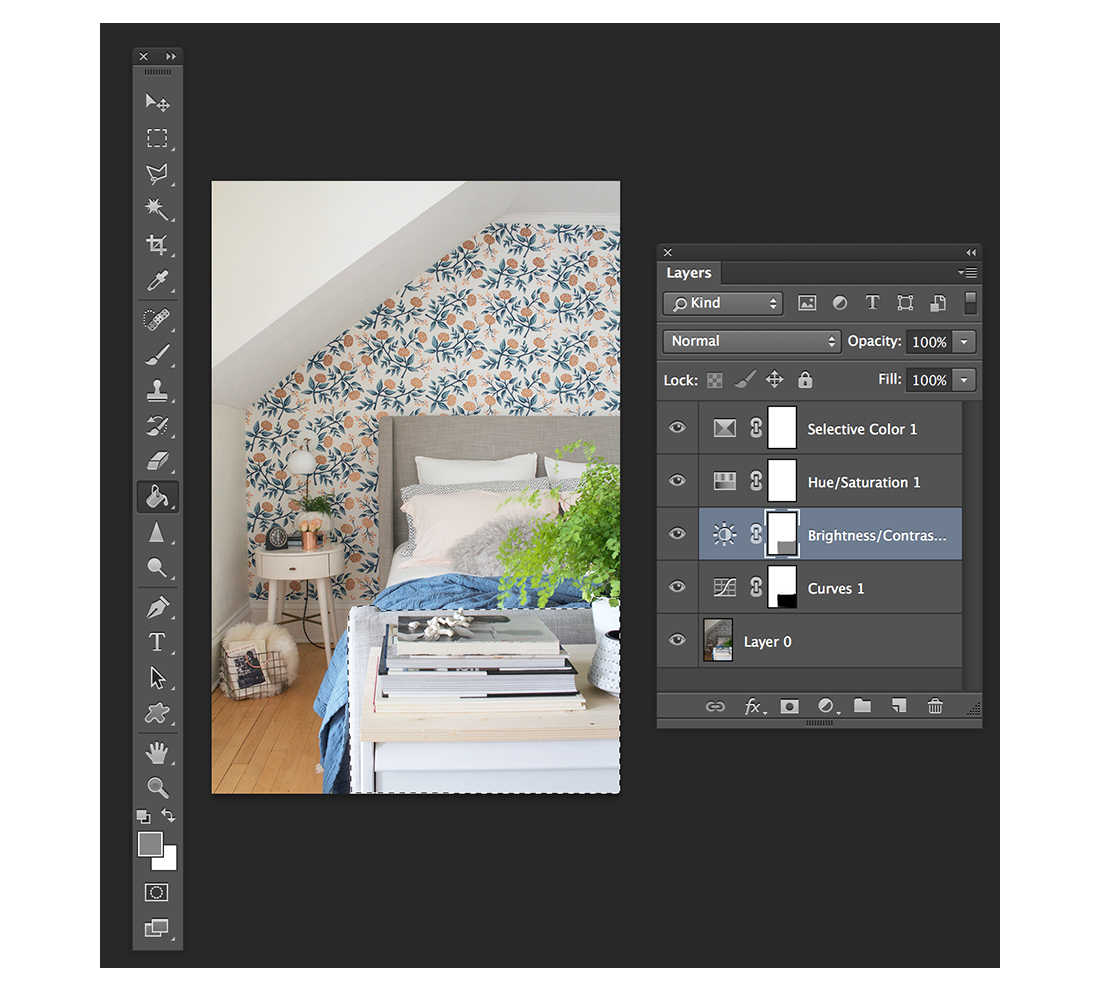 Lastly, there are layer masks. I'm fairly new to layer masks and have been only been using them for the last year or two, but they've really helped to improve my images. For me, I use masks the same way I would've had to dodge (lighten) or burn (darken) a photograph while printing in the darkroom. In the image of my bedroom for instance: the white dresser at the end of the bed is very blown out since I've applied all of these different adjustment layers. I don't want that, the dresser looked appropriately exposed when I started this whole process. How do I get it back to the way it was, before I added all the layers? Simple. Mask the layer(s). I use the 'polygonal lasso tool' to outline the area I want to mask, I then select the layer I want the mask to occur on. For this example I'll be masking the curves and brightness layers. Next, I use the 'paint bucket' to add black paint to the selected area, thus masking the adjustment layer in that section. You will see if you look at the layers, that part of the 'curves mask' is now painted black. If I mask they layer by 'painting' with grey rather than black it will mask the area allowing the mask to have "transparency" (see the brightness/contrast layer mask above for an example). I know, it's all kind of a crazy concept, and I can't outline it all in this post. I am however going to recommend checking out this site if you'd like to learn more about masking adjustment layers.
So that's it, guys. I more or less use this system over and over again. I alter it here and there for every image I edit, but basically this is it. How'd I do? I hope I was able to help someone. If there's something you'd like to add on feel free to leave a comment. Peace out, pals – it's spring in Minneapolis, have a great weekend!