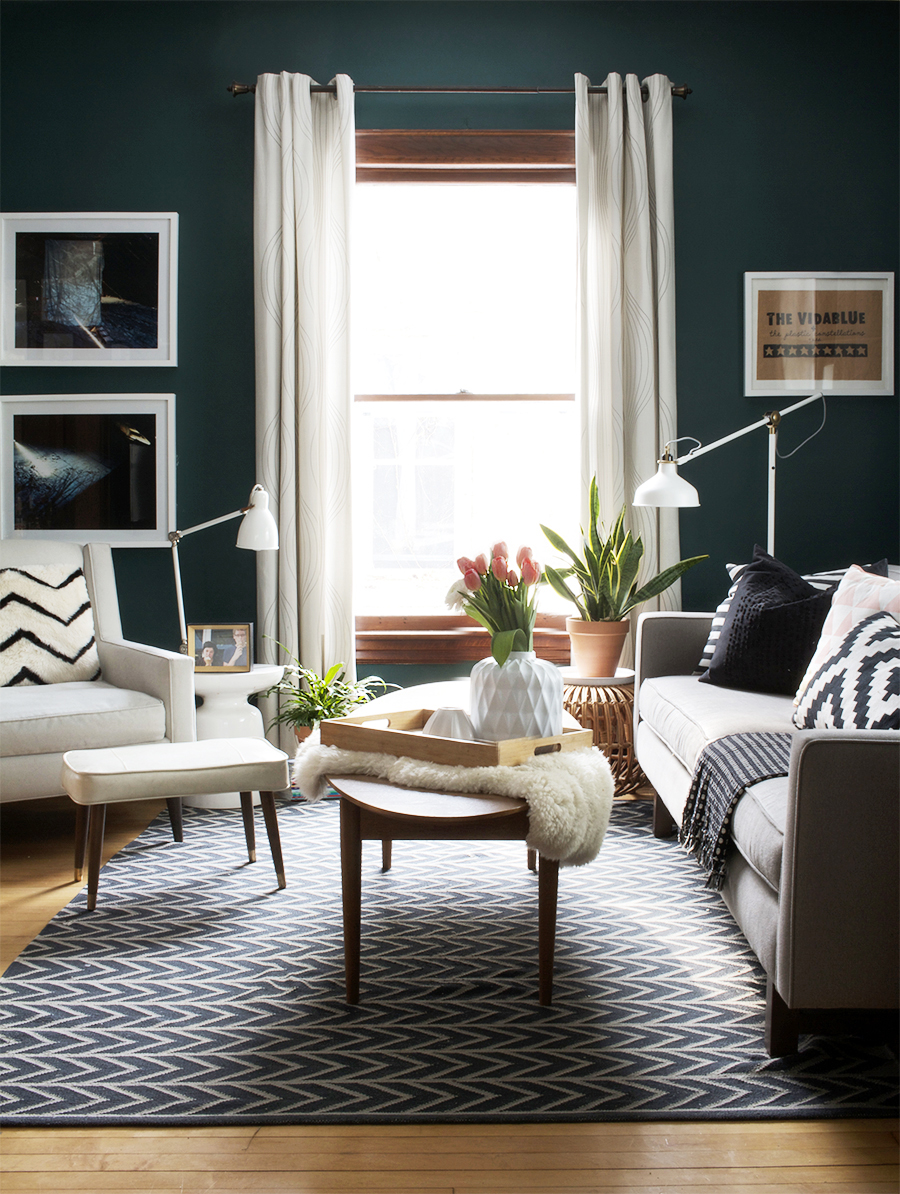 Last July, my internet pal, Dana over at House*Tweaking sent me an e-mail asking for some tips on taking interior photographs. First of all let me say, I don't think she be needing any tips, but because she asked I obliged and let her know a few of the simple rules I follow. She followed up thanking me for the info and encouraging me write a blog post, and I said "yeah, good idea, I should do that soon". Well my friends, it's March, you guys, M-A-R-C-H and I haven't gotten around to writing about how I take interior photos. It just so happens that I am in project limbo as of late, and I finally have the time to put together a post outlining my five steps for successful interior photos.
A little back story: A long time, back in the ancient days of the early 2000's, I got my BFA in photography. Back then people took photographs with a box that had a tiny hole on one end, and film on the other. The plastic film was covered in emulsion that only reacted to light and a certain mix of chemistry, weird right? Back then I took semi-artful portraits of folks using a 4×5 camera. Basically all this info is a long and drawn out way of me, trying to tell you, that I had been properly taught how to take a photo, how to print a photo, how to understand and produce artful ideas. However, I had barely trained in the ways of editing pics using photoshop, I had never composed an interior shot that didn't have people in it and I had no idea what a camera with a digital light sensor was even good for. Although I know about digital photography now, I obviously don't know all of the stuff and I've been learning as I go over the last ten years. I continue to learn new tricks all of the time.
What I learned in school was how to use my camera, how to meter and analyze light, how to push and pull film, and most importantly how to compose a photograph. Those sorts of things stick with ya. What I've learned a long the way is how to use my camera along with a bit of photoshop to make that well composed, well lit, well exposed bit of pixels. So I'm going to be separating this little "How-To" into two parts. The first of which I will be sharing with you today, focuses specifically on what to pay attention to while taking and composing the shot. The second part will focus on some of the go-to tools I use in photoshop to edit that image – that should be coming next week.
Today I'll be using my living room to illustrate how following a few of these simple rules will really improve your photos. To start, the living room is set up as I normally would have it on any given day. In real life it's usually clean, tidy, nice to look at, and all the furniture is laid out in a way where it relates to each other and promotes comfort and a nice flow of traffic. Although the room looks good IRL, that doesn't mean it will photograph the same when it's not set up to be all fancy for the camera.
Alright, hang on to your butts, here we go!
Camera Position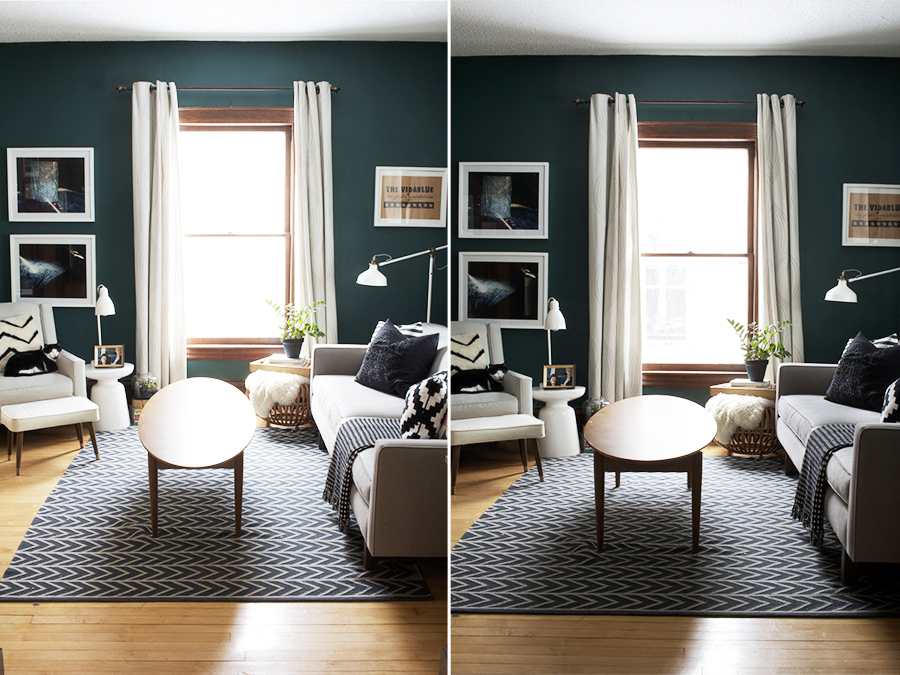 The first horizontally framed picture I'm sharing with you (on the top), is me taking the photo from a standing position. You can see that the visual focus becomes the top of the coffee table instead of the room itself. The vertical lines begin to skew inwards due to the perspective of shooting at a downwards angle. The photo on the bottom left is also taken from the same standing position, but the camera position is now vertical which makes it slightly more tolerable – let's not stop there though. The photo of the bottom right is taken from a vertical distance of about 18″ lower, now the window becomes the primary visual focus of the frame, instead of the coffee table. The sofa brings your eye towards the center of the image and all of the vertical and horizontal lines in the room are plumb and square. When in doubt taking a photo from straight on is a really easy way to take a successful interior shot.
Please, guys – if you're going to take interior photos and share them with the internet don't do these two things.
1. Don't take your photos from a standing position with out-of-plumb vertical and horizontal lines!
2. Don't take them handheld, please use a tripod! Please!
Also, try flipping that camera vertically – I think it looks good on the internet when you do that, especially to us folks who like to read it on our phones and tablets and such business. I probably take two thirds of my photos using a vertical frame.
Use Natural Light

I used to think that to take a good interior photograph you needed to have all the lights in the whole damn place. There was a period of time where I was taking black and white portraits of people in interior spaces and the lighting didn't matter (because the end result was B&W). I got kind of used to always leaving lamps and overhead lights on when shooting, even when I started taking photos of the interior of my house with my DSLR – it never looked good and I couldn't figure out why. Here's a good example of me doing just that for a House Tour I participated on Apartment Therapy back in 2010. I slaved over these photos trying to get them perfect, I can't imagine how much better the results would've been if I just turned the lights off and used a tripod. I understand that it's only natural to try and light a space, thus resulting in shorter exposure times, BUT this problem is easily solved with a tripod. I have a Manfrotto that has worked great for me for the last 15 years. Using a tripod allows you turn up the F-Stop, turn down the ISO, and take really long exposure photos – remember your subject isn't moving. I've been known to take minute long photos – in fact, a long time ago I used to take photo inside of room-sized camera obsucuras, and the exposures sometimes were up to eight hours long. Using a long exposure with a tripod shouldn't scare you away. Last winter when my pal Nicole and I shot my kitchen makeover it happened to be on the grayest morning in history, and we were really pushing those exposure times – most were a minute or more.
1. Make sure your only light source is pure day light. Turn of all of the lights and lamps. Even a light left on in the next room over can cause your camera to pick up a yellow cast.
2. To take the best photos wait for those over cast days. You won't get better more even light, than a gray day can provide.
You can see in the two photos above the difference in lighting. In the photo on the left you can see a yellow cast on the white chair, ceiling and floor. In the image on the right you see natural white ceilings, photo frames and no yellow cast.
Compose & Style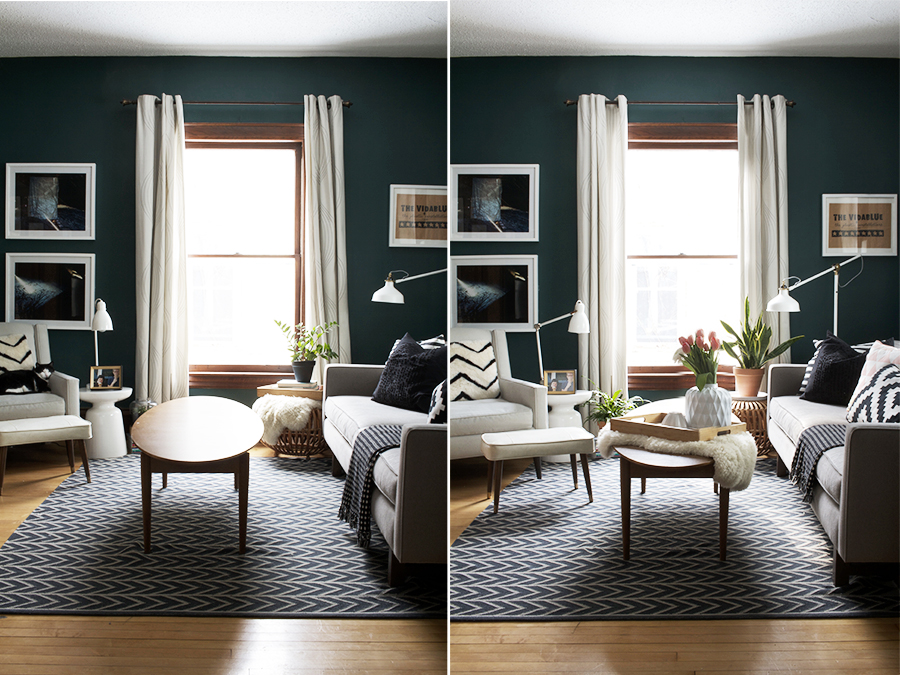 Alright, this one is pretty obvious, but composing and styling your photo is really one of the key steps to taking a good pic. I am always learning when it comes to this. I'm no stylist, but you can learn a lot from just looking through the frame on your camera before releasing the shutter. First, notice the image on the left, the table is off center – this is just the way we have the furniture arranged in the house. In real life it looks totally normal like this, but in this image it looks off center. The coffee table throws the entire image off balance, to see it better take your hand and cover the image on the right then do the same to the image on the left – see the difference? The window is in the center of the image, and it seems only natural for the coffee table to be in line with it, naturally I moved the coffee table. Next I moved the white chair, sidetable and footstool out from the corner so that it balanced the sofa.
Styling for me is all about showcasing the elements of the space. This means you can move everything around! The whole point of styling is to describe your space in the best possible light (punny). For instance, I took the sheepskin off the ottoman and set it on the coffee table to add texture and break up the surface. I then set the tray and a vase on top. I moved a plant with a lighter pot from behind the sofa to the top of the ottoman, now the plant stand out against the bright window. I grabbed another plant from the dining room and set it in the space next to the white chair to even out the composition. I made sure the curtains laid flat and even, and I moved the pillows and throw on the sofa so you can see them better in the frame of the image. I even went as far as to move the artwork on the wall so that it would feel more centered within the frame of the camera.
Use a Low ISO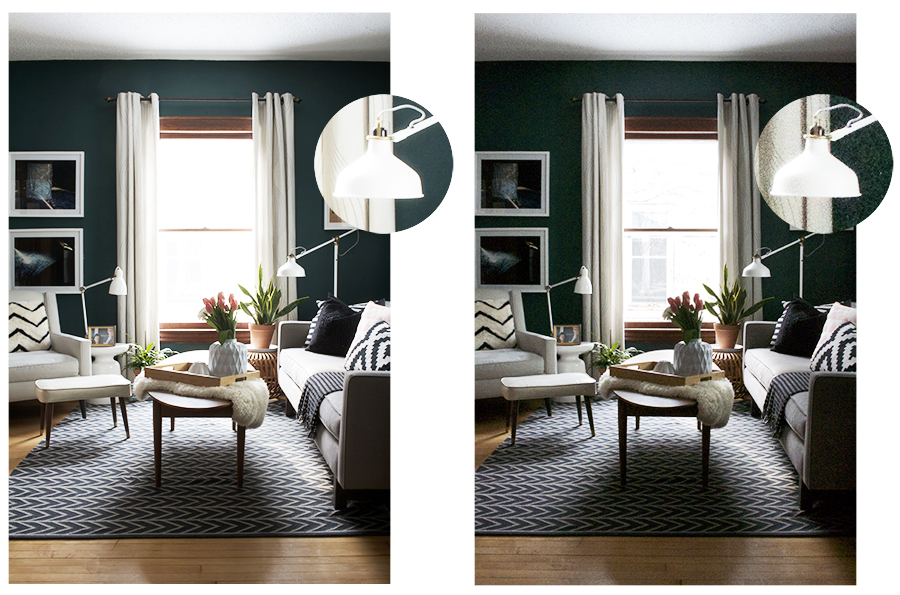 There are two things on your DSLR camera settings that you need to pay attention to. The first being ISO. The tripod allows you to set your ISO as low as possible. Using a low ISO gives you a high quality image, a high ISO would result in more noise and grain. Using the tripod affords you exposure time, so set your ISO low. I usually shoot around an ISO of 100. As a comparison I took a photo with a really high ISO of 6400 (on the right), you can easily see all the noise that is created at this high ISO.
Depth of Field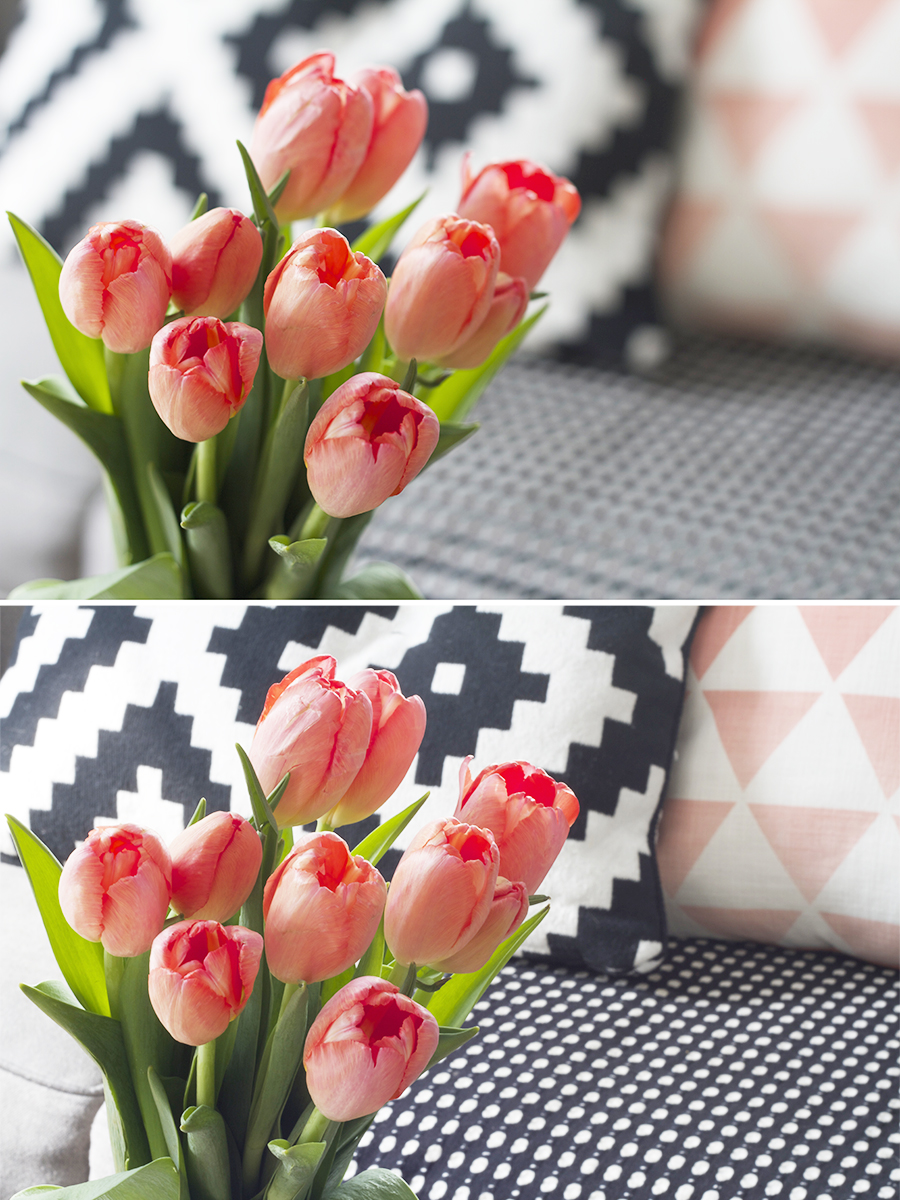 Now that you know to set your ISO set low, pay attention to your aperture. Aperture is the hole that lets light in through the lens, the smaller the hole the more in focus the image, the larger the shorter depth of field. A small hole is considered f22, a large hole with narrow depth of field would be anything below f5.6. On wide angle general shots I typically shoot around f22, this allows most of the photograph to be in focus. For vignettes such as the ones pictured on top, I shoot at a lower f-stop (f3.2) to achieve that beautiful martha-stewart-living sort of a pic. The bottom vignette was shot at f22 FYI. A note on vignettes: I try and use them as an opportunity to describe the main elements of the room in little sweet bites. For instance, in this pic I moved the pillows behind the flowers so that the viewer could get a feel for the color palette, patterns and textures used in the space.
Now that I have dropped some Scoops-photo-taking-knowledge on you, take some time to look at your pinterest boards, magazines etc. Find images that you are really drawn to and try and analyze how the image was created. Understand why you like it, look at the angles of the room, the point of view the images was taken from, look at the vertical lines and perspective and pay attention to how your eye flows through the image. What are you drawn to, what makes it interesting? The next time you take a photo of your space try and replicate some of things you've seen in these inspirational photos. Good luck guys, and feel free to throw your questions my way. I'll try and help.