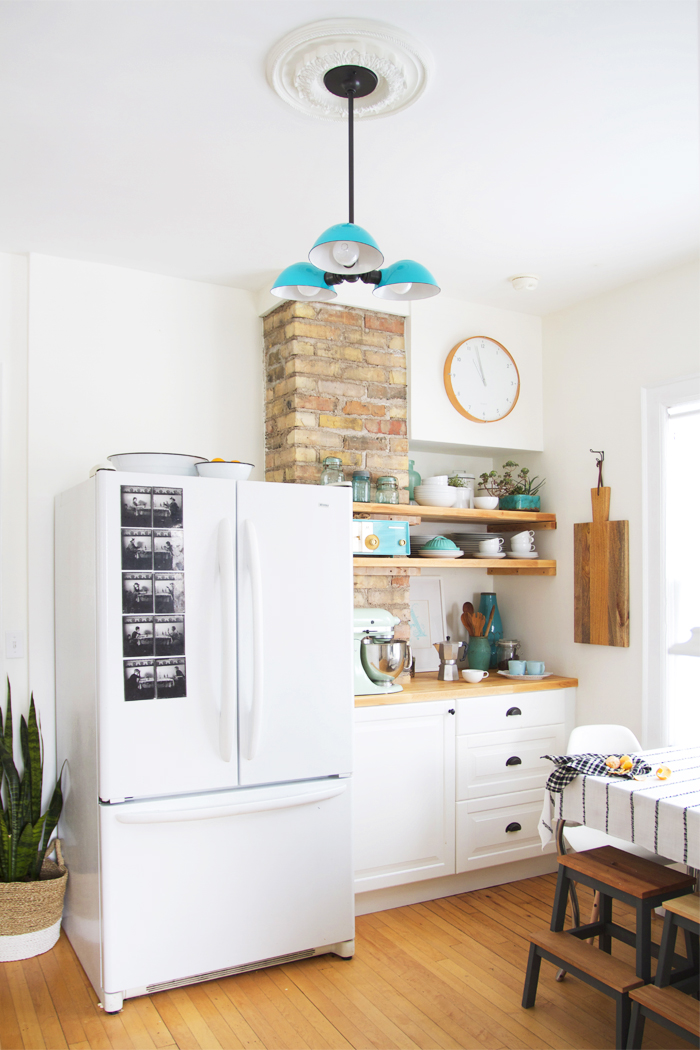 Okay guys! I am so happy to share with you the finished kitchen!
I hope you don't hate me for taking so long with this post, and maybe you happened to see it yesterday on Design*Sponge. It was all a matter of timing, the light fixture took forever to arrive, and then those crazy holidays happened. So here we are, months after the project started, at the finish line.
I cannot describe to you how great it feels to have invested the time and work to make this kitchen feel like it was a part of our home. This is especially true due to the sheer amount of time I spend in the kitchen as a stay-at-home mom. This space feels like a reflection of me and my family, and functions so much more efficiently for our day-to-day uses. I'm not sure if I have even been more proud of one project than I am of this.
It's been awhile, I know, but you guys may remember me starting this project back at the end of the summer when I started to get the itch for an indoor interior project, I was so over gardening. Renovating the kitchen had been on my list for a while, but over the last month of summer I was able to really solidify a plan for how I was going to tackle it. As with most of the projects around this place, I tried to throw it all together on a tight (not tyte) budget, and ended up doing pretty decent job of staying close to what I had anticipated. I had planned for $1,500, but then we had a few additions as the project progressed – the kitchen cabinets, microwave and light fixture – that knocked it up to a grand total of $2,358. I'm not mad at that total.
All right, enough of me jabbering, check out some of these Before-and-Afters!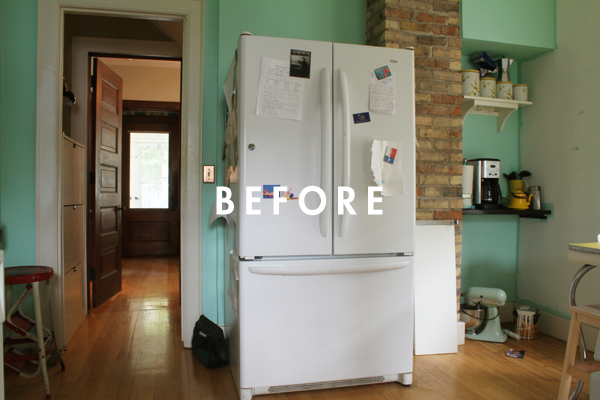 Without a doubt, the part of the kitchen I am most proud of is the transformation (below) of the weird corner space. This whole area was an almost completely-non-functional, junk-holding eyesore (above). Someone before our time had attempted to make it a bit more functional by adding one floating shelf and an outlet. I give them credit for the outlet, it has allowed us use the space as a place to make coffee in the mornings, but it just wasn't pretty. From left to right (above), we have a huge ginormous fridge that just floated out in the middle of the space, then the brick chimney which had nice texture, but didn't connect with any of the rest of the space, and then the cove which at some point had been the "utility" staircase. The stairs have been removed long ago and the "coffee nook" was all that was left. The entire wall of space had troubled me ever since we moved in, and I had no idea what was the best way to attack it. I went through a few different sketches for the space before coming up with a solution of custom fitting some Ikea cabinets in the cove and chimney space and finishing it off with some inexpensive butcher-block counters and shelves.
Not only does this look awesome now, but it also anchors, and minimizes the size of the fridge, which looks actually built into the space without overwhelming the nearby kitchen table. I love it. The cabinets house all our baking stuff, coffee accessories, and a very critical rack of paper towels inside the cupboard door – perfect for getting messy 2-year olds clean after their afternoon meals. Guess what else? Inside the top cabinet drawer is all of our silverware which used to make its home in the dining room buffet because there were not enough drawers in the kitchen previously – life changing, you guys. It has been so great to have a space dedicated to all these kitchen activities. Making pancakes is super easy, and Christmas cookies were not a chaotic mess. I am in love with the beauty and usefulness of this space.
Oh and also guys, part of the reason it looks so pretty is because my good friend Nicole Ripplinger (aka Colz) helped me style it all. She's got a highly cool website called Middle North Creative if you're interested in her styling skillz.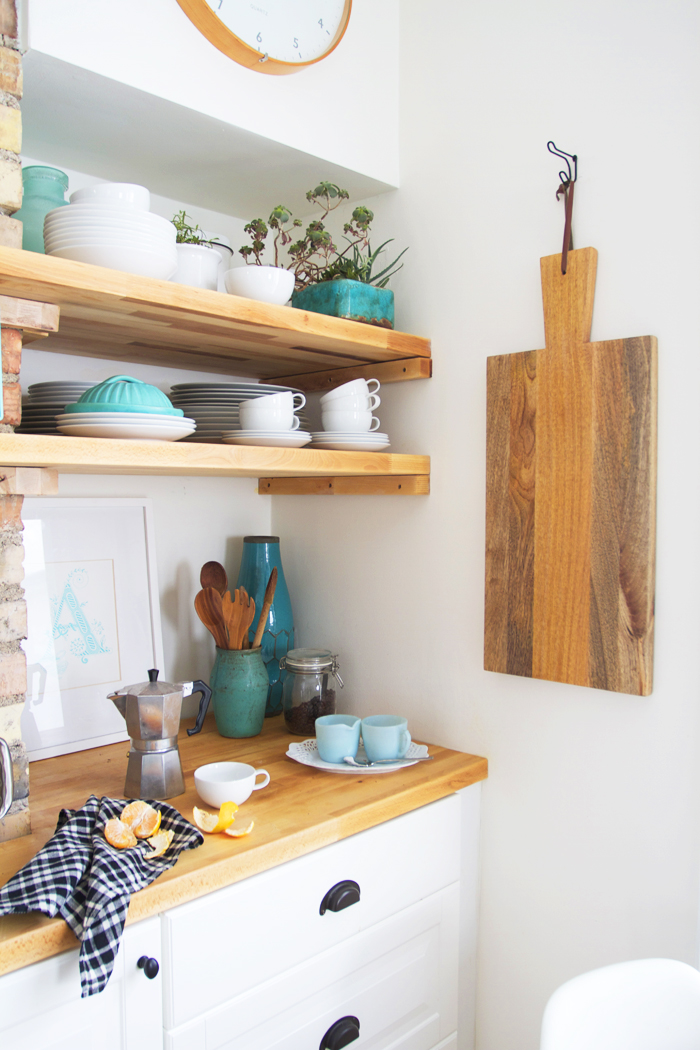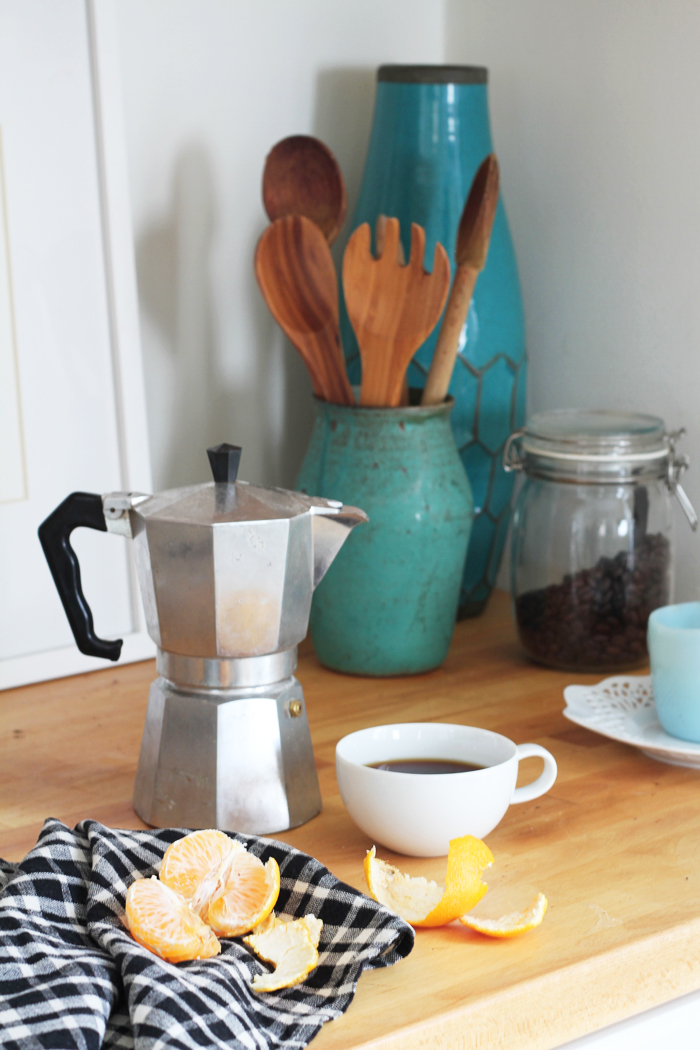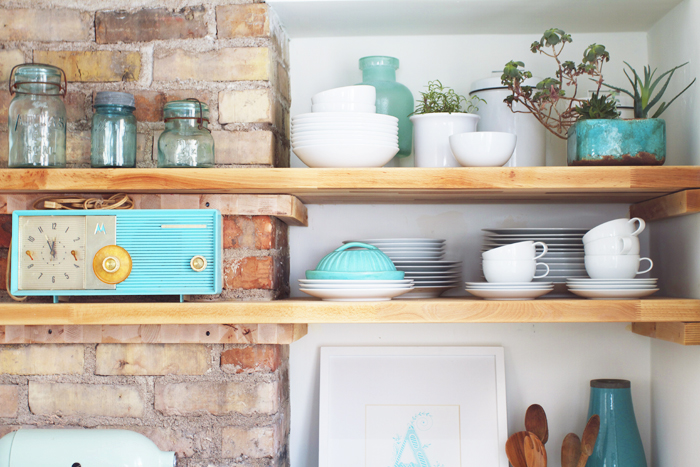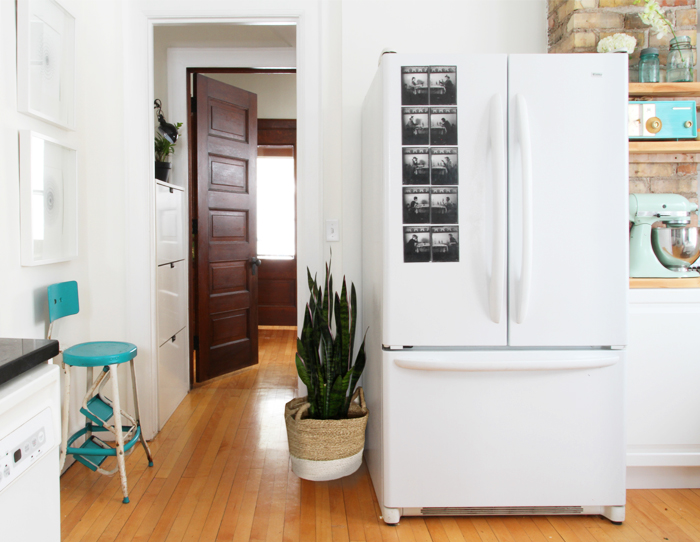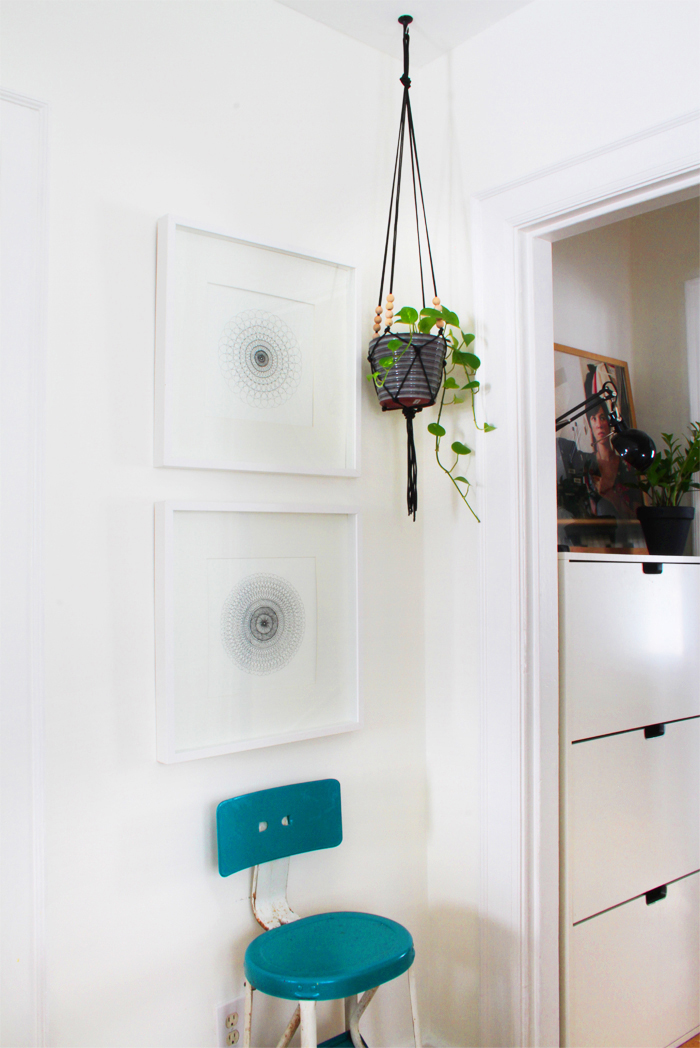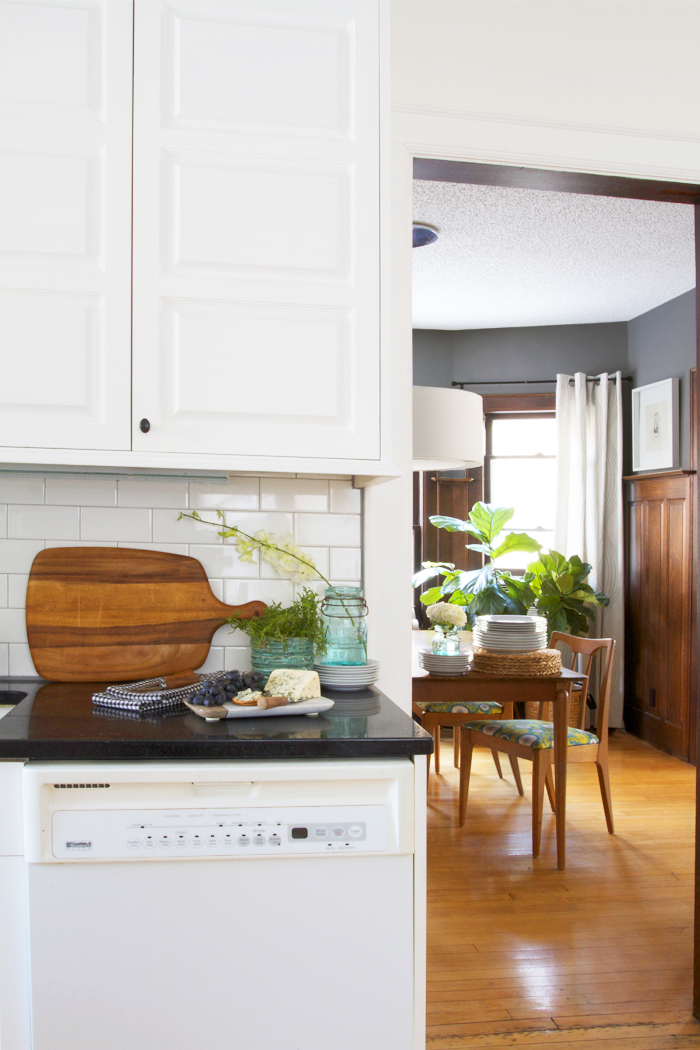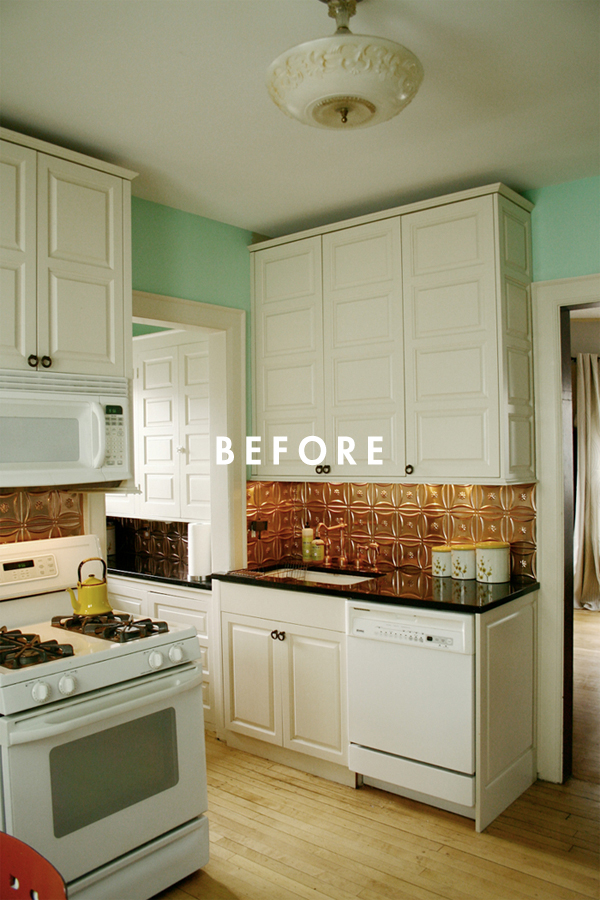 When we bought the house we inherited this metal copper backsplash (above). It wasn't the worst thing in the world, but it was totally not my taste. I decided to live with it and tried to embrace it. In the end, I just couldn't. It needed to go, and one warm September Sunday I just started ripping it out. There was no way it was staying any longer. One of the best things I've done to this house, for sure, dawgs.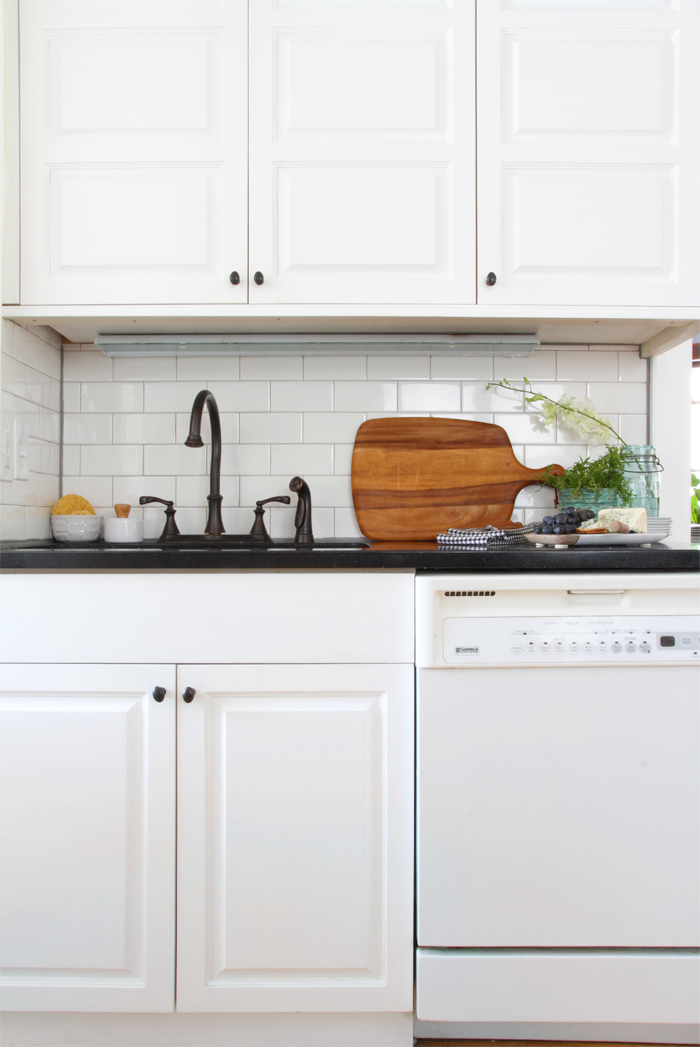 Can we talk about the backsplash yet? Can I tell you how much I love the new subway tile? Can I tell you how it makes such an amazing and dramatic difference in the space? Can I tell you how much I love it? I can? Thank you! Using subway tile as a back splash is a classic move, and yet so inexpensive. I love how clean and tidy everything is. Nothing seems messy and splattered anymore and I am so thankful for that. It also brings together the newer, more modern cabinets in the main part of the kitchen with the original pantry cabinets – tile is their common language.

I wanted to take a minute and let you guys know about a few of things I would do differently if I could do it all over again. Yes, most of them are barely noticeable and very small, but still, I am a GD perfectionist.
First of all, I would've waited to paint the cabinets until after the temperature started to drop and the air became drier. Like all things wood, they expand and contract. The cabinets contracted and minimally shrunk after I painted them in the warm fall weather, and now there are cracks in the paint at many of the seams. I can go back and fix this, yes, it's just finding the motivation to do it now that the project is done.
Secondly, I would've trusted my gut on the color of the grout. I originally wanted black grout because it looks awesome. But I wimped out, thinking that it might not be the best option for a first time tiler like myself, as I thought a darker color might highlight imperfections. I had to play a little game of "What would piss you off more?" Having black grout and seeing all the screw ups, or having a shade lighter and not seeing as many of the screw ups. I determined that seeing the screw ups would piss me off more. I decided to go a shade lighter with the grout, and I was totally cool with this choice. But then when confronted face-to-face with grout options at the hardware store, I went even one more shade lighter. "Oops – Stick with your gut, Scoops" (cool new rap). This isn't a major crisis or anything, but I do regret it. I wish the grout was just a shade darker. I shouldn't have second guessed myself.
Thirdly, when measuring the butcher block counters I allowed for an overhang of 1/2″, but I measured just the cabinet bases without the drawers or door front being considered, which were 1/2″ deep. I now have a counter that is totally flush with the front of my cabinets. This could be much worse – I could've forgotten to add any depth to the counters at all. So I am thankful for that. However, if I had to do it all over again, I would add an additional 1/2″ overhang (1″ deeper than the base cabinets).
Other than that, I am over the moon with how the kitchen turned out. Please, if you have any questions, or need tips on a project, leave a comment below and I will try my best to give you advice based on what I have learned.

When I started this renovation the biggest motivation was to get these original cabinets and hardware whipped into shape. Our house was originally built in 1910 (that's more than 100 years ago, dawgs) and I've done my best to honor and highlight all of the unique eccentricities of the house and draw out that original character while still ensuring that it speaks to our style.
Our kitchen is oddly set up (seen in the post). I'm fairly certain all the walls and the layout are original to the house, but I don't understand why it was set up this way. This house was built with this pantry back in 1910. Was it used as a pantry then? I dunno, but it's still here and tucked back in this little area of the kitchen. I have no idea how the original kitchen was laid out, but it has to be similar to how it functions now – just with an older stove, an ice box and definitely no dishwasher. I wanted to make sure I honored that history in some way, so I made restoring the cabinets a major focus.
I started by stripping all the hardware, which had at least of 5 layers of paint on them. Then I spent weeks sanding and painting and sanding and painting and sanding the cabinets, making them look as perfect and pristine as I could manage without losing my mind. After 100 years, the cabinets had adjusted to the natural settling of the house; in other words, not one of them closed properly. With a lot of sanding, I was able to get each cabinet door to hang properly in its cabinet box and I now get to enjoy the click of closed cabinet latch.
It doesn't look like much, but I really put a lot of heart and soul into this old pantry, and I'm really proud and happy with how it turned out. It functions as a traditional pantry – keeping all our canned and boxed goods – and as a place to also store pots and pans, some bakeware, and I have a few cabinets that still have room for more stuff. I'm good on storage now! I also built the big butcher block cutting board, added under-cabinet lighting and now use this space for all my meal prep. It's great for chopping and I love that this space now has more purpose then just storing all my kitchen junk!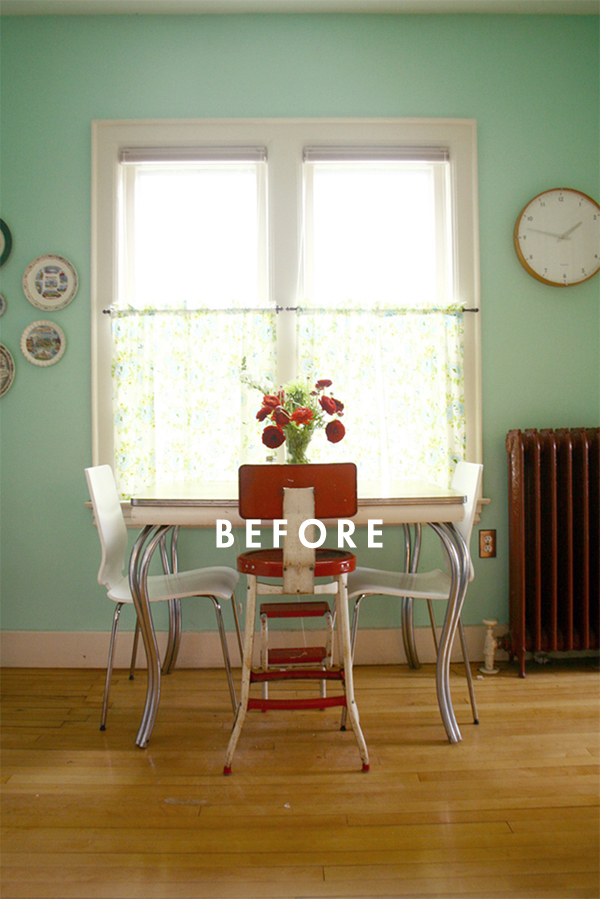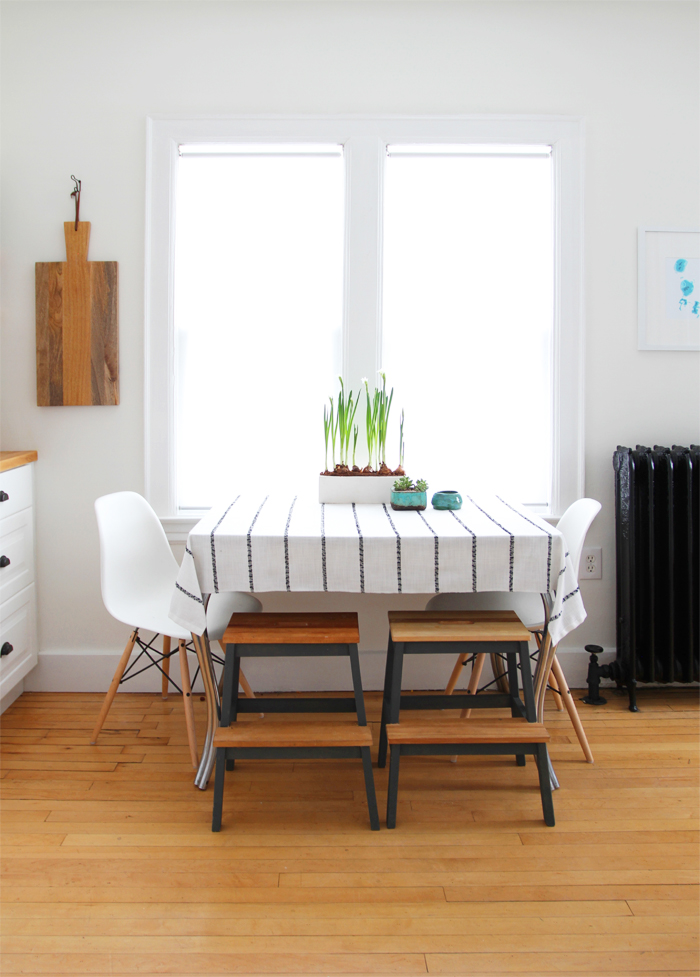 So I told you guys in my renovation updates that I was having trouble with this table. It was really pulling at my heart strings as well as my creative problem-solving strings. The table has been with me since I was 18. It's lived with me and Jeff at all our old rentals, our loft, and now here at our house. Our kids eat all their meals here, and both Jeff and I are way sentimental about it. I also am a big believer in having your home being a museum of objects you love. So the table was staying. And although we loved the crap out of it, it was hard to make it look it good in our new "vintage industrial" kitchen with turquoise accents. This table has a bright yellow formica top and curvy chrome legs. Although it's vintage, it's not the vintage I had in mind.
After trying different ways to disguise its existence – none of which were really that successful – it came down to an extra piece of curtain paneling made into a table cloth. Although Jeff isn't entirely convinced that this tablecloth is cool, I kind of love it. I think the table looks great, I love the kids' stools painted to match the grey wall in the pantry and mudroom, and I think the Eames chairs with their dowel bases look great with all the cutting boards and butcher block. I like that it just sinks into this space, right between the new cabinets and the radiator (that I painted black), and I love how it gets bathed in winter light pouring through our kitchen windows. It's good, yah?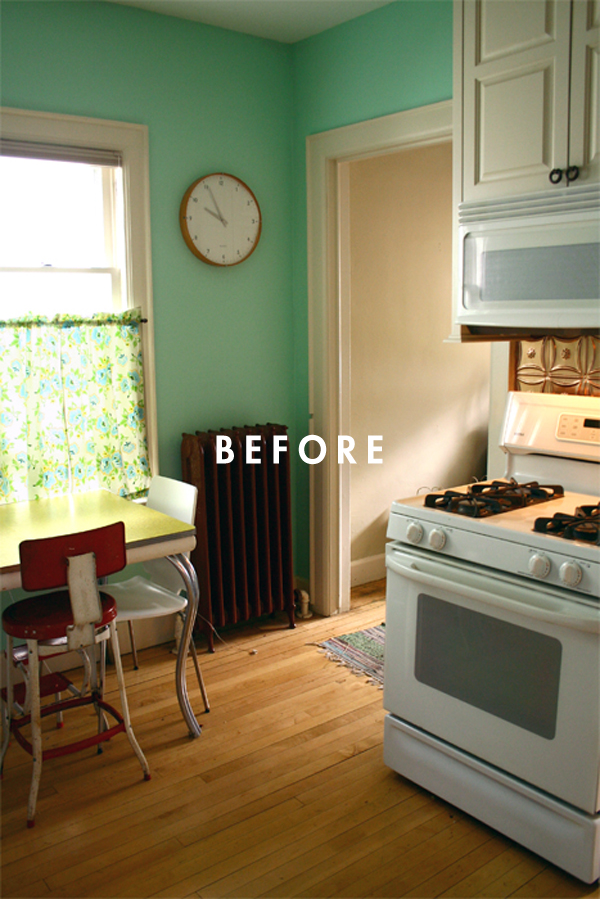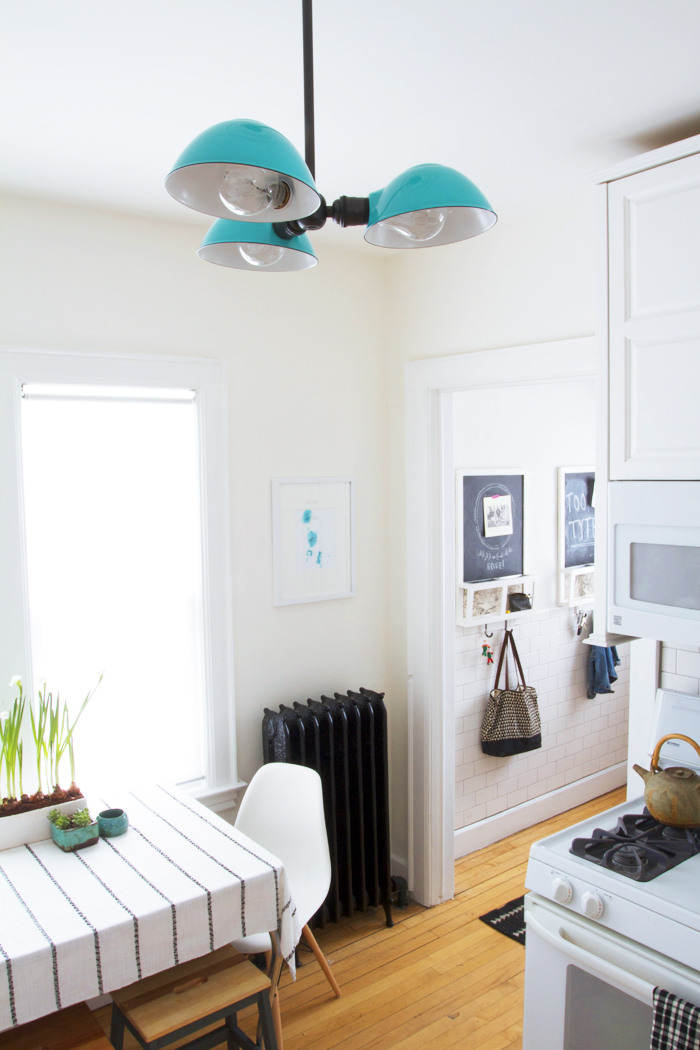 This photo is here to show you how totally amazing this aqua light fixture from Schoolhouse Electric is. I had to close my eyes when I clicked the "order" button on the net. Nearly $400 bucks on an seriously-aqua light fixture is not something that I normally go for, but fer realz guys, in this space, it is 100% amazing. I'm so glad Jeff talked me into it after I suggested this crazy scheme to him once in passing.

You guys! Guess how much money I spent on the tile in this mudroom? Would you be surprised if I told you that all this wonderfulness cost less than $100 and 2 days worth of work?
I was just sitting in the living room one day, staring at my handy tile job in the kitchen when it occurred to me that tiling the mudroom would be the best idea ever. I'd tile it so that it would be an identical height to the height of the tile in the pantry. It would go around the entire room and it would be totally awesome. Jeff was not convinced at all that this would be a good idea. We were already weeks into the kitchen project and he was definitely over having me spend all my waking time focusing on it. I had to convince him that this wouldn't add on that much time or money and that it would be so awesome. 48 hours later, and blamo, it was done. This is probably the best $100 bucks I've ever spent.
I added the magnetic chalk message boards a few years ago. I painted and wallpapered them way back then, to add a bit of function and a little bit of pretty to this space. When I tiled the mudroom I added built-in hooks for the kids to hang jackets and backpacks. It has become an essential part of our house, so much so that I don't think I could design a new more modern kitchen without including a space like this. We had problems with a "landing space" forever. Keys, coats, shoes, hats and mittens were taking over our house. It probably took us 3+ years of living in the home before we really figured it out and started utilizing the mudroom. This space is organized; everything has a place. Towels for summer backyard pools, car keys, gardening shears, gardening gloves, canning gear, bubbles and bubble accessories, scarves, hats, mittens, snowpants and all that good wintery stuff. It's basically all the stuff we need for the outdoors – all in one place, no matter what time of year. Plus we have the shoe storage right off the kitchen, which by the way, has entirely changed our clutter and our lives – couldn't recommend it enough.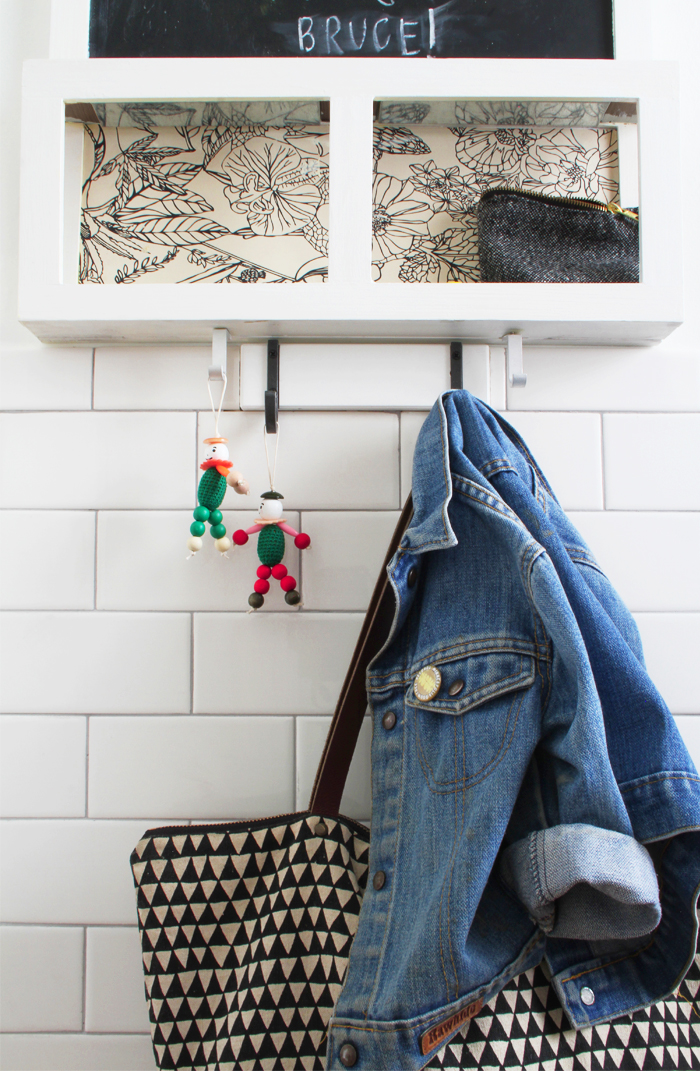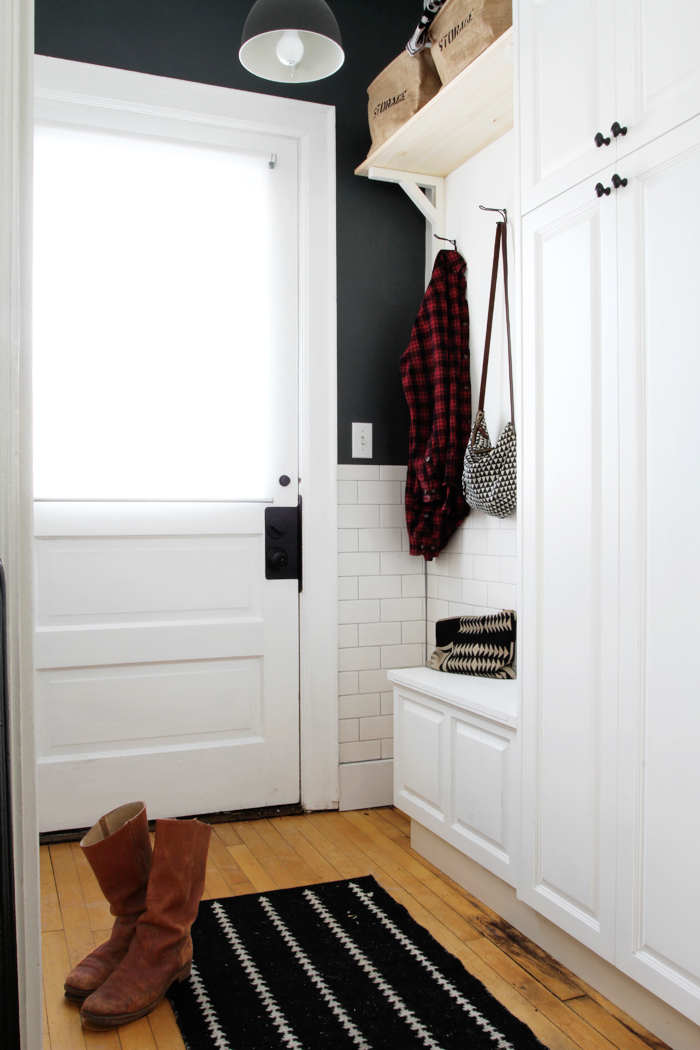 I mentioned it in my 2013 post from last week, but this has seriously been such a great project for me. I've learned that I am capable of doing most home repairs! I know I can't do everything, but I can do a lot. I have the skillz and every time I tackle a new unknown project I get an education on what I need to know to accomplish the next home renovation waiting around the corner. The satisfaction I feel from this project is pretty great, and it doesn't hurt that the end result turned out so amazing (I must humbly say).
I honestly think we could live with this kitchen for a long time. We had originally scheduled a kitchen gut job and renovation around the 10-year mark of owning the house. But as of this moment, I don't envision that happening because it really doesn't need it. This old kitchen is so pretty and functional for us now with these tiny renovations, and has maintained the original character of the house. Owning an old home is a special thing. Although all of them need renovating and updating, it's important to respect the age and history of these places whenever possible.
Thanks for all the support and comments throughout the project, guys. It really helped motivate me to see it through. You're the best!
The Budget
Paint & Paint Supplies
▽ Paint Brush – $15.99
▽ Radiator Roller – $4.99
▽ Paint Roller – 2 @ 3.99 = $7.98
▽ Masking Tape – $7.99
▽ 1″ Brush – $7.58
▽ Builder's Paper Roll – $10.97
▽ Wall Paint | Clark & Kennsington Paint 2 gallons @ 25.99 = $51.98
▽ Wall Paint | Behr 1 Quart – $11.23
▽ Trim and Cabinet Paint| Farrow & Ball – 1.5 gallons – Free
▽ Spray Paint Black – 3 @ 5.76 = $17.28
Total = $135.99
Tile and Tiling Supplies
▽ Tile Adhesive – 3 gallons @ 20.18 = $60.55
▽ 3×6 Subway Tile 4 boxes @ 22.00 = $88.00
▽ White Bullnose Cap Tile 30ct for $22.20
▽ Grout Float: 11.97
▽ Quarter Round Tile 13 for $12.74
▽ Wedge Spacers $5.97
▽ Delorean Gray Non-Sanded grout $13.27
▽ Delorean Gray Caulk – 2 @ 11.97 = $23.94
Total = $238.64
ElectricalL & Lighting:
▽ Light Switch – $1.59
▽ Switch Covers – $7.16
▽ Hecktar Pendant Lamp – 2 @ 29.99 = $59.98
▽ Grundtal Under Cab Lighting System – 2 @ 24.99 = $49.98
▽ Schoolhouse Light fixture – $359.00
▽ Halogen Bulbs – $27.35
▽ Ceiling Medallion – $42.99
▽ Liquid Nails – $4.99
▽ Paintable Caulk – $1.99
▽ Dimmer Switch – $12.97
Total = $568.00
Window & Wall
▽ Ekby Shelf – $9.99
▽ Ekby Brackets – 2 @ 4.00 = $8.00
▽ Enje Rollers – 4 @ 19.99 = $79.96
Total = $97.95
Hardware
▽ Sash Lift – 2 @ 3.99 = $7.98
▽ Anchors and Screws $4.94
▽ Shims – $2.49
▽ Plant Swag – $2.99
▽ Staples – $4.99
▽ Lampholder – $3.99
▽ Cabinet Knobs 13 @ $8.10 = $105.39
▽ Vintage Repo Pulls 3 @ 9.09 = $27.27
Total = $160.04
TOOLS
▽ Mouse Sander – $29.97
▽ Steel Square – $7.90
▽ Magnetic Torpedo Level – $4.47
▽ Mouse Sand Paper 3 @ 5.97 = $17.91
▽ Sand Paper 6 @ 4.47 = $26.82
Total = $87.07
Cabinets and Counters
▽ Ikea Lidingo White Cabinets – $486.93
▽ Ikea Butcher Block Counters – $324.00
Total = $810.93
Appliances
▽ Over the Range Microwave – $259.98
Total = $259.98
Grand Total = $2,358.60
Previous Kitchen Updates:
▼ Kitchen Plans
▼ Kitchen : Week 2 Progress Report
▼ Kitchen : Week 4 Progress Report
▼ Kitchen : Week 6 Progress Report
▼ Kitchen : Week 8 Progress Report
▼ Kitchen : Week 10 Progress Report
▼ Kitchen : Week 16 Progress Report