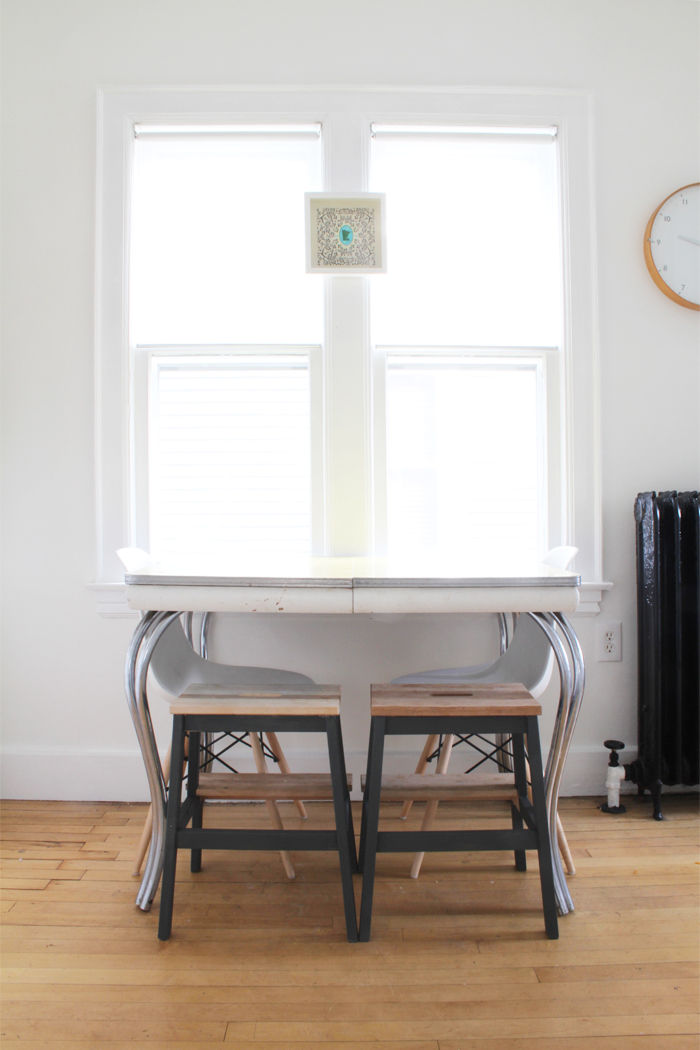 Hey guys! Just over here finishing up a bunch of small projects left in the kitchen. I'm still waiting for the new light fixture to arrive before I can show the big kitchen makeover to you! I can barely stand it.
In the meantime, let me talk to you about my kitchen table.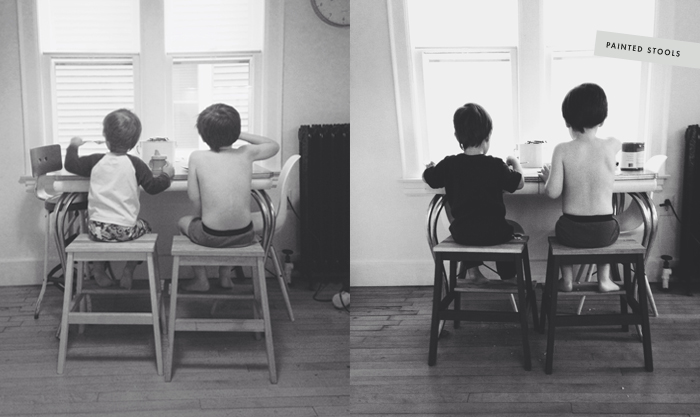 I bought this table at a garage sale when I was 17 in anticipation of moving out of my folks' place and into my own apartment someday. I've had this table forever, and I totally am all sentimental about it. It's been with me all of my adult life, and now my kids eat at it 3 times a day, I mean look at 'em, too cute! I can't part with with the table, and I need to make it work in our new kitchen space.
Right now, it's kinda just hanging out, all alone – not relating to anything.
"Come on table, no man is an island, you need to get with the kitchen program, and start looking like you belong here already!"
Seriously though, I am kind of at a loss for incorporating this vintage yellow formica table with it's chrome curvy legs into my new, fresh, semi-minimalist, semi-industrial kitchen. I do have a few ideas, but I don't know if any of them are really the right solution.
First, I painted the kids eatin' stools grey on the bottom, the same dark grey I used in the pantry in mudroom. I left the top seat and step area the natural wood, and will oil them up, so they are lush and velvety like the new butcher block counter and shelves in the kitchen. I like the stools mucho better now that the bases are painted.
I also added some artwork to hang in the window. Now that everything is white, the double window just felt like a vast bright hole on top of the white walls. Maybe, I'm just not used to white everywhere, but I thought adding a small framed piece above the table might give the eat-in space some weight spacially, so it's not just alone, floating in a field of white below the window. That one little print really works, and makes the table feel more incorporated into the space.
I didn't really have anything in mind for the artwork I would use, so I started looking around the house. I grabbed this "Heart Minnesota" print from the dining room – It's turquoise, black and white, the perfect size, and it relates to my Minnesota plate collection. So, win, win, win. However, if I need more seafoam/turquoise/teal in my kitchen life, I think I'd consider replacing the print with this paper cut chain of lakes from the Crafterall shop on Etsy.
Basically, I'm trying to disguise this table with other cool stuff, so you just don't notice it. Styling is not my strong suit, so I'm just working by trial and error here.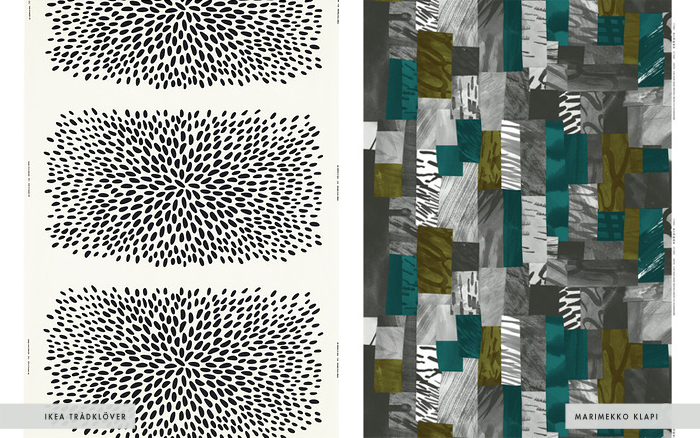 Maybe the solution to all my problems is easy, just hide it under a tablecloth. I haven't run into a lot of tablecloths that I love or would work in the space. This table is tiny, 30″ x 40″, standard size table cloths won't really work. I think I could get away with sewing some fabric and making my own tablecloth for relatively inexpensive. I think either of the above fabric patterns could work. I like the price and the simplicity of the Ikea fabric, and I like the color and print of the Marimekko. Even though the Marimekko pattern boasts dark teal, I think that's okay, I want the blues in my kitchen to range from seafoam to teal.
I like both fabrics equally, but I think Ikea might have Marimekko beat on the price. I already feel like I've gone over budget on this project and I don't think I need to spend tons more money than I have to. I'm going to take an Ikea trip later this week, and see what I think of the Trådklöver fabric in person.
I'm still not sure a table cloth is really the solution, but it seems like it could have some merit. I'd be open to suggestions if any of you cool people have ideas on what I can do to incorporate this old table into the space.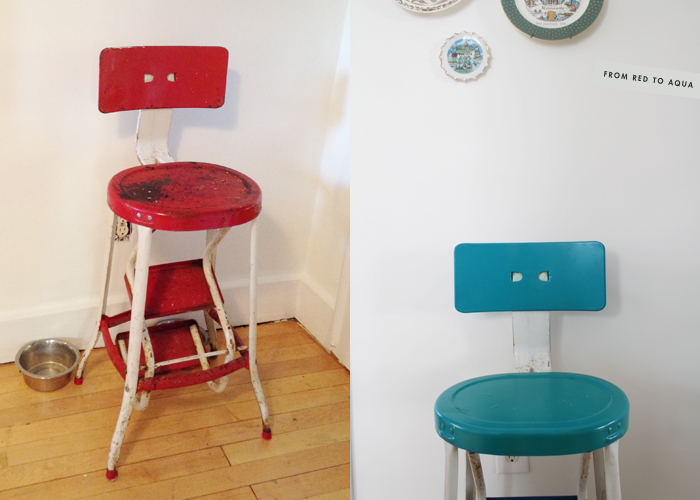 Also, I totally painted this red high chair aqua. It was a toss up between aqua or and black, and I figured a little more aqua wouldn't hurt anybody. Guys, I have a new found love of spray paint, I love it big time.
We still use this high chair all the time, I babysit my friends' girl, Penny, three days a week, and she needs a place to sit at the table too. Plus, it's kinda cute, so it can just chill over in the corner, under the plate collection when it's not in use.