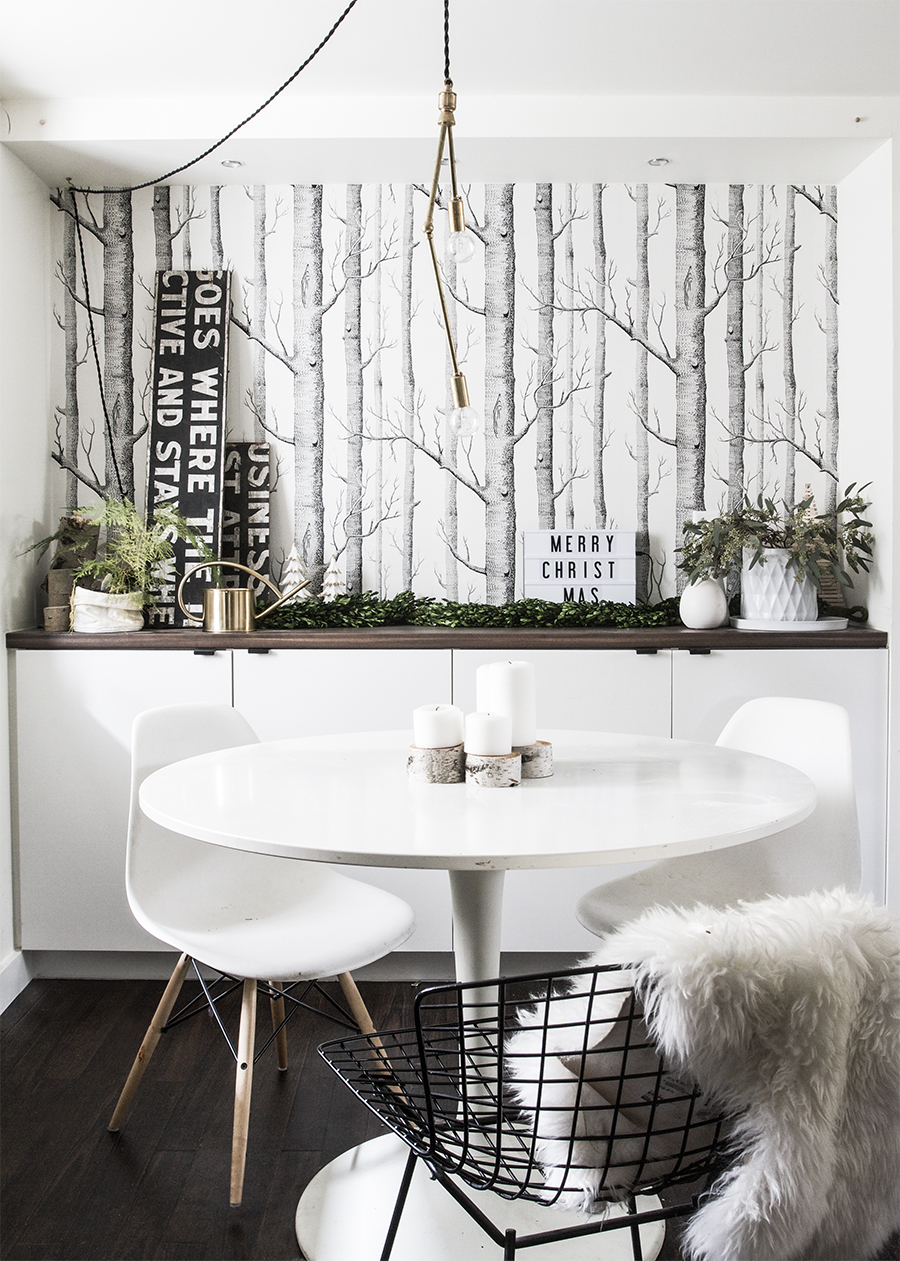 We decided this year that we'd go all out on decorating our basement for the holidays instead of doing the main floor of the house as we normally do. I have to say I'm really excited about how the space all came together. I've put together a respectable collection of holiday decor over the years, and since a theme can change from year to year I have begun to get pretty neutral when purchasing seasonal decor. What do I mean by that? If it's not white, metallic or natural greens, I tend to pass on making that purchase. By committing to a palette I'll be investing in holiday decor that I can reuse and incorporate in our home during the winter months.
It seems to depend on the year what metallic I am into, a few years ago it was silver, the year before it was gold, and last year was copper. This year I was able to get a set of matte metallic circle garland that incorporated all three colors (brass, nickel and copper), which allowed me to incorporate my collection of different colored metallics throughout our basement family room.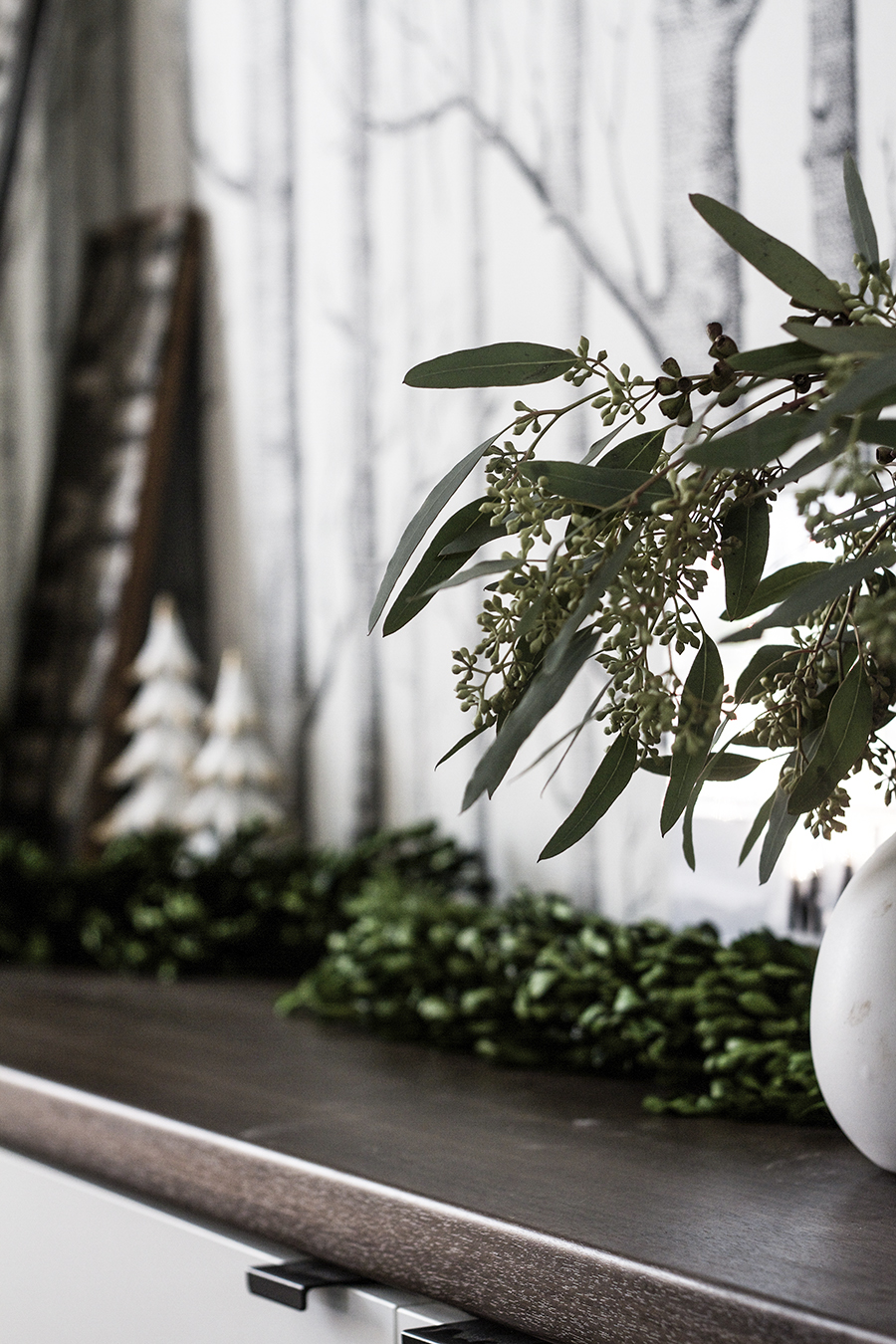 Before decorating I gather up all of my collected holiday items from years past, and one or two new items for this year. I added the metallic garland (seen above) and some buffalo check stockings ($13 bucks!) to my holiday-decor-arsenal this year. I wanted a simple understated vibe for the basement. I especially love the green from the freeze dried boxwood that purchased a few years back, which I draped it on top of the built-in cabinets in our "dining-nook", and nestled in some gold tipped christmas trees. After spying that very cool cinema light box on CLJ's site, I snagged up my own this summer. We've changed out the message quite a few times – I try to keep my quips on the funny side (not-so-much-inspirational). "Merry Christ-mas" was Gus' choice, and I suppose it seemed like a fitting sentiment.
The new garland from Burke Decor is draped across the built-ins, transitioning from our little dining/game area into the larger living space. I think it will also make the perfect backdrop at our annual holiday party and new years day celebraishes. Behind the sofa, I hung some white garland, two trees (one in white and one in silver) a set of ceramic deer and the copper "Merry Christmas" garland that I picked up at Target last year (this years version is also v cute).
The actual Christmas tree has stayed the same throughout the years. Following in Jeff's family tradition, we gift the boys one new ornament every year. The tree is covered in their personal ornaments, white vintage crocheted snowflakes, big glass bulb christmas lights, and a sheepskin tree skirt.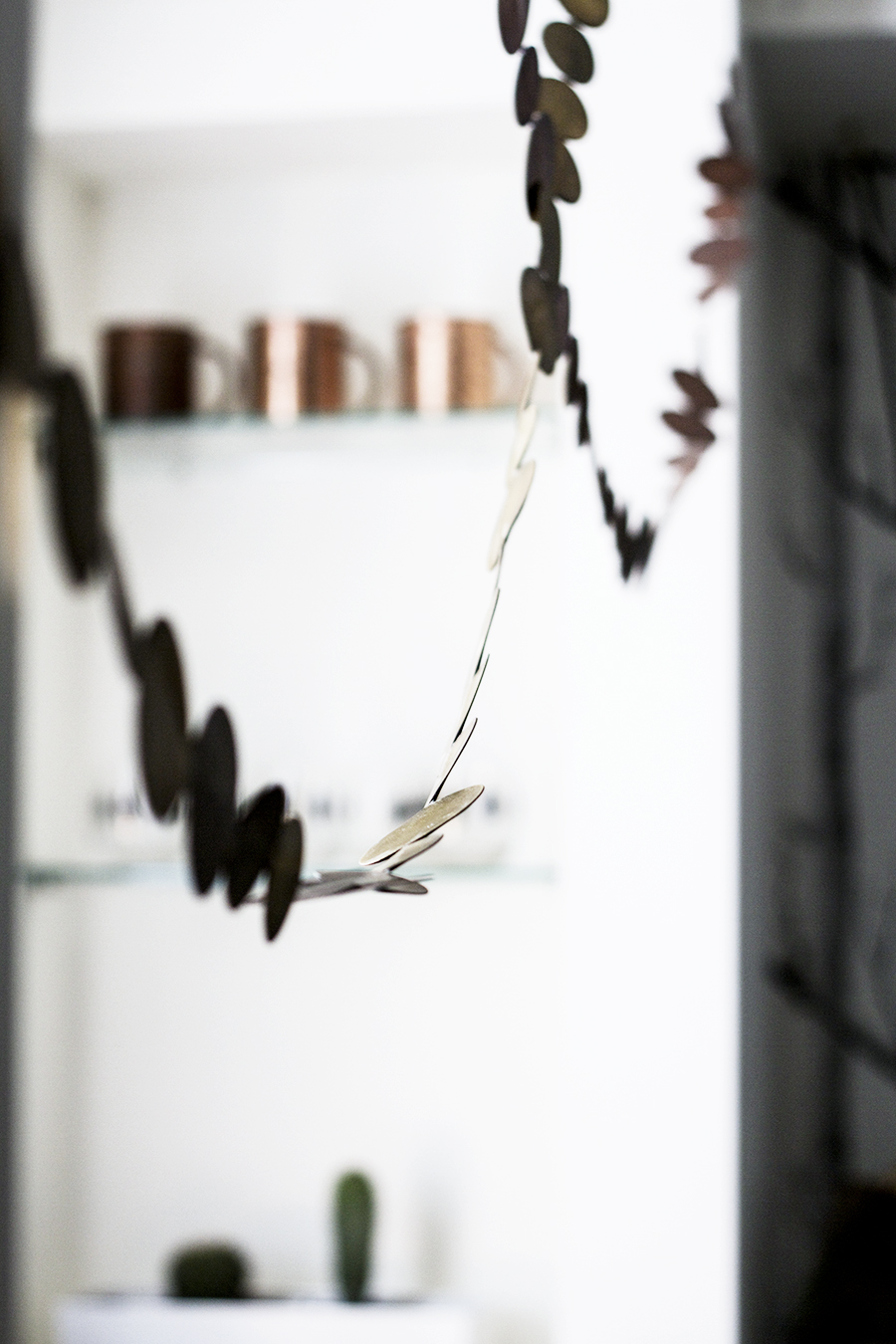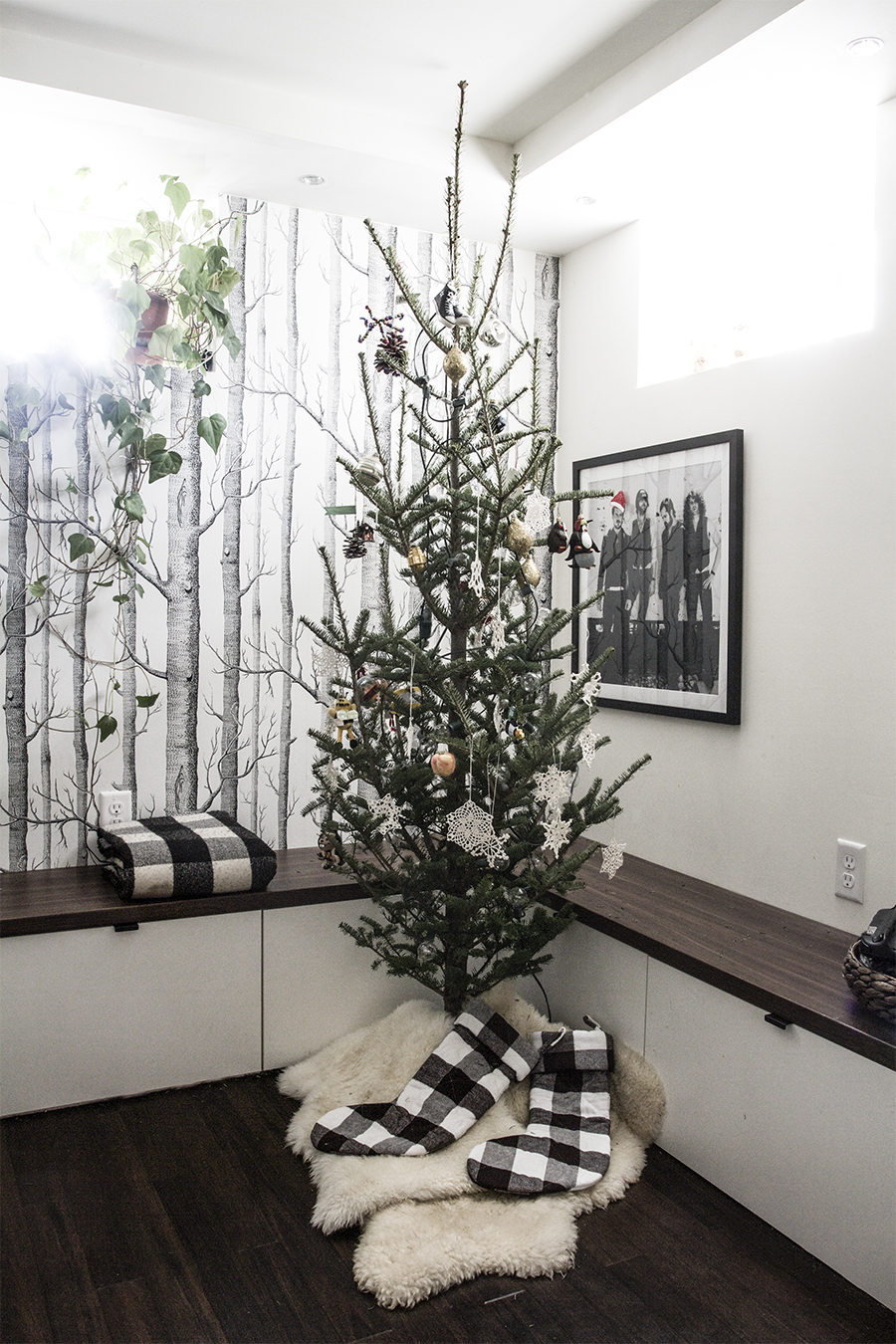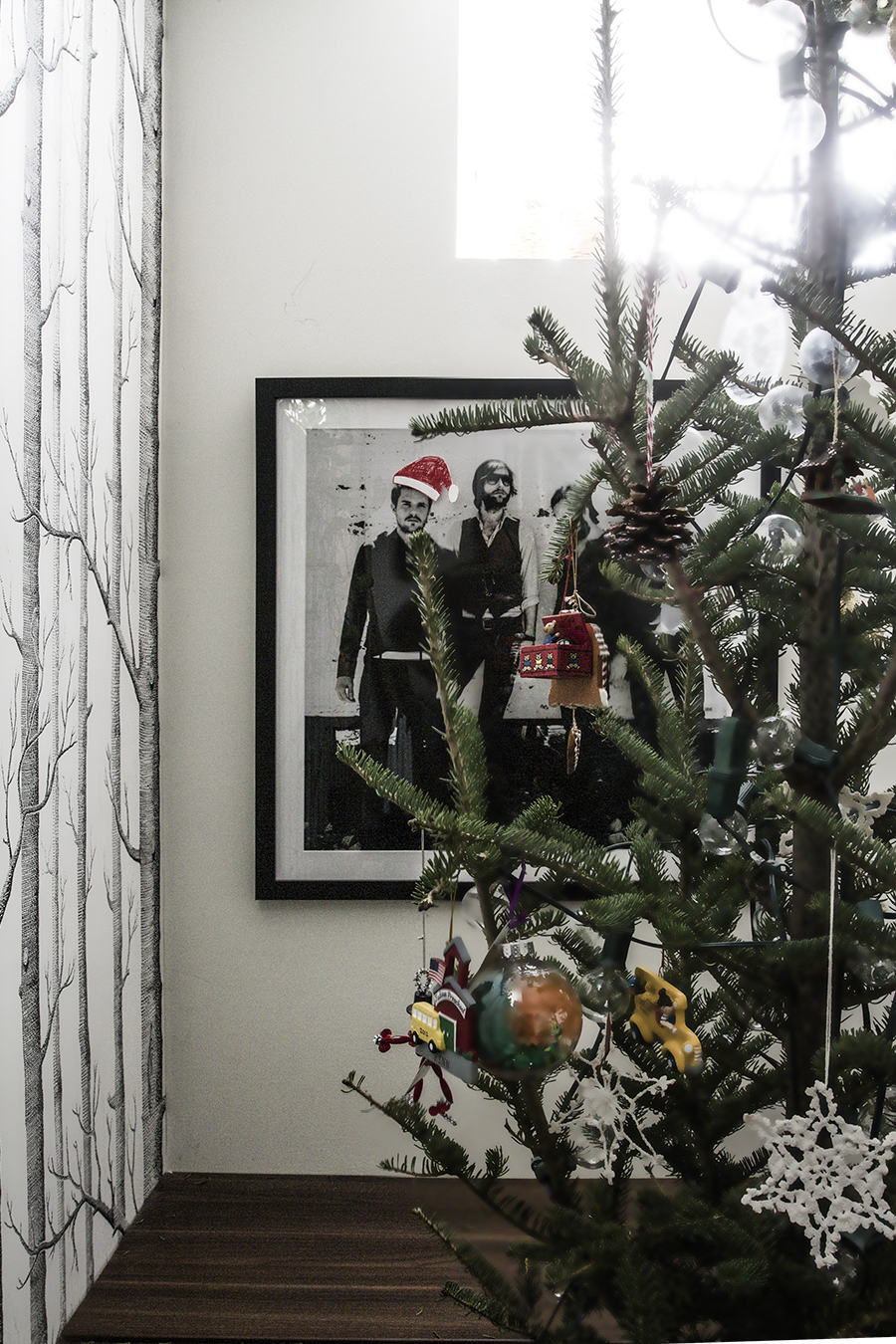 Last year I was able to get a bunch of these battery operated fairy lights (yep, that's what they call 'em), they were a bit hard to find, but this season you can seem to find them everywhere! They can be set on 6 hour timers, and the light they add to the space in the evenings is really sweet and nostalgic.

Have you guys checked out Burke Decor before? Cause if you haven't, I think you should! Their holiday look book is spot on – It's well curated, simple, understated, modern christmas decor. You seriously can't go wrong. Burke has provided you guys with a special coupon code for 20% off, just use the promo code HENHOUSE at checkout.
Burke Decor wants to send you some of this super beautiful garland too – it's so good that it doesn't need to be used during just the holidays — I can imagine having lots of reason to decorate with it throughout the year. To enter the giveaway, head over to Burke's holiday look book, let me know what your favorite holiday decor item is in the comments below. The giveaway will end this Thursday the 8th at 10pm (CST) and the winner will be notified Friday morning.
Burke Decor has provided me with the metallic garland used within this post. All thoughts are my own. Thanks to supporting the businesses who help support me!