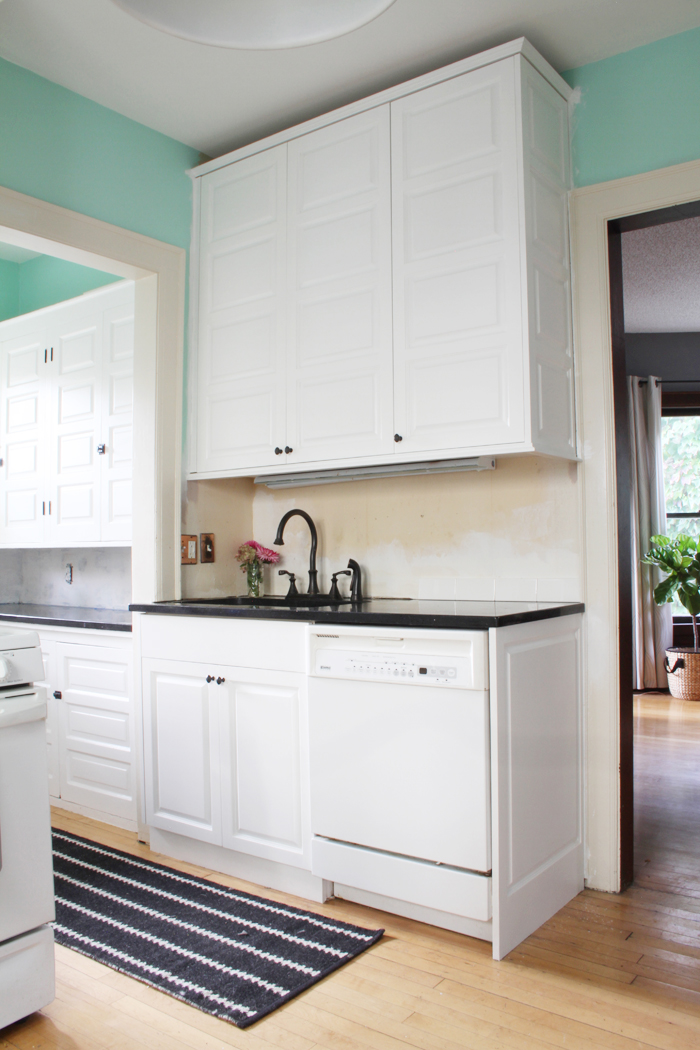 The best thing ever happened yesterday, after 6 weeks of what seemed like non stop painting I finally finished the kitchen cabinets! Man, I had no idea when I started how tedious it was going to be to paint these things. I figured it would be easy to just paint a few as a time (which I would still do again as opposed to all at once) as I casually made my way around the room. The thing is, painting cabinets is never fun, no matter what! I know that now. I think I probably spent about 4-6 hours per cabinet; there was 24 cabinets and 4 cabinet drawers. It took me longer in the pantry area where I was repairing and painting the old cabinets – there was lots of extra patching, sanding and all around TLC needed. There wasn't a day that went by that I didn't spend at least an two hours in the dark lonely basement painting cabinets. It was the worst. I am so happy to be done, and even happier with the results.
I am sure some of you thought I was a little nuts going from cream colored cabinets to white, but fer real, this bright white (All White by Farrow & Ball) makes such a difference in the room. I love it so mucho. I am writing this post in the kitchen, just so I can hang out in here – that would've never happened before.
I am excited to get moving on the backsplash tiling, I'll be diving right in this weekend. I am a little scared, but have done my homework, and I feel like I can pull this off. After tiling is done, I can paint the rest of the room and get started on some smaller end-of-game projects. I am getting so excited to see everything come together, you guys! When the tile is finished it will be the greatest victory of all time! Also, I am happy to report that somehow I am right on target with my timeline. Maybe this kitchen will be done by Thanksgiving after all…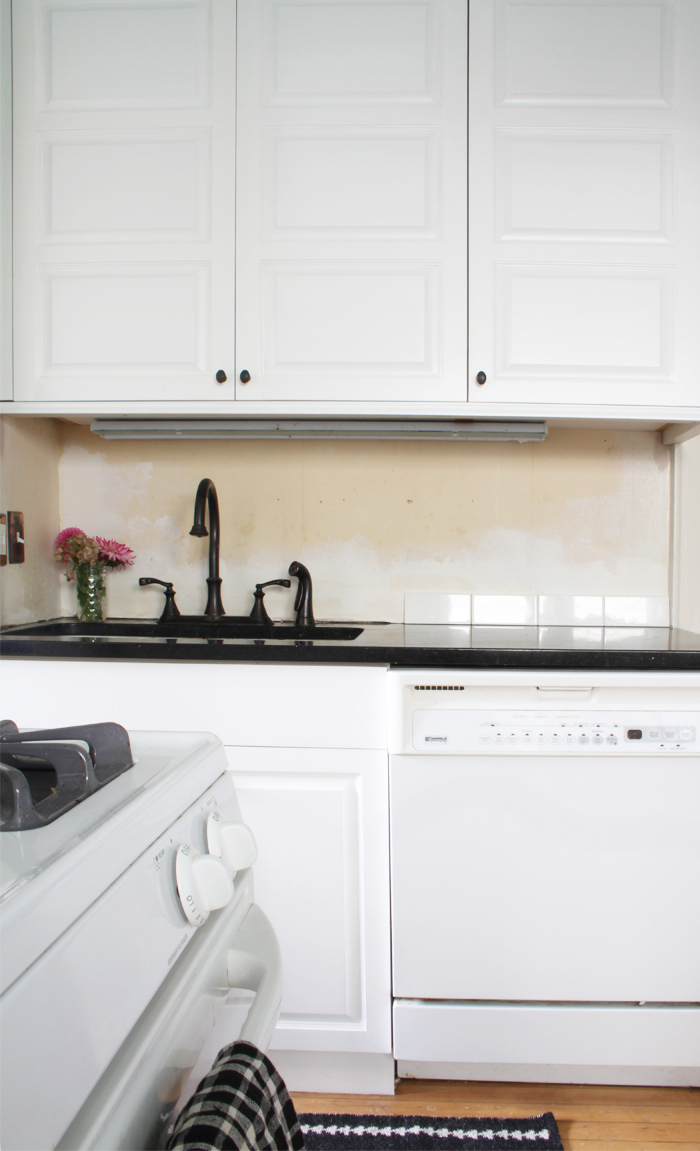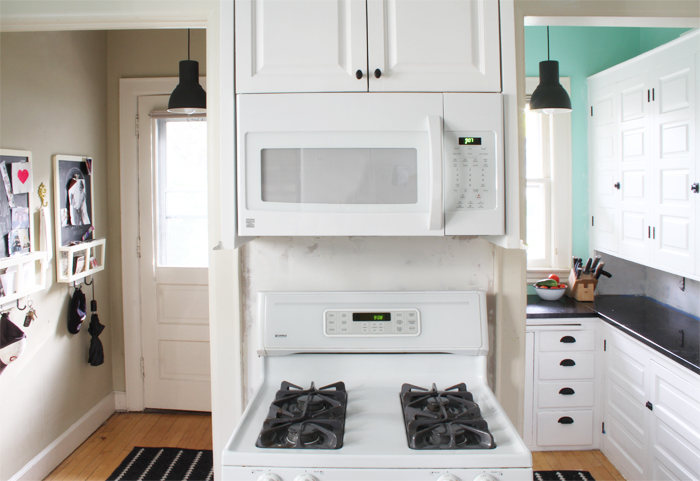 In other news, Waff (aka Jeff, aka my old man) and I installed a new microwave! This is a huge deal for us because we totally suck balls at working together. We got this baby installed on a Saturday night with no swears at all, and after, we drank victory beers. It was the greatest. Having a new microwave is the best! I hated that old one, it was so dirty, and grungy, and gross. This one is cool, and the settings typeface is in Futura, so I'm into it.
Did you notice my new lights? I hung two of the Hektar lights from Ikea in the pantry and mudroom areas. I love the look of them from this part of the room. The old fixtures were flush mounted so you couldn't even see them until you walked into the space. Now I can see these lights hanging all the way from the entry way, so much better if you ask me. I solved my pull chain problem by grabbing one of these bulb converter things when I was out at the hardware store. The fixtures look like they actually came with the pull chain, and I didn't even have to electrocute myself trying to hardwire them.
Also, notice the difference between the nice white in the pantry and the drab cream grossness of the mudroom. Now you see what I am saying, dawgz? I can't wait to whip that mudroom into shape, and I really can't wait to paint all of the walls. After all the cabinet painting, wall painting actually sounds fun.

Just for reference, this is the big Foto pendant I hung in the main kitchen area. I actually like how big and dramatic it is, but the tall people in my house do not. Hence my post from the other day about kitchen lighting. We're still testing it out, maybe we can make a compromise down the road, I dunno.

I gotta run you guys! I'm like a crazy mad lady over here. I am frantically patching this wall shit up, and getting ready to tile this weekend! Gotta stay on schedule, ya know. Can't wait for the next progress post, it's gonna be so good, I just know it!