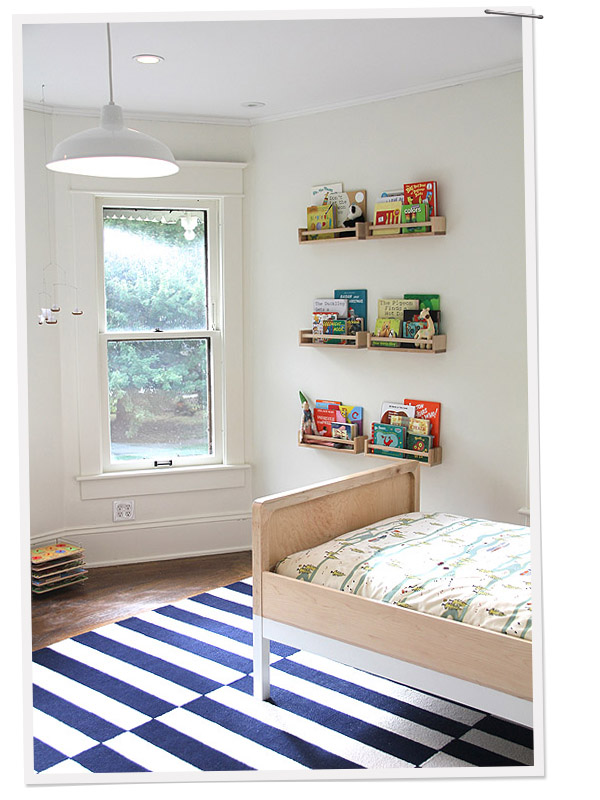 Kids Room Inspiration – Before & After over at Design Sponge
Did you guys happen to catch this post about this super cool kids room on design sponge last week? I was obsessed the minute I laid eyes on it. I totally love this room, it's exactly how I want the boys' room to be once we get them all situated and moved into the same space. I put together some ideas for how I wanted to do the room a few weeks ago. After seeing this room, I think I'm going to have to scratch the wallpaper I was thinking about in favor of this navy and white striped rug, which is currently sold out on rugsusa.com (so sad about that, I will patiently wait though). I can't get over that rug, I love it.
To me, this is the perfectly decorated and styled room for a boy. I love the neutral white walls, so much so that I almost convinced that I should throw out the green walls in Finn's room in favor of white. Furniture is important – modern and clean lines go a long way for transitional furniture pieces like beds and bookshelves. Seeing this room makes me feel confident in the bunk bed choice I made for the kids, it will be something that can grow with them because it has clean lines and can be repurposed down the road. It's so important to decorate a kids room with that future young person in mind, while at the same time being able to accommodate for their current interests. This room is mega inspiration for me.