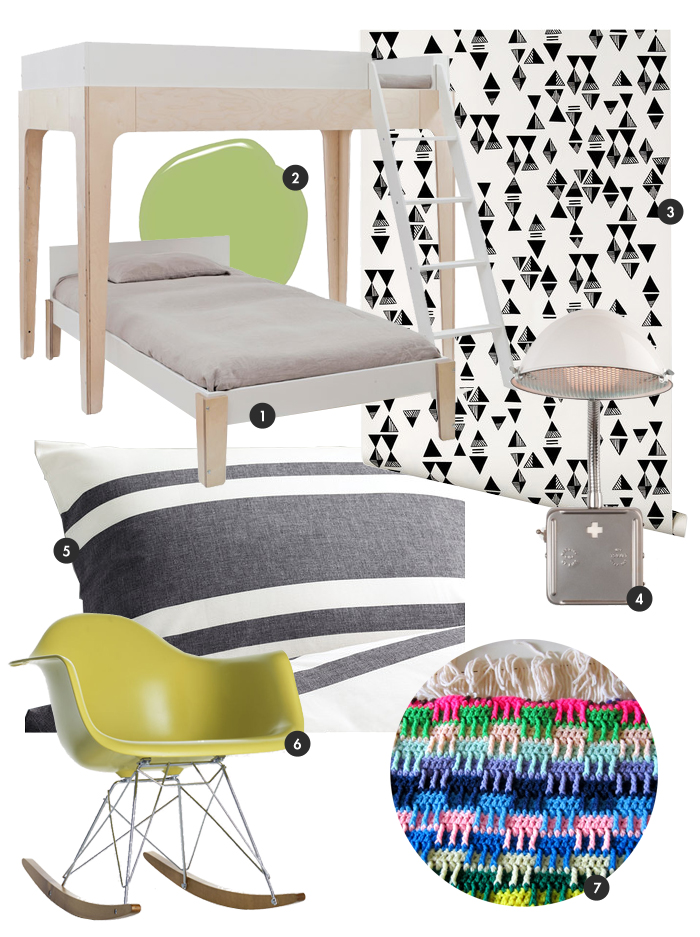 Okay, I'll fess up, I think I may be more excited about the new bunk bed then the boys are. Gus does say "wow" when I show him pictures of it, and Finn is pretty stoked, but really, I'm the one who thinks this will be awesome. We just ordered the "Perch Bunk Bed" from Oeuf this weekend. It's on backorder and won't be available to ship until mid-October, but that's cool, we can wait. I love Oeuf products, the "Sparrow" crib we purchased from for the kids 5 years ago has been wonderful. It's held up really well through the two kids, plus I love the changing table that rests a top the crib (anchored by straps of course). Oeuf has it figured out when it comes to beauty and function. So when it was time to purchase the bunk bed I was more than happy to patronize Oeuf again.
Our boys love hanging out together; they enjoy each other, they play well, they look out for one another, and they have lots of fun. When we asked Finn if he would want to share his room with Gus, he quickly responded, "yeah, and maybe we could get a bunk bed too". The boys have never slept in the same room together, because Gus is still in the crib in his room. Gus is more than ready to get into a big kid bed though, and wishes he could crawl into bed with Finn every night. The time to get Gus sleeping in a bed and the kids sharing a room is now!
We have some time before the bed arrives, giving us some wiggle room when it comes to pulling the boys' room together. One of the biggest things we have to do is merge all the boys' stuff, organizing clothes and purging toys, something that has been needed to be done forever. It's lucky for us that our boys are older than all of our friend's kids, we've got easy hand-me-down targets.
We'd love for the boys to have a few years with each other in their room bonding and learning how to be good brothers. I secretly want them to chat and keep each other awake at night, scheming about kid adventures. I think sharing the room will get them into more trouble then I wish to admit, but it will all be good brotherly bonding sort-of-trouble, and that's good too.
Our plan is to move Finn's full size bed into Gus' soon-to-be old room, and use Gus' old room as a guest bedroom while the kids share Finn's current room. Gus' old room will always be there for when they decide they need their own spaces again. Don't get any wise ideas about potential 3rd kids, it's not happening.
There are a lot of furniture pieces we will reuse when setting up the kids new shared room, but there are a few things I have in mind for updating it and making it something they can grow in to. I still totally love the Asparagus green walls, and can't part with them just yet, but I think I'm ready to get rid of the colorful curtains and yellow striped bedding. We can move the
sailor striped bedding
into the future guest room, and I can donate the curtains, or make pillows out of them.
I totally love this Triangle wallpaper from Hygge and West, remember I was
considering it for our bedroom
? I would love it in our room, but I think it could look super great on one wall in the kids room, especially with the new bunk bed.
On the far wall of the room above the bookshelf there is a hardwired sconce, it's one of those horribly dated
cheapy ones
that you can find in the back of any lighting section at any hardware store. I've tried to spiff it up using
this method
found over at
www.doorsixteen.com
, but it still needs help. I love this radar lamp from Schoolhouse Electric and I think it would look perfect in the kids revamped digs.
This dark grey striped bedding from Ikea is affordable, neutral, and would look great on the new bunk bed.
The Eames rocker has been making its rounds around the house. First in Gus' room, then it spent a year or so in the living room, and now it hanging out in the upstairs porch just waiting for a new home. I think it will look good in the boys' room.
I especially like idea of draping the end of each bed with a colorful afghan. Finn already has one on his bed, but I think we could find one for Gus' bed too. It would be fun and colorful for the kids, and tie some vintage vibes into the room too.

There were a lot of considerations when choosing a bunk bed, we wanted something that was first and foremost cool looking. Then of course it needed it to be safe, sturdy, and our big wish, was to find a bed that was modular and could grow with the boys.
The Perch bunk bed scored pretty well on most of those items. It's safe! You can order it with additional guard rails for the bottom bunk (which is where Gus will be sleeping). We will have the bunk bed positioned up against the wall until Gus gets the hang of sleeping in a big bed, so we ordered a guard rail for just one side. It's also not that high up, it's definitely the smallest bunk bed (height wise) out of the four we were considering. For selfish aesthetic (not safe) reasons, I wanted the bed to be a little higher, so that it wouldn't appear to be a puny bed in a big room. After comparing it to Ikea's Norddal bed, which is similar in size, I decided I could live with it, plus it's less distance to fall, and I guess that' really what is important. As far as falling off the top bunk goes, that's always a risk, but check out how the mattress on the Perch top bunk sinks inside of the white barrier, it would be hard to fall out of this one. Plus, Finn is really good at sleeping in beds, he's fallen out of his own bed only once, and has had a lot of experience with bunk beds. I think he will do just fine hanging on the top bunk.
The other thing that I love about this bed is that it is modular, it can stack, or be "L" shaped, and it can even be split into a twin bed and lofted bed. I really, really like that this bed can separated, this will come in handy down the road. Gus' current room is not that big, and someday, when the boys decide to split up, the lofted bed will function well for his small space. He can have his bed lofted high, and his kid/teenager stuff down low, tucked in under the bed. I think it gives us a lot of options for the future, and that's really important to me, given the fact that we don't know how long these boys will be sharing a room for. Also, bunk beds aren't cheap, and I don't want to invest our hard earned money into pieces that won't grow with us over time.
From the reviews I've read this bed is sturdy, but has a tendency to squeak. I'm a little nervous about this. I've also read from more recent reviews that Oeuf has solved this problem since the beds originally came on the market and now sends out padding to use during the installation. Needless to say, I have a lot of confidence in their brand and I am sure it will work out fine.
So yeah, we are super excited over here. Just another project to add on to the project list!