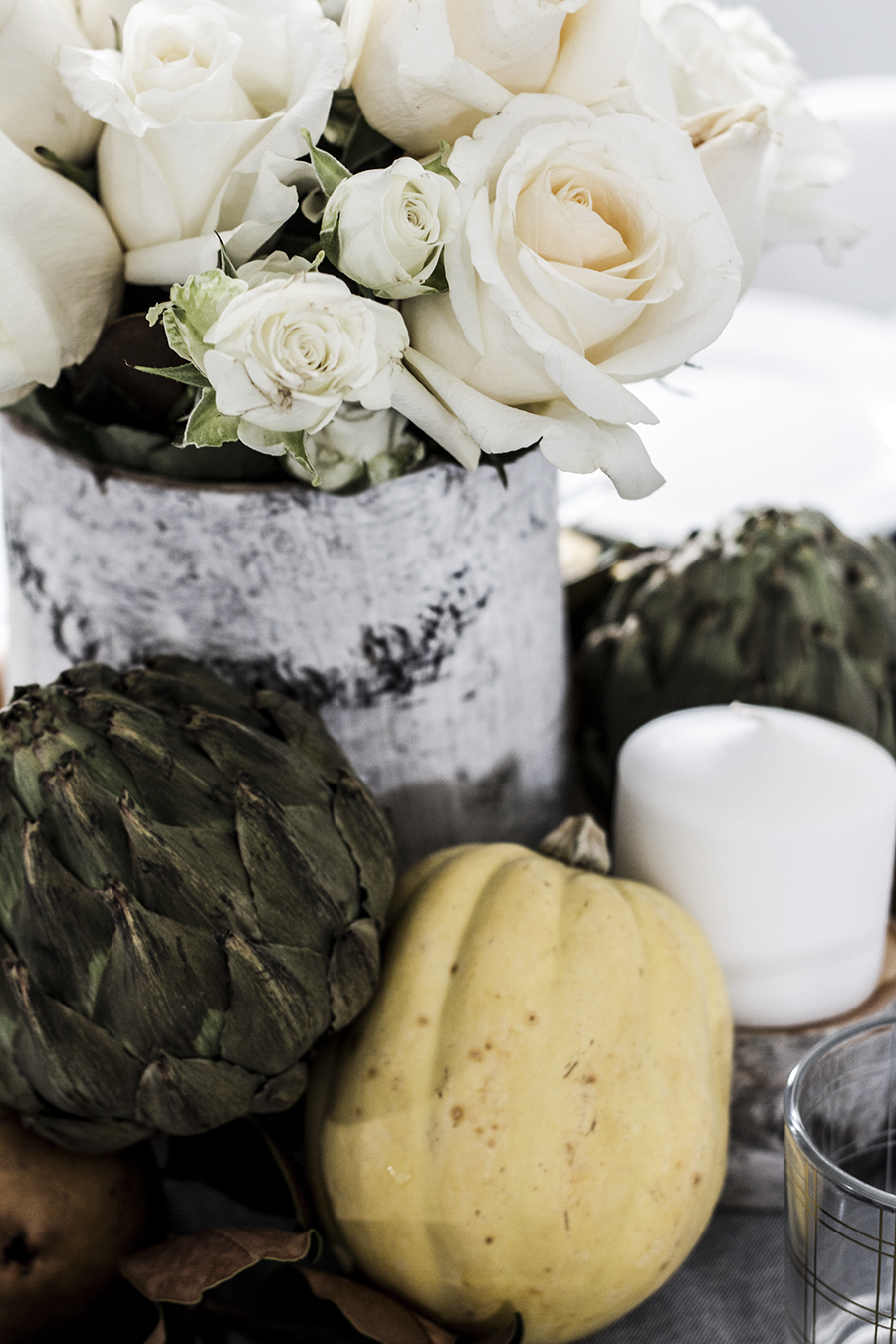 Hey peoples, hope all is well and that you are all doing well. Are you hosting Thanksgiving this year? We are, and I'm really excited for it this year. That probably has a lot to do with this Thanksgiving being very small and intimate, I'm talking like four adults two kids intimate. Doesn't that sound kind of great?
I'm NO good at decorating tables. I can never pull it together in just the right way to make it seem effortless. That being said, I feel like my luck is changing this year because I think I'm about to pull off a real pretty tablescape. Instead of freaking out and feeling like I had to have everything perfectly, I took it down a notch and tried to set a more casual, simple table.
I picked up this really cute and neutral chambray table cloth at Target for fifteen bucks, it was new to me, but I am sure I will be able to use it for different table settings in the future. I always try and consider how many ways I can use table-top items before purchasing. For the table settings I bought pretty blue plates, they look like pottery but are melamine and only three bucks a piece! I layered the plates with black and white gingham napkins — I swear the napkins go with any occasion, and they wash up so easily. These are our daily go-to napkins and I've been buying new ones every year from Amazon so that we can build up a hefty stash. For the centerpiece, I purchased a grocery store bouquet of roses, and a few stems of branches with waxy leaves (I'm sure any leafy branch will do). I assembled the bouquet to my liking and centered it in the table in this birch bark lined vase that my mom gifted to me for our basement. Around the base of the birch vase I layered more of the leafy stems. The stems are followed up with squash to create a neutral base, and a few artichoke for texture. Candles are a must, and Target sells v inexpensive packs of unscented white candles. I placed each candle on a birch base to variate the height – the birch bases were an alley find before trash day. I quickly chopped up a long with my circular saw and blamo, instant candle holder.
So I think I nailed this table scape thing, at least this time around. In my opinion simple is better (and usually cheaper and prettier too). I'll try and remember that for next time.
Rollover this pic for links to some of my finds.