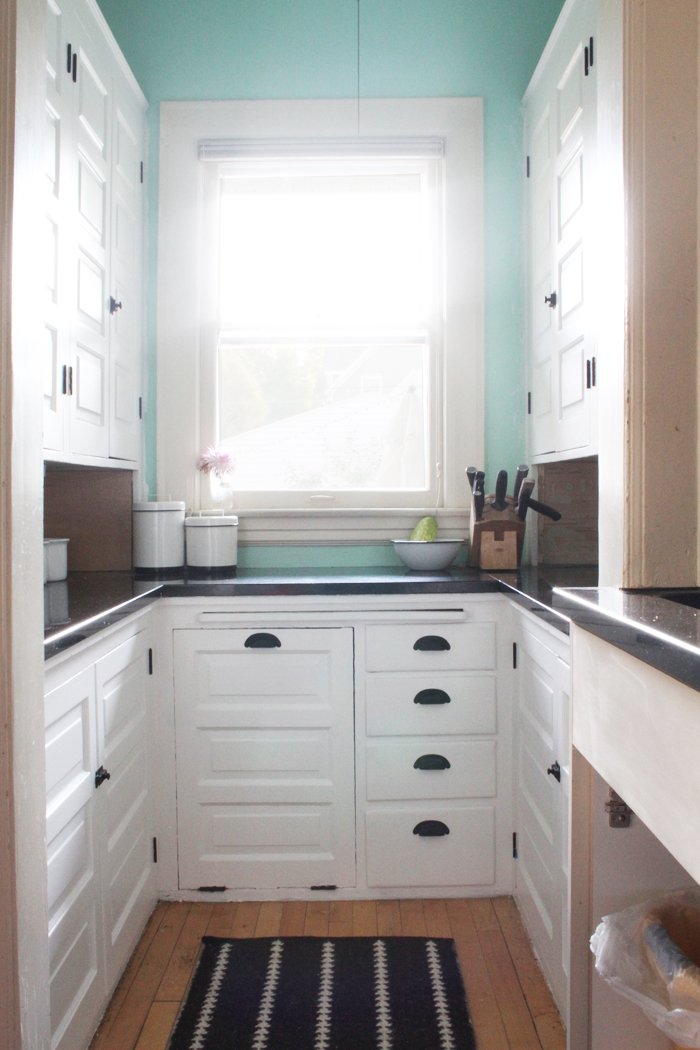 Hey Guys! I'm here to fill you in on my progress after another 2 weeks (give or take a few days) spent hard at the kitchen game. This lifestyle is becoming a little too real for me. I'm finding myself waking up constantly throughout the night realizing I've been dreaming about the kitchen and then I start thinking about the kitchen. For most people, waking up in the middle of the night to think about something would indicate that one was stressed, but I'm not having stress dreams. I think I'm waking up in the middle of the night because I spend all of the free time working on this project. It's kinda like when you dream about a job you hate; when I was in high school I would have dreams about checking other peoples groceries, and when I was a 20 something I would have dreams about taking pizza orders. Now that I'm old and domestic and spend all my time doing the monotonous task of precisely painting cabinets, it's all that I can dream about.
I'm not stressed though, honestly, I'm kind of enjoying this kitchen reno thang, granted I'm starting to hate painting cabinets, but I don't think I'm stressed. I love the adventure of just making something that was okay, way better. Plus, I'm being a little risky. If I don't like something I just tear it down, not really worrying about it because I just want it to be good in the end, even if that means figuring out how to fix it later.
So if you remember, last week I left you off with a butt load of things that I was in the middle of. I've been able to check a few thinks off my list and I'm excited to share them with you. Yes, I am still painting the cabinets, I figure I have about 10 more days of cabinet painting if all goes well, so that job is not done, but I'm chugging away at it.
Really, I have finished some stuff though.
All the pantry cabinets are painted, all the hardware is stripped and all the doors are repaired to an "it's pretty alright" standard. Of course I'm not going to ever be able to make those 100 year old cabinets pristine, but I made them much better, and now each and every one of them closes and latches! Those cabinets love me for taking care of them. I love them for looking so great now.
I tackled that GD backsplash! You guys, that backsplash fought me tooth and nail. Remember how I said it was glued and nailed down, well that glue situation was serious business. You know how when you give a dog a rope toy, and you tug on it, and they tug back in a jerky way with all their might? That's how that pantry backsplash came down. In the end, all I could do was hold on with all my strength and bounce on it with everything I had, totally accepting the fact that if the backsplash came down, I would fall straight backward. It did not matter, I was determined. It took me hours to get that backsplash down, I was sore for a week, but it came down and now I can move on to more important things.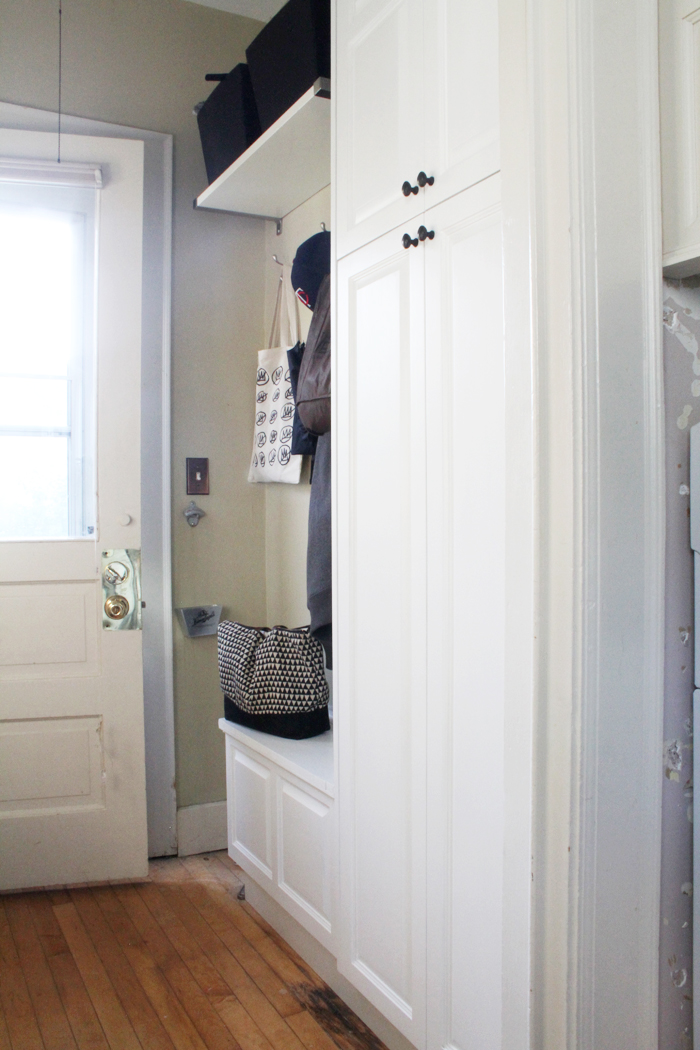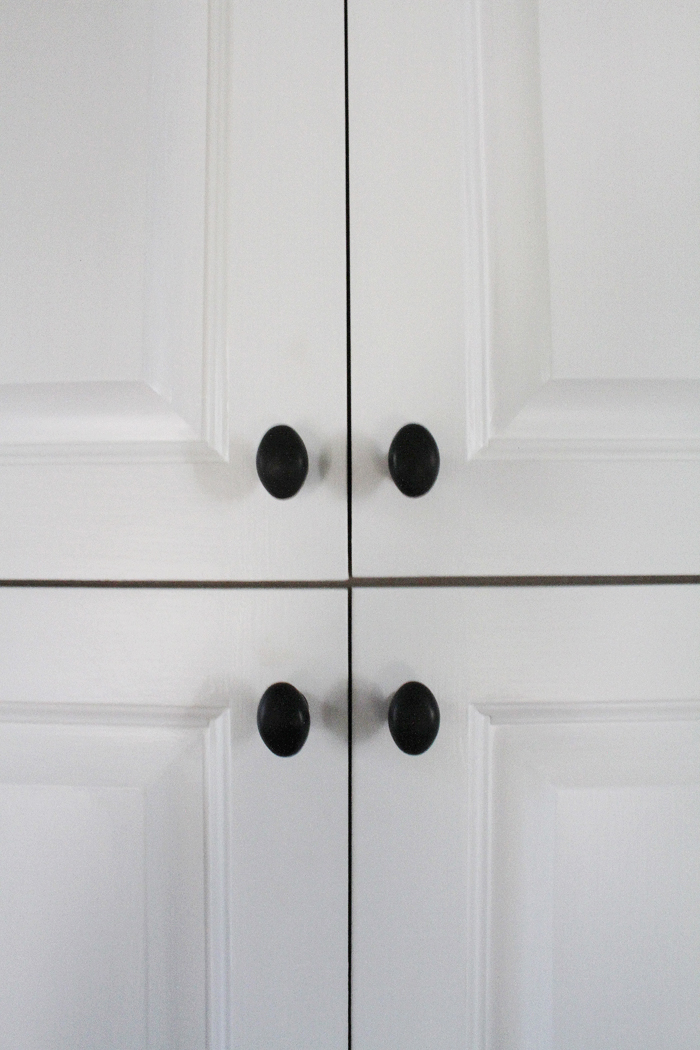 I painted all the cabinets in the mudroom! Just finished this bit of the project yesterday! Only 7 more cabinets to go. This was the first batch of the newer cabinets in the kitchen. Much less work was involved in making these babies look good, but it was still a lot of work. I'm happy to have this part finished, and I'm liking the new hardware, picked to match the buffet hardware in the dining room.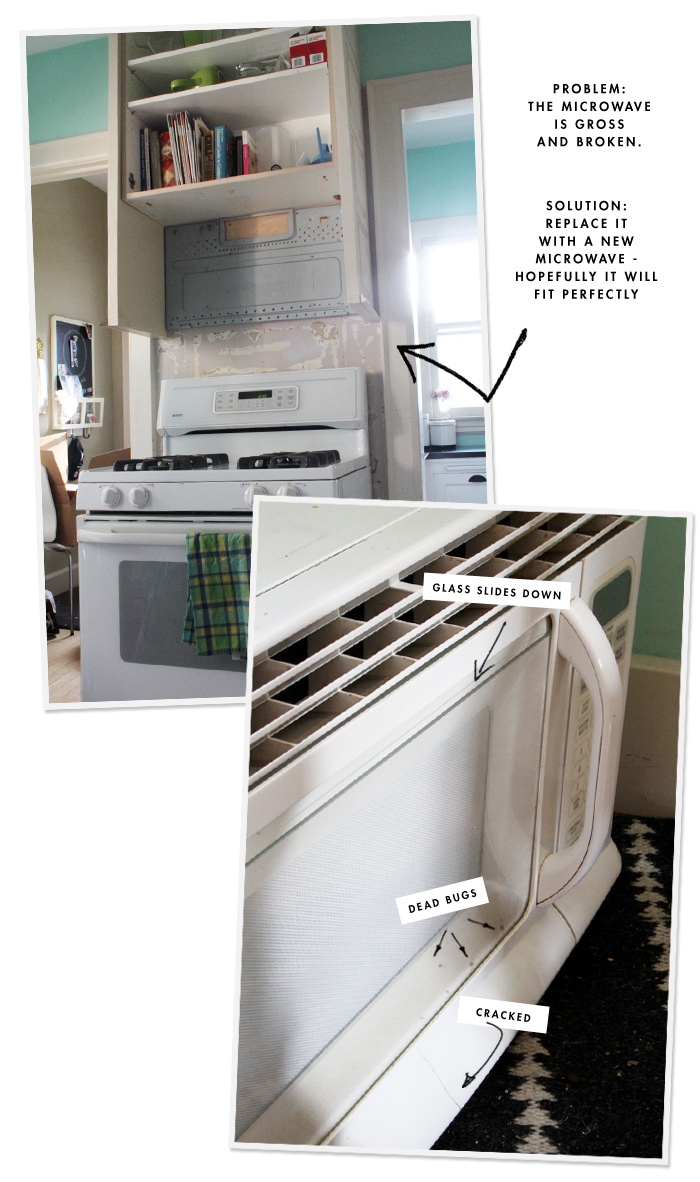 I've found myself a little stumped when it comes to some bigger problems. We have/had a microwave that was in rough shape. It was an above the oven mounted sort of microwave, and ever since we've lived here the front glass has fallen down in it's mounting, leaving a gap at the top between the inner and outer glass. Bugs go down there, they think it's cool, and then they die. Grease and dust goes down there and I can't reach it with a towel. It is embarrassing and gross, and there has been nothing I can do about it. The entire microwave is covered in grease, back in the vents of the exhaust. It's also unreachable to clean but visible. It is the worst.
So we took it the microwave down, and by taking it down I mean Jeff and I swore at each other while the kids watched. We suck at working together on stuff. Jeff has the strength, I have the vision and together when we try and do something like this, we totally fail at being nice. I'm hoping the install of the new microwave isn't so intense on our marrital weaknessess. Speaking of new microwave, did I mention the old microwave was trimmed out, like built into the cabinetry? So I had to remove part of the actual cabinetry trim from the cabinets and am hoping for good things when it comes time to put it all back together.

That's not the only thing I'm clueless on, I'm replacing 2 fixtures, one in the pantry, one in the mudroom and it just occurred to me that they are both have a pull chain, duh me. Is there a way to easily retrofit any new fixture with a pull chain? I'm at a loss on this one, plus I don't want to die of electrocution or have my house burn down. Electricity is so scary to me, I am not brave.
Next on the docket; finishing the cabinets and start to paint moldings and walls and hopefully getting started on backsplash prep too.
Wish me luck guys.