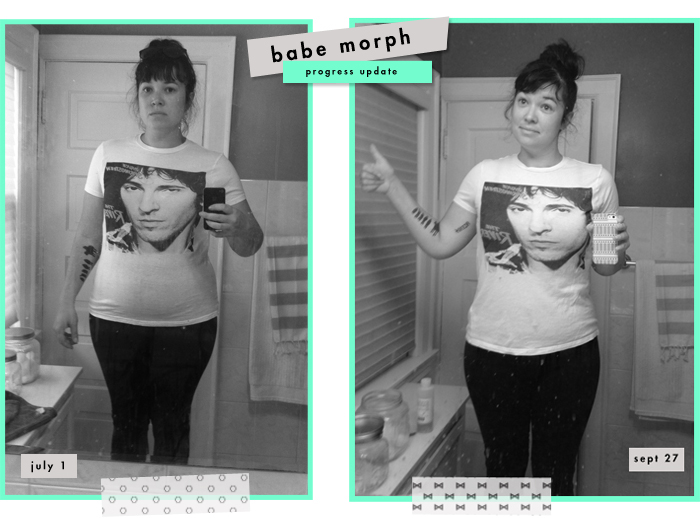 Forgive my goofy thumbs up poses, and super dorky smile -I'm just excited!
Yeah! I am super excited to tell you guys that I've lost 15 lbs(!) so far! I'm really feeling great, and am probably more healthy than I have ever been in my whole life. I am still walking daily (only missing 3 days since I started). I've upped the ante a bit walking 4.5 miles 3 days a week and 3 miles the other 4 days. My calves are cut like knives, my legs are skinny, I've lost my double chin, and my waist is finally starting to cinch up a bit. Plus I feel good.
Here are some stats that I am super proud of (July 1 – September 26):
Walked: 1,301,916 steps – averaging 14,663 steps per day
Gone: 613.91 miles – averaging 6.92 miles per day
Lost: 15 lbs
Worn through: 1 pair of shoes
Seen: Amazing sunrises
Listened to: Tons of cool jamz
Covered: 3 years of This American Life

I still have 5 more lbs to make my first goal of losing 20 lbs, I know that's totally doable over the next month, I'd still ideally like to lose another 10 on top of that. After all the work I've put into this for the fist 15, I know that the next 15 will be really hard, and it will take most of the winter to lose it. Eventually it will be harder to walk when the temps drop in the deep winter, but I am committed to keeping with it through the fall and early winter. I even purchased some super sporty winter walking gear. The hardest part is waking up when it's still dark out, sometimes it feels like I'm dreaming while I walk.
Here are some sunrise pics for you, I'm pretty proud of them.