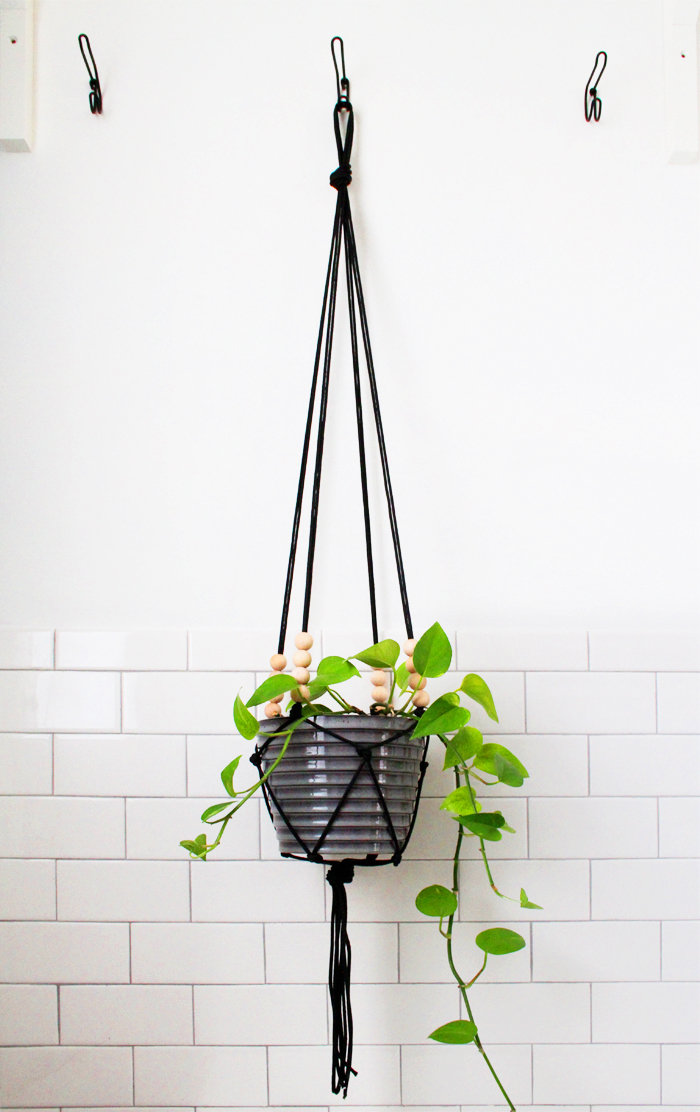 Hello Friends! I don't know if you remember me sharing, but I wanted my new kitchen to have lots and lots of plants in it. I was envisioning shelves in front of the pantry window filled with lush greenery. That was a great idea and all, until I installed my first window shelf, and realized I hadn't thought this through all the way. With even the most narrow shelves installed my cabinet doors could only open a few inches.
Sometimes ideas just don't turn out the way you hoped they would. I wasn't going to take no for an answer on this though, I wanted needed plants in my kitchen! Time to get crafty and figure out another way to add greenery to my kitchen without taking up counter or floor space. I bring to you the macrame hanging planter – the new more modern version that is. I'm not gonna lie, I have a ton of love for that old 70's macrame, but I wasn't looking for that in my kitchen. I wanted a hanging basket, but I wanted it to not look dusty, old and gross. Instead of using your standard macrame cord I tried something new and ordered up some nylon paracord. I liked the clean look of the paracord, plus it has some elasticity to it, which I think lends itself well to this type of application.
This project was really simple, after my supplies arrived in the mail it only took me an hour to put together, totally free style, dawgz. Basically you are making a simple net that a planter rests in. I really like the results, especially the wood beads. The beads look good with all the butcher block and cutting boards I have floating around my kitchen these days.
Down below I have posted the step-by-step instructions and supply list. The instructions are based on a pot that is roughly 6″ tall by 7″ wide. If your pot is larger or smaller than this you might have to adjust your measurements a bit. The nylon cord is very forgiving though. The key is to making sure your knots hang evenly from the previous knot.
Psst, also, paracord comes in tons of different colors. I had a hard time resisting neon cord – I think it would look super awesome though. If any of you guys try this for yourselves, you gotta send me a pic of your results, I'd love to see how this planter turned out for you.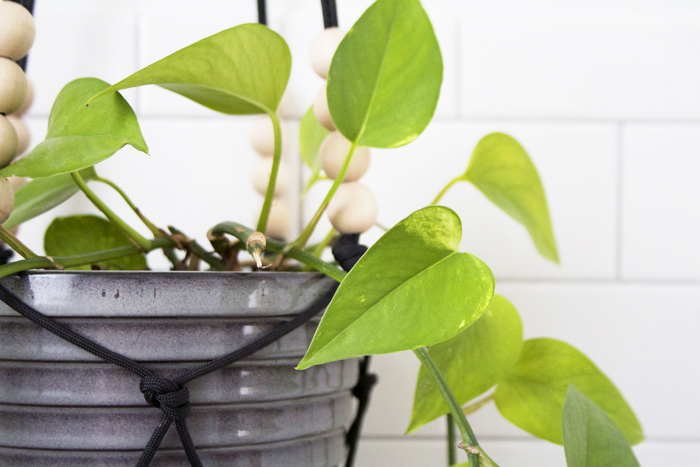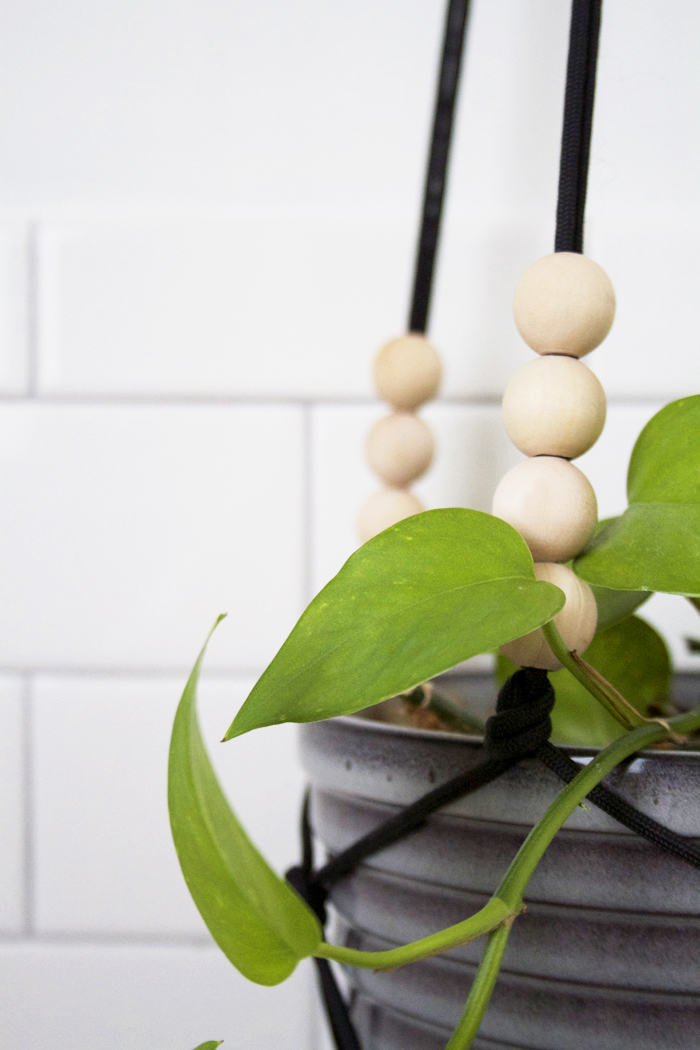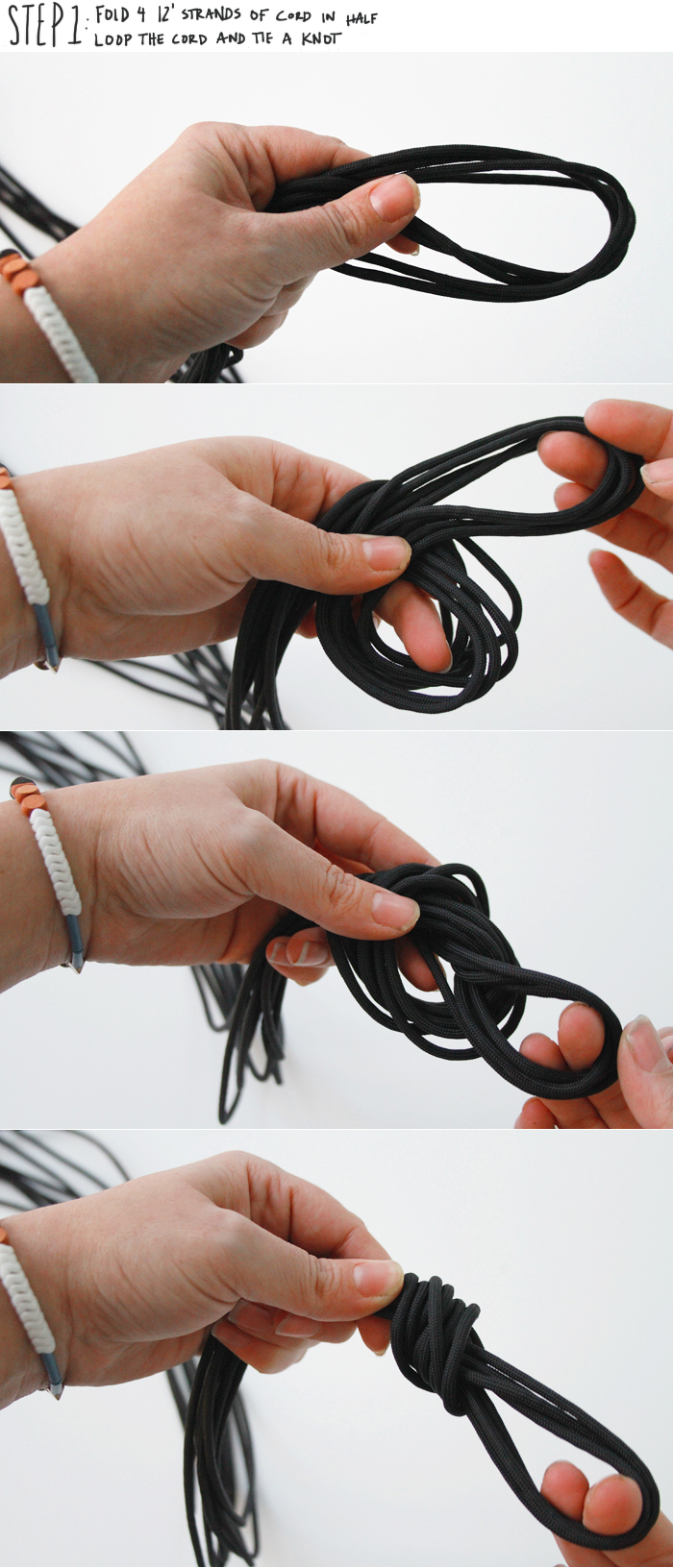 Step 1
Just a heads up, if you try this project and you want your planter to hang a good 4 feet from the ceiling, you are going to need a lot of cord, more then you would anticipate. For this project I ordered 50ft of paracord and then just divided it into four long strands before I folded it in half and tied a loop and knot in the top to start the project. Get it?, when you fold the four strands in half and tie a knot in the top you now have 8 strands. Cool huh?
Since it's not obvious in the photos above you are working from the top (the loop where the planter attaches to the hook or ceiling) down to the bottom where the pot rests in the macrame netting.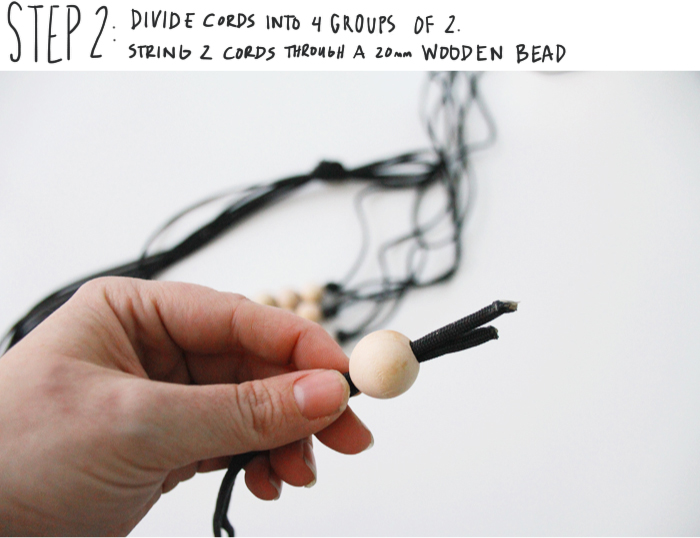 Step 2
I would suggest working on this project on a table separating each set of 2 strands of cord out into a cross shape. You could also work upright attaching the top loop of the paracord strands to a hook or curtain rod. Do whatever is easier for you.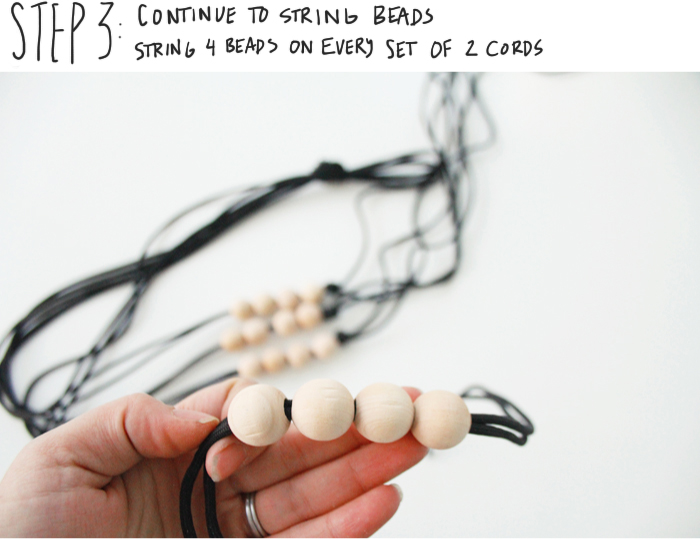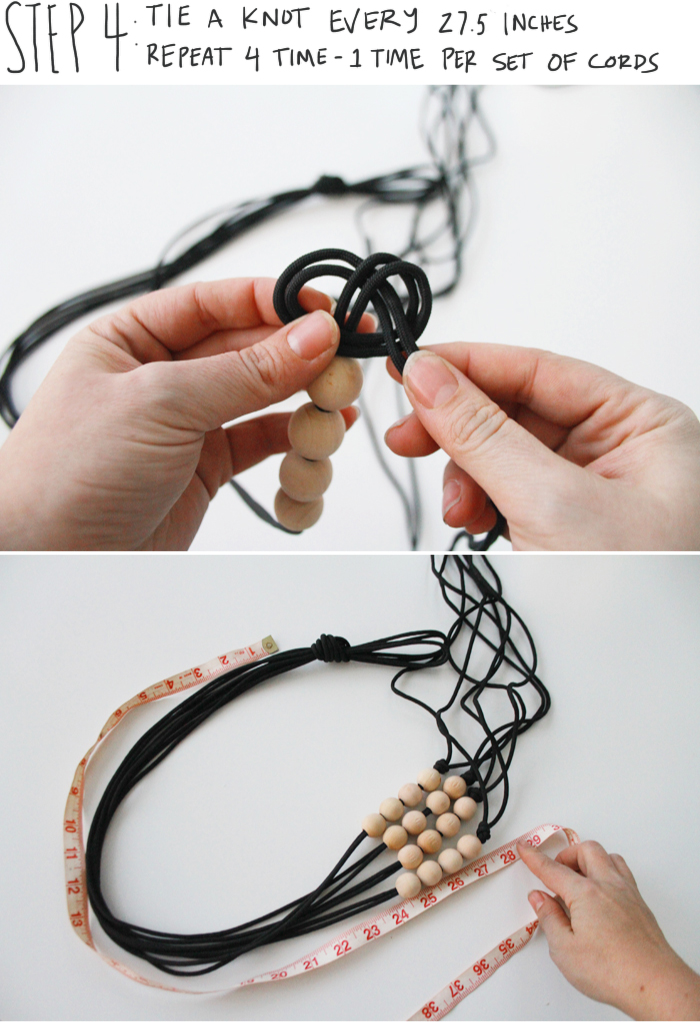 Step 4
Leave a space of 27.5″ between the first knot at the top of the planter and the second set of knots below the beads. See the picture above for a diagram.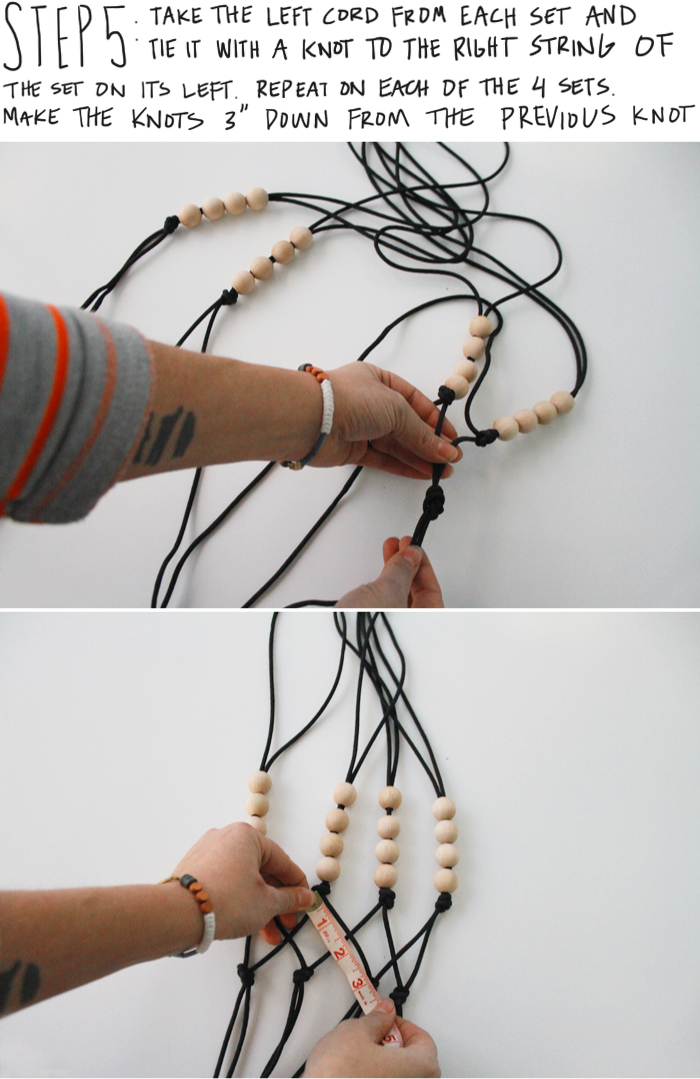 Step 5
This is when you begin to build the netting that will hold the pot.
Click below for the rest of the tutorial after the jump!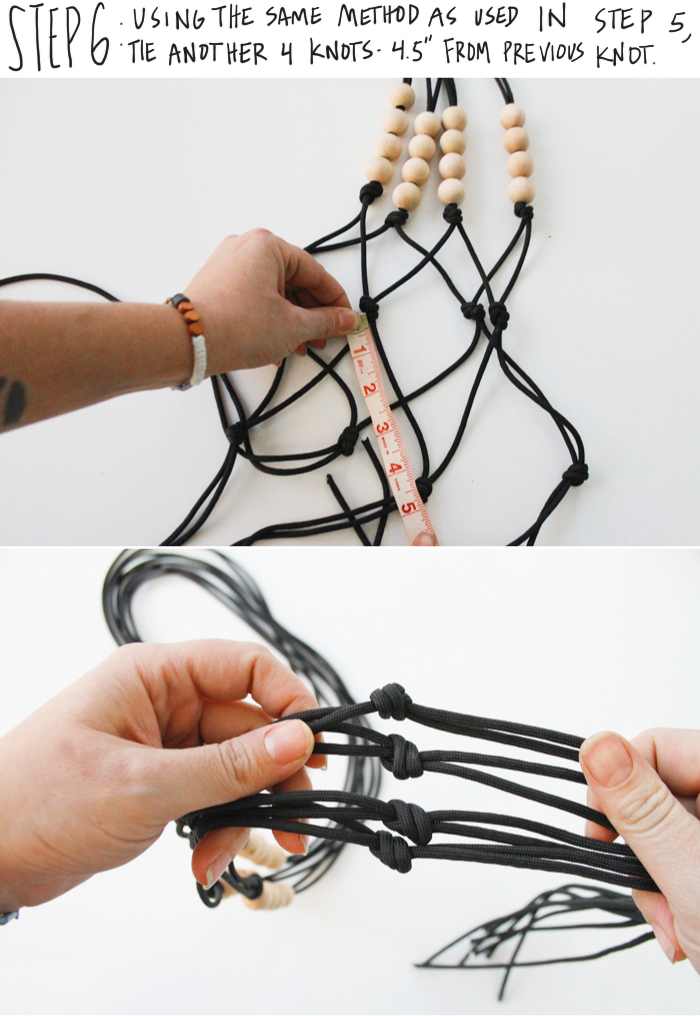 Step 5
Just like in step 5 you are creating a net, so take the left strand from every set of 2 cords and tie it with a knot to the right cord from the set of 2 strings directly to it's left. Repeat on all 4 sets of cord.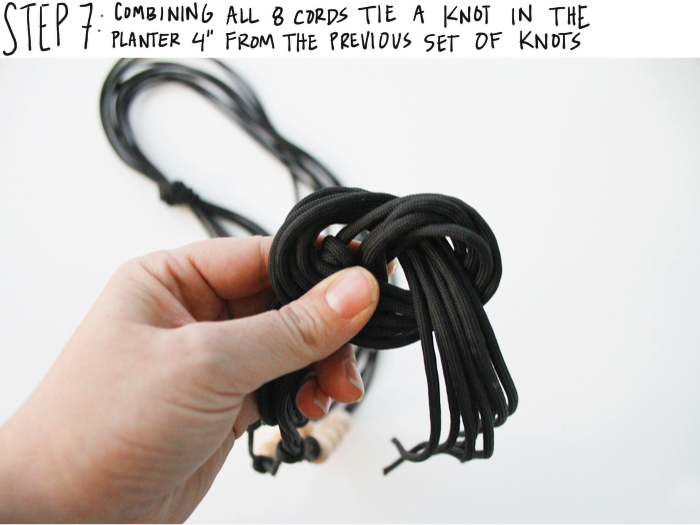 Step 7
This is the base of the planter. The big knot here will prevent the pot from falling through when you set it in the hanging planter. I would suggest taking a lighter or match and melting the ends of each cord so that they don't fray. It's a little stinky but worth it.