Hi Guys! We are hosting our annual (going on 9 years!) holiday party this weekend, better known as "Friend Feast"! It's the kind of party where all the friends, old and new, come together and celebrate with a good old fashioned all night hang sesh. It's like a big booze fueled potluck. All the friends are responsible for a cool snack and beverage, and then we just go nuts. Usually there is tons, and tons of beer at this party – it's easy and portable, so it makes sense. This year, I wanted to contribute a friendly winter cocktail to switch it up a bit.
Supplying an entire party with a cocktail can be a hard task when you are trying to make cocktails for 30 people, but I came up with a pretty alright solution.
I thought ahead and decided I needed a recipe that was both seasonal and pre-makable (not a word but whatever). I needed something that could be served on ice and wasn't carbonated. I give you, "The Friendly Winter Warm-up" A delicious combination of sweet and bitter, with herby notes and seasonally infused aromas. The perfect Friend Feast cocktail.

I pre-made the cocktails already, days in advance – pretty forward thinking of me, guys! I made a big batch and portioned it out in small 8oz jelly jars, allowing enough room for ice. The jelly jars work perfect for party cocktails because I can pile them up in a basin full of ice, and don't have to worry about them spilling or making a mess. Prior to the party I will garnish them all with an orange twists studded with cloves. They'll be totally delish by feasting time!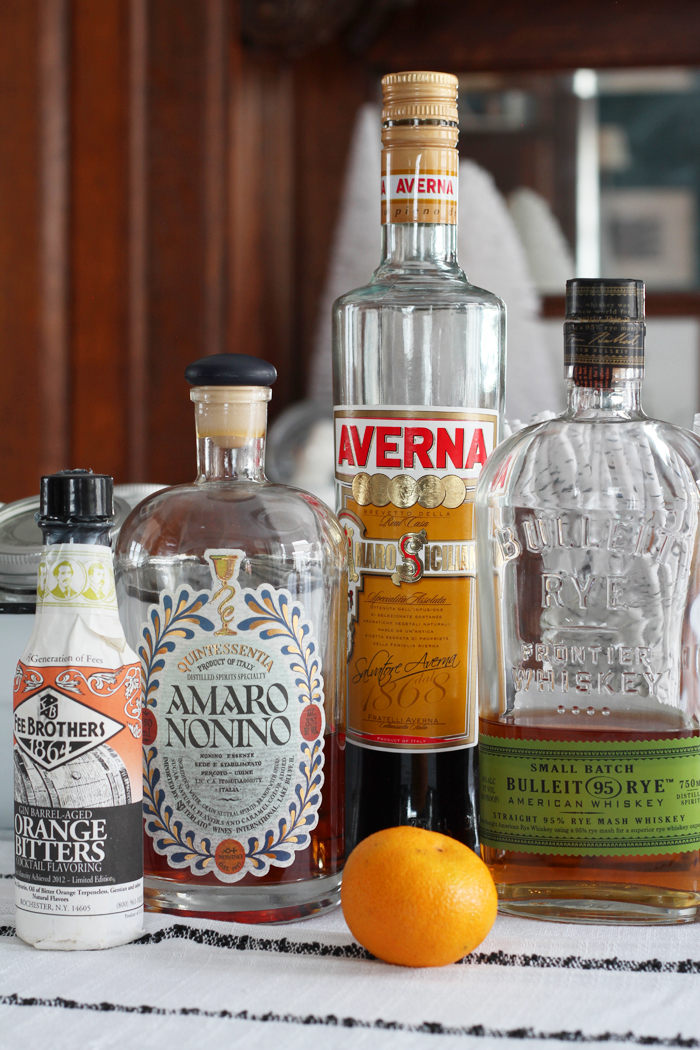 The Friendly Winter Warm-Up


▼ 2 parts rye whiskey
▼ 1 part amaro bitter liqueur, I used Averna
▼ 1 part amaro herbal liqueur, I used Amaro Nonino
▼ A dash of orange bitters
▼ 1 3″ orange peel
▼ 4 cloves


Combine first 4 ingredients and stir.

Fill 8oz glasses half way full. Before serving twist an orange peel oer the drink to release essential oils, and rub peel over the jar rim. Insert cloves into peel, and add to the cocktail. Serve pre-made cocktails on a bed of ice, fill the glass with ice when serving. Enjoy!