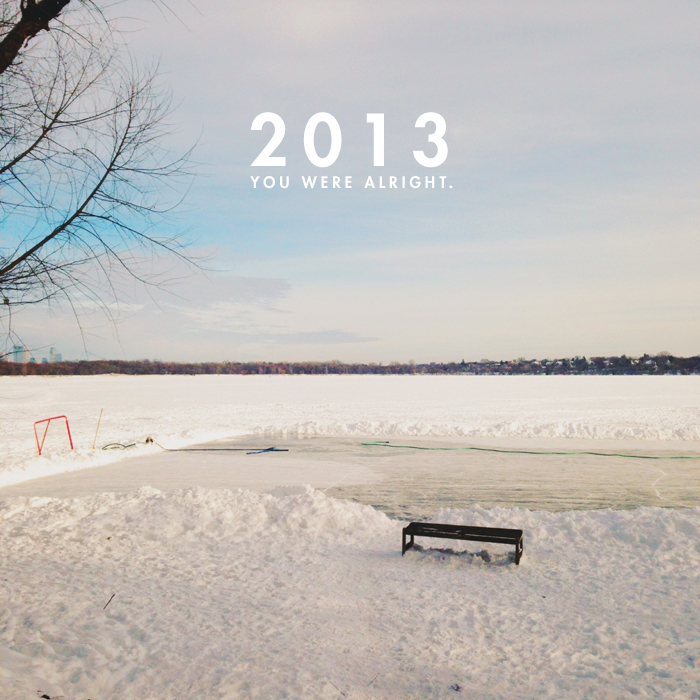 So, I usually don't do New Year's resolutions, or year in review type posts. Most years I usually feel pretty satisfied looking back, but this year, I feel like I really conquered some big things and I have some big goals for next year too.
I'll start with the accomplishments from 2013 I'm most excited about.
Weight Loss / Life Habits
The 2013 accomplishment I am most proud of changing in my life is my weight and health. I knew I was unhappy living with my extra L-Bs, but I didn't realize how unhappy I was and how much I devalued myself because of it. Obviously, the weight wasn't the main issue – my self-confidence and self-appreciation were all tied into the same problem.
This year in June, it really hit me like a ton of bricks that I was unhappy with my health and my weight, and even though I always knew how to go about losing weight, it became really clear to me. I realized that if I just made a commitment to exercise and watch what I was putting into my body everyday, that there was no way around it, I would lose weight, and I would be the happier healthier person I knew I could be. It began instantaneously, I was committed, the switch had been flipped, I was going to do it, there was no other option. It was my Forrest Gump-running endlessly across America moment, but instead of runn-ing, I walked, and I walked, and I walked.
I love walking! At first I just walked at a regular pace and made sure I got a few miles in, but as time went on I started to walk faster and faster. Now I am totally one of those crazy-looking power walkers, but I don't care. I love it, and I hate running, so there. Over the summer and fall I walked between 3 and 4.5 miles every morning. I discovered that Lake Harriet is an amazing place and that it makes me happy to be near it. A walk around the lake makes the entire day better.
I'm not a saint when it comes to eating healthy all the time, and I'm sucker for a few beers or cocktails on many occasions, but I've learned so much about making healthy habits – having the CSA this summer really taught me to make healthy choices that I continue to make in my life now.
I am still walking every day, you guys! It's one of my favorite things, it's brought a lot of peace to my life, and it has become something that I yearn for when I don't get out for a day or two. These days (it's -12º as I type this) I've had to take my walking indoors, and have been getting up at 5:30 am to get 3 miles in at the gym before the kids wake up. The gym is not as enjoyable as walking outside, but I still need to do it, and it still makes me feel good. I can't wait for March and daylight savings and early morning lake walks again. I even started doing yoga, which has helped a lot with my anxiety, something that I've always struggled with.
Here's the stats, Since July 1st I've walked 1,133.13 miles, have lost nearly 25lbs, and my legs are cut like knives. I feel pretty tyte about it. The best part is that I'm going to keep this habit up, hopefully for the rest of my life.

Here's a little kitchen sneak peek for ya
Kitchen
Okay guys, I know I haven't posted about the kitchen yet, but it's coming, I promise. This was my first really big home improvement project. Everything else has been pretty simple and I've spent most of the time just making my house look prettier. This was the first real DIY renovation.
I've learned so much throughout the course of the project. First, I learned that you can figure out how to do big projects yourself, if you're willing to do the research and put in the elbow grease. I figured out how to remove old backsplash, repair drywall and plaster, tile, grout and caulk, replace electrical switches and fixtures, use a circular saw like a bawse, and install counters and cabinets. Most of all I've learned to follow through on big ideas. There is nothing better than walking into my new favorite space in the house every day and knowing that I personally made it better.
Quality Fam Time Life/Work Balance
It only took 6 years or so, but I feel like Jeff and I have finally made it through to the other side of "The Struggle". Having kids is an all-consuming lifestyle choice, as many of you know. We had our first when we were 26, at the same time that Jeff was just starting grad school. This meant working opposite schedules so that little Finn could have supervision at all times. It was so insanely crazy, and then you get even crazier and add another human being (Gus) onto the pile, and you extend your intense times by another couple of years. Having our youngest turn 2 marked a big milestone for us – he was now old enough to be trusted out at restaurants, he can climb in and out of his car seats on his own, he can entertain himself, he talks, he's funny, and he loves to play with his bro. Our life is much calmer and we are able to slow down and just enjoy being together. Our schedules are now pretty normal, and we are finally at a place where there is a bit of a cushion and we can afford to have some life experiences together as a family. It feels so good to have made it through to the other side. I am so thankful that we made it here.
So now that I've looked back, I have to look forward. Like I said, I'm not one for resolutions but this year, I've started to stack up a few. Putting these 2014 goals out there ON THE INTERNET is another way to hold myself accountable. By making it public, it makes it real.
Cleaning Records
My dad, a big time audiophile, is going to be happy to hear this one. Jeff and I have a pretty decent record collection and have really filled it in over the last year or two by investing in some key jamz. With that said, we totally treat our records like shit. We're notorious for having late night dance parties where records get thrown about and nothing gets put back properly for days. That stops now! We have promised that we will put our records away, dust and clean them, and start treating them like they are our favorite earthly possession. Cause they are.
General Do-Gooding
Charity. Do on to others, the golden rule. Uh, we gotta start doing that more over here, because right now, I feel like we don't do it at all, and that is not tyte. I want to get the boys involved in doing something that gives back to their community. They need to understand that it's not all about Mario and Legos. We need to start giving time and money to places that take care of the poor in our city and on a bigger scale places that take care of our environment and our world. This needs to happen.
Social Media Anxiety
As a blogger that loves her blog and spends most of my time thinking about it, working on it, and tailoring it to be just how I want it, I should probably give a shit about networking and hanging out there on the big old internet. Not as a popularity contest, but as a way to give this blog that I love a chance at being read by other people. This is a place for me, and all the things I love and care about, but it's not as fun without you guys here to share with me.
For someone who puts herself out on the internet multiple times a week, you wouldn't think I'd be afraid of talking on the internet on Twitter and Facebook. But I am. I totally am. In real life, I have some good-old social anxiety issues. I've been known to look for exits in new social situations and my palms get sweaty and my heart races out of my chest. That reaction doesn't stop at the internet. Here on the blog its different, because it's my personal space, but out there on Twitter and Facebook it's scary. My face goes flush every time I get close to posting something, I worry about people judging me and naysayers, I know, I am a scardey cat. I need to do better, and spend more time reaching out to all you guys, who have been awesome and spend time here, reaching out to me through comments. I like you guys, and I want to hang with you out there, on THE NET too. So if you feel like it, follow me along, I'll follow you back, and we'll all be friends, cool? I'm scared, but I'm gonna do it.
Hope you all had a sweet 2013, and Happy New Year, you guys!