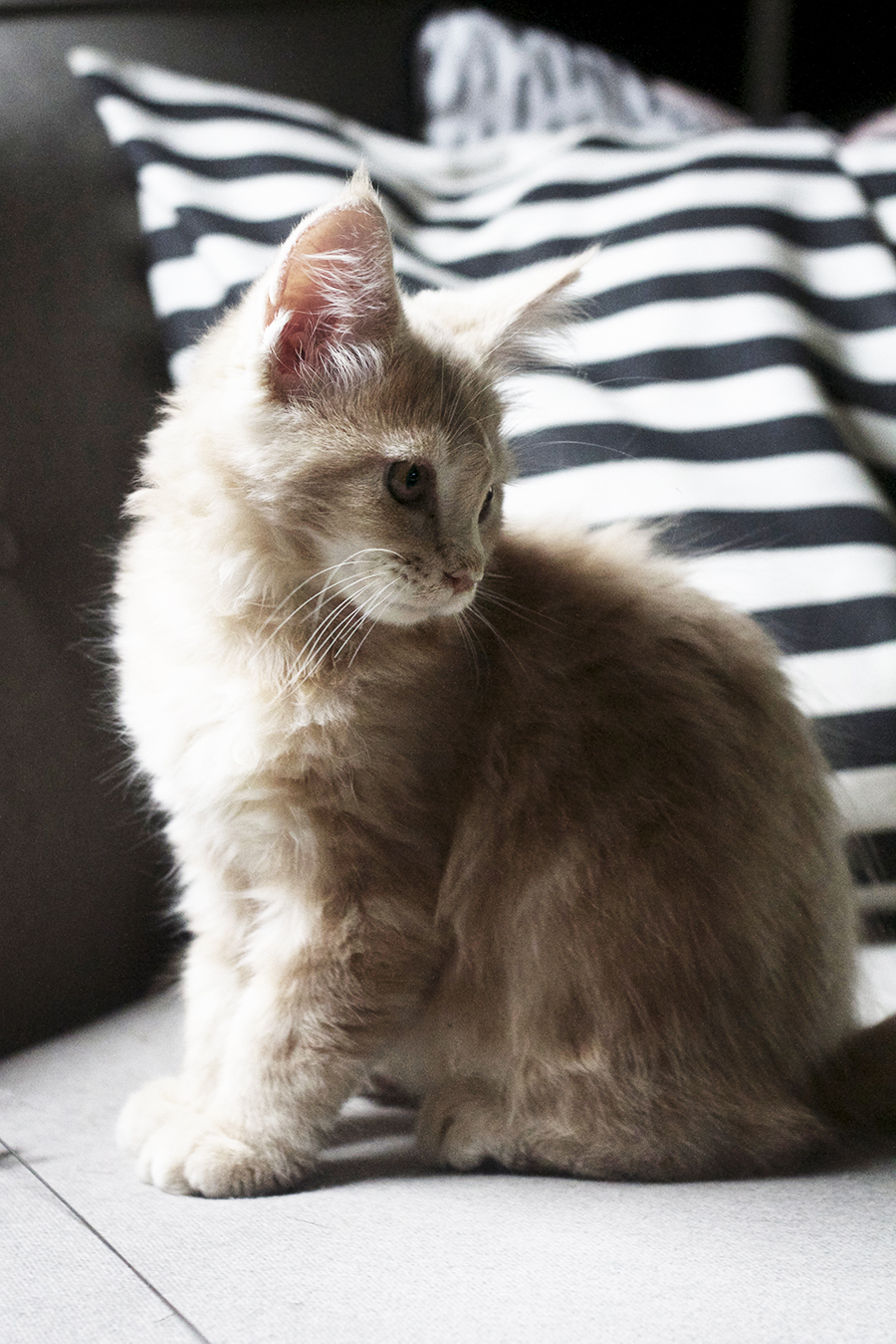 About six weeks ago I became obsessed with the idea of adding a kitten to our little family. Gus and I had gone to the hardware store to pick something up, and we ended up meeting the hardware store's newest employee, a tiny little gray cat named Grayson. Gus was so sweet and curious about the kitten, we stayed to pet and play with it for at least fifteen minutes. All of a sudden I felt like I needed to have the boys experience having a small animal to nurture and take care of.
A little FYI, we do have a cat named Nami, and she's the sweetest old grandma cat you could ever meet. She sits out on our stoop every single day and watches the world go by, she's kind to the boys, and she's very good natured. But she is old, she sleeps a lot, and she just recently decided the boys were tolerable. Jeff and I brought her home from the humane society as a kitten nearly 13 years ago, we were young pups ourselves, and we were the ones that took care of her and built a solid cat/person relationship with her. Growing up Jeff and I both had dogs, and we appreciate the relationships that we had with those animals so much. We wanted our kids to have a pet companion that they could grow up with too.
I know how cats have a tendency to be jerks, we've had a lot of friends that have had rotten cats, and that was my biggest fear about getting a new cat. Especially since old Nam-ers was the sweetest ball of fur, I didn't want to screw that up. If we were going to do it, we wanted a little insurance. I started looking online at specific cat breeds, and even taking a test or two. Over and over I would come across Maine Coons as a breed of cat that was famous for being loyal, family friendly, affectionate, social, and loving. They are known as the "gentle giants" and the "dog of the cat world" and that's because they are the biggest domestic cat breed, getting as large as 20lbs and as long as 48″ including their tales. I love it! I'm sold. Where do I get one of these crazy-large, loving, dog-like cats?
Up north, that's where. I found a breeder North of Bemidji (that's almost in Canada, you guys), and sent her an e-mail to check if she had available kittens. She did, and I put down a deposit to reserve a kitten. She would be ready to pick up at 12 weeks old, which just happened to be last Monday. I made the 8.5 hour road trip to go pick up my cat, met the breeder in a Menards (midwestern big-box hardware store) parking lot, and was on my way home. It felt kinda shady to pay cash and hand off a cat, but also kind of adventurous too. The kids met her after I returned home and were immediately in love, and she fell in love with them too. We named her Birdie because it sounded like the right thing to call a soon-to-be giant cat.
She is already showing all the traits that her breed is famous for. She's been very patient with how the kids hold (ahem, manhandle) her, she follows them around everywhere, she sits with them, she plays with them and she cuddles them. When they go to school I become Birdie's sloppy seconds, and she will follow me around and keep me company throughout my day. She sleeps with the kids every night, and gets up with them first thing in the morning. It does my heart good to see these relationships forming.
Anyways, she's our new cat, and we already love her so much (Nami is coming around).