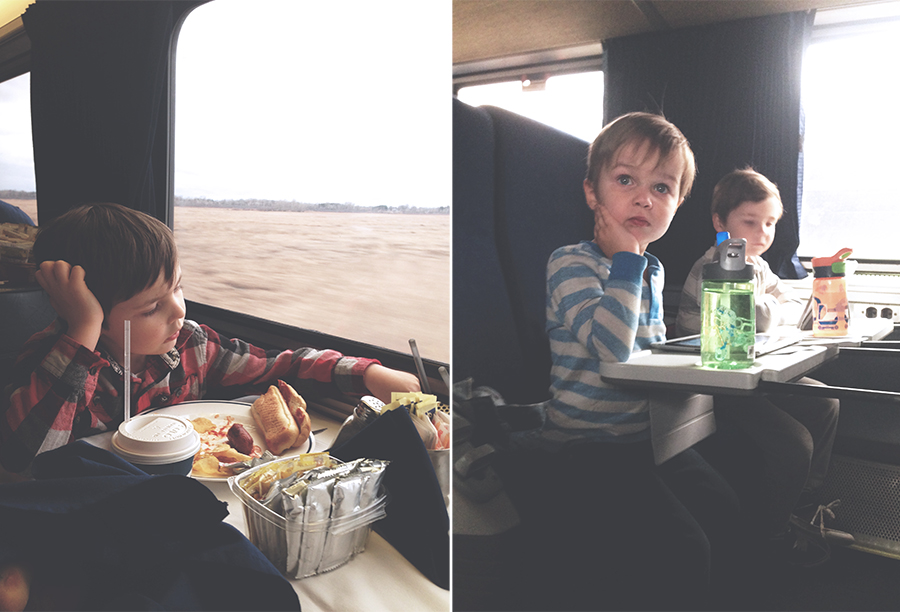 We did something awesome as a fam two weekends ago – we headed out on a journey to our second favorite city, Chicago, via the old Empire Builder Amtrak line.
None of us had ever gone on a domestic train trip at all, so it was all very new to us. Gus, our youngest, has had a heavy fascination with trains for the last year, so that was a major driver of the trip. And we like trains too, I mean, who doesn't really? So we decided to use the rails as our mode of transportation for a spring break trip we had planned to Chi-town.
The first thing that surprised me was the price. The rumor on the streets of Minneapolis was that trains were expensive. Not. True. We got this family of four to Chicago and back for the price of $530. Flights for the 4 of us round trip to Chicago would have been almost double. Not only that, we were surrounded in comfort the entire trip. We sat in coach on our way to Chicago and the seats boasted tons of leg room and adjustable do-hickeys. Just imagine the space you get on an airplane and triple it. Plus there was outlets for plugging in ipads, phones and 'putrons. On the return trip we paid up for a sleeper car so the kids could rest – so worth it for an evening train ride with over-traveled kids.
We packed tons of snacks for the kids and I'm glad we did. Our outgoing train was delayed by two hours and we missed lunch. Our kids survived on chips, Cheez-Its®, and pretzels. We are the worst parents ever, I know. The kids made friends with some tweens in the seats behind us and they chatted and played games with them for the entire trip. Us grown people purchased some beers from our endearing train server, Cammi.
There's lots of stuff to see on these big passenger trains. A few cars forward there is an observation car with windows on the ceiling! The observation car is open to all passengers, but is usually pretty crowded. They even have tiny train-love seats for hanging and watching the view fly by. Below the observation is the snack car where they sell concession-style snacks and drinks. Another car ahead of that is the dining car. The dining car was equally as thrilling to us as it was to the kids. Our sleeper car included a free meal on the return trip so after boarding we made our reservation for dinner. Our kids dined on hot dogs AND you guessed it, CHIPS, while we enjoyed veggie lasagna and roasted chicken. It was all pretty satisfying.
The trip from Minneapolis to Chicago is loaded with quick stops and is a little less than eight hours long. The first leg of the route travels north > south and runs next to the Mississippi river. The scenery is quite beautiful and is eventually proceeded by vistas of tall hills, which to us prairie folk might as well be mountains. Wisconsin looks alright sometimes. We make lots of quick stops at tiny train stations all built around the 1880′s. A few people hop on, one or two hop off, and we are on our way. Before we know it the Chicago skyline is on the horizon and the kids press their noses up to the train window trying to spy the tallest building.
We will most definitely be riding the rails again. I have this romantic ideas of taking the train to Glacier National Park in Montana, and from there renting a car to explore the mountains, hopping back on the train a day or two later and and taking the Empire Builder all the way out to Oregon to hang out with Sleater-Kinney. It seems like a good idea, but in reality that's a really long train ride.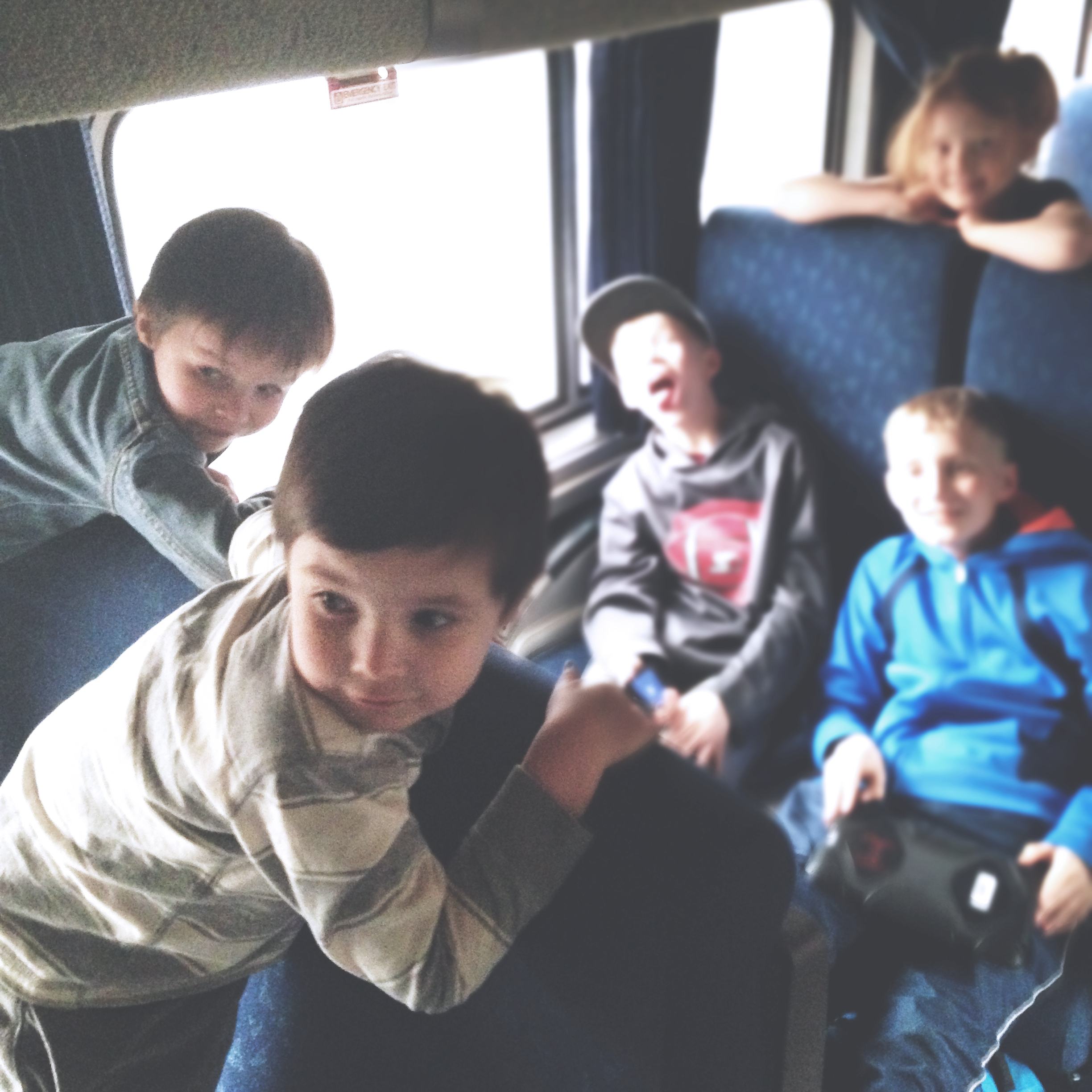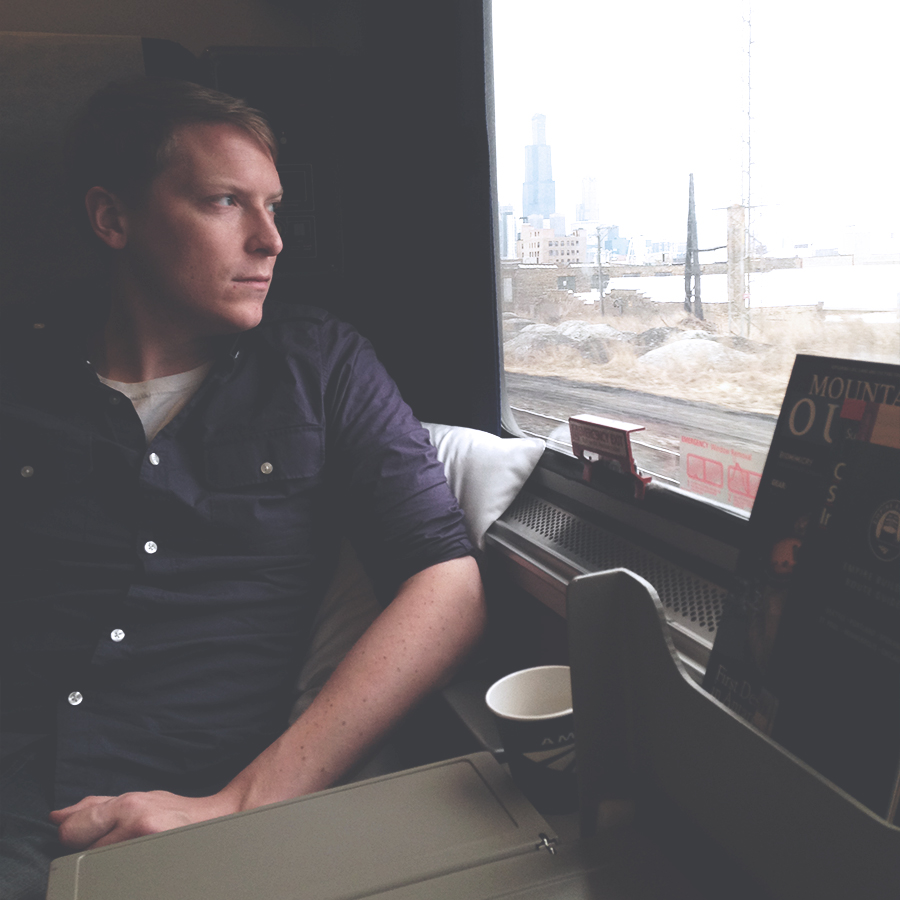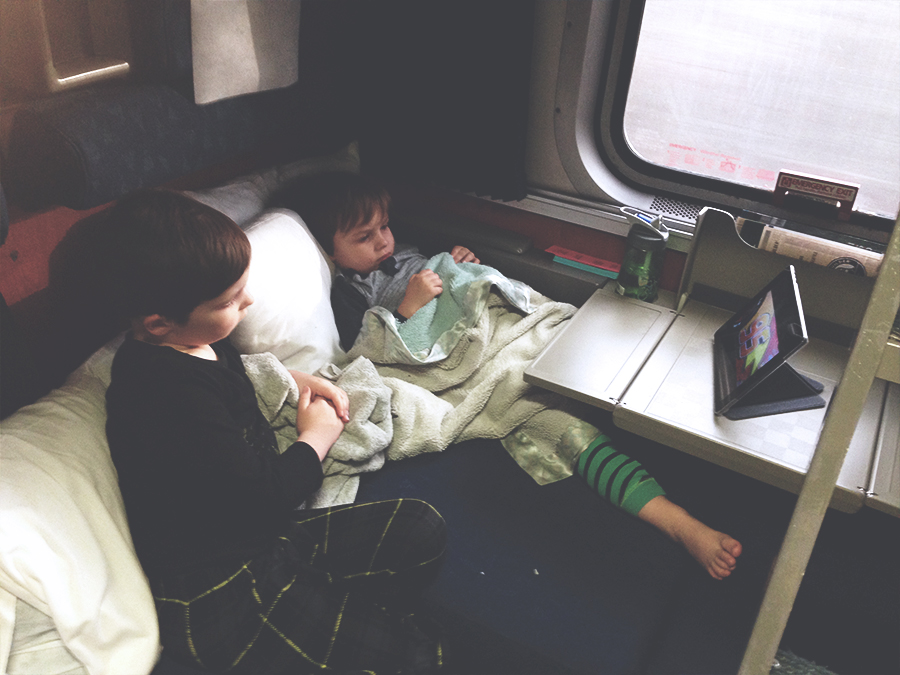 Tips for Riding the Rails with Kidz
Bring Snacks
Unlike traveling by plane, there are no security screenings, and baggage maximums seem to be suggested only. Basically, you can bring lots of stuff on the train, including food and drink, so don't skimp when it comes to snacks fer yer kids, and maybe a flasky fer yerself. If I were to do it again I'd have an arsenal of peanut butter sandwiches, apples, granola bars and backup apocalyptic treats and candy if shit hits the fan.
Check Times
We received a notice via e-mail from Amtrak that our train was delayed an hour and a half the morning of our trip. The message came through just as we were stirring around 5:45 am to get dressed. Man would I have loved to have an extra hour and a half to sleep, but the kids were already awake. I stalled the kiddos by offering waffles, and they barely noticed we were off schedule. We parked our car for $10 a day at the station and got to the depot the suggested hour early. In minutes we were to our gate and there was a lot of waiting. Our kids were impatient and wanted nothing more than to be on the train. Our train continued to be delayed in small 10 minute increments. It was torture for them, and us. Check the schedule and even call the station before arriving to avoid crazy-excited-anxiety-ridden-kids.
Arrive to the station about half an hour early
Like I mentioned above, Amtrak will tell you to get there an hour early, but really train travel is as easy as walking through the door, finding the terminal, walking out of a door and hopping on a train. Don't be to hasty in getting there a full hour early, but don't be late either.
Get a Sleeping Car at Night
On the way back we purchased a sleeping car for us and our kids. Originally we had two, two person cars so we were split up, but comfortable. Not too long into the trip our train-car-manager-dude came to us and said he had an open family sleeper if we'd like it. We jumped at the offer and switched to our new spacious quarters. Although we were comfortable in the 2 person sleepers, I'd pay up for the larger family sleeper when traveling with kids. We put our kids in PJ's, got them tucked into their bed, and within minutes they were both asleep. Money well spent.
No WiFi on the Empire Builder
There's not Wi-Fi on these trains so if you're planning along trip consider making your mobile device into a wireless hotspot.