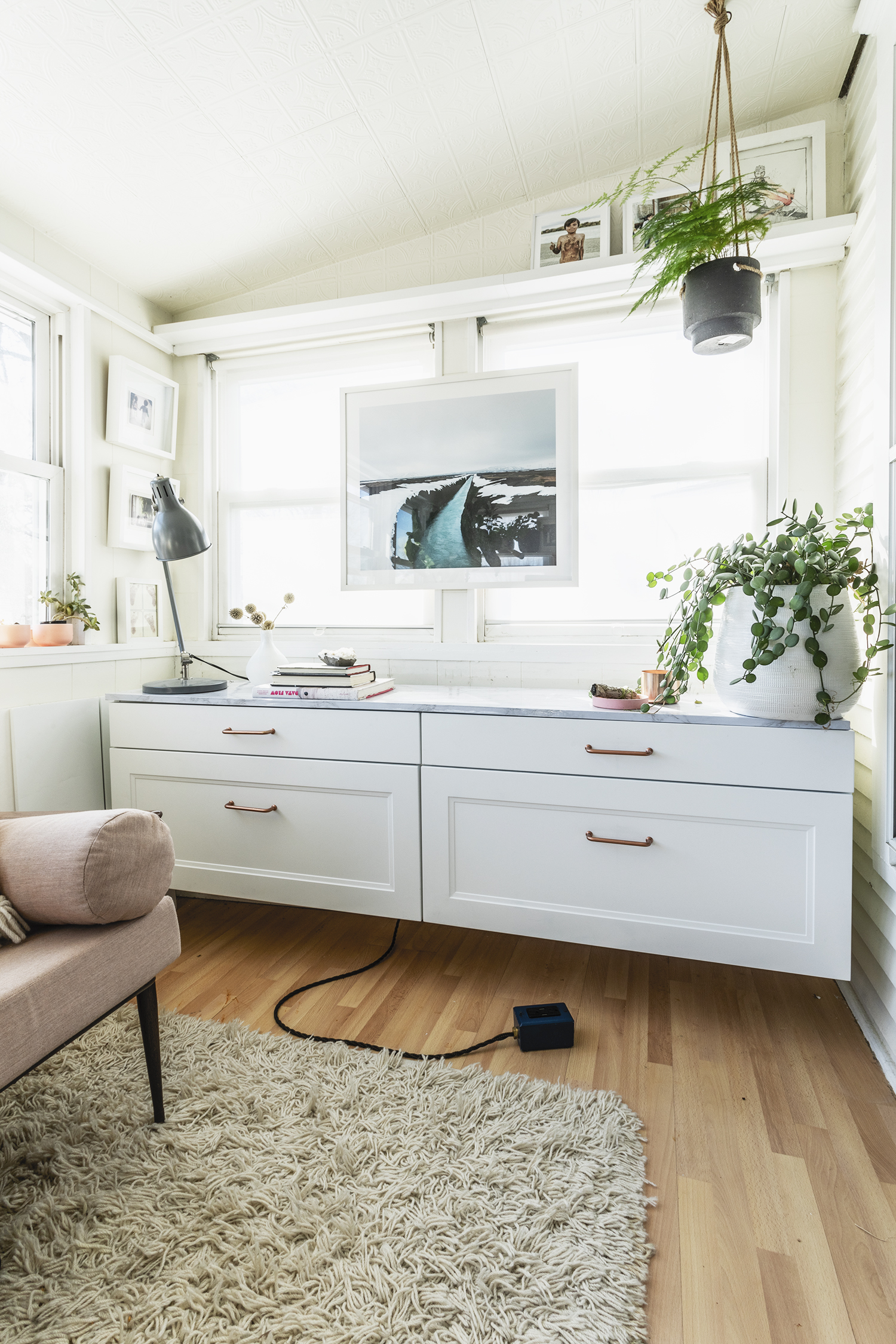 Hey! I'm back for part two of my office refresh. Redesigning my office space was part of my plan for a fresh start to the New Year. I wanted to start 2020 on the right foot, and for me a big part of that was getting my office space whipped into shape. I had given it
an update
a few years ago, but I've learned since then that the functionally the space wasn't working for me, and it wasn't inspiring. There was a lack of storage and things I used on a regular basis seemed to pile up. It was necessary that I create a system to keep my office clean, uncluttered and inspiring.
I started with updating my desk, clearing off my work space, organizing cords and adding an inspiring plant shelf. You can check out that facelift in this post in this post.
Today I wanted to share the other side of my small office – the business end of it. This is the side where all of my stuff stacks up. I had added two Ikea cabinets with doors a few years back, but they weren't being used to their full potential. They were overflowing with samples and magazines. It was stuff that I never ever looked at or needed. What I did need was a place to stow away all my camera equipment that stacks up and spills out of the space and into our adjoining master bedroom. Since I had installed the older Ikea cabinets (circa 2014), Ikea had come up with a whole new cabinet system. The new system is way slicker and offers a lot more configurations. I decided that I wanted to reuse the same concept of floating shelves. Also, as to not get ahead of myself, I'm using floating cabinets because our floor has a slope – the space use to be a sleeping porch and the floor was sloped to allow for rain run off, anyway it makes it super tricky to set furniture on top of and floating cabinets provides me with the storage I need.
I removed the old cabinets and replaced them with deeper and longer cabinet boxes. Ikea's new system allows for drawers to be inserted into their Sektion wall hung cabinets, this was not possible with the old cabinets. I decided on a drawer configuration that would allow for a deep set of drawers on the bottom, and a more narrow drawer on the top. The bottom drawers fit all of my camera gear and the top drawers allow a space for all my day-to-day office stuff that typically would find its home on a pile on the sofa.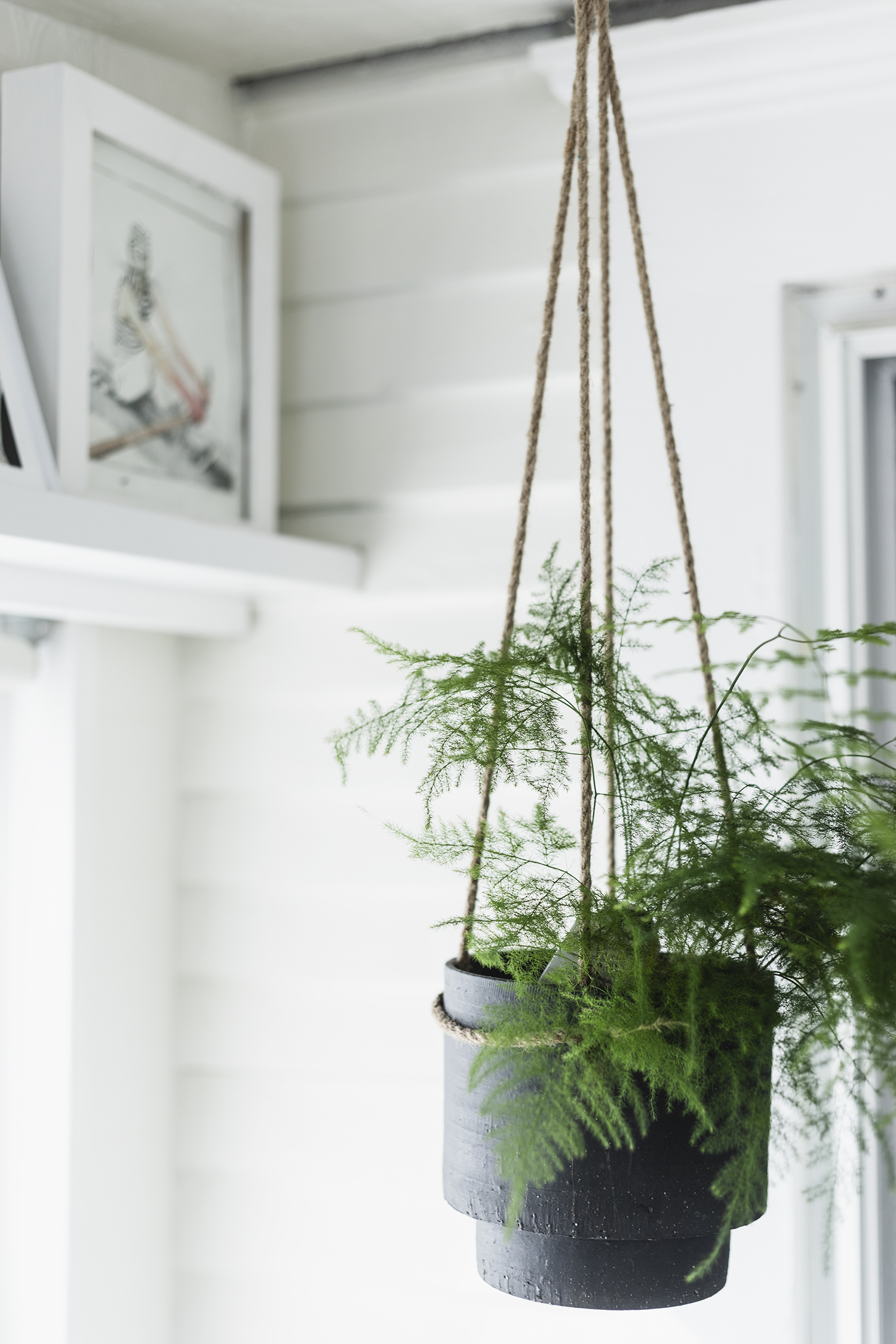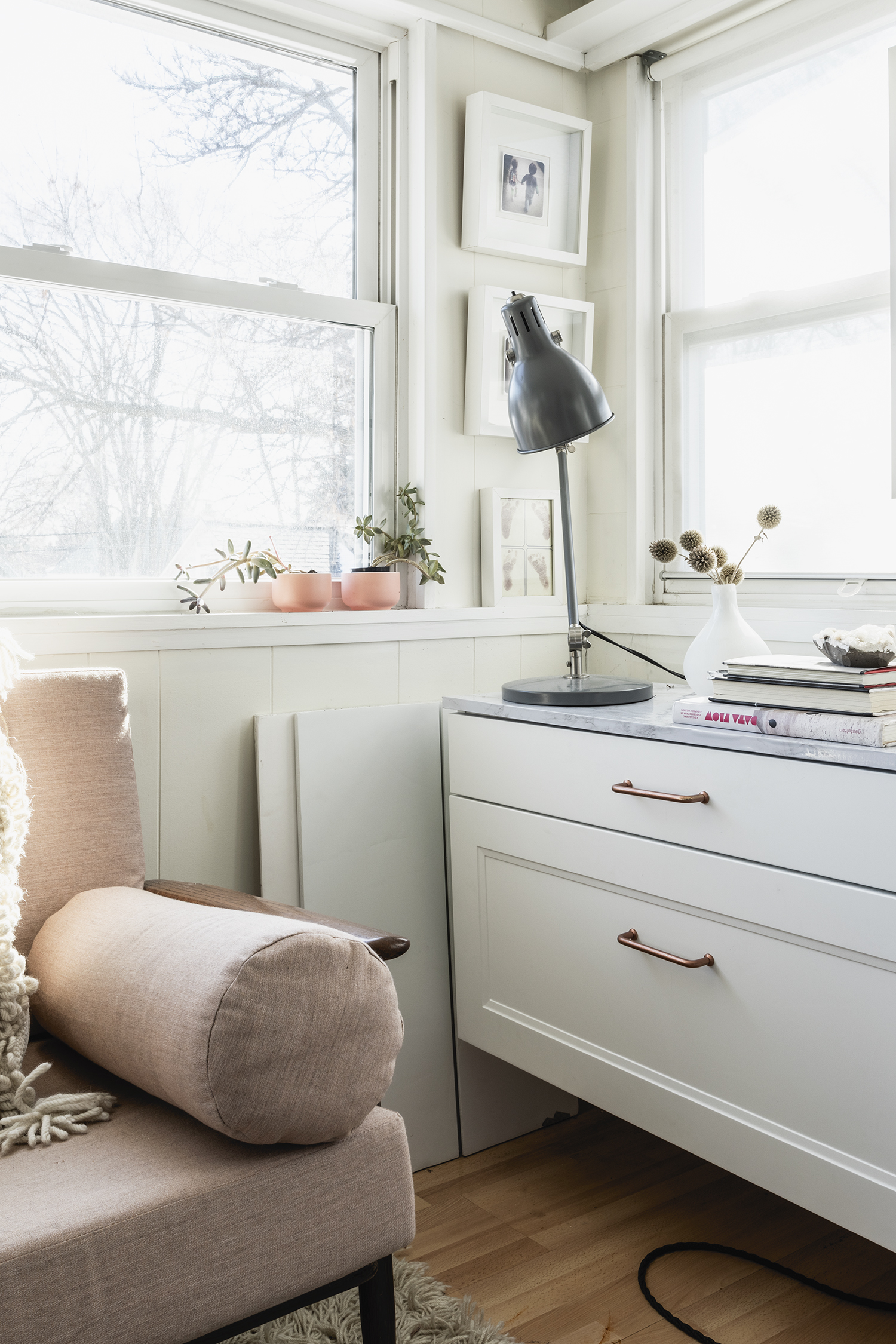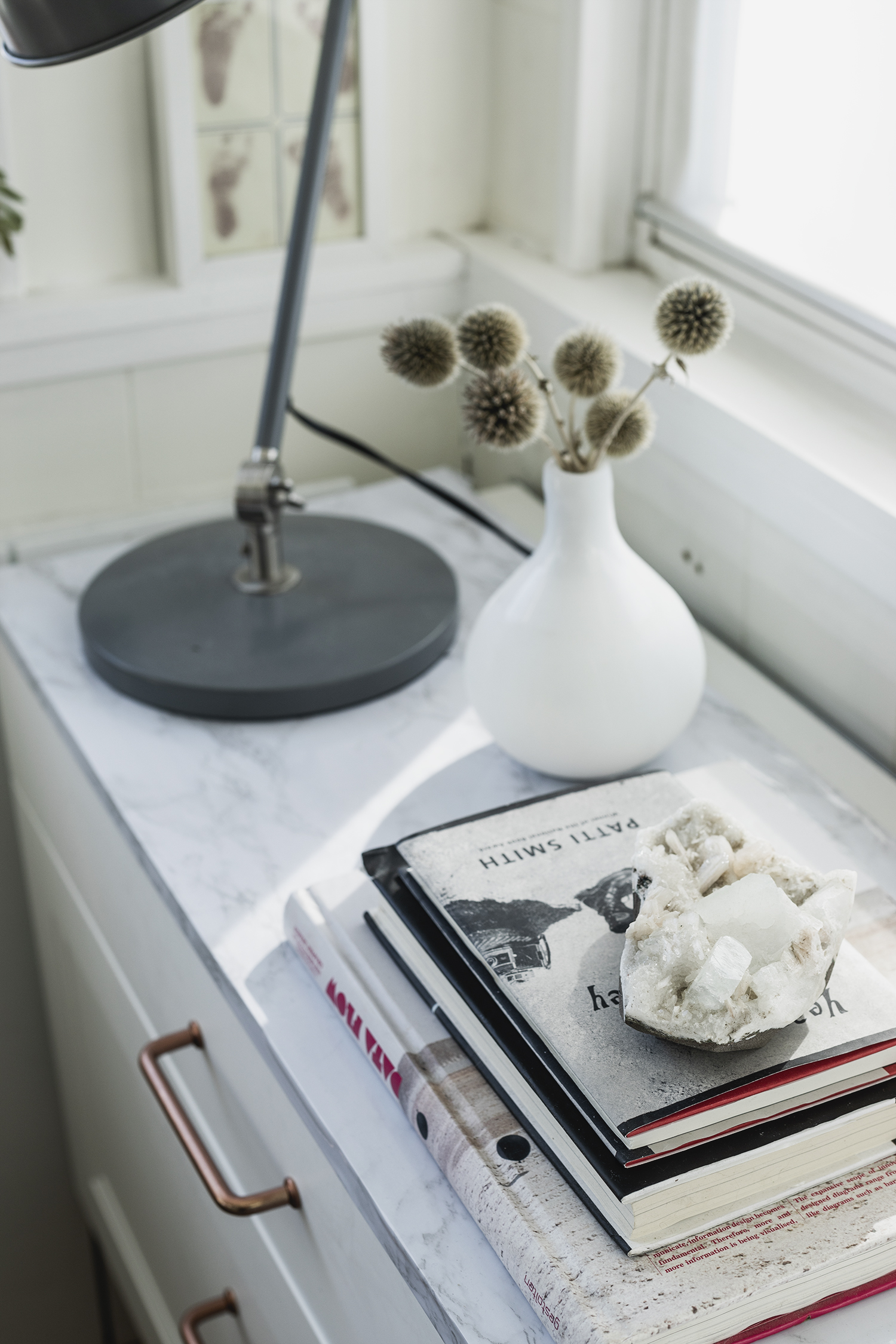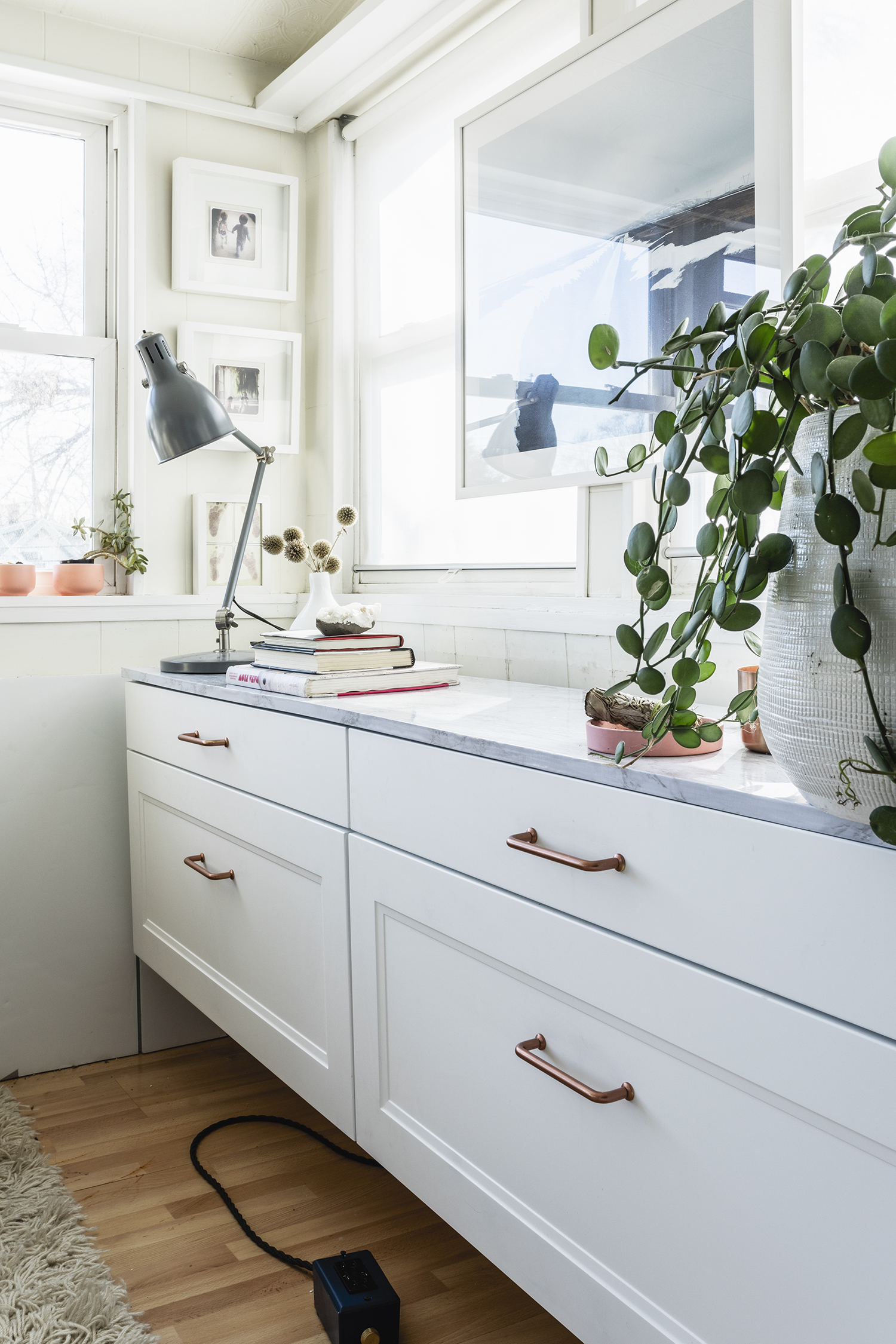 Before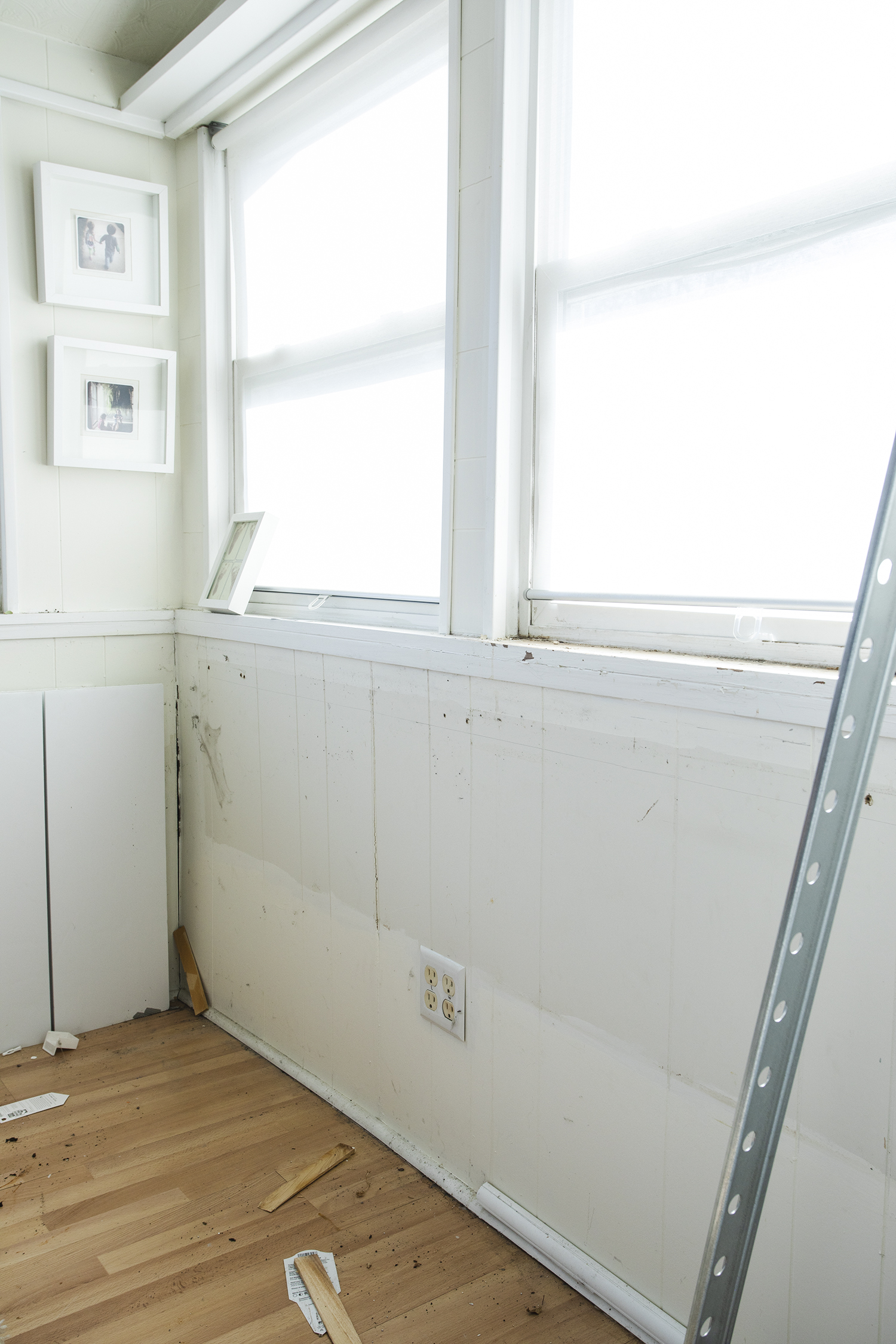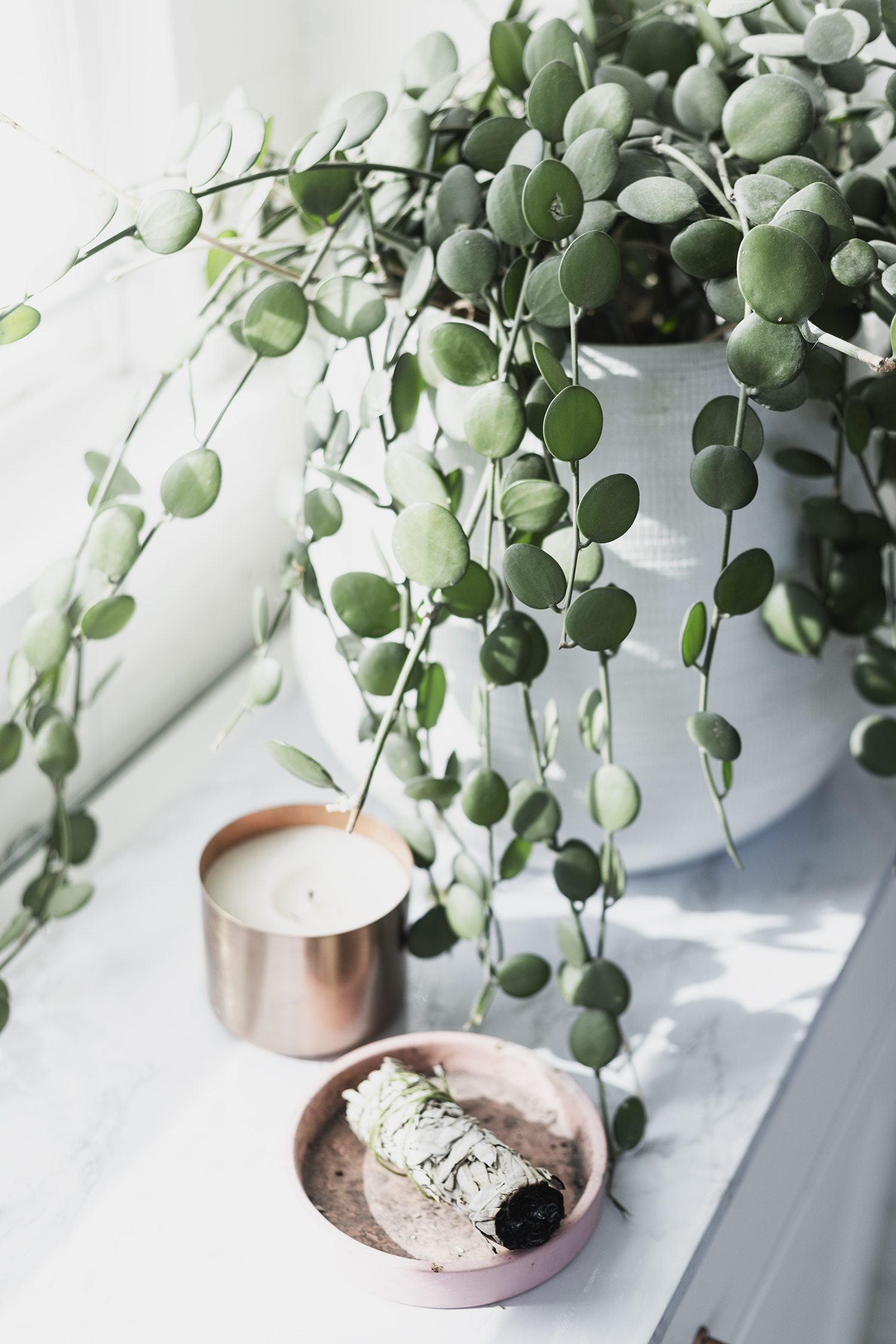 Just as I did on the desk side of the room, I covered a piece of lumber in faux marble contact paper. It elevates the look without costing me a fortune and looks better than raw plywood. It works for me. I also hung a favorite piece of large artwork by my friend Isaac Gale on the framing of the windows. I hung it right in front of those windows! There are so many windows in this room, nine to be exact that I didn't mind covering up the windows that looked out on the second story of my neighbors house.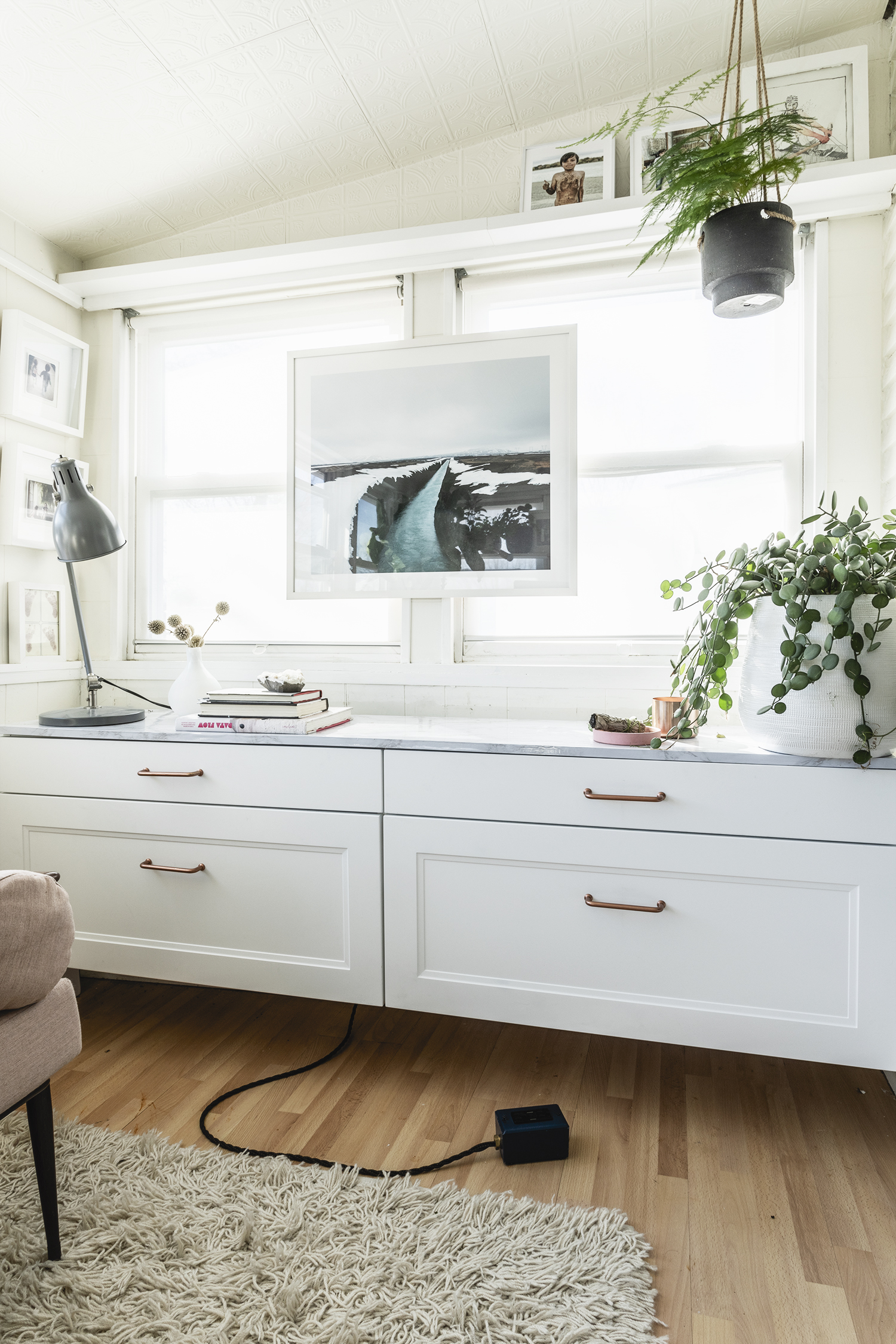 I am one of those people that actually really enjoys putting together Ikea products. I'm always fascinated with how well designed it is, and how much planning and effort goes into make each piece multifunctional. I think that the cabinetry is pretty straightforward, you're basically assembling a box that hooks onto a rail.
Ikea Cabinet Hack
Hanging Cabinet Boxes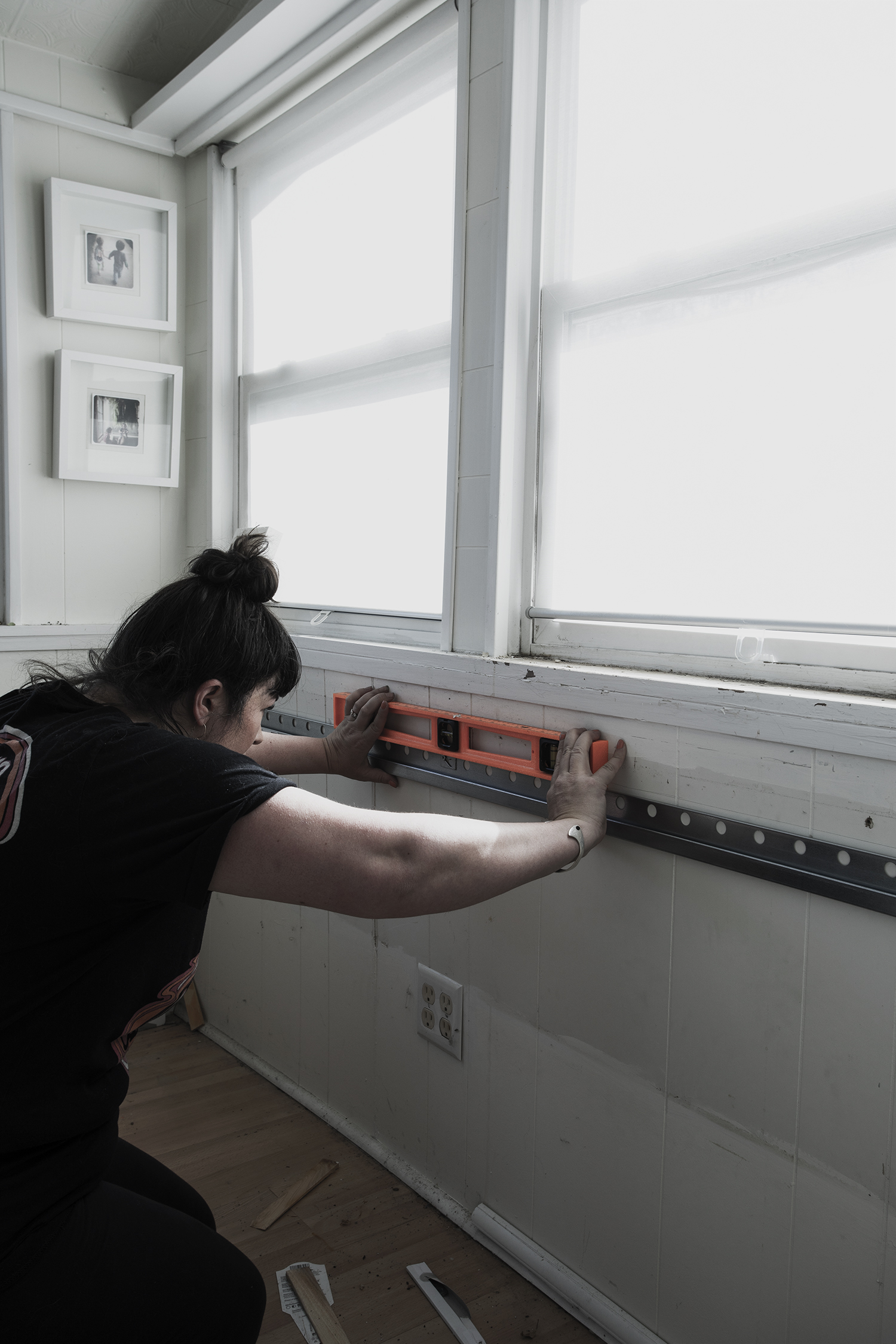 My office floor slopes because the office used to be a sleeping porch. It has been long since closed in and insulated, but the floor still slopes. I needed storage for all my stuff and since I couldn't set a piece of four legged furniture on the floor, I decided to improvise and turn Ikea wall cabinets into a floating credenza with drawers!
Installation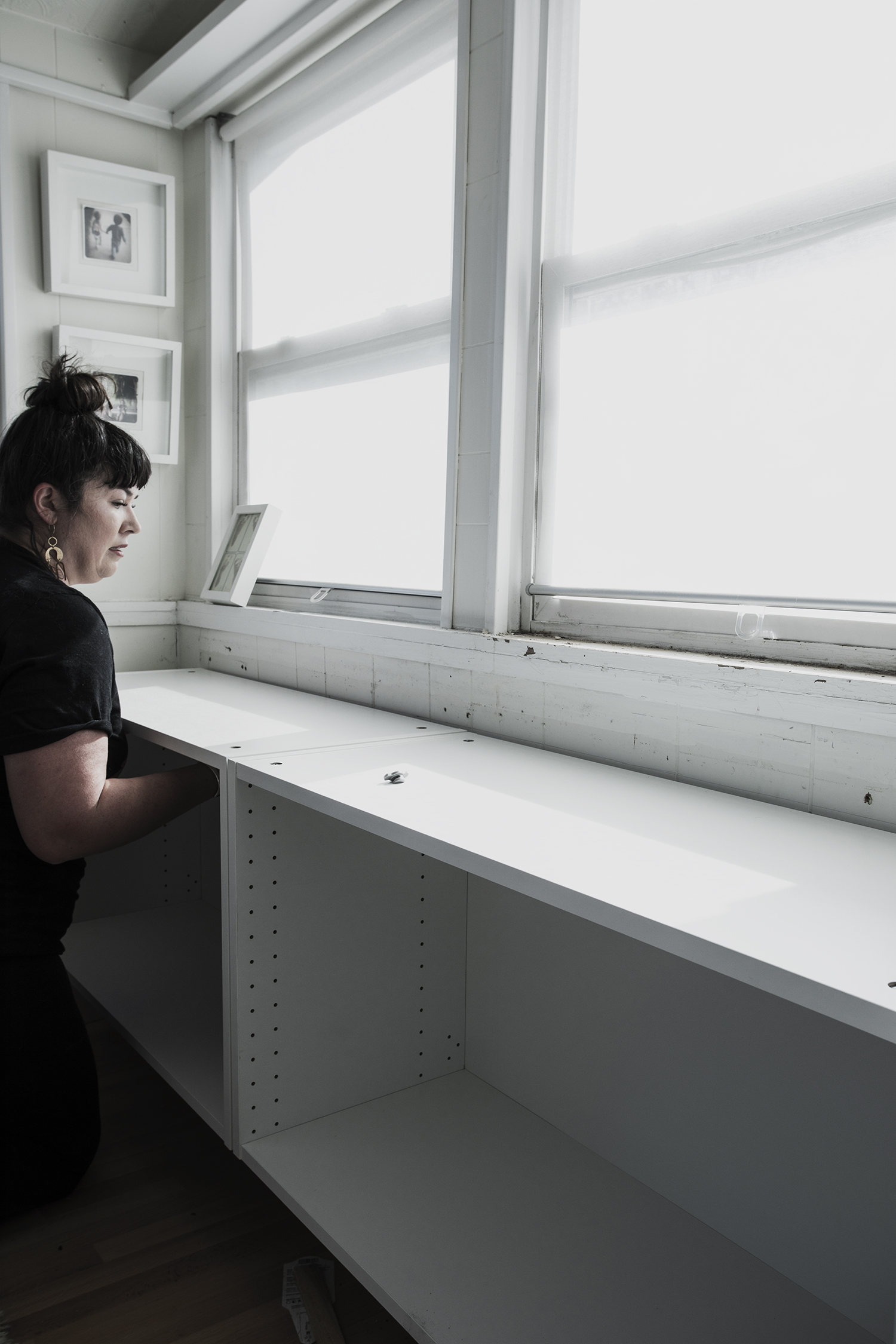 Hanging the cabinet boxes is pretty simple. Ikea has designed a system that mounts onto a rail. As long as you take the steps to get the rail properly mounted into the framing of your wall your good to go. I used
long 3″ screws
to attach the rail to the studs inside the wall. Once the rail is installed the cabinet boxes hook right onto the rail and then lock in place.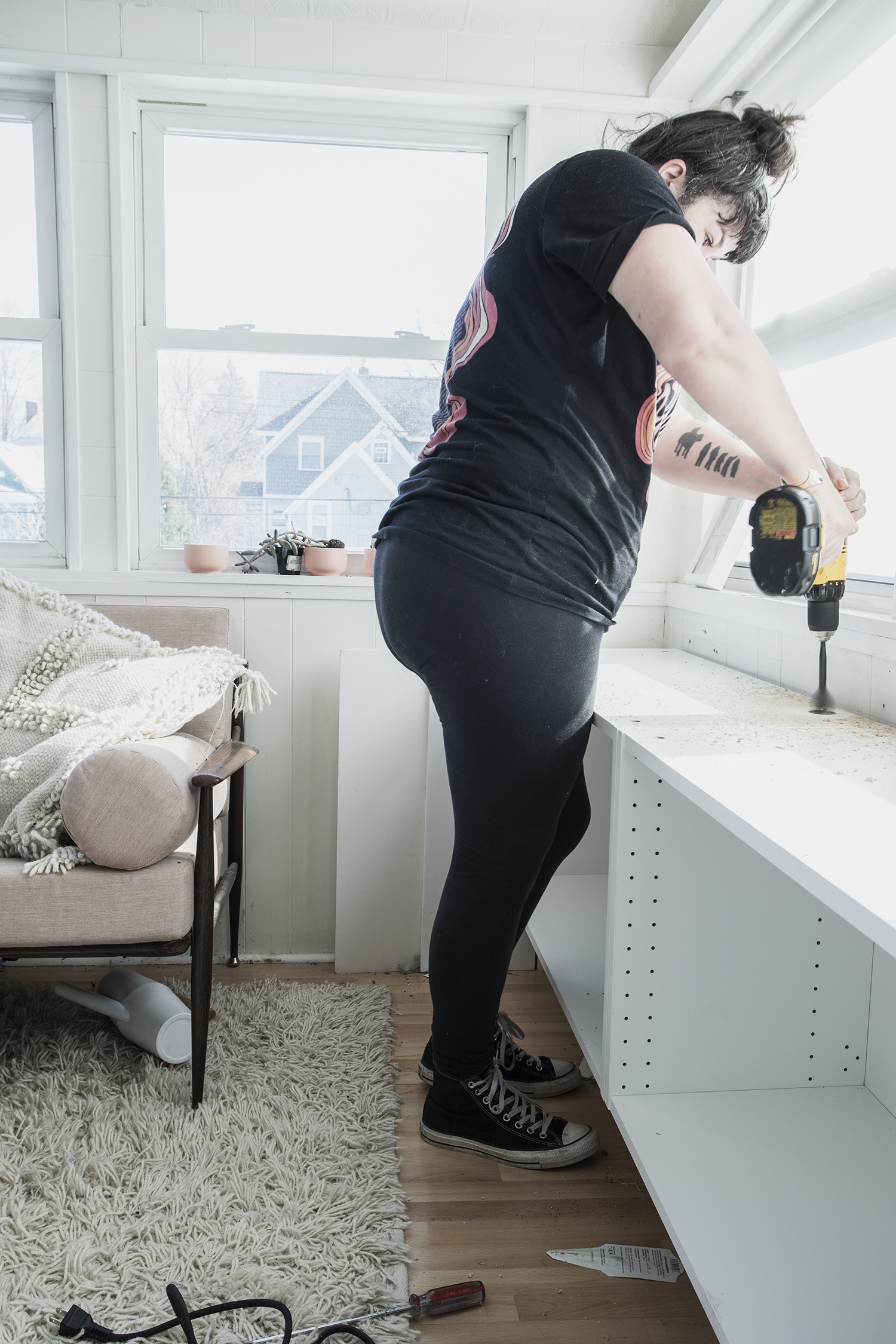 My cabinets cover up an outlet so I cut out a small hole in the back of the cabinetry so I could access it. I also drilled a
1 3/4″
hole in the top and bottom of the cabinets so I could run cords for a light and a
charging hub
. I installed drawers into my cabinets, but you could also install doors if you prefer. The drawers come with mounting hardware that are attached with screws to the corresponding holes.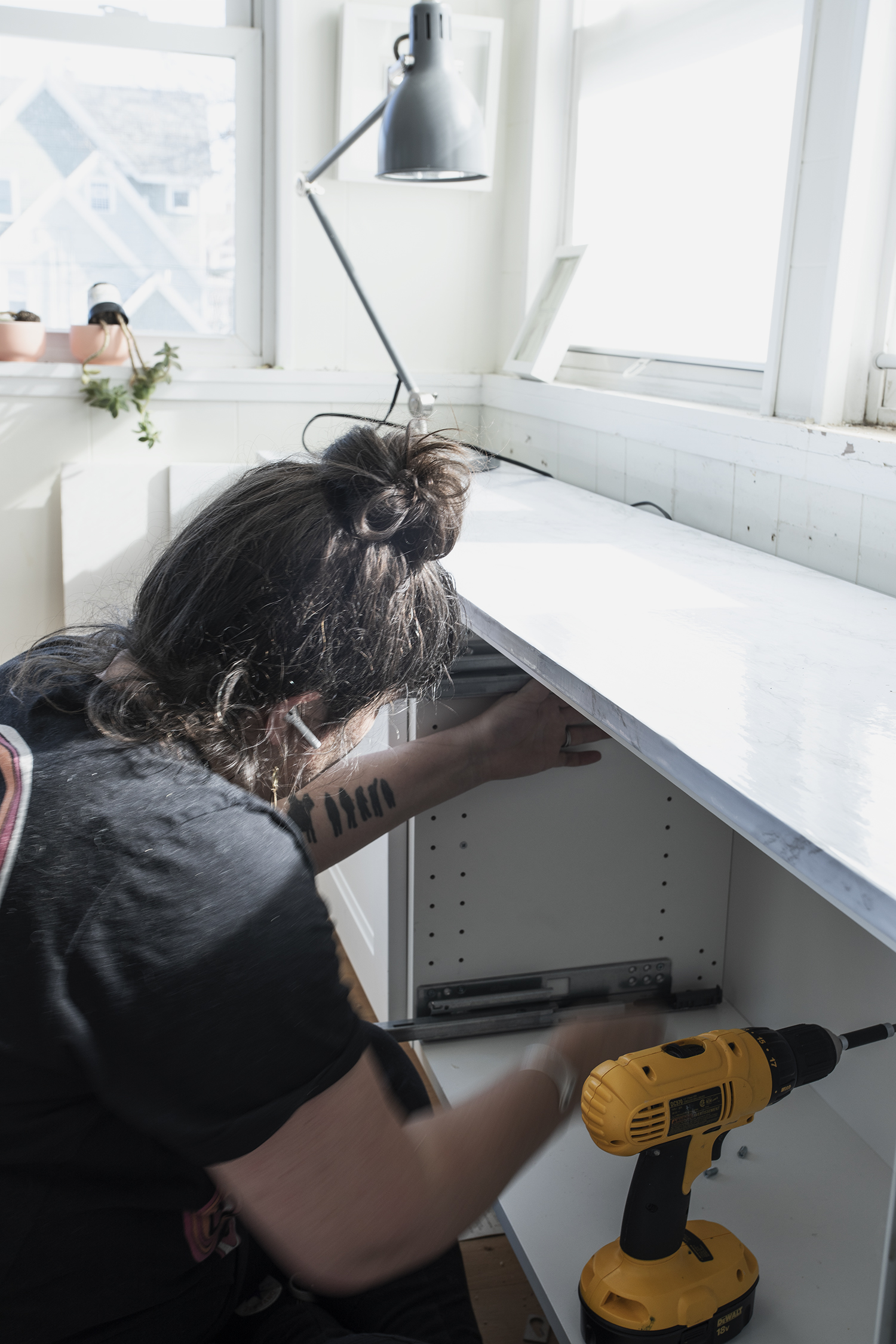 I installed drawers into my cabinets, but you could also install doors if you prefer. The drawers come with mounting hardware that are attached with screws to the corresponding holes.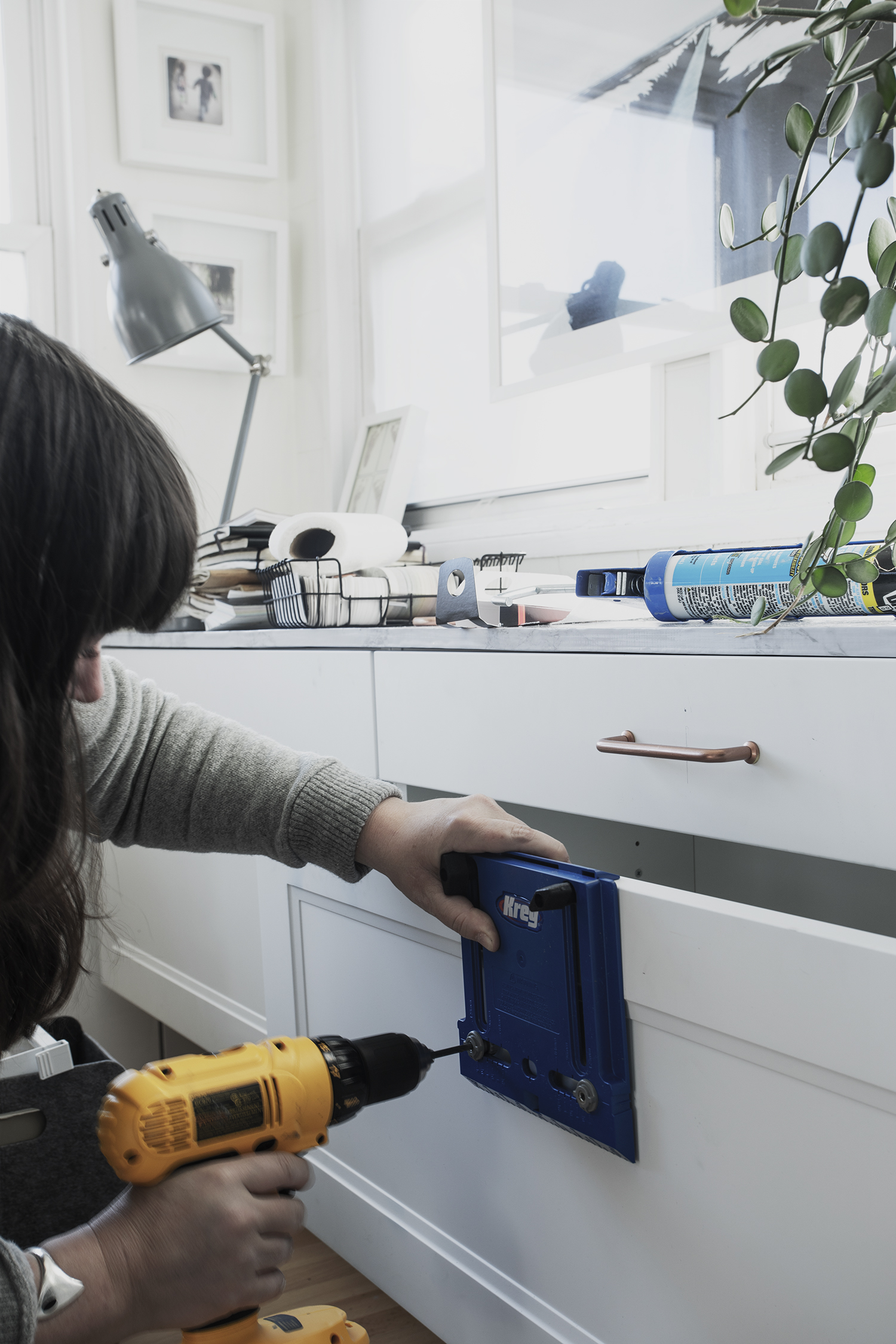 I used this
Kreg hardware jig
to quickly and easily add some hardware to the cabinets to give it a custom look. These drawer pulls were from Ikea, I just
spray painted
the copper to match the plant shelf hardware that I installed on the desk side of the office last month.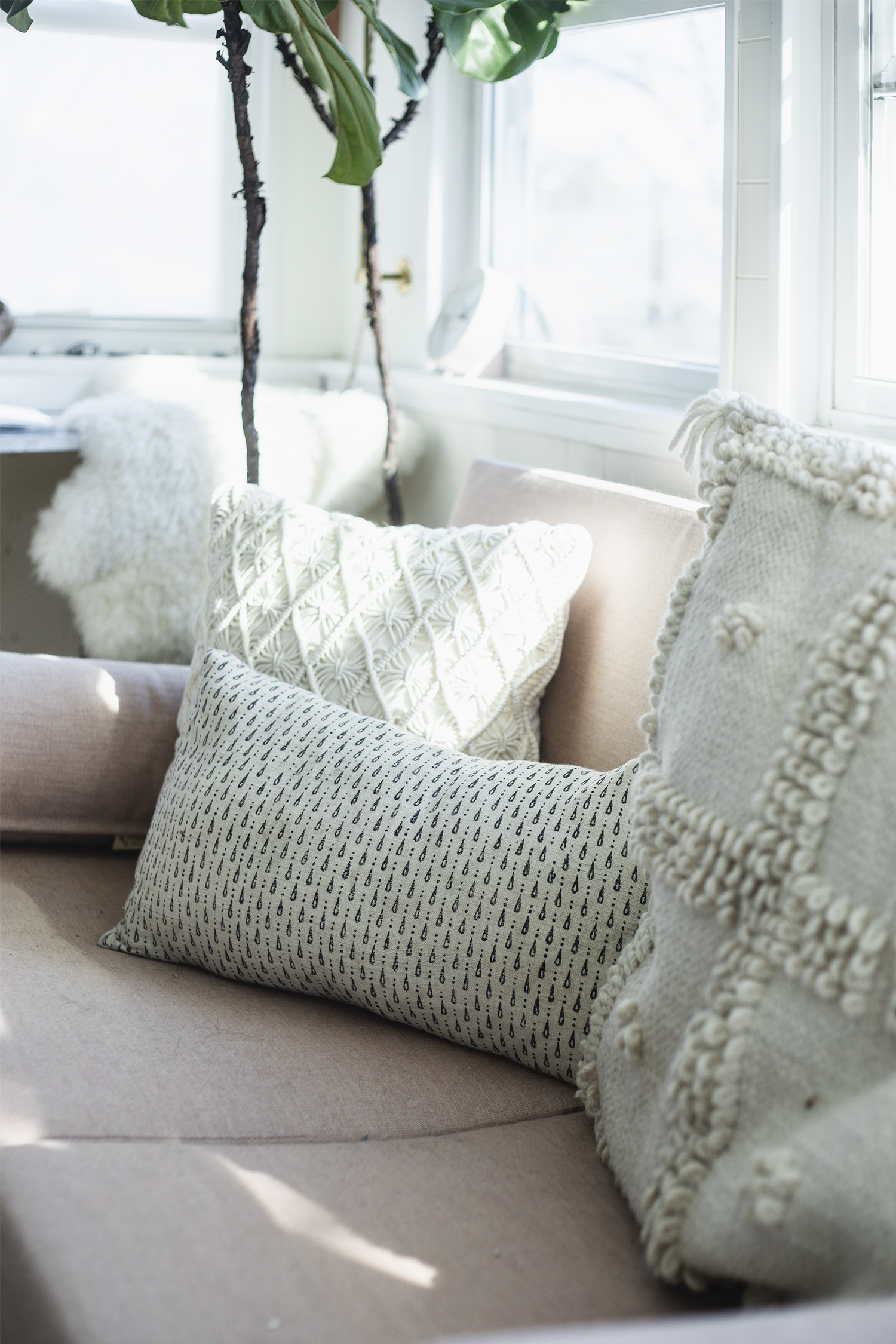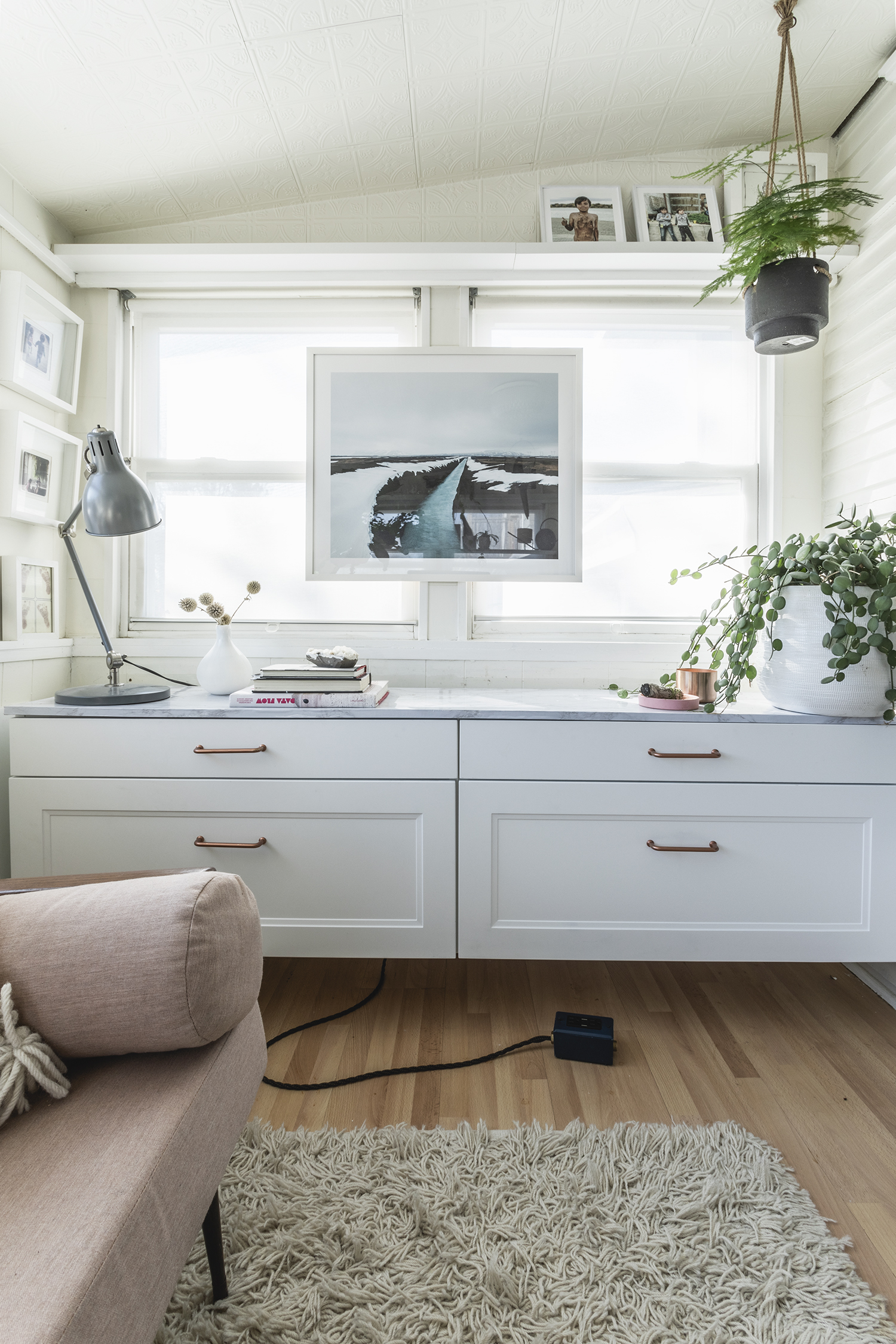 A Peek Inside my Drawers
Organizing all my Stuff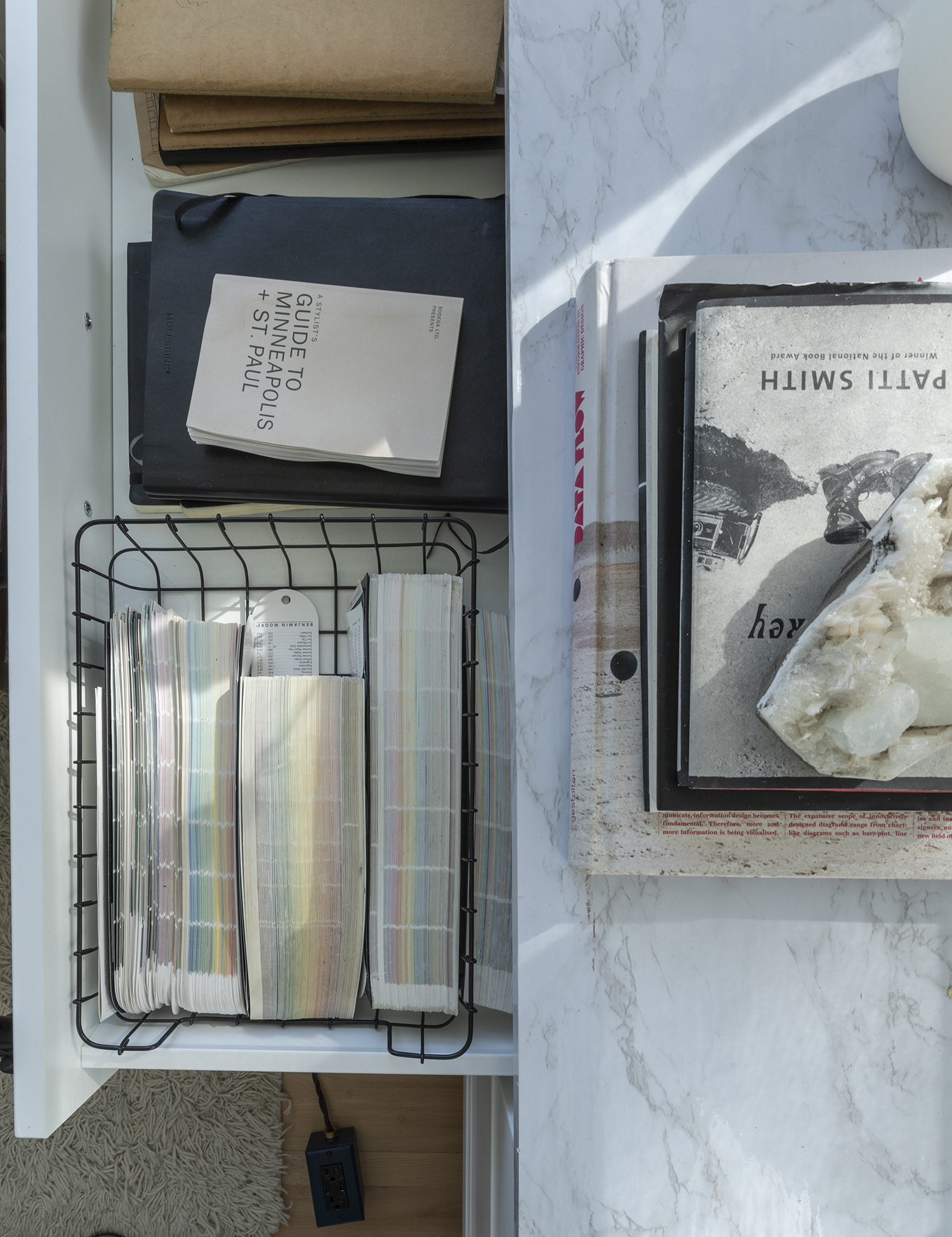 The main reason for this credenza was to have a place to keep myself organized! I had made a bad habit of having camera gear and other stuff scattered all over my office. I didn't have a place to put it, so what was I supposed to do? Now all of my stuff fits nicely inside my drawers, even my tripods!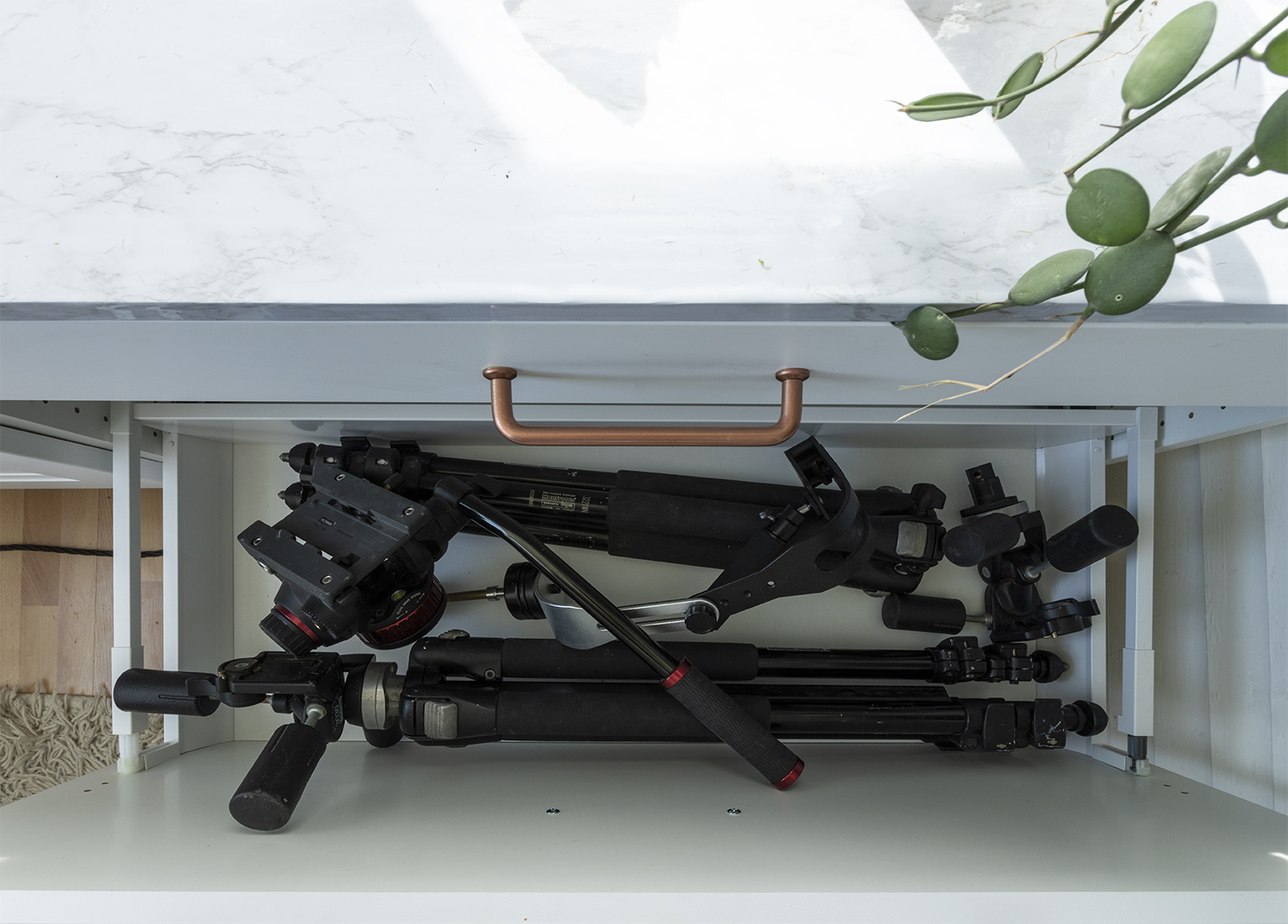 Yes! I have a spot for all of my camera gear – my tripods fit perfectly.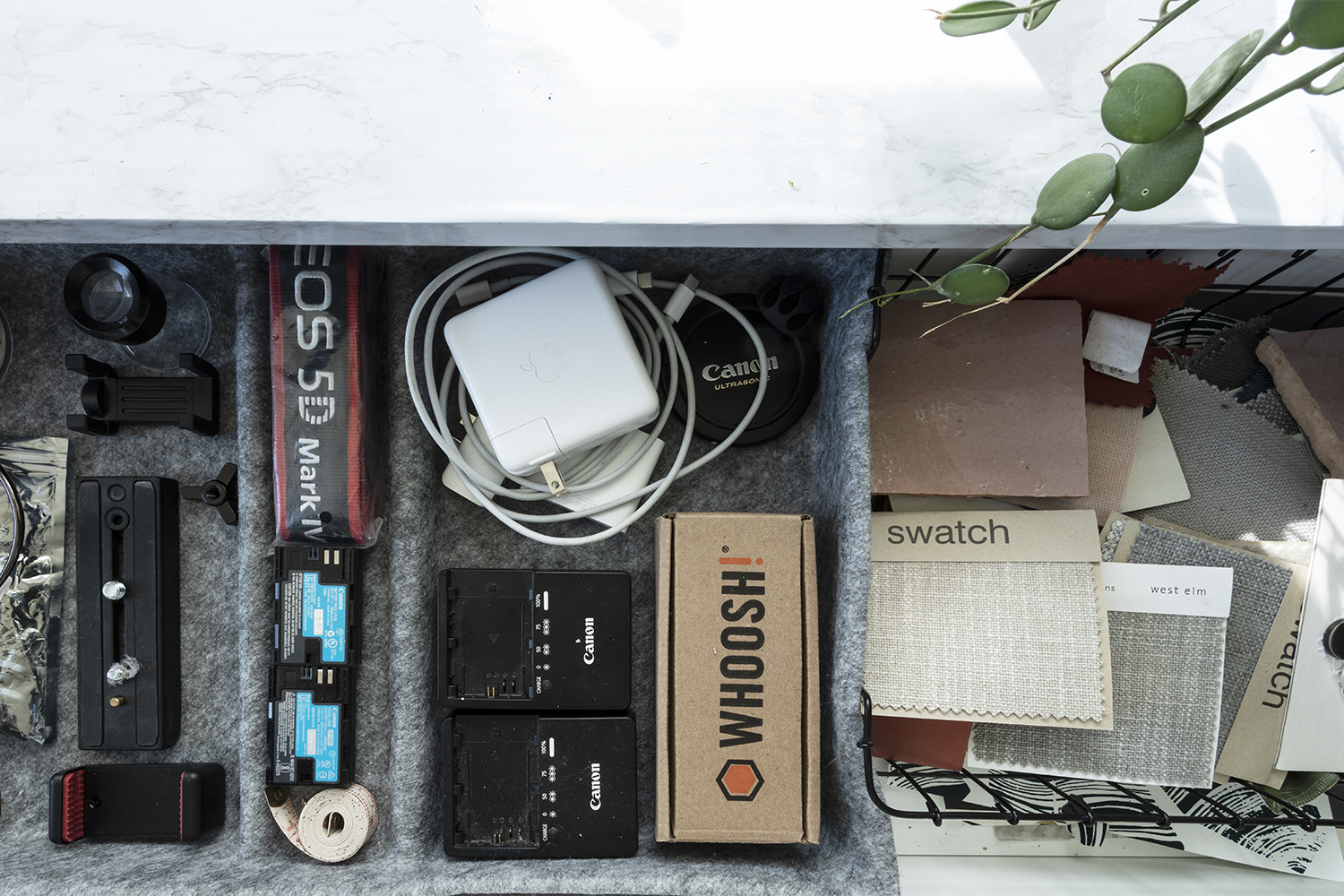 This top right drawer is equivalent to a desk drawer. It keeps all my stuff that I might need any given day. The
felt inserts
are all from Ikea – they help keep all the little stuff in its place so it doesn't roll around the drawer.

That wraps up the office makeover, onward to the kids' bedroom! As always, thanks for being here!
Sunroom Archive