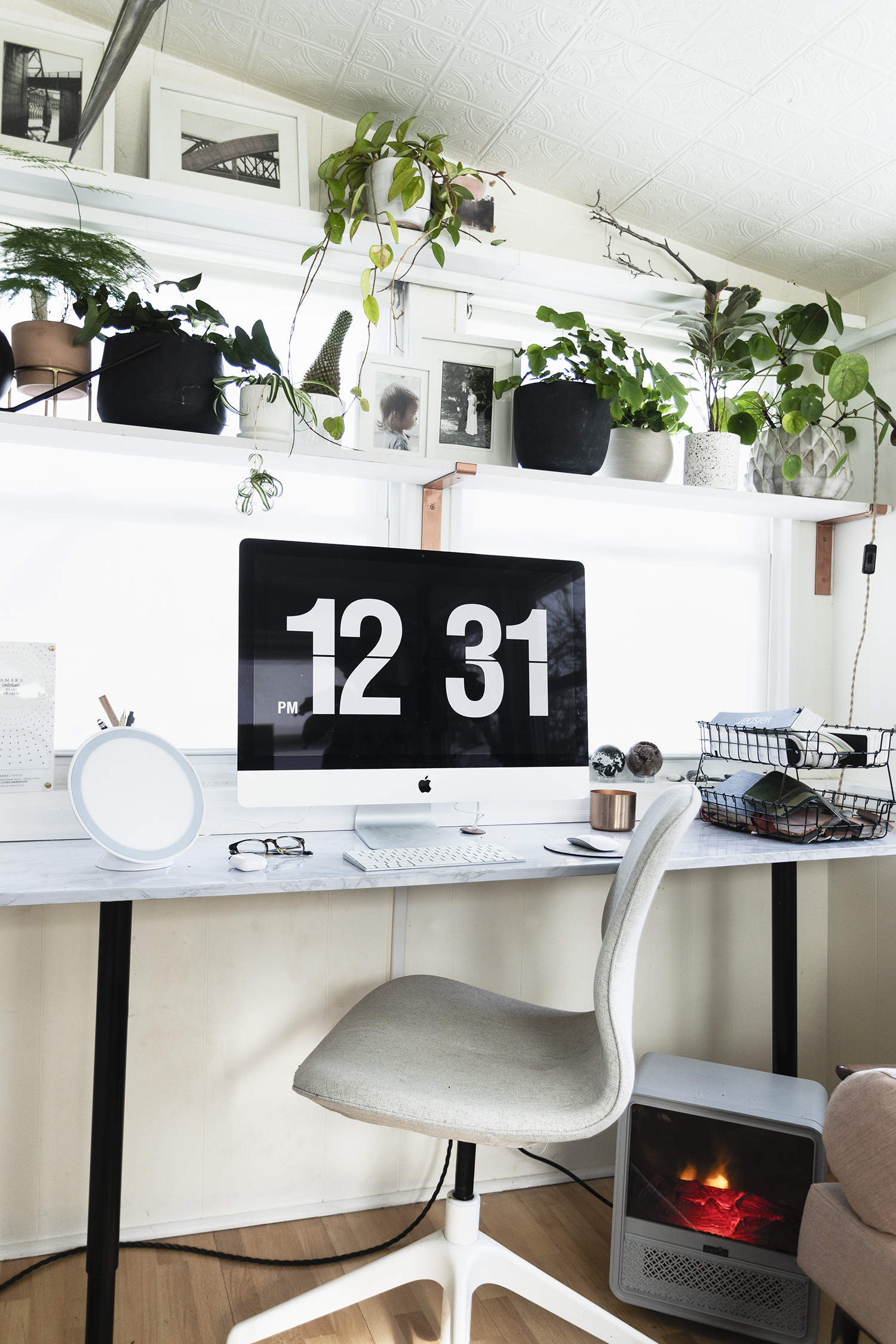 I wanted to start 2020 off on the right foot, and I was in need of an office refresh. A few years back I carved out my
own little office
in an unlikely space spot in our home. We have this really cool 4 season
sunroom
off of our bedroom, I'm pretty sure that when the house was built around the turn-of-the-20th century, the sunroom was intended to be a screened in sleeping porch for hot summer nights. In a more recent remodel (my guess is within the last twenty years) it was insulated and outfitted with new windows. Now the porch is extension of our bedroom. We keep the door to the space open and the radiator in our bedroom is enough to keep it warm in the winter time. On the really chilly days we'll use a
space heater
for added comfort. Back to my office though, I decided that I needed a dedicated place to work, and the sunroom seemed like the perfect spot. A few years back when I decided to make the sunroom my office, I was just working off my laptop and didn't need much in the ways of an office. To me, laying down a bare piece of lumber on shelf brackets and calling it a desk seemed totally fine and acceptable. Fast forward a few years, and I work off an imac and I have a lot more accessories and devices floating around me while I work. Also, my plant collection continues to grow (lol on that pun situation).
I wanted to be inspired by the space, and feel motivated to hang out in it. I emptied out the room and gave a critical look at what was working, and what wasn't. The desk was becoming to small a work area and unstable for my needs (and I was messy). I couldn't make the desk much deeper because the entire space isn't that large. I could add another shelf thus elevating my plants and freeing up more work space. I also was over the raw lumber look of my down and dirty desk. I had never poly'd or sealed the piece of wood and because this room gets so much sunlight, the wood was beginning to get very discolored and it was no longer a bright light fresh piece of wood. I also had cords everywhere, which is so truly uninspiring. It honestly drags me down, and I knew I had to get a handle on the mess of cords I had made.
Before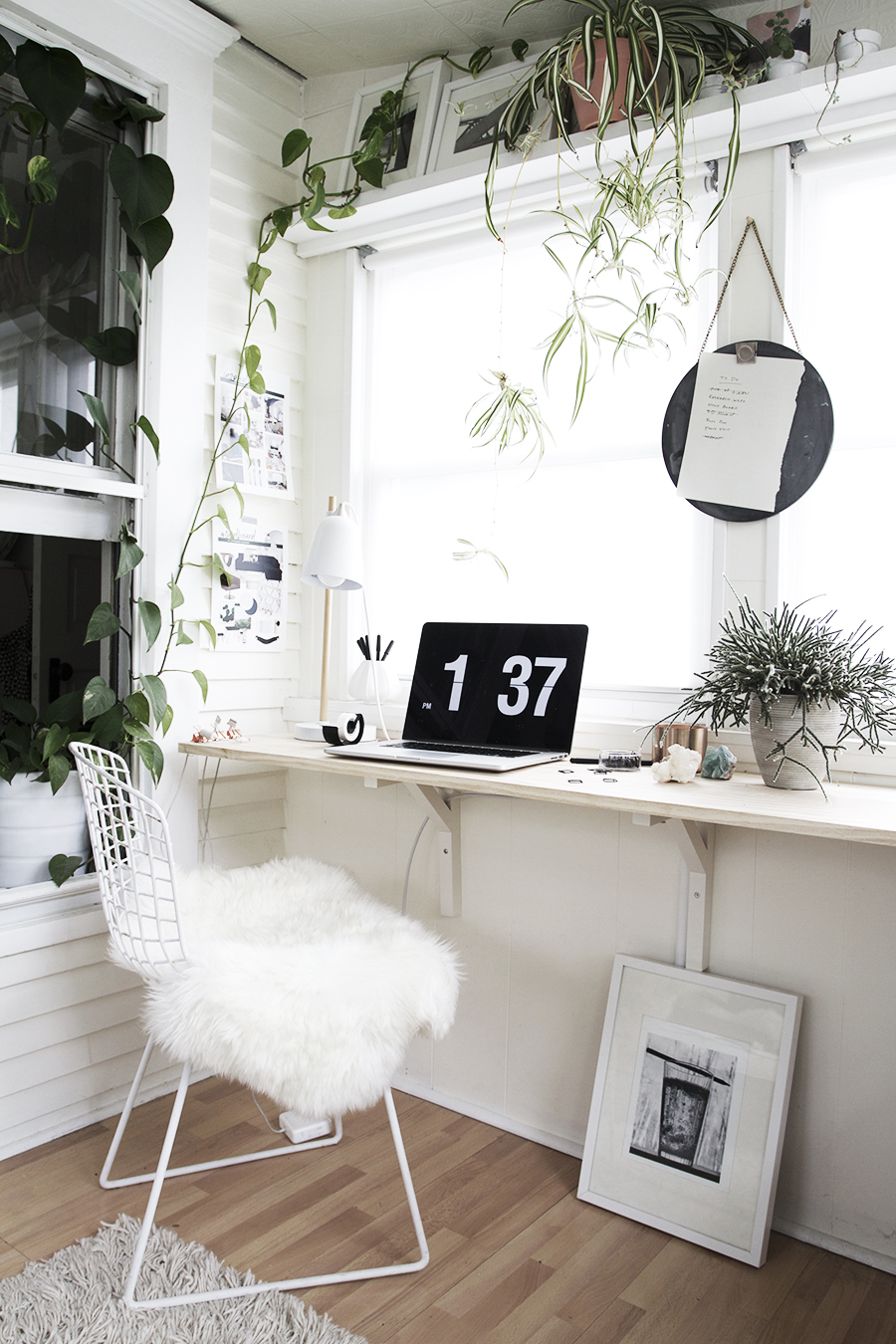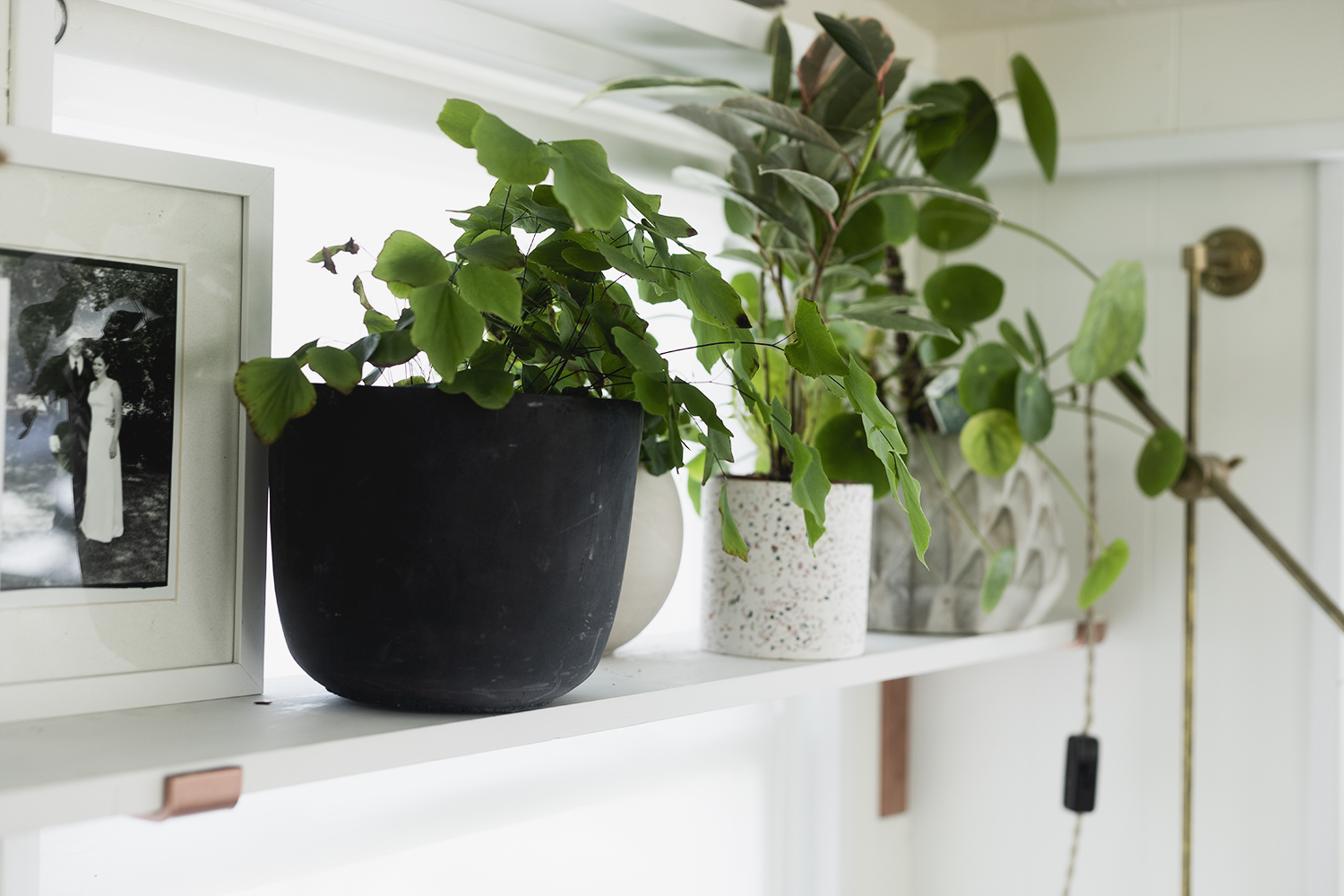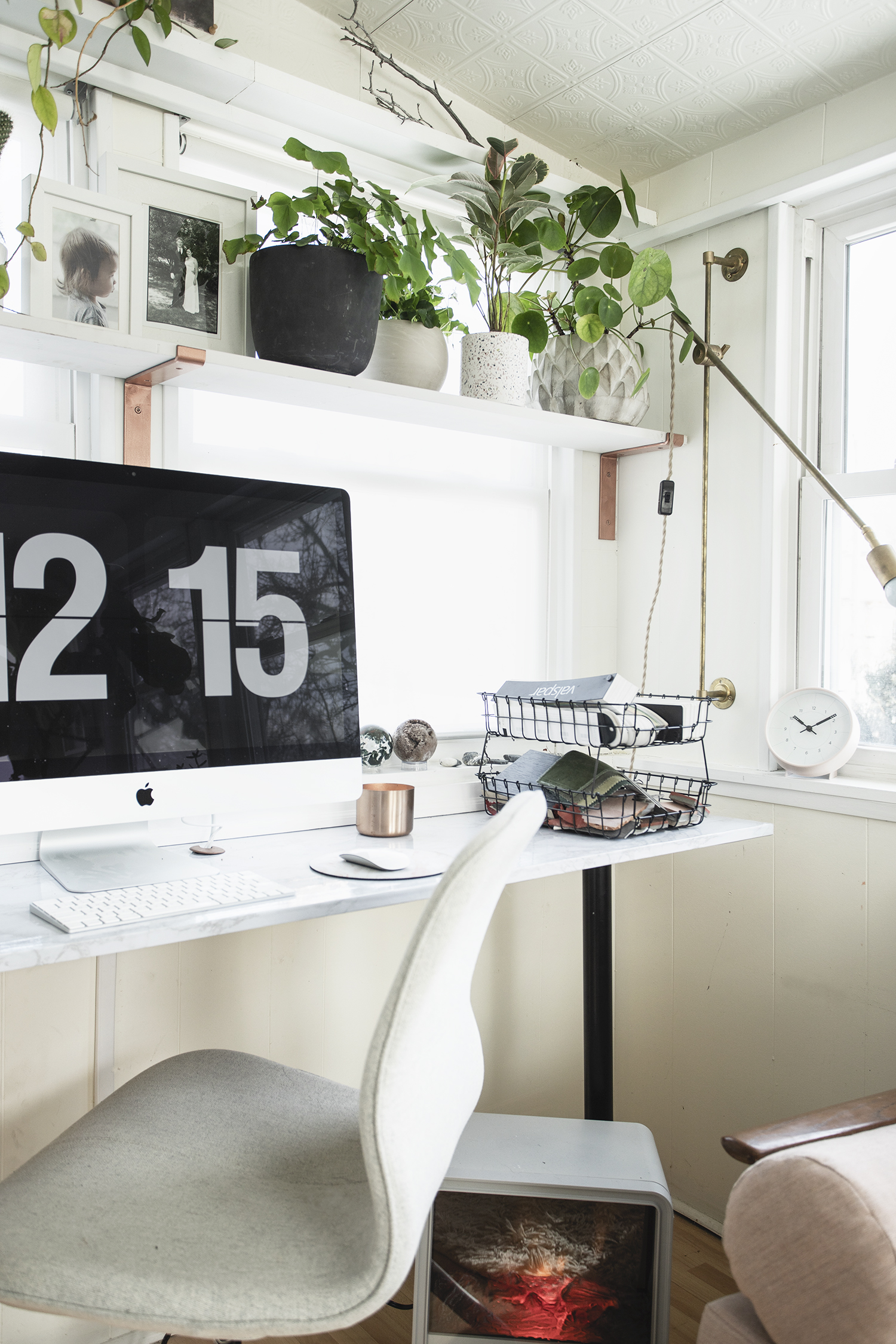 I love plants, I have always loved plants. They make me happy, and I do think they really improve my outlook during the gray winter months. Plants love this sunroom, it gets bright eastern light in the morning, but because the room has sunroom has windows on all sides, it basically stays bright until late in the day. To maximize space for my plant buds, I added a shelf about 2/3 the window. I grabbed three brackets from the home depot and when I got home I spray painted them copper. I've used this spray paint in the past, and it must actually have some amount of copper in the paint because it does seem to age and patina a bit over time. In a few months they'll darken up and look perfect in the space.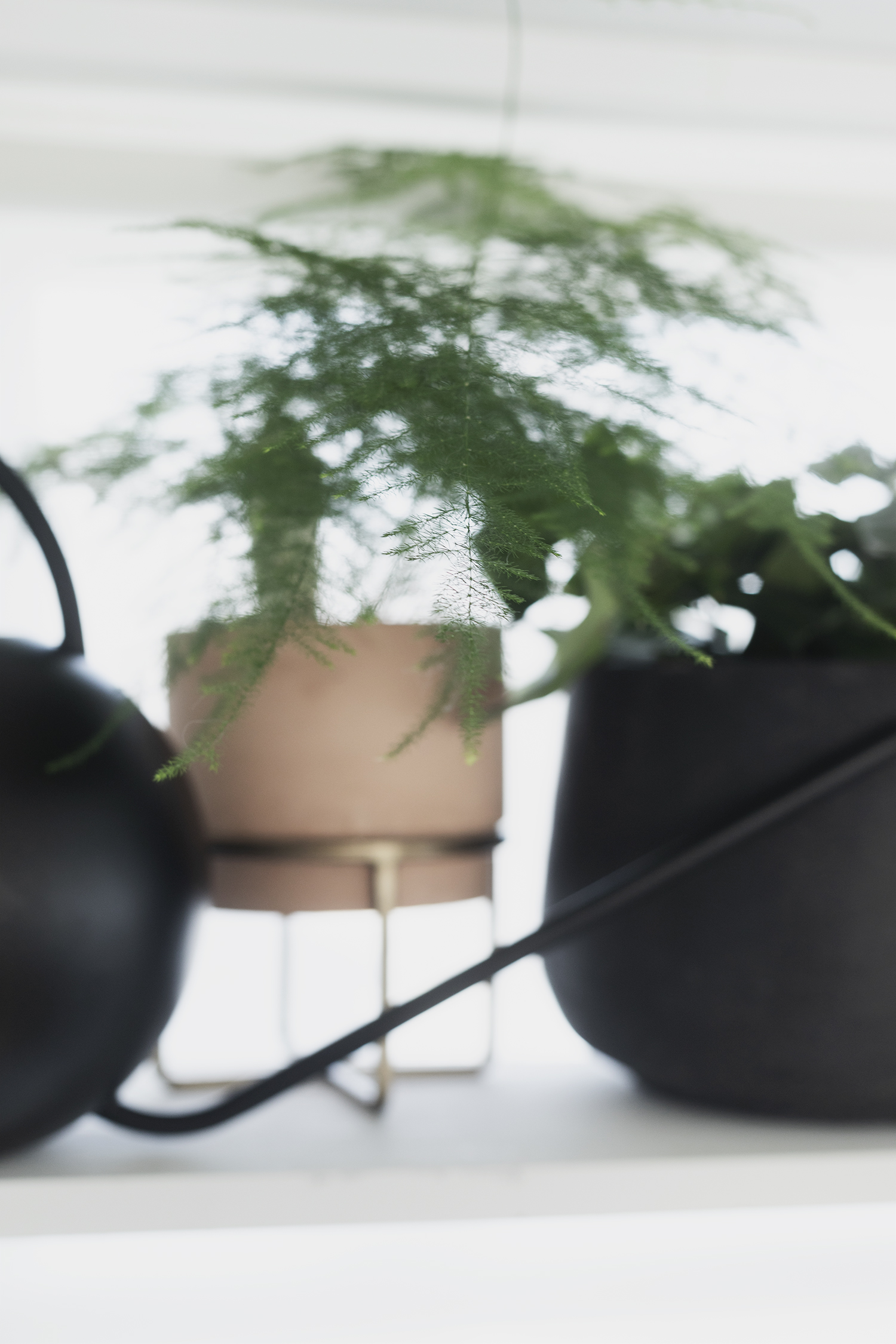 Mini Desk Makeover
Making a two legged desk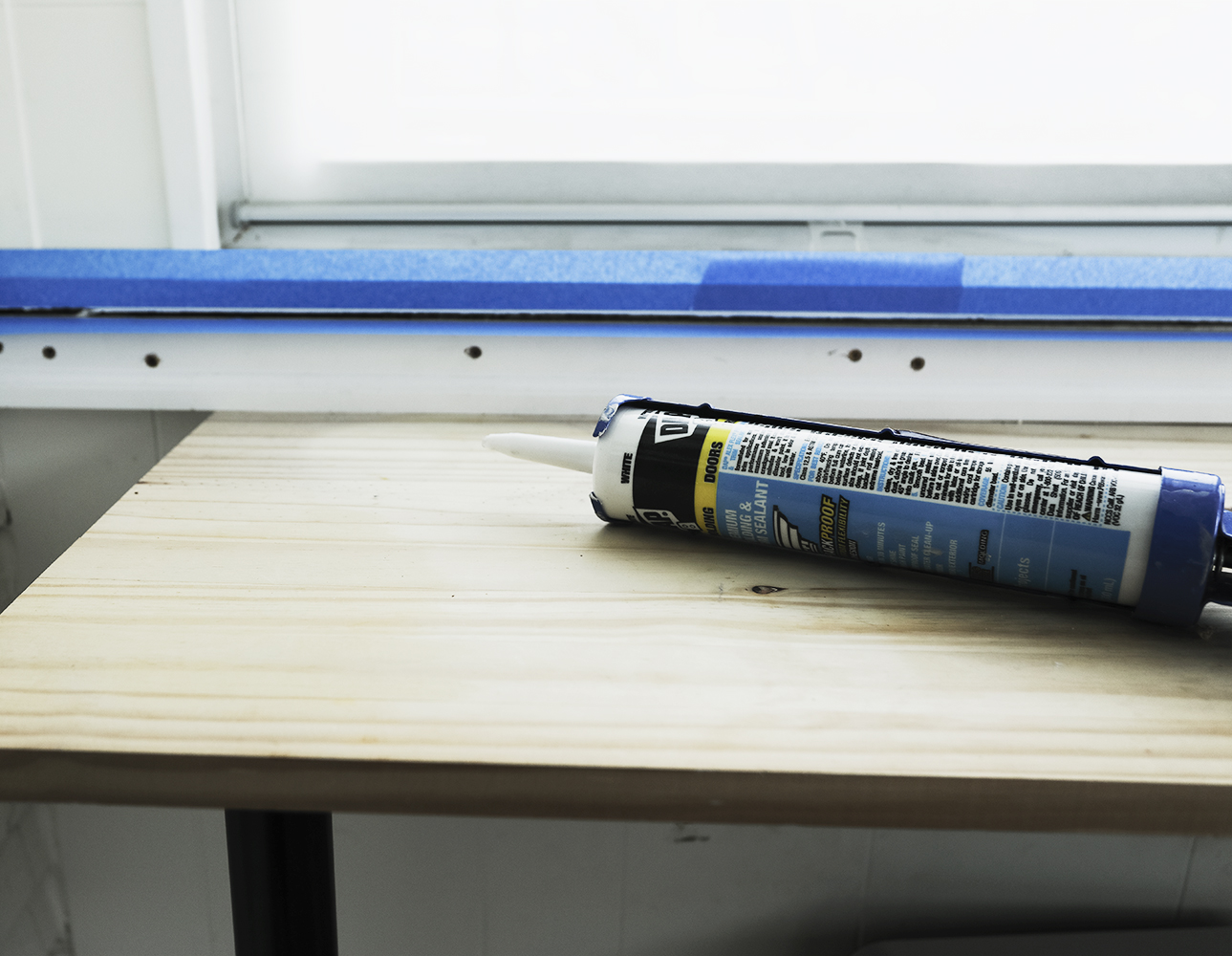 This sunroom is not big, and because it used to be a porch the floor slopes ever so slightly to help rain-water-runoff from back in the day. How does one place a desk on a slanted floor you ask? Well this person decided to use two decorative cleats. There is piece of trim on the top and bottom side of the desk attached to the wall with an exact 3/4″ spacing. The spacing is intended to receive the desk, kinda like a mortise and tenon joint. For the legs, I used adjustable legs that I snatched during an Ikea trip. The height of each individual leg can be adjusted by turning the leg (kinda like a tension rod or adjustable curtain rod) – it happened to be a great solution to my slanted floor situation.
An Inexpensive refresh with Contact Paper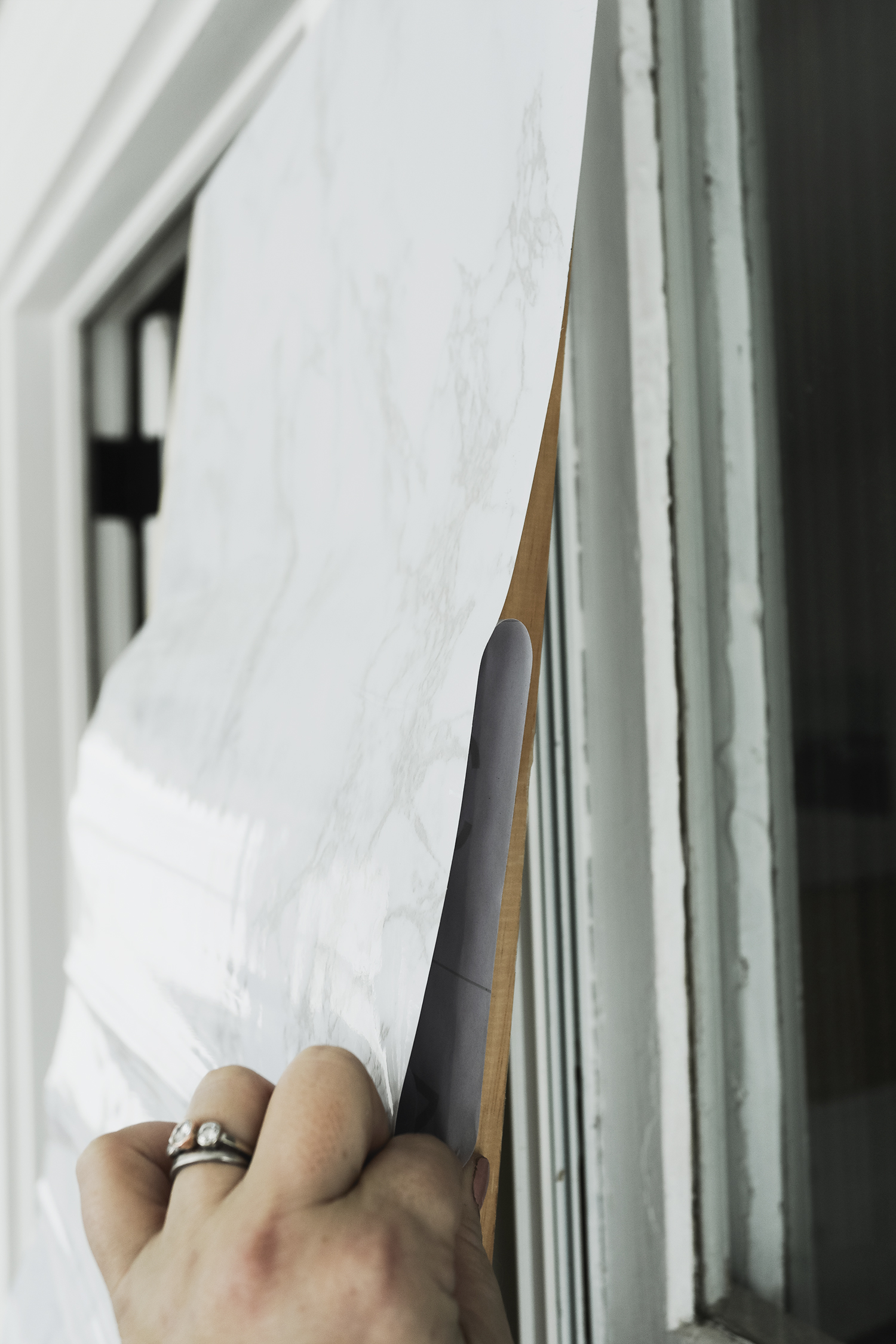 I needed a refresh, and I had a small budget. Oh a whim and in a moment, "eff it" I ordered some
marble patterned contact paper
and I covered my old wood desk in it. Turns out, it's not so bad, and I like it! Attaching contact paper to anything is much like wallpapering. You pull back a small portion of the backing, and then continue to pull the backing off, whilst at the same time smoothing out the surface of the contact paper.
You can see this technique illustrated slightly better in this photo. I left a small sliver of the desk uncovered so that I could slip the desk into the groove on the wall created by the trim.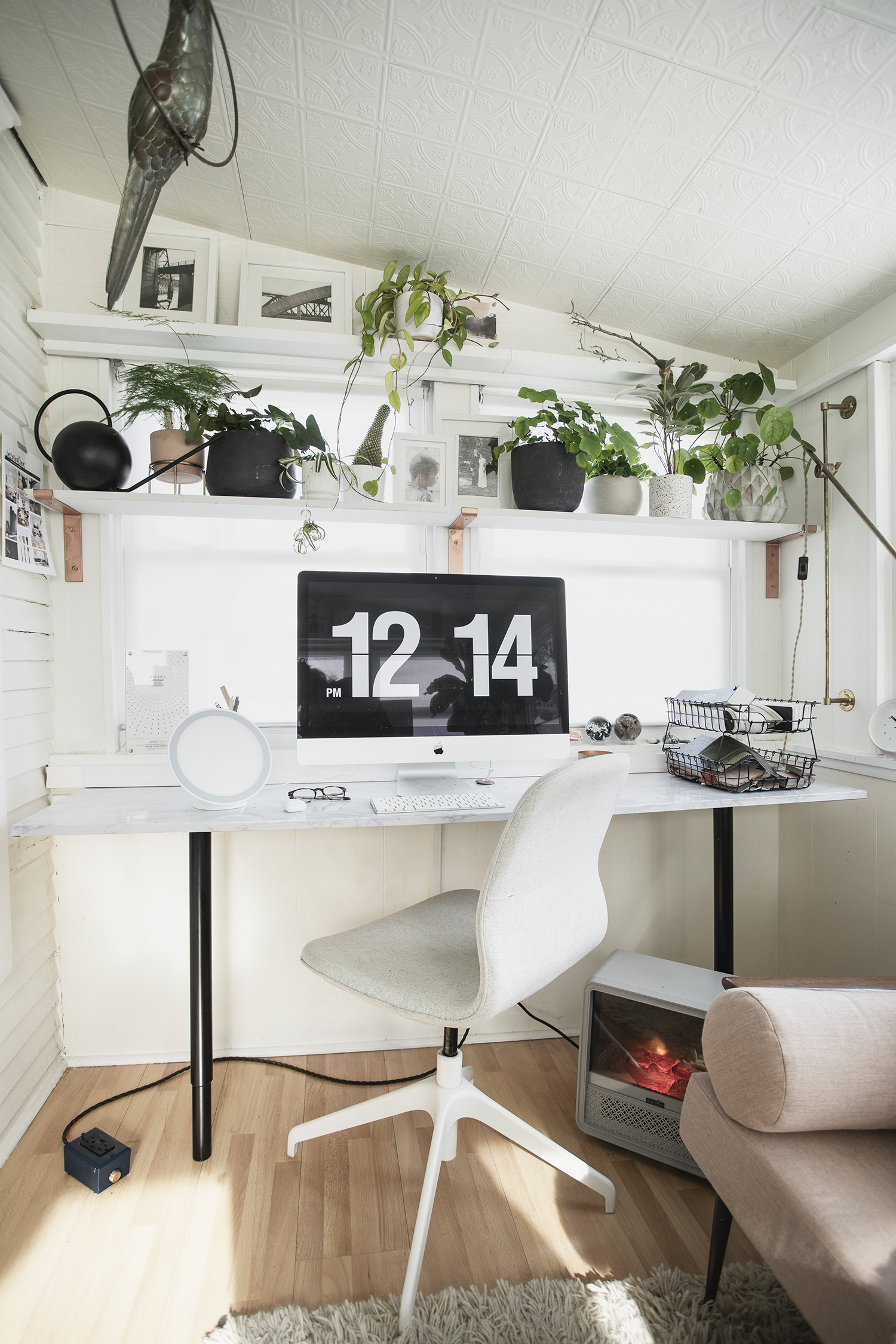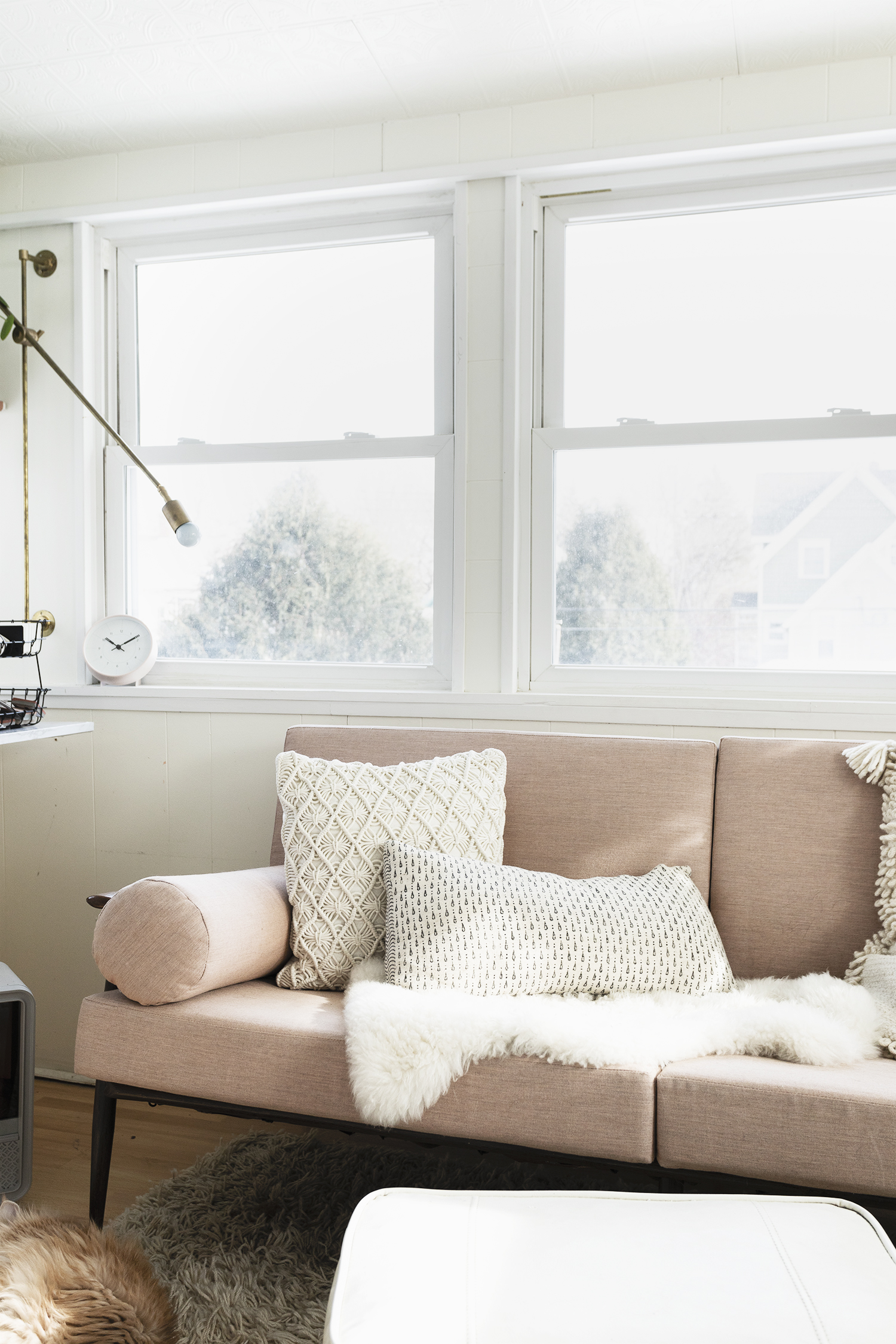 I never shared with you guys that I updated my mid-century sofa with new cushions. We've had this sofa for 10 years, we bought it right when were moving in from CL. If you've been here since the beginning you might remember when I took on my first big upholstery project and created new cushions because the frame had a super cool look, had great lines and the sofa is the perfect petit size of our porch. I love the blue sofa cushions I sewed (I still have them in the attic), but after finishing up with designing Brim (a local restaurant here in Minneapolis) I was smitten with the fabric (sunbrella, cast petal) we used for their built in banquette. I ordered the custom cushions online, and I love how they turned out, plus I didn't have to sew them. Sewing stresses me out.
Before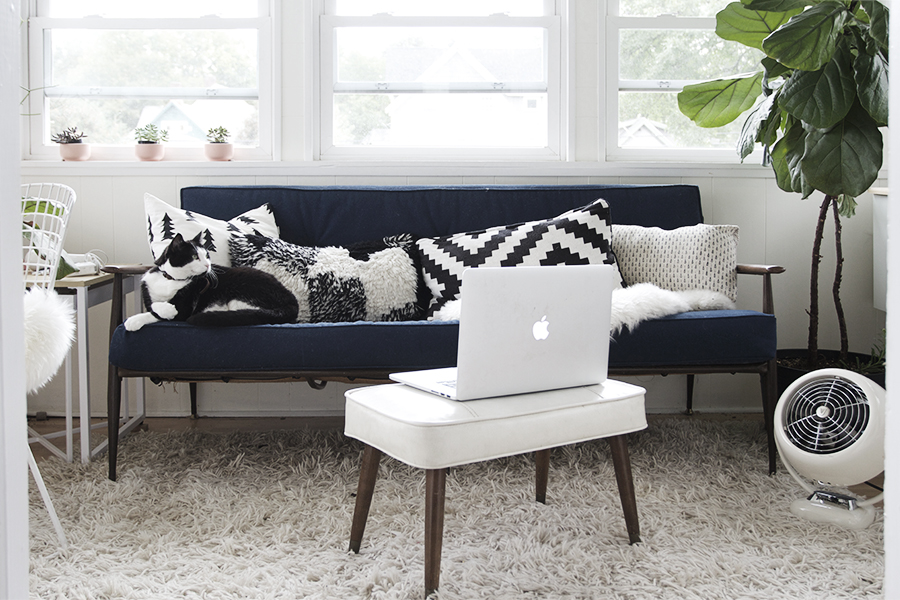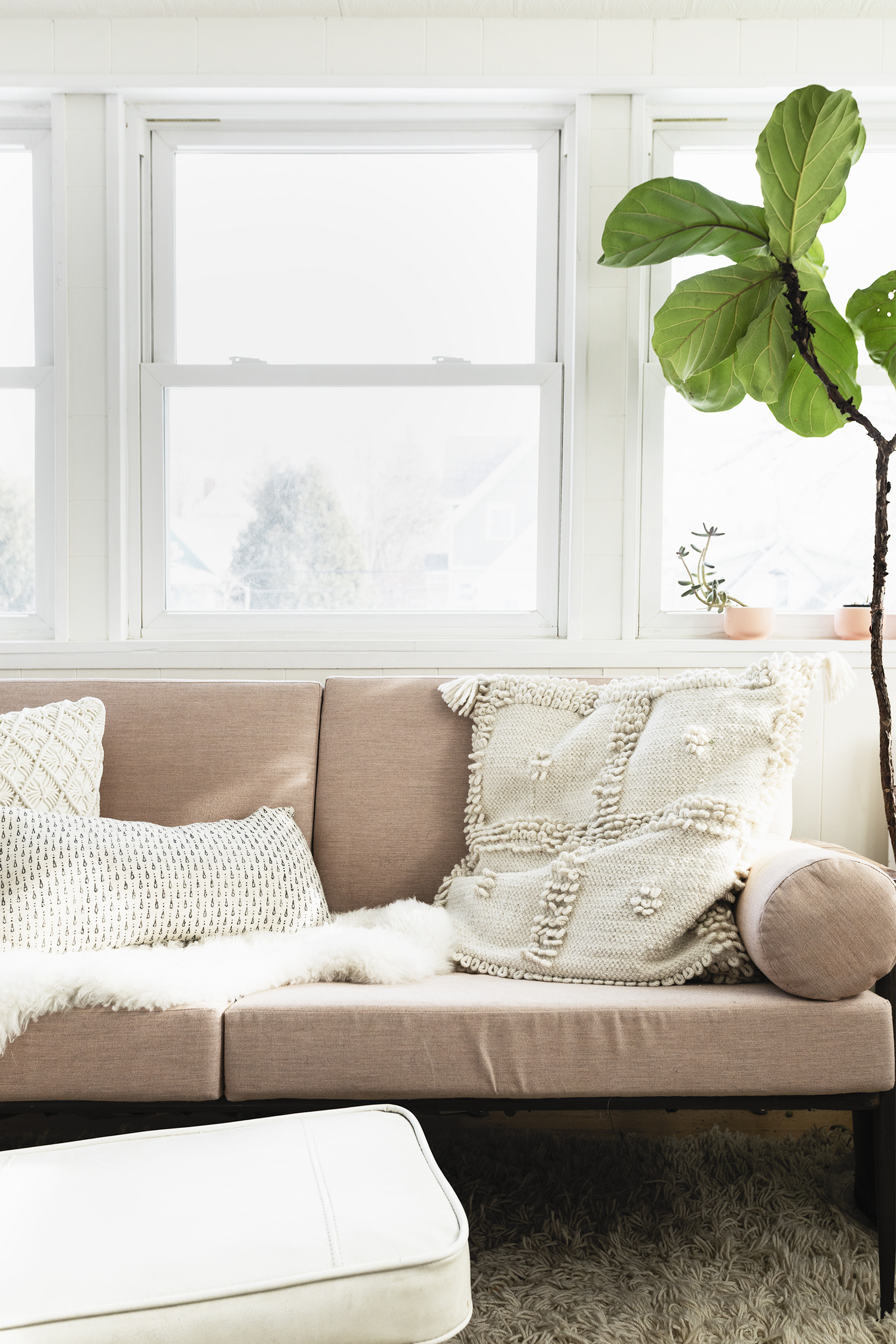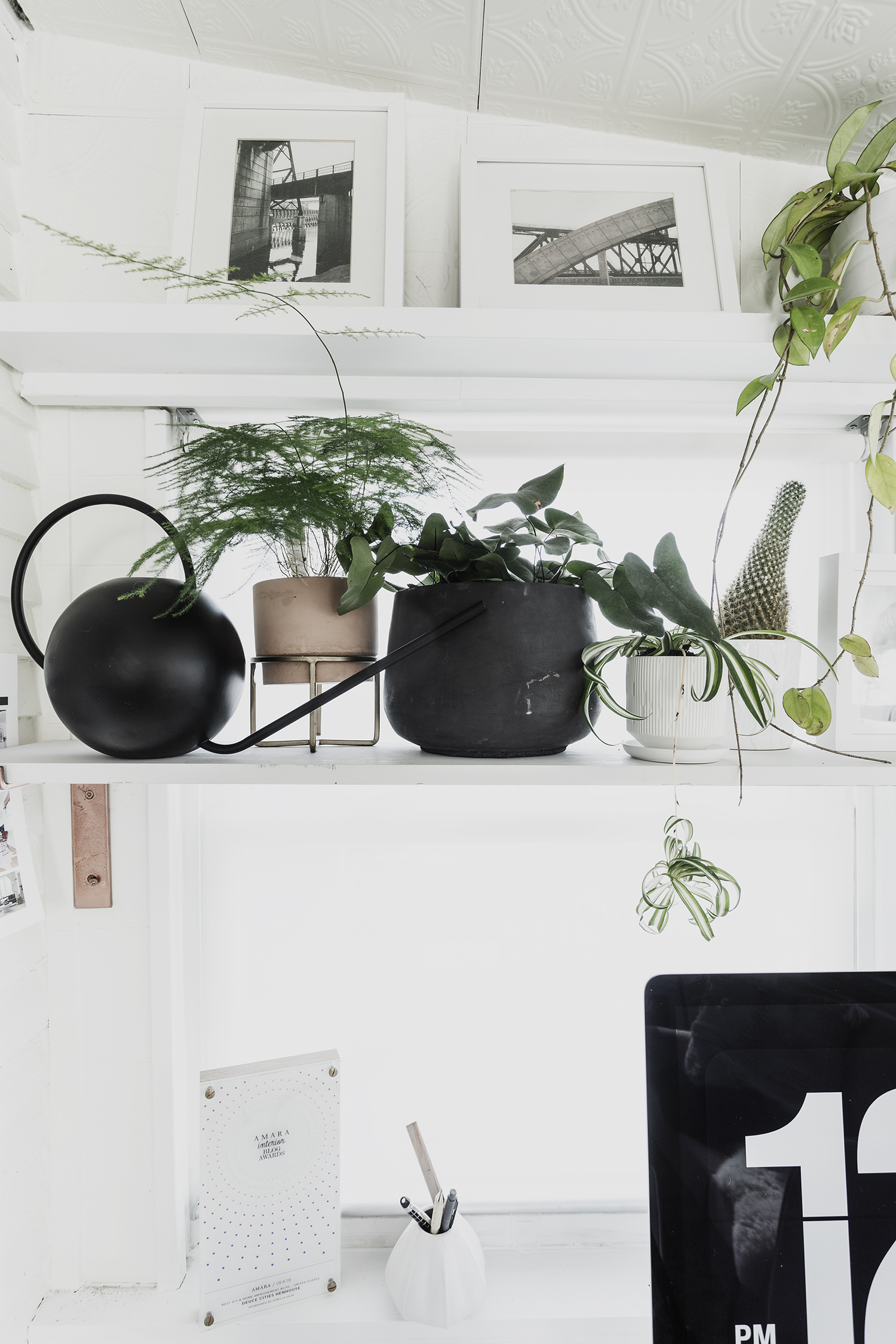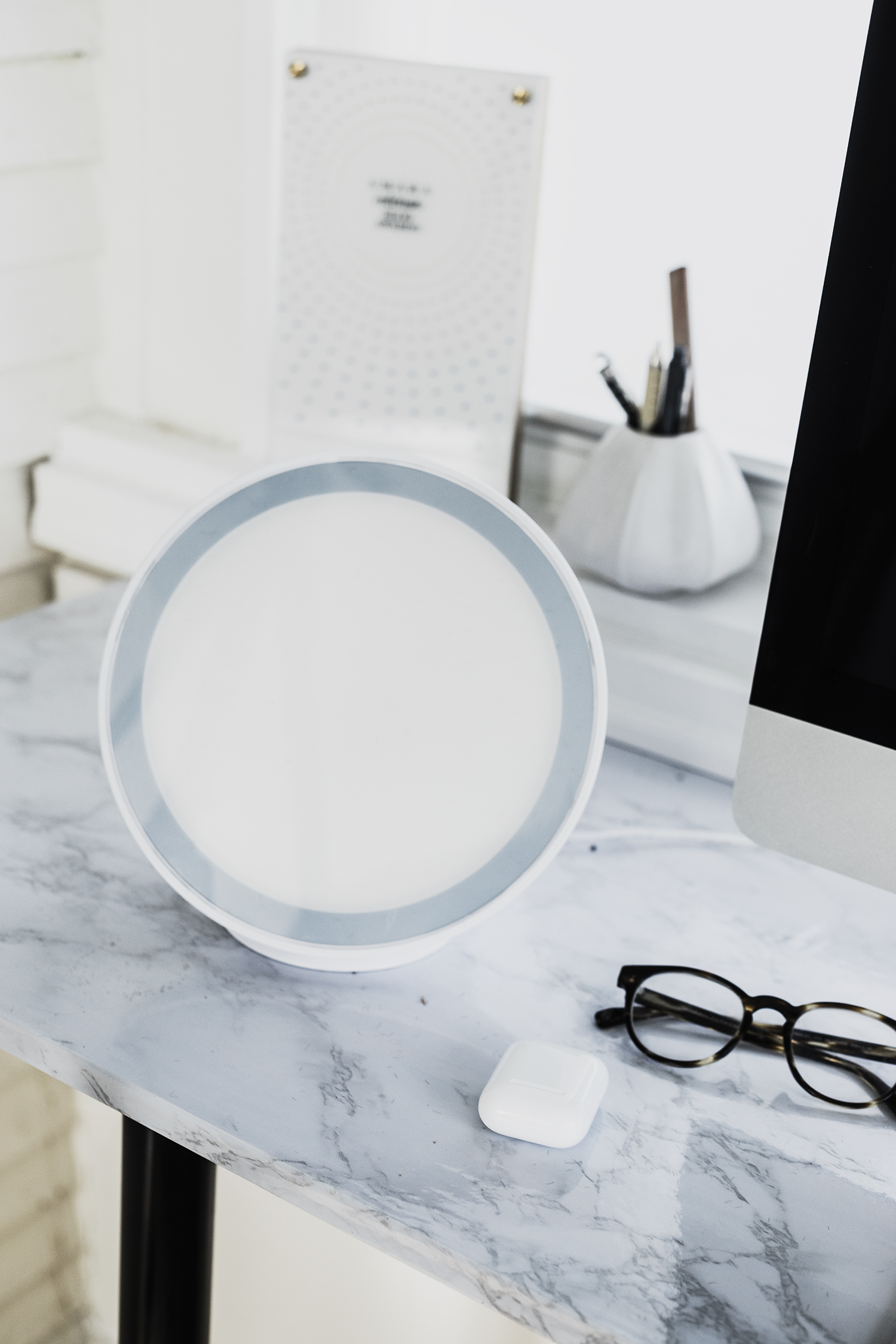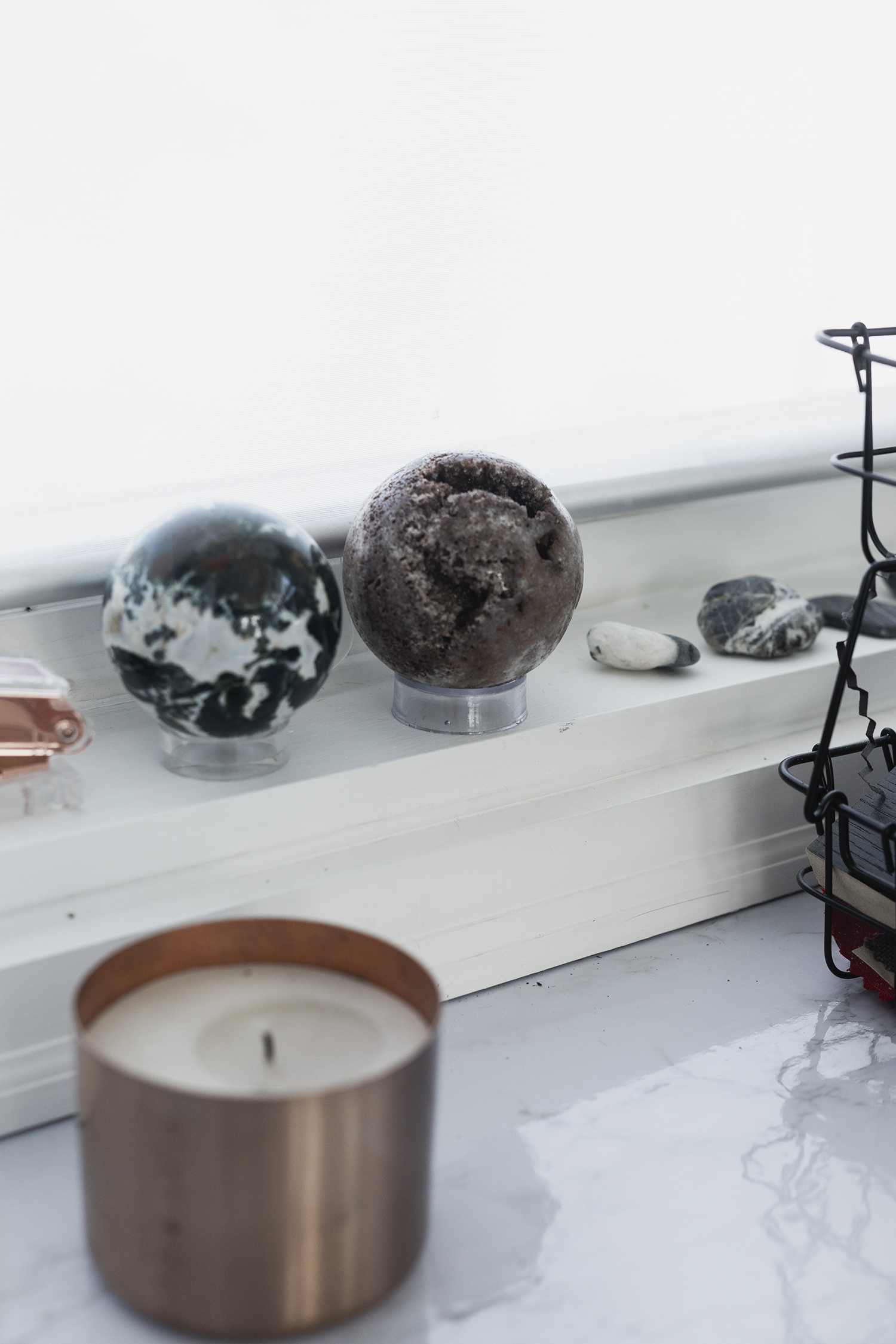 You might have noticed that weird round thing sitting next to my desk. That my friends is a lamp that helps with the Seasonal Affective Disorder (aka SADZ (I call them SADZ because everything is a joke to me)). I have known for years that the gray winter months affect me in a bad way. I usually spend February, March and sometimes April in a "rut" which makes it hard to do life. I have also known that they make lamps that help combat the symptoms of SAD(Z) but I have never done anything about getting myself one because generally they are super ugly and obnoxious AND typically when it occurs to me that I need one is when I'm already in the middle of a SADZ breakdown, and at that point doing anything for myself is very hard and basically impossible. I caught wind of this new lamp before the SADZ hit this year. The company who makes this is based right here in Minneapolis! I'm so grateful that they came up with a minimal modern SAD lamp for me that works really well. I've been doing light therapy every morning while I begin my day and I have not seen any SADZ symptoms yet. I haven't felt overly happy either, but I have noticed that when people around me complain about the gray days and how many there have been a row, I am blissfully unaware of their plight.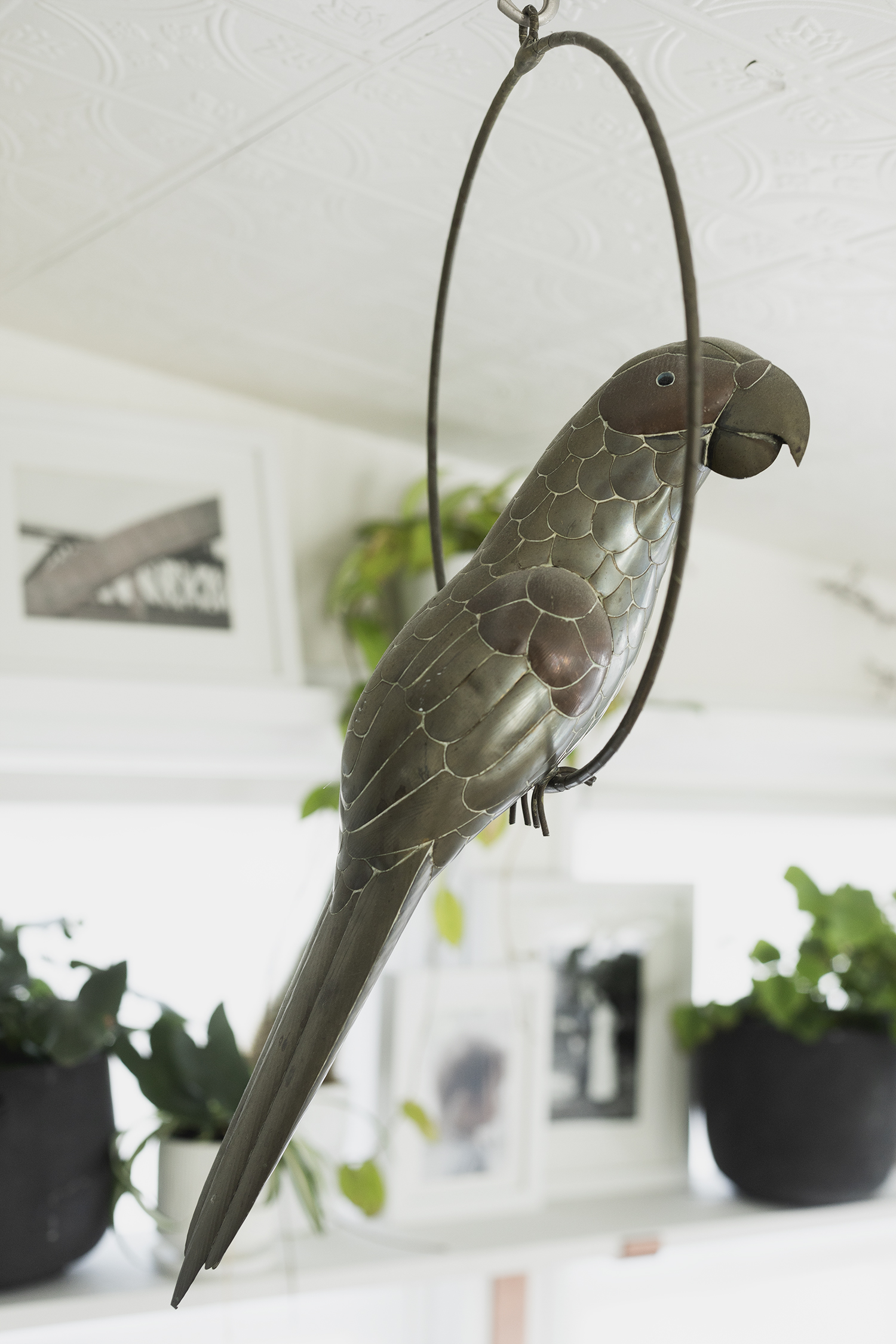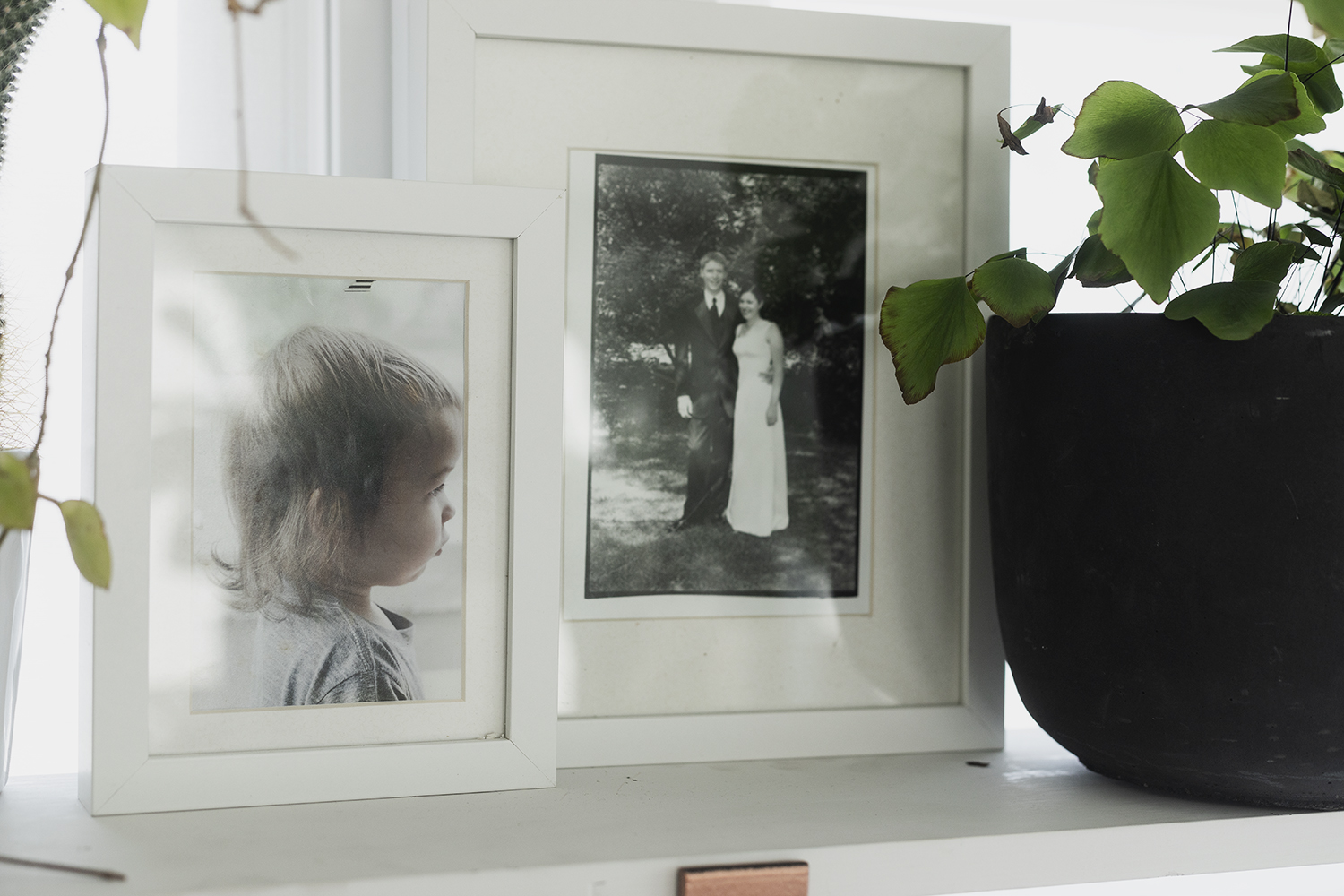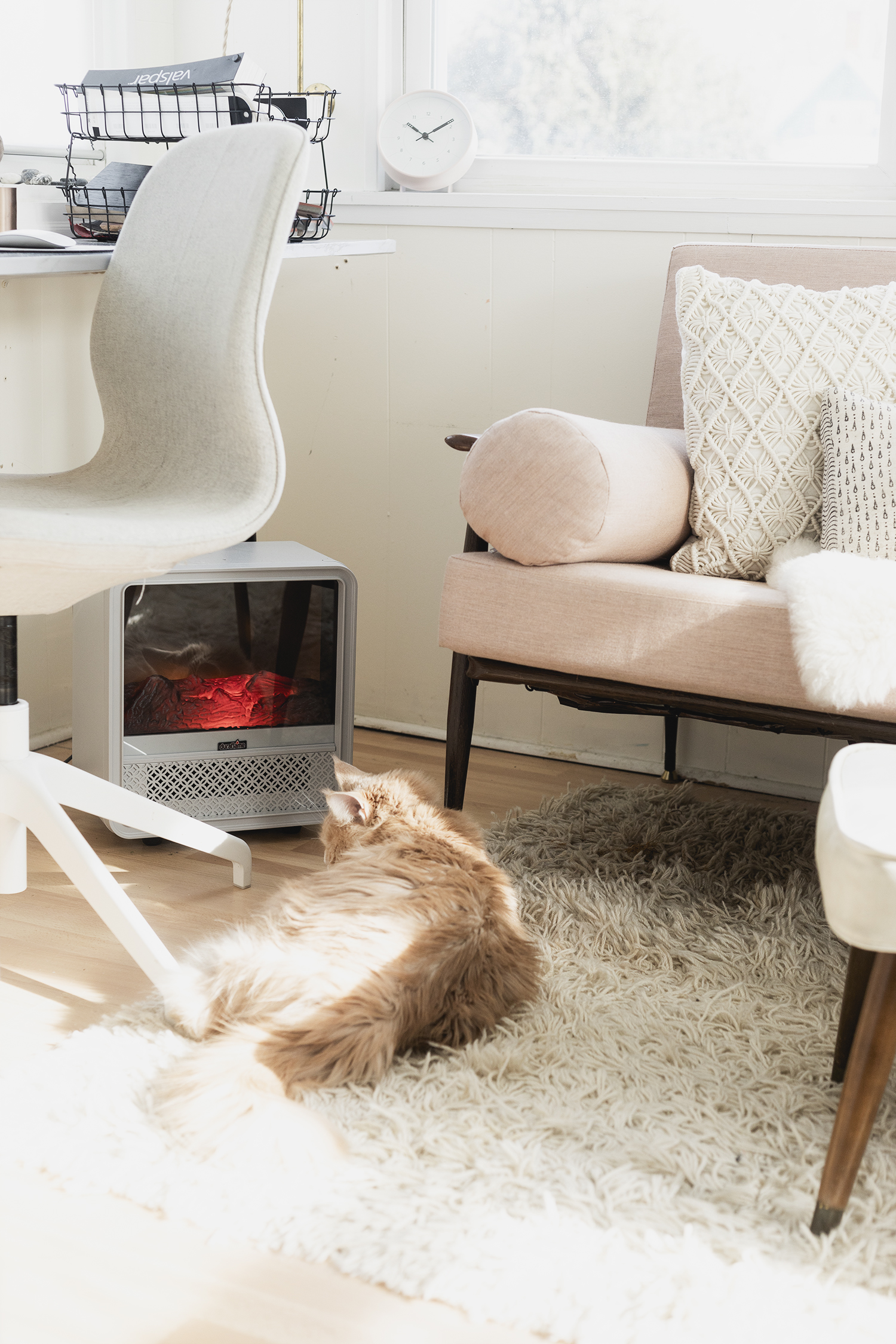 I make the cats work for me!
Cord Wranglin'
Cocoon Cord Keeper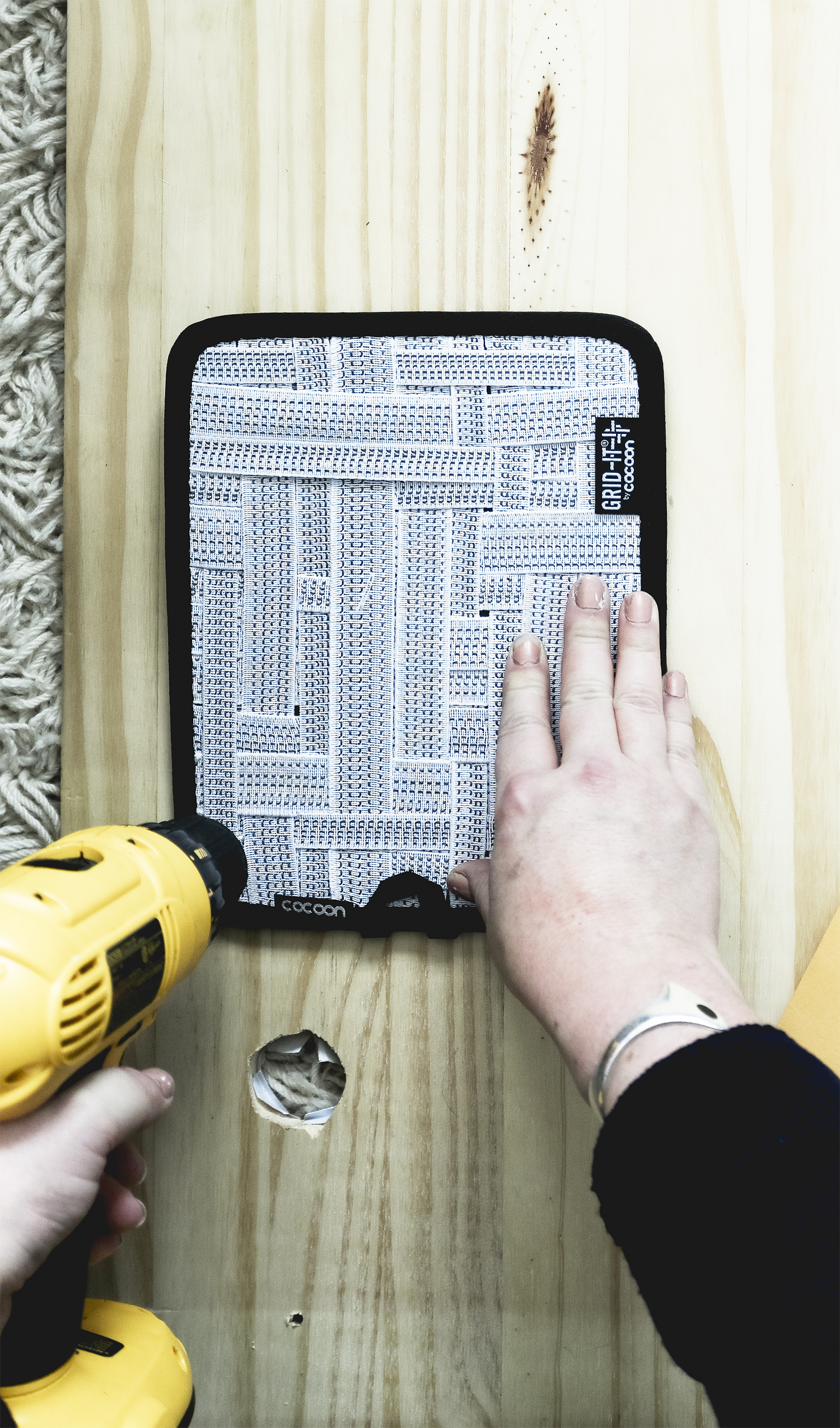 I attached one of these
cool cocoon cord keepers
under my desk Ala my pal Ash, at
The Gold Hive
. I used four 1/2″ screws to attach it! I love this thing, and I want to use it in all sorts of places.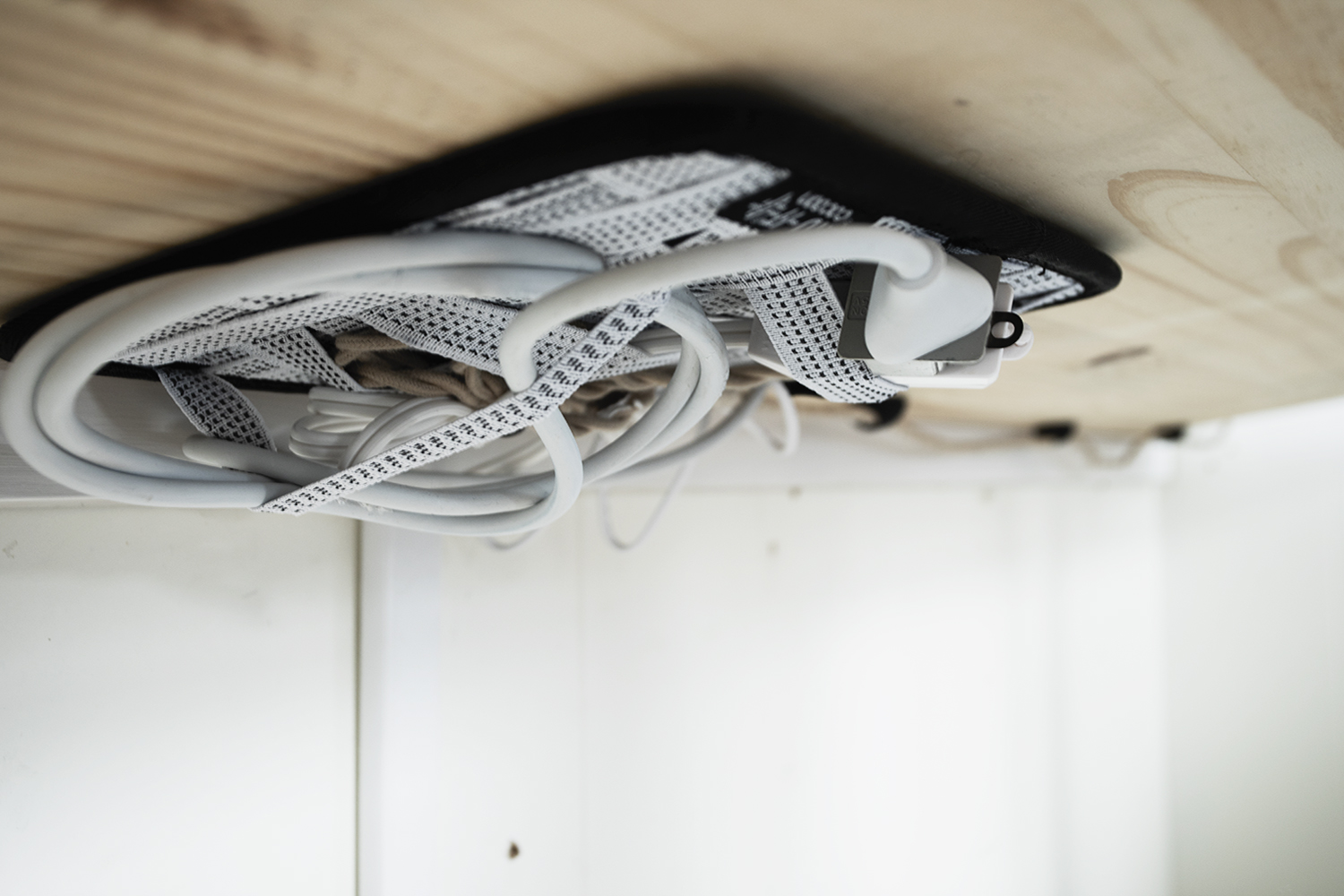 Here it is, in action – keeping all my cords nice and organized and held tight to the bottom of the desk.
Behind my imac I installed this handy little
hard drive deck
– it's the perfect thing to stow away and store my hard drives. Now I don't have to look at them sitting out on the desk and the short USB cords stay hidden.
Stay tuned for part two (coming this spring) where I tackle the big storage solutions for the business side of the office.

Sunroom Archive