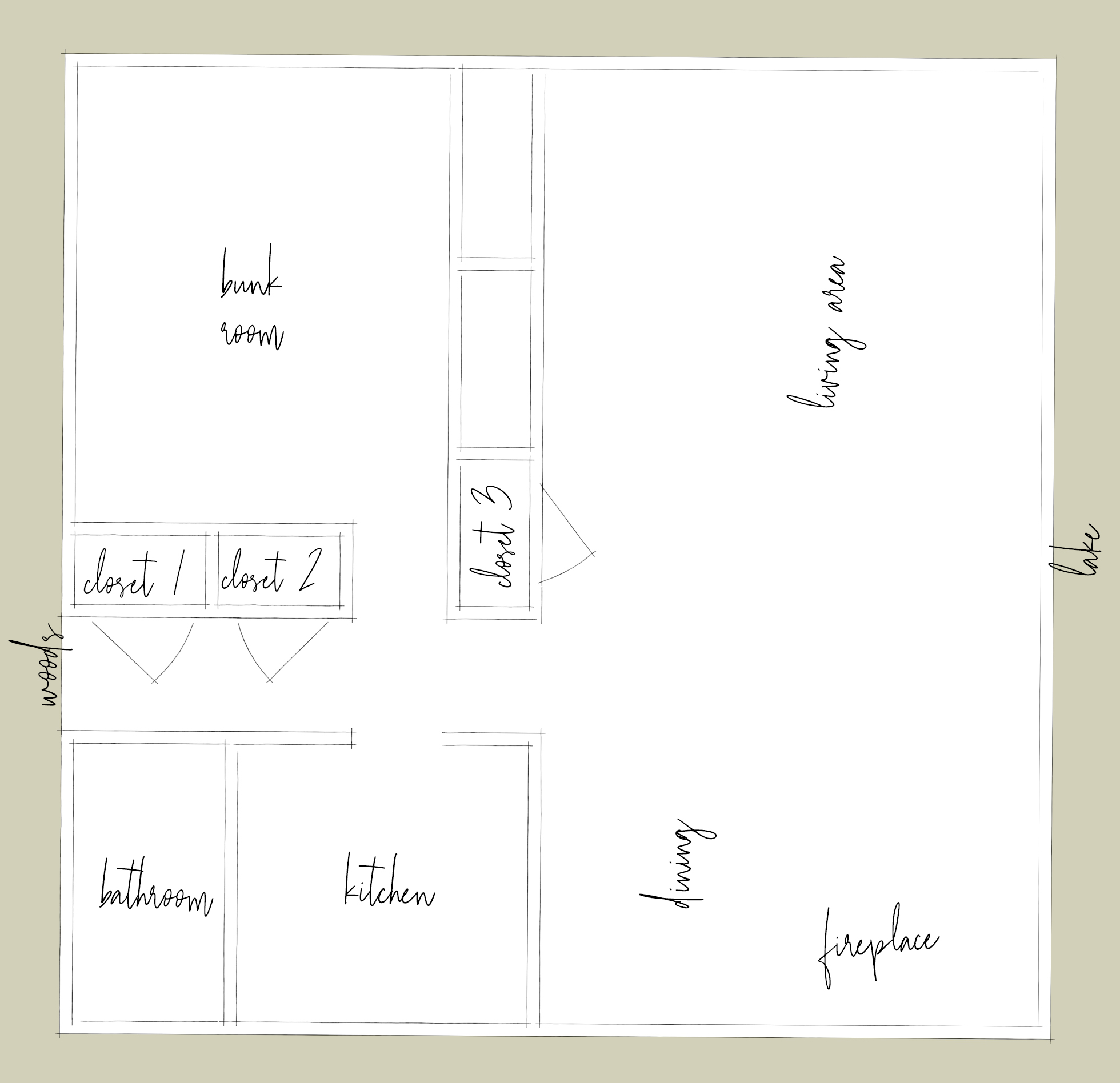 Being that it's the last day in January, I wanted to squeeze in a post about my plans for an upcoming organizational project. I know you have all heard of "spring cleaning" but honestly, what gets me through the middle and end of winter are indoor organizational projects. For me it helps to combat some of the SAD feelings and gives me some control – I can't control the weather, but I can make my environment work for me!
I know I should clean out my bedroom closet, but I think it would be way more fun and satisfying to solve a major problem for us that we are having at the cabin with flow and organization. I'm starting out by sharing a floor plan with you. The main areas of focus for this floor plan should be the three closets in relation to the kitchen. If you don't know the story, we purchased the cabin in its entirety. Not only was all of the furniture included, so was everything else! These three closets still have stuff from the previous owners in them. I know, right? It's an out of sight, out of mind sort-of-a-thing.
Current Situation
Closet 1 was full to the Brim with old linens – these items were removed and donated pretty quickly. This closet has shelves in it, so we immediately began using this closet as our pantry and recycling center.
Closet 2 had a giant microwave inside of it and tons and tons of sprays and bottles for anything from toilet cleaning to wasp control – all of it came with the cabin. We cleaned out the lower section of the closet and have been using it as a coat and boot closet for our kids. We're learning quickly that piles of snowpants and boots spilling onto the hallway floor clog up the flow of traffic in a much used hallway.
Closet 3 is the largest of the three closets (by 4″!) and opens up into the living room. This closet currently is a mixture of our cleaning supplies and their cleaning supplies. Imagine any sort of cleaning item that involves a pole kind of tossed into a closet all willy-nilly like, and that is what this closet is. Basically it's a game of pick-up-sticks, but with very large sticks. There is also an ironing board, a heating pad and bunch of baskets full to the brim with someone elses linens and beach towels – please don't judge me.

Bunk Room Closets
The bunkroom closets were the target of our organizational focus last year, and of course I didn't blog about it. The left closet opens to bedding storage above, and the lower half is a desk for the kids. We were at the cabin a decent amount last summer and this desk did get use. It's been nice for the kids to have a space to drop their stuff and feel like they have a personalized corner of the cabin. The second closet is floor to ceiling shelving and drawers. My folks have a large drawer for their personal effects so they don't have to pack and re-pack everytime they come to the cabin. My mom does NOT like the chemex so she has her own personal coffee maker in her drawer (LOL!). We have toys for younger kids who visit us, books, legos etc. All neatly tucked away. We love it!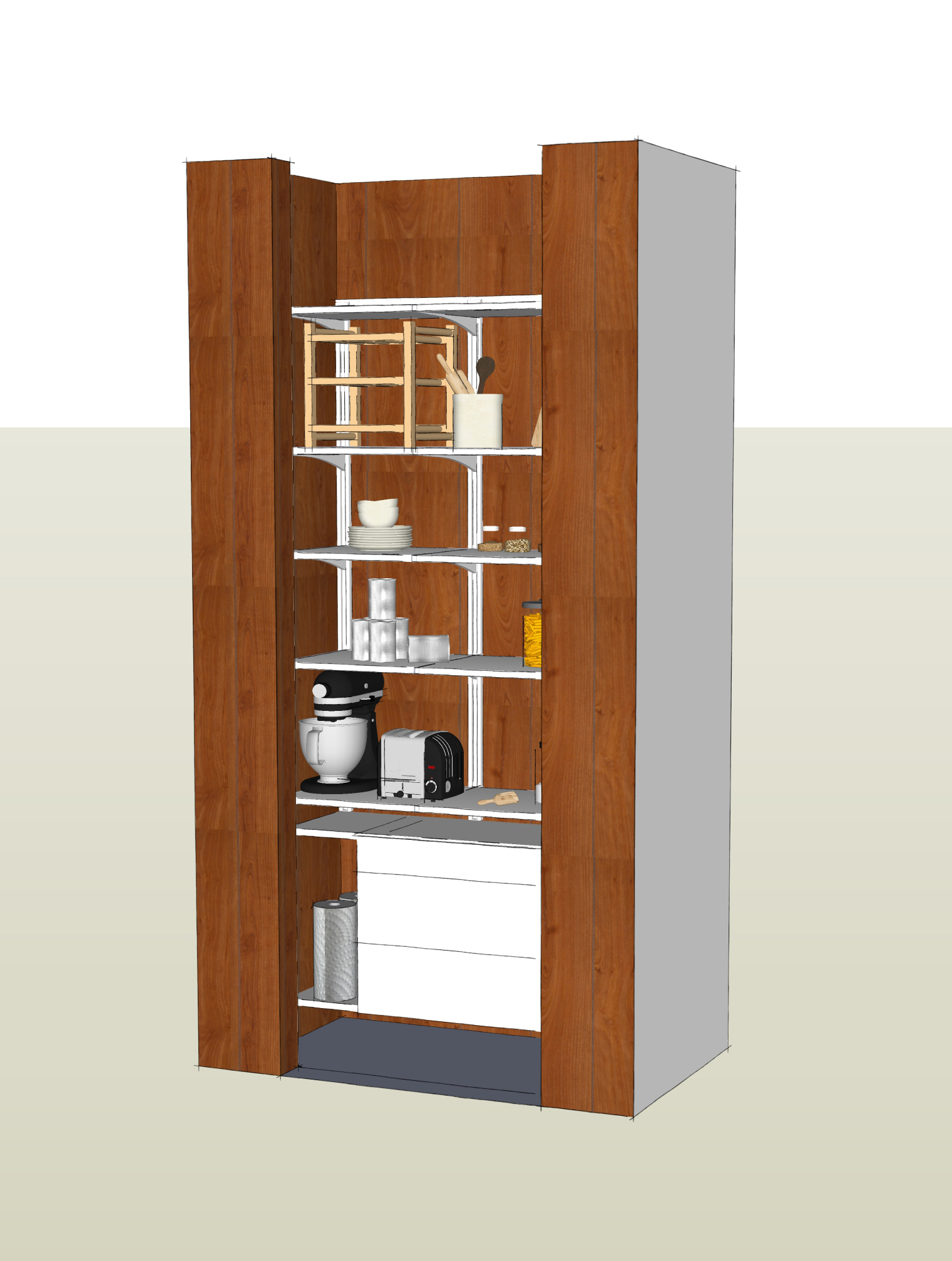 The Plan
Closet 1 will now become the cleaning supply / recycling center closet. Our Vacuum, brooms, dusting wands and window cleaning supplies will all live here. In the lower half we will get labeled recycling bins and we will be very organized and efficient. I would also like to make a home for some of my tools, at least the tools that are being used in the moment for a specific project, right now I just pile them in corners of the cabin and that isn't working for us. This closet will be the least used, so the door won't have to be swung open half of its life like it is now. Won't that be nice?
Closet 2 will become our pantry. The door of this closet swings fully open allowing for better access to the space. It is also the closest closet to the kitchen which will make the flow so much easier for whomever is the chef du jour. This closet will include an Ikea wall cabinet with drawers being hung low so that we can fill it full of all of our spices and less frequently needed baking items. At home we have a deep drawer dedicated to baking items, and it works so well for us. The set of drawers will be hung in the center of the door opening so that they can be pulled out all the way. I will flank the sides with some DIY shelving that we can stock with paper towels, baking sheets, and cutting boards. Above the drawers will be the adjustable shelf Algot system from Ikea. We have used this system in both the bunk room closets for storage last winter and they have kept us so organized. We love them. They are so similar to the Elfa shelving system from the Container Store but about half the price. The Elfa system is way more customizable and has more components, but if you're up for cutting some of the metal structural bars (which is easy to do with a multi-tool or metal blade jig saw) you can make the Algot system become a lot more customizable – just like all good things from Ikea.
Closet 3 will become the coat closet. I know that this seems like it should be nearer to the main entry point, but hear me out. This closet will allow 6 kids to pull out all their snow pants and boots, hats and mittens and get dressed in an open area, not a hallway. The Sliding doors on the lake side are where the kids usually come in and out of the cabin, so this closet would be centrally located between the two doors. This closet is also large enough that I could include space for summer gear, like life vests and beach towels making it a seasonal coat closet, not just a winter coat closet.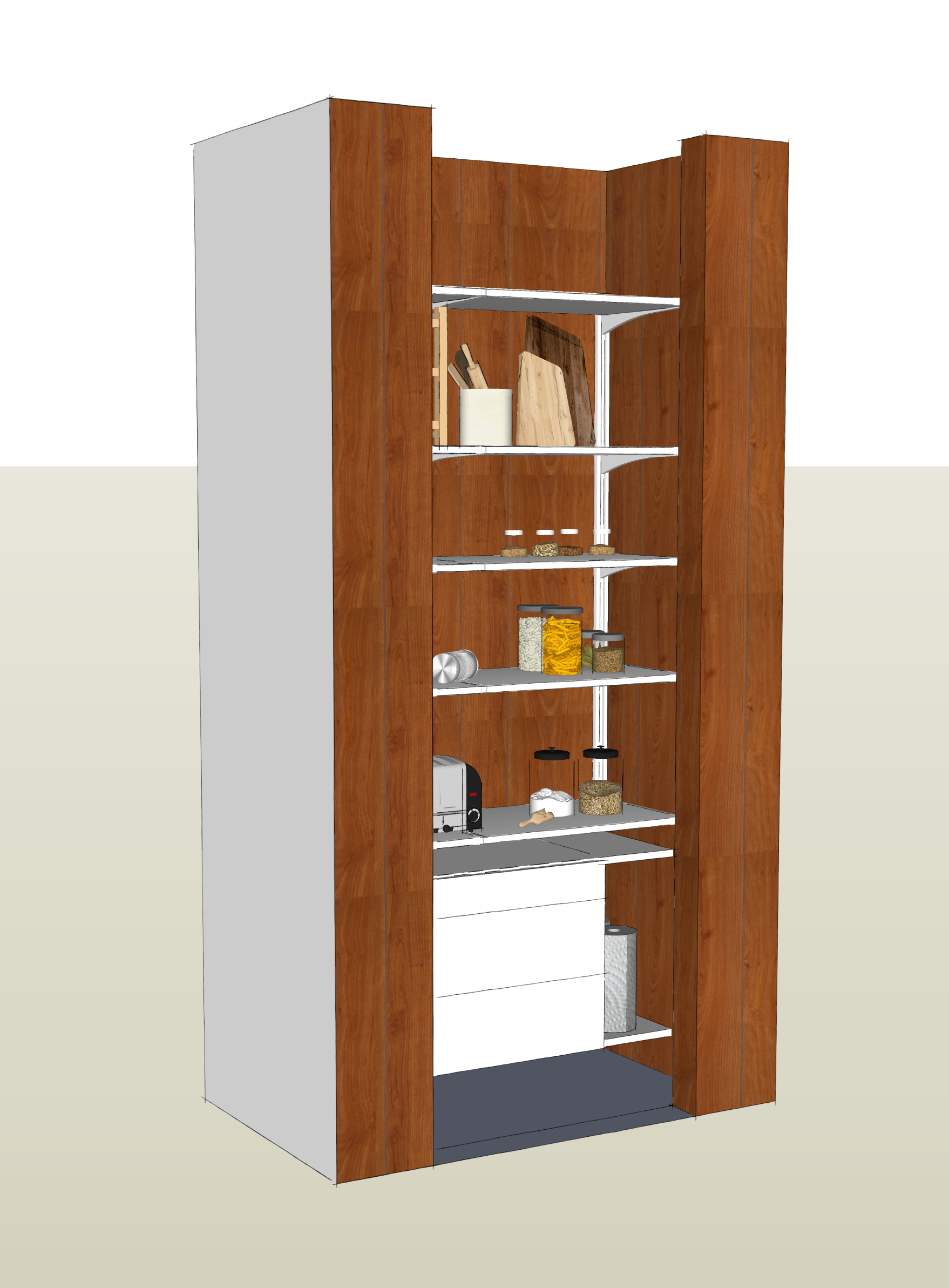 We are tackling these three closets in phases and we are starting with the biggest job, the pantry. It's gonna be a game changer for how this cabin operates and I can't wait to get started. I mentioned above how we plan on having the new shelving and drawers work for us, but we are also hoping to get way organized with our vessels. One of the biggest problems at the cabin is re-buying items that we think we maybe ran out of, but didn't! There are like a hundred cinnamon toast crunch boxes, five hundred bags of stale marshmallows and 1000 boxes of waffle mix in the pantry right now. We're going to decant almost everything in hopes that it will save us from overbuying and overfilling the pantry. We'll have a running shopping list so that we know when we run out of something. The other thing I'd like to do is have a dedicated guest shelf. Our guests are sweet and love to leave everything they bring to the cabin with us. We appreciate it, but don't need it and we hope that having a dedicated shelf will encourage to pack out too.
There is an outlet in this closet so we can easily install a LED lighting system to see what we have. I want to install a lighting strip under each shelf and inside the drawers so we can always see and know what we've got going on for soy sauces. I think that a big part of our struggle with the pantry being in Closet 1 for so long was that it was dark and the shelves were deep, and items would just get lost in the back of the closet. We put battery operated lights that go on when they sense movement in our bunk room closets and I think it was a great thing to do. Highly recommend lights in all closets always! We also need to get a nice foldable ladder because I am not a tall human and it would be nice to see and reach lesser used items on the upper shelves.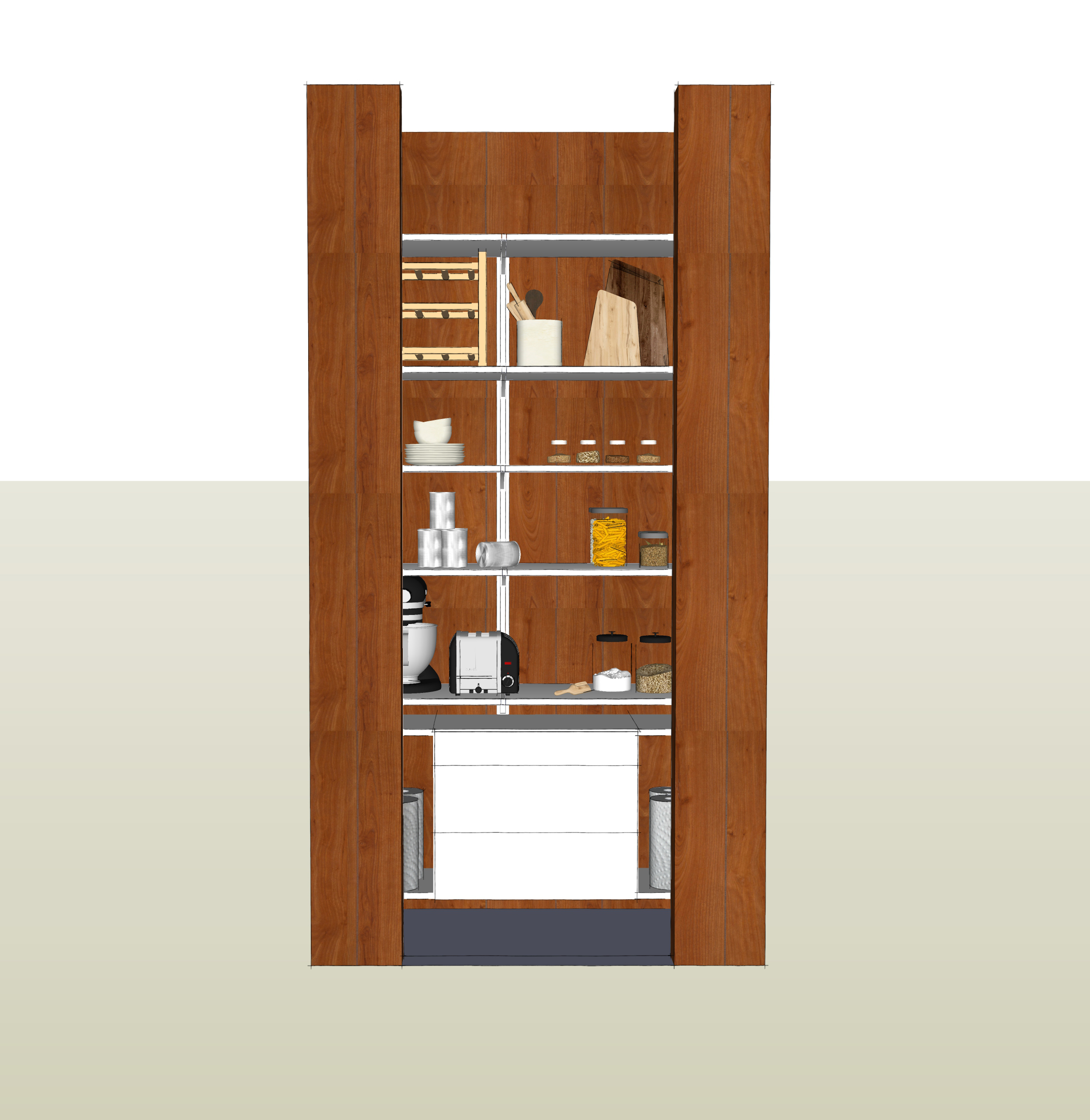 We haven't been to the cabin in over a month, and we have plans to get back there soon. I'm really looking forward to an organizational weekend – it'll feel so good. What are you guys doing to get organized in the new year? I'd love to hear what you're up to, or if you have tips for me on items that are a game-changer for your pantries. Have a great weekend!