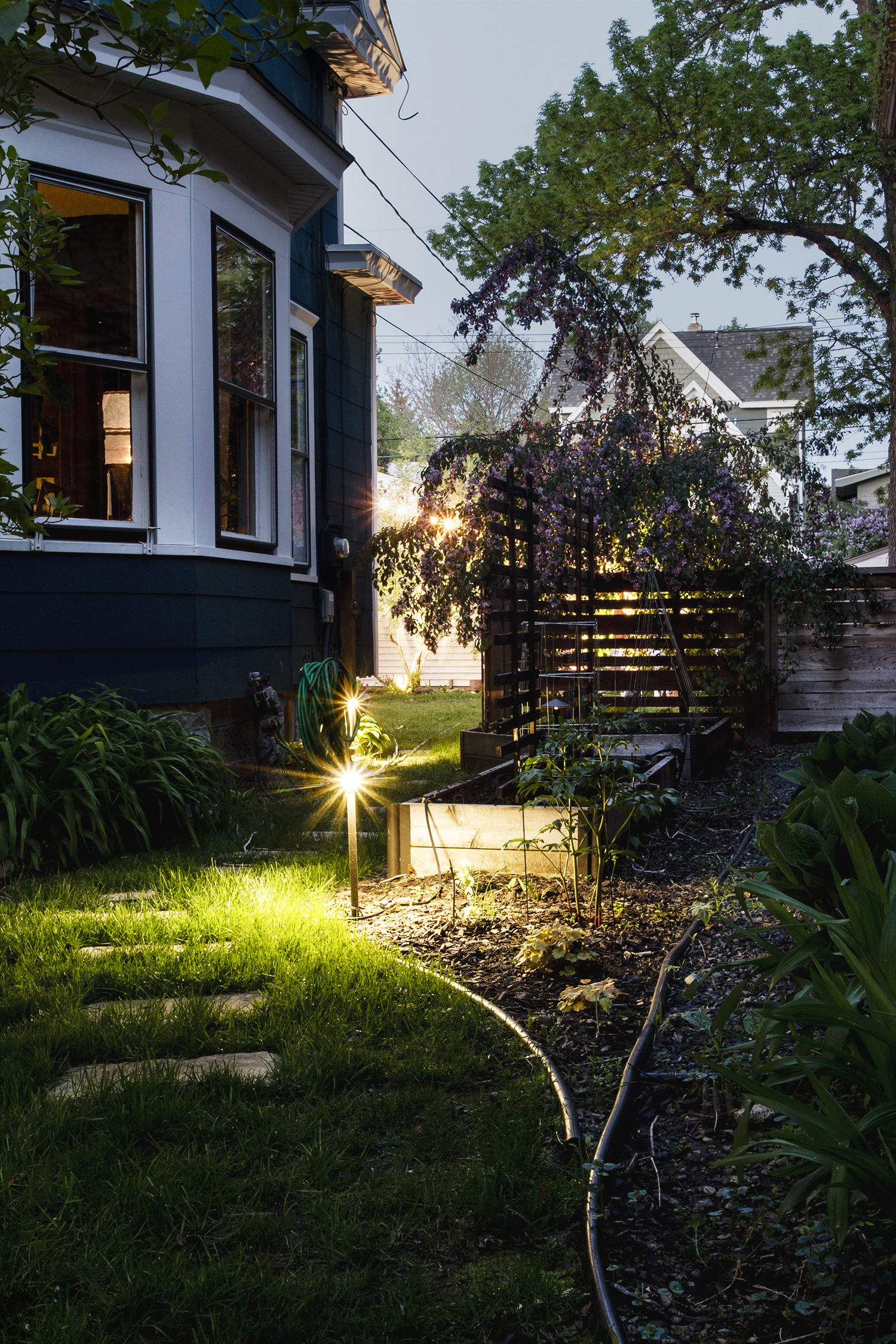 Hey guys! Last summs I installed low voltage outdoor lighting in the front and side yard of our house. If you've been reading for awhile, you might remember that few years back I had installed landscape lighting in our backyard, and I knew it was something that we needed to continue in the front of our house as well.
You guys are lucky that I was so distracted by my cabin last summer. Instead of actually sharing this stuff as it happened like a regular blogger might do, I stock piled all pics from projects I was working on and kept them secret. It actually works out okay though, because now that spring is right around the corner and we're all gearing up for summertime projects, I can share these with you! It was all part of my master plan, you see.
Landscape lighting brings so much curb appeal to your home, and it doesn't even matter whether or not you have pretty day-time landscaping. You can just point an spotlight at whatever, and it it makes it everything look good and dramatic.
Here are a few questions to ask yourself before you start a project such as this.
☰ Do you have an outdoor GCFI box?
☰ Can you use an edger to dig a small channel for a cord to run in?
☰ Do you know how to operate a screwdriver?
☰ Can you use your hands to clip a small cable connector onto a wire.
If you answered yes to all four of these questions, there is no reason why you shouldn't install outdoor lighting, unless of course you are renting OR you don't have stacks of extra money lying around (both of my installations cost around $300). Totally get that reason too, but other than that, you should be good-to-go on this project.
There are a few types of outdoor lighting fixtures that will illuminate your landscape and house in different ways. Below you can see what different lights are used for.
| | | |
| --- | --- | --- |
| | | Use a path light to illuminate and accent a walkway or path. |
| | | Step lights can be used on a deck or steps to illuminate and add ambiance |
| | | Spotlights are directional lights used to highlight architectural or landscape details such as a tree or textured wall. |
| | | These lights are typically used to accent a large area such as a wall, fence or long hedge. Its purpose is to bathe an area in light and provide ambiance. |
| | | Similar used like a floodlights, but this light is sunk into the landscape so the actual lamp gives a more clean lined appearance. |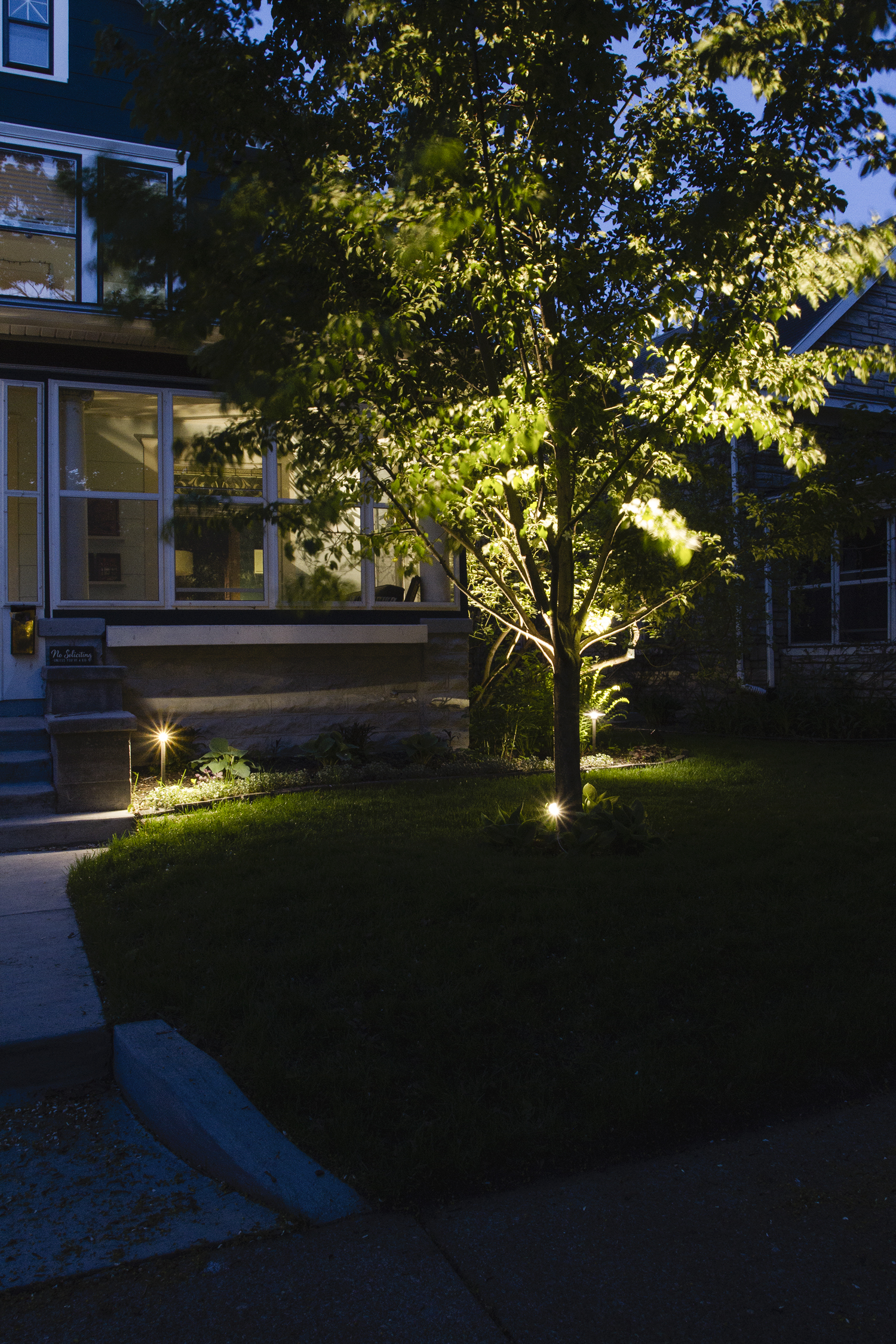 When designing your outdoor lighting keep in mind a few of the following.
☰ Fuction :
Deck lights
and
path lights
are super functional lighting. For instance, before we had the lighting installed the side path of our yard was very dark at night, having it illuminated with path lights makes it easy to get from the front to backyard safely.
☰ Feature : What about your yard and home do you want a to feature? Do you have a really pretty bush on the side of your house that you'd light to have cast shadows into the eves of your roof line? Do you have a tree in your yard that you'd like to highlight with a spotlight, or maybe even a fancy water feature.
☰ Add interest : Remember at the introduction of this post when I said you don't even have to have a pretty landscaped yard during the day? This is because landscape lighting can add a lot of interest and drama at nighttime, well lights, floodlights and path lights are perfect for this application. Illuminate the front of your house, and all a sudden the texture of your home becomes much more interesting and beautiful.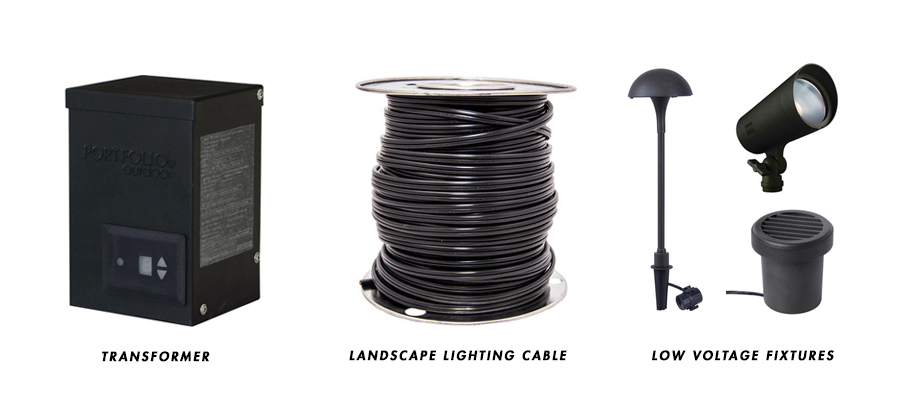 Installing the lights is very easy, and from start to finish it's something you can complete within an afternoon. The system consists of three main components, the transformer, the wire/cable and the lights. All lighting kits will come with detailed instructions, but basically the installation is as easy as running the cable throughout your yard based on your sketches. Clip on light fixtures to the cable where you have predetermined you want them placed. Lastly you connect the cable to the transformer, hang the transformer near a GCFI on the exterior of your home, and plug the transformer in. Most transformers are easily programmed so that lights will come on at dusk and then stay on for a pre-determined amount of hours.
Low voltage lighting paired with LED light fixtures doesn't draw much electricity from your home, for example, my entire backyard draws 80 watts – remember, that's what some light bulbs consumed only a few years ago.
To determine the size of transformer you'll need add up all of the wattages on the fixtures you'll be using in your yard. For instance if you were going to install 3 – 6 watt path lights, 4 – 8 watt spotlights and 2 – 12 watt fill lights, you would be using 66 watts and would want to get a transformer that could handle at least that amount of wattage, plus a little extra in case you'd like to add more light fixtures down the road.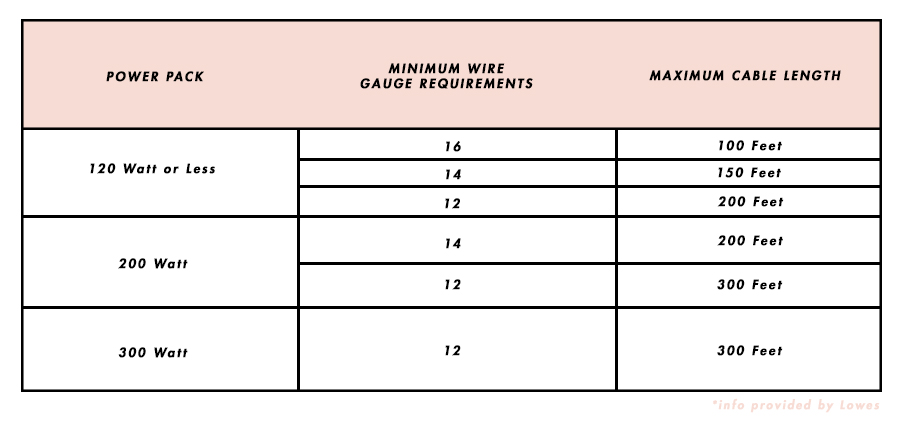 There is a simple rule of thumb when it comes to choosing the correct gauge wire for your project (whether it be 16, 14, or 12. Please follow these guidelines to determine on how many watts of power you'll be drawing.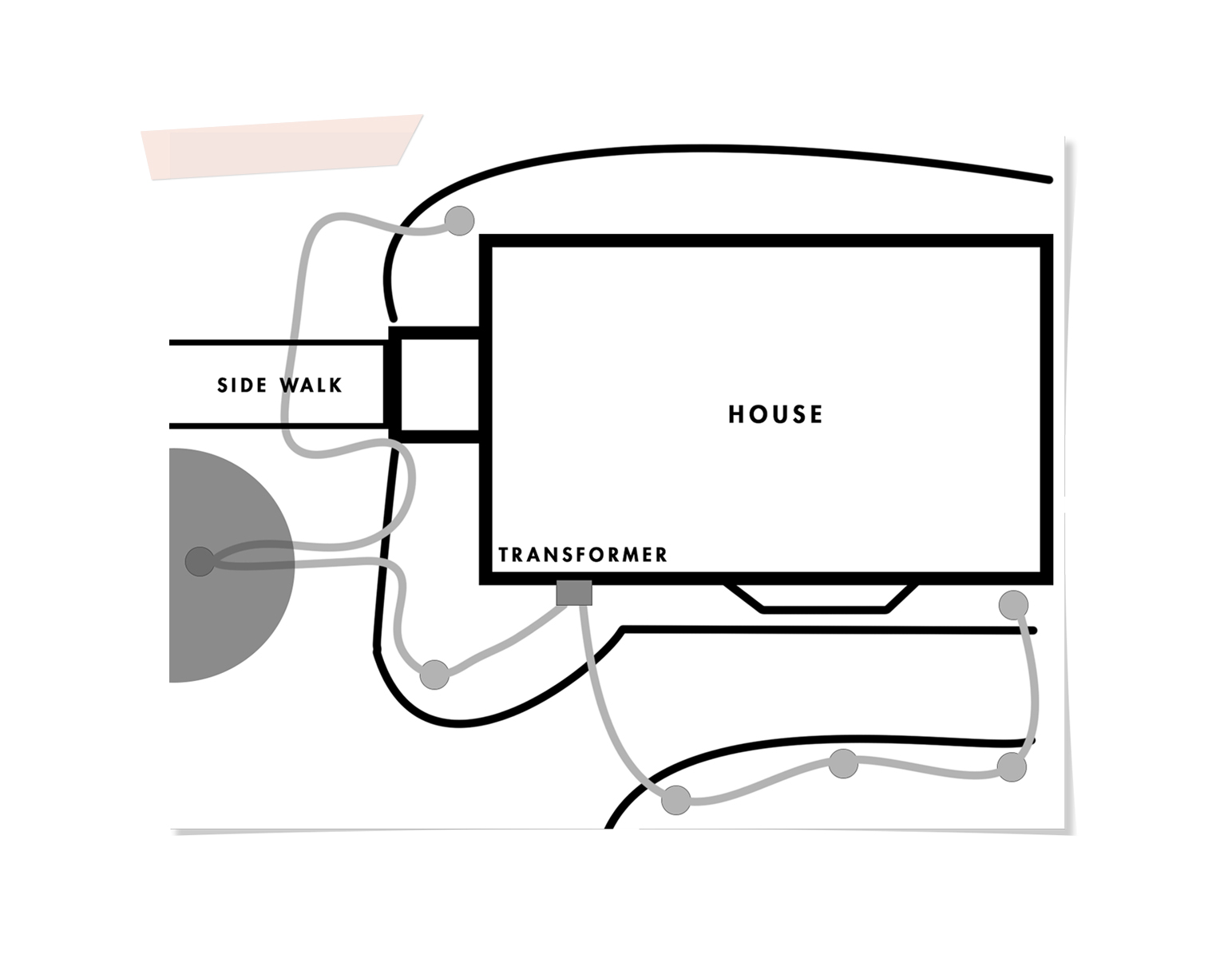 A few tips to consider
☰ When purchasing wire/cable you'll see it called 14/2 or 16/2 the '2' refers to the number of conductors.
☰ Typically you don't want a single run of lights to exceed 100 feet.
☰ Some transformers come with multiple line-outs. This portfolio transformer that I purchased has two, and I daisy chained the lights together in two separate directions.
☰ The first light should be run at least 10′ from the transformer
☰ The further down the wire/cable your light is placed the more likely it will be dimmer, especially if you are coming near the recommended maximum wattage for your gauge wire?