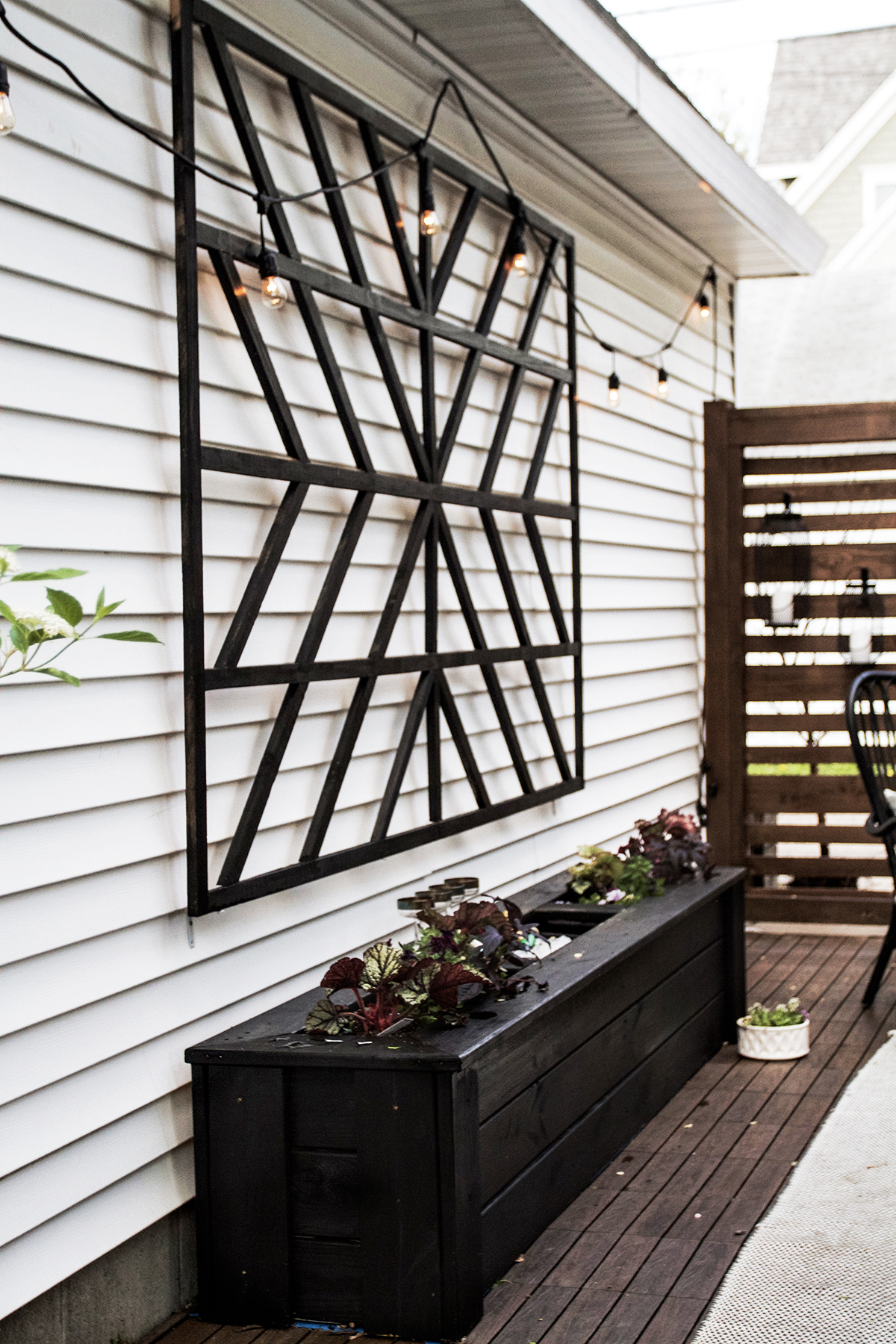 Hey team! Hope all is well with all yas out there in the world. You might remember, last year I installed a patio on top of a concrete parking pad in our backyard? Or maybe you don't, in that case, I'll supply you with this convenient link for you to click on. The patio turned out better than I could have imagined, and I can't wait to start enjoying it again this spring!
Transforming the patio involved lots of little projects. So many projects that I didn't get around to sharing them all last summer. That wasn't the only reason that I was too busy to share, there was that one big other thing that happened – you know, the time that we bought a cabin – that cabin is such a jerk, you guys. Now I'm just eagerly awaiting spring, and I wanted to share some of the projects I built in case any of you guys are interested in trying to do the same thing, or something similar. The timing for this post probably works out better for you guyses building schedj anyways. No one wants to build a planter box at the end of the summer. Imma break it down into three posts with diagrams for the planter box, the trellis, and the table.
Let's start with the very large planter/champ/beer/la croix/whatever-you're-into cooler!
The video below illustrates the steps used in building the planter box. I could've literally spelled it out for you guys, but this is all pretty straight forward and a video diagram seems to better illustrate the process. I started at the base of the planter box and worked my way up. The box is just a pretty facade for the 3 – 26″ plastic planters that do the legit work of maintaining plant life and holding ice. The rest is just show. The left and right planter are intended for flowers and vines, and the middle planter is used for ice to cool yer beverages (aka lots and lots of champ).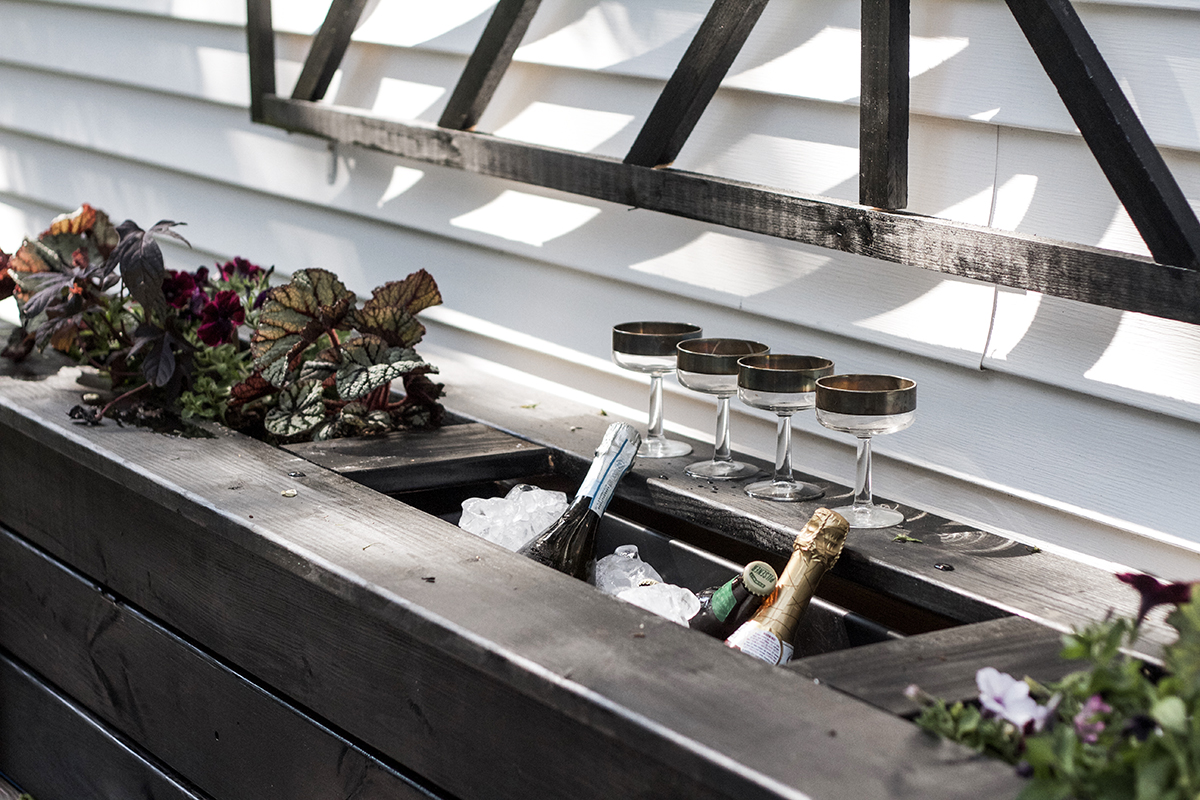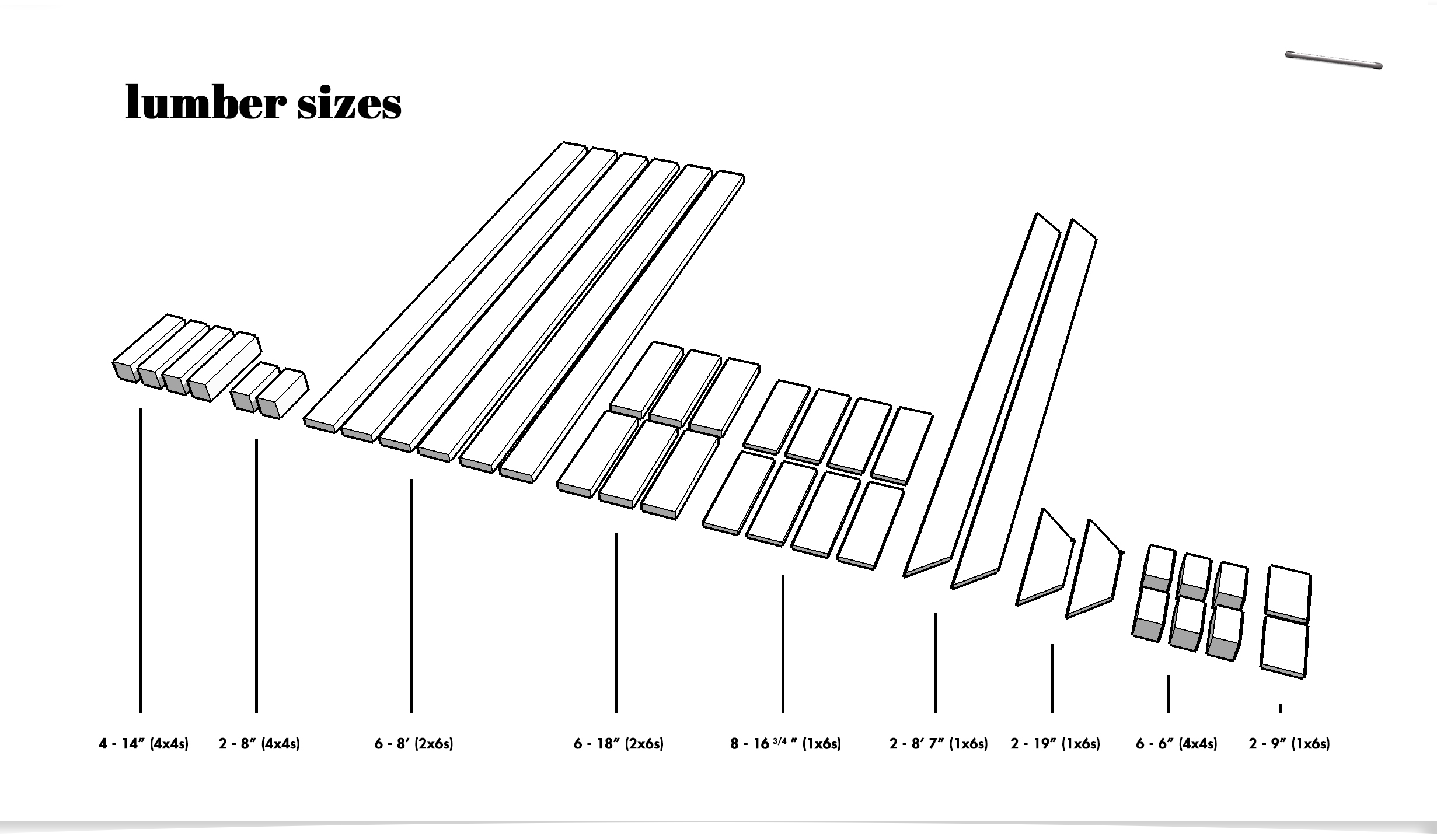 ↑ click for enlarged image ↑

To start the project, I used some plywood remnants to make a template for where to place the 4×4 posts when assembling the box. The plywood pieces were cut to 8′ x 15″, and when the box was finished the plywood was removed. The planters need to drain and I didn't want a plywood bottom to get all gross and rotten!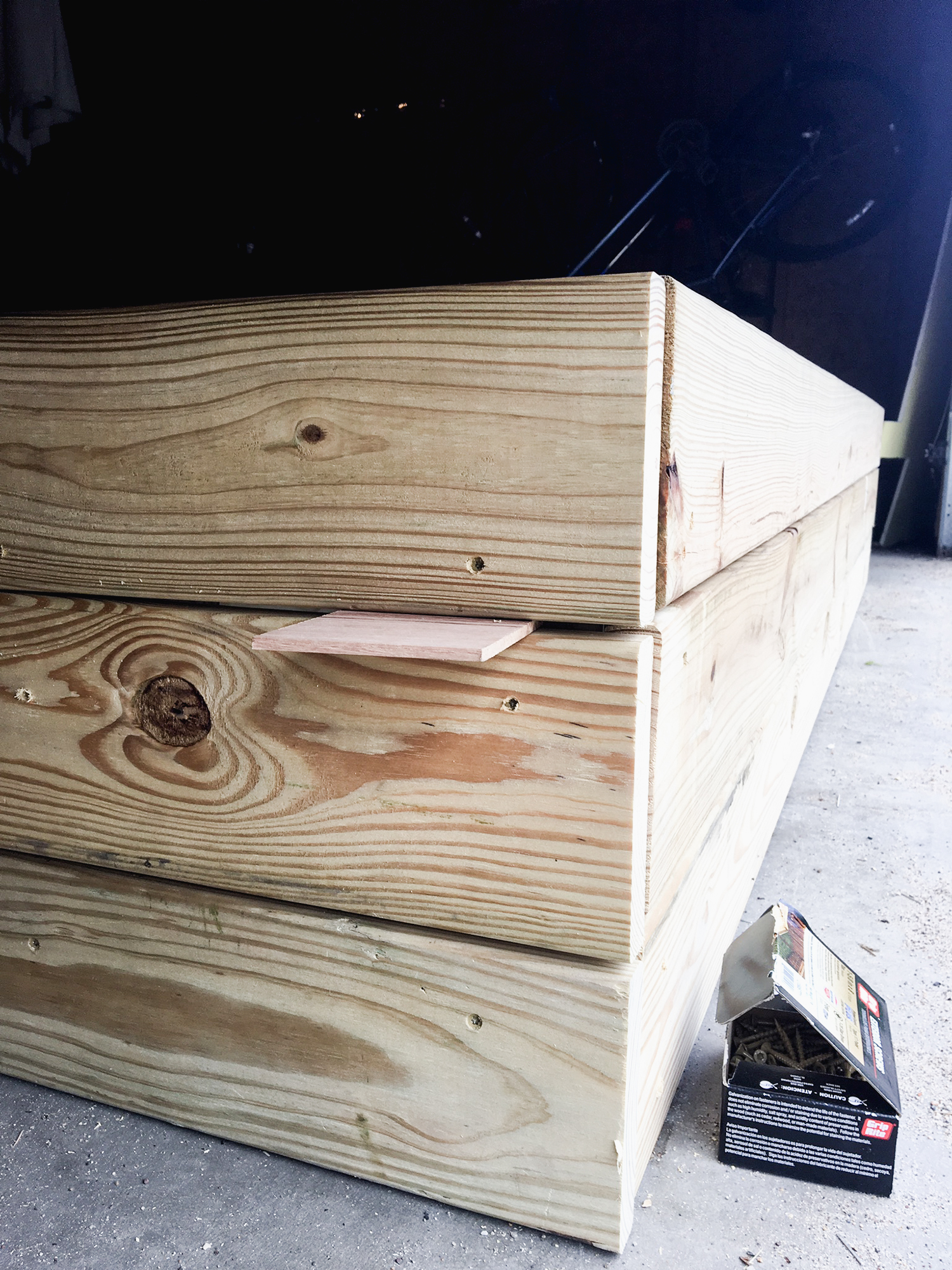 I used 1/8″ shims as I constructed the box. I liked the look of a small space between each board.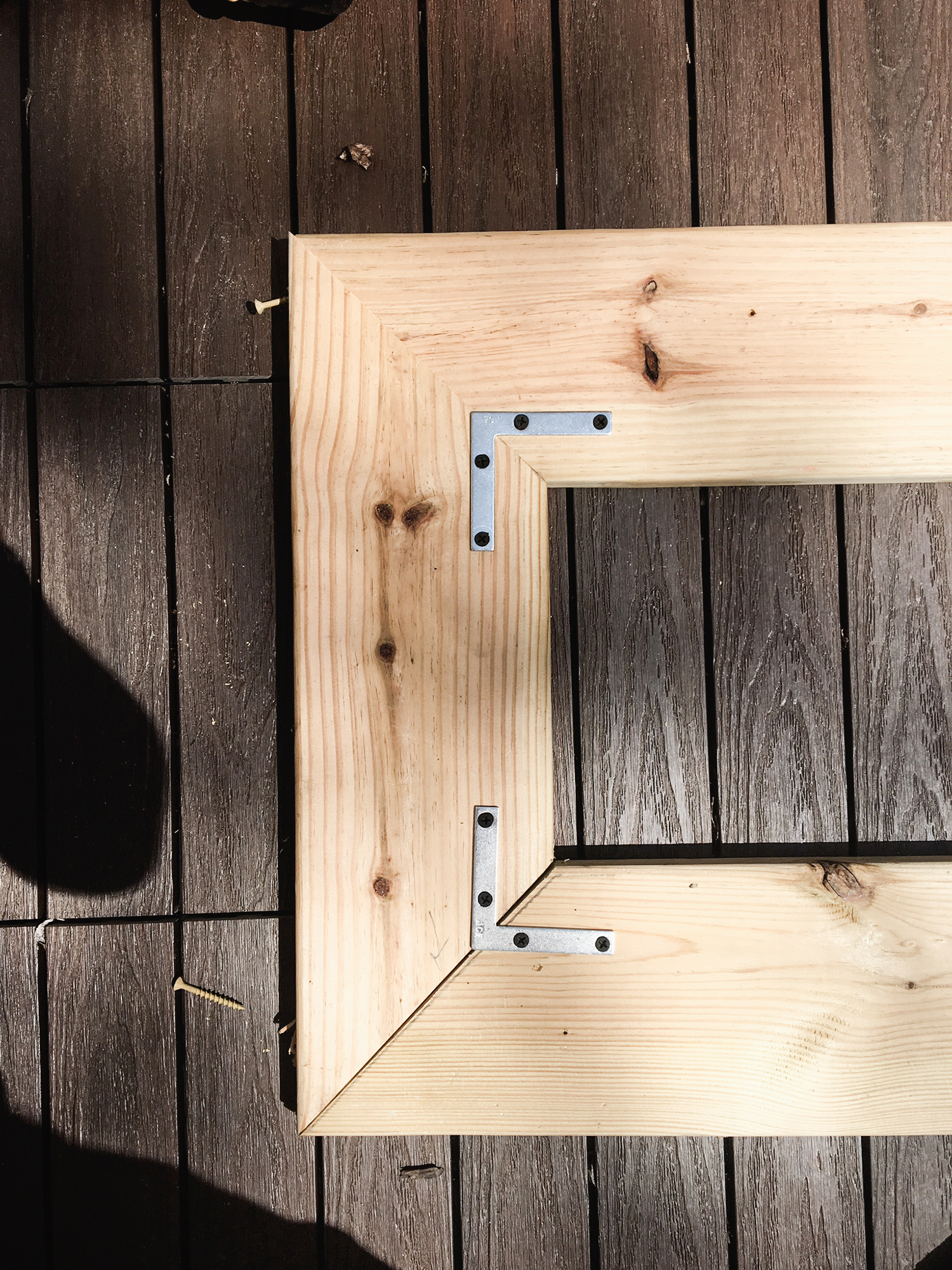 For the top of the planter box, I attached 90º corner supports to the underside of the frame to give extra support.

Lastly, the secret to this whole contraption! Inside the wooden shell are 3 – 26″ planters. I choose these ones, because not only were they long, they were also deep, and wide – that's surprisingly hard to come by in the world of inexpensive plastic planters. To add the height the planters needed in order to sit flush in the box (the under-mount sink), I attached 2- 6″ 4×4 stilts to the bottom of each planter. Also, I wanted black planters and these only come in colors described as "peppercorn" or "chocolate". Not happening! Black is where it's at – thank god for spray paint. I Make sure to take drill holes with a large bit to ensure proper drainage, folks. Use mesh or rocks on top of the wholes so they don't get clogged with debris cuz that will happen:)
Don't forget to stain it if that's the sort of thing you're into! I went with a black ebony stain, fyi.
Alright dudes! There you have it. Let me know if you have questions. This was a super easy project and would be fairly easy for any beginner handy person.