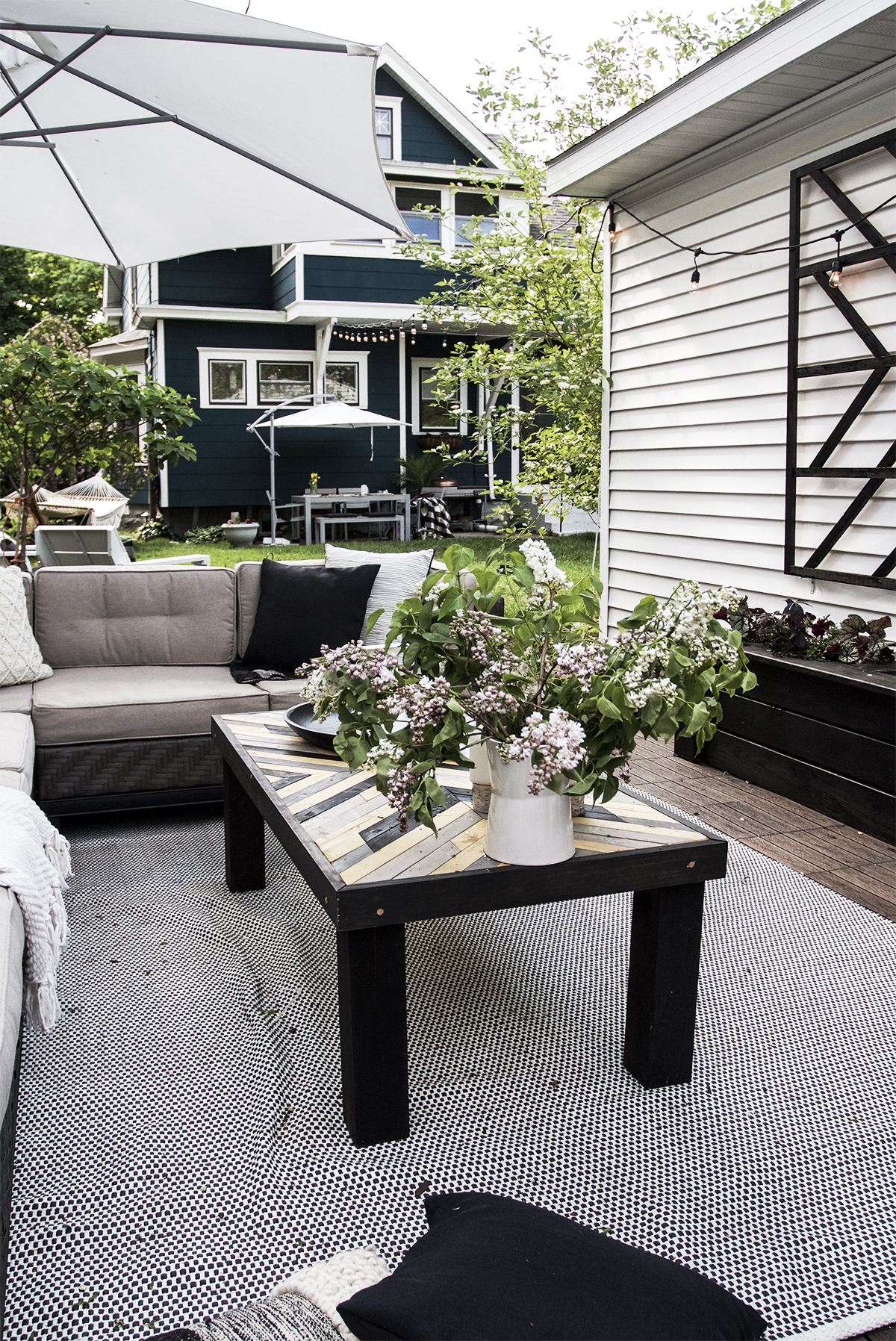 This post was made in partnership with
NewTechWood
. They provided me with the decking for the patio, but all thoughts and opinions are my own.
I wasn't aware of it for a long time, but I recently discovered that our backyard was hiding something amazing from us.
This awesomeness was disguised as a concrete slab next to our garage that was probably intended for overflow parking. We are a two car family that fits (very) snugly into our two car garage, so we'd always thought that maybe when our future-teens learn how to drive they'd park whatever hand-me-down beaters we give them in that extra spot.
Ultimately, we decided they can park on the street and scrape their own icy windshields like generations of Minnesotan Teens before them. The spare parking started to seem like a waste of very valuable backyard square footage.
A few years ago when we had the fence built, we decided that we would fence around this parking slab (in case you are confused it previously had not been fenced in). With the fence in place, the slab was starting to feel like it was becoming a part of our backyard. The kids would ride their tricycles on around in circles, and we'd fill up the pool on the concrete in the summer (which spared my lawn) but most of the time it just sat there. Most of the time it was just a sad and dirty place you walked through on the way to the alley to throw away garbage.
After checking a lot of outdoor yard maintenance off the list in previous summers (i.e. fence, roof, paint, stoop, front door), it seemed like a good time to really give that slab some useful purpose!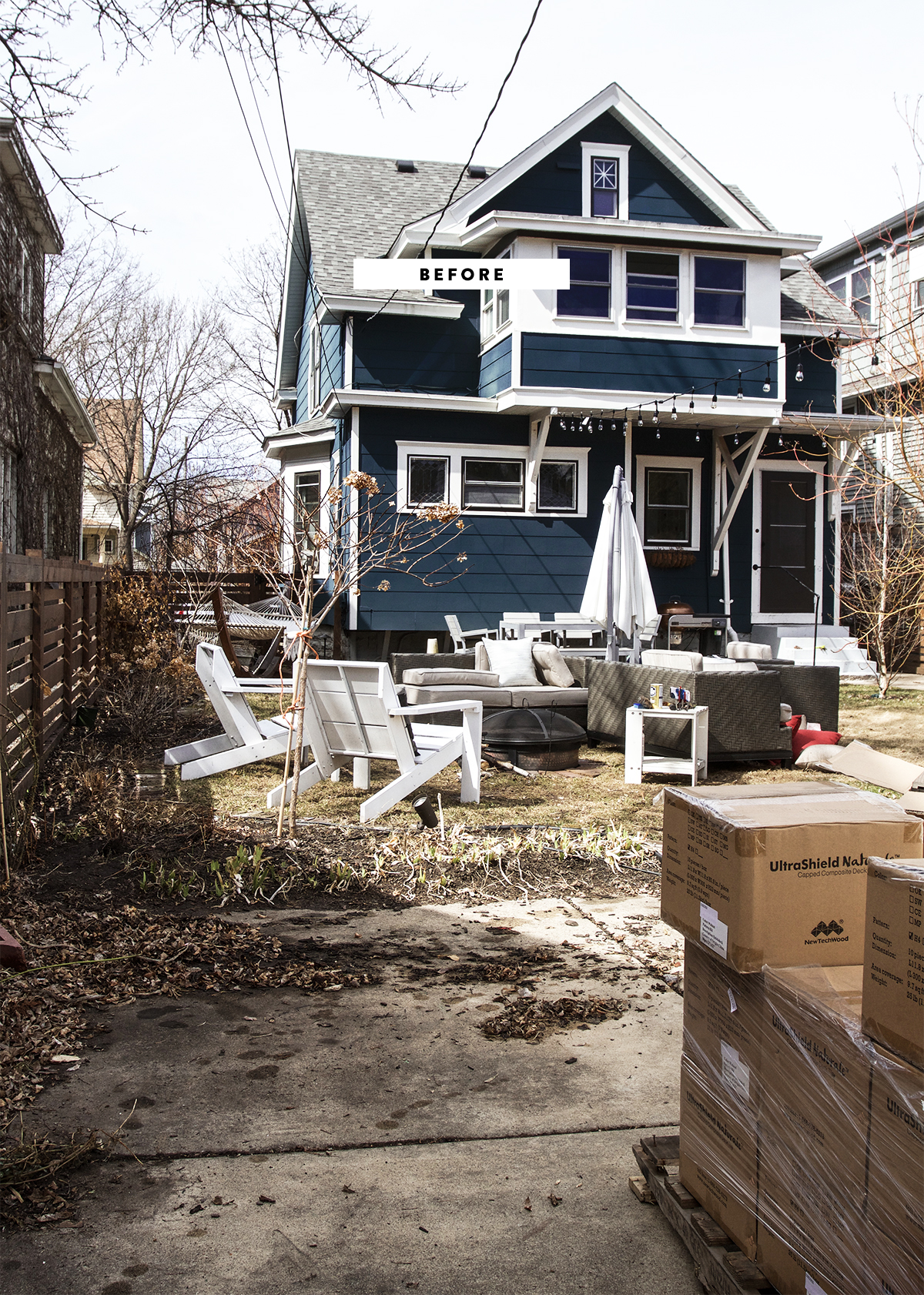 *Queue the airhorn I'm very excited to be able to share with you our new backyard patio! This new outdoor living room area rips, and it needed to exist! We may have maxed out the number of Hang Zones possible in this old house now!
I've been hinting at the goings-ons of the backyard here and there in my insta-stories (ever heard of it?). I just finished up the final project last week, and am excited to get into all the nitty-gritty details on the stuff I built over the coming weeks.
For now lets talk about the main ingredient. The floating decking tile! Did you know floating deck tiles were a thing? I had seen some cheapy versions of such a thing, but never realized that there was a much better option until after many hours spent scouring the internet. Before long I found NewTechWood and they have all sorts of sweet composite decking systems including an integrated floating composite deck tile system! Bestill my heart, could it be? Not only was this stuff modular but it was also good looking. This is exactly what I needed! So, I got in touch with my now friends at NewTechWood (available at The Home Depot, bros) and asked if they'd like to partner with me for this post. Lucky for me, they said yes, and a few weeks later a palette of beautiful Spanish walnut decking sat before me.
You guys I made a vid! Check it out to see the patio in all it's glory and get a peak at how easy the install process is. To put things in perspective, Finn (my 8 year old) and I got to installing the tile the same day it arrived. After a quick sweeping of the slab we were ready – no other prep work necessary. We hit the ground running (or kneeling) and in less than 2 hours we had 200 square feet of decking installed! Amazing, right!?! Not only are the deck tiles it easy to install but it's 100% eco friendly, and the tiles will not warp, bend, split, or crack. We've had a few heavy rains, and the water drains underneath the tile, onto the slab, and out into the alley – which makes it worry free when it came to placement of the new planter box and all the drainage concerns that go along with that. With a wood product you'd have to worry about rot and stains, but not with this stuff. Another great example of how easy install is can be seen here.
We have trees that drop all sorts of annoying little pieces of green everywhere, so my battery powered leaf blower has come in handy. It helps to blow those tiny bits out of the cracks which a broom may not be so successful on.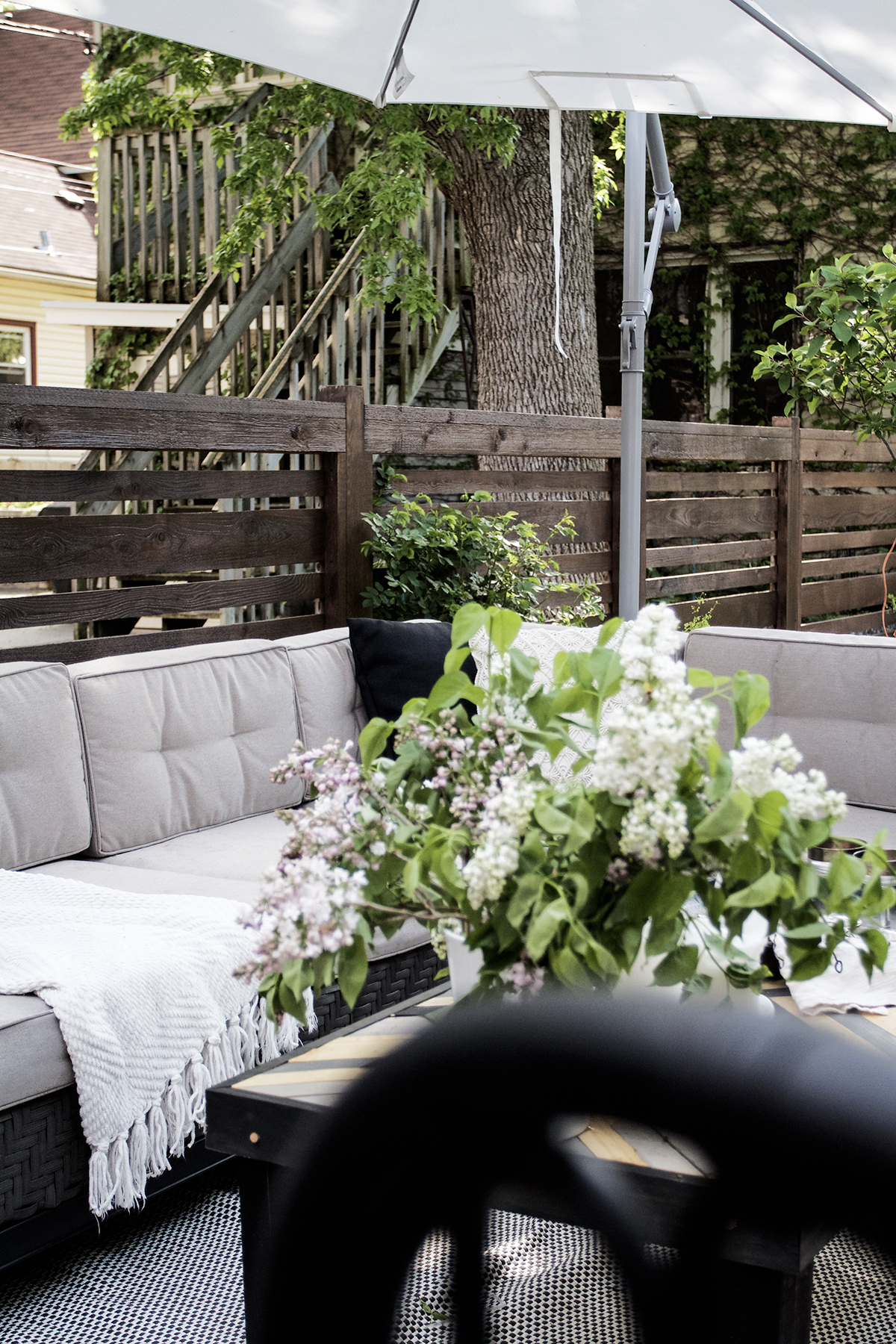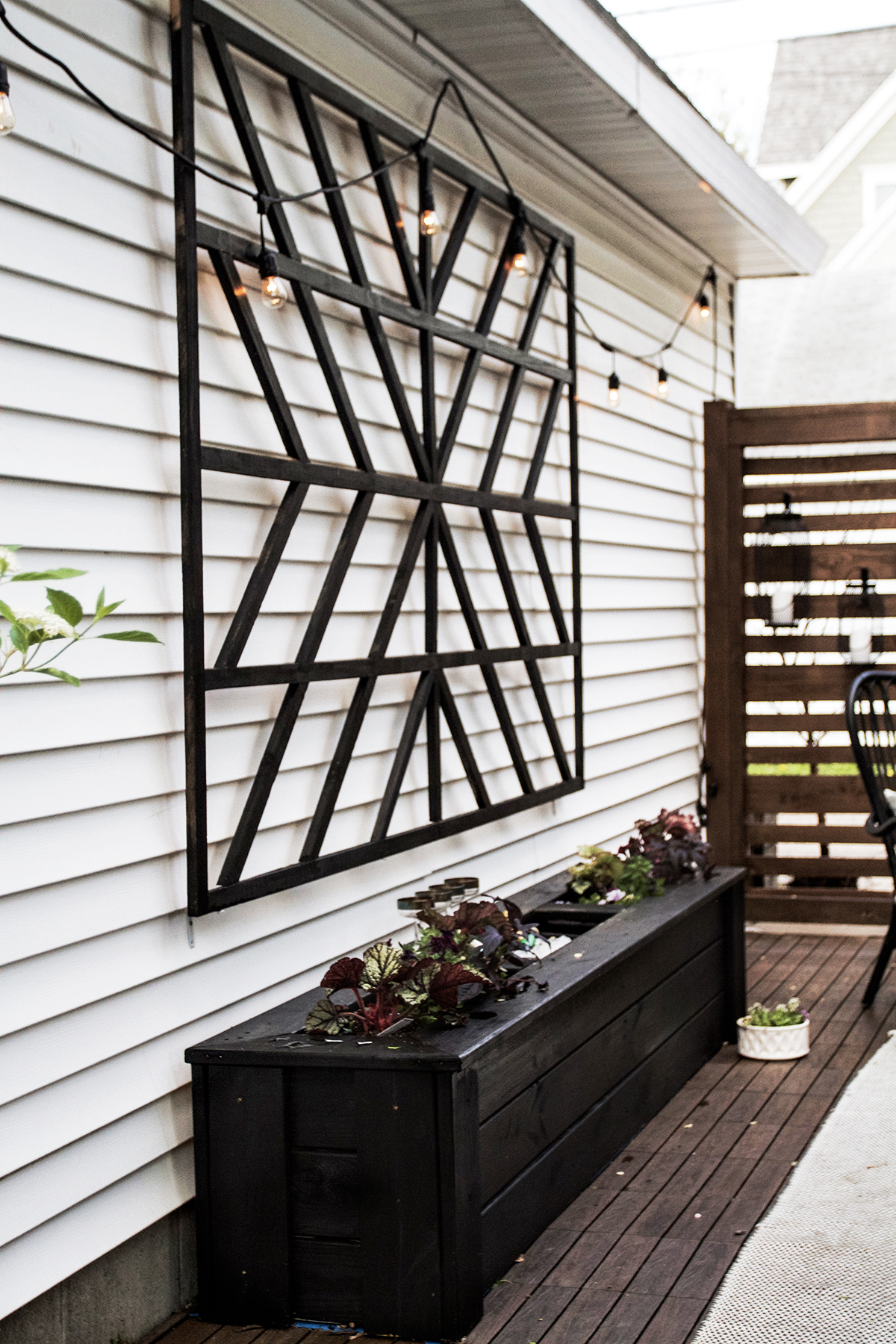 Because we were on a pretty tight budget I got to dress up and play carpenter and geometry math wizard for a few weeks. I built this trellis, the planter box and they cocktail table seen in a few photos above. I especially love the trellis, it breaks up that big white wall of ugly siding. I wanted to add something that had some visual weight but didn't steal the show because of the size. In the planter below I started some Hyacinth Bean seeds and am looking forward to seeing them grow up on the trellis.
I knew that I wanted a comfortable and functional space that we would sincerely use as an outdoor living room and not just keep around for looks. I'm sure if you are from a warmer climate this sort of outdoor living thing is typical, but here in the Upper Midwest not all of us believe that outdoor living rooms can really be possible for us. So what if the season is short and the bugs are bad – we can be outside, people!
My kids make fun of me for always choosing black and white everything, but I love it and I think it can be used in so many different ways. Although the colors are high contrast, they can be made soft and cozy with texture like the knitted pillow or the sheepskin throw. I was also able to bring a bunch of stuff up from my basement for the summer to make home on the new patio, repeating patterns and colors makes it easy when it comes to shopping your house.
The sofa was found at Amazon for a steal of a deal – I brought it home for around $1200 in March, but now it's gone back up to $1800. I don't doubt that if you watch it for awhile the price could drop again. I feel pretty good about this set – it comes with waterproof sunbrella fabric outdoor cushions, and a rust proof aluminum frame. It also came with a whole lota burnt-red all-weather pillows (uh, yuck), and I covered them with inexpensive covers found on Amazon (here | here). To make the cushion covers more resilient I treated with all weather scotchgard.
We bought an outdoor rug to help define the space and to help keep the decking cool on super sunny days. The chair is from Ikea and I love it! So comfy, I think I might move it in doors during the winter months.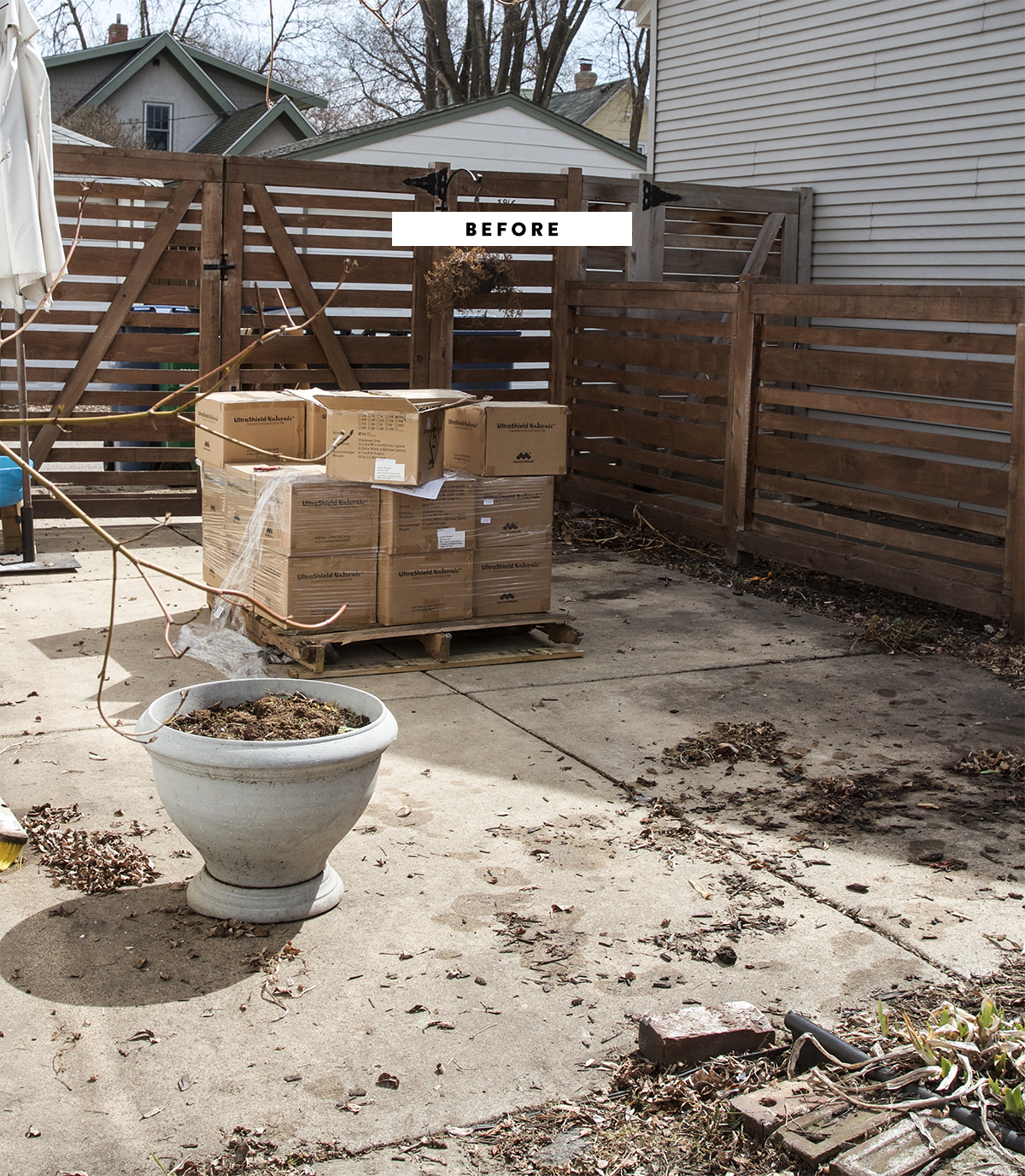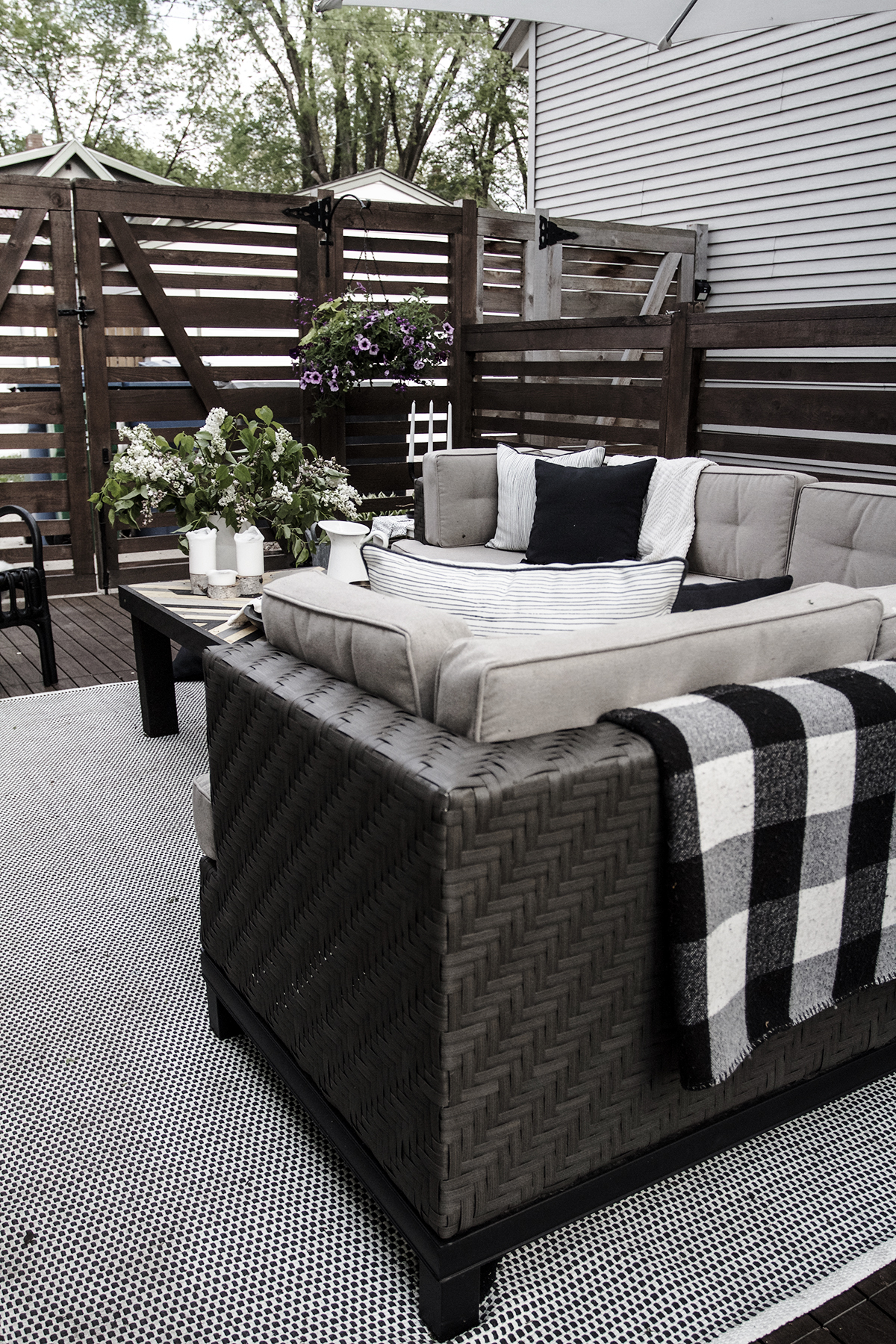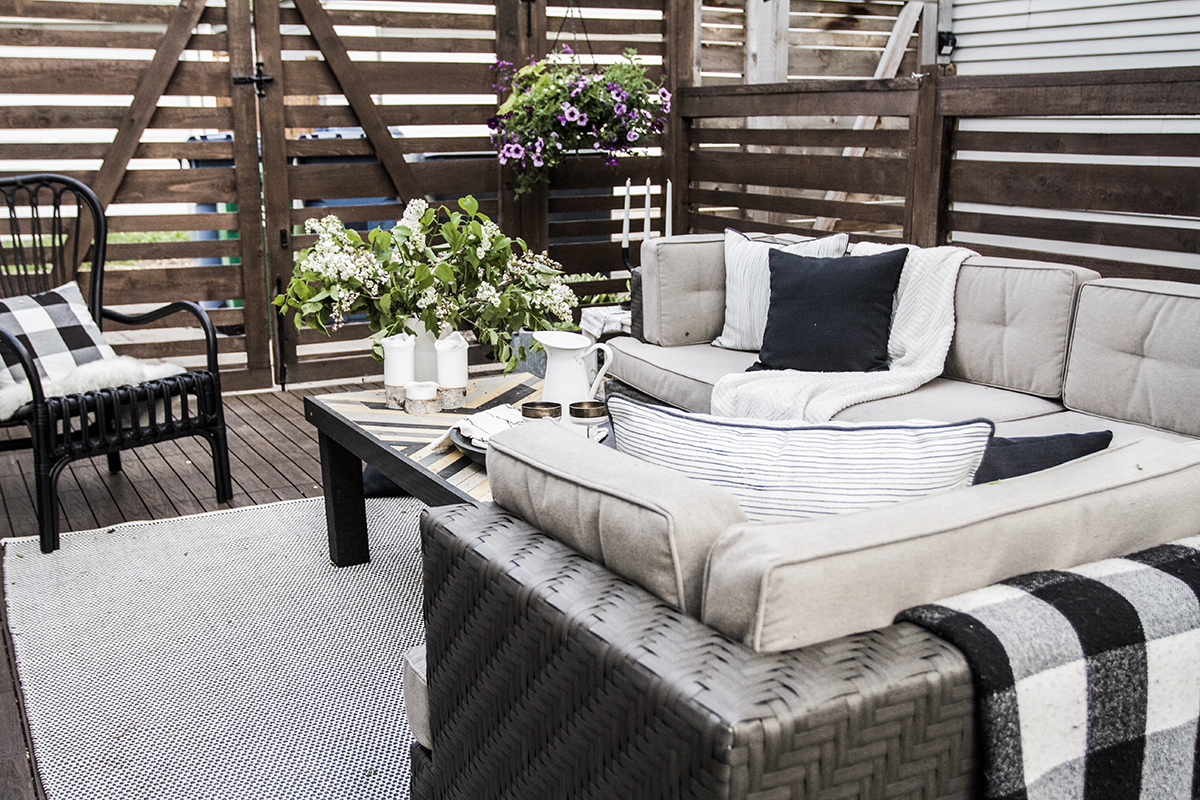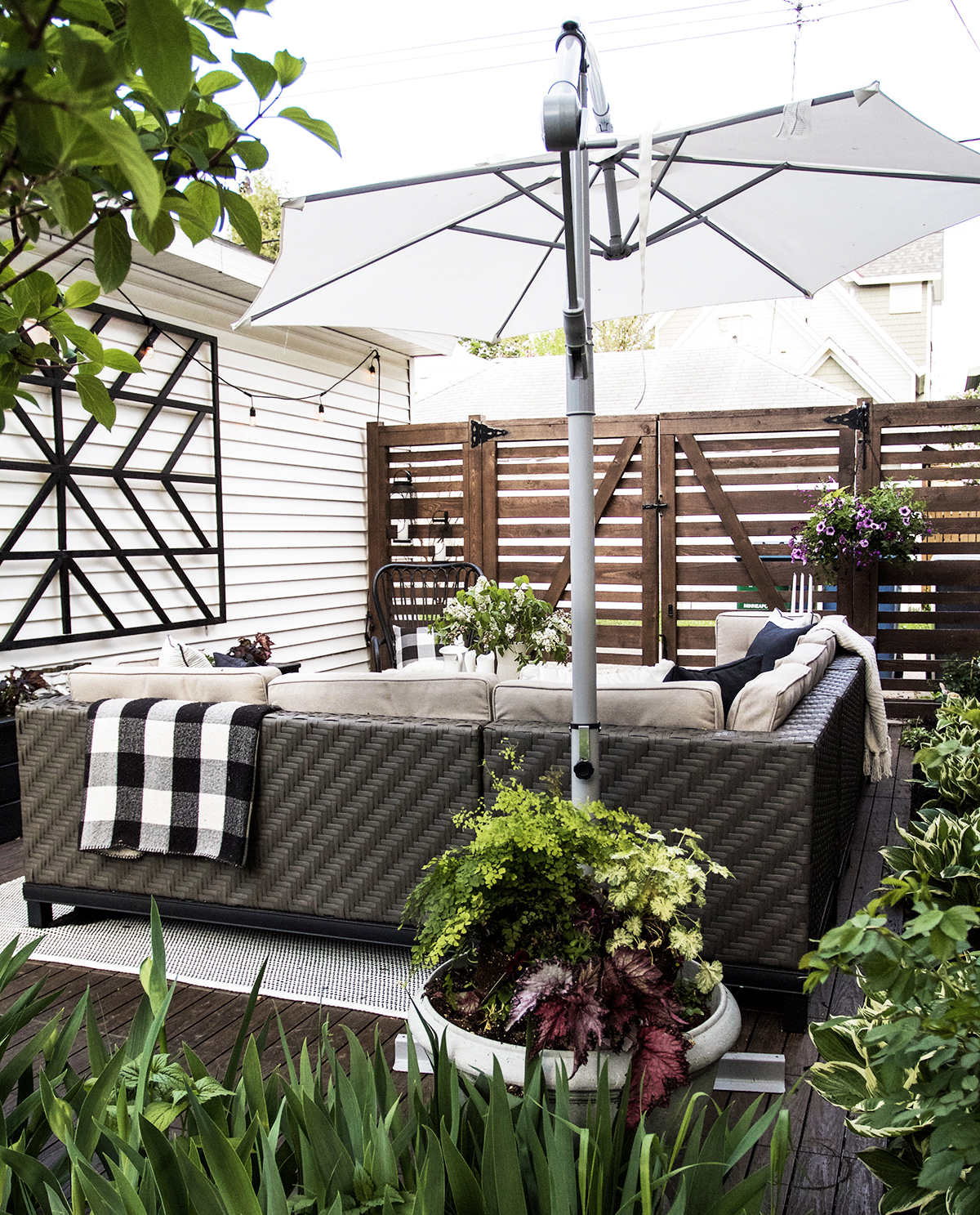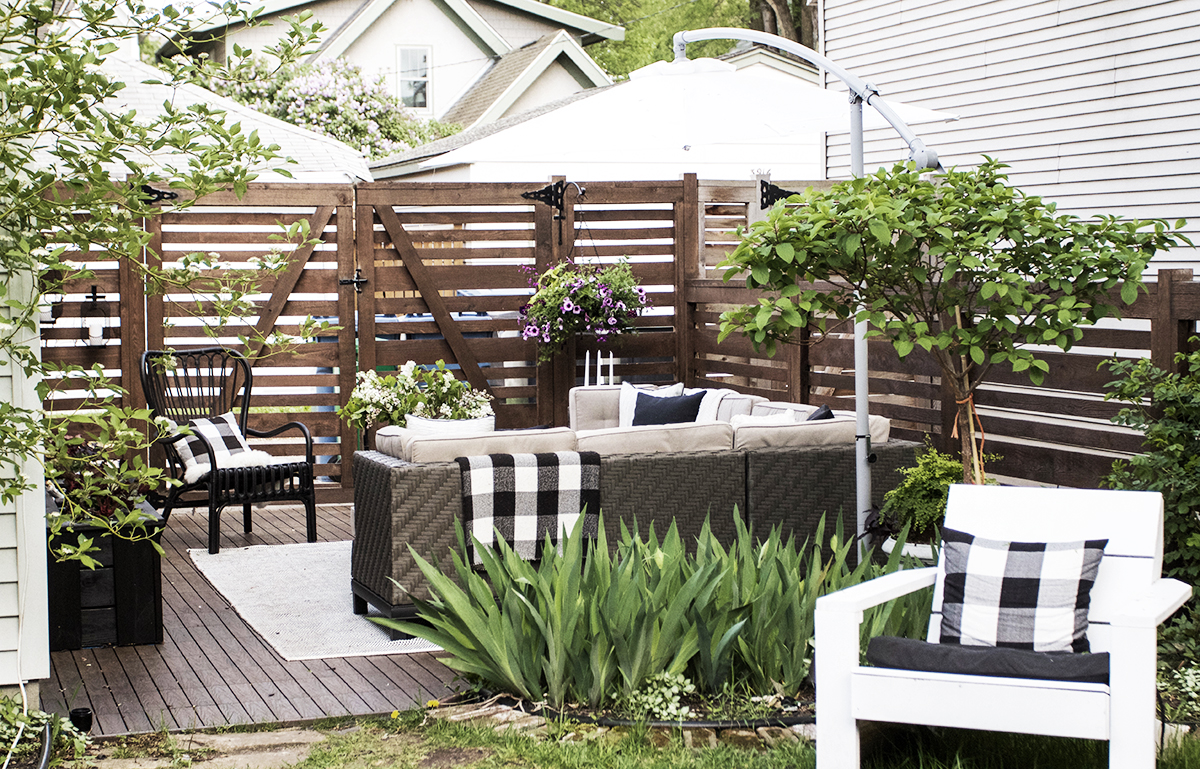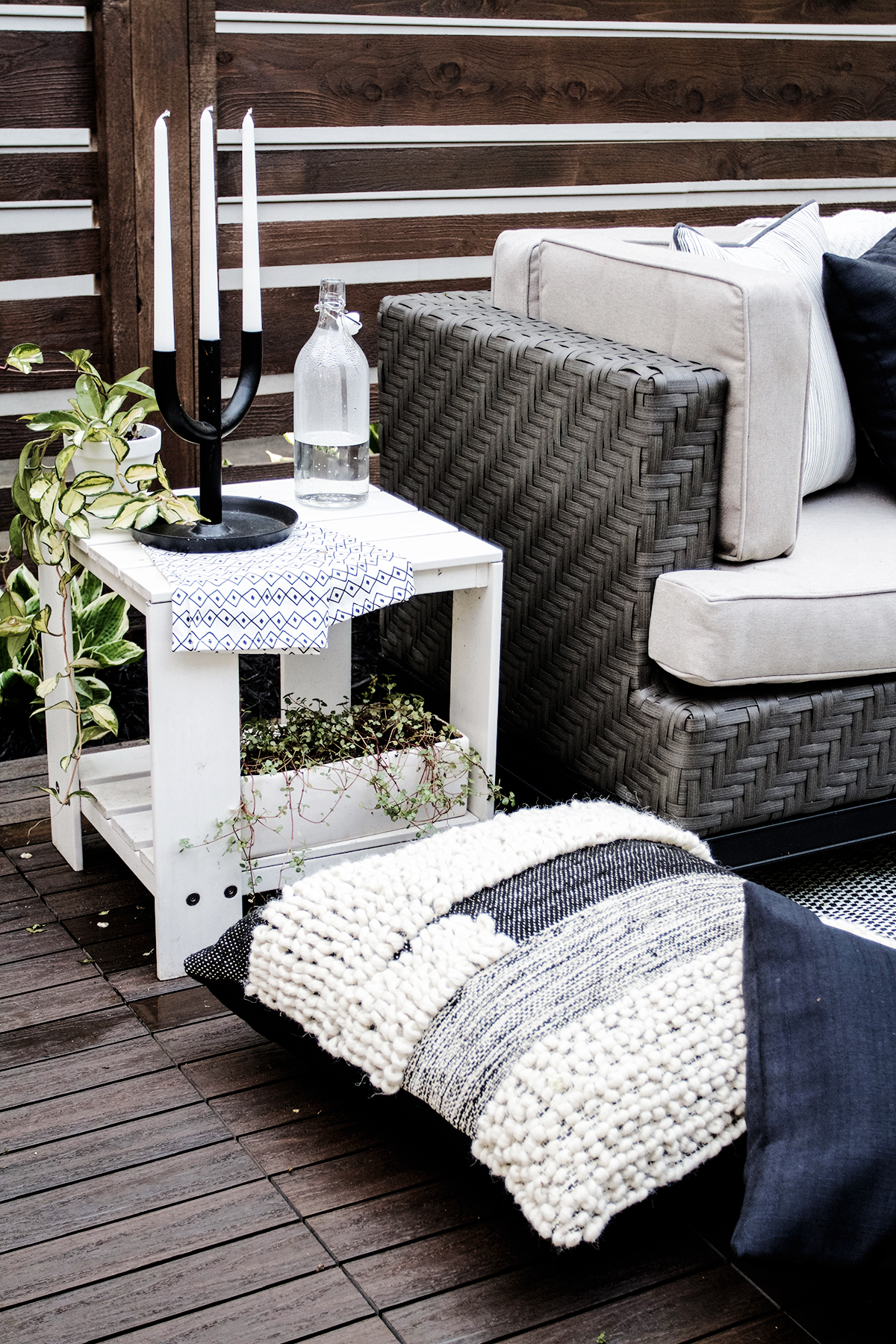 Isn't this so pretty? I can't stand it! I've planted two climbing roses on either side of the patio and I plan on training them to grow along the fence behind the sofa. If it works it will be magic.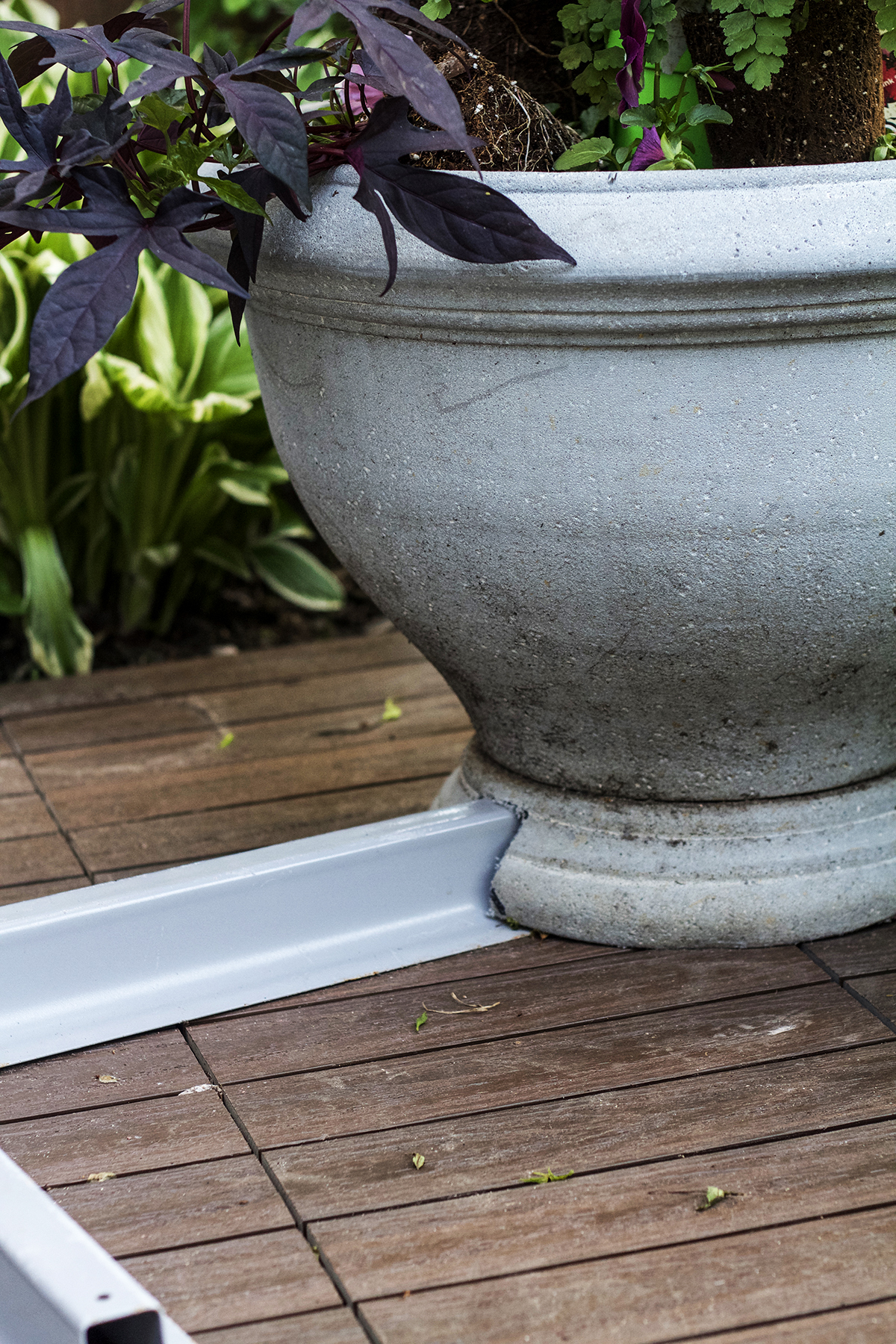 You know how if you get a cantilevered umbrella you also need to get really heavy weights or bricks to anchor it? I decided that I'd use a jig saw and cut out the profile of the base onto a resin planter. I filled the bottom of the planter with stones which make this thing super heavy but also allows plants to have good drainage. A pretty umbrella weight and another reason to buy more flowers.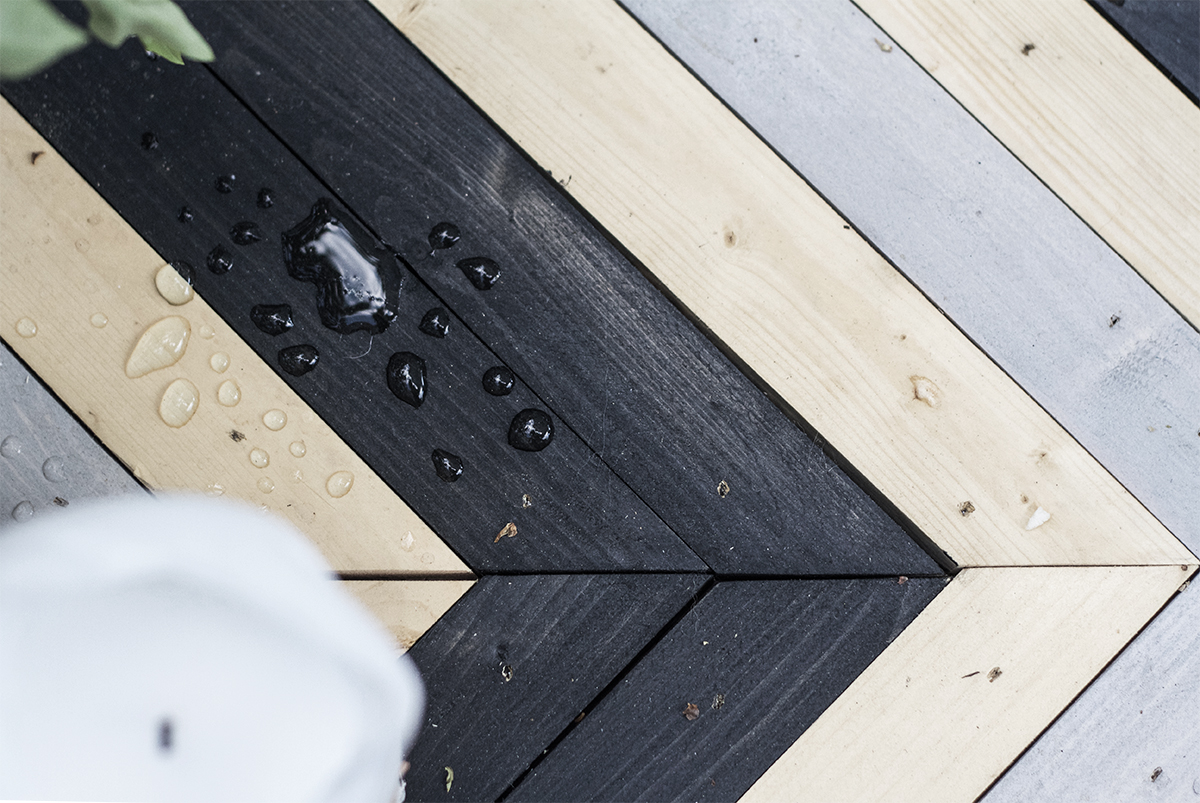 If you couldn't tell, this is the top of the coffee table! I love building this thing, they'll be more details on how I put it together in a coming post.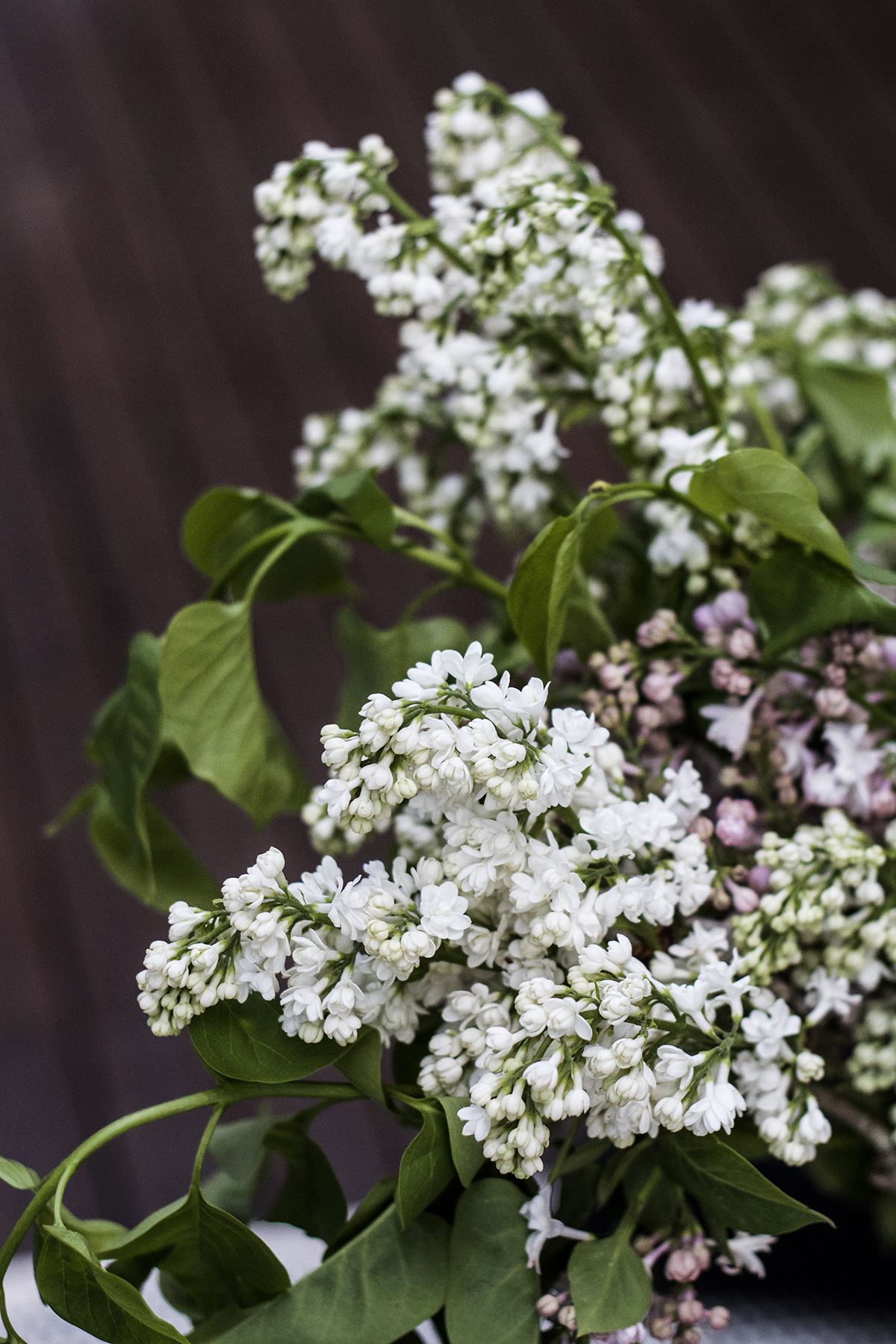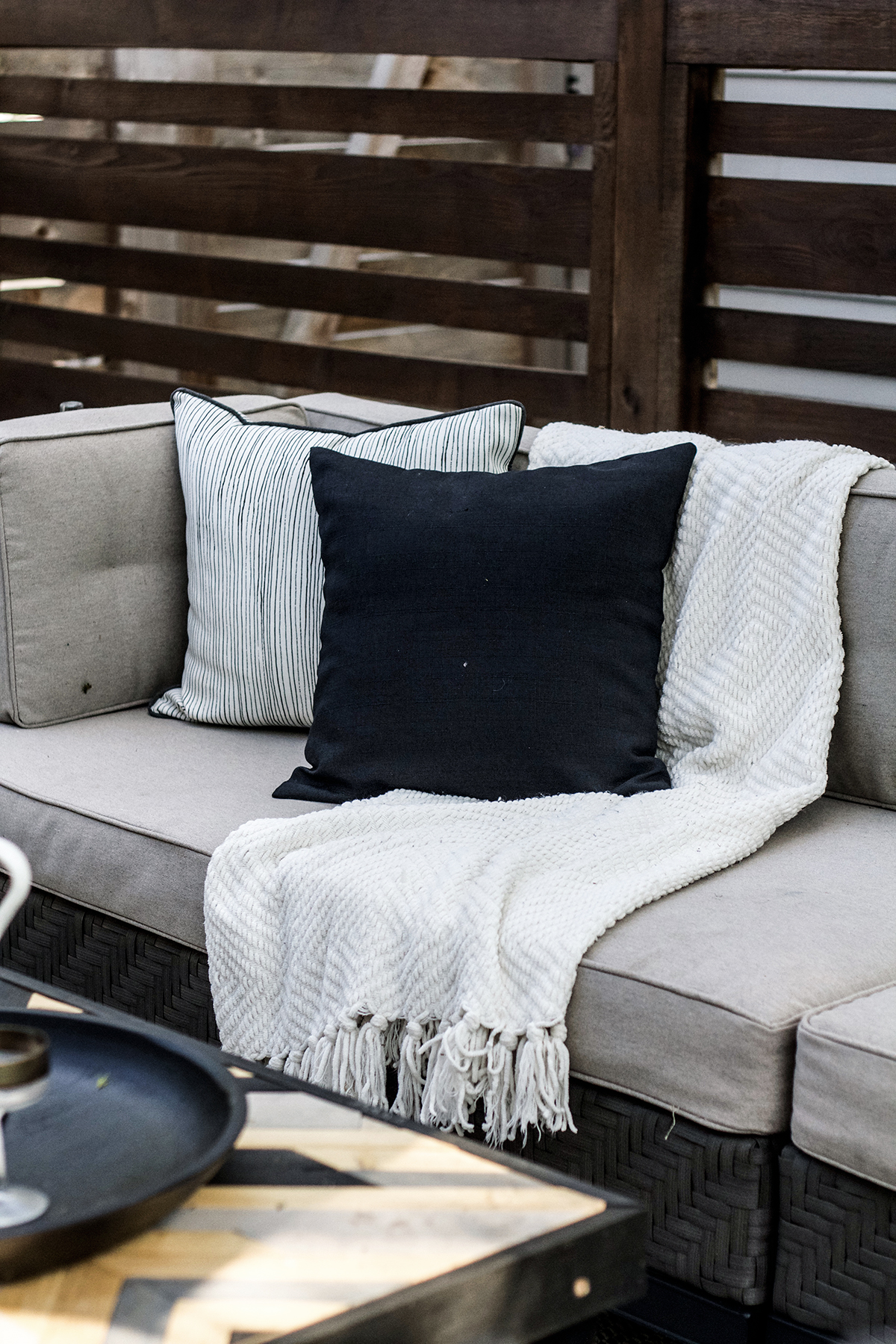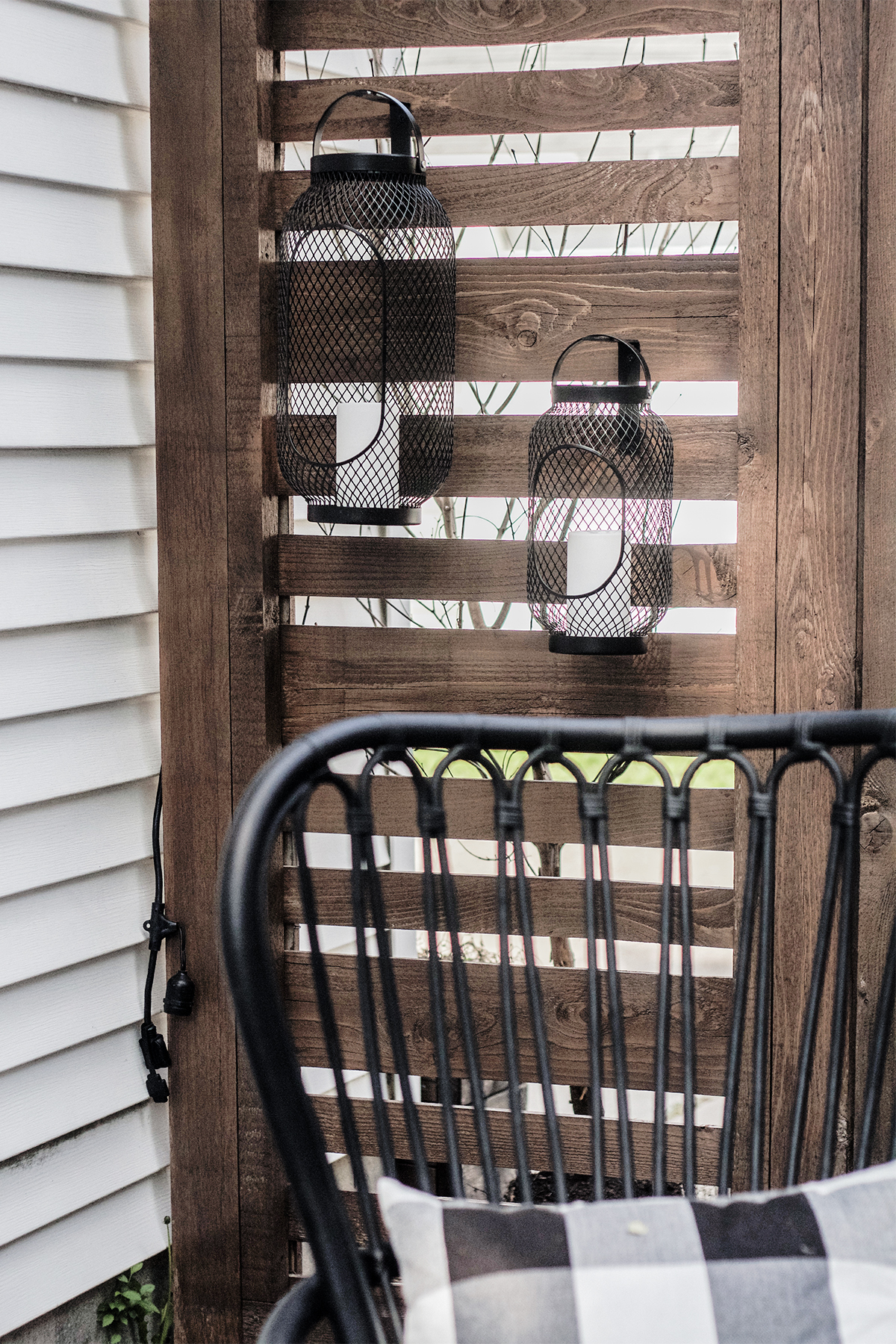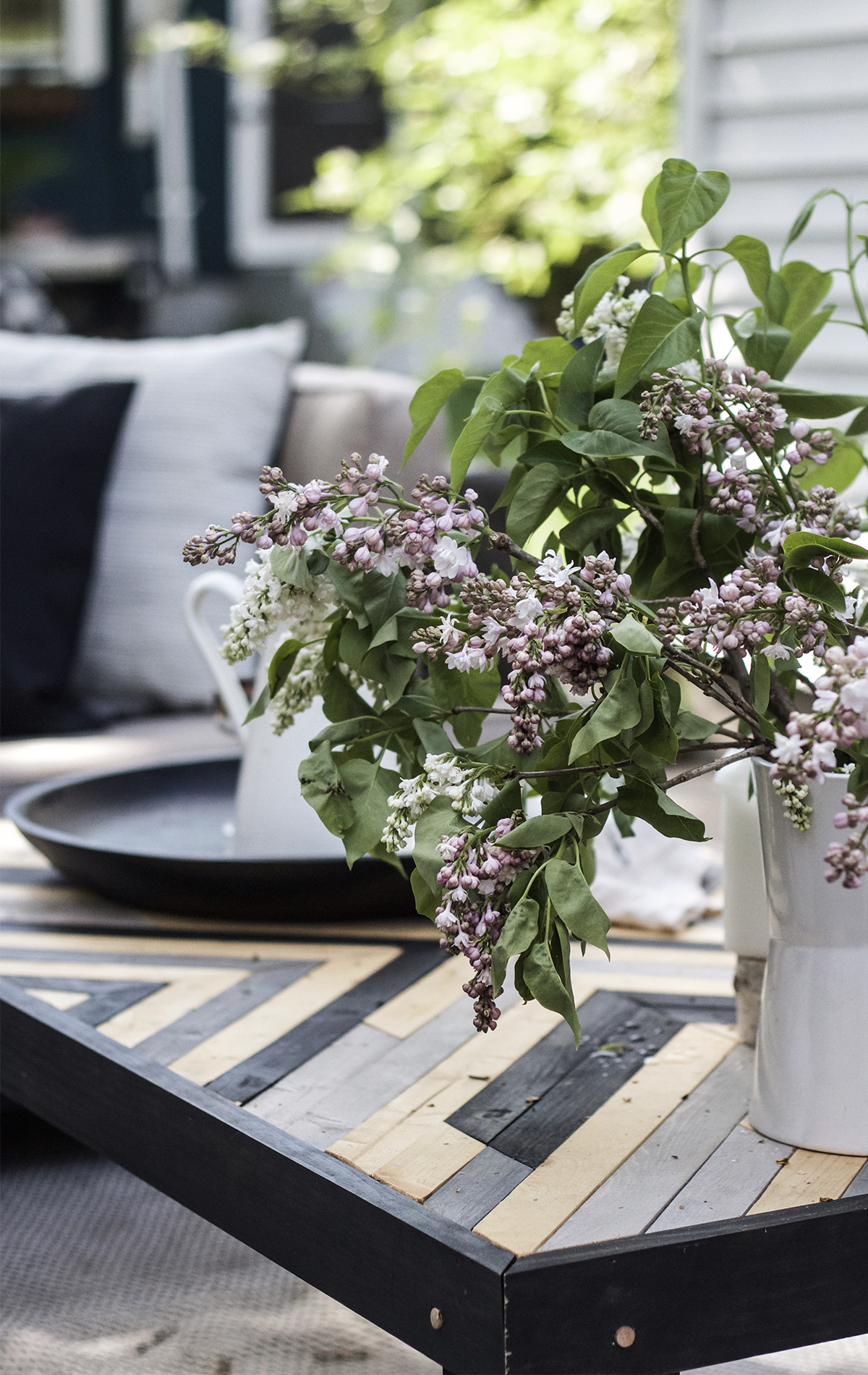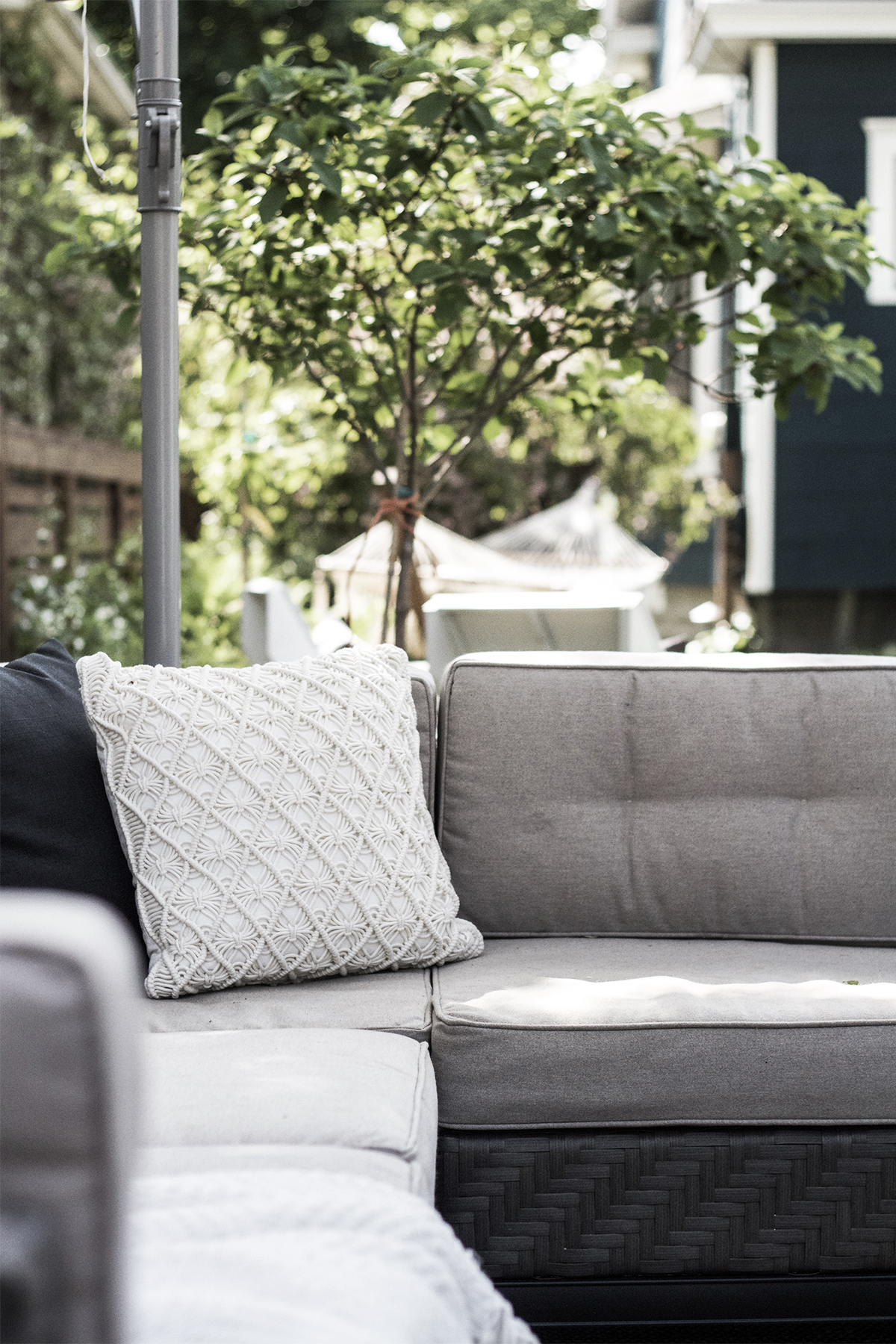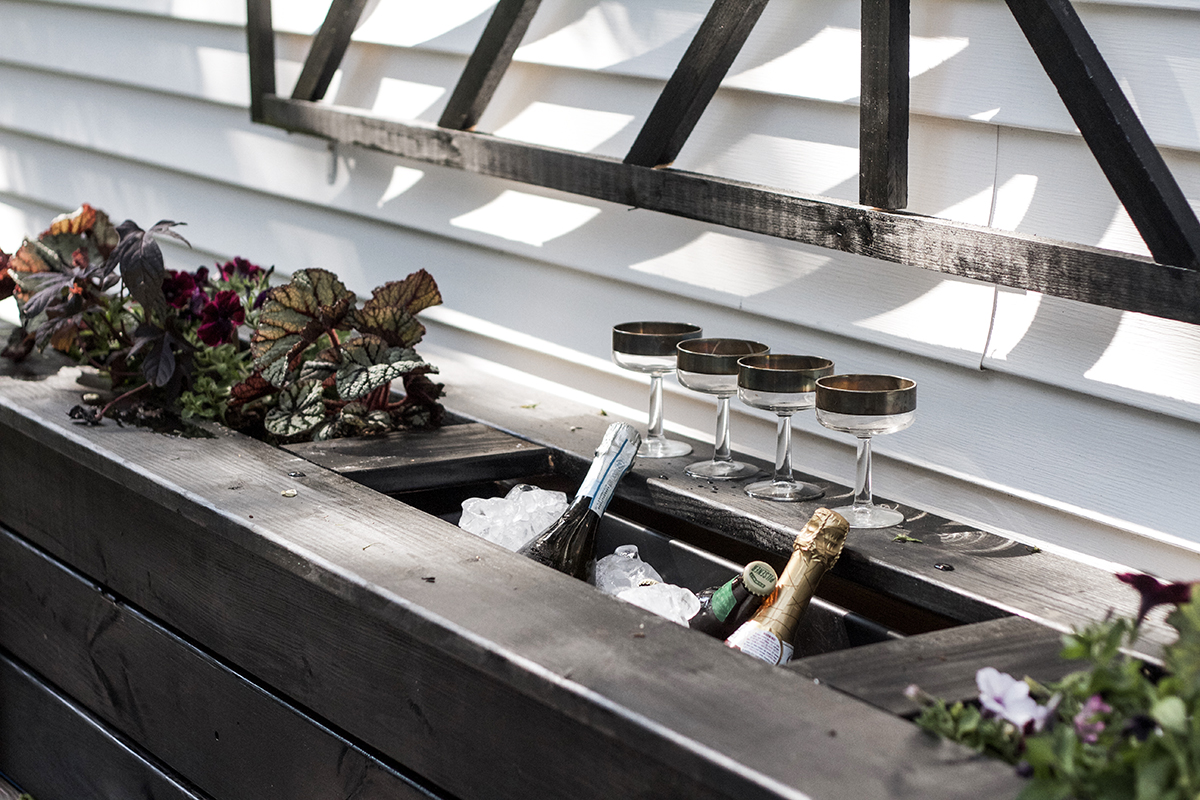 Is it a planter, a beverage cooler, a tv stand or all three? It's everything great. More to come on this piece too!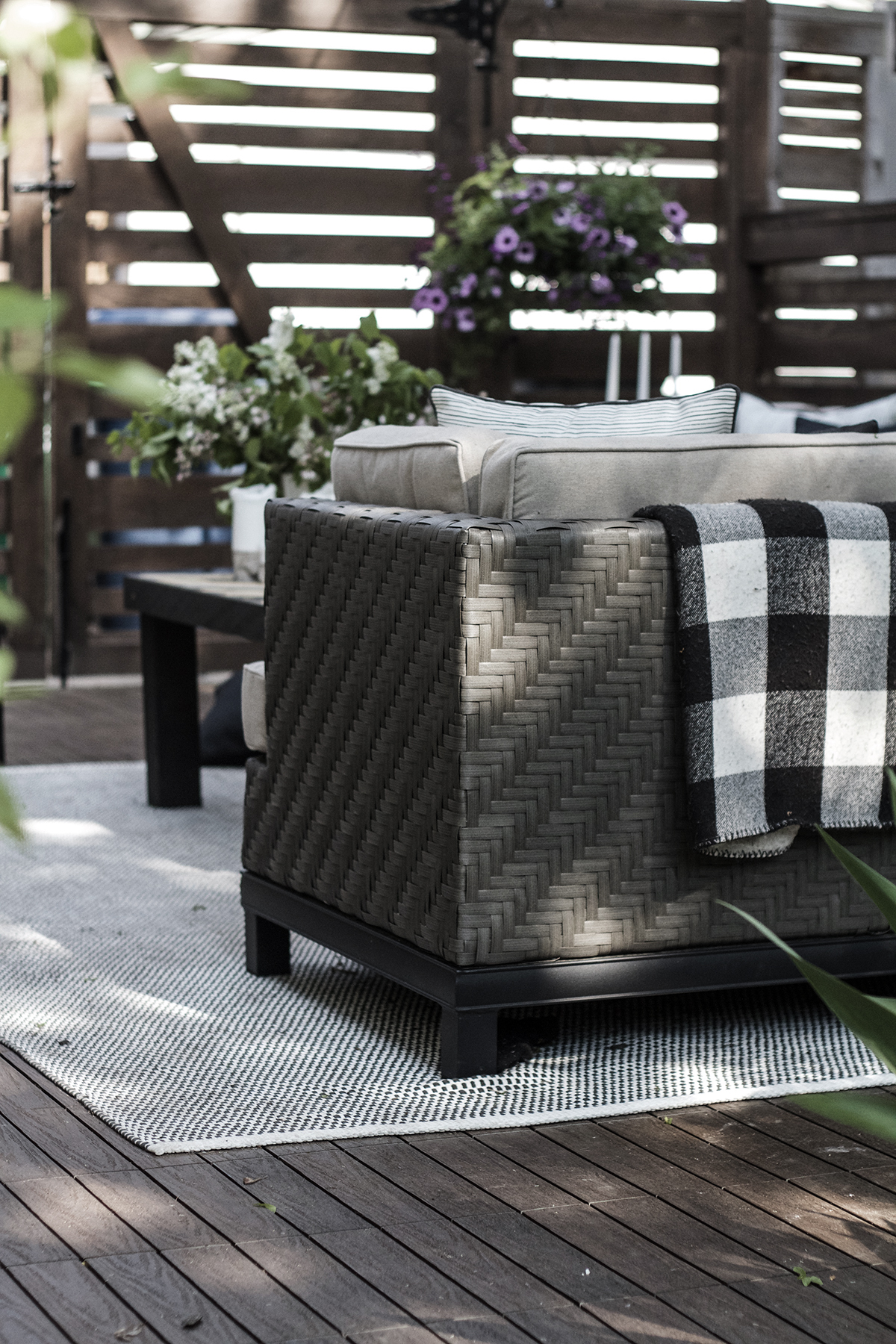 We've spent the last two weekends out here hanging out with the kids, watching movies, drinking champ' and betting on horses. How did we live without it?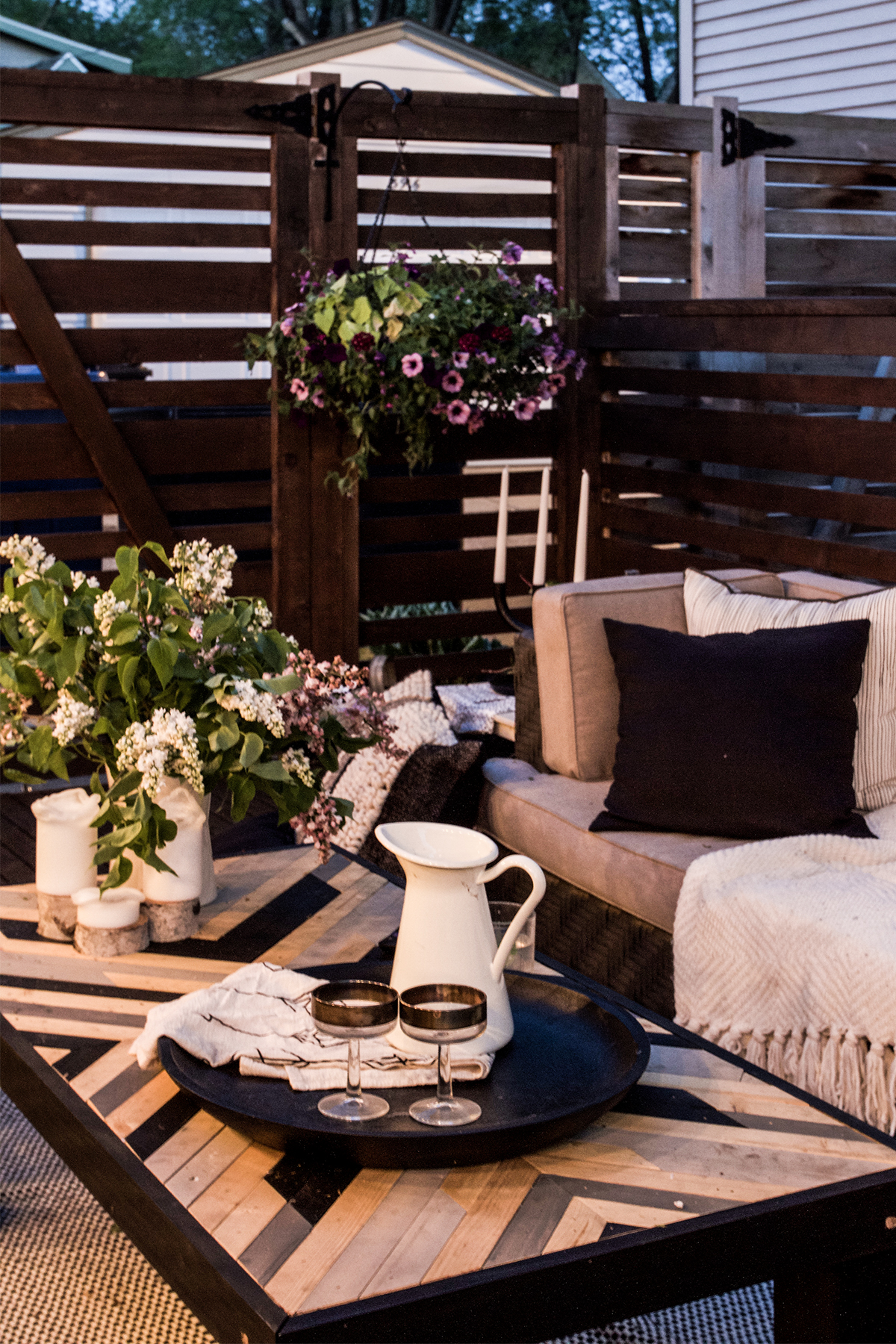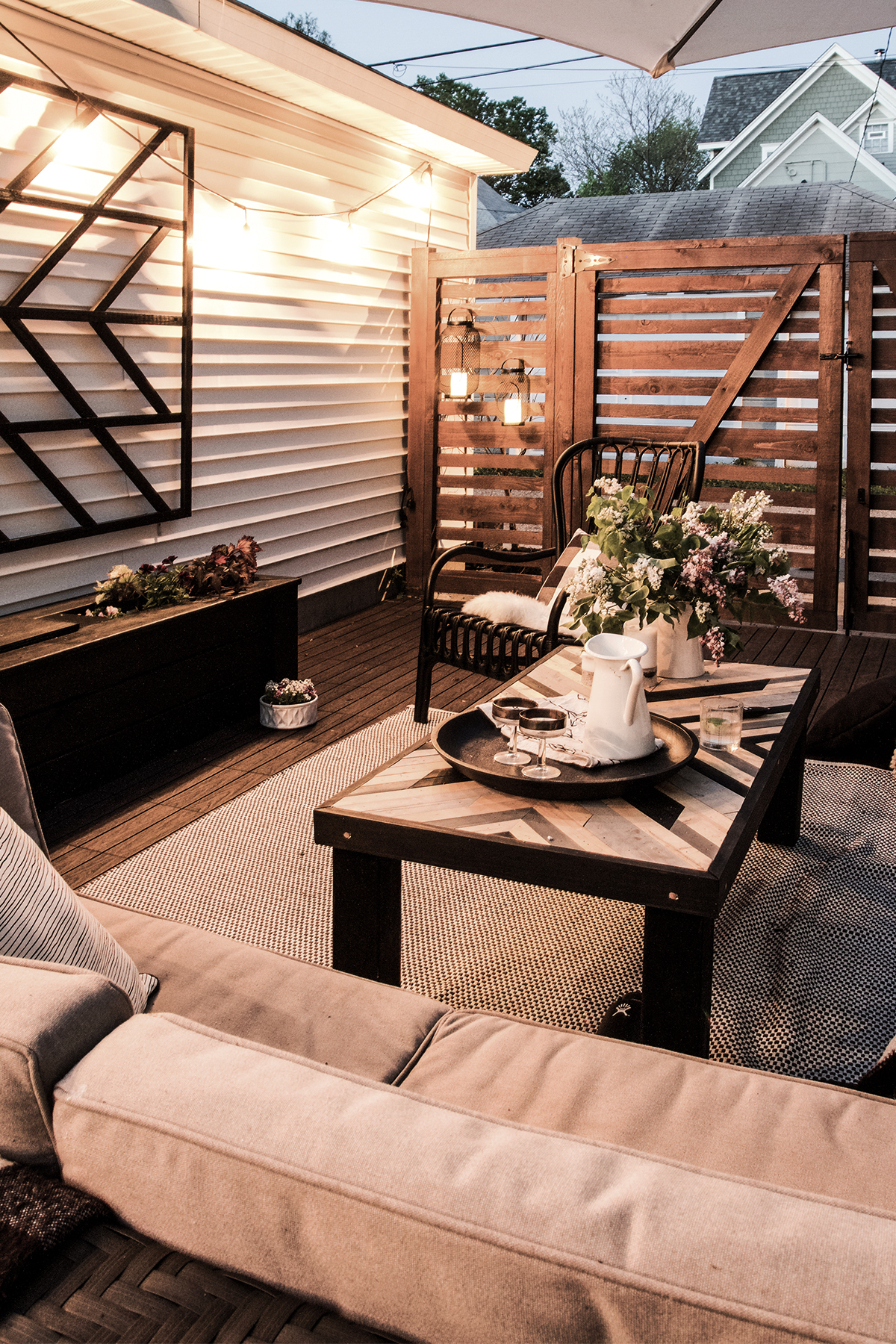 I highly encourage anyone (even renters) who have a tiny patio or concrete deck to consider UltraShield Naturale Deck Tiles from NewTechWood as a legit-bits option if you are in need of a little update or easy transformation.