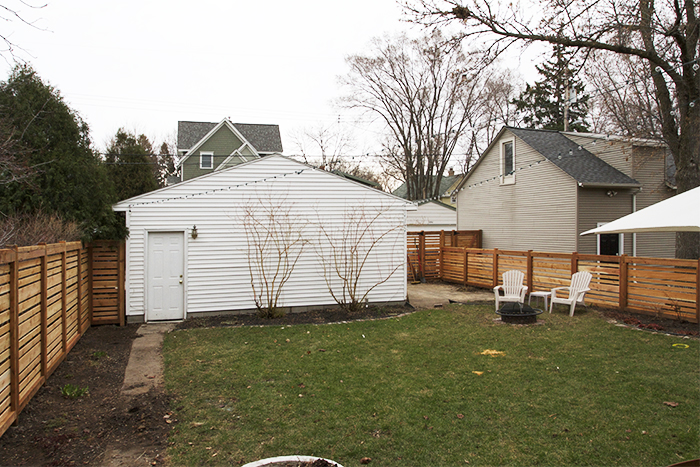 Guys! The fence is like, technically done, but (and that's a big but) I didn't want to call it the official 'after' just yet – there is still work to be done, people!
In case you didn't notice, Minnesota is probably the last state out of all 50 of them to experience spring. We barely have buds on the trees, nothing is green and beautiful, and it's still cold most days. It's all brown and yellow and slightly greenish, but not green in a way that reads lush and full of life. Definitely not ideal for an official fence after shot, we need the green stuff!
Brown aside, I am really loving the way the new fence turned out. We decided to leave a bit of space between the horizontal slats so that our backyard didn't feel closed in. We weren't interested in cutting ourselves off entirely from our neighbors or the neighborhood – so to us, it seemed like a good way to go about it.
Our plans included extending the fence to incorporate the parking pad located next to the garage. We weren't using it, and thought it could make a great space for the kids to play. Eventually someday, it could be a great future outdoor hangout space (aka patio).
Our neighbor was on board with the new fence, and thought it would be good to add a six foot privacy fence along the alley side of our lot. In essence we transformed the back of the yard into a high security fortress, all we need is a moat and some battle axes and this would be a fully functioning castle. Fer real though, there has been quite a few garage break-ins lately, and we wanted to keep our shit secure – a six foot fence on the alley seemed like a good idea.

We added a six foot "privacy" fence on the north side of our lot too. Our neighbor on that side happens to be a duplex, and its tenants are changing regularly – a taller fence just made sense.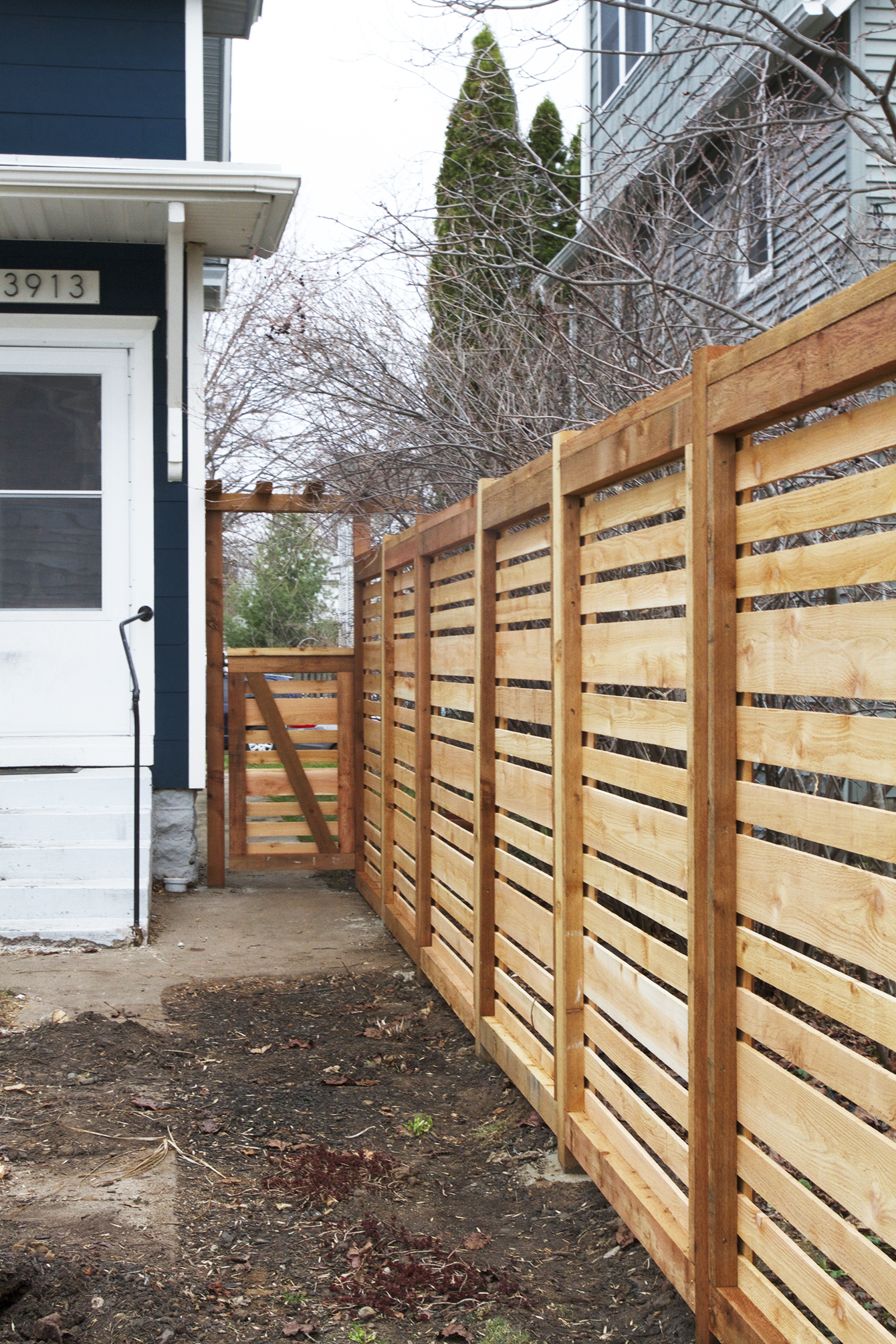 Remember in Home Alone where the Wet Bandits have their signature move of clogging drains and running water before they leave each home they've burglarized? Our fence builders do this too, although their calling card won't make you really mad. The guys at Fencein Deck (our fence company) add an arbor over the gateway of every yard they fence, kind of super adorable and funny, huh?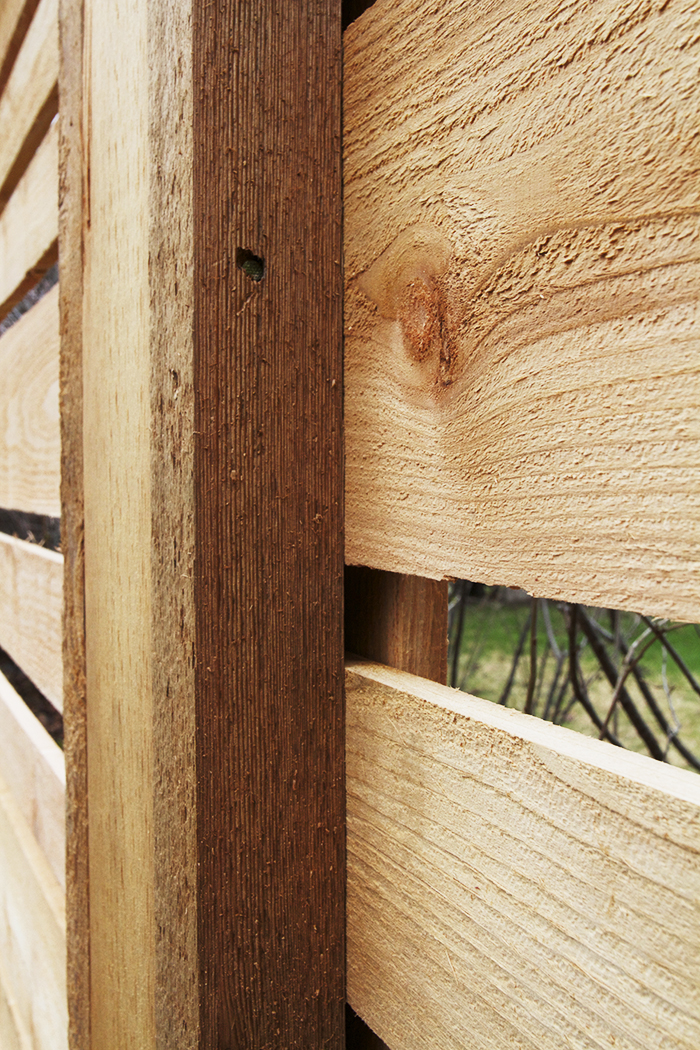 Here in Minneapolis, there is a city rule that says homeowners need to have the pretty side of the fence face outwards, leaving the not so pretty fence posts showing on the interior. This isn't ideal, but our builders were able to come up with a solution to incorporate the posts in a tasteful way. The guys made the interior of the fence mirror the exterior by sandwiching the slats in between two pieces of wood around the perimeter of the fence (shown above here). They basically frame out the posts with 2×2 giving the fence a really nice finished look. I way prefer this look over seamless horizontal fencing.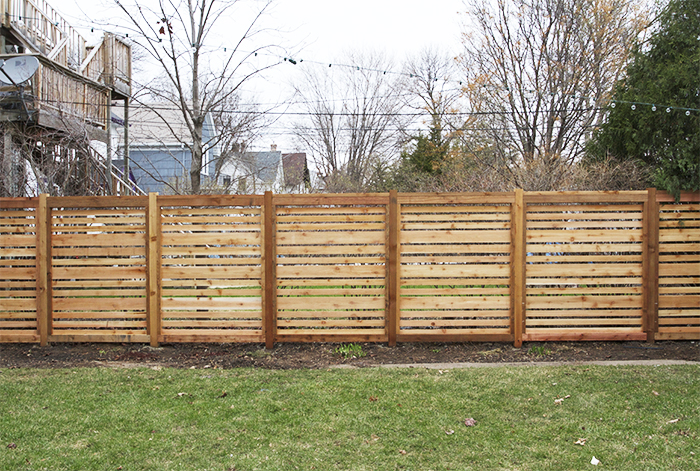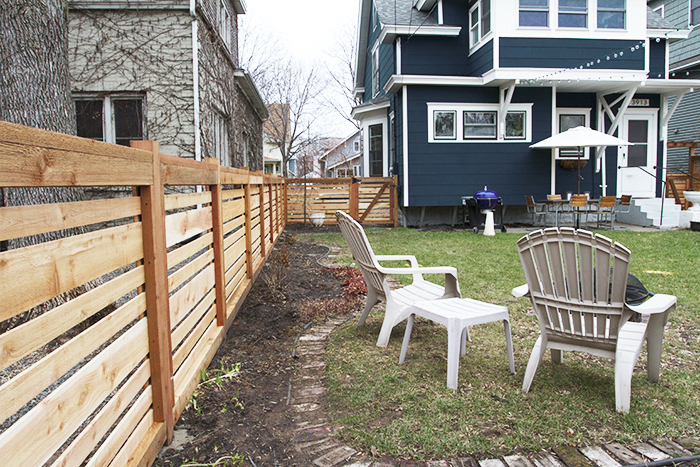 On the south side of the yard (the side that wasn't shared with a duplex), we had a four foot fence installed all the way back to our alley. I was able to design my own pattern for our builders, because those guys are all about custom jobs – the four foot fence is identical to the 6 foot fence from the bottom up.
Before I can take the official 'after' photo I need to remove some of the over hanging cables, seen above. These cables extend from the corner of our house out to the alley. As far as I can tell we have three separate coaxial attached to our house, and it just doesn't look good! Last fall we got rid of our cable and cable internet! We were so sick of the monopoly Comcast had in our area, plus the price is outrageous, it's so not cool. The city just started providing folks on our block with fiberoptic super-high-speed internet that can be run underground from the street, and it's affordable, isn't that awesome? We get all of our television-media-consumption via Netflix, Amazon Prime and our digital antenna. I don't miss cable one bit!
Anyway, we don't need all those cables hanging over our backyard! Has anyone had experience removing cables like this? How'd you remove 'em?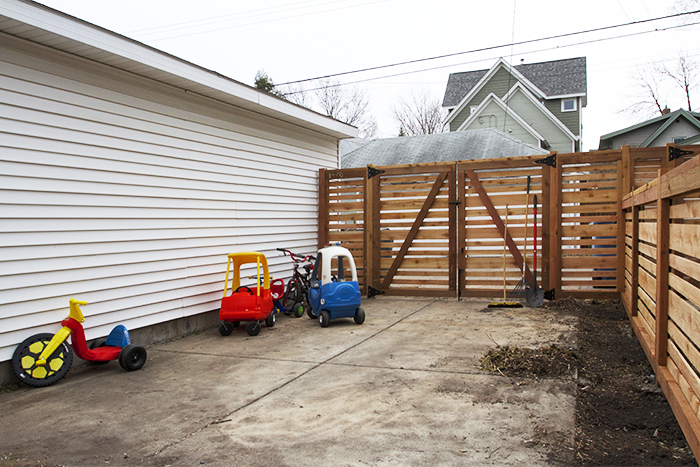 Onward with the tour. Here is the parking pad turned play space located next to the garage. It's not glamorous or beautiful, but it is highly functional. Obviously, I'd like to make it much prettier. I'm probably going to figure out a way to stain the concrete a dark grey, and ideally we'd like to add some all weather patio gear in the future, Ikea has some really great affordable options. There needs to be a low lying garden planted in that dirt patch next to the fence, and I envision some container trellises lining the garage. There is most def room for major improvement here.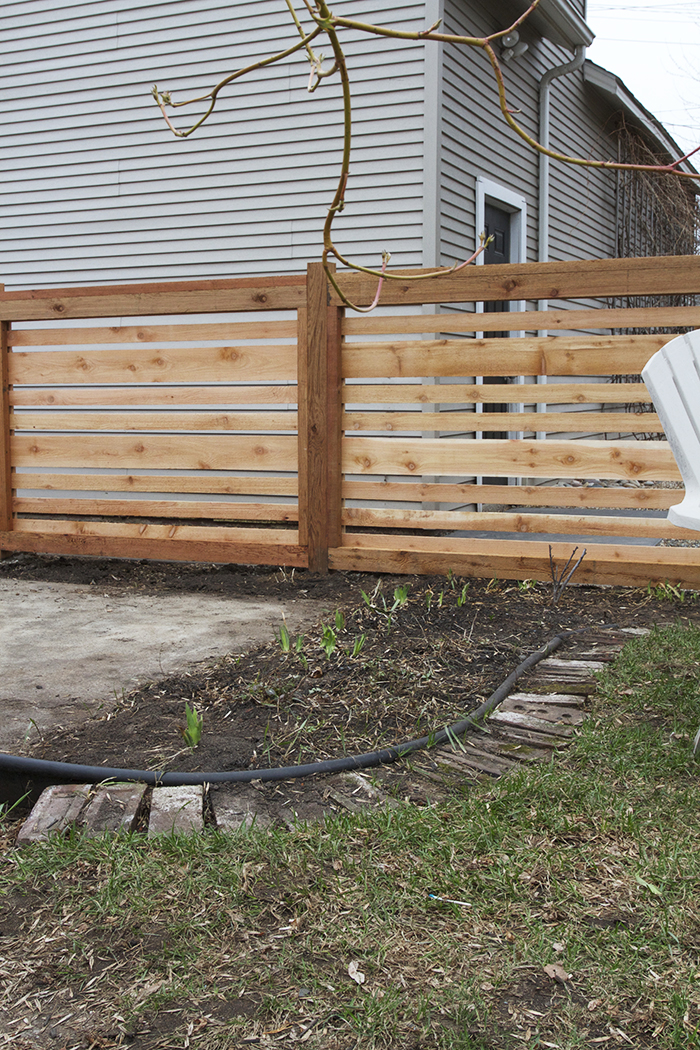 We now have this very funny little garden where the fence used to end. It butts up against the concrete pad. As you can see it looks very sad and homely right now and it needs some TLC. I foresee two possible options. We can either remove the garden all together and replace it with sod, OR figure out a way to make plants, trees and bushes act as a natural wall between the two spaces. We're still trying to figure out what option would function best for this space – but you have to know that I am totally leaning towards the option that involves planting stuff.

Lastly, we need to stain or oil this guy. Much more research needs to be done as to what the best approach is. I don't want to have the fence grey naturally, I'd like to preserve or enhance the natural color if I can. Please, if you've had experience with fence staining or oiling, let me know what approach you used and how you feel about the results. Our fence is all cedar, if that helps with your diagnosis. Thanks!